8 Best Freelance Graphic Design Websites
When you buy something through one of the links on our site, we may earn an affiliate commission.
Trying to find the best freelance graphic design websites? You're not alone. Many talented designers struggle to find websites for freelance designer work.
It can be challenging because all graphic design freelance sites are not created equally. There's much to consider like cost, job alignment, ease of use, and other important factors.
In this article, you'll learn about the 8 best graphic design websites for freelancers to use. Let's go!
In a rush?
We recommend joining Upwork! It's free to join and has a deep pool of jobs and talent.
Join Upwork Here
The Best Freelance Graphic Design Websites
Here are some of the best sites around!
1. Upwork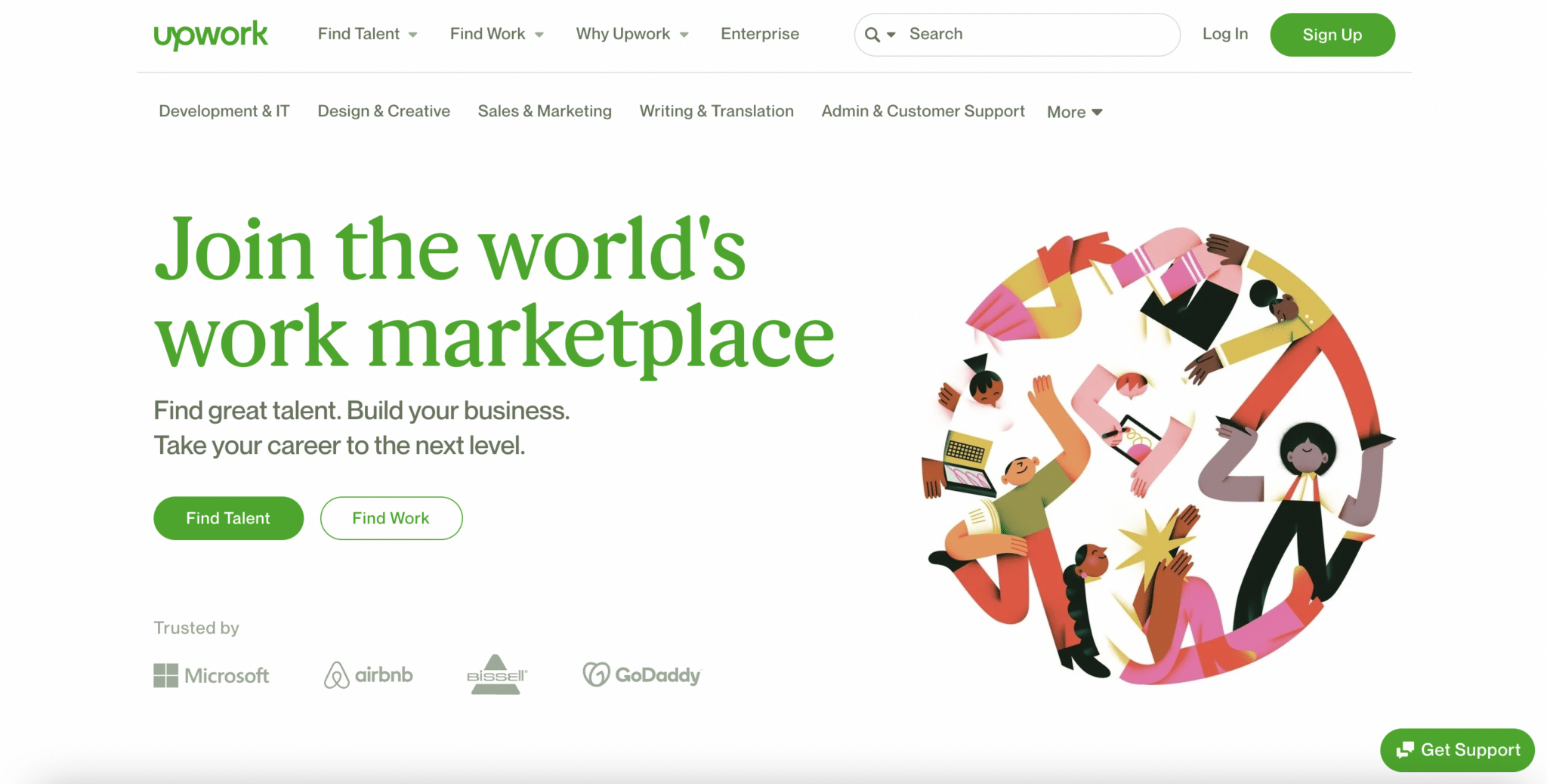 Upwork is a freelancer marketplace where freelancers and clients come together to collaborate on projects.
Freelancers join Upwork to find freelance work. Similarly, clients like business owners and organizations come to the platform to find freelancers to work with on things like transcription work, illustration, video editing, and graphic design, and more.
For hire graphic designers, Upwork is a great place to get your feet wet and start working one-on-one with clients, hitting the ground running.
You'll love the navigation-friendly layout of Upwork. It's super easy to browse the platform in search of graphic design jobs you can bid on. Here's how the process works.
How does Upwork work?
First, join Upwork as a freelancer. You'll go through your account setup where you'll answer some questions about your skillset, location, add your bio photo, and other details.
Once you're registered and set up on the marketplace, you'll have full access to the platform to start searching for graphic design projects you can bid on.
Clients that need to hire will post their projects on Upwork.
As you browse each project, you'll find important information like:
Number of proposals submitted
Payment verified or unverified
Client location
Estimated budget
Estimated workload (like more than 30 hours/week, for example)
Skill level requirement
Project length
Project description
Client information
You can learn a lot from this information to gauge how competitive the listing is for bidding purposes. You can also see if your skill level matches up with the expectations of the client, the scope of the project, budget, and other important details which will help you decide if you should bid on the project or not.
From here you can place your bid to submit a proposal and if you're a candidate for the project, you'll get a message from the client with the next steps and a potential interview.
Who can apply:  Anyone
Earnings: Based on the project
Application process: Free signup process
Sign up to join Upwork
2. Fiverr
Fiverr is a gig-based marketplace where gig buyers and sellers come together for work.
Selling your services as quality graphic designers is done by creating Fiverr gigs where you can package your services, price them, and make money when clients select and purchase your design package (learn more about how Fiverr works).
Top creators are making a full-time living on Fiverr, like creator Alex Fasulo who earns $387,000/year as a ghostwriter.
Fiverr caters to many freelance jobs including graphic design!
Working on Fiverr is a real way to make money and it can be an opportunity to take your freelance graphic design work full time!
How does Fiverr work?
First, join Fiverr as a freelancer. Then, set up your profile and add your gigs. Once your gigs are approved, you'll start getting more visibility on the platform to begin taking gig orders for graphic design services.
Recommended reading: Fiverr vs. Upwork: Which freelance platform is best for you?
Who can apply:  Anyone
Earnings: Based on the project, starting at $5
Application process: Free signup process
Try Fiverr Here
3. Freelancer
Freelancer is a freelance marketplace similar to Upwork. It brings freelancers and clients together to work collaborate on projects.
Clients will post their projects and freelancers can browse the available work and bid on the projects they're interested in.
Freelance graphic designers can search through projects, design contests, freelancers, and bookmarks.
Browsing by projects will show you all the available projects on the platform. You can use filters to narrow your search by project type, skills, and more.
Design contests allow you to submit your entry for an ongoing competition like a logo design contest which may award $200, for example.
Freelancers let you browse the other freelance work on the platform, revealing their hourly rate, experience, and other information they listed in their profile. This can help you scope out the competition and give you inspiration for how you can beef up your profile on Freelancer.
Lastly, bookmarks are a section where you can review your bookmarked projects and contests.
How Does Freelancer work?
First, join Freelancer as a freelance worker.
Next, you'll set up your profile, and then you'll have instant access to the platform to start browsing jobs searching through the tabs we mentioned above like contests and more.
Who can apply:  Anyone
Earnings: Based on the project
Application process: Free signup process
Join Freelancer
4. 99Designs
99Designs is a design-based platform that will help you find freelance graphic design clients to work with.
After joining, you can set up your profile to show off your best design work and attract clients.
Unlike some of the graphic design-friendly freelance websites in this list, 99Designs is created specifically for design-based projects. So, you won't have to browse dozens of freelance jobs to find graphic design projects. It's all design-based!
They offer 90 different design categories from logo design, business cards, web design, landing pages, and more. This is great for designers that specialize in a specific field or generalists that have skills for various types of projects.
How does 99Designs work?
You'll become a designer on 99Designs by clicking "Become a Designer" in the footer and then you can apply to join. They have clients in a variety of industries and freelance jobs that they can match you with for work.
The platform is free to join and the amount you earn will be based on the design project. They promise a quick payout within three business days or faster, depending on your designer rating.
Read this 99Designs review to learn more.
Who can apply:  Talented Graphic designers
Earnings: Based on the project
Application process: Free signup process
Join 99Designs
5. Guru
Guru is a freelance website that connects freelancers and clients to collaborate on a variety of different skill-based projects like SEO, virtual assistance, illustration, engineering, and graphic design, to name a few.
How does Guru work?
Signup for free to join Guru, then begin to set up your profile. Your profile is where you can make your skills shine as a designer. You'll be able to do things like:
Add your services
Write about the kind of work you perform
Setup a portfolio
Create an avatar
Once you are set up on the platform, you can begin browsing jobs, searching by job category or keywords to find the graphic design jobs of interest to you.
Who can apply:  Anyone
Earnings: Based on the project
Application process: Free signup process + apply to up to 10 jobs per month
Join Guru
6. Toptal
Toptal works with clients to help them find the best match for freelancer talent (and you'll probably get a lot of value from our full Toptal review).
For freelancers, after you join and are accepted, they'll help to match you with clients and projects that align best with your skillset.
How does Toptal work?
Toptal only works with the cream of the crop of the freelance community (see why in our comparison of Toptal vs Upwork). They pride themselves in selecting the top 3% of freelance workers in their specialized industry.
There's an extensive vetting process so if you pass and are accepted, that speaks very highly of your expertise and body of knowledge in the field of graphic design.
Who can apply:  Anyone
Earnings: Based on the project
Application process: Free signup process
Join Toptal
7. Design Hill
Design Hill is a design marketplace that helps its clients get their freelance graphic design needs to be met. Clients have many options available to them to work with freelance graphic designers on the platform like:
Hosting a design contest
Hiring a designer
Posting a job directly to the marketplace
Buying design gigs directly from freelancers
Purchasing designed print-on-demand products
How does Design Hill work?
Design Hill is a good freelance website for freelance designers to find freelance graphic design jobs.
After you join Design Hill, you can go through the profile setup. Here, you can write a description of what you offer, share your portfolio, upload an avatar photo, and use other features to show off your design work.
Design Hill is exclusively for graphic design work and there will be many opportunities for you to book design work, like those shared above.
Who can apply:  Graphic designers
Earnings: Based on the project
Application process: Free signup process
Join Design Hill
8. Twine
Twine offers over 250 different freelance services from graphic design, marketing, animation, and more. It caters to freelancers working in the fields of design, development, and marketing only and their goal is to help clients find freelancers to work on their projects.
How does Twine work?
Freelance designers can join Twine, build their portfolio and start securing design work.
Twine offers a community where you can interact and network with other freelancers. You'll use their job search to find design jobs in your field of expertise and be allowed to pitch your services to clients.
They guard against scams by having the client pay upfront and upon delivery and acceptance of your work, Twine will pay you.
Who can apply:  Designers, marketers, and web developers
Earnings: Based on the project
Application process: Free signup process and you can pitch up to 15 jobs per month for free.
Join Twine
Pros and cons of freelance graphic design websites
You might be wondering what the benefits and drawbacks are for joining and participating in these freelance graphic design websites. We've got you covered.
Pros
Access to instant work and design projects
Free to join
Low barrier to entry
You'll like that these freelance graphic design websites give you instant access to paid work. That means no scouring the internet for work, bugging your clients for referrals, and banging your head against the wall trying to figure out how to get a design client.
These websites have thousands of projects available. If you're consistent and participating on the site regularly, your chances will be greater for snagging a design job.
Next, these best freelance websites and marketplaces are free to join. While there may be fees for using the website's services after booking a project, there's no out-of-pocket expense upfront and these sites are a risk-free way to get started making money online as graphic designers.
The low barrier to entry makes it easy for any freelancer, from beginner to seasoned designers to join.
Cons
High fees
Restrictions on your involvement
Limitations on how you get paid
A lot of freelance designers fail to look at the true costs of joining freelance sites like these. They can be free to join but charging as much as up to 30% or more on the backend once a project is booked means less money from graphic designing in your pocket.
Then, you'll be subject to following the platform's rules. These rules can restrict how many jobs you can apply to, hide certain features unless you're more experienced or top-level, as well as various other restrictions that can exist. You just won't have the same freedom that exists when you work with clients outside of freelance websites.
Lastly, you'll be limited on how you can get paid. Every platform may not have your ideal payment method available and some may not be able to accommodate the payment features you favor like deposits, milestone payments, etc.
So, the best freelance websites like these aren't perfect but, they still might be worth it to use for finding design work.
The Best Freelance Graphic Design Websites
All these freelance websites can be a good option for a freelance designer to join to get more graphic design work but, which one is the best?
A favorite for people looking to find talented graphic designers is Upwork.
Upwork has a user-friendly setup which makes it easy to find jobs and work with clients online. They have a lot of features built-in which help freelancers organize their job search, build a reputation online, and create specialized profiles based on the work they do.
For example, you can create a graphic designer profile page, a web designer profile page, a social media design profile page, etc.
It offers multiple payment channels for you to get paid and includes the option of milestone payments and more.
When it's time for you to withdraw funds from Upwork, the process is simple and they work with various payment providers to get the money you earned into your hands quickly.
How do freelance graphic designers work online?
One of the benefits for freelance designers is the ability to create your schedule and work online.
How do you work online as a graphic designer?
Working with clients through freelance marketplace sites like these means you'll be doing your design jobs online. You'll have access to your own personal workspace, computer, and you can build your schedule around the projects you've booked.
The client probably won't care if you work at 9 am or 9 pm, as long as you deliver the work on time, based on the project deadline.
How freelance graphic designers Can Pick Sites?
If you really want to get your feet wet, you can join all these freelance graphic designer websites to get started quickly. However, we'd recommend choosing your three favorite websites and starting with those first.
It can take some time to get familiar with the platform, develop a script and cover letter, and get comfortable pitching prospective clients and working online. Each freelance website is a little different.
To figure out which ones are the best, look at the features to determine which sites appeal to you most.
For example, if you don't like the idea of pitching clients and you'd rather be matched with clients based on your skills, you may lean toward Toptal and similar sites on the list.
Alternatively, if you prefer to bundle your offerings into packages for gig-based work, marketplaces like Fiverr and Design Hill might be what you go for.
Which freelance graphic designer websites will you get started with?
Want to learn step-by-step how I built my Niche Site Empire up to a full-time income?
Yes! I Love to Learn
Learn How I Built My Niche Site Empire to a Full-time Income
How to Pick the Right Keywords at the START, and avoid the losers
How to Scale and Outsource 90% of the Work, Allowing Your Empire to GROW Without You
How to Build a Site That Gets REAL TRAFFIC FROM GOOGLE (every. single. day.)
Subscribe to the Niche Pursuits Newsletter delivered with value 3X per week