The Best Blogging Platform To Make Money: 15 Free And Premium Platforms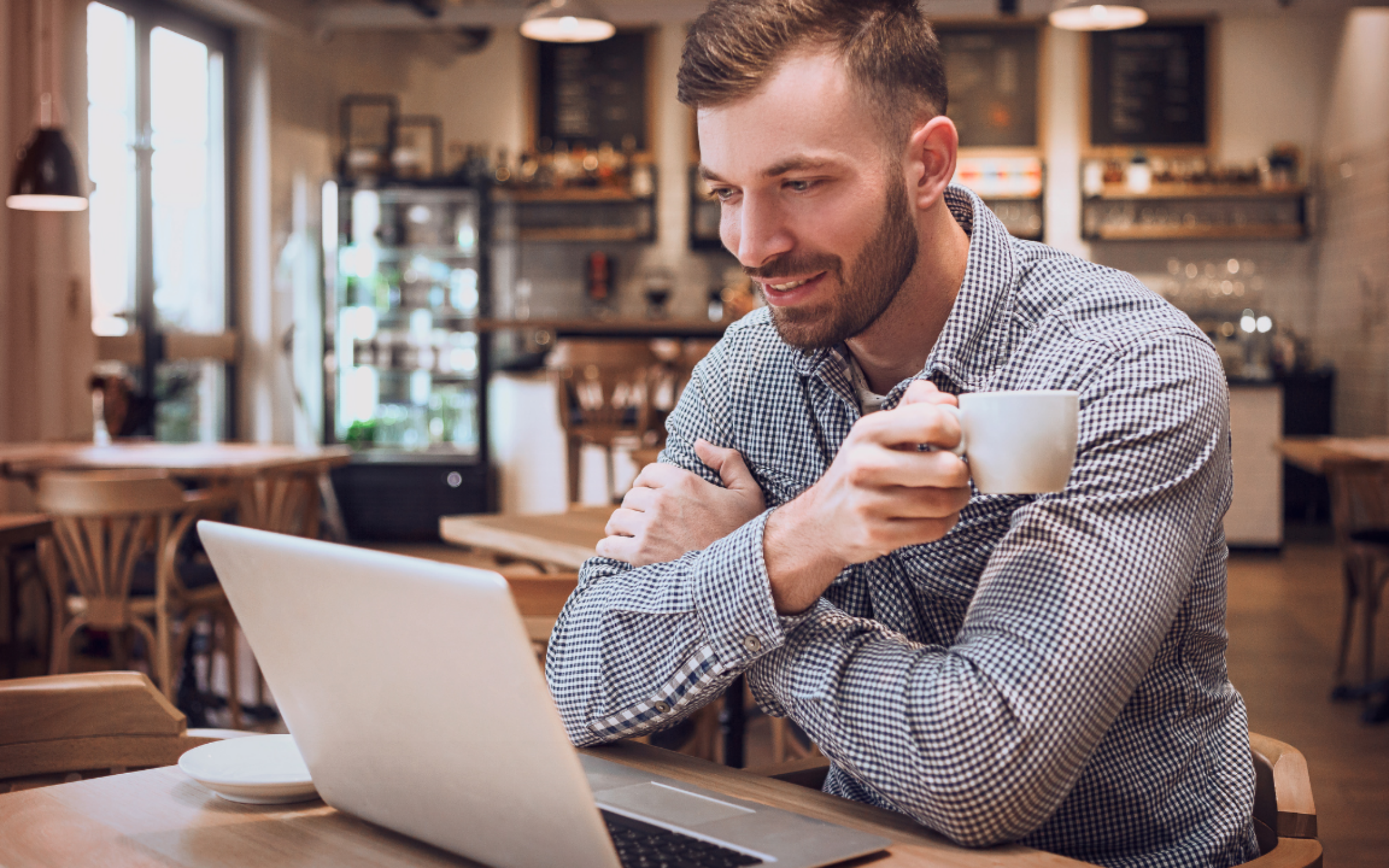 When you buy something through one of the links on our site, we may earn an affiliate commission.
So, you've decided to start a blog and are wondering which is the best blogging platform to make money from.
There are many free blogging platforms to choose from. Some are paid, and some limit the rights of usage. Whether you're a small business or an individual who wants to try out this blogging "thing," there's a blogging platform that's best suited for you. The issue is finding the right one.
I will review some of the best blogging platforms available and what to look for when choosing one.
In a rush?
We love and highly recommend WordPress.org. It's free, most widely used, and highly customizable. And there are tons of great courses to make the most of the platform.
Our favorite – the one that's been most helpful for our team and readers, is The Authority Site System (TASS). It guides you step by step with video walkthroughs on how to start and grow a profitable WordPress site. Plus, it teaches you SEO, affiliate marketing, and more! Check out our full TASS review here.
Get a Special 40% Discount Here
The Best Blogging Platforms to Make Money
Here are 15 best blogging platforms for starting an online business and making an income.
1. WordPress.org – The Best Blogging Platform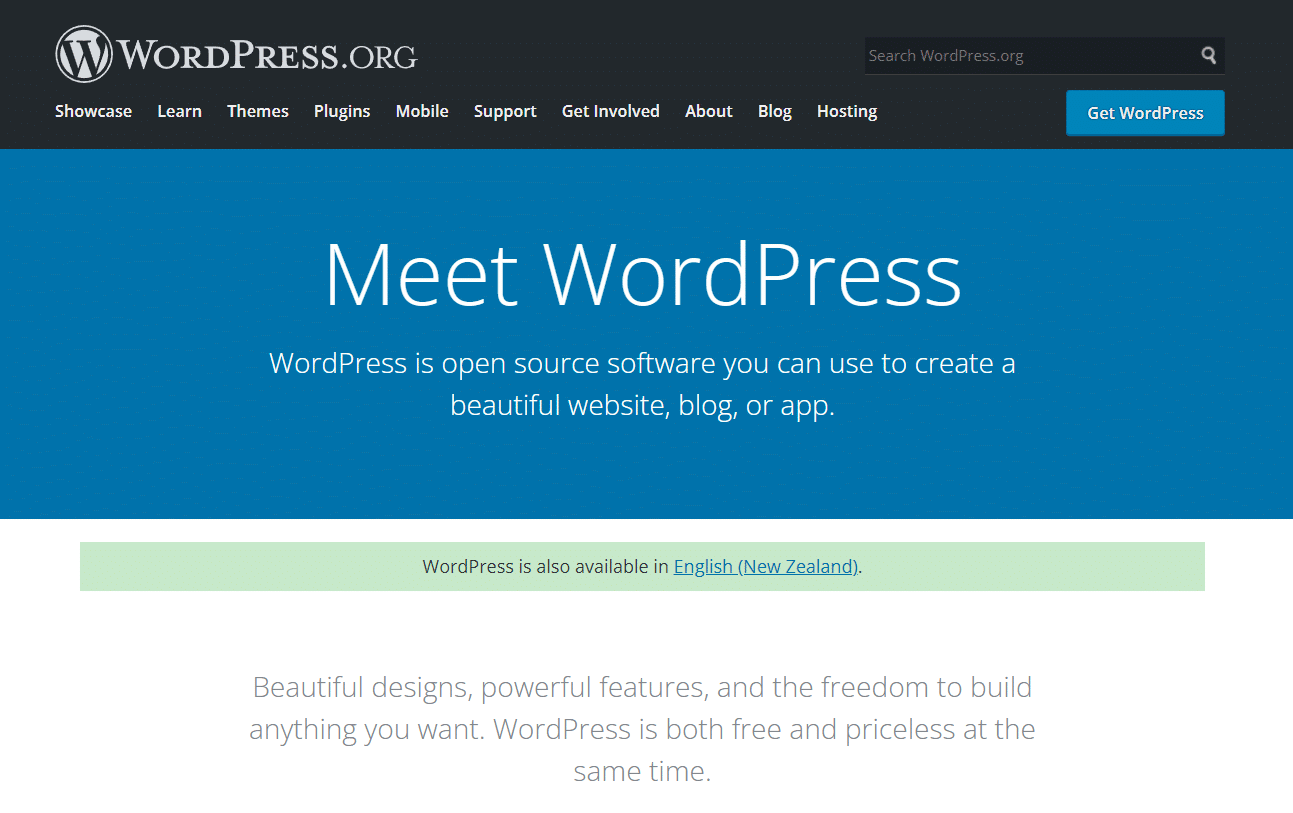 WordPress.org, or "The Real WordPress," is one of the most commonly used blogging platforms. With over 64 million websites, most blogging sites and websites you've come across are likely built on WordPress.
Now, wordpress.org shouldn't be confused with WordPress.com, which I will cover in a minute. WordPress.org is self-hosted and our pick for the best blogging platform, giving you a lot of freedom for use.
For starters, you get access to many free themes to build your website, and you can also use premium themes or custom-built themes.
What I love most is that setting up a self hosted WordPress site is super easy. To build a website on WordPress, you simply select your own domain name and hosting provider, which you can get for as low as $2.75 annually.
Most of the most popular hosting companies, such as Bluehost, Namecheap, or GoDaddy (check out our Bluehost vs GoDaddy comparison), will have a one-click installation of WordPress. And from there, you can start customizing it to your needs. Building a website doesn't get any easier than that.
Another excellent feature of WordPress is its compatibility with plugins, software, and monetization programs. Whether you want to start a WordPress blog, a forum, an eCommerce store, a site for online courses, a niche site, or a subscription site, this platform can handle it.
For blog content creators, plugins such as Rankmath and Google Analytics can all be integrated.
Yoast SEO or Rankmath are SEO tools that – you guessed it – help you with search engine optimization, while Google Analytics lets you know what content your readers love. Just access their plugin section, and you'll have an idea of the arsenal that's at your disposal.
Unlike some other blogging platforms to make money I'll review here, all the content you post on a WordPress blog belongs to you. No one is going to delete it or pull it down. However, you still need to follow general content policies to qualify for any genuine monetization platform.
Pros:
Highly compatible
The owner gets more freedom in using and monetizing the website
It's relatively cheap
Cons:
Pricing – WordPress.org is open-source and free, but you'll need to buy a custom domain name and hosting.
Who can use it? – Anyone. From beginners to experienced bloggers. You can upgrade it as the blog grows.
---
2. Medium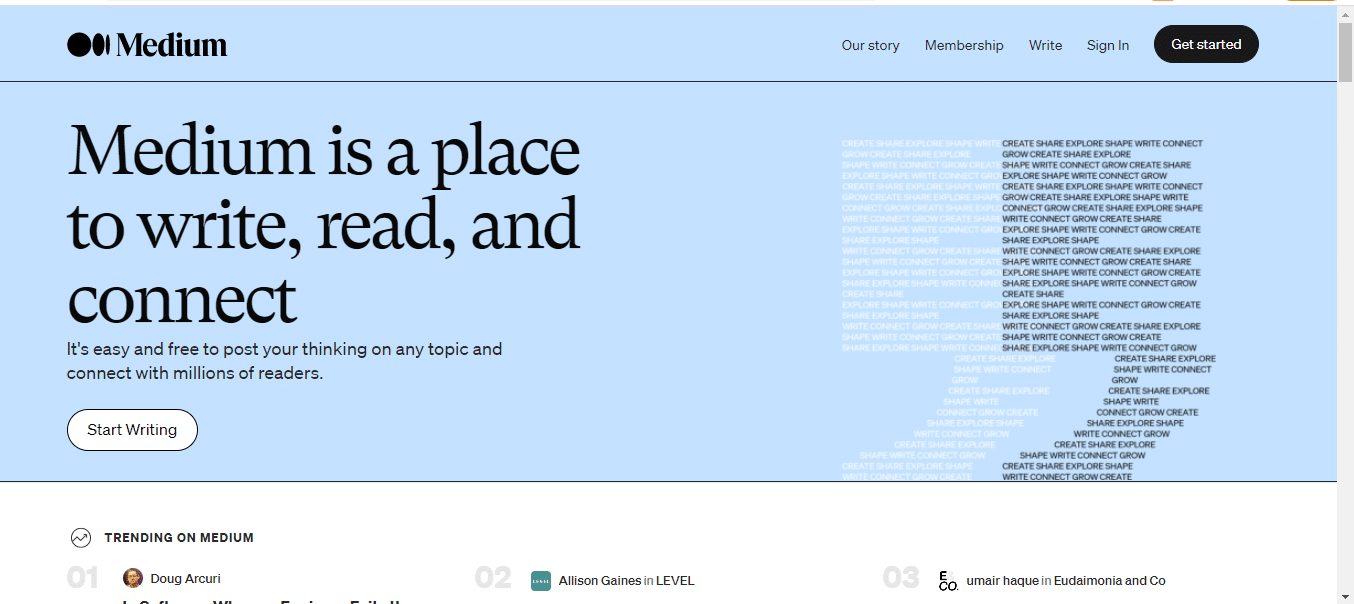 Writing on Medium is probably one of the easiest ways to start blogging.
It's a free blogging platform or a community where you sign up and share your thoughts about a topic, write a review, or write anything you feel like as long as you follow their guidelines.
You may not necessarily make a lot of money from writing on Medium compared to other free blogging platforms, but they do have a paid plan where readers pay $5 per month to get unlimited access. Once your articles are approved for this program, also known as the Medium Partnership Program, you get paid based on the number of views on your blog post.
Better yet, it's free to join. All you need is the time to write and build an audience.
I wouldn't advise using Medium as a long-term or permanent solution. But it's an excellent way to test your content, generate more traffic to your blog, promote your business or course, or even earn some extra money.
As Jon Morrow advises aspiring bloggers, you can start a free blog on Medium to test the viability of your blogging niche and approach. Once you're sure it's viable, you migrate your audience to a self-hosted blogging platform like WordPress.
Unfortunately, the Medium Partner program pays through Stripe, which is unavailable in some countries.
Pros:
It's free
It's easy to start
No prior knowledge about themes or plugins is required
You have access to an internal audience compared to ranking through SEO
Cons:
You don't own the domain name
Once you sign up, your domain name will be yourusername.medium.com
Writers rely on the internal audience, which is unpredictable
You can't use display ads
The Partner Program is the only monetization method
Pricing – It's free to join.
Who can use it? – Anyone with a passion for writing but isn't ready to set up a self-hosted blog or Businesses seeking to build an online presence.
---
3. Blogger
Blogger is a blogging site owned by Google, and it offers more flexibility for those who are not ready to invest in a custom domain or theme.
It's similar to Medium, where your domain name will have a blogpot.com at the end. If you'd like to use your own domain name, you can purchase it and link it to the site.
However, while Medium gives you access to an internal audience, you still have to use SEO and other methods to generate traffic when using Blogger.
Blogger also offers a wide range of free templates to choose from, but you can customize one if you'd like. Blogger is also compatible with Goggle Analytics and some third-party software, including payment gateways such as PayPal. And since Google owns it, you get to monetize it with AdSense.
Blogger offers more than Medium. But if you need a fully-fledged blogging platform, it's still quite limited.
Pros:
It's easy to set up all you need to start is a Google email account
It's free to use
You can monetize it through AdSense
Cons:
You can't really customize it
You're limited to the available templates and a few third-party tools
It's not frequently updated
Google owns your blog, so they may decide to ban it or suspend it, and you'll lose your traffic
There aren't many options to monetize a Blogger blog
Pricing – It's free to join, but you can buy a custom domain and add-ons for more customization.
Who can use it? – Anyone who wants to set up a simple hobby blog.
---
4. Wix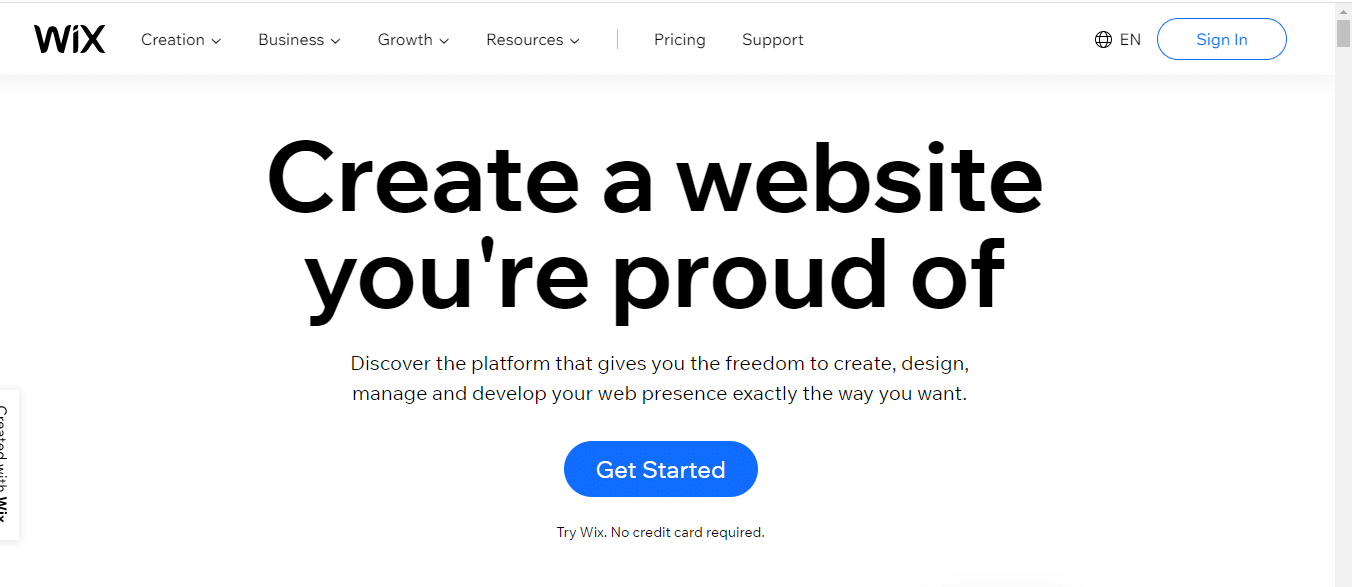 Wix is one of the most reputable and popular blogging platforms to make money, with over 200 million users, thanks to the drag-and-drop website builder that allows you to build and customize a website from scratch without any coding.
There's a free version that gives you basic blogging functions. But if you want to sell from your site or utilize more blogging functions, you will have to subscribe to a plan that suits your need. The lowest plan goes for $18, while the highest costs $56 per month.
If you need any other add-ons for analytics, eCommerce, or anything else you need on your blog, you may have to pay more. The only drawback with using Wix is they own the code, server, and other backend functionalities.
As a result, you can't control the page speed, loading speeds for various devices, and any other vitals. Besides that, the drag-and-drop feature, excellent templates, inbuilt marketing, and SEO make Wix a blogging platform that's worth consideration for small businesses.
Pros:
It's easy to set up
You have access to a wide range of professional templates and designs
You also have access to SEO tools and inbuilt marketing tools
Cons:
You don't have much control over the backend of your site
It may be expensive to set up
Wix places ads on your blogging site with the free version, but you don't earn from them
If you change the theme, you lose all your content and have to start from scratch
Pricing – There's a free plan. And there are paid plans that cost anywhere between $18 and $500 per month.
Who can use it? – Beginner bloggers, creatives, small businesses, and anyone who plans to use the blog for eCommerce.
---
5. HubPages

If you're a freelance blogger seeking to be published on top platforms, or a writer who wants to make some extra money, Hubpages is a good blog platform to look into.
Hubpages works like Medium, where you create an account using your email, and you get a miniblog or weblog where you will be posting your articles.
But it's better than Medium in that you earn through Revenue Sharing instead of joining a Partner program. HubPages allows you to place ads on your miniblog where you share revenue with them in a 60/40 ratio.
That means that every time you place ads on the mini-blog, 60% of the time, the miniblog shows your ads, and 40% of the time, HubPages displays their ads. Better yet, you can also earn from Amazon or any other affiliate marketing networks you're in by placing your affiliate links.
HubPages pays through PayPal at least once a month. Therefore, as long as PayPal is supported in your country, you can join and start earning extra money and create an online presence where clients can find you.
Pros:
You have access to an internal audience
It's free and easy to join
There are many ways to monetize your content
Cons:
Hubpages controls your blog, where they can delete your content if they deem it inappropriate
You also don't have control over the ad placements – sometimes there can be too many
Pricing – It's free to join.
Who can use it? – Freelance bloggers, passionate writers, and hobbyists.
---
6. Tumblr
Tumblr is both a blogging site and social media platform where you can publish a blog post, write short stories, long articles, re-blog (re-post) other people's content, and even chat with other bloggers. Tumblr is also integrated with other social media channels such as Facebook or Twitter, allowing you to share your content to these platforms directly, just make sure to avoid Facebook jail.
You can use Tumblr's domain name or purchase a personal domain name. Also, you can use HTML to customize your blog's design or choose from one of their templates. However, you will not have that many design options as you would with a self-hosted blog.
Tumblr isn't limited to written content (and there are lots of ways to make money from Tumblr).
If you're a photographer, designer, or musician, you can still share your content. Tumblr works well for beginners since you don't have to wait for months for your work to rank and gain traffic. You have access to Tumblr's audience, as well as other social media channel's traffic.
There are many ways to monetize your Tumblr account. You can add Ad networks like AdSense, sell ad space to local or global companies, add affiliate links to your posts, sell Tumblr themes, or even advertise your work.
Tumblr is also introducing its monetizing program known as Post+. This is a program where users can place some of their content in a paywall where consumers will have to subscribe to access it.
The subscriptions are $1.99, $3.99, $5.99, and $9.99, where Tumblr will take 5% of the content creator's earnings.
Pros:
It's free to use
The setup process is straightforward
You can use your domain name
You can share anything, from short posts, long articles, images, and videos
There are many ways to monetize your content
Cons:
Designing options are limited
Pricing – It's free to join.
Who can use it? – Freelancers, creatives, and small businesses.
---
7. SquareSpace
If you spend some of your time on Facebook or YouTube, you must have come across SquareSpace ads.
They're pretty hard to miss considering Keanu Reeves (a very likable guy) is usually in some of them. He's even their spokesperson after they helped him build an online presence for his motorcycle business.
But powerful ads and a celebrity endorsement won't cut it when evaluating the best blogging platform. So, how does it compare to the other blogging platforms in this list? For starters, it uses a similar drag-and-drop system like Wix, but it has more templates, some of which would make a very professional website.
SquareSpace can support up to 1000 pages, making it a better option for large websites. However, if you'd like your site to function without any lags, avoid building more than 500 pages.
What I love most about SquareSpace is the ability to edit the website from your smartphone through their very functional app.
Whether you want an online store, Podcast channel, or blog, you can set it up through their blogging feature. While their dashboard takes some getting used to, it's not as complicated as coding. Besides, their support team responds promptly, and they can guide you through the setup process.
Like Wix, if you want to utilize every feature SquareSpace offers, you have to select a plan. For a basic personal website, the $12 per month plan will suffice. But for an online store, select either the $18, $26, or $40 per month plans.
Pros:
Several professional templates to choose from
It's compatible with SEO and marketing tools.
It's responsive for both desktop and mobile devices.
Cons:
It's expensive compared to alternatives
The templates and designs are limited compared to WordPress
Pricing – There are 4 paid plans that cost $12, $18, $26, and $40.
Who can use it? – Professionals and small businesses.
---
8. WordPress.Com
WordPress.Com is another blogging platform for beginners who don't want to invest in a self-hosted platform. Unlike WordPress.org, where you have to buy a domain and install WordPress, WordPress.com is a free platform.
All you need to do is create an account, and your domain name will be yourusername.wordpress.com. But you can buy a domain name later and link it to the site.
The free plan gives you access to free themes and templates. But there are also paid plans ranging from $4 to $45. If you want to monetize your website, get access to fast support, Google analytics, and other functionalities for blogs and online stores, you'll be better off with the paid plans.
The free plan is quite limited, and WordPress places ads on the site, but they won't pay you for the ad space.
However, even with the paid plans, you still have no access to plugins, like you would with WordPress.org.
Pros:
It's easy to set up and use
The free plan is great for beginners before they transition to the paid plans or self-hosted blogs
Updates, backups, load speeds, and other backend configurations are taken care of by the WordPress team
Cons:
You can't use WordPress.org plugins
You're limited to the plugins provided on the site – you can't purchase and upload third-party themes
Com serves ads on your site, and you have to select a plan to get rid of the ads
There are limited options for monetizing a WordPress.com website
Pricing – It's free to join, but there are paid plans that cost $4, $8, $25, and $45 if you need more functionality.
Who can use it? – The free version is great for hobby bloggers. Professionals and small businesses can opt for the paid plans.
---
9. Ghost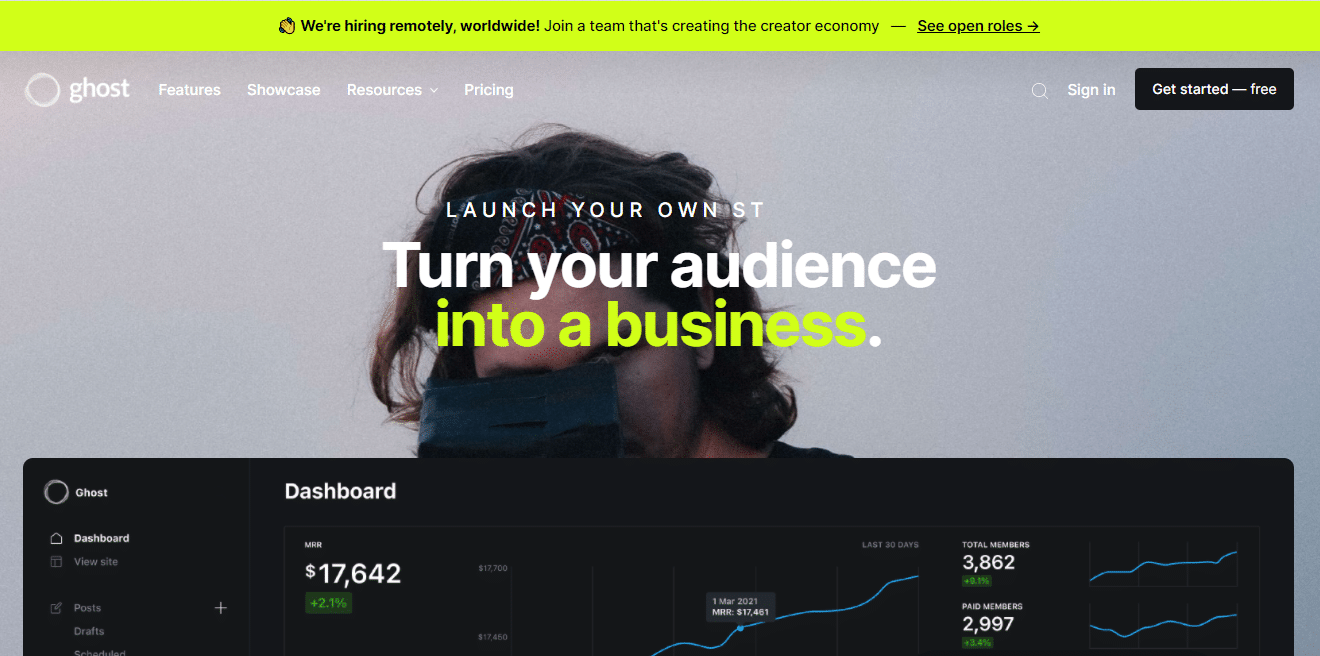 Ghost is sort of a mini-WordPress, whereby you get access to plugins, an easy-to-use dashboard, and all the sources you need.
However, unlike WordPress that supports millions of different types of websites, Ghost is built for only one thing: writing, blogging, and publishing.
Whether you're a beginning blogger or an established business, you can utilize the plugins, SEO, marketing, and even build your own themes and upload them through FTP.
Ghost comes in two versions:
Ghost Open-Source – A free self-hosted version like WordPress.org
Ghost Pro – A hosted version like WordPress.com
If you need full control of your website, the self-hosted option would be perfect. All you need to do is download and integrate it with your domain name.
The hosted option is great for beginners, but you'll have to pay to unlock most features. The pricing ranges from $9 to $199. Unfortunately, Ghost Pro lacks a free plan. All you get is a 14-day free trial.
Besides the minimalism design, Ghost is also compatible with a wide range of third-party apps such as payment gateways, automation, marketing, etc. If you want to create a membership blog where people pay to read your content, Ghost has that feature too.
Furthermore, the fact that NASA, DuckDuckGo, Mozilla, Apple, and other major brands use Ghost shows that it can support millions of traffic without crashing.
Pros:
Easy to use minimalistic design
You own the rights to your content
It's quite stable
Cons:
You're only limited to blogging
It could use more themes and options to customize it
Pricing – Ghost Opens Source is free, while Ghost Pro's prices range from $9 to $199
Who can use it? – Creators, writers, and publishing companies.
---
10. HubSpot CMS
The HubSpot CMS is part of the HubSpot SRM, a fully integrated tool designed for small business owners.
With the CRM, you get a blogging platform, tools for sending newsletters, means for generating leads and managing subscribers, and personalization features to serve different content to your audience based on the content they love or resonate with.
Other features include:
Text editing and formatting
Image editing
Website management
Customizable forms
HubSpot CRM is best suited for businesses looking for an all-in-one tool.
Why? Because setting it up can be quite costly.
For instance, the pricing starts at $300 per year. But if you need onboarding training or need to build a site with more than 20 pages, you may have to pay more than $1000.
Pros:
It's an all-in-one content management system and marketing tool
It's easy to set up, thanks to the drag-and-drop feature, as well as readily available learning resources
Cons:
It's expensive and lacks a free plan
Pricing – $300 to $1200
Who can use it? – Small businesses and publishing companies.
---
11. Weebly
Weebly is a bit similar to Wix in that you design the website through drag-and-drop. However, Weebly is quite limited.
For starters, the editor doesn't leave much room for creativity like Wix. But on the bright side, such an editor makes Weebly easier to use (make sure to check out our full Weebly review to learn more).
With Weebly, you also get access to an Appstore where you can extend the site's functionality, at least 70 themes, and eCommerce functionality. Unlike in Wix, you don't lose your content when changing themes.
How about pricing?
There's a very convenient free plan, but the $6, $12, and $26 per month plans are very functional and relatively cheap.
---
12. Write.as
This is another blogging platform built with writers in mind. Once you access their homepage, there's no sales pitch or any other copy trying to convince you why you should write on the platform. There's one large blue button that says "Start Writing."
Even without creating an account, you can write and share your thoughts anonymously. But you can also create several miniblogs in various niches under your name. You can use Write.as to create a free blog or opt for the Pro or Team plans. However, unlike Wix and WordPress.com, that place ads on free plans, Write.as doesn't place ads.
The paid plans aren't expensive either, with the Pro plan going for $9 per month and the Team plan going for $30 per month.
Other features you get in the paid plans include:
A personal domain
SSL
Custom themes
Multiple users
---
13. Twitter
Twitter is more of a social media platform, but lately, content creators have been using it as a blogging platform that makes money.
Initially, Twitter used to be an excellent way to promote your blog content to reach a bigger audience and grow your business. According to Moz.com, Twitter can also help improve rankings or speed up the indexing of new articles.
Now, Twitter has a feature known as Super Follows that allows content creators to earn money on Twitter.
This is a paywall where only people who have purchased the Spur Follows subscription will see your content. And the good thing about Twitter is you can write short posts or long posts, videos, GIFs, or any other type of media that your audience loves.
---
14. Kajabi
If you're looking for a blogging platform that can double up as a funnel for your online courses, Kajabi is a good fit. It's an all-in-one tool that allows users to sell their online courses, offering sales funnels, marketing tools, and even a marketplace.
But you can create a blogging page within the website and use SEO to generate a bigger audience for your courses.
Kajabi comes in 3 plans; Basic, Growth, and Pro.
And they cost $119, $159, and $319 per month, respectively. The price may be steep, but if you want to sell courses in the future, you won't have to migrate to another program.
---
15. SubStack
Are you an influencer with a huge following or a writer seeking to build a mailing list?
SubStack may be the right blogging platform to make money from your content. It uses a unique business model to build an email list then charge them to read your newsletters.
You can create free content first to test the audience, and once you're sure they can pay for the content, you set up a paid subscription. You can send this content to their emails or post a blog on your SubStack account and share the link.
Better yet, it's free to join. You only pay SubStack a small percentage when you start earning from your subscribers.
---
How To Choose the Best Blogging Platform?
A lot can go into choosing a blogging platform, but to make it easier, I have narrowed it down to some of the main factors you should consider.
Purpose
Different popular blogging platforms are suitable for different types of content.
Some support long-form content, while others support:
infographics
music
videos
short posts
and so on
So, before selecting a platform, you need to know what type of content you will be posting.
If you prefer one-sentence posts or short paragraphs, WordPress, Medium, Wix may not be the best. You'd be better off with Tumblr or Twitter.
Monetization
You are looking for the best blogging platform to make money, so you need to check the various ways you can monetize the platform. The best blogging platform is the one that allows you to choose your monetization method.
This could be:
selling courses
affiliate marketing
display ads
Some CMS platforms may not allow some of these monetization methods, but they may have their own monetization strategy. Evaluate each monetization model and choose one that aligns with your business goals.
Control and Customization
Before selecting a blogging platform, think about the level of control you need over the content.
Do you want access to the backend? Do you want to control who can read the content? How many contributors does the platform allow? Does the platform restrict the kind of content you want to publish?
These are some of the questions you should ask.
A free blogging platform may not give much control, while platforms like WordPress (see WordPress vs Webflow) will let you do anything you like on your website.
Cost
How much are you willing to spend per year or per month on your blog?
While a free blogging platform is great to start with, it can be quite limiting when you decide to scale your business. On the other hand, some platforms can be quite expensive and are only suitable for an established company. Start by having a goal for your blogging career. See yourself in the next five years and select platforms that can support this growth.
For instance, WordPress strikes a good balance: you can get a cheap domain and a cheap theme and then revamp them as your business grows. You'll also come across platforms specifically designed for selling courses, eCommerce, or Newsletters.
Your Skill Level
Some bloggers look for a platform that allows them to write, make basic formatting, and post. But some would love to edit the HTML, CSS, or even add other complex formats into the blog.
Choose a platform that you're comfortable with based on your skill level.
Ease of Use
This is slightly related to skill level.
If you're not that tech-savvy, a blogging platform that takes you through hurdles before you post a blog post isn't ideal. The setup process may be tricky at first, but the day-to-day use shouldn't be complex.
Customization
Do you want to customize your blog to your liking or your audience's liking?
Then check if the platform allows you to. This may include changing the layouts, colors, and themes. If you need more control over customization, look for a free blogging platform that allows you to upload third-party add-ons and plugins.
Compatibility
Do you want to use your blog to sell courses, sell services, capture emails, or set up a subscription service?
Then check if the platform is compatible with global payment gateways, email marketing tools, and order management tools. As mentioned earlier, have a goal for your blog, know how you want to use it, and find platforms that work best for your goals.
---
Best Blogging Sites To Make Money
And there you have it – selecting a blogging platform can make or break your blogging career, so it is important to consider which is best for your goals.
For most people, WordPress tends to be the best blogging platform for making money, but there will be exceptions.
Each of the different blogging platforms have features that set it apart from the rest.
As we have established, you need to know what type of content you want to share. You also need to think about your long-term goals for the blog, evaluate the level of control you get, the monetization methods you get, and your budget.
When you're ready, here's how to start a WordPress blog.
Want to learn step-by-step how I built my Niche Site Empire up to a full-time income?
Yes! I Love to Learn
Learn How I Built My Niche Site Empire to a Full-time Income
How to Pick the Right Keywords at the START, and avoid the losers
How to Scale and Outsource 90% of the Work, Allowing Your Empire to GROW Without You
How to Build a Site That Gets REAL TRAFFIC FROM GOOGLE (every. single. day.)
Subscribe to the Niche Pursuits Newsletter delivered with value 3X per week