23 Best Sites for Freelance Writers to Find Consistent Work Online
When you buy something through one of the links on our site, we may earn an affiliate commission.
Freelance writing is one of the most high-paying and competitive freelance jobs out there. This article will share the 23 best sites for freelance writers to find work online.
Breaking into freelance writing can be challenging but rewarding. You have perks like the opportunity to make a living writing, working flexible hours, choosing the projects you take on, and working remotely.
But there's a lot to consider, like your niche, experience, the type of writing you'll do, etc. The work can be inconsistent, and clients can sometimes be difficult to work with. There are pros and cons to consider if you want to break into freelance writing, but, overall, it can be very worth it.
One of the biggest burdens freelance writers face is landing consistent work. Finding consistent writing opportunities can take time and effort.
That's why we have put together this list of the best sites for freelance writers.
In this roundup of freelancing websites, you'll learn about:
23 best sites to find freelance writing work
How to start a career as a freelance writer
How freelance writers find work
Breaking into freelance writing with no experience
By the time you're done reading our list of freelance writing sites, you'll have a clearer picture of how you can make money freelance writing and which direction to pursue with your freelance career.
Let's get started.
23 Best Sites for Freelance Writers to Find Work Online
1. Upwork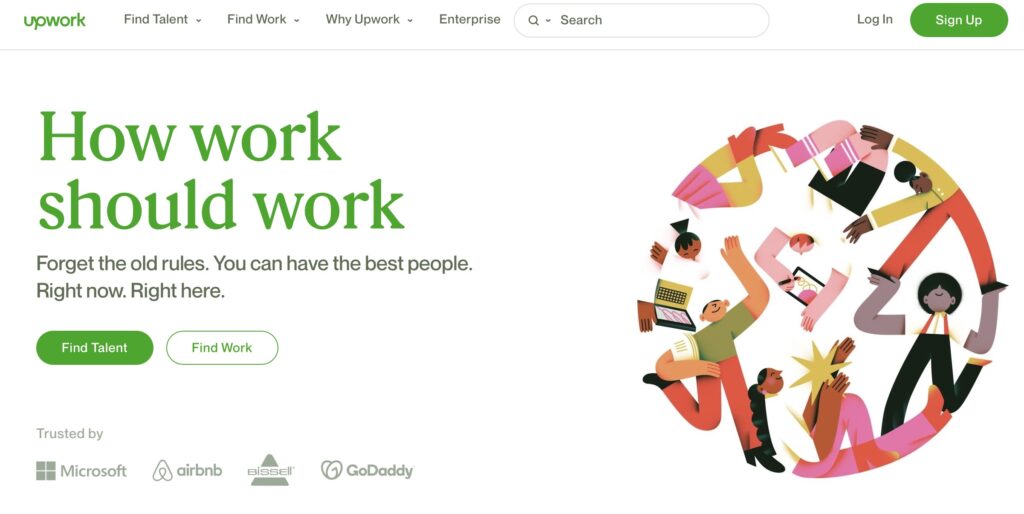 First on our list of freelance sites for writers is Upwork, a freelancer marketplace. They connect freelancers and clients to work together on projects. Once you join Upwork as a freelancer, you'll set up your profile as a freelance writer, and then you can start looking for freelance writing projects.
When you find a freelance writing gig you'd like to bid on, you can submit your proposal, which includes a cover letter (check out our article on cover letter generators), your writing rate, and answer the client's questions, if any.
If selected for an interview, you will get a notification from Upwork, and you will be able to connect with the client further to discuss the project details.
2. Fiverr
Fiverr is a gig marketplace where sellers and buyers can collaborate to work on projects. This site is similar to Upwork, but instead of sellers posting the projects they need freelancers for, freelancers post gigs for the work they can perform, and then buyers can purchase writing services.
Some examples of writing gigs you can offer as a Fiverr freelance writer may include:
Proofreading services
Writing a blog post
Writing Amazon product descriptions
Fiverr, like Upwork is for many freelance services, not just looking for freelance writing jobs, but there are a ton of different freelance writing gigs you can post to attract writing clients and start earning money online.
To learn more, read this article about how Fiverr works, including proven strategies to help you be successful.
Check out these 15 real ways to make money on Fiverr and go full-time freelancing!
3. SolidGigs
SolidGigs is a lead generation service that can deliver freelance writing leads for writing gigs to your email inbox. This paid service has a 7-day free trial to test out the service and see what freelance writing gig opportunities are available. Membership starts at $21/month (paid annually), with monthly plans available, too.
4. Writer Access
Writer Access is a content writing marketplace home to over 40,000 customers and more than 20,000+ freelancers. This is a site to consider if you're a writer looking for a freelance job.
For freelancers, you can join their workforce, create a free online portfolio, and connect with clients to get paid writing gigs.
As a Writer Access freelancer, you'll enjoy perks like:
Hand-reviewed service
Access to 250 million stock images
Content marketing tools
Content marketing certification
Read this Writer Access review to learn more about the platform.
5. Problogger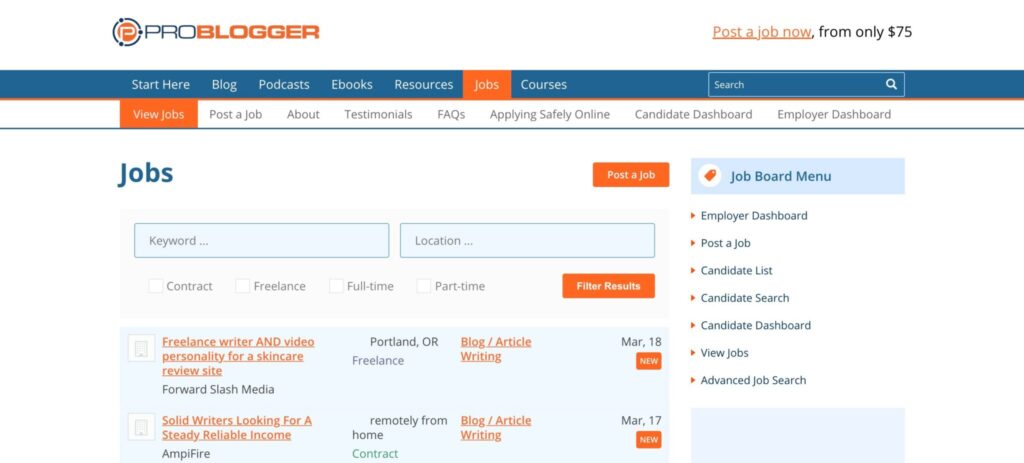 Next on our list of freelance writing sites is ProBlogger Jobs, the writing job board built into the Problogger website. Clients can post their job listings on the ProBlogger job board, and freelance writers can apply.
On ProBlogger Jobs, you can find writing work for blog post writing, academic writing, resume writing, and more. Browse the job board for job listings of interest, then follow the instructions in the job listing to apply for the job.
6. Contena
Contena is a freelance writing site and resource to help writers get paid writing work. You get access to a writing training program, a job board, and a list of companies that hire remote writers.
This is a paid program available by invitation only.
To get started, you can fill out their 5-minute application for a chance to be invited.
7. MediaBistro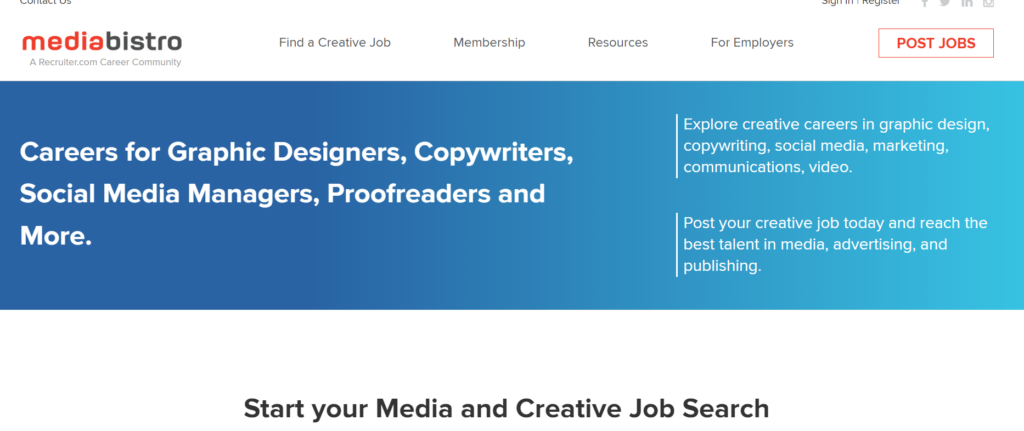 Media Bistro is a job board that posts creative jobs in writing, graphic design, marketing, operations, and other job categories. They also offer resources to creatives like career advice, pitching tips, and more.
You can access job postings and some resources for free, but for full access to the site, you'll need to buy the unlimited membership, which gets you:
Online courses
Resume and LinkedIn services
Webinars
Expert chats
The MB unlimited membership comes with a 7-day free trial and runs $14.99/month afterward.
8. Freelance Writing Gigs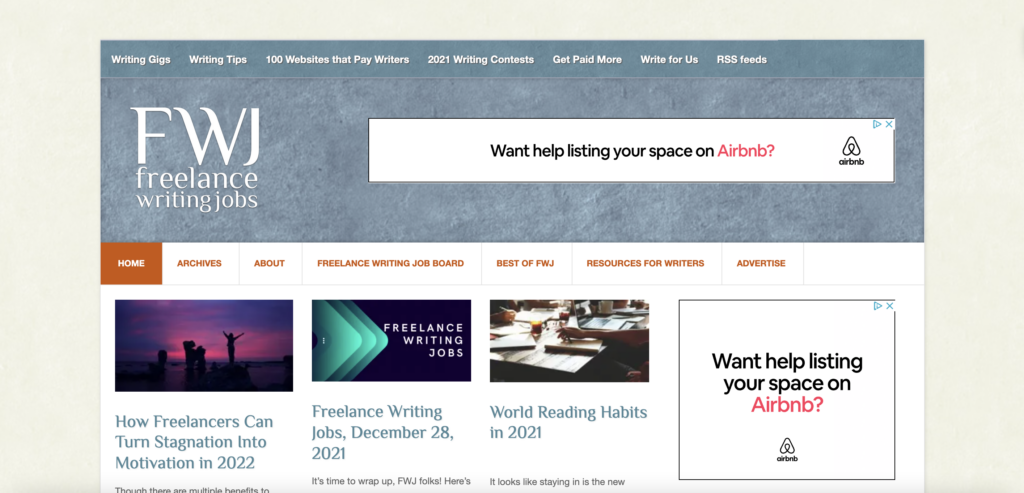 Freelance Writing Gigs is a free freelance writing community and job board for new and experienced writers.
Search jobs
Access resources like downloadable resources, business, and writing tips
List of websites that pay writers
Writing contests
This website is one to keep in your arsenal for spotting freelance job opportunities that are new and hiring.
9. LinkedIn
LinkedIn is on our list of freelance writing sites because it's a career-based social network where you can build a professional profile, network in your industry, connect with peers and employers, apply for jobs, start a social post, and more.
For social media networks, LinkedIn is one of the best sites for new and experienced freelance writers.
You can build your reputation online as a writer with a free account, connect with other writers online, share your knowledge, learn, and contribute.
10. Indeed

Indeed is a free job search site and career resource. You can search for jobs by keyword and location to find writing jobs. Indeed features thousands of jobs on its site daily. It's user-friendly and relatively easy to use their search filters to find the perfect writing projects you're looking for.
11. Glassdoor
Glassdoor is a free career resource and job search engine.
In addition to searching for writing jobs, you can read employee and company reviews, access salary insights, and more.
12. FlexJobs
FlexJobs is a paid remote job bank. Members can access the job board to search for remote jobs.
They have membership plans for as short as one week available.
13. Guru
Guru is a marketplace where clients and freelancers can connect to work together. They have job categories like:
Writing and translation
Admin
Programming and development
Sales and marketing
Engineering and architecture
You can join Guru for free, build your freelancer profile and start searching for great writing gigs. When you find jobs of interest, you can send your quote to bid for the project.
14. Freelancer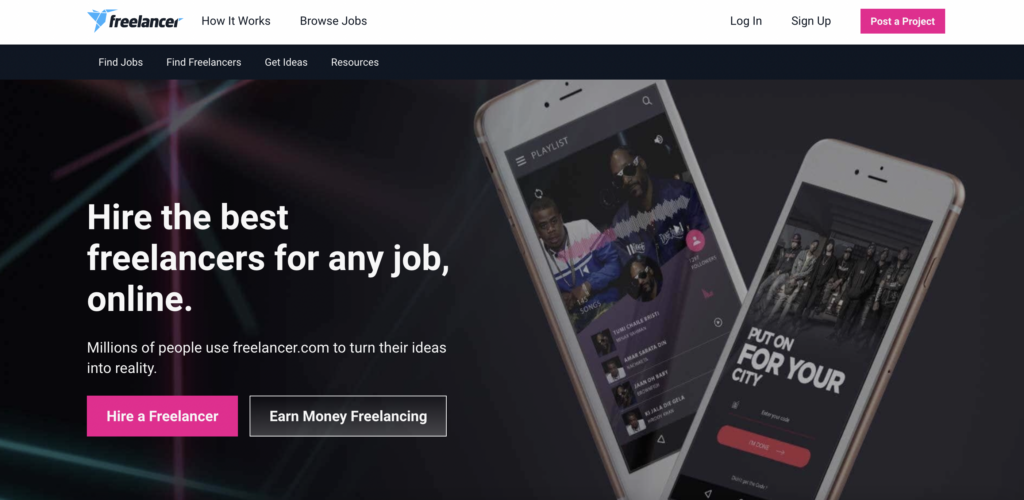 Freelancer is a freelancer marketplace. Clients visit Freelancer to find freelancers to work on their projects. The platform connects clients and freelancers. It's on our list of freelance writing websites because if you're looking for writing work, you'll find tons of writing gigs on Freelancer.
15. People Per Hour
People Per Hour is a platform clients go to for hiring freelancers. They accept freelancers worldwide who specialize in various categories like writing, translation, digital marketing, social media, and more.
Once your application is reviewed and approved, you can view open projects and submit proposals.
16. IWriter
iWriter is a content writing service. Clients can visit iWriter to post their writing projects, and freelancers can work on projects as they wish, working as much or as little as they want.
The platform says writers can earn up to $80 per 500 words, choose writing projects that work for them, build their client base, and more.
When you apply to join the platform, your work will be graded, and you're assigned a rank:
Basic
Premium
Elite
Elite Plus
The higher your rank, the more your writing rate is. At iWriter, writers can write as much as they want and earn unlimited money with freelance writing gigs. Payments are issued weekly on Tuesdays.
17. Contently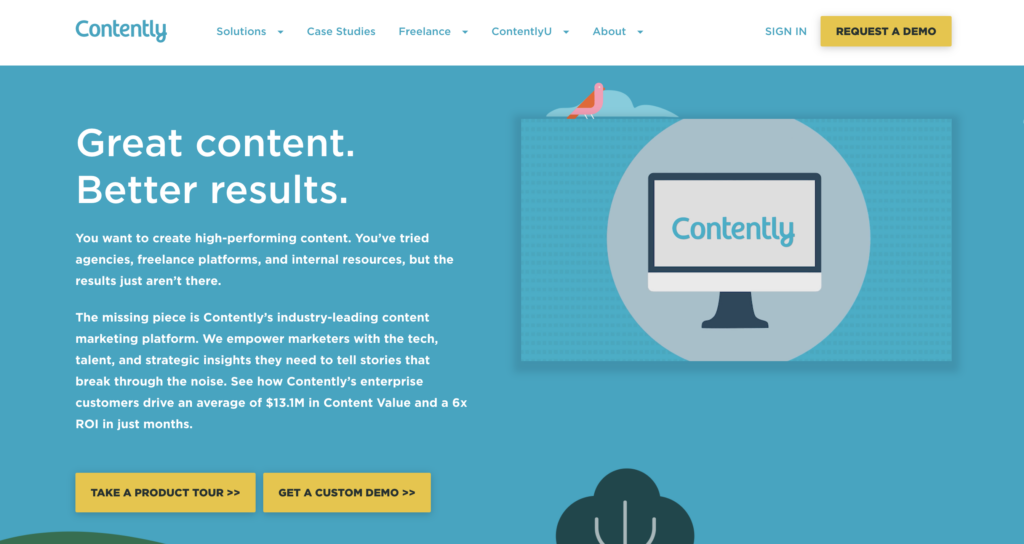 Contently is a content marketing platform where experienced writers can work with top clients.
You can create your online portfolio on the platform, find clients, and work writing jobs in a fairly straightforward process.
18. We Work Remotely

We Work Remotely is an online remote-only job board.
If you're looking for remote jobs that pay well, this is a job board you can check out for finding work. It's not writing-inclusive but they do feature remote writing jobs you can apply for. This job board is free to browse and apply for and regularly refreshes with new jobs.
19. Remote.co
Remote is a free remote job bank where you can browse jobs in many work categories like data entry, writing, healthcare, customer service, and more. They also offer remote job seekers resources like career coaching, online courses, and more.
Go to the Writing job category to review the remote writing jobs available and apply to those you're interested in.
20. ClearVoice
ClearVoice is a content marketing platform that connects freelancer talent to hiring employers.
This platform was designed to help clients get their content work done, like blog post writing, website pages, ebooks, etc.
You can join the platform for free as a freelancer, sign up and create your CV to start the process.
You'll get a chance to:
Build your personal brand
Get jobs
Set your own rate and get paid fast
Communicate with clients easily
21. Craigslist
Classified sites like Craigslist can be an untapped resource for freelance writing work, believe it or not. You can use Craigslist to make money online in writing and in other areas.
Head to the Craigslist site to search for writing jobs and follow the instructions to apply.
22. BloggingPro
BloggingPro is a free job board you can use to find freelancing gigs. As soon as you land on the site, you'll be able to view their job listings for hiring writers that they source globally. This is the place for content writers to find full-time, remote, and freelance writing jobs, and you can work from anywhere.
23. ServiceScape
ServiceScape is a talent network. You can join as a service professional in the writing category, create your account, and submit your application.
Once approved, your profile will be visible on ServiceScape and clients will be able to hire you on the spot, no bidding necessary.
---
How do you start as a freelance writer?
Working in a freelance writing career, whether you pursue it full-time or part-time, is about having the skills to write and then monetizing those skills with freelance projects.
The freelance industry is competitive. Some hard lessons can be learned along the way, and balancing freelance life with everything else can be challenging for some.
If you're really serious about starting your freelance writing career, there are five steps you should take to launch your career as a freelance writer:
Researching your niche
Building up your business skills
Getting the right tools
Creating your portfolio
Marketing yourself
1. Research a niche
Choosing your niche is about selecting a topic you'll write about. Some writers are generalists and will write about any topic available, from HVAC certification to home organization.
While choosing a writing niche is optional, I highly recommend you do it.
When you specialize in a niche, you can build your reputation as an expert in that field. This can help you command a higher pay rate and make you a solid competitor among other writers.
First, look at what kind of writer you want to be:
Copywriter
Content writer
Newsletter writer
Magazine column writer
Journalist
Technical writer
Resume writer
Academic writer
Next, pick a topic, like gardening, economic policy, personal finance, travel, etc.
Keep in mind, the niche you choose now can change over time, so you don't have to feel stuck in your decision.
As you gain more experience, you might favor one style of writing over others, like writing blog posts over white papers, for example. And, as you uncover your strengths in writing and carve out a niche for yourself, there's an opportunity to broaden your niche and adapt to a writing role you envision for yourself.
2. Build business skills
Whether you're a freelance writer, graphic designer, consultant, or professional, the skills needed to run that business are the same when you enter freelancing.
This is an often missed opportunity among new freelancers.
In 2020, 41% of the U.S. workforce freelanced, which is expected to rise in the future.
Each one of those freelancers, regardless of their industry, should know:
How to best organize their time and workload
Invoice management
Crafting and sending out writing pitches
How to prepare their taxes
The business behind building a freelance career is often overlooked, even though it's one of the most important building blocks of running a successful, professional freelance career.
As a new freelancer, you may be new to all this. What you know about the freelance business will grow over time, and these first few years where you may have "growing pains" will help teach you valuable lessons about business.
3. Get the right tools
Using tools is a smart way to work more effectively and efficiently. You'll want a computer with internet access and word processing software installed, a video conferencing app like Zoom, and other tools to help you do your best work.
Here are some examples of freelance writing tools to consider are:
4. Create a writing portfolio
A writing portfolio is a collection of writing that you can share with clients to illustrate your work caliber. Having a portfolio is important to win online writing jobs, especially for a beginner.
It's common for your prospective client to ask for examples of your work.
If you're new to freelance writing, you may have yet to publish examples to share, but you can share your writing samples!
For your portfolio, you can set up a WordPress blog to publish your work online or use a service like Contently to build your portfolio online.
But having your own site to not only show off your writing but also build into a real and valuable piece of digital real estate is invaluable! This way, you can leverage the best sites for freelance writers to gain valuable writing skills you can use towards building your blog!
5. Market yourself
Lastly, don't forget to market yourself. Not all writers do this, but it's a smart way to gain more exposure which can translate to getting more writing projects.
You can explore free online marketing ideas like:
---
Best Sites for Freelance Writers FAQ
Here are some commonly asked questions about the best sites for freelance writers listed above:
1. What are the best websites promoting freelance writing opportunities?
The best freelance writing websites promoting quality writing gigs are freelance platforms (such as our Writers Work review).
While all 23 sites for freelance writing can be used for finding writing work, for freelance-only work, turn to freelancer platforms like Upwork, Freelancer, People Per Hour, and Clearvoice, to name a few.
2. How do freelance writers find work?
Writers find work through a variety of freelance writing websites:
Job boards: One of the most common ways freelancers find work. Job boards show writing opportunities available that writers can apply to. Examples include We Work Remotely and Remote.
Freelancer websites: These platforms bring freelancers and clients to work together on projects. Examples are Upwork and Freelancer.
Word-of-mouth referrals: One of the best ways to find freelance work and a great way to get a lot of work from similar clients.
Social media: These are good for online networking and writing opportunities. An example is LinkedIn.
Community-based sites: You can establish your online reputation, offer advice, learn, and get jobs. An example is Reddit.
3. How much can a beginner freelancer earn?
According to ZipRecruiter, the average salary for a freelance writer is $33.00/hour. Many freelance writers charge per word and can secure a rate of $0.05 to $0.10 per word, depending on their skill level.
Over time, as your writing gets better and you gain more experience, rates can rise.
4. How can you start freelance with no experience?
Starting a freelance writing career is possible with no experience. Once you identify your skills and niche and build your portfolio of writing samples, you'll be ready to start your job search. This list of the 23 best sites for freelance writers will aid in the process of finding your first freelance writing job.
The Bottom Line on The Best Sites for Freelance Writers
This wraps up our roundup of the best sites for freelance writers. This list is vast and can cater to many different kinds of writers.
Which one is the best?
For beginners, you should check out Upwork. They have search filters that will turn up the exact kind of entry-level and beginner-friendly writing projects you're looking for.
For seasoned writers, social media sites like LinkedIn are good for finding writing work. Since you're seasoned, you may have already built an online reputation and portfolio for yourself. Show this off on LinkedIn. Network with others, share posts, and comment on other users' posts. LinkedIn rewards activity and engagement, and it's one of the best places online to find high-paying writing work.
For volume-based work, go to Upwork and Freelancer. Sites like these have thousands of freelance projects on the site at all times, many of which are for writing gigs.
You can sift through the writing jobs listed on the best sites for freelance writers above and apply to those of interest to you. They are perfect for writers looking to work multiple jobs.
For high-quality writing jobs that pay well, ProBlogger Job Board is better than many other freelance writing sites. They usually feature dozens of jobs at a time, for different writing projects and niches. The application process is easy, and clients are usually pretty responsive.
Freelance writing is an excellent field to be in. Whether you're trying to do some freelance writing jobs on the side for some extra cash or you're looking to make freelance writing work a full-time career, this is a great industry to be in, whatever your preferred work schedule.
Which sites will you be visiting for freelance writing jobs?
Want to learn step-by-step how I built my Niche Site Empire up to a full-time income?
Yes! I Love to Learn
Learn How I Built My Niche Site Empire to a Full-time Income
How to Pick the Right Keywords at the START, and avoid the losers
How to Scale and Outsource 90% of the Work, Allowing Your Empire to GROW Without You
How to Build a Site That Gets REAL TRAFFIC FROM GOOGLE (every. single. day.)
Subscribe to the Niche Pursuits Newsletter delivered with value 3X per week