17 Types of Blogs that Make Money (with Examples)
When you buy something through one of the links on our site, we may earn an affiliate commission.
If you're here, there's a good chance you want to know the best types of blogs that make money.
This is a question that both newbies wanting to start a blog and business owners who already have an established website would want an answer to.
While it is true that almost any kind of blog may be profitable, there are a few blogging categories that consistently produce far more money than others.
In this post, we'll look at the top 17+ types of blogs that make money as well as the best methods for generating revenue from them.
If you're just getting started with blogging, make sure to search for types of blogs that appeal to you and pique your interest on this list.
It will add to the thrill of the experience and may even help you get there quicker by making you enthusiastic about creating and improving your blog.
We'll provide some examples for different types of blogs that make money in each of these blogging categories for inspiration. These should be used as income-generating ideas. Don't simply follow them word for word.
Let's get started.
Here are 17 different types of blogs that make money.
DIY/Craft Blog
Do it Yourself or design blogs show people how to accomplish things on their own. The options are endless, whether it's building a house or redecorating a living room.
If you have a knack for creating things yourself and like to share your skills with others, then a DIY/craft blog might be the ideal platform for doing so.
After that, you'll be able to work on DIY projects that you wouldn't have been able to complete previously. Alternatively, you can simply enjoy the added liberty to pursue other interests.
Some of the most popular DIY/craft blog topics are:
Clothing
Gardening
Woodwork
Holiday decorations
DIY life hacks
Home Renovation
Arts and crafts
Tip: DIY videos are very popular on social media so they will help you grow your blog.
Here are some examples of profitable DIY/craft blogs:
Legal Blog
Now that the world is becoming increasingly digital, conventional services are gradually being transformed into digital ones. When you have a problem, one of the first things most people do is search for it on Google or another similar service. This is also true for legal issues.
People want to know if they can handle their legal difficulties on their own, whether it's tax-related or as a way of determining if what they're doing is lawful. Lawyers are often costly, therefore there is a lot of potential online for low-cost, no-obligation solutions to issues that may be considered typical or basic.
These could be content on:
How to complete your taxes in a certain country
Steps to apply for work in another nation
The easiest way to migrate to a new country
If you have any significant legal issues, however, you should seek expert counsel.
If you're no longer practicing, you can use your blog as a lead-generating tool for a network of lawyers around the globe, as they'll be in search of new clients.
You can earn a decent commission for the connection.
Here are some examples of legal blogs that generate income and/or have a large following:
Finance Blog
If you're good with finances, this is one of the types of blogs that make money that'll suit you.
They provide financial advice to a wide range of audiences, including students, people looking to pay off debt, parents, and individuals with extra cash who want to spend or invest it wisely.
These types of blogs that make money have some of the highest CPMs for advertisements.
This is because advertisers here face a lot of competition and can pay much more than other niches since their products create far greater income for them. This is, without a doubt, a big win for bloggers.
Not only can you make money by displaying advertisements,  but the items in this niche are also very valuable.
If you promote products or services as an affiliate for brands in this niche, you can make a lot of money off of a small number of visitors or conversions.
Blogging in this niche may take many forms, but the most frequent subjects discussed are:
Side hustles
Working from home
Passive income
Investing money
Debt management
Saving money
Budgeting
If you're interested in these topics and have some expertise, it may be time to start a finance blog.
Here are some examples of finance blogs that generate a profit:
Business Blog
There may be a lot of overlap between business-related blogs and marketing blogs. This is because marketing is one of the most important elements in running a company.
Business blogs discuss industry developments and offer practical advice on starting and growing a brand. They also cover various options for establishing a business based on your specific circumstances.
Here are some of the most popular topics covered by company blogs:
Entrepreneurial motivation
Business trends
Business planning
How to market your brand
How to make money online
Pitching and funding advice
These blogs aren't so distinct from marketing and finance blogs since they focus on topics that you'll find in those industries as well.
Here are some examples of successful business blogs:
Personal Development Blog
When you think of self-help, the first word that comes to mind is personal development.
These blogs are often about helping people discover who they truly are and how to control their feelings to achieve their objectives and aspirations so that they can live a great life.
Personal development blogs are generally about issues like:
Dating and relationships
Happiness
Mental health
Life coaching
Emotional mastery
Mindset
Here are some of the most successful personal development blogs that earn money:
Marketing Blog
A challenge many businesses confront is a lack of brand awareness. This is especially true in the digital age as the marketing landscape transforms rapidly. As a result, a marketing blog is also one of the most effective types of blogs for generating money.
Marketing blogs assist creators, marketers, and company owners in navigating these changing tides while also increasing their online presence and conversions.
These blog types can focus on a specific sub-niche such as influencer marketing or they can cover everything in the niche.
With a marketing blog, you can discuss:
Current trends in specific fields
How to grow on certain platforms or with particular media
Provide strategies for increasing reach, whether through online advertising or other traditional marketing channels.
Here are some examples of profitable marketing blogs:
Health and Fitness Blog

Self-improvement includes all aspects of life, not merely the emotional and mental side. A lot of people are interested in boosting their physical health and appearance. This is where health and fitness blogs have significant earning potential.
Blogs on fitness and health topics allow readers to attain a healthy lifestyle while also enhancing strength and fitness.
You can write about a wide range of subjects, from bodybuilding to non-bodybuilding topics:
Eating a balanced diet
Workout and exercise techniques that are meant for specific niches (such as Bodybuilding, Yoga, Pilates, etc.)
Nutrition counseling
How to do specific exercises
Meditation 
Self-love
There are a plethora of health and fitness issues to address, and we can all relate to one or more. So there's a huge audience eager to read your material if this is something you're passionate about.
Here are a few examples of blogs that generate money in the health and fitness sector:
Sustainability Blog
Sustainability and eco-friendliness are frequently mentioned in tandem with a variety of other topics. Blogs in this niche usually only discuss their sub-niche within the topic.
Sustainability blogs are all about preserving the planet, teaching people how to be self-sufficient, and raising awareness of pollution and climate change. They also offer solutions that everyone can use to make a meaningful difference.
Here are some examples of what sustainability blogs might cover:
Minimalism
Living off the grid
DIY/Crafts
Environmental alternatives for popular products
No-waste living
Self-sustainable gardening
Here are some examples of sustainability blogs that make money:
Travel Blog
If you adore traveling, seeing new places, and telling others about your adventures about the different things you've seen, done, or eaten, a travel blog may be exactly what you're looking for.
A travel blog is a great way to excite readers about a new destination and offer ideas for their next vacation. These blogs are typically attractive (although you don't need to be a professional photographer to create a fantastic travel blog), have comprehensive lists, and offer insights on the finest activities and sights to see.
These blogs focus on a wide range of topics, such as:
Things to do and see
Food in different countries
Remote work or online jobs great for travel
Traveling on a budget
Backpacking
Travel itineraries
Local travel
Here are some examples of travel blogs that generate revenue:
Personal Blog
Other blog types have one thing in common: they focus on a specific subject or industry. However, personal blogs are somewhat unique.
Personal blogs, unlike the others, tend to have a wide range of themes. The aspects typically covered include the writer's personality and stories, as well as how they are woven together to form a coherent blog.
This sort of blog connects with its target audience because it is very relatable.
If you're not sure what you want to write about but have something of value to communicate to a certain group, a lifestyle blog may be for you.
These blogs cover a wide range of topics with a lot of common themes. Here are some of the most popular subjects:
Learning a new skill
Productivity
Relationships
Here are several examples of lifestyle blogs that make money: 
Fashion Blog
Do you consider yourself a trend-conscious and fashion-savvy individual? It may be time to think about starting a fashion blog.
Fashion blogs can make a lot of money thanks to affiliate marketing, your goods, and, of course, advertisements.
Fashion blogs cover a wider range of topics than simply attractive images and stylish clothing. They provide their readers with quality by addressing issues such as:
Latest style trends
Environmentally-friendly fashion
Clothing for particular occasions
DIY fashion/hacks (and fashion upgrades)
Affordable fashion
Seasonal style
Fashion reviews
Here are some examples of successful fashion blogs:
Parenting Blog
Also known as mom blogs, these types of blogs that make money are typically written by moms about their personal experiences. Dads have also begun to participate in the niche. As a result, we'll refer to these as parenting blogs.
Blogs on parenting are all about raising children and offer a range of family-related topics.
The content in these blogs is fantastic since they allow you to share your own experiences, which many parents are searching for answers on.
You may be that hand that assists them along the way by providing relatable advice.
Blogs about parenting focus on a wide range of issues, including:
Homeschooling
The difficulty of raising teenagers
Working and raising children
Taking kids on a vacation
Parenting on a budget
Nutrition for children
Websites dedicated to parenting can help you make money as you spend more time with your children.
Here are popular examples of parenting blogs that generate income:
Food Blog
A food blog could be a good fit for you if you enjoy cooking and experimenting in the kitchen or simply like trying different dishes and desserts.
The majority of food blogs are focused on recipes, but they may also include a range of other themes and subcategories, such as:
Quick meals
Baking recipes
Drink recipes
Restaurant reviews
Growing your fruit and vegetables
Affordable meals
Cooking without tools (like recipes without a wok, for example)
Blogs about food, like fashion and travel, are very visual. So using visual social media platforms such as Pinterest and Instagram can aid in their growth.
Here are some examples of profitable food blogs:
Pet Blog
If you adore your pet and enjoy writing about it, pet blogging may be something to think about.
You're undoubtedly wondering if pet blogs make money, and I'm here to tell you that they do.
There are effective methods to monetize your pet blog, such as linking to your favorite pet toys, gear, courses, and other pet care offers with affiliate links.
Although there isn't a standard format for running a pet blog, most of them cover the same topics. Here are some of the most common topics for different pet blogs:
Nutrition
Training your pet
Breed information
Taking your pet on a trip
Adopting
Dealing with an exotic animal
Here are some examples of pet blogs that generate income or attract a large number of visitors:
Technology Blog
If you're like most people, you can't help but watch every review and read all about the features and functions of new tech gadgets before or once they're released.
Technology blogs provide information and reviews on the newest technological gadgets, which means you can generate a lot of money through affiliate commissions.
People are generally "warm" when looking for a review on a specific product. So if they click on your article and it's an actual evaluation that shows the benefits and drawbacks, they'd most likely click on your link and buy.
Even if you're an Amazon affiliate with a tiny commission, you may make a lot of money per transaction since technology products are often high-value goods.
Some of the most popular subjects and niches in tech blogs are:
Tutorials and guides
Product comparisons and rankings
News and leaks
Product reviews
Affordable tech
Here are some examples of technology blogs that receive a large number of page views:
Gaming Blog
Blogs in the gaming niche have a lot of potential, especially as video games have become almost entirely web-based.
Your gaming blog can be focused on a certain topic or cover the entire industry. You can also use your blog to complement your YouTube or game streaming channel.
Here are some examples of things you might include in an article about gaming:
Tutorials and game walkthroughs
Game comparisons
Video game streaming
New game releases reviews
Gaming channels that attract massive audiences:
Sport Blogs
Many sports blogs focus on a single team or sport, while some cover all aspects of the game. Sports blogs are available for just about every game, even polo.
This may be the ideal choice for you if you have an interest in athletics and enjoy writing.
Sports blogs are a valuable source of information for sports fans to keep up with what they've missed, from covering games to providing player insights.
Sports blogs, like ESPN's screenshot above, cover stories in the sports world.
If you're considering starting a sports website, you have a lot of choices. You can either focus on a certain sport or go broader, like ESPN.
Most sports blogs employ banner advertising to monetize the traffic they receive through their websites and blogs. ESPN uses its website and blog as a complement to its media presence to attract and keep viewers.
Political Blogs
Blogs focused on politics provide readers with information about the topic as well as a place to express their own opinions.
Creating a political blog is not something that everyone can (or should) do. You must be up to speed on current events.
You can use a political blog to discuss political issues, criticize government measures, and offer election overviews. Many people also use a blog to help their campaign if they're a political candidate.
Ensure you pick a topic that you are an expert in. You'll be able to attract a following that trusts your views.
You can concentrate on a political party or a region (local politics is generally less competitive). There's also the option of addressing a certain perspective, such as contentious political policies.
The content you pick will determine how you generate money with a political blog.
A common approach in this topic for monetization is to request donations. Some bloggers create sponsored articles to discuss specific campaigns and politicians.
You can also consider selling political memorabilia.
Voterly is an example of a profitable political blog
Car Blogs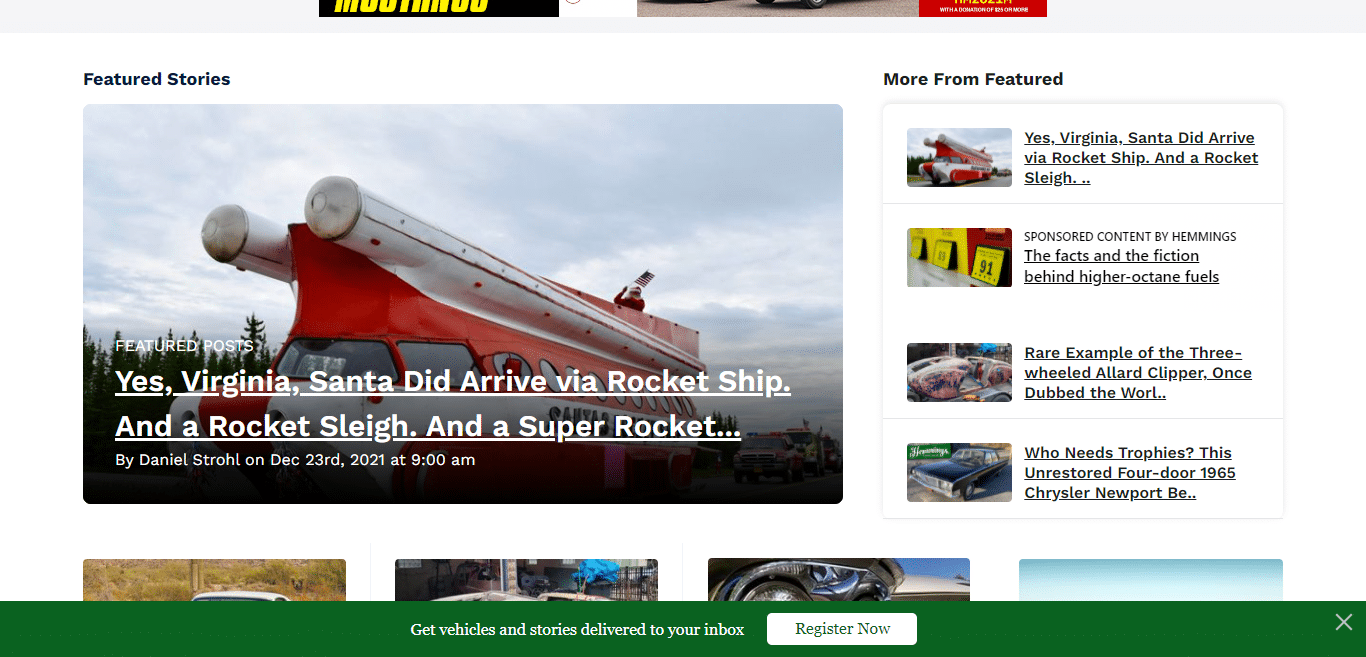 If you're a mechanic, a car brand fan, or a car enthusiast and expert, starting a car blog might be an excellent idea.
You can write about specific manufacturers, models, or vehicle components.
You could cover repair and maintenance instructions, advice, auto news, and announcements. 
To get started, consider the sort of vehicle or vehicles you'd want to cover (such as racing vehicles or family automobiles).
Choose the kind of material you'll be offering before you start. Will you provide how-tos for people to repair their cars? Or discuss your test drive experience?
How do you generate cash with a vehicle blog? This is determined by the topic.
For example, manufacturers will be prepared to pay you to publish sponsored articles if you specialize in auto parts.
Hemmings is an example of a successful car blog.
How to Make Money Blogging
Let's look at how to generate money blogging now that we've covered the types of blogs that make money.
There are a variety of ways to earn money blogging, with the sole limitation being your creativity. So here are some of the most popular methods to generate cash as a blogger:
Get Started!
The next stage, now that you know the types of blogs that make money, is to begin your blog and start monetization. Use the tips and ideas mentioned in this article to help create a blog on Bluehost that resonates with your target audience and offers ample cash opportunities.
Get Bluehost Now
Want to learn step-by-step how I built my Niche Site Empire up to a full-time income?
Yes! I Love to Learn
Learn How I Built My Niche Site Empire to a Full-time Income
How to Pick the Right Keywords at the START, and avoid the losers
How to Scale and Outsource 90% of the Work, Allowing Your Empire to GROW Without You
How to Build a Site That Gets REAL TRAFFIC FROM GOOGLE (every. single. day.)
Subscribe to the Niche Pursuits Newsletter delivered with value 3X per week