How to Start a Food Blog That Generates Millions of Pageviews Each Month
When you buy something through one of the links on our site, we may earn an affiliate commission.
Ready to start a food blog?
Maybe you love cooking or sharing recipes with your friends and now you want to share those delicious meals with people around the world.
Even with so many other food bloggers already making a full time living with their blog, there are plenty of meals, restaurants, cookware, or cuisine to blog about. 
With plenty of market share and the ability to start a food blog online for free, food blogging can actually turn into a very profitable business, providing passive income for years to come. 
Advice from Successful Food Bloggers
We caught up with a few established food bloggers and asked them for their best advice for getting started. 
Jessica Randahawa is the head chef, recipe creator, photographer, and writer behind The Forked Spoon. She creates delicious family-friendly recipes that anyone can make. 
Over one million loyal readers per month see her recipes.
Jessica told Niche Pursuits she chose to start her recipe business because food and recipes are sought year-round and generally do well even in recessions. 
She also knew the barrier to entry is also very low. Launching a recipe website can cost as little as $150 if you can utilize your phone as a camera to start. The most expensive cost right off the bat is the time commitment when compared to the minimum capital and operational cost.
It wasn't always easy and those 1 million monthly users didn't come quickly. 
Standing out on the internet is not an easy task for any passion project. Ultimately, to stand out, you first have to learn how to stand up from the ground. 

For my business, learning how to stand was creating lots of content on Blogger and sharing that content with the blogger community and on social media. All of my early content was pretty bad in retrospect, but necessary as I used the experience and created processes as a foundation to learn from.

Over a year or so, I grew my following on Pinterest into the hundreds of thousands when it first came out, which was the first time I was able to get my then passion project to stand out and start treating it like a business. But at the same time, if I had not been actively creating content before Pinterest, I don't think I would have been in a position ever to start standing out in the first place to establish my customer base.

In retrospect, it is probably best that my business did begin as a project of passion, because if I had the mindset of chasing profits right from the beginning, my first year or so would have been very challenging mentally.
Another established food blogger Sara Dyson who started NomadWithCookies.com 8 years ago also gave us some helpful tips to start a food blog. 
 Just get started. You'll make mistakes. It'll never be perfect when you start, but you have to just get started. You can always go back and edit old posts to make them better as you learn more and hone your voice.

Be consistent, but don't overcommit. Set a reasonable goal for how many times you will post per week or month, then stick to it. You can always increase the number of posts later. It's much better to increase the number of new posts per week, rather than reduce.
Familiarize yourself with baseline SEO structure and readability for post content before you get started. You don't have to be an SEO pro to write delicious content that search engines like. If you understand post minimums, html tags, keyword concentration limits and when to use bullets and images, you'll already be ahead of most first-time bloggers.
Do you think you are ready to start a food blog for yourself?
Is Now a Good Time to Start a Food Blog?
Well, it's not all delicious entrees and mouthwatering desserts. Creating your own food blog is not an easy task, but it is well worth it if you love food writing. 
Once you get up and running, companies are willing to pay top dollar advertising to families and food blogs provide just that.
Search History for Food Keywords
As Jessica mentioned, the food industry is an evergreen niche. Which means it optimized content for search that remains relevant for long periods. A good food blog will bring in website traffic year round. 
Because it remains fresh and has a long shelf life (pun intended) the return on investment for evergreen content is much greater than a niche website that turns over frequently.  
Best Food Blog Niches
Not all food blogs are created equal. Choosing the right topic for your blog is crucial for success. (Some would say this is similar to choosing your dinner menu).
The best way to start a food blog is to choose a niche that interests you the most about food and focus on that topic. And a good food blog will post recipes that appeal to the target audience.
You want your writing to be fresh, engaging, and very entertaining so that people will keep coming back for more. If you are providing recipes, they should be pretty tasty as well!
You'll also want to write content the search engines love. 
Starting out, you'll want to choose a sub-niche. For example, the keywords for "Recipes" will be near impossible to rank on Google and other search engines. But terms like "Chocolate Recipes" will be much more manageable. 
Just as you would follow a recipe when baking. You can use tools like Ahrefs (or an Ahrefs alternative), which will essentially create recipes of the best content to write by showing you what people are searching for on Google. Using their keyword finder option, you can type in your ideas and find the best performing content and strategies to get your new blog post noticed.
Examples of Food Blogs
Starting a new food blog can be quite daunting, especially for first-time bloggers. But with so many free resources available. Starting a food blog is now easier than ever before.
Many bloggers freely share their experience and knowledge on how to get started. When learning how to start a food blog, use other successful food bloggers as inspiration. 
Here are a few of our favorite success stories:
PinchofYum.com
Pinch of Yum is a top food blog written by Lindsay from Minnesota. Recipes pair farm-fresh from scratch ingredients with simple cooking to create beautiful, original recipes. With over 900+ 5 star rated recipe posts and millions of visitors, Pinch of Yum is one of America's most popular recipe blogs.
Lindsay's goal is to inspire you with both approachable AND exciting food, whether you're cooking for yourself, your family, roommates, or friends. Pinch of Yum is packed with hundreds of beautiful pictures of delicious food, mouthwatering recipes, and exciting adventures. 
Lindsay also runs a spin off online course in food photography.
TheKitchn
TheKitchn.com is both a top food blog and one of the best kitchen sites in the world. TheKitchn.com has published over 2,400 recipes and thousands of cooking tips and articles since its launch. The site receives over 6 million monthly visitors—more than any other food or cooking site—and was named one of Forbes' "Best Blogs."
The Kitchn food blog is like having your own serialized cooking magazine delivered every day—practical tips, amazing recipes, and innovative products to make your time in the kitchen easier.
Loveandlemons.com
Love and Lemons is a food blog that features simple, seasonal recipes. They believe in using the freshest ingredients and letting them shine with minimum fuss. Founded by Jeanine and Jack, who love to eat, travel, cook, and eat some more! 
The husband and wife combo create and photograph recipes from their home in Chicago. Jeanine has also developed recipes for KitchenAid, Whole Foods, Le Creuset, Anthropologie, and Crate & Barrel, among others. 
Ideas to write about for your food blog
Here are a few food-related blog ideas you could write about or include in your social media:
The 10 Best Summer Sides: A blog that shares recipes for last-minute summer sides. 

Top 10 Desserts That Are Healthy and Nutritious: A blog around desserts that are actually healthy.

How-to Build a Better Omelet: A blog about cooking an omelet with advice on how to make an omelet better for you.

How To Burn Calories From Your Favorite Food: A blog outlining calories of the food we love to eat.

Cooking Tips: A Glossary of Cooking Terms: a blog with extensive culinary glossary

5 Secret Ingredients that Enhance the Tastiness of Food: a blog on hidden ingredients that can improve flavour.

10 Most Common Use For Lemons In Home Cooking: A blog detailing lemons different uses in food.
Choosing a name for your food blog
Whether you're writing a food blog or starting any blog, for that matter, it's essential to choose a domain name that is memorable and easy to remember. 
Having the right blog name can get your blog off to a good start by producing more visits, which turns into more traffic, which leads to higher conversions.
I've come up with a list of domain names that are catchy, short, and easy to remember.
Domains come and go quickly, so use Namecheap tools to see if the domain name is available. Use these ideas as examples, but choose a blog name you love that makes sense for you. 
| | | |
| --- | --- | --- |
| AppetiteImagery.com | Acefood.com | GotoBites.com |
| Beterfood.com | DiscreteDieting.com | GrubRating.com |
| BlissForkStudio.com | DivineBites.com | MmmFactor.com |
| CaptureTheTaste.com | Feedwell.com | TasteLead.com |
| ChewsyPhotography.com | Flavorlicious.com | TasteShark.com |
| ChowIcon.com | Foodbarn.com | TastyBusters.com |
| ChowScoopStudio.com | ABiteAbove.com | MeattoEat.com |
| EdibleMuse.com | ChopSueyCuisines.com | MeatAndEat.com |
| ExposingFood.com | CraveFaves.com | |
| EyeCandyBites.com | DeliciousHunter.com | |
| FoodBoxStudio.com | DelishHunter.com | |
| FoodSnapz.com | EatersPick.com | FunPlated.com |
| FoodVisionz.com | FaveBites.com | GrubRating.com |
| GoodNuffToEat.com | | |
For more naming inspiration, check out our article on food blog name ideas.
Food Blog Logo Ideas
Having an effective, professional logo that can be used in print and on the web will help grow your business and drive traffic to your site.
Your new food blog deserves a Michelin-rated logo design! Just as a meal is often judged by its presentation than the way it tastes, you'll want to create a logo that makes your blog look delicious. 
The best food blogs have a logo design that is clean, modern and speaks to the people who are reading your food and recipes articles.
If your food topic targets young professionals (20s-30s) and college students. The typography and imagery will likely be much different than if you are targeting a mom cooking for a family. 
Design Your Food Blog Logo For $5
To create a logo that is set apart from the others, use Fiverr to hire a professional who will create it for you. Fiverr has made it very affordable to get top-quality designers and other web design tasks done for you at great prices. 
Fiverr is filled with great designers, but also you have to remember you get what you pay for. If you spend a little time sifting through the hundreds of designers, you are sure to find one that fits your needs. 
You can typically tell the quality of their work by portfolio and reviews. When hiring a logo design from Fiverr, you will want to look for plenty of excellent examples in their account. The designer agrees to provide revisions and has excellent reviews. 
Creating the Food Blog
To take your idea from domain name to actual website, you need to have a hosting plan with a reliable web host. 
A website "host" is just a computer/server space that you can rent every month from an online company.
Web hosting means you have your website computer files stored on a server that makes it easy for others to access online. And honestly, that's about all you need to know to get started as a food blogger.
Bottom line, you need to set up a hosting plan to have your WordPress site up and running.
Luckily, this is SUPER easy to do and only costs a few dollars a month when you use Bluehost. 
Best Hosting for Food Blog = Bluehost
I recommend that you go with Bluehost. 
First of all, their hosting package options are cheap. For just a few dollars a month, you can be up and running with a fully functional and professional website.
Second, they are reliable. Bluehost has been around for years, and they host millions of websites. (Including some of the top food blogs) Your blog post will not disappear overnight because the company goes away. 
You can even host multiple domains on one hosting account! So, let's say you start AwesomeFoodWebsite.com, but then decide you also want to create a second website called CrazyRecipeWebsite.com. Well, with Bluehost, you don't have to buy a second hosting account. For the same monthly price, you can host dozens of websites.
There are plenty of free options to start food blogging, but you have far less control, and as it's not all that expensive, it's well worth it to use WordPress on a hosting provider like Bluehost. 
To truly succeed in food blogging, you need to start and maintain your own website. It takes some time to get everything set up, and there are many things to learn. It may seem like a lot, but simply take the first step and just get started with Bluehost.
Get Started with Bluehost Here
If you are looking for a technical setup, use my in-depth guide here. Once you've completed the Bluehost setup you'll want to use the themes and tools below to customize your WordPress site to look and feel like a food blog.
WordPress Themes for Food Blogging
A WordPress theme is essentially the skin of your WordPress website. It's what gives it its look, feel, and style. Today's themes will be a fully responsive design that can scale the layout to fit any device from smartphone to TV screen.
The best WordPress themes will make your job as a professional blogger much more manageable. It will have lots of built-in features such as sliders, custom image galleries, page templates, and much more. Each WordPress blog theme is slightly different and will come with it's own documentation in the form of user manuals or video. Let's look at a few examples.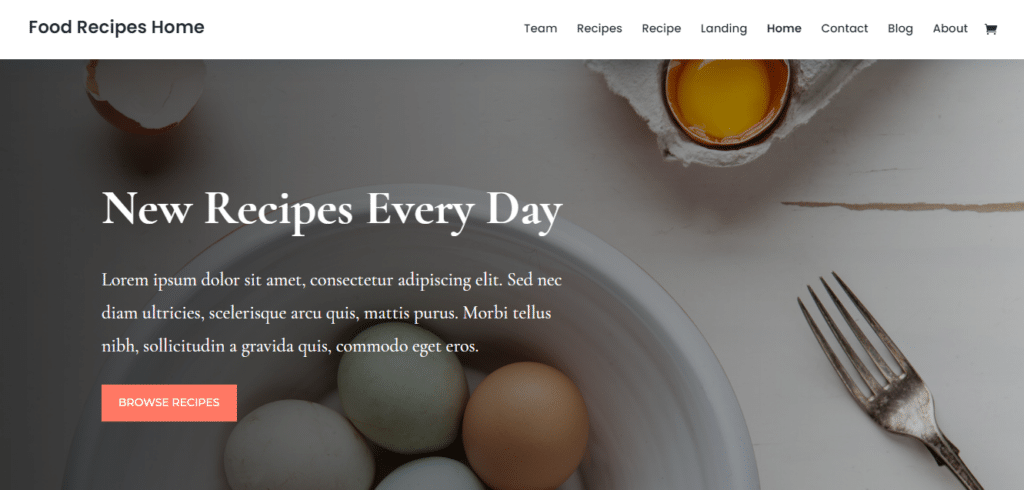 Divi Theme Food Template
The Divi food layout is a powerful WordPress theme that is perfect for food blogs. This WordPresss blog theme has been built with the same drag and drop backend experience as all the other Divi themes, so you can easily customize it to fit your needs. The layout was designed for food bloggers, however, it is not just limited to recipes or cooking.
Divi Theme
Lahanna – Food Blog WordPress Theme
Lahanna is a new WordPress theme for food and recipe blogs. The clean, modern design features a crisp, full-width header with a slider and a big featured image area. Its sleek but not too minimalistic design emphasizes big relevant images.
Lahanna food blog theme supports responsive images coming in handy for quickly browsing through various dishes without having to pinch and zoom your way through the recipes. Not only that, this theme also integrates an easy to use the recipe search form which aids in finding your next favorite grub.
Food Blogger by Templatic
The Templatic Food Blogger WordPress theme is a simple and elegant blog for foodies, food bloggers or cookbook authors. It has been described as a recipe book turned into a website. This theme is also SEO ready and translation ready for you to take your food blog to the world!
Features include a user friendly blog page template with responsive design, two widget areas, multiple post layouts, custom color schemes, built-in translation support, and social media links. The WordPress theme is retina ready and fully responsive, so your content is displayed beautifully on any device.
Best of all it's even compatible with the Elementor drag and drop plugin. 
Templatic Food Blogger Theme
WordPress Food Blog Plugins
A WordPress plugin is an additional feature or module added on to a WordPress website. At first glance, they provide similar services to the theme. 
A WordPress theme is the design of a website, while the plugin will add more functionality.  
Using plugins to display recipes and nutritional facts can be a great way to take your food blog to the next level. Yes, it takes more work than just uploading photos to a site, but the more value you provide to your reader, the easier it will be to monetize your food blog. 
There are plenty of WordPress food blog plug-ins to take advantage of to keep your food blog up-to-date or even share with your social media sites automatically with minimal input from you.
Some plugins will automatically post your new recipe posts onto other sites, while others can be used to schedule and organize future blog content, for instance.
WP Recipe Maker
WP Recipe Maker is a premium WordPress plugin that allows you to add food and recipe-related posts, pages, and links to your website. In addition to the extensive list of available fields, all recipes can be further organized into categories and sub-categories to create a clean and easy-to-use layout. Help ensure your recipes are properly categorized with the built-in tagging feature. The media library will allow you to upload images, add captions and customize their layout in your posts and pages.
It creates a flexible way to combine recipe and content management. With WP Recipe Maker, users can add recipes and blog posts together in one entry—or use the plugin as a stand-alone recipe manager. You can even use the built-in, color-coded, responsive editor to create both blog posts and recipes simultaneously.
Recipe Card Blocks by WPZOOM
This plugin makes adding food recipe posts to WordPress blogs so easy, your grandmother will be knocking out 5-star recipes in five minutes. 
Recipe Card Blocks is a WordPress plugin that adds a recipe card to the front page, homepage, archives or category page. These recipe cards are from WPZoom's Recipe Card Pro product with new and unique features. These recipe cards can be made to look like real physical recipe cards. You can customize these card blocks in lots of ways, including – Portrait, landscape display – Fonts – Customizable Colors – Background Images.
Food Truck Locations & Times
The perfect plugin for food writers who want to add a food truck schedule map on their blog. This plugin makes it easy to display a Google map of upcoming locations and times for mobile-friendly food trucks on your site. 
With Food Truck WordPress Plugin, you can easily display all nearby food trucks' locations and times. This super simple plugin will pull information from the Food Trucks Near Me website's API, giving you a convenient way to display a list of all nearby food trucks.
How To Monetize A Food Blog
Many people find themselves with a passion for food. Unfortunately, not everyone gets to bake full-time with a successful food blog, sometimes the world isn't kind, and you have to do 9-5 type jobs. 
Luckily, if you genuinely put in the effort, there are many opportunities to make a full-time income from your own food blog.
Starting a food blog is a journey in itself. You'll have moments of doubt. Can you really make a living from a food blog? Will people believe you when you say that you do? How can people actually make money from their blogs?
You can, plenty of people are making money from their food blogs! Here are some of the best ways:
Affiliate Marketing
Affiliate marketing is the process through which online sellers market their products and services via other peoples' sites instead of using the seller's site. 
For food bloggers affiliate marketing can be a goldmine. You can review and refer to others cooking products and services from companies like Amazon, Hello Fresh, Restauran.com. Each time someone clicks your link and purchases, you will earn a percentage of commission. 
When starting your food blog, here are a few great affiliate programs to get you started:
Amazon Associates
Amazon Associates is one of the largest affiliate networks in the world to monetize your blog. You can earn a commission on food products you refer your readers to. For example, you could review a post on your favorite food accessories such as utensils, cookware, or even high-end stove tops.
Getting setup with Amazon Associates is available for just about any beginner blogger, but commission rates are relatively low. 
Learn Cake Decorating Online
Learn Cake Decorating Online is a website that offers courses and ebooks on how to decorate cakes. Get 30% to 50% recurring commission for each person that purchases from your affiliate link!
Spicentice
Spicentice takes all the guesswork out of which seasoning to use in a given situation. Their meal kits help you find the right spice.
Anytime you refer someone to their site that purchases within 30 days you'll earn 10% of the sale!
Monetize Your Food Blog With Advertising
Display ads are the easiest way to monetize a website. Ads can be added throughout your site using our easy-to-use design tools. Within minutes you can be monetizing by showing visitors relevant advertising on every page of your website.
Advertisers are always looking for food blogs to help promote their offerings on as many pages. The process is simple, and all you need is a little website space to show ads on. To get started you simply sign up to monetize your website with display ad networks there are a few out there.
Getting started you'll likely need to opt for Ezoic or Google Adsense depending on how much traffic your site is generating.
Ezoic Ads for Food Blog
Ezoic is a proven ad serving technology that allows advertisers to serve display, video and native ads directly on your food blog. 
Visitors get ads that are contextually relevant to your audience, and you'll earn more with your food blogging as Ezoic ads are not as distracting to your users and provide more value. 
Monetize With Ezoic
Monetize Food Blog with Sponsored Posts
As you create a successful food blog you'll be able to sell advertising in the form of a sponsored post to advertisers directly. With food blogs, this could mean free cooking appliances! While not the preferred way to monetize your food blogging as you need to earn money to pay your bills. However, getting free cooking supplies and appliances delivered to your doorstep is always fun, and a nice perk of the job. 
Depending on how large an audience or your particular niche, you can earn anywhere from $10-$10,000 per sponsor post. For Larger payouts, create a package that includes your social channels such as YouTube and Facebook.
Similarly, If you have an email list this can increase your sponsored post-earnings even more! Above all, the greater value you provide to your advertisers, the more you will earn! 
Now Get Started Blogging!
If you have any questions about creating full-time income blogging, feel free to post your questions on the Niche Pursuits private Facebook Group. The community is always helping other bloggers and it's a great place to bounce ideas off.
Another great resource when building your food blog will be our email newsletter. Subscribe to the Niche Pursuits newsletter for more insights and inspiration for your blog.
Finally, If you are looking for step-by-step instructions on how to start a food blog and get your Bluehost setup, don't forget to check out our article on starting your blog here. 
Want to learn step-by-step how I built my Niche Site Empire up to a full-time income?
Yes! I Love to Learn
Learn How I Built My Niche Site Empire to a Full-time Income
How to Pick the Right Keywords at the START, and avoid the losers
How to Scale and Outsource 90% of the Work, Allowing Your Empire to GROW Without You
How to Build a Site That Gets REAL TRAFFIC FROM GOOGLE (every. single. day.)
Subscribe to the Niche Pursuits Newsletter delivered with value 3X per week