24 Best Blogs For Women to Make You Feel Inspired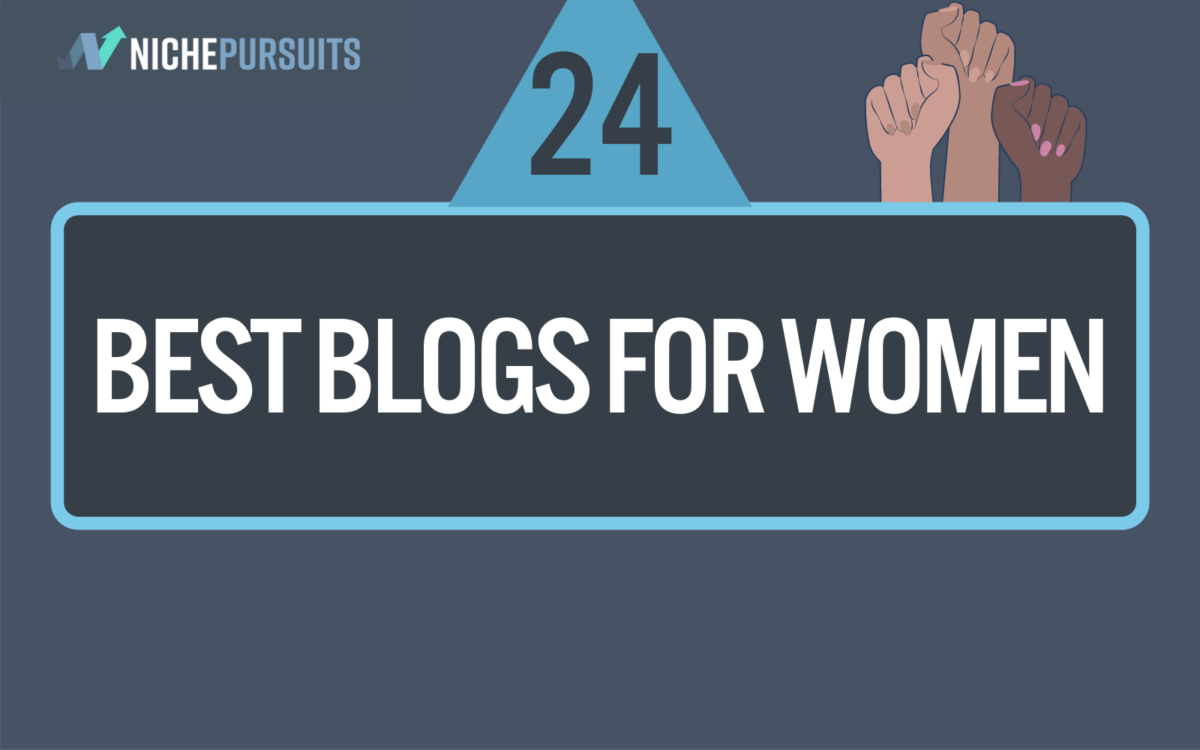 When you buy something through one of the links on our site, we may earn an affiliate commission.
Contrary to (somewhat) popular belief, blogging is far from dead. In fact, blogs for women are very much alive and well. However, with the advent of social media sites like Facebook and Instagram, blogging has changed significantly in the last fifteen or so years.
Whereas blogs used to be sort of like online journals, a place where a person shared their thoughts on something or reflected on events, blogs today have become so much more. Chances are, if you Google a question, one of the top hits will be a blog with your answer.
Nowadays, blogs are a place for us to gain information.
These days, blogs are less about sharing personal stories. Instead, they are sources of information and powerful tools for marketing and business.
This list of the best blogs for women is a great start for anyone looking for a new blog to follow for lifestyle inspiration and advice. More importantly, it's also a great list of the competition you should check out if you're looking to start a blog of your own.
What Makes a Good Blog?
There are tons of blogs out there, each with their own unique take on topics ranging from fashion and travel to family life and fitness. Yet, some are major successes while others fail. Here are some of the key factors that help a blog stand out online:
One of the most important parts of building a blog is making sure you post regular content. Blogs that aren't frequently updated lose their audience. Out of sight, out of mind.
Clean, easy-to-navigate sites are more likely to draw the reader in. There's nothing worse than a site riddled with broken links, hidden menus, and bad margins. You'll notice all of the blogs on this list use appealing themes that make it easy for the reader to find what they are looking for.
You'll find lots of blog posts have links to other posts, pages, or products within them. This can be a great way to engage the reader and even monetize your blog. However, a great way to alienate your readership is to place links that are completely irrelevant to the topic of your post.
Passion and authenticity come through in writing. Readers are more likely to be drawn in by a blog that is written by someone who is passionate about the subject.
Best General Lifestyle Blogs For Women
Most of the best blogs for women will cover a range of interests. On the other hand, some are more niche than others. Maintaining a lifestyle blog can be easier in the sense that you aren't as confined in terms of the content you can post.
Here are some women's lifestyle blogs, by women for women, that do a remarkably good job of being relevant, approachable, and engaging.

Wit & Delight doesn't define itself as a mommy blog, a fashion blog, a lifestyle blog, or a health and wellness blog. Instead, they're an everything blog. You can find posts about travel, cooking, beauty tips, career development, and anything else you can think of.
What Wit & Delight does really well is present you with a little bit of everything in a way that isn't overwhelming. Their website is laid out beautifully and it's really easy to navigate to different categories and learn more about their brand.
Relatable content is the cornerstone of a good blog. That said, The Everygirl really and truly is for every girl, woman, and queen out there. The creative team behind the scenes of this lifestyle blog does an excellent job of making sure the content is engaging, relatable, and approachable.
A fresh perspective on everything from sex and relationships to home decor and beauty tips is covered here, so no matter what your interests are—there's something for every girl.
First started in 2007, A Beautiful Mess is a lifestyle blog that has been around for a long time. The two sisters behind the site have a passion for making things and decided to launch their blog with the goal of sharing that passion with others. To that end, A Beautiful Mess has posts on everything you can make at home, whether that's jewelry, woodworking, or cocktails.
As they've grown into such a successful blog, they've included a section with lots of advice on how to grow your own online business, photography, and blogging.
Ex-celebrity gossip blogger, Necole Kane, started XO Necole with the goal of establishing a safe space online for women of color. She accomplished so much more than that. The blog is an amalgamation of stories from different contributors and reads like a heart-to-heart with your girlfriends over drinks.
Though Necole is targeted toward women of color, there is plenty of reading material for everyone.
There is still a trace of the old Necole to be found in the "Culture" section of the blog that dishes the latest celebrity news. But on top of that, XO Necole shares posts about relationships, beauty, travel, motherhood, and career advice.
Who says lifestyle blogs are just for young people? Not Margaret Manning. The founder of Sixty + Me saw a gap in the market for blogs catering to older women. Her site aims to empower women over the age of 60 and help them lead happier and healthier lives.
This fashion and lifestyle blog includes lots of useful information about health, life, and money, but there are also lots of important posts about aging and mindset.
Best Blogs About Motherhood & Family
For lots of women embarking on the journey of motherhood for the first time, mommy blogs offer a wealth of information and support. For the same reasons, starting a mom blog is a great way to reach out to other parents and find your online "village".
Most mom or family blogs are still pretty general in terms of the content they put up. The difference between a mom blog and a general lifestyle blog written by female bloggers is that there will be that "mom" element. Think, breastfeeding fashion hacks, traveling with toddlers, and healthy recipes for family meal planning.
How to Start a Mommy Blog
Here's our pick of the popular blogs for the modern mom.

Pretty much anyone that has ever given birth will tell you their body was never the same afterward. A big part of expressing our identities and feeling comfortable is the way we dress. The Mom Edit (though open to anyone looking for practical fashion advice) is geared towards helping moms find great pieces that are functional and stylish.
Mom Edit also includes fashion advice for men and kids as well as other general posts about #momlife.
Perhaps not strictly a mom blog, Cup of Jo started out as a general lifestyle blog. However, when founder and editor Joanna Goddard became a first-time mom, the blog began to include a section on motherhood and parenting.
Today, posts are written by multiple contributors, each sharing their unique and authentic take on everything from book reviews and travel tips to pregnancy and hair tutorials. That said, I think one of the best parts of the blog is the "Motherhood Around the World" series, which talks about the differences in parenting cultures around the world.
Try and find a mom under 40 that hasn't heard of Scary Mommy. You won't. Simply put, Scary Mommy dominates in the world of parent-focused media. Not only do they run a blog, but they also have a Snapchat story, ovulation/due date calculator, weekly pregnancy tracker, and parenting confessional.
Written collaboratively by a community of mothers, Scary Mommy is completely inclusive. They offer posts to appeal to working moms, stay-at-home moms, single moms, divorced moms, step-moms, almost moms, and any other kind of mom you can think of.
Life is full of setbacks (not to say that having kids is one of them). Comeback Momma, Jenn Mitchell, created her blog as a way to help other moms make their epic comebacks. Sharing tips on how to lead happier, healthier lives, Jenn's posts cover fitness, travel, family fun, as well as women's health, and self-care.
Parenting is all about figuring out the easiest, fastest way to get something done with the added pressure of a toddler timebomb. Cue Savvy Sassy Moms. Founded by an experienced mom of two, the blog features a slew of posts to help make your parenting journey just a little bit easier.
Primarily, you'll find DIY tips and helpful reviews posted on the blog, but the site also features sections on travel, general lifestyle, and working from home. One thing to love is that the team behind the scenes is all made up of moms who are sharing authentic experiences which makes it really easy to relate to their content.
Best Finance & Career Blogs For Your Inner Girl Boss
Whether you're looking to change careers, go for a promotion, or just manage your money a little better, everything you need to know can be found in these blogs for women.

Helping women find success and happiness at work is at the forefront of Career Contessa. So, if you're struggling to find the right role or feel like you're stuck in a rut at work, you'll find more than just helpful career advice on their site. From online career courses and career coaching, to tailored job boards and salary expectations, everything you need to kickstart your career is right at your fingertips. Career Contessa is a community of women to inspire women – ready to lift each other up to succeed.
If you watch Oprah, you might know Marie Forleo cause she was on there one time. Or maybe it was two times. If you read any kind of career blogs or coaching blogs, you've probably heard of her. Her own blog is also a kind of life advice and self-improvement digital education company where you can learn how to build yourself and achieve your dreams.
Marie is all about inspiring women (and men) to take action and create the lives they want for themselves. On her site, you'll find a ton of business-related advice as well as useful tips for cultivating a healthy work-life balance.
Career Girl Daily has been empowering women since 2014. With tips on money management, productivity, and organization, you'll be feeling like a boss in no time. On top of that, Career Girl Daily owner Celine also shares plenty of useful posts about fashion and general wellness.
If you're looking to change career paths, your go-to site should be Classy Career Girl. Featuring not only a blog but online classes and podcasts as well, you can find all the help you need to transition into your career girl dream role.
While Classy Career Girl features useful, engaging posts with actionable tips, the layout could be improved. If you're looking for blogs to inspire your own, then keep an eye on things like design. You'll find lots of examples of what to emulate and what not to.
Overall, this is a really great place to start if you have any questions about money, are uncomfortable talking about money, or are just really bad with money. The Financial Diet makes money easy to understand and significantly less boring than your dad lecturing you.
Eye-catching graphics really help the Financial Diet stand out, and both the tone and approach they use make the subject matter more engaging. On their blog, you'll find tips on budgeting and investing as well as career advice. They also have a useful Instagram page and wildly popular YouTube channel.
Best Travel Inspo Blogs For Women
Travel blogs are among the most popular blogs on the internet. In fact, running a travel blog is just one of the ways that people who live a nomadic life are able to afford to do so. Most travel blogs take advantage of hotel affiliate programs or general travel affiliate programs to earn money from their posts.
Monetizing their blogs is usually what allows them the freedom to work remotely and travel wherever they want! Here's our pick of female bloggers with a travel blog.
How to Start a Travel Blog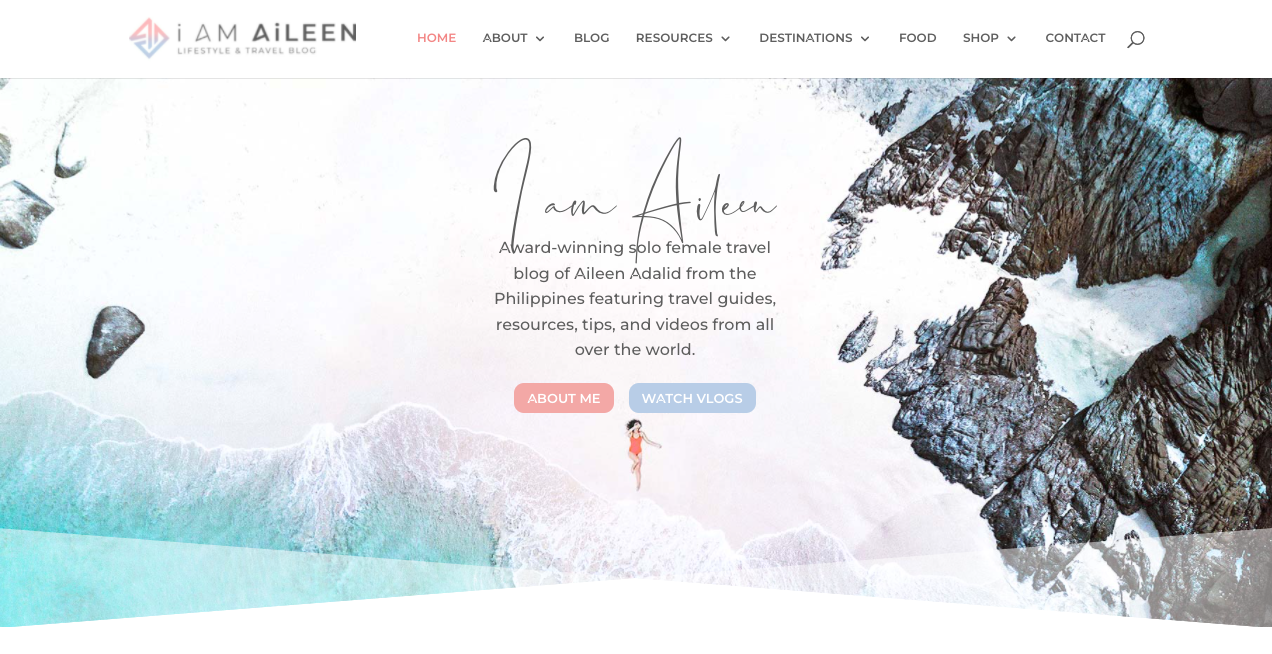 Aileen's mission is to prove that no matter who you are or where you come from, achieving financial independence with remote work is totally doable. Her blog features resources not only for travel but for remote working as well. On top of that, having been to all seven continents, no matter your destination, you're sure to find useful tips on Aileen's site.
Traveling as a solo female can sometimes be daunting, but with the right preparation and advice, it can be a life-changing experience. The so-called Blonde Abroad, aka Kiki, created her blog to inspire women to embark on empowering solo travel adventures.
The Blonde Abroad solo female travel blog is conveniently categorized by the type of trip you're looking to take, be it luxury, adventure, couples, etc. and her posts include tips on where to stay, what to pack, where to go, what to do, and what to eat.
Standing out among the crowd of travel blogs online is no easy feat. Sometimes being extra niche is a great way to attract a specific audience and then generate more traffic from there. Travel Noire does this by targeting black female travelers. Their content is tailored to promote black-owned businesses and discusses racial acceptance in certain travel destinations.
Best Foodie Blogs For Women
If you're anything like me, getting lost in the archives of a well-written, well-photographed food blog is an afternoon well-spent. Food blogs are full of meal plan ideas, recipes, and cooking hacks, but often also have a lifestyle element to them as well.
If you are thinking about starting a food blog, these sites will serve as your inspiration.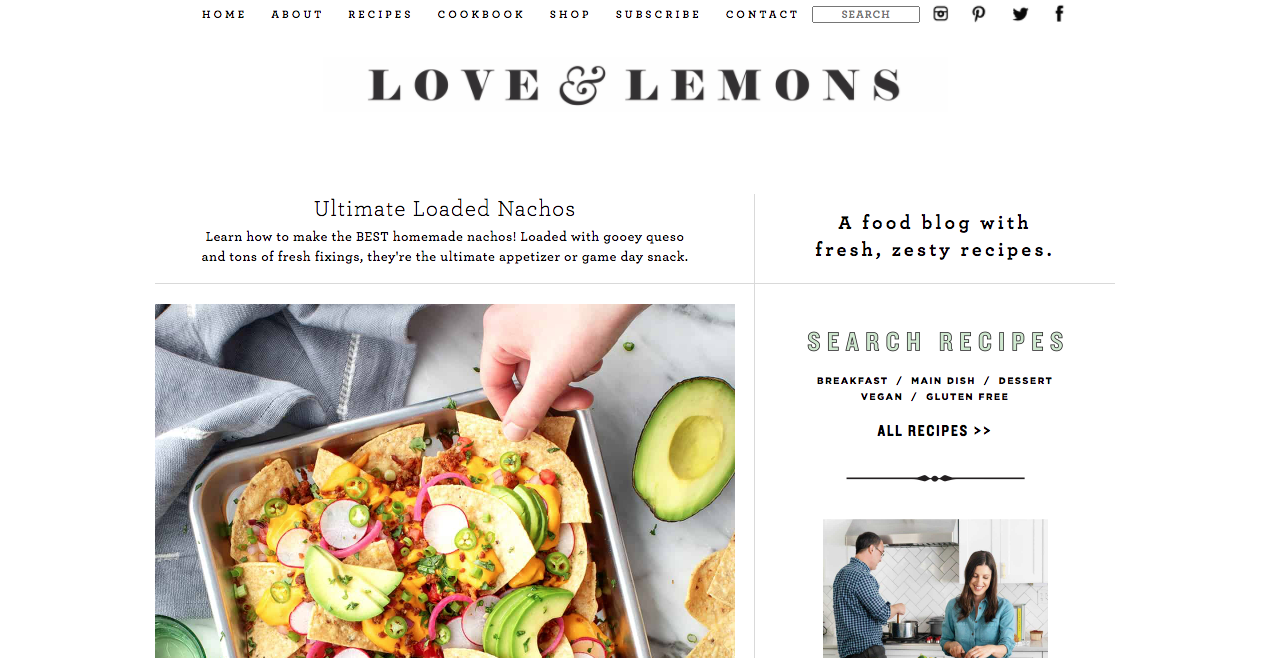 All of the recipes on this blog are completely vegetarian, but that doesn't mean they are for vegetarians only. Who doesn't love loaded nachos?
One great thing about Love and Lemons is that Jeanine really focuses on showcasing seasonal fruits and vegetables in her recipes. This is a great way to help promote sustainable healthy eating. In addition, she shares some helpful tips on how to prepare common vegetables and plant-based basics like quinoa and lentils.
Another plant-based recipe queen, Angela, founder of Oh She Glows, has been glowing since 2008. She started her food blog as part of her recovery process after battling an eating disorder. Today, Oh She Glows is an award-winning blog with hundreds of recipes.
Angela also shares some personal stories on her blog, as well as posts about her favorite kitchen tools and skincare products.
Run by a mom of three, the recipes on Lean Green Bean are healthy and nutritious, budget-friendly, and easy to follow. Lindsay's main purpose in starting her food blog Lean Green Bean as a female blogger was to show other women that healthy eating doesn't need to be complicated or expensive.
In addition to recipes, the Lean Green Bean blog features general cooking posts, which include how-to guides for food prep and reviews on popular kitchen gadgets. You'll also find a section dedicated to kids on the Lean Green Bean site with tips for getting the little ones involved in cooking.
Best Health & Fitness Blogs For Women
While some of us are busy scrolling through food blogs and drooling over chocolate cake recipes, there are some people with a little more get-up and go that are always on the hunt for the best health and fitness blogs online.
As men and women have different bodies and tend to focus on different areas for fitness, female-focused fitness blogs are really important. If you're looking to start a fitness blog you can take advantage of health and wellness affiliate programs as well as some of the best supplement affiliate programs to help you garner some income from your blog.
You can even consider becoming an affiliate for fitness programs that you can plug from your social media accounts if you aren't ready to start a full-on blog.

Not just your average workout blog, LSF touches on a lot of sensitive topics when it comes to women and fitness, such as stress induced weight-gain, postpartum bodies, and more. The brand tries to promote healthy living by finding a balance between diet, exercise, and enjoying your life. To that end, their blog shares transformation inspirations, recipes, workouts, and general wellness tips.
They also have an app and a YouTube channel where you can find more of their workouts and meal plan ideas.
It's so easy to get sucked into The Skinny Confidential and find yourself reading post after post after post. Lauryn's writing style is laid-back and hilarious. Despite the name, the blog isn't entirely dedicated to fitness. You'll find plenty on other topics including:
Pregnancy
Beauty
Travel
Fashion
Wellness
Definitely aimed at women in their 20s and 30s, The Skinny Confidential might not be everyone's cup of tea. However, it's refreshing to see a blog that doesn't follow the same minimalist white theme with boring headlines. Something about visiting Lauryn's site always feels a little bit like giggling with your girlfriends over bottomless brunch mimosas.
Focusing on promoting a healthy lifestyle with diet and exercise, Gina started her blog as a way to share healthy recipes and workout plans. Besides blogging, Gina is a certified fitness instructor and full-time mom.
While the meal ideas and workouts on her blog are relevant for everyone, women, and particularly moms, will be happy to know that Gina definitely has them in mind.
The blog includes a specific section on postpartum fitness as well as posts on Gina's journey through motherhood. You'll also find links to her podcast and book from her site.
How to Start Your Own Blog
So, you've had a look and decided you can do better. Or there's something that you want to talk about that isn't out there already. That's great. Starting a blog can be a really rewarding hobby and even turn into a full-time job.
If you're just starting out, or looking for how to break big, I recommend you check out literally any of these books for bloggers to help you chart a path for yourself and understand the blogging world a little better.
Basically, you have two options if you've decided you want to be a blogger. You can either start your own blog or try your hand at freelance blogging. Freelance blogging might be a good way to try out blogging if you're not ready to commit to a full blog.
But if you want to jump right in, here's a quick guide on how to get started.
Pick a Niche
Choosing your niche is one of the most difficult steps to starting a blog. You can check out some of our tips for how to pick the best niche for blogging, but ultimately, you need to consider what you're passionate about and will be able to deliver consistent, authentic content on.
Deciding you want to write a blog for women is a good start. Narrowing that down even further and picking a specific niche such as mom blogs, or fitness blogs for women will help you stand out even more.
Choose Your Domain Name
Once you've picked what you want to write about, you need to come up with a blog name. The name of your blog can signify a lot to your potential audience so it's worth spending a little bit of time to come up with something that is memorable and appropriate for your niche.
Set Up WordPress
Ok, yes, there are other blogging platforms out there other than WordPress. If you aren't ready to commit to a hosting plan and don't want to register a domain, it might be worth it to check some of the online options out there.
For now, let's skip that part and just download and install WordPress. Trust me.
Create Your First Blog Post
Kickstarting your blog is the most exciting step. You have a couple of different options when it comes to what you want your first blog post to look like, but the most important thing is that once you start posting, you keep your content consistent.
You'll want to consider things like how long your blog post should be, and how often to post on your blog. This is the first step in being able to monetize your blog as these are important for driving traffic to your website.
Hiring Writers For Your Blog
If you're struggling to keep up with new content for your blog you can consider hiring writers to write posts for you. There are a slew of great blog writing services out there that can not only generate content for you, but make sure that it is optimized for on-page SEO as well.
How to Hire Writers For Your Blog
Show Me the Money
Being able to monetize your blog will depend, in part, on what platform you've decided to set your blog up using. One of the reasons I always recommend WordPress to everyone is because it is beginner-friendly but also really easy to implement different monetization tools down the road.
The good news is that even relatively new blogs can start generating income quite quickly. You won't be making it rain right away, but a few dollars, or even cents, here and there will start to add up as you build more traffic to your site.
How Long Does It Take to Make Money From a Blog?
Affiliate Marketing
Basically, the two easiest and most common ways that people earn money from their blogs is either through affiliate marketing or ads on their site. Most people will generate income from a combination of both.
Affiliate marketing is an easy way to start off because you don't need any money to get set up. That said, for affiliate marketing to be worth it, picking the right products to market is absolutely essential.
Finally, if you choose a product that underperforms or isn't well-reviewed you could end up losing credibility with your readers.
Take the time to research the brand and the product you want to push and make sure it's the right fit for you and your blog.
Best Affiliate Programs
Advertisements
If you choose to go down the advertising route, your two best options are to go with either Google Adsense or Media.net. Both are pay-per-click which just means that every time someone clicks on an ad on your site, you end up with a small commission.
The great thing about using ads on your site is that they generate passive income. Once you're set up, that's it. There's nothing else you have to do except kick back and relax (and keep generating content to drive more traffic to your site in the hopes that they click your ads).
If your blog takes off, you might find that brands start to seek you out with an offer, but when you're just starting out you'll have to go hunting for those deals yourself.
How to Work With Brands as a Blogger
Conclusion
The fact is, blogs and bloggers have changed over time. The blogging game isn't about pouring your heart out on your MySpace or Bebo page anymore. It's serious business.
Blogs for women are places of online community where you can give each other advice and comfort. When I was a new mom, reading mom blogs helped me feel like I wasn't alone. They are like the modern-day equivalent of passing down history and education from grandmother to mother to daughter.
Baby won't stop crying in the middle of the night? Don't need to call mom, just look it up on the Internet and some nice mommy blogger will share her knowledge with you.
Want to learn step-by-step how I built my Niche Site Empire up to a full-time income?
Yes! I Love to Learn
Learn How I Built My Niche Site Empire to a Full-time Income
How to Pick the Right Keywords at the START, and avoid the losers
How to Scale and Outsource 90% of the Work, Allowing Your Empire to GROW Without You
How to Build a Site That Gets REAL TRAFFIC FROM GOOGLE (every. single. day.)
Subscribe to the Niche Pursuits Newsletter delivered with value 3X per week