What Is Freelance Blogging? And How To Start A Career With It?
When you buy something through one of the links on our site, we may earn an affiliate commission.
There are lots of side hustles out there to complement your primary income.
But if you feel comfortable blogging and even have experience managing one, then consider becoming a freelance blogger.
In fact, you can turn freelance blogging into a full-time gig if you play your cards right!
In this post, I'll show you what it takes to become a new freelance blogger and answer the burning questions most beginners ask.
If you are interested in learning how to start a blog, read our full guide.
To get started, let's answer the most basic question of all:
What is a freelance blogger?
A freelance blogger is a person who makes a living writing blog posts for clients.
You can get a full training course on how to get highly paid as a freelance blogger right here.
As a service provider, freelance bloggers can make the post and send them to the client for review and approval. From there, they receive the payment for the articles they write.
Freelance bloggers can also offer additional services such as keyword research, writing content optimized for Google search, and uploading the post to the client's blog, among others.
These added services help freelance bloggers mark up their prices. Instead of just writing the articles to clients, they can take the full reign of their blog so clients don't have to worry about a thing.
There are lots of freelance bloggers in the market. One of them is Elna Cain.
She earns an impressive $600 per blog post. On top of that, she runs multiple blogs and shares her knowledge via the free email courses she's running.
Freelance writing vs. blogging: What's the difference?
From the definition above, freelance blogging is a combination of freelancing writing and blogging.
However, there's a distinction between the two:
Freelance writing is service-based while blogging is product-based.
Let me explain:
Basically, a freelance writer is a catch-all term for people who make money writing for other people.
An example of a freelance writer is Joe from JoeCanWrite.com.
Joe markets himself as a freelance writer for hire. But, looking at his portfolio, he is mainly a freelance blogger and product review writer for WordPress-related sites.
As you can see, there's an overlap between a freelance writer and a freelance blogger.
However, the difference between the two is he or she doesn't just write articles.
Depending on the niche they specialize in, freelance writers can be grant writers, technical writers, business writers, and others.
But you're probably asking yourself this question:
Isn't that what bloggers do as well? Bloggers are also writers, right?
Yes and no.
Yes ー bloggers write content and publish it on their blog or a client's.
No ー because bloggers are more than just writers.
Think of them as business owners. They manage their blogs by promoting its content on social media, connecting with other people for opportunities, and ー most important of all ー make money from it.
Therefore, even without clients which a freelance writer needs to make a living,, bloggers can still make bank if they set up their blog and take care of it properly.
An example of a blogger is Jon Dykstra of Fat Stacks Blog.
He currently makes $40k a month primarily from display ads in his niche sites.
However, for Jon to reach this income level, he put in the work of not just writing the best content on his blogs. He also has a self-sustaining business model that allows him to maximize his earnings with the least amount of effort.
In this case, he earns money from the products he puts out, which are blogs.
But before we get side-tracked, let's continue discussing how to become a freelance blogger by delving into the type of articles he or she writes.
Types of blog posts
If you're applying to become a freelance blogger, understand that there are different types of content that clients can potentially ask you to write.
You can't afford to be choosy when it comes to blogging because you might chase away clients if you are unable to provide articles they're looking for.
Therefore, you must familiarize yourself with the format of each to help you write them for clients.
Below are some of the most popular blogging content templates:
How-to guides
These types of posts are the most in-depth and comprehensive of the bunch.
Imagine yourself being held on your hand as someone guides you to the entire process step by step – that's what reading a how-to guide feels like.
A typical guide covers all the bases and leaves no stone unturned. It usually has images and screenshots as visual aids to help readers understand what the blog post is talking about.
All of the articles you'll find on WikiHow are how-to guides.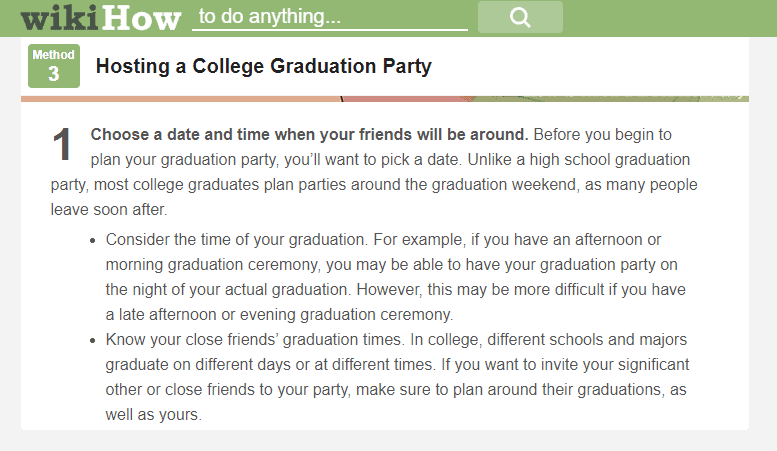 They are written with numbered steps to help readers replicate the process by themselves.
Listicles
List-based posts are popular among readers because of how easy it is to understand the information in each.
And that's a reason why most of the posts on ListVerse have lots of comments and social shares.
List articles follow the simple format of enumerating points about the topic at hand.
Going back to ListVerse, one of their most popular posts, "Top 10 Sex Demons," lists down the demons and a short explanation on each.
Lists are effective especially if you use controversial and strange topics like the example above to fuel the conversation.
Checklists
Similar to listicles, checklists and cheat sheets help deliver information in a compelling and dynamic way.
Even better with checklists, they are actionable and help readers complete an action. Each point is an item that readers need to check off the list before moving on to the next.
While they're not blog posts per se, checklists are useful as content upgrades. So, whenever people sign up to one's email list, they receive the checklist as a show of gratitude.
OptinMonster, for example, uses a checklist to drive more subscribers to their list.
If a client is interested in growing his or her list, then be ready to compose a checklist soon.
Case studies
If your client is running tests to prove his or her theories and hypotheses, then you're bound to turn it into a case study post.
Case studies are highly sought-after written pieces because they are unique to the person publishing that post. Using data that he or she gathered from the test, a case study provides one-of-a-kind insights about a topic that no one, if not only a handful of people, have written about.
Agencies and service providers leverage case studies to help increase conversions.
Take it from Spencer himself when he published a case study about how he was able to increase his organic rankings through internal links.
Of course, this is a way to help increase sales to his awesome tool Link Whisper.
In most cases, the client will conduct and write the post on the blog. However, there's a possibility that he or she might delegate the task to you.
Review posts
Similar to case studies, review posts are effective ways to turn readers into customers or buyers.
The great thing about reviews is it helps readers make an informed decision about the product.
However, this can only happen if the review is objective and unbiased. It should only provide factual information about the product or tool being reviewed.
The client should provide you with the product for review. For software, you can sign up for a free trial and review it before the trial period expires.
Niche Pursuits has lots of in-depth reviews about online tools that feature the pros and cons of each.
Blogging it this way helps readers know everything about the tool 一 the good and bad.
How to write effective blog posts
One of the non-negotiables of being a freelance blogger is the ability to write effective content.
If you want to land clients, you have to make great posts as a blogger 一 plain and simple.
And we're not just talking here about using correct grammar and sentence structures.
There are other things that clients look for in a freelance blogger. And if you want to bag the job, you must possess some of the qualities and skills that separate you from the pack.
Below are some of them:
Conduct keyword research
Some clients normally prepare the article briefs for you. All you must do is write a blog post for them.
However, it would be a big plus if you can take this task off their hands and prepare the brief yourself.
And it all starts with keyword research.
This is the process of extracting keyword ideas from a topic and finding smaller topics that you can turn into articles.
The goal of keyword research is to help a blogger like yourself to optimize your post for specific search phrases relevant to your client blog's niche.
So, whenever someone looks up the phrase on Google and your page comes up in the top ten of SERPs, you can help clients generate more traffic to their blog.
You can even find keywords in bulk that you can turn into articles in the future. This way, you can schedule and prepare the articles in advance so your client won't have to.
Having this skill makes you even more valuable in their eyes.
To help you execute a keyword research strategy by finding the best content ideas for your client's blog, then look no further than Long Tail Pro.
As the name suggests, the tool helps you find long-tail keywords that are easy to rank and have a high search volume.
This way, you can maximize the chances of your articles to rank on top of Google SERPs!
Observe on-page SEO practices
As mentioned above, you need to optimize the posts you write using your chosen keywords.
What this means is strategically placing your target keywords at the most critical parts of your page.
Search spiders use ranking factors to determine which pages must appear on SERPs for a keyword.
Therefore, you must include the keyword in these factors so you can maximize your article's ability to rank for your keyword.
Below is a list of signals where your keyword must appear:
Title
URL
Meta description
Article body (ideally in the first 100 words of the article)
Subheadings (H2, H3, etc.)
Alt text (preferably in the featured image)
The ones listed above are just some of the more vital factors you need to observe when blogging.
To help you make sure that your article fulfills these signals, you can use Yoast's Real-Time Content Checker.
Copy and paste the blog post on the text box and enter your target keyword.
The tool will show which factors you still have to complete.
Take custom screenshots
Visual content may not be in your wheelhouse, but this shouldn't prevent you from offering images and photos in your posts for clients.
Of course, you don't have to create custom images using Photoshop or even Canva.
And I'm also not referring to using free stock photos from Pixabay. While they can be beautiful, high-resolution images, almost every blogger is using them on their posts.
So, by inserting them in your posts, you rob away their uniqueness and make them look just like every other post online.
At the very least, you must feature screenshots and annotated images to help communicate your message better.
Screenshots are perfect for how-to guides, case studies, and reviews. You want readers to see what you see so they can understand better what you mean.
There are lots of screen grabbing tools for download, but one of the best is Snagit.
Compared to other tools, Snagit retains the quality of the image when saving them as a PNG file. The software also lets you record your screen and inset text and callouts in all captured images.
Uploading the post
If your client decides for you to upload the posts straight to their blog, then it means they trust you. They wouldn't just let you do that unless they know you're capable of getting a good job done.
Therefore, if the client hasn't ordered you to upload the post once they approve your content, it's high time that they should.
It's not much as far as being a task of a freelance blogger is concerned. However, it's still taking a load off from your client which, again, makes you more indispensable in the long run.
Where to get jobs as a freelance blogger?
Since you're just starting out in freelance blogging, expect the success rate of getting hired as a blogger to not be very high.
However, that shouldn't deter you from applying to as many jobs related to your expertise as possible.
The only way to grow as a blogger is to write for clients and get paid, and that won't happen unless you get hired.
Below are places and methods you can start with:
Job marketplaces
Sites like Upwork remain as one of the most popular places to get freelance writing and blogging gigs.
You set up an account and scour for job postings from people for a blogger.
Then you send your pitch and wait for word from the prospective client if you're hired or not.
The great thing about online job marketplaces is they have a system in place. Once you've taken lots of jobs from the platform, you can grow your profile and command a higher rate moving forward.
However, and this is my personal opinion, I'd recommend that you don't get too comfortable with job marketplaces.
For one, they act as a middleman between you and the client. Therefore, for every transaction you have with a client, they get a cut off your salary.
As of writing, Upwork takes 20% off your first $500 from the platform.
The rate decreases to 10% for earnings up until $10,000. Finally, the rate drops at 5% any additional transaction.
While this is reasonable, it would be much better if you can get 100% of your earnings.
Online job boards
Sites like ProBlogger Jobs and Freelance Writing Gigs work almost the same as Upwork. You can check the latest writing jobs you can apply for and send your proposal for each.
The difference here is the rate is fixed and provided by the client. You don't have to worry about lowering your blogging rates just to land the job. If the prospect is interested in what you have to offer, then you'll hear from them soon.
More importantly, you can get 100% of your earnings from the client.
While online job boards are an improvement over job marketplaces, it is by no means perfect.
You have to comb through jobs that fit your skillset day in and out. If there are no jobs for you today, you have to check in tomorrow.
You then have to constantly manage your pitches and follow up on your application to ensure that your emails went through.
These criticisms are more about having to dedicate your time each day sending out applications, which can get tiresome after some time.
Blog
I'm a big proponent for using your blog as a way to attract clients.
Think about it:
The only reason people would hire you as their freelance blogger is if you have a proven record of blogging and publishing articles that showcase your strengths in blogging.
And they can only see this if you have a blog of your own!
The best thing about a blog is you let your work speak for itself.
By implementing the best SEO practices in blogging, you can rank on top of SERPs for your keywords.
And if clients like to hire you based on your blog, they can reach out to you by filling out your contact form.
As you can see, having a blog also defeats the need to actively apply on job boards.
So, instead of you coming to them, it's the other way around!
How do you start a freelance blog?
First, let me reiterate that you don't have to set up a blog 一 you need to!
There are lots of resources online that teach you how to set up your blog. So I won't even share my piece to not further clutter up this space.
Instead, I'd like to point you to Spencer's post on how to start a blog primed for making money.
Below are points that he discusses in the guide:
Why do you want to blog in the first place?
What niche will your blog be? And will people be interested in it?
Why should you set up your blog using WordPress?
What is the best domain name for your blog?
How to set up your WordPress blog and customize it?
In the guide, he recommends that you use BlueHost as your hosting provider.
The hosting service makes setting up your WordPress blog easy with just a few clicks. So, even if this is your first time building a blog, you'll feel right at home.
More importantly, BlueHost offers security and performance beyond what you're paying for it. Coupled with its world-class customer support, and you can't go wrong hosting your site on BlueHost.
How do freelance bloggers get paid?
The one constant when getting paid in freelance blogging is it's always in cash and in the currency of your choice.
Other than that, the process of getting paid as a freelance blogger depends on what you agreed upon with the client.
Learn how to get paid more as a writer here with this course.
Below are things you must discuss first with every client before working with them:
Payment gateway
First, you have to decide which payment gateway to get paid.
Most people use PayPal because it's easy, convenient, and everybody has an account.
However, you also have to know that PayPal takes a sizable cut from every transaction you make on the platform.
To find out how much it is taking from your salary, use SaleCalc.com to compute your expected earnings for you.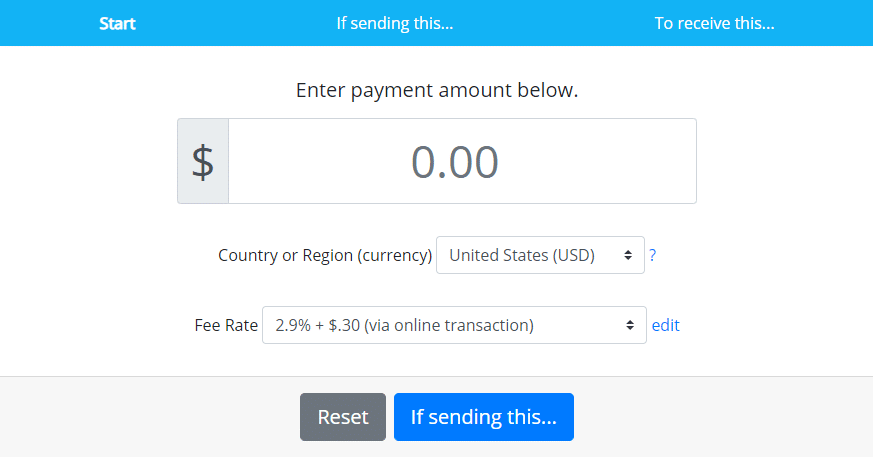 Therefore, if you want to be frugal with your earnings, it's probably best if you can request the client to pay the money via bank transfer. This way, you work around the PayPal costs and receive the money straight to your local bank account.
Also, you can try other gateways like Venmo or Stripe as long as they work in your country.
The most important thing is you make it easy for your clients to pay you. Because if you're calling the shots regarding the payment method, then you risk pushing them away.
Payment deposit
Clients running away with your work without paying for it is an all too common occurrence in freelance blogging, if not freelancing in general.
In my experience, before starting any freelance writing or blogging project with a client, I require them to pay for 50% of the total amount upfront.
Assuming that s/he pays the money, it establishes that the client is serious about working with you. If not, s/he would have bolted immediately.
Now, there are people who don't want to pay for the half upfront but are actually just as serious about building a working relationship with you.
In these cases, you have to play it by ear. It's a judgment call that you will have to personally make in the heat of the moment.
Revisions
You need to keep your clients happy with the articles you write. Otherwise, they won't pay you.
Now, there may be times that the client is requesting changes to the blog post multiple times already. It's reached a point that the client is strong-arming you to do things in the post that aren't part of your agreement.
To finagle your way out of scope creeps, you need to draw the line regarding their revision requests.
Since you want to make sure to clients that they're getting the best possible article from you, offer them a limited number of guaranteed edits (maximum of three). That's more than enough for you to fix the errors and apply the changes as they see fit.
What if the client doesn't pay you?
It's easy to say you should call a lawyer to patch this up for you. Assuming there's a contract in place, you can use it as grounds to collect the remaining salary.
However, getting a lawyer involved can jack up your fees. And in the end, you'll probably end up spending more than not doing anything at all.
Other than that, there's really no easy answer to this question.
Oftentimes, it's just better to constantly email and reach out to the client reminding them of the balance. Some just don't respond soon enough, but they eventually follow through after calls and follow-ups.
You can also ask around for people who worked with your client before sending you other ways on how to contact them.
That's why it's crucial to get half of the payment upfront before starting any project. So, if the client decides not to pay for the remaining half, you are paid for your efforts at the very least, worse comes to worst.
Conclusion
Freelance blogging takes time to turn into full-time work and consistently earn money from it.
For one, there are lots of talented freelance bloggers out there looking for the same work as you. Also, you don't just have to worry about writing the article 一you must acquire other skills if you want to survive in the market.
However, from a different perspective, freelance blogging is as rewarding as it comes as a job.
You can work on manageable projects that suit your time and skill level. If you're ready to scale up, you can ditch your full-time job and take up more work from existing or new clients.
The simple and straightforward process of freelance blogging should help you make money in the long run. And with the help of this post, you can get paid and break the bank even faster!
Want to learn step-by-step how I built my Niche Site Empire up to a full-time income?
Yes! I Love to Learn
Learn How I Built My Niche Site Empire to a Full-time Income
How to Pick the Right Keywords at the START, and avoid the losers
How to Scale and Outsource 90% of the Work, Allowing Your Empire to GROW Without You
How to Build a Site That Gets REAL TRAFFIC FROM GOOGLE (every. single. day.)
Subscribe to the Niche Pursuits Newsletter delivered with value 3X per week