25 Best Blogger Books to Read This Year
When you buy something through one of the links on our site, we may earn an affiliate commission.
If you're in search of the best blogger books to read this year, we've got a list of titles you've got to check out.
Today, we're lucky that the internet has a wealth of knowledge on virtually any topic you search for.
With blogging, there's a lot of information out there. But, how do you know what content is good and what content is bad? You don't want to waste your time sifting through all the blogging books online, so to make it easier, we've put together this list of the 25 best blogging books for reading this year!
If you want to grow, monetize your blog, or reach a larger audience, these blogger books can help you improve your blog business and get one step closer to your whatever your goals may be.
What are the Best Blogger Books to Read This Year?
The best blogger books for reading this year are diverse and go over every part of the blogging journey. I really like this list of blogger books because it covers many angles of blogging:
Growth
Monetization
SEO
Business
These blogging books are good if you're a book lover, and they're great for enhancing your knowledge and understanding about building a blogging business.
You'll learn business skills to run your blog like a true business, growth tips to reach more of your audience in search engines, and how to cultivate a strong, loyal following. Plus, you'll get plenty of tips and tactics to grow your blog to six figures (or more) with advice from top bloggers who have accomplished some or all of the above goals!
Ready to get started?
25 Best Blogger Books of the Year
This roundup of blogger books will show a short book review of each book so you know what you can expect and learn what you can get out of it. 
Let's go!
1. Company of One
Company of One is a business book teaching you the importance of staying small in business. You may not have thought that a small solopreneur business could be more profitable and thriving than a busy startup that will be scaled for growth, but it definitely can be!
This is one of the best blogger books for self-reflection on your blogging business. This book will give you a new perspective to examine. It's not about how many people are working in your business but who you're working with.
More people behind the business isn't necessarily better than a solopreneur operation.
Is small the new big? This book will have you questioning that.
Get Company of One on Amazon
2. Atomic Habits
Atomic Habits has been a hot seller on Amazon for a while. It's a great book for anyone to start reading, blogger or not, and it teaches you how small habits can have a big impact.
For example, clearing your desk workspace at the end of the day so you can return to a clean, organized desk the following day is a small habit that can lead to greater productivity, a less chaotic or stressful work environment, and less distraction.
While it's not a book about blogging, I chose it for one of the best blogger books because it can teach bloggers how to turn small habits into systems that help them work more productively throughout the day. This can be especially helpful if you're juggling a full-time job and your blog, which many bloggers are doing.
This book talks about habits and systems that should be put in place to help you reach your goals. The author sprinkles in some real-life examples from his personal life and journey that you'll appreciate.
Get Atomic Habits on Amazon
3. Write Blog Posts Readers Love
This is a step-by-step guide showing you how to improve your blog posts. You'll discover the blueprint for creating easy-to-read blog posts for your audience that they will love to consume.
According to the reviews, there are proven blog post templates that you'll gain access to along with methods you can use in your writing to make your content better.
Get Write Blog Posts Readers Love
4. Storytelling
The full title of this book is Storytelling: Manipulation of the Audience: How to Learn to Skyrocket Your Personal Brand and Online Business Using the Power of Social Media Marketing, Including Instagram, Facebook, and YouTube. It's about using storytelling in your business to boost your company's brand power.
You'll learn how to use storytelling to transform your brand by discovering how to make your brand's story relatable. You'll also learn how to develop a simple and effective content marketing strategy, use the 5 W's for presentations you give clients, and more:
How to create a business story
Creating the best brand image
Mastering the art of storytelling
Eight building blocks of making your brand story relatable
Get Storytelling
5. Talk Triggers: The Complete Guide to Creating Customers with Word of Mouth
This book is about word-of-mouth marketing. That's one of the chief ways to create brand awareness around your blog. Someone finds your blog and enjoys what they read, then shares it with their friends, who check it out and spread it from there.
It's all word of mouth and Talk Triggers teaches you how to craft talk strategies for customer conversations for this purpose.
Get Talk Triggers
6. The Habits of Highly Successful Bloggers
This Habits of Highly Successful Bloggers by author Ryan Robinson is a blogging book about developing transformative habits.
The author says:
My book is filled with the advice I would have given myself if I could go back to the beginning of when I first learned how to start a blog.
He teaches three specific habits that can help every blogger which can have a big impact right away and over the long term. It's currently available by digital download.
Get The Habits of Highly Successful Bloggers
7. One Million Followers
One Million Followers teaches you growth hacks to grow your social following fast.
The author grew a significant social following in just 30 days. He's worked with celebrities like Taylor Swift and Rihanna to help them grow their social media presence and he unveils his secrets to social media growth in the book.
Get One Million Followers
8. Six Figure Blogging Blueprint
The author teaches you how to start a successful profitable blog in 60 days in Six Figure Blogging Blueprint. This blogging book will show you how to:
Discover the step-by-step system to successful blogging (even with no experience)
Read the author's personal story of creating a passive income-generating blog
Learn the secrets of creating a beautiful, responsive blog
Find out the best topics to blog about
Read how to build rapport with your audience and write great blog posts
Get Six Figure Blogging Blueprint
9. Virtual Freedom
Unlock the power of working with a virtual team for the benefits of saving time and becoming more productive. Virtual Freedom teaches you how to outsource work and use virtual employees as an asset in your business.
The author covers the entire process from figuring out what tasks to outsource, how to hire, training, and managing your virtual team.
Get Virtual Freedom
10. Content Mapping: Unlocking the Power of Content to Increase Engagement, Leads and Sales
If you're looking for a great read to better understand and develop your content, this book is one you'll want to pick up. Content Mapping shows you how to use content as a tool to increase your engagement and leads as well as get more sales.
Discover the framework for marketing success in your business, how to use relevant and personalized content, and learn content mapping so you can get your customers to say yes.
Get Content Mapping: Unlock the Power of Content to Increase Engagement, Leads and Sales
11. WordPress for Beginners 2022
If you want to get really good with WordPress, this book, WordPress for Beginners 2022, is for you. It covers the latest version of WordPress and teaches you things like:
How to install WordPress
How to clean out the default installation tools/plugins
Finding WordPress themes
How to deal with customer comments
Two different homepage styles
Good SEO practices
This book is meant to be geared toward visual learners so there are plenty of screenshots and visual representations to help you learn WordPress more easily.
Get WordPress for Beginners 2022
12. How to Blog for Profit Without Selling Your Soul
Author Ruth Soukup shows you a step-by-step guide to creating and growing a successful business with blogging. You'll read about how the author grew her blog into a seven-figure business.
Learn how to create compelling content, proven traffic strategies, audience growth tactics, and more.
Get How to Blog for Profit Without Selling Your Soul
13. How to Win Friends and Influence People
This bestselling book is an interesting read. It talks about how to win over people so that they like you and adopt your way of thinking. 
Practice the art of making people feel important and have a strong presence in the room as a great conversationalist without having to say a word. You'll learn how praise and appreciation can go a long way in developing relationships with people and influencing them to see your perspective.
This fits in with blogging as your blog posts will be communication to persuade and influence your readers to share your thinking. You might write about the best cookware for modest budgets or how to start day trading cryptocurrency. Whatever you talk about will be persuading your audience to keep reading and follow your suggestion.
Once you master this art of influence, you can get your audience to keep coming back to you time after time, helping you grow your traffic, make sales online and cultivate a truly loyal audience.
Get How to Win Friends and Influence People
14. The One Hour Content Plan: The Solopreneur's Guide to a Year's Worth of Blog Post Ideas in 60 Minutes and Creating Content That Hooks and Sells
If you're stuck creating blog posts, then this book is for you. The author Meera Kothand teaches you how to master writing a year's worth of blog posts in 60 minutes!
You'll also learn things like:
How to find your brand voice
Core elements that will make or break your blog post
5 content types which will get your reader one step closer to becoming a buyer
How to instantly generate content ideas for your blog writing
This is the perfect book to help you develop your blog's content strategy.
Get The One Hour Content Plan
15. SEO 2022
SEO 2022 teaches you search engine optimization strategies to rank your content at the top of Google. This is a favorite book of mine for learning a solid foundation about SEO:
Learn how Google's algorithm works
Discovered how to get featured on the news for free
Learn local SEO
Step-by-step checklist with video tutorials and more
Get SEO 2022
16. Creative Confidence: Unleashing the Creative Confidence Within Us All
This book talks about how everyone has creativity within them, not just "creative types." Once you unlock your creativity, you can explore new ways to approach problem-solving in your life.
If your goal is to be more productive and successful in your life, Creative Confidence is a great pick to learn how to master this.
Get Creative Confidence
17. The 5AM Club
In The 5AM Club, you will read about how you can tap into your zone of genius so you can become your best creative and productive self. 
Once you understand this potential you have in yourself, you will be able to achieve great things.
Get the 5AM Club
18. Become Known for a Niche You Own: Why Legendary Writers Use Languaging to Design New & Different Categories
Have you ever noticed that certain bloggers own a niche?
For SEO, it's this blogger, for email marketing it's that blogger. The most memorable writers are known for a niche they own. They master one thing and build a reputation as an industry expert in that space.
This book tells you to be very different from the competition and create new language to match this persona. Discover why "niching down" is so important, learn how big companies use languaging in their business, why word-of-mouth marketing works, and more.
Get Become Known for a Niche You Own
19. Building a Story Brand: Clarify Your Message So Customers Will Listen
Building a Story Brand teaches you how to use the right words to spread your message so people will listen and you get customers. Learn how to craft a clear and distinct message through a proven process that has helped thousands of businesses.
Learn about:
How to simplify your brand message
The seven universal story points humans respond to
How to create effective messaging
Get Building a Story Brand
20. The Essential Habits of 6-Figure Bloggers: Secrets of 17 Successful Bloggers You Can Use to Build a Six-Figure Online Business
This book uncovers powerful insights from six-figure bloggers. You will read interviews from 17 successful bloggers who talk about:
The popular traits of content creators
Proven monetization systems
How to pick a social media niche
Methods to stay on track with your blog
How to think better so you can continue to grow over time
Get The Essential Habits of 6-Figure Bloggers
21. Influencer: The New Science of Leading Change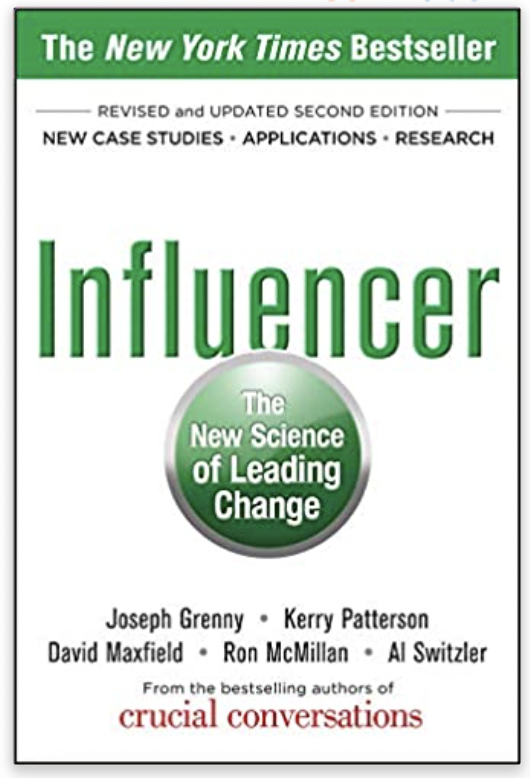 In the book Influencer, you'll learn the power behind influence. Learn about each step in the influence process, along with:
How to identify high-leverage behaviors
Strategies for how to change thoughts and actions
How to use your influence to help others work better, be more productive, and feel better
Get Influencer
22. Don't Keep Your Day Job: How to Turn Your Passion into Your Career
As the title reveals, this book is about how to turn your passion into your career.
Imagine working in a career you absolutely loved. 
The book talks about the keys to happiness and teaches you real skills for how to build your side hustle into a thriving business. It's great for entrepreneurs from all walks of life, from creatives to analytical thinkers.
For bloggers, it's an eye-opening read that shows you how to find your tribe, work doing what you love and turn your passion into profit.
Get Don't Keep Your Day Job
23. The Blog Startup: Proven Strategies to Launch Smart and Exponentially Grow Your Audience, Brand, and Income Without Losing Your Sanity or Crying Bucketloads of Tears
The Blog Startup by Meera Kothand helps you hone in on what you should focus on with your blog. You will learn core components of blogging, delivered in easy-to-digest chunks so you're not overwhelmed:
Learn about blog revenue streams and why they're not all created equal
How to make critical website pages sticky
How to create a strategic blog plan
Discover your unique blog angle and how to hit your first $1,000 blogging
Get The Blog Startup
24. Blogging: Getting to $2,000 a Month in 90 Days
If you want the blueprint to earning thousands of dollars per month, this is the book you want to read. It's one of the top blogger books and a really great read. You'll appreciate that the author is clear-cut and bold, giving step-by-step instructions for exactly what to do, when to do it, and how to do it, so you can achieve $2,000 a month or more in 90 days.
The author is a successful blogger that shares how to monetize your blog quickly under his direction.
If you're wondering what path to blog monetization works, whether it be affiliate links, advertising, sponsorships or selling your own products, the author will answer these questions in this book.
Bloggers who follow his precise instructions see success while others who veer off the path may not make it to $2K per month after 90 days of following his book.
Read Blogging: Getting to $2,000 a Month in 90 days
25. Faster, Smarter, Louder: Master Attention in a Noisy Digital Market
In Faster, Smarter, Louder, you will learn how the authors, Aaron Agius and Gian Clancey transformed their 2-person agency into a thriving and successful digital marketing global leader. 
This book is a great read, receiving 4.2 out of 5 stars on Amazon from 50 reviews. If you are looking for an author interview, this is the book for that. It takes a deep dive into Agius' and Clancey's backgrounds and experiences, including personal stories and research around landing high-value clients.
The book will teach you about adding value, being authentic and making human connections. Learn how to make a digital marketing strategy and create a visible brand.
Get Faster, Smarter, Louder
What are the Best Blogging Books for Beginners?
I really like every book in the list above for beginner bloggers.
Whatever stage you're at as a blogger, they can help you with everything from the technical side of blogging to how to improve productivity-wise, learn how to outsource, develop a digital strategy, monetize your blog and more.
What are the Best Books about Writing Blogs?
The best books about writing blogs are going to be the books that focus on content.
There are several books in the roundup that focus on content like Storytelling by Daniel Anderson which talks about building a content marketing strategy and using storytelling to share your brand's story with your audience.
The One Hour Content Plan by Meera Kothand is another good choice to learn about writing blogs and creating content your audience will love to consume.
For book recommendations about writing blogs, I would focus on finding blogger books like these that talk about writing blog posts. You'll learn about things like the strategy behind sharing your content, messaging, and storytelling which are all great for developing your skills as a blog writer.
Final Word
Now that you've finished reading the 25 best books for bloggers to read this year, what's next? Are you expected to read all 25 books and will they really help you?
You can check out any and every book you'd like to on the list. These diverse books each offer something a little different including:
Mindset tips and productivity hacks to succeed in business and life
Blueprints and step-by-step strategies to build, grow, and make money blogging
Advice for how to run your blog like a business
How to develop a strong brand
These aren't turn-key solutions where you read them and instantly you're successful. Once you learn the strategies and tactics behind these blogger books, it's up to you to put what you've learned into practice.
My advice is to read the books that you're attracted to and take action. 
What's the point of gaining all this knowledge if you aren't going to do anything with it, right?
Start with two or three of your favorite books on the list and use them to guide you on your blogging journey.
Which blogger book will you be reading first?
Want to learn step-by-step how I built my Niche Site Empire up to a full-time income?
Yes! I Love to Learn
Learn How I Built My Niche Site Empire to a Full-time Income
How to Pick the Right Keywords at the START, and avoid the losers
How to Scale and Outsource 90% of the Work, Allowing Your Empire to GROW Without You
How to Build a Site That Gets REAL TRAFFIC FROM GOOGLE (every. single. day.)
Subscribe to the Niche Pursuits Newsletter delivered with value 3X per week