25 Compelling Reasons You Should Start a Blog
When you buy something through one of the links on our site, we may earn an affiliate commission.
Should I start a blog?
Many people ask themselves this question all the time, unsure whether it's a good idea.
So-called experts (and non-experts) say blogging is dead, you're wasting your time, etc., and it doesn't help anyone.
The truth is…
Those saying bad things about blogging should explain why they feel this way and provide proof.
Because most of them are talking nonsense, giving their opinion from their own perspective, and making assumptions that aren't true for everyone.
What might be bad for them isn't necessarily bad for others.
Should you start a blog?
It depends.
There are certain reasons not to start a blog, but on the other hand, there are way more reasons to start a blog.
In this article, you're about to be given 25 genuine reasons to start a blog. I will also give you a few reasons why you shouldn't start a blog.
This article will take about five minutes to read, and once you have read it, you will be in a better position to decide.
Are Blogs Worth Starting?
As mentioned above, it depends.
If you want a quick fix and have no intention of writing content, then no, it's not worth starting a blog. However, If you're willing to write or pay others to write for you, then yes, it could be worth starting a blog.
I say 'could be worth starting' because simply wanting to write isn't enough reason to start a blog. There are many other reasons that you should consider, such as the following:
Is there a real audience out there looking for blogs like yours to read?
Do you have a purpose for starting a blog? (i.e., sell a product, highlight a business, make money, spread awareness, etc.)
Are you willing to be patient?
Are you committed?
These are just a few questions you need to ask yourself before even considering starting a blog.
If you can answer yes to one or more of those, then blogging is very much worth considering.
25 Reasons To Start A Blog
Below are 25 genuine reasons to start a blog. Some are basic benefits, while others could change your life and put you out there as a leading figure for the niche you're targeting.
1. Blogging Is Inexpensive To Start
There are rising costs with blogging as you progress and become popular, but starting a blog is generally inexpensive. All you need to get started is a domain name from the likes of Namecheap and shared blog hosting from the likes of Bluehost.
It's also a good idea to invest in an autoresponder service like Convert Kit, which offers a free plan ideal for those just starting a blog.
2. Blogs are SEO-Friendly
Blogs are search engine-friendly, and search engines such as Google and Bing love them. So if you can write good content and use on-page SEO strategies, your content will stand a decent chance of ranking well.
Of course, keyword targeting will determine how quickly and easily you rank, too. But overall, blogs are great for SEO. You can also install a great plugin called Yoast SEO, which will further help with SEO if you're using WordPress.
3. You Can Make Money From Blogging
You can monetize your blog and make money blogging if you have a large enough audience. Several avenues include Google AdSense, ads, affiliate marketing, and many more.
While it's important not to expect instant riches, it's possible to become very wealthy from your blog. Take a look at a recent article that shares 12 of the top money-making blogs and bloggers in the world today.
4. Build An Audience Of Like-Minded People
Another great benefit of starting a blog is creating a community of people who have similar passions and interests. Having an audience of like-minded people comes with many benefits to you, the audience, and your blog.
5. Grow As A Person
You don't have to be a perfect person to start a blog. One of the marvelous things about blogging is that you can grow as a person along the journey. In addition, you will learn valuable things by putting yourself out there as an authority for the niche market you are targeting. 
6. You're In Control
You decide what gets written, when to write, publish and make all decisions — you're in charge! The blog is yours; you have no one to answer to, and if you want to make changes — it's your call. No supervisor telling you what to do or giving you pressure — a dream come true for many people.
7. Blogging Is Fun
If you choose the right topic to blog about, blogging is fun, and you will love the journey. Yes, you'll hit some hurdles along the way, but overall you will enjoy what you are doing. It's all about choosing a topic of interest, and when you look back in a few years, there's a good chance you'll say it's been an enjoyable journey.
8. Learn New Things
You will learn lots of new skills along the way when blogging. It's not just about writing content. Every week you'll learn new things, from content research, new marketing techniques, traffic methods, and SEO. You never stop learning as new strategies and content ideas continuously evolve (find out how a great content strategy can make you money).
And you can follow along with our blogging process guide to get started!
9. Land Your Dream Job
Many bloggers have landed a dream job because of their blogs. For example, if you want to work in the fashion industry, having a blog about fashion is a huge help when you apply for a job. You're telling the company that you live and breathe fashion, and demonstrating that you've created a successful blog about the topic. It can only help your chances, and many people have landed a dream job because of the blog they started.
10. WordPress Is Great and Easy
There's a good chance that you will use WordPress when starting a blog. It's the most popular blogging platform, and according to barn2.com, over 450 million websites are WordPress blogs. That's almost half of all websites in the world!
The great things about WordPress are that it's super easy to install, easy to use, free, beneficial, and there are many tutorials for it online.
Other helpful benefits of using self-hosted WordPress include the ability to use WordPress plugins and WordPress Themes, which you can install from the WordPress Dashboard.
11. You Can Get A Book Deal
If you create a blog that becomes popular, there's a chance that a publisher could approach you to write a book. Of course, the blog would have to be very popular and successful, but it does happen, so you should never say never — shoot for the stars, I say!
In addition, you could go it alone, and write your book on the back of the blog's success. Having proof that your blog is doing well will also give you a better chance of finding a better publisher down the road.
12. Expand Your Social Media Following
Once your blog starts to gain some traction, so will your social media following. Your following will get bigger if you highlight your social media accounts on the blog, emails, and other social sites.
Search for popular blogs and bloggers on social media accounts like Twitter, Facebook, Instagram, and LinkedIn, and you will probably notice that they have a high number of followers. Also, look for the blogger's YouTube channel to see how many subscribers they have.
13. Build Confidence And Self Esteem
Putting yourself out there is a great way to build your confidence and self-esteem. As a blogger, you will be putting your face and name to your content, and over time your confidence will improve.
It might seem scary at first, but don't let that stop you because it's more of a baby-step approach to building your confidence, and adding your name and face to content is just the start. Your confidence will naturally grow as the blog becomes successful and you learn new skills.
14. Become A Better Writer
This benefit is pretty obvious, but it's entirely true. Your writing skills will get better if you blog and create your own content.
In addition, as a blogger, you will be spending a fair bit of time reading, researching, writing, and editing your work. Those things will improve your writing more than you can imagine. Not only will they improve the quality of your content, but they will also improve the speed at which you write.
15. Become A Marketing Expert
Successful blogs become successful through quality blog content, reader interactions, and good old-fashioned marketing. As a blogger, you will become well-versed in content marketing, email marketing, and many other marketing techniques. 
16. Scale In The Future
After a couple of years, your blog could be doing well, and this is when you could scale it to become a giant in the blog niche you are targeting. You can hire a writing team and produce many more articles each week, or you could even branch out and build spin-off blogs related to the topic you are targeting.
17. Work From Home
Imagine not having to commute to work — no more traffic jams, public transport delays, and freezing out in the cold. This is possible when you start a blog because you will be working from home if it becomes a hit. You could even work in your pajamas if you wanted. 
18. Make Business Connections
Bloggers will make business connections over time which will help you to sustain and build up your blog's success. You will connect with link partners, guest bloggers, and build various other relationships along the way.
The benefits of business connections are huge. For example, if you want to highlight a piece of content, you could ask a business connection to share it with their (often huge) audience, and in return, you will return the favor. This is just one of the benefits of having business connections — there are many more.
19. Make A Living
As touched on above, you can make money blogging, and if you start to do well, the amount of money you make will enable you to make a living from your blog. Many bloggers are creating a full-time income, and there's no reason why you can't.
20. Build A Responsive Email List
If your blog has traffic and you offer an incentive to sign up to your email list, your subscriber rate will rise. And, if done correctly, readers will be responsive to your emails.
A responsive email list is a godsend and is arguably the most critical aspect of a profitable blog. When you write an article, send an email to your list to tell them — it's free traffic. You can also highlight affiliate products and make announcements regarding yourself and your blog.
21. Media Opportunities
Another benefit of blogging, particularly with building a successful blog, is media opportunities. For example, you could find yourself on news channels and television programs, in addition to podcasts and various other interviews.
22. Sell For Profit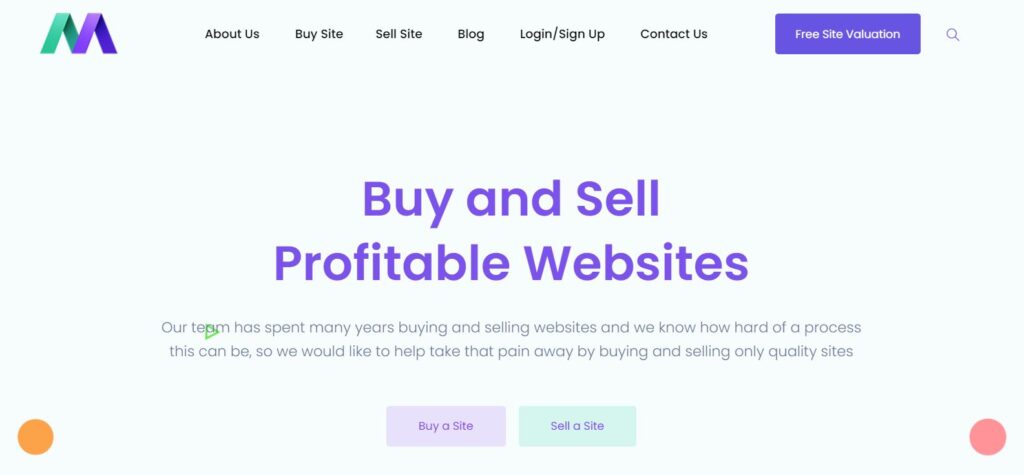 You could sell your blog in the future if you wanted. Sites like Motion Invest and Flippa make it easy to sell your blog. The significant traffic, subscribers, and blog income you have will determine how much you could make by selling your blog.
23. Freedom
You will be free to set your working hours and days. For example, if you want to work mornings only, you can, and if you need to take time off for any reason, you can. Although you will need to work hard when blogging, a sense of freedom comes with it, especially when it's your full-time job.
24. Create Courses
A great way to make money online is to create an online course. If you have a blog, email list, and an audience, you are in a great position to create an online course that will benefit your readers. 
25. Consultant & Coaching
As soon as you have expertise in the niche you are targeting, you can coach and consult through the blog. This monetization method is a fantastic and profitable way to make great money. All you need is a way to communicate with your clients. 
5 Reasons Not To Start A Blog
The 25 reasons to start a blog above are great, and you may be ready to start a blog. But first, you must recognize when blogging isn't a good idea because there are times when it won't be suitable.
Below are five reasons to say no when asking yourself, should I start a blog?
1. You Want Instant Success
I have touched on this already, but it's worth repeating. Blogging doesn't always bring quick success (but we do have a guide on how to be successful at blogging). It will probably take you at least 12 months before you start seeing some success. So if you want immediate success, blogging is probably not for you.
2. Writing Bores You
If writing bores you to death, you will likely be better off not blogging. Of course, if you have the finances to build a writing team, you could go down this route. But even then, there's still some writing and planning that you have to do, such as content briefs.
3. You Don't Want To Become A Marketer
Marketing is essential to being a successful blogger. You will be hustling and marketing all the time. If you don't like the idea of having to do this, you'll struggle to get your blog off the ground. Only writing content isn't enough.
4. You're Not Committed
There's freedom, fun, and many benefits to blogging, but none of it comes without hard work and commitment. You will need to live and breathe your blog, especially in the early years. If you're not committed to putting in the effort, you may want to think of an alternative solution.
5. Long Hours
Again, in the early days, you will be spending a lot of time working on your blog — I'm talking 12-15 hour days sometimes.
It won't be easy to build a successful blog spending just a couple of hours a day working on it. You will need to plan out your calendar and find time to work on your blog. If you have another job, you will need to work before and after work and on weekends.
What Should I Blog About?
You can blog about anything you want, but to create a successful blog with thousands of daily readers, you will need to blog about a topic that has widespread appeal. 
You will need to target the broad topics and your specific niche for this to happen.
The following blog topics are some of the big markets as of today:
Health
Wealth
Relationships
Self Improvement/Personal Development
Weight Loss & Fitness
Survival/Prepping
Technology
Fashion
Gardening
Pets
You can blog outside of these topics, but in general, these are the big markets with lots of interest. You will find lots of people searching for content about them.
If you're looking for blog post ideas, this article is for you.
Should I Start A Blog This Year? (Final Thoughts)
"Should I start a blog" was the question you wanted the answer for, and hopefully now, you better understand whether you should.
You have 25 genuine reasons why blogging is great and five reasons to stay away.
If you feel that you can offer a unique voice and angle to the niche market, you should grab onto the idea and put your heart and soul into creating the best blog there is on the subject.
Don't let anyone put you off.
As long as you are committed and willing to put in the work, you can do it. Some of the benefits of blogging are tremendous, and who knows where it can take you.
All the big successful blogs started where you are right now. So work hard, be patient, learn from your mistakes, and add value to everything you do.
If you can do this, you have a chance.
Want to learn step-by-step how I built my Niche Site Empire up to a full-time income?
Yes! I Love to Learn
Learn How I Built My Niche Site Empire to a Full-time Income
How to Pick the Right Keywords at the START, and avoid the losers
How to Scale and Outsource 90% of the Work, Allowing Your Empire to GROW Without You
How to Build a Site That Gets REAL TRAFFIC FROM GOOGLE (every. single. day.)
Subscribe to the Niche Pursuits Newsletter delivered with value 3X per week