How to Get Google Adsense Approval Quick & Easy
When you buy something through one of the links on our site, we may earn an affiliate commission.
I first applied to Google Adsense back in 2005 or 2006. And since that time, I have helped loads of others get Google Adsense approval!
Each time, my applications have been approved to start using the Google Adsense program, so I feel like I can offer some solid advice on how to apply for Google Adsense and get approved.
Now, if you have been following my blog, you know that I had a bit of a setback with my Google Adsense account, but I am now actively using Google Adsense as though nothing happened. The reality is that Google Adsense is the best contextual marketing program on the market with the most advertisers and the highest payouts.
I love the Adsense program and definitely recommend those involved with niche websites to at least get started with Adsense.
If you want to maximize your site earnings, we talk about how to get the biggest bang for your buck out of Adsense approval later on down the post.
There are other options available once you get over a certain amount of pageviews, but Adsense is a fantastic way to earn extra income, especially if you are just starting out.
Let's take a look at the steps you'll need to take to get that Google Adsense approval. As well as some other ad networks (Adsense alternatives) you might consider if you already get lots of traffic.
Doesn't Everyone Get an Adsense Approval?
To be honest, it's shocking to hear how many people get declined from Google Adsense approval. I've received many emails from readers saying that their applications were declined.  I've read complaints on forums or comments about the difficulty of getting approved with Google.
There are quite a few things that people miss when they apply, like privacy policies, contact pages, or just having a decent website in general.
While there is a lot of intentional vagueness about Google's Adsense program policies on the Adsense homepage to give them leeway in deciding who to approve for Google Adsense ads and who to reject, there are some solid steps you can take to make sure you don't run into problems.
I personally have never experienced going through a rejection, but I've also been very careful when I apply. Below you will find the process I have used to apply and get approved to Google Adsense on two different occasions.
How To Get Google Adsense Approval:
In a nutshell, there are 5 steps to applying and getting approved to the Adsense display ad network. You'll want to follow each of these steps for Adsense approval.
Before You Apply for Adsense
Create a Google account that includes a gmail address
Make sure you at least have a basic website that looks good, has a privacy page & contact information, and original content before you begin
Doing these two steps before applying for the Google Adsense program will save you a lot of headaches during the actual application process.
While it's understandable to rush to get that ad revenue coming in, don't. You are applying to Google's ad network. You need to show that as a website owner you add value to them.
How do you do this? With quality content.
Without quality content you will never get the search result rankings you want anyway. So take the time to do those two steps right before applying.
Once you have those two issues taken care of, then you can start the actual application process. The quick bullet point steps are right here, we'll dive into each step a little more a touch further down the page:
Go to Google Adsense to start the application process
Enter your email address, website URL, and all other requested information
Sign into your Google account once redirected there
Find your country and accept the conditions to apply
Wait for a response from Google
Please note, these same tips also apply to getting a Blogger Adsense approval.
How To Apply For Google Adsense (and Get Approved)
This is the more in-depth guide to applying for Adsense. Once you know how to apply for Google Adsense you can work on optimizing your chances of getting approved.
Step One: Officially Apply to the Google Adsense Program
Step One of getting approved for Google Adsense is to apply. You can apply online to Google Adsense right here.
This will bring you up to a page that looks like this.
This is information you must provide in order to be considered. Just fill in that information with your website URL and your email address. You can choose whether or not you want to agree to receive Google's emails or not. This doesn't affect the decision, but it doesn't hurt to just check yes.
You know, just in case.
Step Two: Provide Google the Requested Information
Google when then direct you to a page where you fill in your information. It may look like this screenshot.
If the screen looks slightly different, don't worry. Google changes the Adsense application design once in a while, but they will ask for the same information.
You will want to provide Google with:
Business name or individual name the account is under
Contact name (if different)
Mailing address
Phone number
Email address
Google will verify your phone number, and physically mail you a pin number to confirm your mailing address. So double check that you fill this information out right!
If you don't verify this information once you're approved, you will lose Google Adsense account approval!
This online application itself only takes a few minutes to fill out.
Step Three: Get Temporarily Adsense Approval and Place Ads
Adsense approval usually occurs within 24 to 48 hours now.  If you follow my steps above for creating a unique site that has never been involved with Google Adsense before, you should have no issues getting approved quickly.
At that point, you will receive an Adsense approval email from Google that explains the process. Essentially you are "temporarily" approved until you meet other verification steps.
This means you can start placing ads on your site and you will see the clicks and ad revenue coming into your account. Google is simply monitoring your activity to make sure you are not clicking your own ads or sending suspicious traffic.
As long as you leave your ads alone and don't do anything suspicious you should be fine.
Do NOT mess with ad placement, ad code, or use spammy methods to drive traffic during this time or you will sabotage your own application.
You can temporarily place Adsense ads on your site using the ad code that Google provides you in your ads dashboard.
In addition, you can also add the Google Adsense code to ANY of your other websites! You don't have to apply for each new site – you can start placing Adsense ad code on all of your sites once you have Adsense approval.
Once you have any approved account, you can use the same Adsense code on all your sites, but you should definitely create new ad units and color themes for each ad that you place on different sites.
You want to make sure your ads match the coloring of your site and your brand.
How To Get Google Adsense Verified
This is also the unofficial "Step 4" of the process: Pin verification, bank account, tax information, & phone number.
Before you get paid, you need to verify this important information with Google. This part of the process has a few steps of it's own.
First, Google will send you a PIN verification in the mail. This will come after a week to 10 days usually.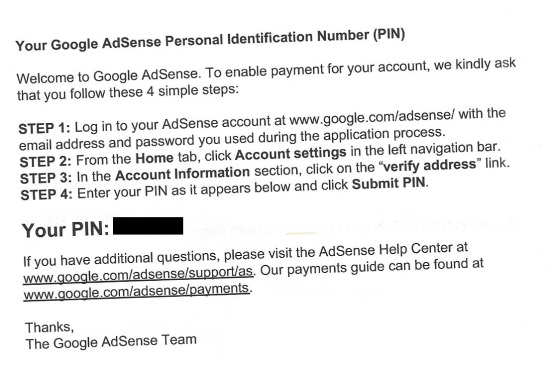 There is no rush, but at some point you will need to verify your bank account and submit your tax information.
The bank account MUST be in the same name that you applied with.  So, if you applied with your business entity, the bank account must be for the business entity.
To get paid by ACH (the best way), you need to supply your bank account number and routing number. Then Google will do a test deposit of a few cents. You will then input this amount in your Google Adsense account to finish the verification. Then you can start getting paid monthly!
You will also need to supply your TIN number and complete the necessary tax documents (this is all handled online by Google and only takes a couple of minutes).
If you haven't previously verified your phone number, you will need to do so. Google will place a test call with an automated ad code to you. Input the code, and you are good to go!
Be Smart with Your Ads
Finally, be smart about how you handle your Adsense code. Only put it on sites that meet the Google Adsense guidelines.
Don't click your own ads and NEVER ask anyone else to ever click your own ads! This will get your account shut down.
Overall, stay in compliance with Google and enjoy the deposits coming to your account each month.
Google Adsense Approval Requirements
Google wants to know that you have a valuable resource! So, in order to increase your chances of Adsense approval, you need to create original, articulate, and useful content!  You should never aim to just throw up some spammy content that's not useful. This will just irritate readers and your site won't rank as well in search engines.
We hear that the biggest ranking factor is inbound links. I think that the true biggest factor is a lot more simple: you have to solve someone's need. I call this search intent optimization. Fix the problem that people are searching for, and you'll never have any trouble ranking.
I can guarantee you that people have applied to Google Adsense with autoblogs, or copied articles from EzineArticles.com or other websites. Then they wonder why they didn't get Adsense approval.
You want to make sure your content is extremely valuable so that you can get an Adsense approval. But this is also important because search engines only rank "worthy" content. Your content will get the views it deserves.
If it's no good, don't expect a lot of Google love.
WordPress Tips Google's Adsense Team Will Love
If you are struggling to get approved and there isn't an obvious red flag from violating the Google Adsense program policy, then chances are you simply need to make some website improvements. Several small steps can make a huge difference for the Adsense team.
To the point where a website owner following these upcoming tips will almost never be declined by the AdSense team.
Tip 1: Have Enough Great Content
My advice is to have at least 10 well-written articles of 1000 words minimum (as long as its all quality, more is better) on your site before applying.  There are some who suggest writing as many as 30 articles of 1000 or more words before applying.
I've always found 10 to be enough, although more probably increases your chances of getting accepted.
While more content is better than less, this only applies if you create quality content. Poor or mediocre content won't cut it so I suggest writing the best you got!
Tip 2: Have Crucial Pages Updated
In addition, it is really necessary nowadays to have three important pages. I would have a great "About Page," "Contact" page, and a "Privacy Policy" page.  The privacy policy needs to include this information supplied by Google here.
You can find a free privacy policy generator that I have used right here.
Your contact page doesn't need much, but an email address where you can reply is an important part.
Tip 3: Make Sure Your Site Theme Looks Great
In addition, you are more likely to get approved if you have a great looking theme or site.  I recommend using a premium theme (if using WordPress) if possible.
If you are really bootstrapping it, you can still get away with using a free theme. However, You can still use a free theme, but do your best to find one that looks really good. It should be fully functional, well put together, and simply look good.
My top recommendation for a WordPress theme is GeneratePress.   GeneratePress makes it extremely easy to change the look and feel of your site at any time.  See my full GeneratePress Review here.
Tip 4: Get an Original Logo
Finally, to give your site an extra boost on the "look" score, I recommend having a logo designed.  You can do it yourself, or you can hire someone on Fiverr.com if you are cheap (like me).  For $5 – $20 you can take a generic theme and make it look much nicer with a custom logo.
If you want a really top notch design check out this 99designs review for a relatively inexpensive option for professional level logos.
To really bring out the inner beauty in your site, you will need a theme and page builder. These can be super easy to use and pretty inexpensive. I used to love Thrive Themes, but now I'm a big fan of Elementor.
Elementor saves you the stress of fooling with your theme options and limited customization abilities. You can build beautiful pages and turn your visitors into more money.
Best of all? Elementor is free.
Click here to try out Elementor for free.
click here to get elementor for free
Overall, make sure that your site is fully developed with content, logo, layout changes BEFORE you submit the site to Google.
Important Tip!
Remember, you CANNOT apply to Google Adsense using the same website that has ever been used for Google Adsense before. This is something to think about if you are buying a website. On venues like Empire Flippers, they transfer the Google Adsense account to you. If you're on Flippa, you'll need to ensure that Adsense is included in the sale.
How To Make More money Online with Google Adsense Approval
Any niche site owner worth his or her salt knows that a few percentage points worth of higher conversion can equal thousands of dollars per month in extra income. There are some easy ways to boost your Google Adsense earnings to the max.
Manual tests and placement
The good old hands on method. There's no better way to learn what visitors click on other than trying new things. This is called a split test or an A/B test.
A split test is you placing an ad in one location, seeing how it performs, then moving it to a new location. Watch the metrics here and don't let it get away from you. Figure out which ad location is earning more, then make that your default.
Once you have a clear winner, you can split test again, find the winner, and repeat the process.
In the short term, you're income will drop a bit. But in the long-term you'll make far more money online.
But repeated split tests help you pick winner after winner after winner. These consecutive winners ensure that you bring home more and more money without additional traffic.
If you're split testing, you don't even need more visitors than normal because now you get more clicks from each visitor.
Try this with both ad placement (where it's located) and ad size (how big it is on the screen). It'll take a few months, but your income will have a permanent increase.
Automatic tests and placement
Split testing is worth it, but it can be a lot of work. On my niche sites, I use a free tool called Ezoic to manage my Google Adsense account.
Ezoic uses AI software and is always split testing. The good thing about AI is that it never takes a break, never asks for pay increase, and never wants a bigger share of my time. Ezoic increases my Google Adsense earnings.
Best of all, Ezoic doesn't cost anything. They fund themselves by taking a small bit of each click I get from Google, but they've always boosted my earnings. They have never done anything for me but increase my earnings and decrease how much I work on my site.
Consider optimizing your Google Adsense and earn more with Ezoic.
earn more and with ezoic here
---
FAQ:
I answer a lot of questions from my readers on a monthly basis on why they may not have been approved to use Google Adsense.  I've put together a "frequently asked questions" section for you below to answer most questions about why you may not be getting approved.
Where can I find Adsense policies?
You can find the Google Adsense Policies for running their ads right here. Or look through your Gmail account.
Do I have to have a gmail account?
You need a Gmail account to apply.  You don't need a Gmail address though. If you have a custom domain ([email protected]) then you can use this Gmail account as long as the custom domain email content is being hosted with a Gmail account on GSuite.
Where can I put ads on my blog post?
Anywhere!  I would suggest you follow best practices for display ads. Generally speaking, the best placements come within content although many AdSense users now choose to simply let the automatic placement do its thing. For users of Ezoic or Mediavine their AI and testing automatically places ads and figures out what works best so you don't have to worry about it.
Generally speaking, display ads work best when they are front and center, mixed in with your content.
What size ad units make the best Ad revenue on my site?
This varies by what niche you are in. I've always had the best success with 250×300 for in-content, and 300×600 on the sidebars. Other ads have made me a little money, but nowhere near the amount of ad revenue I get from these two sizes. You should always test within your niche to see which ad units work best for you.
Can I get approved on a "Blogger" website?
Yes!  You can apply using a site with a subdomain and get approved for Adsense on your blogger account. I would however caution against this.
It costs so little these days to setup a custom domain and customize your own website, that you should always consider moving away from "blogger" type platforms and host your website with a reputable hosting company.
All of my new sites are hosted on Bluehost. They are fast, easy to deal with, inexpensive, and the customer support is second to none.
Click here to start your own blog or niche site with Bluehost.
get fast, easy, cheap hosting with bluehost
Here are step by step guidelines on how to start your own blog here.
Yes.  You need to be sure that there are no parts of your website that would stretch over your ads and cause intentional clicks. Google looks at this as fraudulent clicks, which means that it could lead to Adsense publishers getting banned.
I've had that happen to me in the past for having my ad placement be too aggressive. Make sure you don't follow in my footsteps.
Do I need to have a specific Alexa Rank?
Nope. While Alexa is a great tool to check out the authority of your site, it's not something that you need to worry about when getting approved for Adsense.
What email address should I use to apply?
This doesn't really matter. You can always just apply for a new Gmail address to apply for Adsense approval.  You'll login with that email address when running your ads and checking on your Adsense earnings.
What can I expect to make in regards to Adsense Earnings?
This is entirely niche dependent.  Some niches pay more than others and you can earn more per click depending on your average CPC ( advertiser cost per click). It will also vary by traffic. Some people make a full-time income strictly from Adsense display ads.
Do I have to use WordPress?
Nope. Although I recommend building a WordPress site because it's easier to use and get up and running. You can really use any Content Management System you want, but WordPress makes Adsense integration seamless and easy.
Can I use other methods of monetization at the same time?
Absolutely!  You'll just want to make sure you aren't providing a spammy user experience for your readers. If you have a product you are promoting or are using other means of earnings via affiliate programs like Amazon, there is no reason not to utilize both.
Are there any Adsense Alternatives?
There are a number of Adsense alternatives we list here. If you have steady traffic, I'd highly recommend you look into other ad networks or some type of media partner with Google to manage your ads. There are a number of these Adsense alternatives out there right now – specifically AdThrive (requires 100k pageviews), Mediavine (requires 50k page views) or Ezoic.
These companies work with Google and other advertising partners to sell ad space on your sites.
They usually pay out by RPM (per 1000 visits) and end up paying more on a monthly basis then Adsense. The downside is that you need traffic to apply.
While the entry requirements for each of these Adsense alternatives changes, some of them require you to be approved for AdSense prior to applying.
Adsense Approval In Conclusion
These are the exact steps that I have used many times to get myself, my business entities, or others approved to the Google Adsense account program. On the surface, they are fairly straightforward; but trust me, lots of people never get approved.
This could be for a number of reasons ranging from low quality content, to suspicious activity. But if you follow the 5 steps that I've outlined here, you should get approved without any issues.
Want more great tips delivered to your inbox?  Consider joining the Niche Pursuits Newsletter right here.
Want to learn step-by-step how I built my Niche Site Empire up to a full-time income?
Yes! I Love to Learn
Learn How I Built My Niche Site Empire to a Full-time Income
How to Pick the Right Keywords at the START, and avoid the losers
How to Scale and Outsource 90% of the Work, Allowing Your Empire to GROW Without You
How to Build a Site That Gets REAL TRAFFIC FROM GOOGLE (every. single. day.)
Subscribe to the Niche Pursuits Newsletter delivered with value 3X per week