11 Of The Best Ahrefs Alternatives You Should Try (Free and Paid)
When you buy something through one of the links on our site, we may earn an affiliate commission.
The question is, why do you need to search for Ahrefs alternatives? Maybe you need a more affordable all-round SEO solution. Or perhaps you want to focus on a particular area, like keyword research, and don't need all the other features. And some features may indeed be covered better by other tools.
In this article, we will first quickly go over the pros and cons of Ahrefs. Then, we will take a closer look at 11 genuine Ahrefs alternatives and what they are best used for.
Ahrefs Overview
Ahrefs is an outstanding SEO software suite with keyword research, rank tracking, link-building tools, competitor analysis, and site audits. Most of the features inside Ahrefs are designed for marketing and SEO professionals. As a user, you can access advanced ranking metrics that go way beyond simple data, such as Google ranks or social shares metrics.
The eternal question is, which program has the most accurate metrics? In an investigation done by Authority Hacker, they found Ahrefs still has the most accurate metrics (FYI, Ahrefs does not have an affiliate program. Authority Hackers uses Ahrefs as their primary tool and, despite that, I hope that they succeeded in keeping their objectivity).
The Ahrefs Support Center includes tutorials, FAQs, best practices, and a blog to expand your knowledge. On top of that, you can find over 240 videos by Ahrefs on YouTube.
Ahrefs Price: The Lite package costs $99/mo, the Standard $199/mo, Advanced $399/mo, and Enterprise $999/mo.
As you will see, Ahrefs is very close in price to its nearest alternative, SEMRush. Keep in mind there are no real Ahrefs alternatives free.
If you want to know more about this powerful all-in-one SEO tool, check out our in-depth Ahrefs review.
Ahrefs Pros and Cons
Pros
Ahrefs has the best keyword research tool on the market. They offer so many features in one place! We have tried most of them, and they all seem to perform very well. This makes it a breeze to look at the variety available to you when you need a new, fresh perspective.
Cons
There's no free trial.
The limit on the number of reports you can get is low.
All plans come with one seat only.
Its link index is smaller than those of key competitors Moz and Semrush.
There's no phone support.
11 Best Ahref Alternatives
1. SEMRush
Semrush is one of the most popular SEO tool suites out there. And it ranks number one among Ahrefs alternatives.
If it's your first time using it, then you should know that the software suite specializes in keyword research, competitor analysis, and paid advertising campaign optimization. It also allows users to complete site auditing and backlink data acquisition tasks.
If you're new to using this software or are looking to replace another platform with Semrush (perhaps Ahrefs), then we recommend picking Semrush up at this point. It could be your ideal choice for professional SEO services like auditing and researching website rankings.
Semrush is probably the closest to Ahrefs among Ahrefs alternatives, and you can achieve nearly the same results with both of them, although the process may be different.
As I said, the tools are equally strong. I don't know which tool came first, but as a result of hundreds of videos I watched, I got the impression that more people are marketing SEMRush, and SEO experts prefer it.
Main Features
Keyword Research tool
SEO tools for On-Page analysis
Competitor Analysis
Rank Tracking
Competitor SEO analysis
Link Building
And more!
SEMRush started as a keyword research tool, and this feature is still intensely used by SEO professionals. The Keyword Magic Tool is one of the most robust tools in their keyword research arsenal.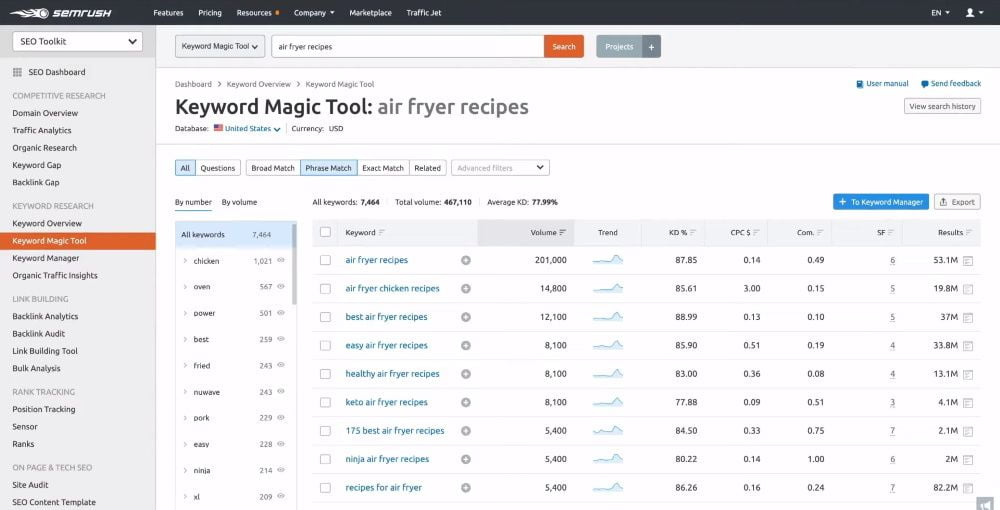 Price
The Pro plan costs $119.95/mo, Guru $229.95/mo, and Business $449.95/mo.
SEMrush offers a 7-day free trial.
Best For Keyword Research
Keywords are the backbone of your business website because they are how people find you.
SEMRush will give you the best keyword research tools, providing you with all the intelligent SEO tools needed to ensure that your site ranks higher in search engines (and it's an exceptional search engine positioning tool). New customers will be found through organic searches and may eventually turn into paying customers for you.
Pros and Cons
Pros
Integration with Google Analytics
Sound reporting system with the ability to forward customized reports to a client
Cons
Price – SEMRush is expensive
Some add-on analysis features are costly
Some of the metrics are slow to update
Additional user seat policy: Pro +$45/mo per user, Guru +$80/mo per user, Business +$100/mo per user
Get SEMRush Right Here
2. Ubersuggest
This software is fast climbing the SEO ranks and becoming one of the valued Ahrefs alternatives.
Main Features
Ubersuggest will show you how much traffic your competitor's website is getting, point out keywords they are using, who links to them, and what their top-performing web pages are.
Reverse engineer your competitors' strategies by seeing which of their social media posts receive the most engagement.
Download a Top SEO Keywords list to help you find high-volume, low-competitive keywords.
The Content Ideas Report will show you topics that have gotten the most traffic in your niche.
Price
It looks like the best value for money is $12/mo. or $120 for lifetime. Ubersuggest offers a free trial and a 30-day money-back guarantee.
What you get for that amount will take too long to list here, so please follow the link to Ubersuggest and read more about it.
Pros and Cons
Pros
Good integration with analytics tools
Metrics accuracy close to Ahrefs
Simple to use
Affordable
Video course available
New AI writerport
Cons
None – it is hard to find cons at this price!
Best For Content Marketing Beginners
Users who are new to content marketing may find the best keywords to target by doing research using Ubersuggest.
Try Ubersuggest Here
3. MOZ
MOZ is one of the top SEO tools on the market and is famous for its Domain and Page Authority, the metrics that search engines like Google look at closely to rank pages.
Main Features
Keyword Explorer – Understanding the vocabulary that is being used to find information can be extremely helpful when it comes to creating high-quality content. The more you know about what people are looking for, the easier it is to give them exactly what they want. With Moz's suggested strategies, developing concepts and ideas related to your business and industry should now be a little easier.
Rank Tracking – We need to measure our progress as we go along. Learning how you rank and where your competitors rank is an excellent start to knowing what's working.
Site Audit Tool – Searching for issues that affect your site isn't always an easy process. If a crawler or any other monitoring software is set up to monitor every aspect of your site, chances are that you may miss something. MOZ will help you spot problems right away.
On-Page SEO – Using Moz Pro is an excellent idea to ensure your pages have the highest potential to rank in search engine results.
Linking – Links are a critical element of effective SEO. MOZ can help you find new ones and maximize the effect of those you already have.
Price
The standard plan costs $99/mo, medium $179/mo, large $299/mo, and premium $599/mo.
Pros and Cons
Pros
A free Chrome extension (MozBar) gives you Domain Authority, Page Authority inside the displayed SERPs, and site backlinks similar to Ahrefs backlink checker.
The free 30-day trial will help you to understand the tool.
Cons
The UI (user interface) can be improved.
There are limited credits on some features, for example, site crawls.
The program has many features, so to some, the learning curve may look long, but than can be said about many of Ahrefs alternatives – including SEMRush.
Best For Competition Analysis
The rich features of MOZ will allow you to respond in the correct way to every strategic move of your competitors.
Try MOZ Here
4. Mangools
Mangools consists of five different tools:
KWFinder – Keyword research
SERPChecker – SERP Analysis
SERPWatcher – Rank Tracking
LinkMiner – Backlink research
SiteProfiler – Metrics to enhance SEO strategy
Their keyword research tool will help you learn new information about the keywords that are likely to get you a lot of traffic as low-hanging SEO fruit. This also comes with a backlink analysis and auditing tool, which will allow you to find the most effective way to reach out to your target audience, as well as more opportunities for driving more traffic over time.
Mangools is easy to use and has good suggestions regarding website optimization. Moreover, Mangools is perfect for beginners, but this doesn't mean it isn't powerful!
Main Features
Keyword searching to locate longtail keywords
Search volume and keyword metrics
SERP analysis and SEO metrics to understand your position compared to your competitors
Options to track detailed information from desktop and mobile results
Identifies powerful backlinks you may want to acquire in the future
SiteProfiler evaluates the health of your site
Price
The prices above are paid yearly. If you pay monthly: Basic is $49.00 per month, Premium is $69.00 per month, and Agency is $129.00 per month.
Pros and Cons
Pros
Good UI
Easy to use
Affordable
Cons
Keyword search volumes are not accurate
Chrome extension only available on the Premium plan
The five tools are not integrated
Trial limits are low
Best For Beginners
For beginners, Mangools is a good value for money.
Get Mangools Right Here
5. Majestic
Majestic is a link investigation tool. Track your favorite sites with Majestic Campaigns and Link Context. Find all the links on every site using the Link Checker, filter by topic and industry-standard metrics so you can target a specific link profile. Compare top-level metrics between different domains in a matter of seconds. Find all of your competitors' backlinks with one click and review them at a glance.
Whenever you're looking for new linking opportunities, think of your competitors to discover new prospects by looking at their parent domains or links to specific web pages.
Main Features
Site Explorer – Scan a site to get their link profile with information like Trust Flow, Citation Flow, Topical Trust Flow, Referring Domains, External Backlink analysis, and more metrics to define a link profile.
Topics Report – An in-depth resource to find what a website is about
Referring Domains – Information about domains linking to a specific website (sometimes you may get confusing data)
Price
The Lite plan costs $49.99/mo, Pro $99.99/mo, and API $399.99/mo.
Pros and Cons
Pros
Strong link investigation
New linkgraph
Cons
No backlink alert
May be somewhat confusing for beginners
Best For Link Investigation
Although Ahrefs has backlink checking features that some would consider adequate, Majestic offers a more in-depth and detailed peek at your portfolio that you can't get from all-in-one tools like Ahrefs.
Try Majestic Here
6. SERPStat
SERPStat is another powerful SEO software that packs in several useful optimization features. It enables you to compare your pages and identify what works and what doesn't when trying to boost rankings.
This is an all-inclusive SEO tools platform that provides more than 20 tools: competitors analysis, keyword research, backlink data analysis, site audit, rank tracker, and many more.
It is one of the fastest-growing SEO softwares on the market and provides comprehensive search analytics data to build a strong SEO strategy.
Main Features
Keyword analysis
Rank tracking
Backlink management
Site audit/diagnostics, SEO
Competitive analysis
Structure recommendations
Price
SERPStat's pricing plans range from $69 to $499 per month.
Pros and Cons
Pros
On-Page SEO
Good UI
Fast website audit
Integration with web analytics tools
Cons
Accuracy of metrics data
Ahrefs will give you a better picture of your competitors' backlinks
Support is not the best
Best As a Full SEO tool
This is one of the good Ahrefs alternatives if you are on a budget.
Get SERPStat Right Here
7. BuzzSumo
BuzzSumo is an excellent tool for brands that want to improve their SEO and SMM (social media marketing) strategy. It can help you to find new and innovative ways to market your company.
BuzzSumo is also helpful for businesses that want to identify the right influencers for their niche. By using BuzzSumo, you can find people who are interested in what you have to offer and who may be able to help promote it better.
Main Features
Trends – You can see what people are interested in and how they are talking about it. This will help you to understand the current state of the topic better.
Content analytics – Content analytics can include metrics such as engagement, number of shares, backlinks, and so on. In this way, it helps managers see how well their content is doing and how popular it is.
Mention tracking – This feature is centered on content. It helps track how often a particular piece of content is being discussed.
Price
The Pro plan costs $99/mo, the Plus $179/mo, and the Large $299/mo.
The Free plan gives you ten searches per month. And Buzzsumo offers a 30-day trial.
Pros and Cons
Pros
Trend analysis
Competitor analysis
Content ideas
Cons
Best for Social Platforms Campaign Improvement
If you want to build a strong social presence, you should try using Buzzsumo to find the biggest and most influential people in your niche.
Buzzsumo lets you see which topics are being talked about the most on the internet, so you will learn which topics are attracting attention.
Try Buzzsumo Here
8. SE Ranking
SE Ranking is a cloud-based integrated solution for SEO and online marketing professionals that provides a complete set of tools for a comprehensive site audit, competitor analysis, website ranking, keyword suggestion and grouping, backlink monitoring, and automated professional reporting.
Furthermore, the vendor offers other exclusive features such as White Label and Marketing Plan to bring professional digital services to a new level. With everything under one roof on an easy platform with an intuitive interface rather than working in separate spreadsheets or desktop applications (that's not to say it isn't feature-rich), this company is different from others in its field!
Main Features
Keyword research
Keyword Rank Tracker
Backlink management
Competitive analysis
Page grader
Site structure recommendations
And more
Price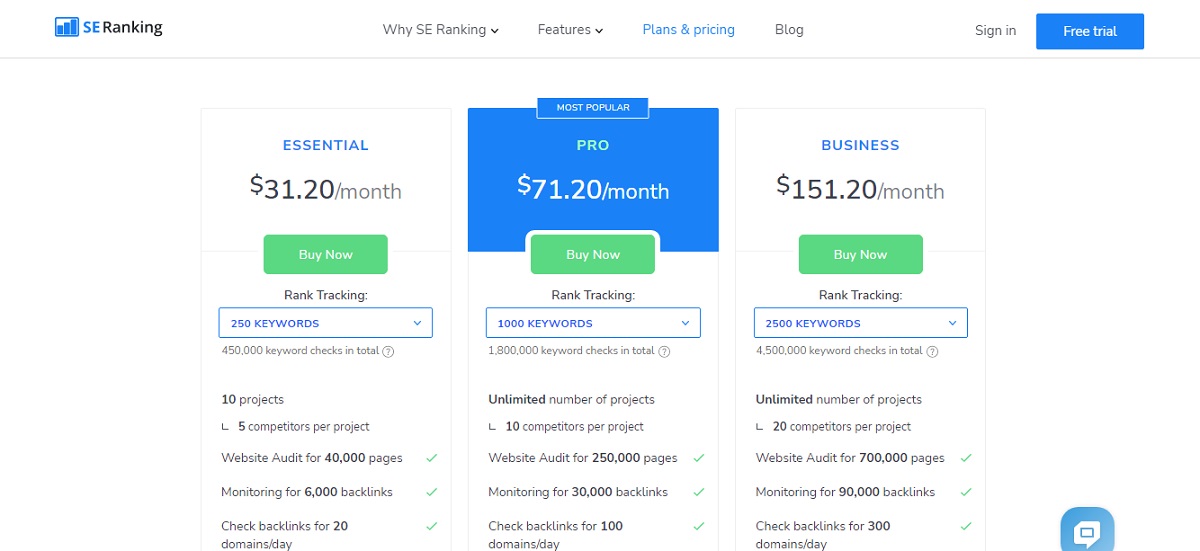 Pricing starts from $31.20/mo for the Essential plan, $71.20/mo for Pro, and $151.20/mo for Business. This is one of the more affordable programs, and it offers a free trial.
Pros and Cons
Pros
Accurate and up to date
User friendly
A good reports system
Good self-help resources
Cons
May be on the slow side
No 24/7 support
Best For Beginners on a Budget
SE Ranking is user-friendly, and the low price makes it a good choice for beginners who don't want to shell out for one of the more expensive Ahrefs alternatives.
Get SE Ranking Right Here
9. WebCEO
WebCEO is designed to be a powerful tool that meets the needs of businesses of all sizes. This includes making sure that all the necessary SEO components are included so that clients can see better results quickly.
With over 50 parameters to keep track of, WebCEO's site auditing tools report on page load speed, page speed optimization, HTML improvements, uniform resource locator (URL) rewriting, and Schema markup. Connecting to GSC (Google Search Console) makes this one of the best to manage all aspects of monitored websites.
The Rank Tracking tool shows local and mobile results for keywords and browsers in any language with suggestions for title tag changes.
Keyword Tracker shows Google search volume and keyword suggestions for organic keywords.
Competitor Backlink Spy tracks competitor backlinks with their anchor texts.
Main Features
Keyword analysis
Competitive analysis
Site audit/diagnostics
Rank Tracking
Site recommendations
Page grader
All SEO Channels (local, mobile, social, global)
Price
The Startup plan costs $99/mo, Agency Unlimited $99/mo, and Corporate $299/mo. For beginners, it costs $37/mo paid quarterly.
WebCEO offers a free trial and 30-day money-back guarantee.
Pros and Cons
Pros
Keyword suggestions
Good reporting, but limits are low
Cons
Steep learning curve
The reporting setup is complicated
Low limits on reporting
Best For Agencies
Agencies require automatic email reporting, good social media monitoring, and a great SEO Toolkit, all of which can be found with this Ahrefs alternative.
Get WebCEO Here
10. SpyFu
On its website, SpyFu advertises itself as a "spy program" that helps people learn about their competition by providing valuable information such as keywords, advertising spending, and much more.
So whether you're ready to "spy" on someone else or take advantage of what others have done to succeed in the business, SpyFu seems like it could be a powerful tool for gaining intel on your peers.
Main Features
Competitive analysis
Keyword analysis
SERP rank tracking
Site audit tool/diagnostics (not so great)
All SEO channels are fully covered (global, local, mobile, and social)
And more
Price
Pricing for the Basic plan is $39/mo, and for the Professional plan, it is $79/mo.
There is no free trial, but you can test with a 30-day money-back guarantee offer.
Pros and Cons
Pros
Very comprehensive competitor analysis
Cons
The UI could be better
PPC analytics are limited to Google Ads
Best For Spying on Your Competitors
If you think your competitors did keyword research, save time by improving it and beating it.
Sign up for Spyfu Here
11. Screaming Frog
Screaming Frog is an SEO tool and Ahrefs alternative that inspects your website to identify any on-site issues that may impact the search engine rankings for a particular page. It provides a link audit with information about internal and external links, including Nofollow attributes, absolute/relative URLs, redirect chains, and more.
Main Features
This comprehensive auditing tool was built on mining an extensive range of data. Its core features include finding broken links and exporting the errors and URLs, auditing temporary or permanent redirects and identifying chains, identifying issues with page titles and metadata, and finding duplicate content, partially duplicated elements, or low content pages.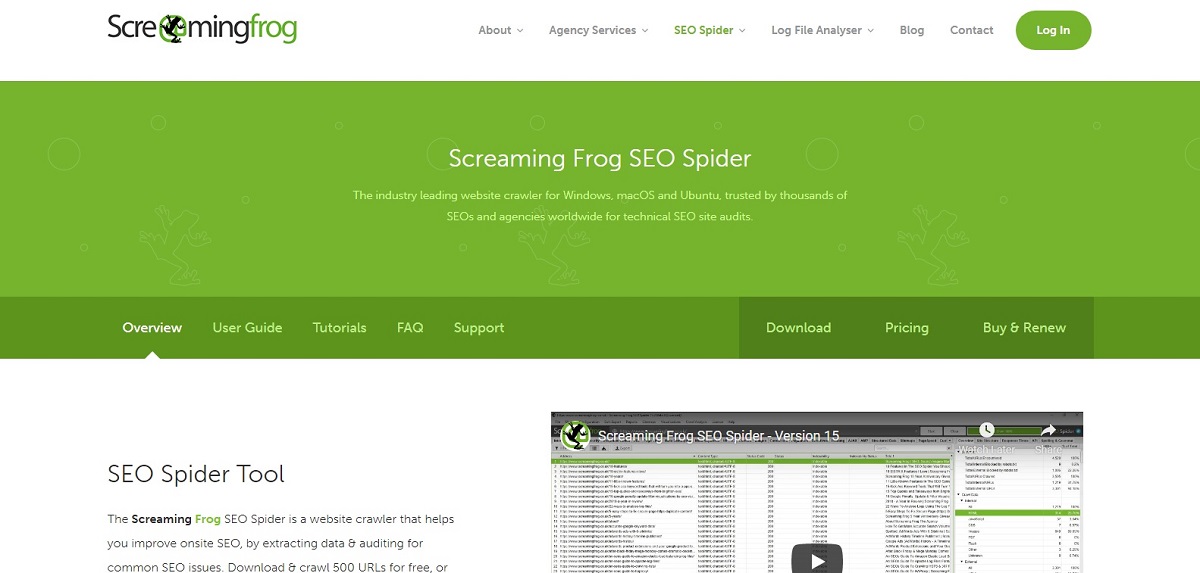 One can also extract data from a page's HTML to review pages blocked by robots, and directives like 'noindex' or 'nofollow.'
Generating XML sitemaps is also possible, as well as crawling JavaScript sites while visualizing internal linking and site architecture.
Price
One license costs $209 annually and gives you access to all features and unlimited crawls.
The free plan is limited to a third of full features and 500 URL crawls.
Pros and Cons
Pros
You get a visual representation of the structure of a site
You can scan any site – your own or your competitors'
Extensive information about the scanned URL
Cons
Very dense; the interface is intimidating
Long loading time
It is not a cloud software
Best For Site Audit
One can crawl any website, develop a list of pages, titles, and metadata, and get an average amount of information on this contender for the top Ahrefs alternatives.
Get Screaming Frog Here
Ahref Alternatives: Which One is Best for You?
Ahrefs is one of the most robust SEO tools trusted by thousands of businesses. However, like with all products, sometimes it might not be the best tool for your business, and you may prefer using a different service to track your SEO efforts.
This isn't something to worry about; there are plenty of options. When choosing a suitable option among Ahrefs alternatives, you need to remember to answer some fundamental questions regarding how you run your site(s).
Here are some questions you need to consider:
Which features of your chosen product do you find most important?
Are you looking to improve your SEO strategy with an all-in-one SEO solution?
What's your budget?
Do you need a tool for one specific purpose, such as a keyword research tool?
What is the best value for the money if you make monthly payments?
The answers to these questions should help you decide which SEO software is right for your business!
Just to Recap
The best overall Ahrefs alternative is SEMRush – especially when it comes to keyword research. With SEMRush, you can also do competitor analysis, advertising campaign optimization, site audits, and backlink research.
Ubersuggest is great for new content marketers to find the best keywords to target, and it is very reasonably priced.
MOZ is excellent for competitor analysis. It is well known for its Domain and Page Authority scoring system. MOZ also has a good Keywords Explorer, backlink analysis tools, and much more.
Mangools is excellent for beginners and offers good value for money. With Mangools, you can do keyword research, SERP analysis, rank tracking, backlink research, and improve your SEO profile.
Majestic is best for finding backlink opportunities and offers an in-depth look at sites with tools like Majestic Campaigns, Link Context, and the Link Checker.
SERPStat is a good all-round SEO tool if you are on a budget. It offers more than 20 tools, including competitor analysis, keyword research, backlink data analysis, site audit, and a rank tracker.
BuzzSumo is great for companies that want to improve their SEO and social media marketing strategies.
SE Ranking is a good solution for SEO and online marketing professionals. It provides tools for site audits, competitor analysis, website ranking, keyword suggestion and grouping, backlink monitoring, and automated reporting.
WebCEO is great for agencies that require automatic email reporting, good social media monitoring, and a full SEO Toolkit.
SpyFu offers sound competitor analysis by providing information such as keywords, advertising spending, and much more.
Screaming Frog inspects your website to find any on-site issues that may impact the search engine rankings of a page. It offers a link audit report showing internal and external links, including Nofollow attributes, absolute/relative URLs, redirect chains, and more.
Honorable Mention (Because a Bonus Never Hurt)
RankIQ is great for anyone looking for quick wins with low competition keywords. It's also got a wide-range of features and content tools that make it not only a great Ahrefs alternative, but also a great Surfer SEO alternative.
And the Clear Ahrefs Alternatives Winners Are
The best overall of the Ahrefs alternatives is SEMRush.
The cheapest of all Ahrefs alternatives is Ubersuggest.
Still want more options? Have a look at the SEMRush competitors we have evaluated.
Want to learn step-by-step how I built my Niche Site Empire up to a full-time income?
Yes! I Love to Learn
Learn How I Built My Niche Site Empire to a Full-time Income
How to Pick the Right Keywords at the START, and avoid the losers
How to Scale and Outsource 90% of the Work, Allowing Your Empire to GROW Without You
How to Build a Site That Gets REAL TRAFFIC FROM GOOGLE (every. single. day.)
Subscribe to the Niche Pursuits Newsletter delivered with value 3X per week