Canva vs. Photoshop: Which Graphic Design Software Is Best For Your Needs?
When you buy something through one of the links on our site, we may earn an affiliate commission.
Adobe Photoshop may be the nine hundred-pound gorilla of the graphics and editing world, but Canva has quickly risen to become a competent competitor. The question is, which one is better? To answer this question, we'll look at Canva vs Photoshop to see which one comes out on top.
In a rush and want a quick solution?
You should definitely add Canva to your toolbox. It's incredibly powerful and easy to use. And it's free.
Canva vs Photoshop – Which Is The Better Software?
Both tools are incredibly versatile and robust in terms of their features. That said, the two tools target people who want to accomplish different goals.
What Is Canva?
Canva is an Australian-based graphic design platform that helps users create social media posts, graphics, professional-looking presentations, posters, documents, banners, business cards, and other visual content. We've got a full review about Canva here!
One of the things that made the platform popular was the lower learning curve. The web app also includes hundreds of free templates that make creating professional-looking designs easy for even non-graphic designers.
Canva Pros
Lower learning curve than Photoshop
Hundreds of templates to work with
Thousands of stock images with pro-version
Easy to create wireframes
Canva Cons
Many template designs are overused
No ability to download raw files
What Is Adobe Photoshop?
Photoshop is a raster graphics editor created in 1988. Since then, the software has become the general industry standard for graphics editors and digital art creation tools.
The tool is incredibly versatile, with a host of features for editing almost everything about traditional and digital photos. One drawback, however, is that the learning curve for Photoshop is incredibly high.
Photoshop Pros
Complete control over image manipulation
Create designs and edit images for both print and web
An abundance of tools for editing, effects, more
Thousands of templates available from Adobe and third-parties
Photoshop Cons
The extremely high learning curve
Quite expensive if only used occasionally
Canva and Photoshop Features Compared
While the two tools may be geared toward different audiences, it's crucial to understand the features of both so that you can choose which of the photo editing tools is suitable for you.
Canva vs Photoshop: Pricing
One of the major differences between the two tools is the price. Because using Photoshop is such a robust tool geared toward heavy-duty editing, so the price reflects this versatile feature set.
Canva, on the other hand, is made to be a more entry-level tool with a price better suited for entry-level graphic design.
Canva
The primary difference between Canva and Photoshop in terms of plans and pricing is how much each tool costs. With Canva, you pay a monthly subscription that is a fraction of the cost you would pay for Photoshop or Adobe Creative Cloud.
You also have the option of using Canva on the free beginner plan. The free plan offers many features and is a good option for basic work. For light users, Canva can end up being a better option in terms of pricing.
Photoshop
Photoshop is significantly more in price than Canva. However, there are a few tradeoffs that should be considered.
For an individual user, subscribing only to Photoshop is cheaper than Canva, but it's for a single license. With Canva, you are getting five users with the paid plan.
If you want more than one user for Photoshop, you will be paying significantly more than Canva using the business plan.
The other thing to consider is that the toolset and features you get with Photoshop are much better and more robust than with Canva. For experienced graphic designers, Photoshop ends up benign the clear winner.
Canva vs Photoshop: Editing and Design Tools
One of the essential features of using Canva and Photoshop is the ability to edit photos. Both Canva and Photoshop provide various basic and advanced photo editing features, but Photoshop is the clear winner in terms of options.
Canva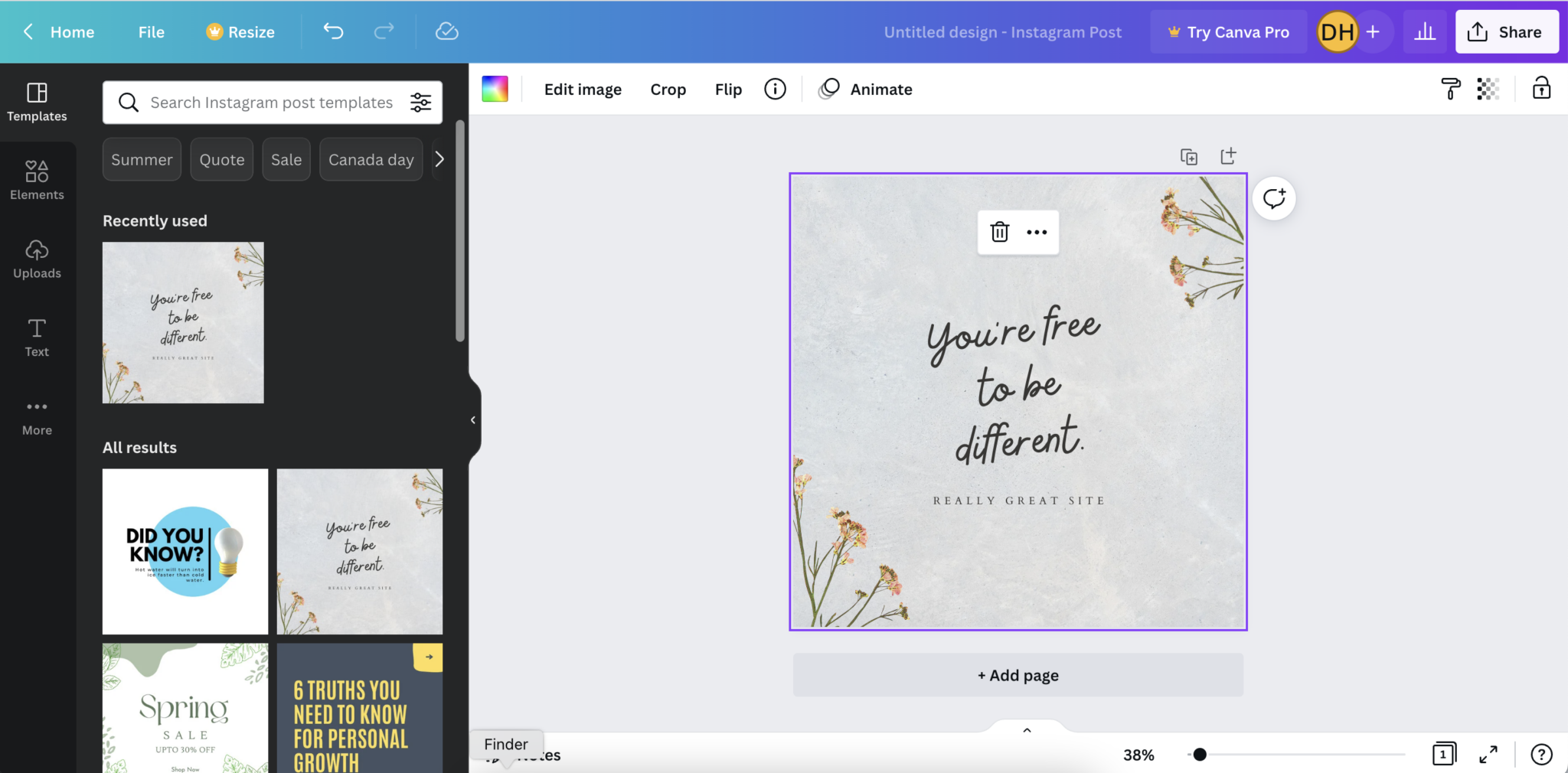 Compared to Photoshop, Canva offers more basic photo editing features. You can choose from a handful of editing tools such as:
Color changing
Photo effects
Photo filters
Layout grids
Photo cropping
Add text to photo
Enhancement and brightening
Drage and drop editor
There are a few more key features, but these outline most of your options with Canva. You can do quite a bit. However, compared to the robust feature set you get with Photoshop, Canva is a bit lacking.
Photoshop
When it comes to editing tools, Photoshop is very clearly the better option. The software has been developed over the past three decades with professional graphic designers in mind, and with each new version, more tools are added and expanded upon.
Photoshop provides almost seventy different tools that can be used for editing and manipulating images to get exactly what you want. Some of these tools include:
Photoshop's crop tool
Photo blurring
Flipping
Sharpening
Smudging
Photoshop brushes
Sponge
Masking
These are just eight randomly selected options out of the almost seventy and by no means the most important. Photoshop delivers for people who want a complete suite of granular photo editing capabilities and manipulation tools.
However, for basic things the average site owner may need like how to resize an image without losing quality, both tools work well!
Canva vs Photoshop: Teamwork Collaboration
For businesses and teams, the ability to collaborate on documents is critical. You likely will need different departments such as the art department, marketing team, sales team, and stakeholders to have the ability to view and edit images and content.
Both Canva and Photoshop offer the ability to collaborate on documents. However, in many respects, Canva is the better tool for collaboration, with a few caveats.
Canva
As noted in the pricing section, the paid version of Canva offers five seats, which means it's geared towards collaboration. This contrasts with Photoshop, which will require you to pay significantly extra for a business license.
The main caveat is that Canva is going to be better for teams and businesses that don't need to do extensive photo editing.
For creating social media graphics, featured images, presentations, and similar content, Canva will be perfect. The paid license will give your team everything they need, including extensive stock photography and templates.
Photoshop
Photoshop more recently has put some effort into making the tool more collaborative so that teams can more easily work on documents without needing to send them back and forth.
In 2021, the Adobe team launched an invite-to-edit feature that allows you to invite others to collaborate on documents. This is not nearly as smooth of a solution as Canva has with their online software.
The key, though, is that for people who need more advanced editing features, Canva is not a replacement for Photoshop. If you need heavy-duty photo manipulation and editing software, Photoshop is still the gold standard.
Canva vs Photoshop: Templates
Templates can be a huge time saver and help you create more professional-looking content in a shorter period. One drawback with templates is that more people are likely to use them due to this ease of use.
Canva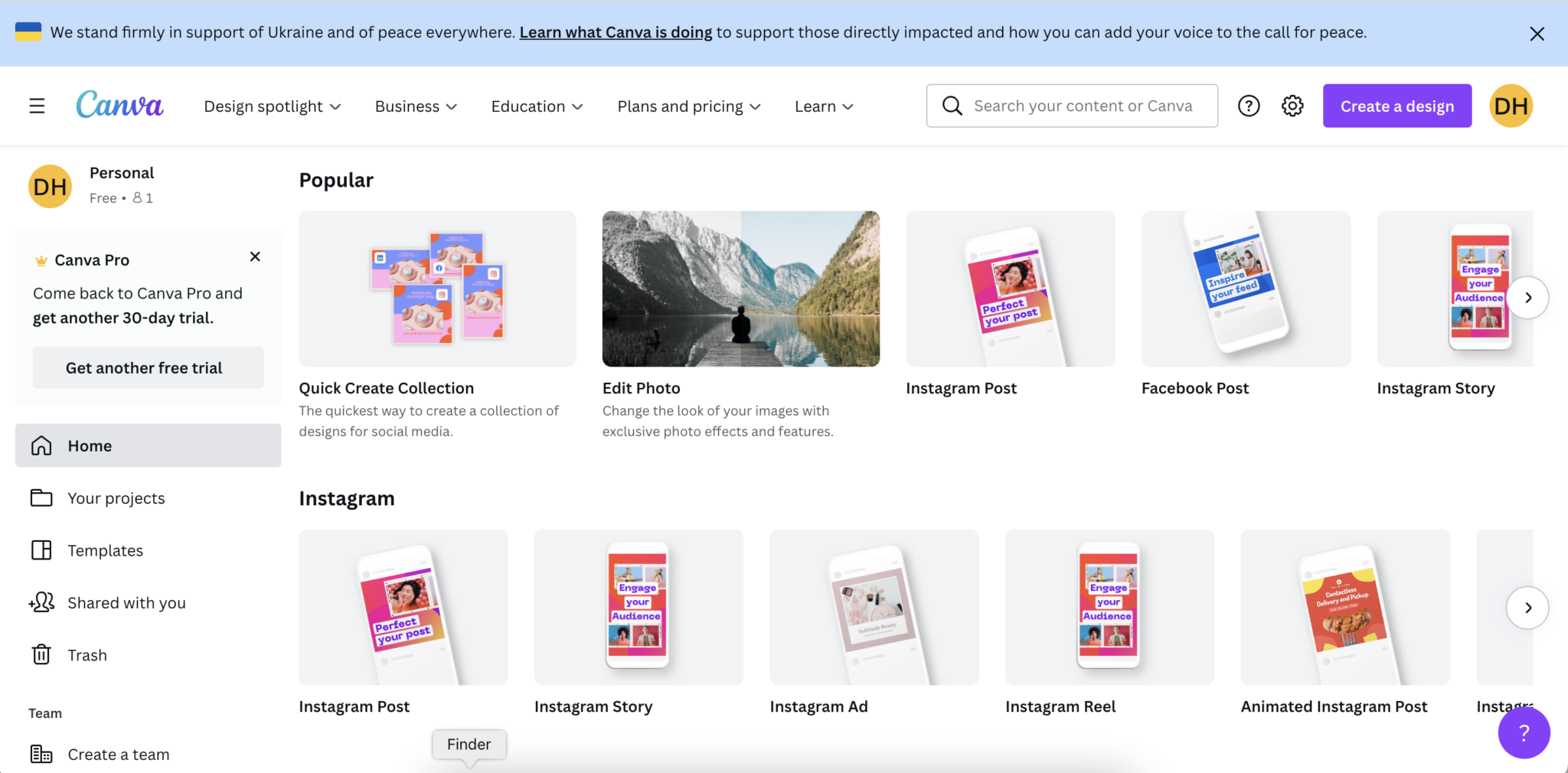 Canva is popular for the vast number of templates users have to work with. There are templates across a variety of content types, including:
There are plenty more categories that you can choose from to make creating visual content even more straightforward. There are over nine thousand templates and counting that you can work with in Canva.
One major drawback is that many of the most popular Canva templates are overused and can be seen on many social media posts and blog featured images.
Photoshop
Photoshop is a bit more advanced when it comes to the template options. For one, there are numerous third-party templates from Photoshop users, both free and premium. Entire marketplaces exist for Photoshop templates.
You can also find many more types of templates for Adobe Photoshop CC. These options include restaurant menus, event flyers, emails, packaging design, and many more. Everything that canva has to offer can be found as a Photoshop template.
There are also thousands of native templates within Photoshop. So, you can easily find the template you want and, due to the greater control over the photo, make changes to differentiate it from others who've previously used it.
Canva vs Photoshop: Stock Photo Library
Having access to stock photos can go a long way toward helping you get the exact designs that you want. This is especially true if you create featured images for your website, infographics, or social media posts.
While there are plenty of free stock photo sites like Unsplash, Pixabay, and Pexels, these images are often overused. So, having access to premium stock photos can be a good alternative and provide better and less used results.
Canva
Canva offers a range of stock photography on their free version and through Canva Pro. The significant difference between the two is that the free version provides images pulled from Pixabay and Pexels, which canva acquired in 2019.
With their pro version, you get access to millions of premium stock photos with all licenses covered in your monthly subscription fee. These photos come from Canva's premium service, Photos Unlimited.
This makes Canva Pro a substantially better option if you don't just want to use the same free photos everyone else is using in their social media posts and blog content.
Photoshop
Adobe Photoshop supports users in acquiring and using stock photos from within the Photoshop app. However, it is not as optimal a solution.
You can easily pull photos from Adobe Stock, one of the largest stock photo websites. As of 2022, there were 60 million-plus photos on the website.
However, these photos do not come included with your monthly Photoshop subscription. Instead, you will have to purchase a separate Adobe Stock membership or pay for images individually as you need them.
These photos are not cheap either. You will likely end up spending almost double or as much as you spent on your Photoshop subscription, making Photoshop a less optimal solution in terms of stock photography.
Canva vs Photoshop: Integrations and Extensions
Since you are likely creating visual content for use on other platforms, knowing that there are integrations to make your workflow easier can be a huge relief.
Some of the top integrations you may want to consider include social media platforms, Google Drive, Slack, Microsoft Office, and similar tools.
Thankfully, both Canva and Photoshop offer integrations to various platforms and online services to make life easier and expand functionality.
Canva
Canva offers an enormous library of integrations, makes it easy to work with most apps that businesses and individuals use daily. Some of these integrations include:
Linkedin
Slack
Microsoft Powerpoint
OneDrive
Pinterest
Twitter
Mailchimp
Google Drive
Youtube
These are some of the more popular integrations offered on Canva. However, there are dozens more integrations for various apps and services popular with content creators and businesses. There's also offers a very helpful Canva social media scheduler.
It's even possible to create integrations using Canva's API. The company provides all the documentation you will need to set up integrations with specific apps of your choosing.
Photoshop
Photoshop offers significantly fewer integrations when compared to Canva. In total, there are only nine integrations available through Adobe, with three of them compatible with Photoshop, including:
Slack
Adobe Creative Cloud for Microsoft Teams
Avocode
On the other hand, Photoshop offers a range of helpful extensions that can help improve the app's functionality. Adobe provides an extensions marketplace where you can search for app-specific extensions (but also don't miss these Adobe alternatives).
As of 2022, there were a total of 1782 Photoshop-specific extensions available. These free and paid extensions enhance everything from the functionality by adding more tools and features to expanding the image and icon library through platforms like Shutterstock.
Canva vs Photoshop: Ease of Use
Unless you're a world-class graphic designer (in which case you likely wouldn't be reading this), ease of use will be essential in determining which tool is best for you.
Both tools have advantages and disadvantages, making them appropriate for different users at very different skill levels.
Canva
As previously noted, Canva offers a much more intuitive interface and has a more limited tool set. On the surface, that may seem negative. Still, for the type of user that Canva is catering to, the more simplistic layout and core toolset all contribute to a better overall user experience.
Compared to Photoshop, Canva has substantially less of a steep learning curve and allows even non-graphic designers to get relatively high-quality visual content with the number of templates available.
For users who do not have advanced photo editing and manipulation experience and don't want to go through tons of tutorials, Canva is the easier to use of the two platforms.
Photoshop
While easy to use in terms of interface and layout, Photoshop has a significantly higher learning curve. This is primarily due to the vast number of tools and settings which take time to learn and understand how to use.
It is unrealistic to think that you can get started with Photoshop without any prior experience and begin getting the exact results you want.
One thing to note is that the vast number of tutorials can help ease some initial learning periods. However, regarding ease of use, Canva is much better than Photoshop.
Canva vs Photoshop: Online vs Offline Performance
For people like travel bloggers, niche and authority site owners, or anyone else who plans to work while away from your internet connection, you'll want a tool that can work offline and online.
This means you will need downloadable software that can operate offline, rather than just a browser-based or SaaS solution.
Canva
Canva is at an extreme disadvantage when it comes to working offline. Because Canva is a SaaS solution, there is no offline version you can use during those times you don't have internet connection.
This means you will be unable to work offline and instead will have to wait until you have a connection to resume what you're doing. There are also no announced plans to create an offline version anytime soon.
So, if offline capabilities are something important to your workflow, then Canva is not the solution for you.
Photoshop
Photoshop offers the best of both worlds in terms of offline and online capabilities. Because Photoshop is provided as downloadable software, you can use it while offline and save your work locally to your hard drive without an internet connection.
However, plenty of online features such as creative cloud storage, extensions, and Adobe Stock make using the software online even more convenient. What's better is you don't need to pay extra for the offline software as everything is now included in the Creative Cloud.
Photoshop is the clear winner if you are looking for software that offers both online and offline functionality.
Canva vs Photoshop: Storage and Backup
For many projects, you will likely be working on them in multiple rounds outside of just simple edits. So, having features like automated backups and creative cloud storage is critical to ensure you can access your work wherever you want and don't need to worry about losing your progress.
Canva
Since Canva is a SaaS solution, you get cloud storage and automatic backups from the start, ensuring a smooth workflow.
Using the Canva free version, you get 5GB of storage which is more than enough for basic users. If you fill up that amount, you have the option of deleting some work or upgrading to one of the Canva Pro versions.
With Canva Pro, you get 100GB of cloud storage, plenty for individual users and small businesses. For larger companies that need more space, Canva offers an Enterprise plan that provides unlimited cloud storage with a minimum of twenty-five users.
Photoshop
Photoshop also offers both creative cloud storage and a handy auto-save feature. Because Photoshop is a desktop-based software, the default is for everything to save locally on your computer. However, you can change the settings and have everything auto-save to the cloud.
The auto-save feature is set at a default of every ten minutes. However, you can change the settings to run as little as every five minutes. For critical projects, you may need to save your settings more often manually.
Photoshop's autosave is a bit of a letdown compared to Canva, which autosaves every five seconds.
Canva vs Photoshop: Customer Support
One final essential comparison point is customer support. Both tools are technical, and at some point, you will likely need help for one issue or another.
Ideally, you want multiple ways to contact customer support with a quick response time, especially if you're trying to meet deadlines.
Canva
Canva offers a contact form for getting in touch with a predictable timeline for when you can expect them to get back to you. Unfortunately, if you aren't on the Canva Pro plan, you can expect it to take quite a while for them to get in touch.
To get in touch with Canva, you will need to fill out a form and specify which category your issue is in. There are also options for attaching screenshots or images of the specific design tools you are having trouble with if you choose.
Photoshop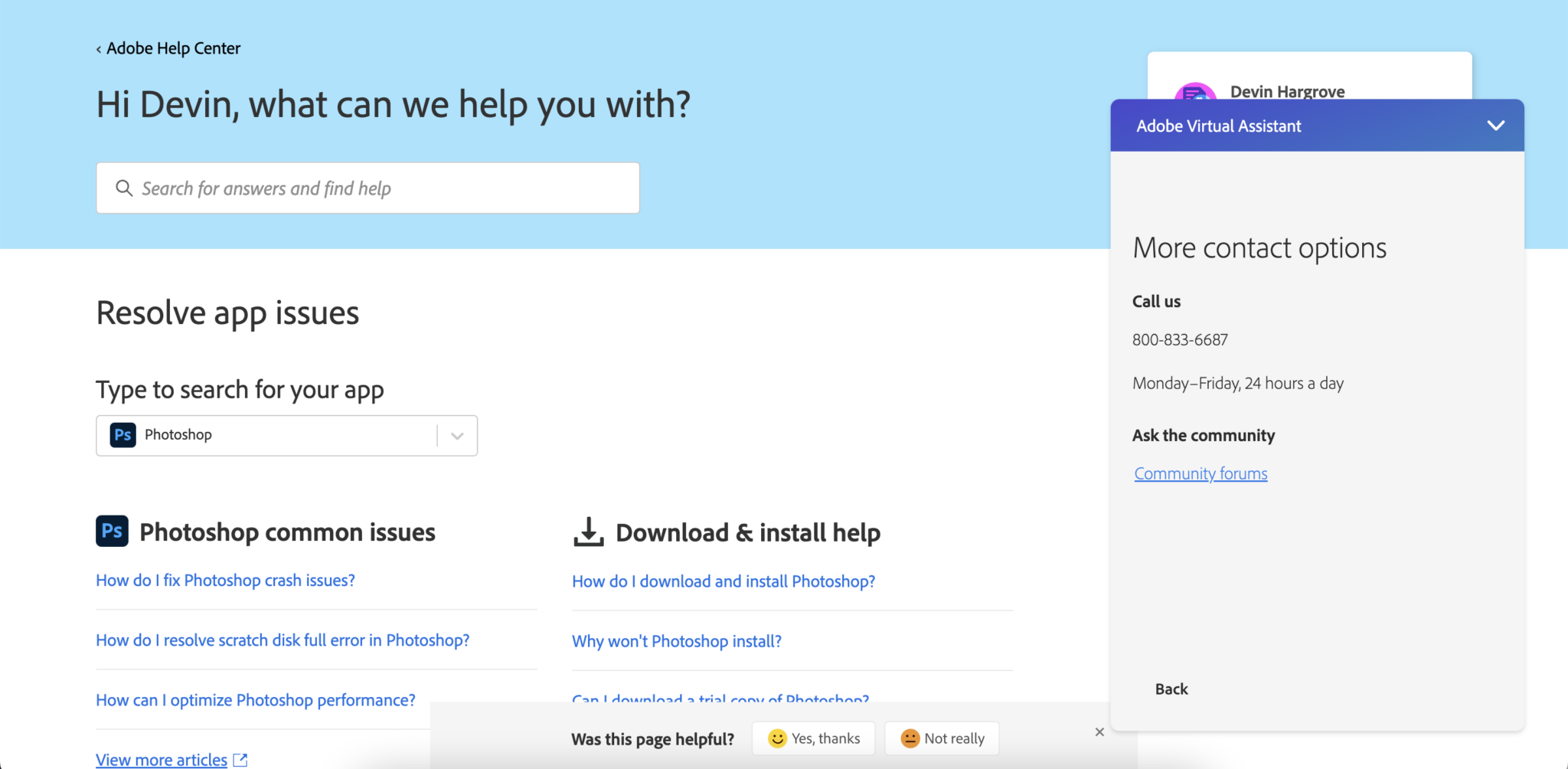 Photoshop is the definitive winner in terms of customer service. For one, there are more ways that you can get in touch with Adobe to resolve problems. The different ways that you can get in touch with Adobe include:
Phone support
Support forums
Adobe virtual assistant
FAQ and tutorials
Alternatively, there are tons of videos on YouTube and articles that can easily be searched that address specific issues you may have with Photoshop.
All of this combined ensures that you are more likely to resolve your issue more expediently with Photoshop than with Canva.
Who Is Canva Better Suited For?
Canva can be a phenomenal photo editing and graphic design solution for individuals and small businesses that don't need heavy-duty photo manipulation features.
For the average business just looking to publish the occasional social media post or create featured images for their blog, Canva is more than enough. It provides a good starting point, especially for start-ups, until you can afford a dedicated graphic designer.
However, the key thing to consider is that with Canva, because it's easier to use, many other people will have similar designs, and you may end up being lost in the noise.
Who Is Photoshop Better Suited For?
Photoshop is a more comprehensive photo editing and manipulation solution and, therefore, a better option for dedicated professional designers and larger companies that need unique and high-quality work.
The higher learning curve means new designers will likely have trouble getting started. It will take a bit of time to learn all the different tools and how to use them. Equally, learning all of the settings and how to adjust everything takes time.
If you are a medium to large company with a budget for dedicated graphic designers, or if you already have photo editing capabilities and manipulation experience, Photoshop is the better option.
5 Canva and Photoshop Alternatives To Check Out
While Canva and Photoshop are two of the most popular photo editing tools, they are by no means the only options. If you aren't delighted with either tool, consider the following Canva and Photoshop alternatives.
1. Pixelmator Pro
Pixelmator Pro is a graphic editor suite designed and developed for the Mac OS. The tool is a Mac exclusive, so if you do not have a Macbook or iMac, you will be unable to use the software.
As for a comparison, Pixelmator Pro is more closely related to Photoshop than to Canva. Like Photoshop, the software offers a comprehensive set of editing, graphic design, and manipulation tools, allowing you to get the exact photoshop designs you want.
The software can be purchased through the Apple App store and comes at a much lower price than you would pay for a subscription to either Canva or Photoshop.
---
2. Adobe Express
Adobe Express is the answer to Canva if you enjoy using Adobe products yet want a more simple solution than Photoshop. The user interface is similar to Canva and offers a range of easy-to-use templates that make starting your graphic design more straightforward.
You can get Adobe Express as an extension of the Creative Cloud. Similar to Canva, you can use the basic version of Adobe Express completely free until you reach the point that you need premium features.
---
3. Stencil
Stencil is another online photo editor that makes creating visual content for blogs, niche and authority websites, and social media much more manageable. The software is a product of Namecheap and can be used with their other online solutions.
The software has many advanced features similar to Canva, including easy-to-use templates, millions of royalty-free photos, sizing presets, and the ability to schedule posts through a Buffer integration.
You can use the basic version of the tool for free to get started, then upgrade to one of the paid plans when you're satisfied with the software.
---
4. Snappa
Like Stencil and Adobe Express, Snappa offers an alternative to Canva that can be used online to create graphics for social media or similar visual content.
The software offers many of the same advanced features, including an extensive library of high-resolution stock photos, a plethora of templates, preset image dimensions, and one-click image background. There are also options for adding text and graphics and different editing tools.
Like Canva, you can get started with Snappa for free and then upgrade to one of the two paid plans when ready.
---
5. Crello / Vista Create
The final alternative to Photoshop and Canva is Vista Create. The software was previously known as Crello before being acquired by the mega-popular print company Vista Print.
You can use the software as an alternative to Canva. It has an incredibly similar layout and user interface and offers many of the same features, including templates, stock photos, preset sizes, etc.
Vista Create offers a free starter plan with basic versions of all of the features and limited storage, photo, and sizing options. For advanced users, you can upgrade to the Vista Print pro version.
---
Final Thoughts On Canva vs Photoshop
Both Photoshop and Canva are exceptional tools with robust features allowing individuals and businesses to create visual content.
It's unfair to compare these tools as substitutes for each other, as both are targeted toward different users. For experienced photo editors looking for robust features that provide granular control, Photoshop is the go-to solution.
However, Canva offers a fantastic solution for people and businesses looking to create visually stunning social media and blog content without a substantially high learning curve. Overall, both tools are great and fulfill their purpose with few issues.
Get Started with Canva for Free
Want to learn step-by-step how I built my Niche Site Empire up to a full-time income?
Yes! I Love to Learn
Learn How I Built My Niche Site Empire to a Full-time Income
How to Pick the Right Keywords at the START, and avoid the losers
How to Scale and Outsource 90% of the Work, Allowing Your Empire to GROW Without You
How to Build a Site That Gets REAL TRAFFIC FROM GOOGLE (every. single. day.)
Subscribe to the Niche Pursuits Newsletter delivered with value 3X per week