39 Useful Content Writing Tools Every Blogger Should Know About
When you buy something through one of the links on our site, we may earn an affiliate commission.
The right tools can make all the difference when it comes to writing a blog post that's both engaging and SEO-friendly. Regardless of whether you're a blogger or a professional content writer, having access to premium content writing tools can improve the quality of your work and increase your output.
In this article, we're sharing the best tools to help write and optimize your content. From the best AI content generator tools to the best keyword research tools, and everything in between—these tools will help you write better content and get more traffic to your blog.
AI Content Writing Tools
AI content generator tools can help bloggers produce better content, faster. Although AI-generated content isn't yet at a place where it can replace human writers altogether, it can certainly speed up your content writing process. Here are some of our favorites.
1. Jasper

Formerly known as Jarvis AI, Jasper's AI content writing software works by having extensively researched millions of blog posts, websites, and Reddit threads to be able to produce a convincing imitation of a human writer.
For content creation, Jasper can generate text based on your title and outline provided. If you are stuck for inspiration, Jasper offers a selection of templates in various types to suit most writing tasks.
It includes settings to control the tone of your writing, a rephrase tool, and a Grammarly integration. In addition, it also comes complete with a built-in plagiarism checker and SEO keyword input tool.
2. CopyAI
CopyAI is an AI content writing tool with an extensive range of templates to cover social media, eCommerce, and website content generation.
As well as generating content, Copy AI helps you to avoid common mistakes and ensures that your content is formatted correctly. This can save you a lot of time and hassle when creating content for your website or blog.
Overall, CopyAI is a great tool that can help you to produce better content more quickly and easily.
The only downside is that it does not have the long-form templates that you will find in Jarvis. However, there are workarounds to this.
3. Wordtune
Wordtune is an AI writing tool that rewrites and edits sentences to help you improve your writing (check out Wordtune vs Grammarly). Whether you want to sound more professional and polished, more casual, or simply expand it to meet a specific word count, you can do it in just a few clicks using Wordtune.
Wordtune is available as a Chrome extension, as well as a Microsoft Word add-in. In addition, you can also write directly within the Wordtune editor (but you may also be interested in Wordtune alternatives here).
4. Writesonic
Writesonic is an AI-powered content generation tool that helps you create high-quality, original content faster and more efficiently. It includes templates for everything from blog posts to landing pages and even Amazon product descriptions.
With Writesonic, you can quickly generate new versions of your existing content, or create entirely new pieces from scratch. However, you will still need to fact-check and edit content before publishing.
Writesonic is the perfect tool for content marketers, bloggers, and businesses of all sizes that need to produce quality content on a regular basis. With Writesonic, you can get more done in less time, and, more importantly, free up your creative energy for other tasks. For a more in-depth rundown on this tool, you can also check out our full Writesonic Review.
5. Article Forge
Article Forge is AI content software focused on producing quality unique output based on your choice of keyword or keyphrase. In addition to the content writing tools, it also offers lots of useful features including sentiment control, long-tail articles, and long-form content.
6. INK
INK is a full-featured all-in-one text editing product that can be used both by individuals and businesses. It provides solutions for AI writing, sentence restructuring, and search engine optimization.
7. AI-Writer
AI-Writer is a web-based content writing tool that can help you write high-quality articles quickly and easily. It gives search engine-optimized, plagiarism-free output with verifiable sources.
It uses artificial intelligence to help you come up with ideas and suggestions for your writing. In addition to this it also offers a number of helpful tools and features to make the writing process easier.
Content Optimization Tools
Content optimization tools help you create SEO-friendly content that can outrank your competitors. They do this by identifying the right keywords to target, and making sure your content is formatted in a way that will help it rank higher in the SERPs.
8. Surfer SEO
Surfer SEO is one of the most useful content writing tools around (and is one of our favorite tools for SEO content writing). It's designed to help optimize your written content for SEO. It provides suggestions on which keywords and topics to include in your content, how to structure your article, and how many images to use.
It includes some AI content writing tools too, including an outline generator and a unique paragraph generator. There is also a full on-page SEO audit feature that allows you to make sure each and every page on your website is as SEO-friendly as possible.
9. MarketMuse
MarketMuse is a comprehensive AI Content Planning and Optimization package aimed at streamlining content research, article creation, and search engine optimization.
MarketMuse's AI-generated content briefings provide the information needed to produce quality articles with a real-time content score. It was created by a team of SEOs, content strategists, marketers, engineers, and data scientists who provide support through the process.
10. Frase
Frase is an all-in-one content optimization and content generation tool (check out our comparison of Frase vs Surfer SEO). It uses templates to help you create content briefs quickly and provides content optimization tools to ensure you get great results.
Frase also has the ability to rewrite or expand on existing content (get our full Frase review here). It will give you hints on missing topics and keywords to improve your SEO ranking.
11. Dashword
Dashword allows you to create content briefs quickly. It helps cut down on research time while presenting the information compiled efficiently for you to work with. Adding and editing are also quick and easy thanks to Dashword's interactive builder.
Briefs may be shared with just one click to your writers who then have all the resources at hand to write your content. Content is SEO-optimized with weekly keyword reports. Rankings are tracked and an automated web crawler will add your new pages automatically.
12. Clearscope

Clearscope's tools help content creators make better decisions about content and its placement through a data-driven look into SEO performance.
With the full backup of its dedicated support team, Clearscope is used by companies including Shopify, Reviews.com, and IBM.
Clearscope provides easy integration with WordPress using a plugin and provides an add-on for Google docs.
13. Topic
Topic is designed to help you create SEO content to a high standard in a short space of time, built on the ethos of writing what people want to read.
The software helps consolidate your research using AI to analyze the top 30 SERP results. It then suggests which headings, questions, and keywords to include, helping you create a winning brief for every piece of content.
14. Semrush's SEO Writing Assistant Tool
If you're already a Semrush user, you should definitely be taking advantage of the SEO writing assistant tool. It's included with the Semrush subscription, and it gives you everything you need to create perfectly optimized content.
It comes with a Google Docs add-on and a WordPress plugin, so you can use it wherever you are. You can also write within the Semrush interface.
15. Yoast SEO
Yoast SEO is a WordPress plugin that checks that your content meets the technical SEO standards required. It also gives you the tools to optimize any blog posts or web content you write for overall readability.
Content Writing Tools for Spelling, Grammar, and Readability
Ensuring your content is grammatically correct and easy to read is a key part of creating great content. These tools help flag errors and show you how to make easy changes to your content to make it more user-friendly.
16. Grammarly
Grammarly is a cloud-based software that will provide corrections and suggestions on grammar, spelling, clarity, and punctuation. It uses AI to identify suitable replacement words or punctuation for any mistakes it finds, so you can fix writing errors with just a click.
17. Hemingway Editor
The Hemingway Editor highlights overlength or complex sentences and common mistakes in your text, such as overusing passive voice. Using a color highlight system, it helps you by suggesting ways to simplify sentences and create simple-to-read articles that flow well.
18. ProWritingAid
ProWritingAid provides the ability to check grammar, edit style, and provide writing assistance in one place.
In-depth writing reports can be generated to highlight mistakes like overused words or excessively long sentences.
19. Ginger
Ginger goes one step further in grammar correction by using AI to take stock of current sentences and suggest content-based alternatives (check out Ginger vs Grammarly).
It highlights areas of possible change using a color highlight system. Working across most platforms from social media to Microsoft Office, it is easy to integrate a tool for use in your writing tasks.
Keyword Research Tools
Keyword research is a key part of creating content that ranks. Using keyword research software can help you quickly identify low-competition, high-volume keywords in your niche. These are some of the best keyword research tools out there.
20. Ahrefs
Ahrefs is an all-in-one SEO toolkit that gives you everything you need to outrank your competitors (but there are notable Ahrefs alternatives). It includes a keyword research tool that helps you find words your target customers are searching for online, as well as competitor analysis tools and rank tracking tools.
21. KeySearch
KeySearch is one of the most affordable keyword research tools around, making it an excellent choice for new bloggers. Don't be fooled by the low price point—it does the job really well.
Read my in-depth KeySearch review for everything you need to know about how this awesome tool works.
Pricing starts with a free trial and monthly packages start at $17 and rise to $34 per month depending on your requirements.
22. Long Tail Pro
Long Tail Pro is a powerful keyword research tool that helps you find relevant long-tail keywords from a single keyword seed search. It also provides tools for SERP and backlink analysis along with rank tracking and site audit facilities.
23. Semrush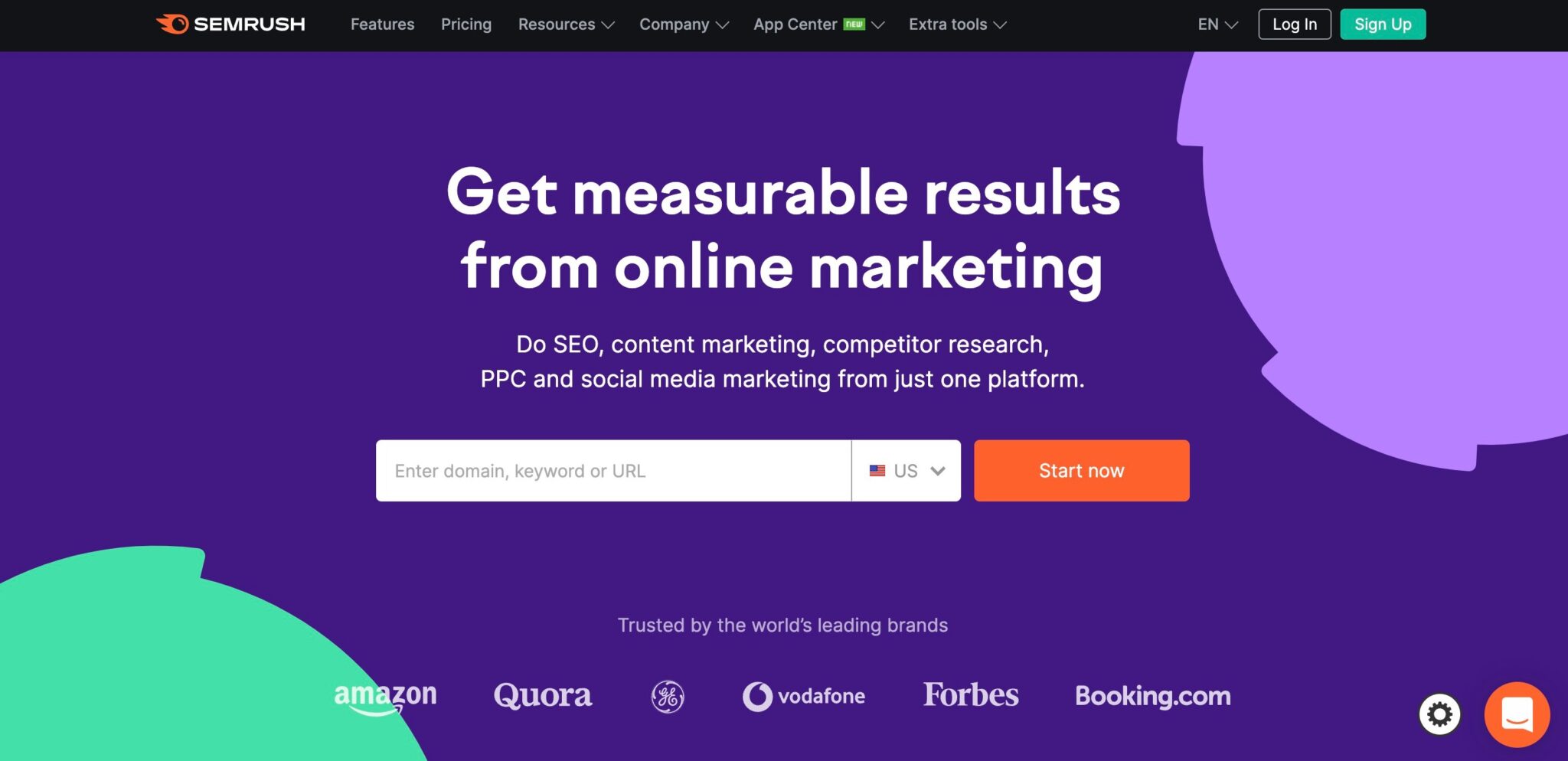 Semrush is an all-in-one marketing platform designed to grow your online presence and social media from one platform. It offers over 50 tools to improve your SEO alongside your content marketing and research on your competitors.
Specific tools deal with pay per click and social media performance to build your following and the online audience quickly.
24. LowFruits
LowFruits is a keyword research tool that helps you find keywords with a high chance of ranking your site on Google.
It works by helping you identify keywords that are dominated by low-ranking sites like forums or other lower DA websites.
It also has a 'wildcards' feature that can help you find keywords that your competitors wouldn't be able to find using other keyword research tools.
25. Answer The Public
Answer The Public enables you to get an insight into what your target audience is searching for on Google. Enter a seed keyword and you will be presented with a list of questions and phrases that are related to the keyword.
By monitoring autocomplete data from search engines like Google, Answer The Public is able to quickly identify the phrases that relate to your keywords.
This knowledge can help you create relevant content and provide targeted marketing solutions for your website.
Content Writing Tools for Generating Headlines
Headline generator tools can take a few user-inputted keywords and produce a series of headlines using those keywords as a basis.
Titles and headlines matter as they are the first thing seen by a reader and can be the difference between a reader clicking on your article or passing it by.
26. CoSchedule Headline Studio
Headline Studio from CoSchedule offers the tools to write better headlines that can bring in the most traffic for your articles and marketing posts. Headlines generated can be analyzed further to help you choose the most appropriate choice for your needs.
Paid plans start from $9 per month. There is also a free version of the CoSchedule Headline Analyzer available, you just need to create an account.
27. MonsterInsights Headline Analyzer
MonsterInsights headline analyzer is a free tool for researching the best titles to increase traffic to your articles.
The tool provides lists of power words, emotion words, and uncommon words to help generate titles with the best effect.
Get it Here Free
28. Capitalize My Title Headline Analyzer
The Capitalize My Title Headline Analyzer is a free tool that gives you the opportunity to scrutinize your headings and titles for the best effect.
Headlines are given an overall score as well as suggestions on words to include and words to avoid. The analyzer gives a readability score on each title or headline, giving the opportunity to improve this important part of your article or post.
Creating Images for Your Content
No content is complete without images. In fact, articles with images get 94% more views than those without! So although these aren't strictly content writing tools, they will help you create better content overall.
These are some of the best resources to find and create the perfect images for your content.
29. Canva Pro
Canva Pro provides you with a wide range of tools to produce imagery for your posts and projects. It includes a large library of customizable templates and intuitive tools including a background remover and a resize option.
Branding tools are also provided, enabling you to maintain colors and fonts across platforms and themes.
30. Humaaans
Humaaans is a free-to-use mix and match image library of poseable human likenesses. You can change their posture or seating position, and even change hairstyles and clothes. When you are happy you can create scenes for use on your own websites.
31. Unsplash
Unsplash provides royalty-free images for use across the internet. Images are divided up into categories and a search facility is provided so you may find images by keyword or phrase.
Although attribution is appreciated by Unsplash, the images are free to use either personally or professionally.
32. Pexels

Pexels is an online source of royalty-free images. The images are provided free, and no attribution is required. However, there are some restrictions on their use.
These mainly center on using the images appropriately and with no applied disrespect to their subjects. Pexels provides a search function to locate suitable images which can then be downloaded.
33. Design Pickle
Design Pickle is a graphic design service that provides you with unlimited graphic design for a fixed monthly fee (but also check out Design Pickle alternatives). Although the monthly fee is substantial, it's a great option for anyone who needs custom imagery on a regular basis!
Find out more about Design Pickle Here
34. Fiverr
Fiverr is an online marketplace where users can buy and sell services starting at just $5. From blog posts to custom graphics, you can find pretty much everything you need on Fiverr.
Because services start at just $5 it's a great place to find graphic designers who are just breaking into the industry to work with at an affordable price.
Try Fiverr Here
Content Writing Tools: Plagiarism Detectors
Whether you're writing content yourself or working with a team of content writers, having access to a reliable plagiarism detector can help protect your content and your website.
35. Grammarly (Again)
Grammarly's writing app includes its own plagiarism checker that detects and highlights plagiarism in your text. It provides plagiarism checks against billions of websites and goes further by checking against academic databases provided by ProQuest.
Grammarly's plagiarism checker gives you a report on the text you give it to check for free. The Premium plan includes further information on the source of any plagiarism found and is available for $12 per month.
36. Plagiarism Detector
This plagiarism checker is a web-based tool that is free to use for writers of all kinds. When pasted into the tool it will check your text against its huge database of sites and provide a plagiarism report detailing any issues.
In addition, it will also check an entire website or provide a check on an uploaded copy.
37. Scribbr
Scribbr's plagiarism detector is powered by Turnitin's plagiarism detection software. Aimed at students, it provides a plagiarism check against its own database of websites and text.
Scribbr is also able to provide a self-plagiarism check by comparing your copy against previous work you have uploaded.
38. Check-Plagiarism
With WordPress plugins and website widgets, Check-Plagiarism is easy to use. The free version offers limited use with a premium version available for $125.
It offers 150,000 searches, plagiarism checks up to 20,000 words per search, and a paraphrasing tool powered by AI (but don't miss other great tools in our Quillbot alternatives list).
39. DupliChecker
With the ability to support many file types, DupliChecker is able to check any text that you paste in. The results are provided in percentage format with the ability to "Make it Unique" by using the inbuilt AI tool.
There are plans available starting at $10 per month for 30,000 words and progressing to $200 per month with provision for up to 1.2 million words.
Choosing The Best Content Writing Tools for Your Business
As you can see, there are lots of great content writing tools to choose from. Many of these tools require a paid subscription, but there are some brilliant free tools available to choose from too.
You obviously won't need to use all of these, but it's a good idea to have access to one from each section. The right content writing tools for your business will depend on the type of content writing tools you produce as well as the size of your team.
Content optimization tools can play a huge part in the growth of your blog, maximizing the ROI of every piece of content you create, so they are absolutely worth the investment.
Want to learn step-by-step how I built my Niche Site Empire up to a full-time income?
Yes! I Love to Learn
Learn How I Built My Niche Site Empire to a Full-time Income
How to Pick the Right Keywords at the START, and avoid the losers
How to Scale and Outsource 90% of the Work, Allowing Your Empire to GROW Without You
How to Build a Site That Gets REAL TRAFFIC FROM GOOGLE (every. single. day.)
Subscribe to the Niche Pursuits Newsletter delivered with value 3X per week