Wordtune Review | Pros, Cons, Alternatives, and Pricing
In this Wordtune review, you'll discover if this AI writing tool is really worth it.
People are calling it a must-have, incredible, and life-changing.
We're going to see if it lives up to the hype and find out if Wordtune is worth getting.
In this review, we'll cover:
What Wordtune is
Wordtune key features
Wordtune pricing
Frequently asked questions you might have
Pros and cons of using Wordtune
Visit Wordtune to get started
---
Wordtune Review
Ease of Use -

95

Stability -

95

Customer Service -

90

Price -

95
Summary
Wordtune is an AI editor that can help you rewrite your content to make your message clearer. It's a user-friendly tool good for quickly rewriting your copy and making it easier to understand. You'll get a grammar checker, spelling tool, and article rewriter all in one. And with multiple pricing plans available, including a free version, there's a package for everyone.
Pros
Free plan available
Easy to use
Helps you make your message clearer
The AI rewriting editor is great
Desktop editor or browser extension
Cons
Mobile not available
Offline use not available
No desktop app
What is Wordtune?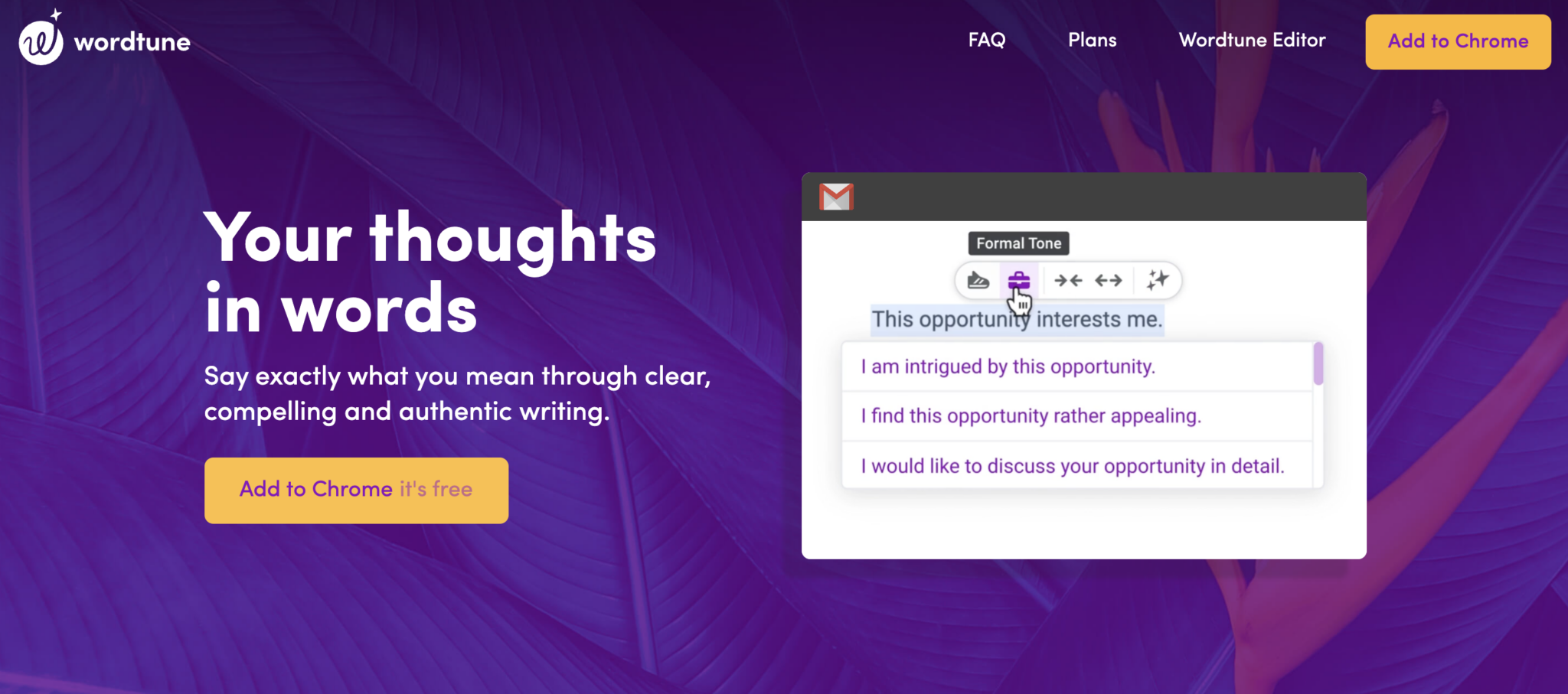 Wordtune was created by AI21 Labs in 2018 as a writing editor software and Google Chrome extension.
Their goal was to take writing and reading to the next level using the power of artificial intelligence tools and language models that can assist writers with rephrasing writing in different ways while considering the context of the original sentence.
Wordtune helps you put your thoughts into words.
It uses the power of artificial intelligence to help you write clearer.
Imagine it as a writing assistant that goes behind you after you've written your copy and cleans it up to sound clearer, more compelling, and more authentic.
Wordtune tools help with writing all kinds of copy, including:
Documents
Emails
Instant messages
This AI editor uses its deep understanding of semantics and context to offer a suite of features to help you better your writing.
Here's a closer look at the features you can expect from Wordtune.
Wordtune Key Features
Wordtune is not the typical grammar checker that points out errors in spelling and grammar to help you correct your writing (see how it holds up in Wordtune vs Grammarly).
It helps you take your ideas and translate them in a better way so your message is better understood.
These are some of the things Wordtune (and some Wordtune alternatives) can help you with:
Make good vocabulary choices
Write a clearer message
Focus your time on perfecting your message rather than editing
Write in a more fluent way
You'll write better sentences that will make your message easier to understand and clearer.
Here are five writing tools Wordtune uses to help your writing:
Rewriting suggestions: Rephrasing your copy in new words to put a fresh spin on your content.
Casual tone: Your sentence will have a more informal sense.
Formal tone: This will translate your sentence to a more professional tone.
Shorten it: Make your copy shorter.
Expand it: Make your copy longer.
So, not only can you use the Wordtune tool for grammar corrections and to rephrase your message while keeping the context, but you can also use the style editor to reflect more casual or formal tones in your writing.
Plus, you can shorten or expand your message to help you meet your word limit or explain in more detail.
You can use the Wordtune editor right from your desktop, or you can download the Google Chrome extension for easy use with Google docs, Gmail, and other online editing tools.
How does Wordtune work?
There are two options to get Wordtune's writing tools software:
Desktop editor
Chrome extension
Microsoft Word

add-on
To get started with the desktop editor, you'll click the Wordtune Editor:
It will prompt you to sign up by email, via Google, or Facebook.
Once that's done, it will take you through their short wizard to show you around so you can get to know how Wordtune works.
You'll be able to write in Wordtune, using the top navigation to either rewrite, change the tone of your writing, shorten, or expand it.
You can see that the interface is streamlined, and it appears to be pretty user-friendly and intuitive. Once you write your text in Wordtune, you'll pick the action you want to perform from the top navigation to edit your copy.
Here's an example of how the rewriting software works…
The original sentences:
Here's what Wordtune's rewriting feature looks like in action:
With the rewrite sentences software, you can highlight the entire blurb you've written that you want it to suggest new phrasing for. Wordtune will rewrite one sentence at a time in alternative ways. You can also highlight each sentence one at a time on the page for suggestions to change the sentence structure.
You'll notice at the bottom of this example, Wordtune keeps track of how many rewrites you have left if you're on the free plan. The screenshot below shows 9 rewrites left.
The rewrites remaining are tallied based on the number of times you highlight the text, not the number of times you actually rewrite.
This means you could highlight the text many times, which can be common in the beginning as you're getting used to AI writing using Wordtune. It will count each highlight as a rewrite even if you didn't click the rewrite button.
This is helpful to know if you're on the free version so you know to only highlight the text when you're ready to edit and rewrite.
The rewritten sentence:
Wordtune Chrome Extension
The Wordtune Chrome Extension is available in the Chrome Web Store. You can access the browser extension from the Wordtune website.
The Wordtune Editor for AI writing and the Wordtune Read Chrome browser extension are available for free on all plans. 
Wordtune Add-in for Microsoft Word on the Web
There are detailed instructions on how to install the Wordtune Microsoft Word add-on on the Wordtune website, but it's very simple.
Wordtune Pricing
There are three pricing tiers, including a free version:
Free Version
The free version of Wordtune only offers the rewrite feature, and it caps your rewrites to 20 per day.
The free plan would be good for customers that don't have a lot of content to write.
Premium
The premium plan offers all Wordtune features in an unlimited capacity, including premium support.
The premium level plan would be good for businesses and entrepreneurs that have a heavy writing schedule. The unlimited-all features are a great value for the price of under $10/month.
When looking over this Wordtune review, consider your content needs to determine which plan would be best for you.
Premium for Teams
Premium for Teams is the premium plan plus team billing. This plan would be good for large teams. For this plan, Wordtune encourages you to contact them so you can learn more.
Wordtune Alternatives
If you're still unsure about jumping into Wordtune, here are some other tools you can check out which are similar.
1. Grammarly
A lot of people know Grammarly as a top grammar correction and spelling checker, as well as a plagiarism checker. Grammarly is used by millions of writers around the world to improve their writing.
You use Grammarly on desktop, and they have a Google Chrome extension, too.
Accessing the desktop version is as simple as logging into your Grammarly account from your computer.
With the Chrome extension active, it will pop up when you're writing, whether you're creating a document in Google Docs or writing a blog post in WordPress.
This convenient online editor allows you to check grammar and spelling in your writing on the go.
The Grammarly writing assistant offers three pricing plans, including a free plan.
For a basic checker of spelling, punctuation, and grammar, the helpful free plan is good. You can use it in an unlimited capacity, checking as many documents as you wish.
If you need more suggestions for tone, word choice, or other tips, the Premium plan is a good choice for writers. For built-in business tools like a style guide, brand tones, and priority email support, the Business plan is what you should go for.
Get Grammarly
2. Jasper AI (Now Called Jasper)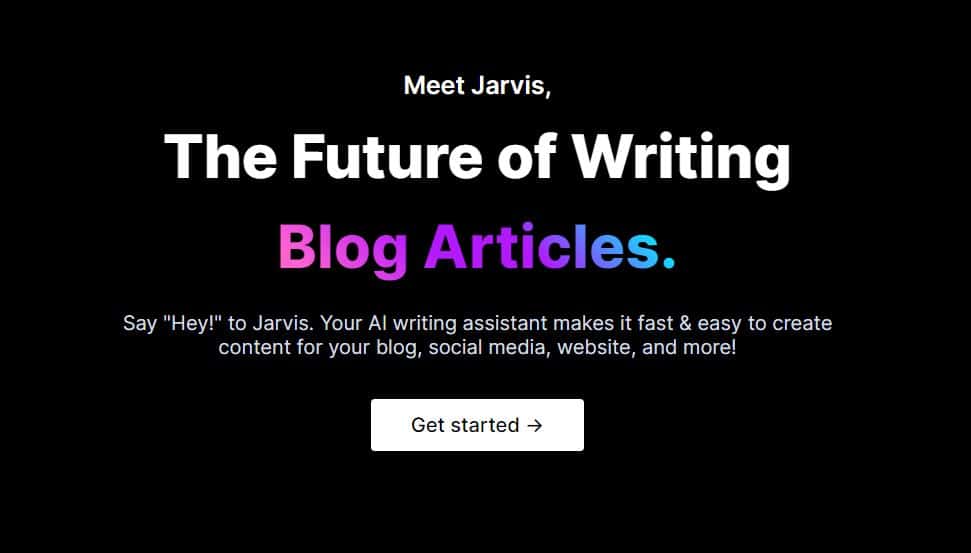 The next of our other options is Jasper (formerly Jasper AI) - the big daddy of AI tools. It helps you write your copy faster and save time using artificial intelligence. You can create these types of content:
Press releases
Blog posts
Articles
Emails
The Jasper AI writing tool is used by more than 50,000 customers globally.
Jasper features so many unique tools in one:
Article rewriter
Grammar/spelling checker
Supports 25+ languages
Access to over 50 helpful templates
Jasper is ranked 4.9 out of 5 by over 3,000 reviews. Here's what customers are saying...
Helps make writing amazing copywriting faster
Smartest AI for natural language
Plans start at $29 per month for 20,000 words per month.
However, if you want access to more features like Jasper commands and long documents, the Boss Mode ai writing plan starting at $59 per month is worth the extra money.
Get Jasper
Wordtune Review | Frequently Asked Questions
Here are some common questions you might have about Wordtune.
1. Is Wordtune free?
Wordtune has a free version and two paid plans.
2. What platforms does Wordtune work on?
Wordtune's software works on desktop (mobile is not available), and you can use it on:
Gmail
Google Docs
Outlook
Facebook
Twitter
WhatsApp
Slack
Frase.io
3. Is Wordtune available offline?
No, Wordtune is only available online.
4. Where does Wordtune get rewrite text suggestions?
Wordtune doesn't directly take content from other sources. It uses AI to rewrite your sentence in a new way.
Pros and Cons of Wordtune
Here are the pros and cons of using Wordtune.
Pros
Free account available
Easy-to-use software
Helps you make your message clearer
The AI rewriting editor is great
Overall, the pros outweigh the cons with Wordtune.
You will like that a free plan is available if you don't want to spend any money. In a way, it's like an unlimited free trial.
And, if you don't have heavy content needs, the free version could be perfect for you. The software is relatively easy to use, and it's excellent at rewriting your original sentence, helping you over writer's block, and making your message clear.
Cons
Mobile not available
Offline use not available
No desktop app
The drawbacks are that Wordtune is not mobile-friendly and it doesn't have a desktop app.
It's also not available offline. It's an online editor only, which means you'll always need to be connected to the internet to use it.
Wordtune Review: Overall summary
This wraps up our Wordtune review.
Overall, Wordtune is great for helping you write and rewrite copy quickly, as well as a style editor to adjust between casual and formal tones.
Many users love Wordtune for its ability to combine the benefits of a grammar checker, like other writing tools such as Grammarly, with an AI editor to give grammatically correct sentences that convey a clear message. And our review found it's reasonably priced when you compare Wordtune to other tools.
Is Wordtune a tool you could see yourself using?
Visit Wordtune to Get Started
Want to learn step-by-step how I built my Niche Site Empire up to a full-time income?
Yes! I Love to Learn
Learn How I Built My Niche Site Empire to a Full-time Income
How to Pick the Right Keywords at the START, and avoid the losers
How to Scale and Outsource 90% of the Work, Allowing Your Empire to GROW Without You
How to Build a Site That Gets REAL TRAFFIC FROM GOOGLE (every. single. day.)
Subscribe to the Niche Pursuits Newsletter delivered with value 3X per week