Ginger vs Grammarly: Which Grammar Checker Wins?
When you buy something through one of the links on our site, we may earn an affiliate commission.
In the battle of Ginger vs Grammarly, Grammarly wins. Keep reading to discover why!
Do you struggle to write clear papers for school or even just well-worded emails to your boss? With all of the grammar checker software available on the internet, much of it free, there is no reason to struggle with these tasks. In this article, two of the most well-known softwares go head-to-head. Which is better for writers: Ginger vs Grammarly?
In this comparison, we will look at just when you should use one software over the other. We will cover key categories including:
What each company does and where it shines
Overview of features
Sign-up process
Ease of use
Browser extensions and desktop apps
Pricing
If you are ready to start writing more clearly and to keep your grammar in check, here is the breakdown you have been looking for to find the best grammar checker tool.
Sign up for Grammarly Today
What is Grammarly?
Grammarly is one of the leading writing enhancement tools that you can use to check spelling, grammar, and more as you write or after you have finished a document.
Launched in 2009, it has been around for more than a decade to help you polish your writing. It is headquartered in California and currently employs more than 400 people to cater to its 20 million users.
Grammarly's content strategy helps them get more than 33 million visitors per month. 
Many people like using the Grammarly platform because it has a robust free plan, giving you access to clearer writing in several different ways. However, it has some stiff competition from other Grammarly alternatives such as Ginger, WordTune, and ProWritingAid.
Keep in mind that Grammarly only works for those who want to write in English. That being said, they do accommodate several different variations on the English language including American, British, Canadian, and Australian differences.
For the full details on Grammarly, you can view our complete Grammarly review here. 
Top Features of Grammarly
Plagiarism checker
Extensions for all browsers including Google Chrome, Safari, and Firefox
Robust grammar checker and spelling corrections
Compatible with Google Docs
Extensive free version for those on a budget
What is Ginger?
Grammarly and Ginger are direct competitors in the grammar-checking tool space. Like Grammarly, Ginger has been around for more than a decade with filed patents for several technological advanced features. They raised more than $25 million from high-tech investors such as Horizon Ventures, Tamar Ventures, and Vazyra.
Their tech is highly sought-after and they sold some of it to Intel back in 2015.
Worldwide, more than 10 million people are currently using Ginger software. This is only half the number of people using Grammarly, but it definitely has room to grow and may be better for certain users like those who don't speak English fluently or those who want to write in other languages.
Ginger is ideal for both fluent speakers and those who need a little more support with fluency. It is also great for spotting errors in other languages, as it has the capability of working in more than just the English language.
Ginger is available as a desktop app as well as a browser extension in most of the common browsers you might be interested in, including Google Chrome.
Top Features of Ginger
More affordable paid plans with discounts for students and teachers
Translation tool for more than 40 languages
Personal English trainer
Sentence rephraser
Ginger vs Grammarly Features
How do Grammarly vs Ginger compare to one another? Let's take a deep dive into the features and best aspects of each grammar checker software to determine where they shine — and where they don't.
Overview of Features
Ginger
The Ginger software is a bit more robust than Grammarly, helping with your writing style to make all of your documents clearer, more succinct, and grammatically correct.
One of the best features is its Personal English trainer that helps you improve each time you use the software. This is great for ESL speakers who want more tips on how to sound fluent in the language.
It also includes a sentence rephraser to boost clarity in your writing, making this a great writing enhancement tool.
Ginger also comes with a personal dictionary where you can add the words that you use most frequently, even if they aren't in the common lexicon. It will stop flagging things like proper nouns and business names once they have been added to your dictionary.
Other key features of the Ginger software include:
Availability in more than 40 languages
Real-time checks to help as you write
Style checker
Word choice suggestions
On the downside, their grammar checkers do not have integrations with popular word processing softwares like Google Docs or OpenOffice. Unlike Grammarly, it does not contain a plagiarism checker.
Grammarly
Grammarly is highly effective at spotting grammatical errors in real-time. You can either copy and paste your text or write directly in the app for their grammar checker to pick up your mistakes.
While they don't have a writing coach built into the platform, they do have a way to teaching you to be a better writer. Each error comes with a brief explanation about why it was wrong so that you can avoid making the same error again and again.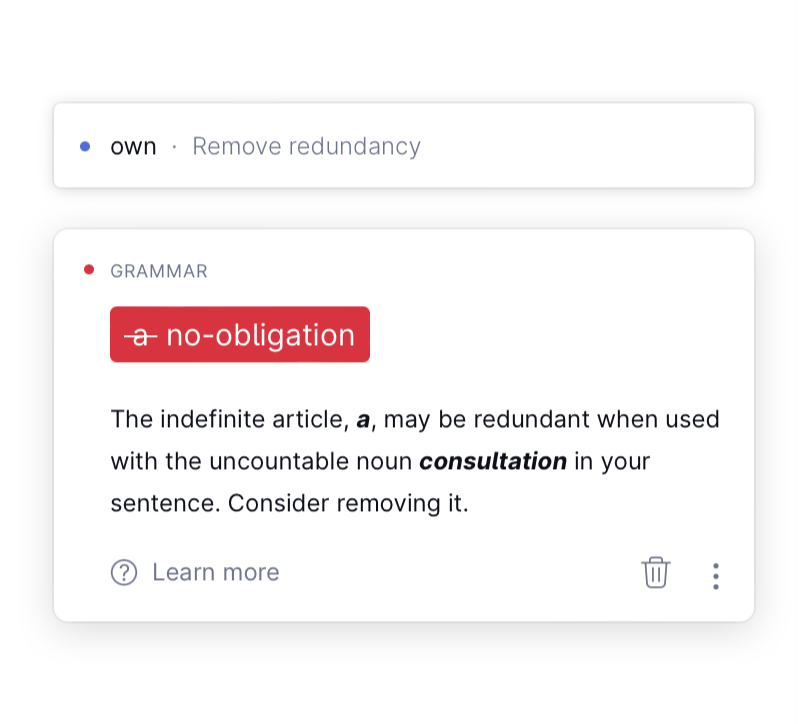 Under their premium version, you also gain access to a plagiarism checker which scans millions of websites for content that is less than original. This is a great tool to use if you are doing lots of research and have concerns that you may have inadvertently stolen the exact phrasing from another page.
Other great features of Grammarly's grammar checker include:
Personal dictionary
Simple-to-use browser extensions
Beta-testing with Google Docs integration
Tone detector
Conciseness suggestions
However, Grammarly is only capable of working with your English writing skills. No matter whether you are in the U.S., Britain, Canada, or Australia, it can adapt to many regional differences within the English language.
Sign Up
Grammarly
Signing up for the free version of Grammarly is quite simple. All you have to do is head to their website and enter your email address. They will send you a 6-digit code to your email to verify your account.
From here, you will enter key details about what you want to do with your writing: school, work, or other projects.
I selected "work" and they asked for more details about what type of role I occupy and my business size.
They also ask you what your primary goals are when it comes to using Grammarly:
Creating or enforcing a writing style guide
Writing long-form content faster
Sounding fluent in English writing skills
Sending emails or messages faster
Improving correctness or clarity of writing
Getting great consistency of writing across a team
My only complaint when it comes to signing up for Grammarly is that they push you to install their browser extensions with no option to skip this step.
Ginger
One of the things I liked about the grammar checkers used by Ginger software is that you don't necessarily have to create an account to get started. You can head directly to their homepage and paste in 300 characters to check for grammar, spelling mistakes, and punctuation errors.
This is perfect for refining social media posts quickly.
However, making an account and signing up is just as easy. All you have to do is create an account by entering your email and a password. It will then take you to the same screen but allow you to enter 600 characters at a time instead of 300.
Ease of Use
Grammarly
When it comes to Grammarly vs Ginger, Grammarly is a bit easier to use for a beginner who wants to check for more than just spelling mistakes. The platform is quite organized, giving you a nice list on the right-hand side of the screen to let you know what changes they propose.
Each suggestion offers an explanation of why the initial grammatical errors are wrong and how you can improve them. With just one click, you can implement their suggestions.
However, not everything is available in their free version. They give you a quick glimpse at what they could help with in the premium version once you resolve all of the changes recommended in the writing enhancement tool.
In the premium version, they check for things like:
Wordy sentences
Punctuation errors in compound sentences
Word choice
Passive voice uses
Unclear sentences
If you want to add words to your personal dictionary, all you have to do is click "Add to Dictionary" on the card showing the spelling mistakes.
Ginger
One of the great things about the Ginger software is that their grammar checker automatically makes the changes to your text for you. Enter your text into the box and click "Check Text." It underlines the parts that it changes so that you can see where you made mistakes.
Of course, you do have the option to revert back to your original text if you preferred the way you had it before.
The downside is that you do have to copy and paste your text into the box. It does not allow for uploads from Google Docs, Microsoft Word, or any other word processing software.
Browser Extensions
Grammarly
When it comes to Grammarly vs Ginger, Grammarly is much pushier about installing their grammar checker browser extensions. They want you to take advantage of them right away when you sign up for their free version.
A benefit of the Grammarly browser extension is that you can write directly in Google Docs and make changes almost instantly. Mistakes will be underlined in the Google Doc and you can view the recommendations by clicking the Grammarly symbol in the lower right-hand corner of the screen.
They started experimenting with this feature in 2018, so they have had plenty of time to refine their process.
However, you can also use their browser extension to help you write clearer emails, social media posts, and anything else you do online.
You can use Grammarly on both Windows and Mac with extensions available in:
Google Chrome
Safari
Firefox
Edge
Google Docs
For iPhone and iPad
Grammarly is available as a desktop app that allows you to use it on more than just the internet. This is a great feature for those who want a comprehensive tool that can help them write not just social media posts and school papers, but emails and other missives as well.
Ginger
Ginger offers another robust browser extension for Chrome, Microsoft Edge, and Safari with their free version.
One of the unique features they offer is an add-on that can be used directly in Microsoft Word to detect 5X more mistakes faster than what Word can register.
When it comes to Grammarly vs Ginger, there are some differences in what you can expect, though. Grammarly is compatible with more programs and devices than Ginger. However, Ginger can be used with both Android and iOS devices.
When you write in any platform with the Ginger extension, it will highlight the errors and give you the option to correct them, up to a certain weekly limit (which refreshes every Monday).
Once you surpass the weekly limit, it will still show you what the errors are but you will have to manually make the changes instead of just clicking them.
They also offer a desktop app for both Windows and Mac.
Ginger vs Grammarly Pricing
Grammarly
If you want to use Grammarly to check your writing style or to gain access to their plagiarism checker, you will need to upgrade to the paid plan.
A premium plan gives you the same basic features that check spelling and grammatical errors, but it also includes advanced features like:
Clarity-focused sentence rewrites
Tone adjustments
Plagiarism checker
Word choice and formality level checks
Fluency
When it comes to pricing between Grammarly vs Ginger, you should consider how much you want to spend. Grammarly offers their Premium subscription, but it is a bit more expensive, even if you sign up for an annual subscription. Pricing is as follows:
Annual: $12 per month
Quarterly: $20 per month
Monthly: $30 per month
As you can see, it makes a significant difference to pay for their grammar checking tool in one lump sum for the year if you can afford the $144 investment.
Ginger
Purchasing an annual subscription to the premium version of the software is the most cost-effective solution. Right now, signing up for an annual plan and paying upfront will cost you $7.49 per month whereas a monthly subscription will cost you $13.99 per month.
One of the nice features of Ginger's pricing is that students and teachers get up to a 70 percent discount on the premium version. You just have to verify your status by contacting their sales department.
Its pricing makes it great for students who are on a budget who want to improve their papers quickly to get better scores from their English teachers.
There is also a 7-day money-back guarantee that allows you to try out the software and see if it is right for you before you are stuck in a long-term commitment. 
Which Grammar Checker Software is Right for You?
While both programs can correct grammar and spelling mistakes, you want something that goes beyond just basic features. You can get those with a simple word processing software like MS Office or Google Docs. How do you decide if Ginger vs Grammarly is right for you?
Here is a quick rundown of what you can expect with each platform.
Pros/Cons of Grammarly
Grammarly is a comprehensive grammar checking tool that features benefits like:
Plagiarism checker (in premium version)
Browser extensions for an accurate grammar checker everywhere you could need
Compatibility with Google Docs
Personal dictionary
Checks for tone and writing style elements
Provides explanations for why grammar mistakes are wrong
On the other hand, here are some areas where Grammarly falls short in a head-to-head comparison:
No translation tool
More expensive to upgrade to a paid plan and no discounts for students or teachers
Lots of advertisements on the free plan
Pros/Cons of Ginger Software
As far as grammar software goes, Ginger has a lot of things going for it that can make it ideal for certain users. Here are the essential features and ways that Ginger sets itself apart from Grammarly:
Spots spelling errors and grammatical mistakes quickly
Cheaper paid plans
Translation tool into more than 40 languages
Sentence rephraser to make language more concise
But there are some downsides to this grammar checker tool as well:
No plagiarism checker
No upload document feature
Limited character count on free plan
Ginger vs Grammarly: Which Should You Choose?
If budget isn't an issue, Grammarly tends to be the better tool to help you spot common grammar errors and prevent you from making them again in the future. With its description of why things are wrong, you are less likely to make some of those contextual mistakes in the future.
However, if you are on a strict budget, Ginger is also a great option. It does have fewer capabilities that can be quite inconvenient and it isn't as user-friendly as Grammarly, but it will get the job done.
Grammarly Premium is the gold standard for a grammar-checking tool if you can afford the investment.
Want to learn step-by-step how I built my Niche Site Empire up to a full-time income?
Yes! I Love to Learn
Learn How I Built My Niche Site Empire to a Full-time Income
How to Pick the Right Keywords at the START, and avoid the losers
How to Scale and Outsource 90% of the Work, Allowing Your Empire to GROW Without You
How to Build a Site That Gets REAL TRAFFIC FROM GOOGLE (every. single. day.)
Subscribe to the Niche Pursuits Newsletter delivered with value 3X per week