10 Great Pay-Per-Click Tools To Maximize Your Online Presence
When you buy something through one of the links on our site, we may earn an affiliate commission.
If you're thinking about trying out PPC campaigns to increase revenue on your website, you'll want to invest in pay-per-click tools that can help you maximize your online presence.
These tools can help you capture hundreds or thousands of dollars in additional income. And that's not the only value they add - PPC tools can also save you dozens of hours of your time as well.
So, instead of bootstrapping your way to successful ad campaigns, take a look at these 10 great pay-per-click tools that will help you succeed in a fraction of the time.
Top 10 Pay-Per-Click Tools For Maximum Online Visibility
Whether you're new to the world of PPC campaigns or want to optimize your existing Google Ads campaigns, these pay-per-click tools will help you get the most out of your ad spend.
1. SEMRush
SEMrush is a long-standing SEO tool that was founded in 2008 and is still one of the forerunners when it comes to digital marketing. Perfect for your Google Ads and PPC campaigns, it's a one-stop shop for anyone serious about online visibility.
Some of the main highlights are:
Keyword research: Unearth new keywords to target with their Keyword Magic Tool.
Competitive analysis: Understand your competitors' Google ad strategies and track changes over time.
Site audits: Ensuring your site is optimized and healthy.
Backlink tracking: Keep tabs on who's linking to you.
With this powerful PPC tool, you're able to peek into your competitors' ad campaigns, analyze their keywords, and even view their landing pages.
SEMRush offers historical data back to 2012, letting you understand long-term trends and strategies.
The platform also helps manage and expand your keyword lists for PPC campaigns, providing insights such as monthly search volume, competitive density, and cost per click (CPC). This means you can identify cost-effective keywords, understand searcher intent, and analyze search trends.
Check out our complete SEMRush review if you'd like to learn more about what the platform has to offer.
---
2. Unbounce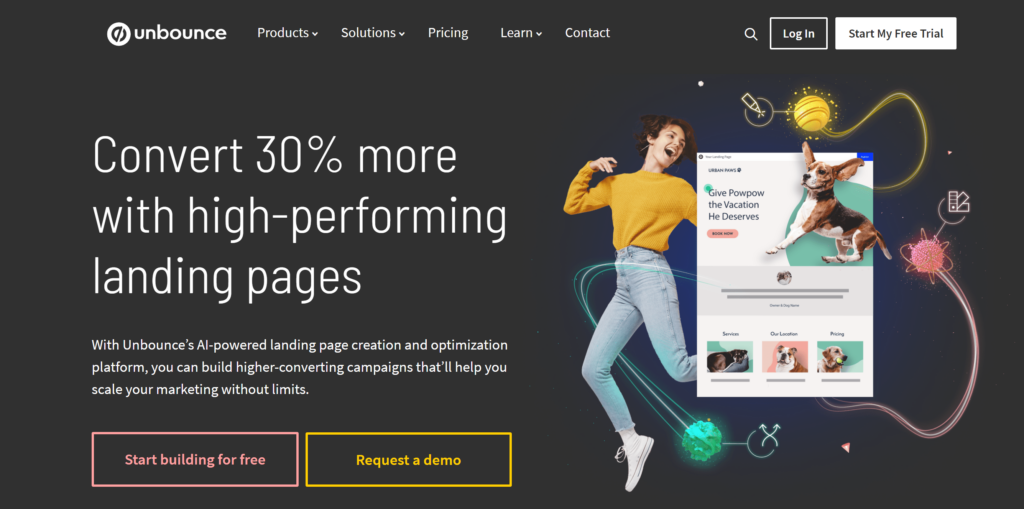 Unbounce is a robust platform designed for landing page builders and is a great tool for PPC campaigns. Having a good landing page is helpful for your PPC efforts because it ensures your visitors have a good experience on your website.
Unbounce stands out from other drag-and-drop builders with its unmatched stability, ease of use, and efficiency.
Users can take advantage of a wide range of 101 customizable pre-designed templates, far surpassing the limited selection of less than 55 templates offered by rivals like Convertkit.
Key features include:
Efficient ad creation: Drag widgets onto your page with full control.
Campaign performance: A/B testing ensures high conversion rates.
Purpose-specific templates: From lead generation to e-books and webinars.
Unbounce also allows you to run A/B testing on different pages. This is crucial for improving your click-through rate (CTR) and conversion rates. And, of course, more clicks leads to improved PPC results.
Here's an Unbounce review that will help you decide if it's the right fit for your business.
---
3. DashThis

DashThis is a powerful PPC tool designed for savvy business owners seeking to streamline their PPC advertising. It offers an intuitive solution that simplifies and automates the reporting process.
What sets DashThis apart is its ability to consolidate all SEM and PPC reporting tools into one system.
No more juggling between different platforms – DashThis fetches and compiles data from various sources for you. It also tracks essential KPIs, such as CPC, CPA, ROI & ROAS, impressions, and conversion rates, brought together in one comprehensive report.
Some additional notable features include:
Over 35+ pre-built templates and integrations
Automated data collection across multiple platforms
Customizable reporting widgets
Additionally, DashThis' customizable feature allows users to personalize their reports. You can add logos and comments, making it a customizable tool ideal for team communications.
Users can even merge data from various widgets, which is helpful when incorporating data from multiple sources.
Check out our full Dashthis review for more info on this tool.
---
4. Adalysis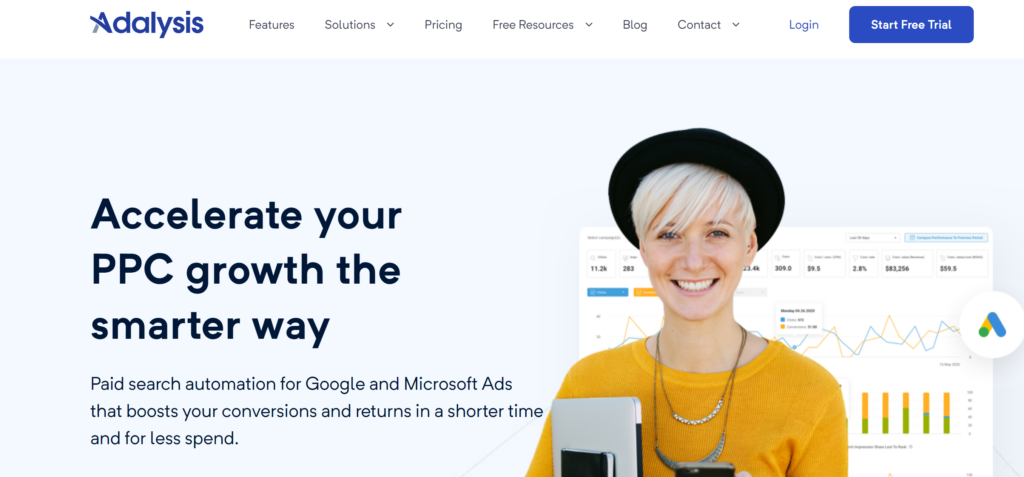 Adalysis is a secret weapon for efficient PPC marketing. Designed for Google and Microsoft Ads, this tool optimizes your campaigns, enhancing conversions while saving you both time and money.
Key features include:
Google Display Network for streamlining workflow
Daily automated audits identifying potential issues
Data-driven analysis for informed decisions
Powerful tools for optimization
Award-winning automation strategies
With Adalysis, you can easily filter out ineffective placements in Google Ads campaigns, automate routine tasks, and receive daily recommendations for improvements.
Plus, it monitors your existing Google Ads and Microsoft Ads accounts with 50 daily audit checks.
Adalysis frees up your time for more strategic tasks. So, whether you're planning a new Google Ads campaign or optimizing an existing one, this may be the right full-suite platform for you.
---
5. VWO
For those looking to improve their PPC management, VWO is a useful tool to consider. It's not only a landing page builder but also provides robust optimization capabilities. VWO enables you to conduct extensive experiments with different landing page versions.
This data-driven methodology allows for more precise identification of the version that most effectively engages your audience rather than relying on guesswork.
Here are a few additional features that add value to this program:
Heatmaps for user interaction insights
Recordings of user experiences
Free tools for a trial run
Custom experiences based on customer data
Evolution tracking of user behavior
With VWO you'll be able to refine your ad copy, make well-informed bid management decisions, and even conduct advertising research, all within a single platform.
You'll also have access to relevant keyword data, web analytics, and management tools that streamline your PPC campaign management. You can even gain keyword ideas from Google trends, refine your search ads, and optimize website traffic.
---
6. Adzooma
Entrepreneurs can enhance PPC campaigns with Adzooma, a leading tool that offers a centralized solution for online advertising needs. Known for its robust automation features, Adzooma not only saves you time but also propels your business forward.
This software is great for beginner PPC campaigners, as it has a free plan that provides enough features to train on the program and learn how to set your business up.
Custom Rules: Automatically adjust budgets and receive performance alerts.
Growth Opportunities: Pinpoint areas for expansion through detailed campaign data analysis.
Simplified Rule Builder: Construct automation rules without the need for coding.
Templates: Expedite your workflow with premade templates.
Take, for instance, running Google Ads campaigns; Adzooma can manage your account, analyze data, and suggest valuable improvements.
This all-encompassing tool is perfect for PPC advertising, enabling keyword research, ad group management, and tracking of negative keywords.
---
7. MarketingCloudFX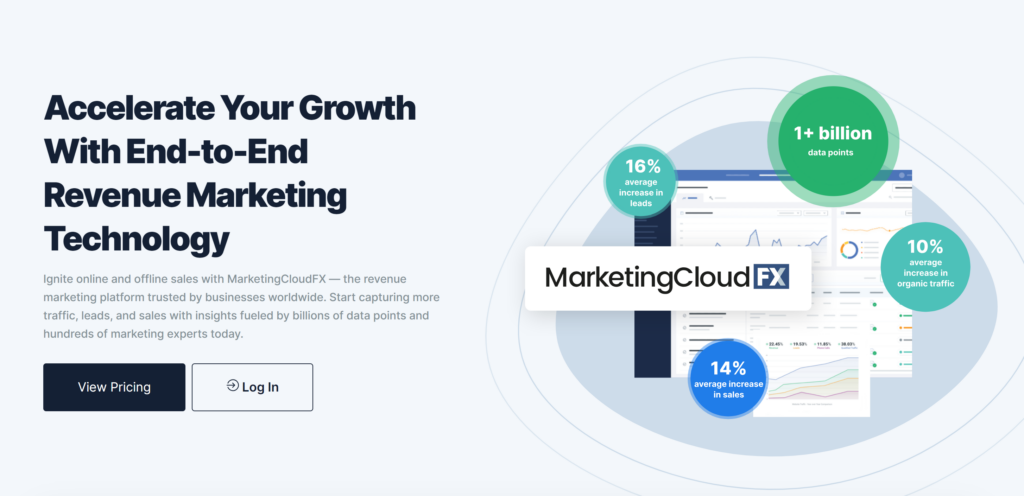 MarketingCloudFX is a powerful pay-per-click tool designed to unlock data-driven decision-making that prioritizes revenue growth.
Here are the standout features of MarketingCloudFX:
Powerful Pay-Per-Click Tools: Optimize Google Ads campaigns with insights from profitable keywords.
AI Insights for SEO: Discover untapped keywords and drive micro-conversions.
Remarketing Ads: Reach your ideal audience by managing customer data effectively.
Analytics Tracking: Monitor visits, calls, and campaign performances.
This PPC software lets you streamline content production, measure ROI, and keep an eye on competitor changes. It is not solely about increasing traffic; it is about attracting high-quality traffic that leads to conversions.
By pairing Google Search Ads and Google AdWords with a program like MarketingCloudFX, you'll be capturing more leads and sales, all fueled by billions of data points and a team of marketing experts.
---
8. Google Ads Editor
Using the Google Ads editor, you can create your own PPC campaigns tailored to your business goals. It's a remarkable free tool for businesses keen on refining their paid search tactics and improving their PPC management.
With no cost to set up a Google Ads account, this tool is a powerful asset for your PPC strategy.
This suite of free PPC tools has time-saving features such as:
Bulk Editing: Swiftly make comprehensive edits to your campaigns.
Performance Review: Analyze your own campaign statistics for specific date ranges.
Advanced Search: Easily locate campaign elements with filters.
Import/Export Files: Share proposals or make account changes efficiently.
Google Ads Editor lets you manage and monitor your advertising campaigns offline.
You can make bulk changes like bid adjustments, keyword additions, and ad text edits, then upload them to implement.
The Google Keyword Planner within Google Ads helps you find keyword suggestions and insights, optimizing your PPC marketing and reducing wasted ad spend.
---
9. Google Analytics
As a PPC strategist, you need the foundational tools to optimize your paid search campaigns. Google Analytics, when linked with Google Ads, becomes one of the best PPC tool combinations. Google Analytics is free and offers you a comprehensive view of your ad metrics alongside crucial website stats.
Here's what Google Analytics does for you:
Tracks real-time performance metrics of your Google Ad campaigns
Monitors audience engagement and landing page effectiveness
Integrates with AdWords for conversion-driving keyword insights
Imagine this – you launch an ad group on Google and Bing Ads. Using Google Analytics, you can see which PPC keywords are driving conversions. Even if someone clicks your ad but doesn't make a purchase, you can track this. This data helps you refine your ad variations and make data-driven decisions to maximize ROI.
Google Analytics can also help you discover relevant keywords, access SEO keyword data, and own your campaigns like never before. Whether for Google, Bing, Amazon, or Facebook Ads, it's all about improving your advertising strategy.
---
10. AdEspresso
AdEspresso by Hootsuite is one of the more popular pay-per-click tools for managing PPC campaigns. It simplifies campaign creation, allows you to analyze and optimize Google Ads, and offers an intuitive interface that saves time and effort.
This PPC tool offers:
Detailed analytics and custom reporting
Asset manager for ad images and copy
Collaborative campaign approvals
Expert campaign review and coaching
Use it for A/B testing to determine the most effective messaging. AdEspresso's robust split testing feature lets you experiment with different ad variations.
Get detailed insights on your PPC ads performance, and use these data to improve your advertising strategy. It's easy to leverage this PPC tool for efficient campaign management due to the program's sophisticated automation.
Why Do I Need Pay-Per-Click Tools?
You may have never run a PPC campaign and may be wondering where the value lies in investing in these best PPC tools. Here are a few reasons why having the right PPC tools is crucial for your business:
Automation of Complex Tasks
Pay-per-click tools automate the complex and time-consuming tasks associated with managing PPC campaigns. From keyword research to bid management, these tools can handle it all, saving you valuable time and reducing the risk of human error. This way, you can focus more on strategic decisions and less on manual work.
Gaining Market Insight
Understanding market trends and your competitors' strategies is vital in today's competitive landscape. Pay-per-click tools provide insights into what's trending in your industry and what tactics your competitors are using. This information can help you craft a more effective and competitive marketing strategy.
Efficient Campaign Management
With PPC tools, you can create, manage, and optimize your campaigns more efficiently. You can easily test different ad variations, schedule ads, and target specific audience segments. This leads to more effective campaigns that yield better results.
Real-Time Performance Tracking
One of the significant advantages of digital advertising is the ability to track performance in real time. Pay-per-click tools provide comprehensive analytics and reporting features, allowing you to monitor your campaigns' performance continually. You can quickly identify what's working and what's not and make necessary adjustments for improved outcomes.
PPC Budget Management
Managing your budget effectively is crucial in PPC advertising. PPC tools provide features like automated bid management and budget tracking, which help you maximize your return on investment. You can ensure that your money is being spent wisely and that you're not overspending on underperforming ads.
Final Thoughts: Pay-Per-Click Tools For Entrepreneurial Success
If you don't take the time to make sure you're running your ad campaigns correctly, you may lose a lot of money and time in the long run. So start out right and get help with your PPC ads using any of the above-mentioned tools.
You can start with affordable pay-per-click tools with Google Ads and Google Analytics. Or you can make a major investment into one of the enterprise-level programs mentioned above.
Either way, you'll be saving time, maximizing returns, and achieving entrepreneurial success.
Want to learn step-by-step how I built my Niche Site Empire up to a full-time income?
Yes! I Love to Learn
Learn How I Built My Niche Site Empire to a Full-time Income
How to Pick the Right Keywords at the START, and avoid the losers
How to Scale and Outsource 90% of the Work, Allowing Your Empire to GROW Without You
How to Build a Site That Gets REAL TRAFFIC FROM GOOGLE (every. single. day.)
Subscribe to the Niche Pursuits Newsletter delivered with value 3X per week