KeySearch Review: Is This The Most Affordable Keyword Research Tool Around?
Keysearch is one of the cheapest keyword research tools available, but is it as good as the more expensive options?
I've been using Keysearch for over a year now on my niche and e-commerce websites, and am ready to share my thoughts.
The quick answer is that yes, I think KeySearch is an excellent, affordable keyword research tool. It's perfect for anyone building a blog or niche site who doesn't want to pay for the premium tools like Ahrefs. But there's more to it than that!
In this KeySearch review, I'm going to show you what features it offers and how you can use them to grow your website. I'll share the pros and cons of the tool and everything else you might need to know before buying.
KeySearch Review
KeySearch Review
Ease of Use -

100

Stability -

95

Customer Service -

80

Price -

100
Summary
If you're looking for an affordable keyword research tool, you can't go wrong with KeySearch.
This tool provides everything you need to conduct keyword research and competitor analysis. It's a more affordable solution compared with other keyword tools, making it ideal for bloggers, small businesses, and niche site builders.
Try KeySearch here and use coupon code KSDISC for a 20% OFF.
Pros
Very affordable
Intuitive and easy to use
Find high vol. low-comp. keywords
Longtail keyword
Easy to export data
Good competitor analysis feature
Find guest posting opportunities
Content assistant for important keywords
Cons
No phone or live chat support
Content assistant tool ruins formatting
Occasional discrepancies in data compared to other keyword research tools
If there's one thing you should invest in when starting a blog, it's a quality keyword research tool.
When you're starting out, you may not want to pay out for a premium keyword research tool like Long Tail Pro or SEM Rush. But don't worry, KeySearch is a good alternative.
This KeySearch review is going to walk you through the features that KeySearch has to offer.
I will demonstrate how it all works, and what you need to do to use this data to outsmart and outrank your competitors, even if you're brand new to blogging and building online businesses.
About KeySearch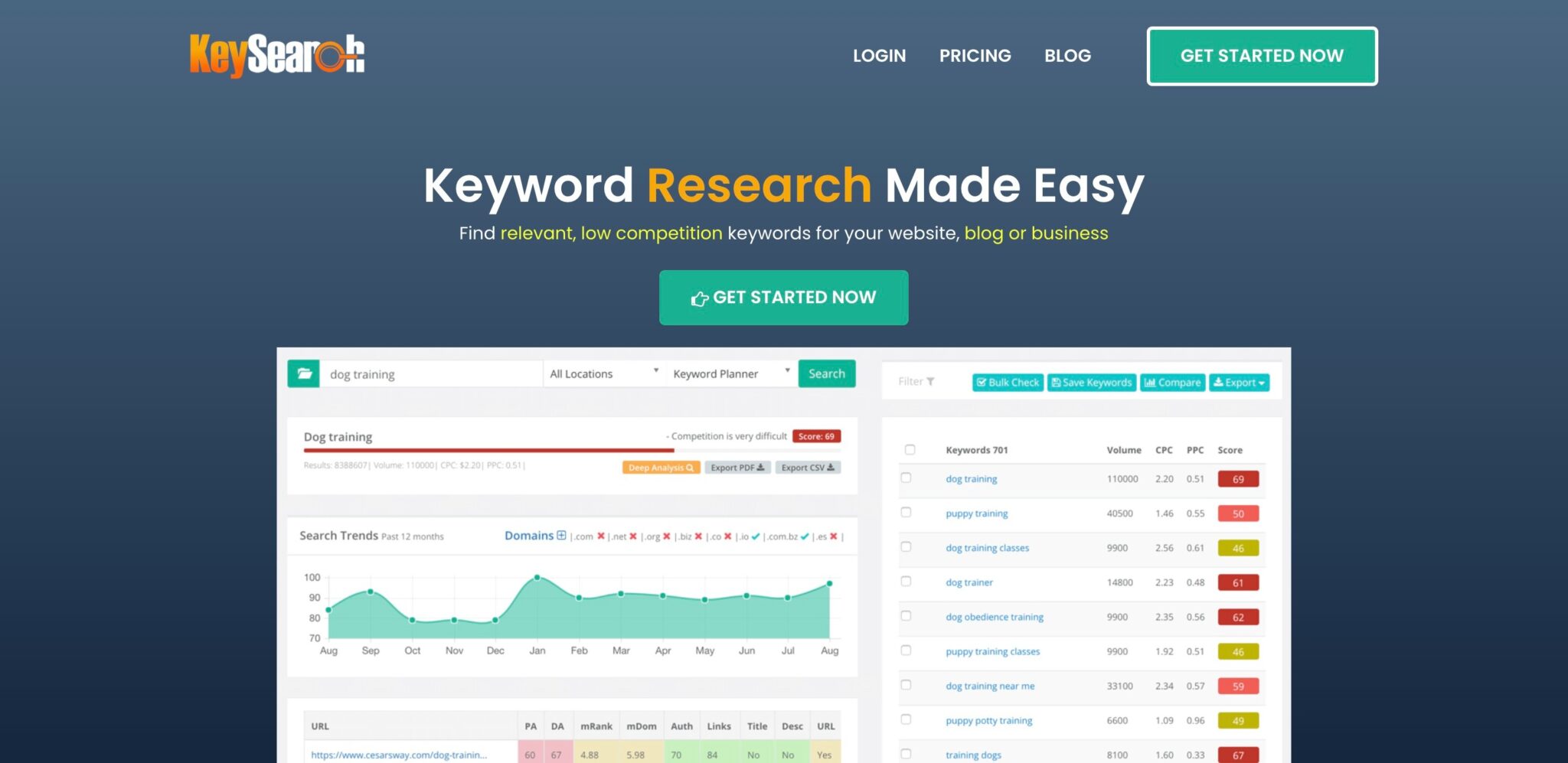 KeySearch was founded in 2015 by Dan Pfeffer.
After starting out as a simple keyword tool, KeySearch has grown to include a whole range of other SEO and digital marketing tools designed to help bloggers and small businesses grow online.
It includes everything you need to find profitable keywords that you can rank for. It also includes competitor analysis tools, rank tracking, backlink analysis, and more.
Best of all, it's remarkably easy to use. Even if you're a complete beginner you can start using KeySearch to find profitable keywords in your niche. It's useful for working on strategies to outsmart your competition.
As well as its paid plans, KeySearch also has a range of completely free SEO tools that anyone can use. They are all web-based, so there's nothing to download, and you can start using them right away.
KeySearch Features
These are the main features you get with a KeySearch plan:
Keyword research
Competitor analysis
Explorer (domain overview)
Rank tracking and intelligence
YouTube research
Content assistant
These features are everything you need to get started with SEO as a blogger or a small business.
Let's dive into each of KeySearch's features to see how they work, and how you can use them to grow your business.
Keyword Research
KeySearch's keyword research tool is refreshingly simple to use. To get started all you need to do is enter a seed keyword in the search box. Select the location you want data for and you will be given a list of up to 700 related keywords.
Each of the keywords in your results is given a difficulty score: The higher the score, the more difficult it will be to rank for this keyword.
The keyword difficulty score is color-coded, so you can see at a glance which words will be easy to rank for and which ones to stay away from. It also gives you PPC and CPC data for each keyword.
As well as providing you with the list of related keywords, you will be shown search trends for the past 12 months, and a search engine results page (SERP) analysis.
KeySearch has a database of over 1 billion keywords, giving you endless opportunities to find profitable, low-competition keywords ideas that you can rank for. You can check up to 200 or 500 keywords each day, depending on which plan you are on.
In order that you don't waste all of your credits on the first search, the difficulty score of each keyword idea isn't revealed until you click on it. This allows you to filter out low-volume keywords that you aren't interested in checking before you waste your credits.
How to find long tail keywords
Longtail keywords are a vital part of the SEO strategy for bloggers and niche site builders. Not only are these longer, more specific keywords easier to rank for in general, but they can also help you attract the right visitors and buyers to your website.
KeySearch makes it easy to find longtail keywords using its filtering feature. As an example, I'm using the seed keyword 'Cat Bowls', and I'm going to show you how to find longtail keywords with buying intent around this word.
I have filtered the keywords to include a minimum of four words per long tail keyword. I also filtered the monthly search volume to only show words with at least 100 searched a month. Once you have set your filters, click 'filter' and it will narrow down your results.
If you want to go one step further, you can add additional keywords into the keyword section, to only show keywords with buyer intent. For example, you could include the word 'best' to find people searching for the best cat bowls.
Now you can see the results are only showing keywords that include the word 'best'.
The people searching for these keywords are clearly looking to buy bowls for their cat. All of the results that are left after filtering are low-competition, long-tail keywords that would be easy for a relatively new site to rank for.
Once you have found your ideal keywords, you can select them, and save them to a list. You can create as many keyword lists as you like, and save them so they will be there for you when you are ready to create content.
SERP Analysis
On the main keyword research page, you will also find a SERP analysis section. Click on any of the keywords you want to check, and you will be shown the top 10 results on Google.
Again, this section is color-coded, with anything that could be easy to outrank shown in green, and the harder, higher authority sites in red. As you can see in the screenshot above, I have selected the keyword 'best cat bowls for messy eaters', which has given me the top 10 sites ranking for this keyword.
The first two columns are page authority (PA) and domain authority (DA). You can see on this page that some sites with a lower domain authority are managing to rank in the top 10 search results. This is great news, as it means even newer sites have a chance at ranking for this keyword.
The 'links' column enables you to see exactly how many backlinks your competitors have to each article, so you can see exactly what you would need to do to outrank them.
KeySearch Explorer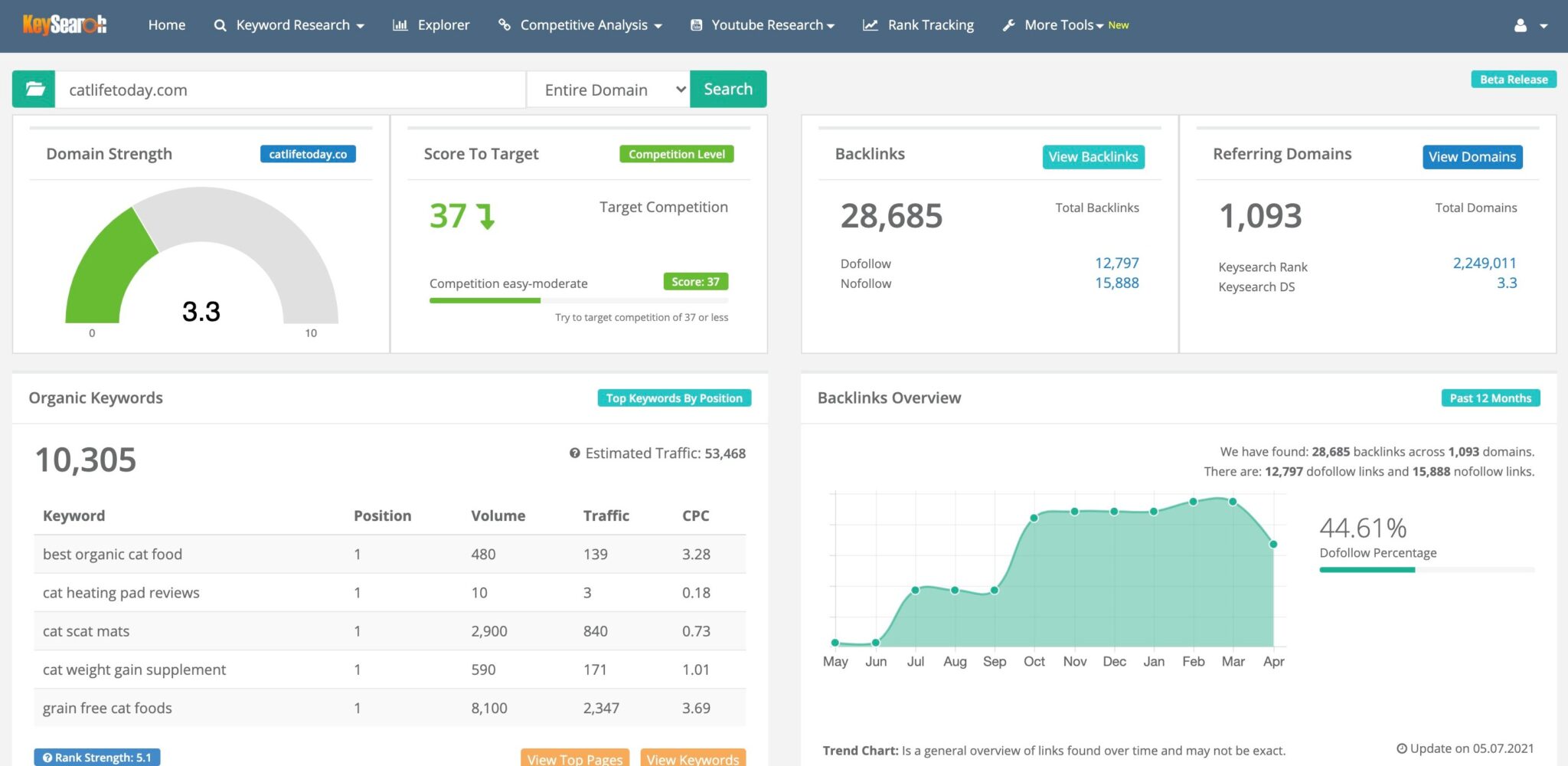 The explorer on KeySearch is essentially an in-depth webpage audit analyzer.
You can input any URL (your own or your competitor's) and you will be shown the domain strength, keyword score to target, backlinks, and referring domains. It also shows you the top competitors, top referring domains, anchors, and the organic keywords the site is ranking for.
If this is your own site, 'the score to target' number is particularly helpful when you are doing keyword research. This enables you to quickly filter out any words that will be too difficult for you to rank for.
You can click on each area to see it in more depth, but this page gives a good 'at a glance' overview of a domain.
Competitor Analysis
KeySearch's competitor analysis tools are perfect for anyone who wants to learn from their competitor's strategy. By reverse engineering a strategy that's already working for someone else in your niche, you can save yourself a lot of time and money.
The main competitor analysis tools included with KeySearch are:
Backlink checker
Organic keywords
Competitor gap
URL metrics
Page analyzer
Let's start by looking at the backlink checker tool, to see how it works and why you should be using it in your SEO strategy.
Backlink Checker
The backlink checker tool makes it easy for you to see where your competitors are getting their backlinks.
All of these sites linking to your competitors could also link to your site. This will help to boost your own domain authority, which, in turn, will help you rank for more keywords (and you may want to check out our guide to domain authority stacking strategies). You can use this information to target the strongest websites for guest posts of your own.
This tool shows you the exact page on your competitor's site, as well as the anchor text, and the domain strength. It will also show you which links are follow links, and which links are no-follow links.
Organic Keywords
The organic keyword checker shows you exactly which keywords your competitor is already ranking for.
You can use this tool to see which keywords are bringing them the most traffic so that you can target them for your own keyword strategy.
Initially, the results show you the keywords in order of position in the SERPs. You can easily change this by clicking at the top of any of the columns to see the results in a different order. I always change it to show the keywords that are driving the most organic traffic first to get some quick wins.
Competitor Gap
The competitor gap feature allows you to quickly and easily find keywords to target that you aren't already ranking for.
The tool has two search bars.
On the left side, you can add up to three websites whose keywords you want to check. On the right, you enter your own website or another website you want to check. You will then be given a list of the keywords that the first three sites are ranking for that the other site is not.
This is a great resource if you are pitching guest posts to a particular website. You can show them keywords that their competitors are ranking for but they aren't, and then offer to write a guest post around that keyword.
URL Metrics
The URL metrics feature allows you to check the URL metrics of up to 20 sites at once.
It gives you all the information you need to know about a URL, including:
Page and domain authority
Domain strength
Total backlinks including dofollow and nofollow links
Alexa rank
Number of ranking keywords
Estimated traffic to the site.
This feature is very useful if you are looking for sites to guest post on, as you can see which sites are the highest authority and have the most traffic.
Page Analyzer
The Page Analyzer feature will give you a full SEO review of any URL that you want to check. It will give the webpage a score out of 100.
As with the URL metrics, it gives you:
Alexa rank
Page and domain authority
Estimated traffic
Total backlinks
Dofollow links
Domain strength
Ranking keywords
Further down the page, you will also be given a list of actions you can take to improve the speed and SEO of your site, such as increasing the amount of text on your site or adding alt attributes to your images.
Rank Tracking
KeySearch's rank tracking feature allows you to enter a website, and see all of the keywords that the site is ranking for in the top 100. You can then select which of the keywords you want to track, and it will add them to the tracking list.
This will track the keyword's ranking so you can see your progress in the SERPs, as well as identify any keywords that have fallen in the rankings so you can try to get them back up.
You can also enter keywords manually, and add your location to give you localized results if you prefer.
Content Assistant
The content assistant feature is a content optimization tool.
This feature is actually still in Beta at the time of writing, but you can still use it to start optimizing your content if you don't have access to another tool.
Once you have typed a keyword into the search bar, the Content Assistant will let you know how easy it will be to rank for your keyword. It will also show you the average word count of the first page of Google, and provide you with a list of recommended keywords to include in your article.
Paste your finished article into the text box, and the Content Assistant will show you which keywords you still need to include.
These are the most used keywords from ranking articles on the first page on Google. It's a good idea to include as many of these as possible.
Since this tool is still in beta, it does unfortunately have a few flaws. When you paste an article into the content assistant you will lose all of your formatting, like headings, paragraph spacing, and bullet points.
It's a great tool for checking how you are doing, but you cannot create your content in it and copy+paste straight from the tool for publishing. This is possible with other content optimization tools like MarketMuse.
Opportunity Finder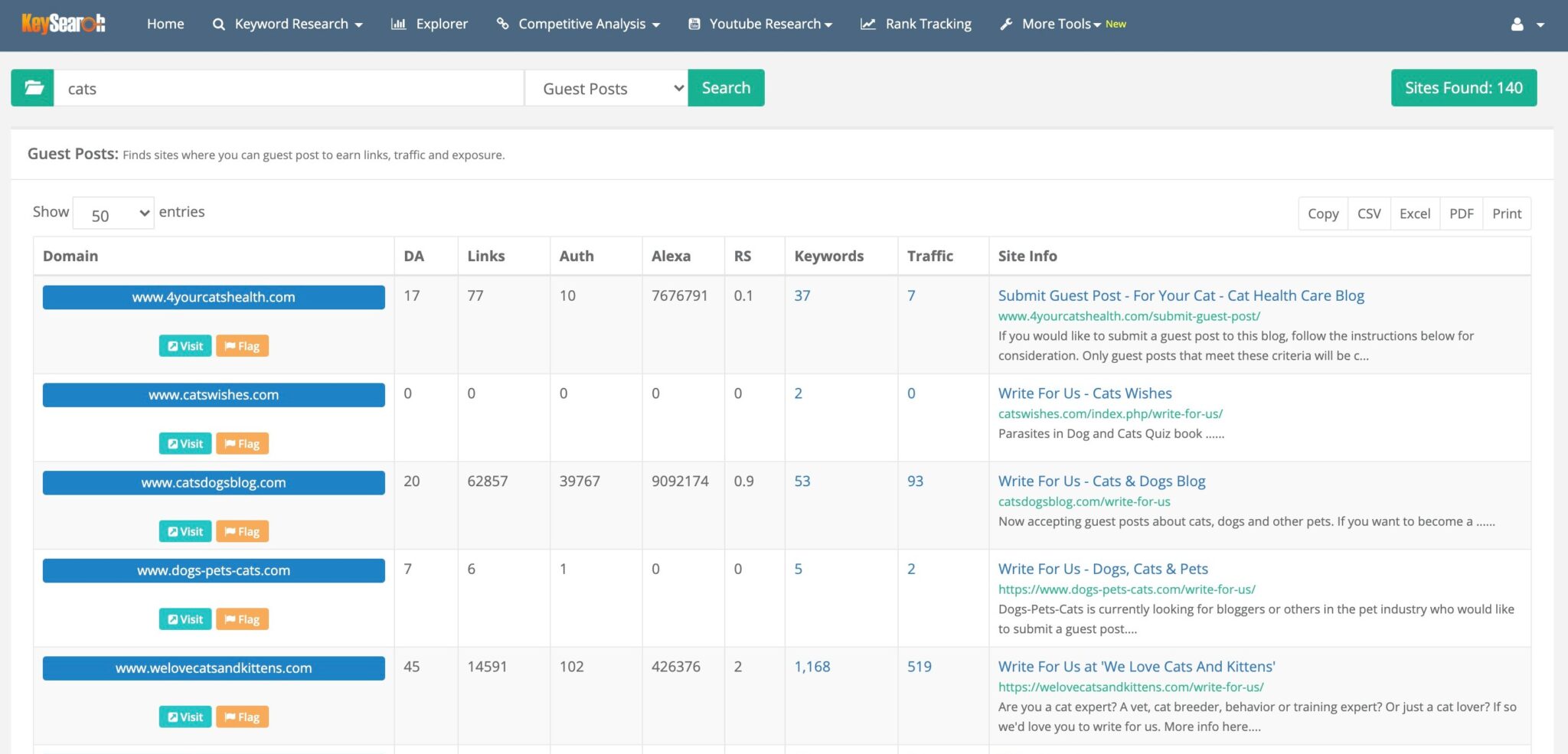 The opportunity finder is a great feature that helps you find:
forums relating to your niche
other blogs and influencers in your niche
It's super easy to use – simply enter your niche in the search bar. The opportunity finder will give you a list of blogs in your niche that are looking for guest posts.
You can easily change the order of the list to view sites by their DA, Alexa rank, traffic, or any of the other options that are important to you. The link will take you directly to the 'write for us' page, saving you hours of time on manual research.
YouTube Keyword research
This tool is ideal for anyone who wants to up their game on YouTube.
The YouTube SEO keyword research tool enables you to quickly and easily find keywords for YouTube.
It provides you with:
YouTube Competition Research
Keyword List Building
YouTube Bulk Keyword Checker
YouTube Keyword Suggestions
White-label Reporting
It also lets you filter your keywords, view Google search volume and also create your own lists of keywords.
The YouTube competition analysis feature will show you the top 10 ranking videos, along with their stats and difficulty scores. This way you can easily see how hard the keyword will be to rank on YouTube.
SEO Crash Course
As well as providing a suite of SEO tools, KeySearch also has a completely free SEO crash course.
It's full of useful SEO tips and tricks. You don't need to sign up or have an account, it's totally free for anyone.
The course is suitable for beginners, as well as seasoned SEOs and marketers who want to make sure they're up to scratch on the latest SEO practices.
Key Search Customer Support
If you need to get in touch with customer support you can get in touch through the support center.
This is accessible from the user area within your account. Simply enter your query in the search bar, and you should find an answer to your question in the extensive knowledge base.
Alternatively, you can open a support ticket, where a member of the support team will assist you. There is no option to contact support by phone or live chat.
KeySearch Review: Pros and Cons
As with all SEO tools, KeySearch has its own pros and cons. Take a look to see if any of these are deal-breakers for you.
Pros:
Very affordable
Intuitive and easy to use
Easily find high volume, low-comp. keywords
Longtail keyword
Easy to export data
Great competitor analysis features
Easily find guest posting opportunities
Content assistant helps optimize keyword use
No phone or live chat support
You lose formatting when using the content assistant tool
Occasional discrepancies in data
I have been using KeySearch for my keyword research for over a year now. Although there can be occasional discrepancies in the data compared to other keyword research tools, it's never a huge amount.
KeySearch Pricing
KeySearch has two pricing plans available: Starter and Pro.
The Starter plan costs just $17/month or $169 for one year. This plan includes up to 200 daily searches, YouTube research, content assistant, 50 rank tracker keywords, competitive analysis access, and reporting/API access.
The Pro plan costs $34/month or $279 for one year. This plan includes everything from the Starter plan but gives you higher limits of 500 daily searches and analysis, and 150 rank tracker keywords.
KeySearch Review: The Verdict
If you're looking for an affordable keyword research tool, you can't go wrong with KeySearch.
This tool provides everything you need to conduct keyword research and competitor analysis for a great price, making it ideal for bloggers, small businesses, and niche site builders.
It's incredibly easy to use, and even if you have no prior experience with keyword research, you can get started straight away. There are lots of tutorials that you can follow to get the best out of each tool, and there's even an SEO crash course, which is great for beginners.
I haven't even gone into all the features. There are still others like their Etsy Tag Generator, for example.
Overall, you will be hard-pressed to find another tool this good at such a low price.
Ready to give KeySearch a try?
Head to their website and use the coupon code KSDISC for 20% OFF!
Try KeySearch now!
KeySearch Alternatives
Still not convinced KeySearch is right for you?
Here is a list of alternatives…
SEMrush
SEMrush is one of the most popular (and powerful!) keyword research and search engine optimization tools around. It's trusted by big names like Amazon, Apple, Forbes, Nike, and many more.
SEMrush is more than just a keyword research tool, it's a suite of over 40 incredible tools designed to help you grow your business online, including:
SEO and keyword research tools
Content marketing and optimization tools
Market research tools
Advertising and website monetization tools
Social media management tools
SEMrush starts at $119.95/month.
Want to find out more about SEMrush?
Check out our SEMrush review and get a free extended SEMrush trial!
SEMrush Review
Long Tail Pro
You probably already know that Spencer is the creator of Long Tail Pro!
Although he eventually sold this business, he still uses it for the day-to-day keyword research for his niche sites.
Long Tail Pro is one of the best tools around when it comes to doing bulk keyword research and competitor analysis. It's really easy to use too.
Simply enter a seed keyword (you can input up to 5 seed keywords at a time) to receive hundreds of suggestions of profitable long tail keywords.
Long Tail Pro's main features include:
Keyword research
Easily identify low difficulty keywords that you can rank for
Competitive analysis
Keyword rank tracking
Tutorials, including Long Tail Bootcamp and Long Tail University
Long Tail Pro starts at just $27/month with our exclusive 30% discount.
Ahrefs
Ahrefs is an all-in-one SEO tool that is used and trusted by some of the biggest brands in the world. As well as its paid plans, Ahrefs also has a wide range of free SEO tools that anyone can use.
Ahrefs main tools include:
Site explorer
Keywords explorer
Site audit
Rank tracker
Content audit
They also have a range of other tools including a content gap tool, broken link checker, YouTube keyword research tool, and an Amazon keyword research tool.
Ahrefs plans start at $99/month for a Lite plan and go all the way up to $999/month for an agency plan.
If you want to find out more about Ahrefs, check out our in-depth Ahrefs review.
Keyword Research Made Easy
There are lots of great keyword research tools out there, but if you're looking for something that's affordable and easy to use, then you should definitely check out KeySearch.
Whether you are into affiliate marketing, or you are a small business looking to drive more traffic to your website, KeySearch will help you to find profitable low-competition keywords that you can rank for and increase your blog traffic quickly.
Thinking of giving KeySearch a try? Head to their website and use the coupon code KSDISC for a 20% discount.
Get a 20% discount on Keysearch with the code: KSDISC
Want to learn step-by-step how I built my Niche Site Empire up to a full-time income?
Yes! I Love to Learn
Learn How I Built My Niche Site Empire to a Full-time Income
How to Pick the Right Keywords at the START, and avoid the losers
How to Scale and Outsource 90% of the Work, Allowing Your Empire to GROW Without You
How to Build a Site That Gets REAL TRAFFIC FROM GOOGLE (every. single. day.)
Subscribe to the Niche Pursuits Newsletter delivered with value 3X per week