17 Best Text Editors for Blogging [Simple & Easy-to-Use Solutions]
When you buy something through one of the links on our site, we may earn an affiliate commission.
Finding the best text editor for blogging can be a challenge.
A blog editor needs to be easy to use, free from distractions, and work well with your choice of CMS.
A good text editor also needs to help you keep things organized in one place and accessible from multiple devices.
In this article, I'll share 17 of the best text editors for blogging, including a few blog editor options for developers.
Let's dive right in.
Best Text Editors for Blogging (Web-Based)
If you prefer to use a web-based text editor instead of downloading a program or app, here are some great blog editors.
1. WordPress Editor
If you don't mind the WordPress editor, then this might be the easiest solution.
The updated Gutenberg blog editor has been around for a few years now, and even though it takes a bit of getting used to, it has come a long way since its first release.
Failing that, you can still use the old editor if you prefer. You just need to install the classic editor plugin.
The Gutenberg editor is minimal and has options for making it free of distractions. There are also keyboard shortcuts you can quickly learn to speed up your workflow when you write and edit articles.
Using WordPress will save you from needing to copy and paste your work every time you publish a new blog post.
Just make sure you save backups of your writing in case something happens with your work.
---
2. Grammarly
Need an online text editor that will help you write better?
Grammarly is one of the best grammar and spelling correction tools available. Its AI-powered technology not only corrects mistakes but teaches you how to improve your writing.
It's web-based and now has a desktop app for Windows, mac, and browser extensions. We have more information about it in our Grammarly review.
Features include plagiarism, grammar, punctuation, spelling, reading time, word and character count, writing assistant, and much more.
Grammarly is perfect for bloggers who want to keep their writing in one place with the added benefit of powerful editing tools.
The free version of Grammarly provides basic writing suggestions, which is enough for some people (see our Grammarly vs Hemingway comparison). You can also use the free version to test drive, before upgrading to the pro version.
Get Grammarly Here
---
3. ProWritingAid
ProWritingAid is another web-based blog editor similar to Grammarly.
It hosts tons of advanced features to help you improve your writing and correct spelling mistakes, grammar, and punctuation.
You can save all your documents inside the web-based interface, and the AI tool works in real-time as you write, showing suggestions of where to make improvements.
ProWritingAid has a lot of integrations if you use other editors and want the features it offers.
These are available for MS Outlook, MS Word, OpenOffice, Google Docs, and browser extensions for Chrome, Firefox, Safari, and others.
There is also a WordPress plugin to get all the benefits of writing directly into WordPress and a powerful writing assistant.
Get ProWritingAid Here
---
4. Google Docs
Google Docs is another great text editor for blogging. It's easy to use and completely free.
Like most word processors, it has a ton of formatting options available and you're able to share and collaborate with other people you work with.
You can also use a distraction-free browser add-on by Flowapps.co. Available for Chrome and Firefox, it clears away any clutter, giving you a better writing experience.
With Google Docs, your work is saved automatically and you can organize everything into folders, which gets stored in your Google Drive account.
The only downfall with Google Docs is when pasting your work over to WordPress, it carries over formatting and weird characters (that is, if you don't follow our guide on how to import Google docs to WordPress to help).
Try Google Docs
---
5. Notion
Notion hosts an entire suite of tools to help writers, bloggers, and project managers organize web page content, edit articles, and juggle multiple projects.
Documents feature all your typical formatting options, the ability to link between your work, and advanced folder organization.
It's a clean and minimal text editor tool with tons of other features if you need them.
Notion is web-based, with apps available for desktop, Android, and iOS.
It's also completely free for personal use and has a low monthly cost for professional users.
Get Notion Here
---
6. Dropbox Paper
Dropbox Paper is a rich text editor for creators and collaborating teams who want something similar to Google Docs, but need better multimedia integrations.
It's also a great option for those who already use Dropbox to store large files or want an alternative to Google Drive.
Its useful features include integrations with Dropbox, Airtable, Trello, YouTube, Spotify, and many more, all of which embed directly into your documents.
This can be particularly beneficial if you need to interact with the integrations you embed.
Coders will also appreciate Gist and GitHub integrations and syntax highlighting.
Collaboration tools also make this blog content editor great for teams. You can comment on individual lines of text, and writing from each collaborator is clearly marked by name.
Dropbox Paper is very minimal and distraction-free and a great solution for bloggers wanting somewhere to store the content away from their blogging platform.
Try Dropbox Paper Here
---
7. Zen
Zen is one of the most minimal and easiest text editors to use in your web browser.
It consists of a blank page, where you type, with a few simple setting icons to the right that disappear when you start writing.
It also shows your word and character count in the bottom left.
The settings let you switch between three different fonts, four color schemes, turn on typewriter sounds when typing, and toggle full-screen mode.
You're also able to print off your work and download as a .txt file.
Unfortunately, the site doesn't save or back up your work, it simply lets you write, and that's it.
It's a nice writing experience, but may not be practical for professional writers that need to access their work in one place.
Get Zen Here
---
8. Word Counter
Word Counter is a free online text editor that focuses on the number of words and characters you've written.
There are no formatting options, it's just a simple tool that displays information about your writing.
For example, the right-hand box has up to 19 metrics to choose from, including:
Avg. Sentence (words)
Avg. word length
Characters
Hand Writing Time
Longest Sentence (words)
Paragraphs
Reading Level
Reading Time
Unique Words
Words
…And several more.
If you create a free account, you'll also be able to set a writing goal and track how much you write over a certain number of days.
All the options can be toggled on or off depending on which ones you use or you can hide everything in the basic mode to focus on writing.
Try Word Counter Here
---
9. Calmly Writer
Calmly Writer has to be the most minimal web-based writing tool on this list. It consist of a completely blank page where you write.
Pressing F11 will put you in full-screen mode, leaving nothing but the text on the page.
You can format your text using markdown, or by highlighting text and selecting the options you want.
Then, to save your work, click on the lotus flow icon in the top left to reveal a panel of options.
Writing gets saved in your browser, but you can also download your work in .txt, .htm, and .docx format, or save it to a connected Google Drive account.
Calmly Writer is also available to download on Windows, Mac, Linux, and Chromebook devices, which gives you more control of your saved files and the ability to open multiple documents in tabs.
Get Calmly Writer Here
---
Best Text Editors for Blogging (Windows & iOS)
The following text editors, apps, and programs are available to download on Microsoft Windows, MacOS, and some mobile devices.
10. Obsidian
Obsidian is way more than a text editor. It's advertised by its creator as – a second brain.
Essentially, this markdown editor is used to take notes and interlink between them to help you develop an intelligent knowledge database.
This is great for bloggers because you can make internal connections between the content you want on your blog before publishing.
Obsidian uses markdown, a language which lets you format text by using simple characters like hashtags for headings and dashes for bullet points.
All documents created are stored on your device and there's an option to back up and sync your work in the cloud for a low annual fee.
If you have a lot of ideas for your blog content, Obsidian can make it super easy to visualize how they'll internally link together with the open graph view.
Obsidian is free and open source and available for Windows, Mac, and mobile devices.
Get Obsidian Here
---
11. iaWriter
iaWriter is another open-source Markdown tool for desktop and mobile. Created in Tokyo, the iaWriter interface was designed to eliminate distractions so you can focus on writing.
Features include a syntax highlighter to highlight words that could be improved and a style checker, which is like having your own editor-in-chief on your device,
Focus mode, which only focuses on the sentence you're working on, and Flexible Blocks let you swap sections around, add images, and so much more.
iaWriter is available for Mac, iOS, Windows, and Android for a low one-time fee and comes with a free trial.
Get iaWriter Here
---
12. Hemingway Editor
Hemingway Editor isn't just a text editor, it teaches you how to write better. It's available as a web-based version for free and paid desktop version for Mac and Windows.
It works by highlighting words, phrases, and sentences on:
Adverbs
When you're using a passive voice
If a phrase has a simpler alternative
When a phrase is hard to read
If a phrase is very hard to read
It's a visual way to know when you should change your writing. There's also readability grade score and stats on words and sentence count.
It's a great tool for beginner writers, but doesn't have some of the more advanced grammar, punctuation, and spell-checking abilities of ProWritingAid and Grammarly.
Get Hemingway Editor Here
---
13. OmmWriter
OmmWriter is a paid tool for Mac and Windows that turns your writing experience into one with peaceful and calming sounds and backgrounds.
Designed to help clear your mind, like a meditative practice, OmmWriter helps you think clearly so you can focus on writing.
You can choose from different backgrounds, like a snowy field or starlit sky, calm ambient sounds, and elegant font types.
It's a simple and stylish text editor without the bells and whistles.
Get OmmWriter Here
---
14. Ulysses III
Ulysses is one of the best text editors for blogging on an iOS device. It's a paid markdown text editor packed with powerful features.
This tool is perfect for people who love to write and want to better organize their work.
There's a built-in proofreader and editing assistant. It helps you focus with its distraction-free interface.
Ulysses can also turn your projects into attractive PDFs, Word documents, eBooks, and even blog posts, which is great for bloggers.
Get Ulysses Here
---
Best Text Editors for Blogging and Developers (Windows & iOS)
If you're a developer, you might prefer to use one of the following. These text editors offer extras like syntax highlighting, a common requirement for HTML and other programming languages.
15. Sublime Text
Sublime Text is a popular text editor, specifically tailored toward developers. However, it can be used by writers and bloggers.
Some useful features include:
Regex Find and Replace – Allows for quick navigation of files and lines of text
Python-based plugin API
Extensive customizations
Cross-platform – Windows, MacOS, and Linux
Auto-save to prevent users from losing their work
Customizable keyboard shortcuts
Spell check function corrects as you type
…And much more.
Get Sublime Text Here
---
16. Atom
The makers of Atom say it's "A hackable text editor for the 21st Century." This free and open-source desktop application is a source code editor for coders, writers, and bloggers.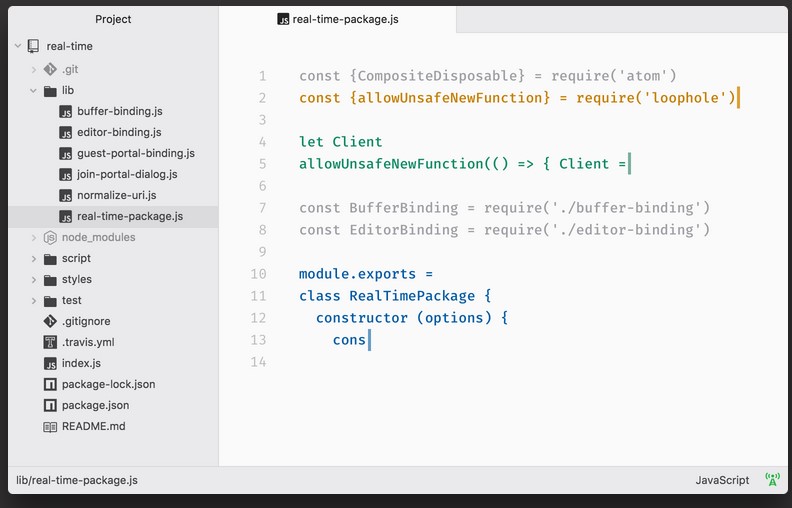 Key features of this popular text editor are:
Cross-platform editing – Works on OS X, Windows, and Linux
Smart autocompletion
Multiple panes
Find and replace
Packages – Choose from thousands of packages to add new features and functionality
Themes
Get Atom Here
---
17. Notepad++
Notepad++ is like the advanced version of your standard Windows notepad, only better.
It has all kinds of neat features, such as syntax highlighting, auto-indentation, and autosave.
Like the other coding-based editors in this list, it's ideal for developers or bloggers with an advanced skill set.
Get Notepad++ Here
Best Text Editors for Blogging – Conclusion
That concludes this list of the best text editors for blogging. Which of these blog editors will you use?
Finding the right one for you might take a little trial and error.
Grammarly is a great option if you need a full-on writing assistant, whereas Calmly or Zen are the most basic and minimal editors.
If you prefer a downloadable tool that you can use on multiple devices, Obsidian or iaWriter are excellent options.
Want to learn step-by-step how I built my Niche Site Empire up to a full-time income?
Yes! I Love to Learn
Learn How I Built My Niche Site Empire to a Full-time Income
How to Pick the Right Keywords at the START, and avoid the losers
How to Scale and Outsource 90% of the Work, Allowing Your Empire to GROW Without You
How to Build a Site That Gets REAL TRAFFIC FROM GOOGLE (every. single. day.)
Subscribe to the Niche Pursuits Newsletter delivered with value 3X per week