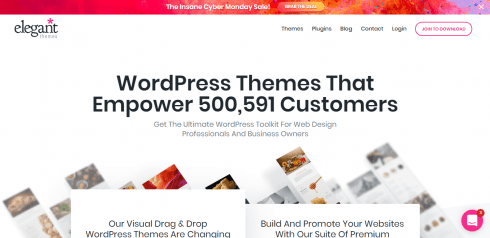 When you're building a WordPress site, there are several variables and moving parts that you need to be aware of.  One of the most crucial of these is picking the right themes and plug-ins. In fact, this highly critical point has a direct influence on a wide range of metrics.
For example, conversion rate, site speed, and search engine rankings are all impacted by the quality of the theme and plug-ins of the site. Needless to say; you should not take this step without careful consideration of all the key facts. In this Elegant Themes review, we will give you an in-depth look at what many consider the best WordPress theme developer in the industry today.
Check Out What Elegant Themes Has to Offer Right Here
About the company
When it comes to third-party premium tools for WordPess sites, one particular name comes to mind; Elegant Themes. This company has been gaining a lot of traction lately and its rise has been nothing short of meteoric. It has gone from a passion project of its founder to a true industry giant.
It has managed to establish itself as a market leader thanks to a number of high-quality themes and great plug-ins. But is the hype really justified? Are their tools worth the asking price? Let's dig deeper in to find the answer.
The plans

The company offers a wide array of products that consist of more than 80 themes and 3 plug-ins. At the moment, there are two plans; yearly access to all digital products at just $89/year, and a lifetime plan that will cost you a one-time payment of $249.
Both plans give you access to all themes and plug-ins, premium updates, as well as state of the art customer service.
The themes
Our Elegant Themes review will focus on two themes; Divi and Extra. While the plans include access to more than 80 themes, these two have been the flagship themes for the past five years.
As a matter of fact, Elegant Themes allocates the lion's share of its resources to regular updates for Divi and Extra.

Introduced in 2013, Divi has become the main focus of the company's efforts. Its creation was an attempt to design the most complete multipurpose theme on the market. It boasts a number of features that are unique in the space and comes with high-quality graphics and a powerful page builder. 
More importantly, this theme is remarkably versatile and works for various applications that range from e-commerce stores and business pages to regular blogs and small niche sites. The simple panel coupled with the intuitive layout makes this theme an ideal choice for beginners.
Despite its relative simplicity, Divi is still a great option for experienced web designers. This is mostly due to the plethora of available templates as well as the highly flexible page builder. Users who like to personalize every little detail of their site will like how customizable the layouts are.
Thanks to the drag-and-drop tool and front-end user interface, you can expect full control over the design of your site. Besides that, advanced users also have the option of building their site from scratch within the builder if they want to, or they can even take it a step further and get their hands dirty writing pure HTML, CSS and Javascript code to achieve a whole new level of customization.
The theme features more than 32 templates and around 50 different modules in its library. Consequently, this large framework allows you to unleash your creativity when it comes to creating unique pages, and contributes to streamlining the design process.
Security
Security should be a top concern for anyone operating a site that gets a lot of traffic. While the WordPress platform is fairly secure, some poorly designed add-ons and plug-ins can still pose security threats for your site.
With this in mind, you can rest in the knowledge that Divi's code passed all code audits with flying colors and none of the major security tools have found any flaws in its framework. Moreover, Divi undergoes frequent updates and the integrity of its system is always maintained by the developer.
Divi theme tutorials
On top of a friendly and qualified support team, the company provides good tutorials for the Divi theme.  Novice users will have access to an extensive set of documents and tutorial videos that walks them through every step of the setup process. All you need to know is detailed in an easily digestible manner and grouped in different categories that include a general introduction to the basics, a complete look at the Divi modules, and a guide that explains how to use the page builder.
Whether you are a savvy internet marketer, web developer/designer or a complete novice, you really can't go wrong with the Divi theme. It covers the full scope of web design and allows inexperienced users to easily create decent-looking websites in a few minutes. Furthermore, the theme is compatible with a host of tools such as WooCommerce, Aweber, MailChimp and Google Maps. Divi is essentially a one-stop shop for all your website needs, and for the price, you are getting more value than what you pay for.
Review of the Extra theme

Extra launched shortly after the release of Divi. This theme boasts the same baseline qualities as its better-known counterpart; with the main distinction being that Extra is specifically tailored for blogs and magazines.
Elegant Themes made sure to include all the key tools that are necessary for creating a well-optimized news page.
The layouts offer you a lot of options as it pertains to organizing your content in an efficient and professional manner. Additionally, you can display short previews of your content in the form of fully customizable news snippets.  
A major aspect of the Extra theme and a huge reason why it quickly became the most popular WordPress news theme is its well designed and image-heavy layout.
Savvy marketers have long known that the proper inclusion of images in their content is a great strategy that has proven effective when it comes to boosting user engagement.
Extra enables users to leverage the use of images to the maximum extent and helps them create attractive posts that can pique the interest of visitors and keep them engaged. In an era where the click-through rate is king, The Extra theme is the perfect tool for enticing visitors to engage with your content.
Extra and the Divi page builder
Another great feature of Extra is its compatibility with the Divi page builder. The intuitive front-end drag-and-drop user interface allows you to customize the theme's templates with extreme ease.
Moreover, the Divi builder comes with a full library of modules that can be effectively utilized to craft specific designs for each piece of content on the site. As far as content marketing strategies are concerned, this approach is in line with what most of the major online news outlets are doing these days. Short of hiring a dedicated web designer, the Extra theme is your best bet if you want to match the design quality of some of the bigger sites.
The combination of the Divi page builder and the Extra theme makes for an ideal layout for a news site. Extra's ability to provide a seamless blend of well-structured text and strategically positioned images is perfectly geared towards presenting content in the most professional manner possible. Even if you opt not to use the builder, the layout templates are more than capable of doing the job.
Versatility 
While this theme was mainly designed for magazines and blogs, it is still versatile enough to cover various other applications. For example, its compatibility with the WooCommerce plug-in allows you to create an e-commerce store with a few clicks. Some of its templates are also suited for freelancers who need to display work samples on the front page.
All things considered, the Extra theme is the right choice for everyone looking to create a nice-looking content-rich website, especially if using a news/magazine format is planne. Like all products from Elegant Themes, it comes with a complete set of tutorials that expand on every single aspect of the theme and is backed by the company's renowned technical support. On top of everything else, and much like Divi, it's a great value for money.
Other themes
As we previously mentioned in this Elegant Themes review, Extra and Divi aren't the only themes that are available to users. There are around 85 other themes that boast a lot of the same qualities as the two flagship products. However, these themes are not as versatile as Divi and Extra. This is not to say that they are subpar, in fact, they are quite well optimized and responsive.
Still, the level of support that they get from the company is not comparable to that of the two main themes. It's advisable that you stick with Divi and Extra if you want to get the most out of your Elegant Themes subscription. 
Here is a brief overview of some of the other themes that we found interesting:
Chameleon
This is one of the most basic options in Elegant Themes' selection. Just like the reptile whose name it bears, it boasts a wide range of colors and patterns. It is easily customizable and requires no technical prerequisites to utilize. Overall, this theme is ideal for small niche sites that don't a have a lot of content.
Flexible
This theme is remarkably sleek and professional-looking despite its minimalist design. Its primary application is helping users produce a well-structured portfolio that places the emphasis on work samples. It keeps superfluous design elements to the minimum which contributes to positioning your work at the forefront of the website. 
Want To Build Smart & Relevant Internal Links...Quickly?
Link Whisper is a revolutionary tool that makes internal linking much faster, easier, and more effective.  It makes it simple to boost your site's authority in the eyes of Google. You can use Link Whisper to:
Bring out your orphaned content that isn't ranking

Create smart, relevant, and fast internal links

Simple yet effective internal links reporting: what has lots of links and what pages need more links? 
Click here to revolutionize your site's way of doing internal links
Foxy
This is a tremendous option for businesses of all sizes. Foxy comes with e-commerce integration and all its design elements are geared towards boosting user engagement and conversions. The layout is relatively simple and balanced and the overall responsiveness of the theme makes it worthy of your consideration.
Fable
The layout of Fable is perfect for blogging. It enhances the visual aspect of the content through effective post variation and creative patterns. Furthermore, it boasts a very spacious and wide long-format style that makes reading enjoyable for visitors. This is a perfect theme for bloggers who like to post long stories on their site.
Origin
This theme is grid-based and focuses heavily on images. Thanks to its clever use of imagery, it is able to create a unique user experience that revolves around engaging storytelling. This quality allows it to work in various contexts that include, but not limited to; showcasing artwork samples, sharing long-form stories, and posting digital photo albums.  
Aggregate
This is one of the most feature-rich themes on this list. It comes with a plethora of content and widget-ready areas and its magazine-style layout makes reading extremely easy and pleasant. Furthermore, this theme is responsive and well optimized for showing ads from programs such as Google's Adsense.
Nimble
When it comes to catchy designs and beautiful layouts, few themes can match this one. The colors are quite vivid and balanced and the layout has managed to successfully combine style and function without compromising on either one.  This theme looks just as great on mobile devices and small screens as it does on a desktop.
StyleShop
As the name suggests, this is a stylish-looking e-commerce theme that provides you with all the necessary tools to create and manage an online store. The layout is mobile-friendly and features some of the best design elements that we have ever reviewed. While it does not offer the same level of creative freedom as Divi, it is still a decent option. If you want to get a small store up and running as quickly as possible, this theme might be good enough for you.
See All the Elegant Themes Here!
The plug-ins
The two Elegant Themes plans give you access to a number of great plugins. These tools are effective when it comes to helping you design your site, build email lists, and manage social media. The plugins have a wide range of use and encompass everything that you need to run your website. Below is a closer look at what these tools can offer.
The Divi builder

This is the crux of Elegant Themes plans. This tool allows you to modify the template layouts without needing any coding skills. Unlike most premium themes, the Divi builder has an intuitive drag and drop interface that is easy to use. This plug-in allows for endless layouts and is compatible with all themes. These unique qualities have positioned Divi as the most effective page builder on the market.
The first thing that jumps at you when browsing the features of the plug-in is the sheer number of modules. It comes with 46 content modules that encompass almost everything that you could think of from simple text and images to complex animations, pricing tables and more.
These modules are building blocks that you can arrange in an infinite number of ways to create any type of website. The configuration process is rather simple and you can expect to complete it in mere seconds.
The panel of the Divi plug-in gives you full control over every little aspect of the website's design. You can modify everything from the texture, the colors, and assign different typography for each piece of content. This level of customizability is simply unmatched and it's what you need if you want a fully personalized site. As said earlier, Divi also supports custom CSS if you're advanced user and that's your cup of tea.
The controls
A major selling point of Divi is the multitude of convenient and practical controls that you can find in the interface. With just a few clicks, you can create complex column structures that are typically only created with advanced coding.
Another good feature is the ability to duplicate any design element with just one click. This time-saving function is especially valuable because a lot of layouts tend to share some of the same basic elements.
Spacing controls are another strong suit of the Divi plug-in. Proper spacing is what differentiates professional-looking websites from the average amateur blog. Regardless of the quality and structure of an article, the content looks off if the appropriate spacing is not implemented. Divi's controls cover everything from row vertical spacing to row and column widths.
The library 

Managing the Divi builder's library is easy and quite fun. It works as a database that you can use to save layouts, modules, and collections of rows. Having all these elements stored saves you time and effort when you are creating new sites. More importantly, you can access the library from any page through the Divi builder interface. Rather than building pages from scratch, the library puts a ready-to-use toolkit at your disposal every time you need it.
The Bloom Email opt-in plug-in
Email marketing is still as effective as ever.  Every business needs to implement an efficient mechanism that converts visitors into leads. To help their clients achieve this, Elegant Themes launched a plug-in that handles email marketing in a practical manner.  Bloom allows you to present unique offers to your visitors based on a wide range of factors. Moreover, the offers are beautifully-designed and are likely to catch the eyes of your visitors. 
Bloom gives you 6 display types to choose from. Each one is ideal for a specific targeting configuration and you can place it anywhere on your site. Here's a brief look at the various display types:
Automatic Opt-In Pop-Up

This is a powerful lead generator that appears when the user reaches the bottom of a page. This opt-in pop-up can also be activated by time delays.
Automatic Opt-In Fly-Ins

This is an effective tool to entice visitors to sign up. It pops up every time a user interacts with a specific page of your choosing.
Inline Opt-In Forms

This type of opt-in is more location-oriented than the previous two. You can insert them in the content through a shortcode in the post editor.
Below Content Opt-In Forms

This is a perfect option for pages with long-form content. You can place the form below the content so that it does not distract visitors.
Widget Area Opt-In Forms

Sidebars and other widget-ready parts of your site are perfect for opt-in forms. Bloom creates widgets that you can easily add in those areas.
Require Opt-In To Unlock Content

This is a good option to generate leads if you are confident about your visitors' level of engagement. Bloom will block the content until the visitor enters an Email address.
Bloom handles 16 different email marketing integrations. The list includes some of the biggest names in the industry such as MailChimp, AWeber, iContact, Emma, Hubspot, and Feedblitz. Integrating Bloom with one of these tools ensures smooth passage of your leads from Bloom to your preferred email marketing service provider.
What sets Bloom's opt-in forms apart from the rest is the quality of the design. The color patterns and shapes blend in seamlessly with the rest of the site which is essential to increasing trust. Visitors are less likely to click on a pop-up that looks out of place in a page.
Bloom lets you pick a layout from more than 100 pre-made templates. Additionally, it gives you a wide range of customizability and you can adjust most aspect of these forms to your liking.  You can pick the exact orientation of the pop-in depending on where you want to the form to appear. Some of the other details that you have control over include border, edge, and text content.
Social media should be at the heart of any content marketing strategy. Monarch is a plugin that helps you boost your visibility on social media by facilitating the sharing of your content. This presence on major platforms leads to more traffic and higher SERPs positions. Monarch has the ability to leverage the benefits of social media without requiring any effort on your part.
You can add the Monarch sharing icons in different locations on a page. The most common one is the floating sidebar that displays the buttons in a vertical fashion next to the content. This option is extremely effective due to its discrete design and sleek layout. Other locations can be just as effective depending on the type of website and page. For example, placing share buttons below or above an article is advisable for content-heavy pages.
Like all Elegant Themes products, most of Monarch's elements are customizable. It offers you a wide selection of shapes, colors, and effects that you can combine in order to create unique designs. You can also pick the orientation of each icon and display relevant info like the social network's name and share counts.
The share buttons are responsive and designed to work effectively on all devices. From an aesthetic point of view, the icons look just as great on mobile as they do on a large screen. Speed wise, loading through the site is perfectly optimized to ensure lightning fast engagement.
The dashboard
The Monarch dashboard gives it a huge edge compared to other plugins on the market. The settings are easy to use and manage and the panel gives you easy access to valuable insights. You can use the dashboard to configure all the basic display elements as well as crucial aspects such as column structure.
If you own multiple sites, you will find this plug-in to be very helpful. It boasts a built-in system that allows users to export and import data. This comes in really handy when you are switching between sites and need quick access to your monarch data.
Sum up: The pros
The tools are ideal for novice users and those with limited or no coding skills.
The value that you are getting for the price is extremely competitive.
Divi and Extra are great for multi-purpose use.
The graphics are quite amazing.
The products are compatible with most third-party plugins and themes.
New clients get a no-risk 30 Day Money Back Guarantee.
Flagship products are constantly updated.
Each product has a set of detailed and easy to follow tutorials. 
The drag and drop interface is effective and easy to use.
Sum up: The cons
Divi and Extra are the only themes that are regularly updated.
The number of plugins that come with your subscription are limited.
The drag and drop builder may not cut it for some very advanced users, they will need to do a lot of coding to get things looking exactly like they want if they're picky.
The bottom line
As we have outlined in this review, there are several reasons why you should consider signing up with Elegant Themes. The tools that are at your disposal are very effective and easy to use. They help you manage various aspects of your site in a practical manner and allow you to focus on what's important; improving the quality of your content, marketing it, serving your customers better…etc.
With access to 87 themes, 3 plug-ins, and lifetime updates, you will have a hard time finding a better deal. Regardless of your level of experience, if you're going for WordPress and are considering the themes on the market, you can hardly go wrong with Elegant Themes.
Try Elegant Themes Right Here!
---