How to Make Money on Amazon – Step By Step Guide To The 11 Best Ways
When you buy something through one of the links on our site, we may earn an affiliate commission.
You probably already know that Amazon is growing like crazy. No one does the level of business that they do.
Today we're going to break down how to make money on Amazon. We'll do this by diving into 6 opportunities you can use to get in on the phenomenon that is Amazon.com. 
Why Try to Make Money on Amazon? 
Amazon is both the present and the future of retail, and those trends have unfolded right before our very eyes. 
What started as an online bookstore has now turned into a one-stop shop for consumers. 
In addition, people are starting to learn how to make money on Amazon as it turns to 3rd party sellers in various ways (and there are lots of great ideas for how to make money on Amazon without selling).
Back in 2015, Amazon surpassed retail giant Walmart in size and value.
Amazon would soon after break its own record on Cyber Monday just a couple years later, selling more products (hundreds of millions of them) than they ever had before in a single day.  
The Amazon sales numbers have only continued to shoot up from there. 
The trend of online shopping has also affected other traditional retail stores. According to this NASDAQ article, while the war between online versus traditional retail enters a new round, the latter no longer hires as many employees.
Also, malls nowadays are much emptier. It's kind of spooky if you grew up a kid in the 90s and haven't been back to one in years.
The reason for the shift of consumer behavior comes from the power bestowed upon the customers. Back then, they were at the mercy of retail stores as they drive from one store to another, hoping to get the best value.
Nowadays, consumers can sit back at their homes while flipping through different online stores.
The convenience of online shopping is evident in this Wall Street Journal article, as sales continue to grow annually since 2014.
If you want an even longer-term look at the numbers we have you covered. Take a look at this excellent look at retail sales vs. online sales since 2007:
Source: Digital Commerce 360
More importantly, a 2,000-person survey conducted by BloomReach reveals that 55% of users search on Amazon first for their online shopping needs, 27% more than Google.
Now, you may be asking yourself, "What do these all mean to me?"
The statistics above only prove that there is serious money to be made on Amazon!
As the trend of online shopping continues to become more of a fixture, you need to ride the Amazon wave now before it's too late.
Today, I'm going to share how you can make money on Amazon…in 6 different ways.
In fact, a lot of people have earned thousands of dollars, some of which will be featured below.
1. Make Money As an Amazon Affiliate
Amazon Associates is its affiliate program (AKA "Associates program") that lets you earn up to 10% per commission for every product that you sell.  Now, I've shared many examples of Amazon affiliate websites; including all the niche site projects.
Because of its ease of use and the fact that Amazon sells almost everything, it's an excellent way to break into the affiliate marketing world. 
Once you sign up for free, as an Amazon Associate you can begin choosing which products to sell. To earn commissions, you need to place your affiliate link to the product using a unique tracking ID when selling it.
This way, the sale will be credited to your account. It's basically an online referral fee.
Selling an Amazon product can be as simple as sharing the link on social media and your blog.
However, becoming a profitable Amazon affiliate takes time, effort, and lots of planning (check out our article on how to become an Amazon affiliate).
In fact, I have covered a lot of articles that prove the possibility of making big bucks with Amazon Associates.
One of those articles covers how I was able to make $3,000 a month a year after launching my Amazon niche site.
Let's talk about a couple of simple strategies you can use to start earning more Amazon affiliate commissions.
Focus On Higher Commission Categories
The amount of commission you make from sales on Amazon has always varied.
In the past, it was based on pure volume of sales.
So if I sent 10 sales to Amazon in a month, I might make a 4.5% commission. But if I sent 2,000 sales to Amazon – I might make 8%+ commission on all of those sales. 
In February of 2017 Amazon changed their commission structure significantly, so the variable rate was based on the product category. Not the volume of sales you referred. 
This has been the system that the Amazon Associates program has worked off of ever since.
Updates will sometimes change the payout amounts for each category, but this percentage system is how the Amazon affiliate marketing program continues to work.
Here's a look at the commission breakdown as of the most recent update: 
Since these numbers can change over time, you can check for the most updated rates from Amazon here.
As we've highlighted – you might have a niche website or blog about toys which sends people to Amazon to buy the latest and greatest toys for kids. When someone buys that new Disney action figure, you're only going to make a 3% commission. 
However, if you're promoting something like handmade items you get 5% or even 10% from luxury beauty products. 
That's a huge difference in the amount of money you can earn. 
So if you're still at the starting point and determining which niche to go into, look for one where you can take advantage of the higher commission tiers. 
Use Amazon One Link
Have you ever taken a look at your Google Analytics reports to see where your website's visitors are located? 
You may assume (like I did for a long time) that since you're in the US, targeting keywords based on Google US numbers, and writing in "American English", virtually all of your visitors are also in the US. 
You might be surprised. 
In Google Analytics, click on your "Audience" and then look at the "Geo" report to see something like this: 
Notice on my site that under 70% of visitors during this time period came from the USA. 
What I've found is that if your site is in English, you'll likely have a good bit of traffic from the UK and Canada since they share the same language. 
The problem is if your visitor from Canada clicks on your Amazon affiliate links to an Amazon US product, they have to leave and go to Amazon Canada to buy it. Which means you no longer get a commission. 
Amazon One Link to the rescue! 
In 2017 Amazon released their own free solution to this problem, called One Link. It is simply a piece of code that you copy/paste into the footer of your website or blog.
With that code in place Amazon will detect the country your visitor is from and direct them to the appropriate place. 
The best part is – now you can still get a commission! 
There are some initial steps to take to get this going, like signing up for the Amazon affiliate program in Canada and the UK.
But it's a very straightforward process that might take you 30 minutes. 
If you're getting 10 – 15% of your traffic from these countries, doing this one-time setup will be well worth it.
It's one of the easiest ways for an Amazon Associate to increase their affiliate income in just a few minutes.
Click here to learn more about installing One Link. 
Target Buyer Keywords
It's one thing to get people to click on your Amazon affiliate links, but it's another thing to get them to convert into a buyer. 
A click earns you nothing. You only get paid when people buy something on Amazon. 
Since the entire transaction is out of your control, you should worry about what you can control. 
One of the easiest things to control is the keywords you're focusing on with your content. 
Specifically, writing articles on topics that suggest buyer intent – AKA "buyer keywords." 
An example might be – "Best Samsung LED smart TV under $500." 
This is much more specific, and shows more buyer intent than a search like "best smart TVs." 
Why is it better? 
The main reason is because this searcher already knows what they want. The want a Samsung. They want an LED Smart TV. They want to pay less than $500. 
Now when you write an article comparing just the models that fit their criteria, you can show only the most relevant results. 
When the search is more generic like "best smart TVs" you really don't even know if they have a brand in mind, if they need to stay within a certain price range, etc. – so your job of matching them up with a TV that they'll actually go straight to Amazon and buy is much more difficult. 
So if you want to turn the dial up on your conversion rate, then focus in on more specific keywords. 
This will help turbo charge your Amazon affiliate marketing efforts. It certainly speeds up the process of building a passive income via Amazon!
Key Takeaways
Research your niche – To maximize your Amazon earnings, you need to build a site where you can sell the products. More importantly, you need to determine the niche your site will be about. Some niches will be much more profitable than others. On the other hand, the high-earning niches may not be in line with your hobbies or interests. Therefore, you need to find the perfect balance between profit and passion so you can sustain the site until it makes money.
Find the right keywords – If you want to rank your website on search results, you should be aware that not all search queries are the same. There are those that will be difficult to rank for but will potentially give you the most sales. In this case, I always use Long Tail Pro to help me find profitable keywords that have the least competition.
Develop a link building strategy – To boost your search rankings to the top, you must devise a link building plan using different tactics. Guest posting and influencer marketing are some of the better tactics you can use since both piggyback on the success of others. By guest posting on sites will lots of followers, you can tap into its readership and get them to visit your site in the hopes of converting them. Also, getting positive feedback from influencers in your industry lets you rub some of their authority onto your site.
Want more? Click here to read our full guide to maximizing your Amazon affiliate commissions.
2. How To Make Money Selling Private Label Products via Amazon FBA
I've now been selling private label products via Amazon for a couple of years now.  The potential to make money with the Amazon FBA program is huge.
In fact, there's "make millions of dollars a year" levels of potential.  In fact, check out some of these Amazon Millionaires. However, it all comes down to figuring out what to sell on Amazon.
In a nutshell, you actually need to create a product, find a manufacturer, and start selling that product on Amazon.  It's actually not as complicated as it sounds.
This method is different from "retail arbitrage" in which you purchase cheap products and selling them at a higher price. By selling private label products, you get more control on how your products are sold.
If you choose your products correctly, there is also less competition, thus giving you greater profit in the long run.
Once you have the product on hand, you can upload the details on Amazon so users can buy it from there.
Aside from being the biggest online retailer in the world, Amazon will take care of packaging and shipping your products to customers. Fulfillments by Amazon (FBA) lets you worry about growing your business since it does the rest for your clients while also scaling your performance.
By selling private label products and Amazon FBA, I sold over $4,400 worth of product within 30 days. 
As things grew, I sold over $750,000 in the first 2 years of selling my own products on Amazon. Ultimately, I was able to sell the business for a $425,000 pay day after only being in business for 2 and a half years.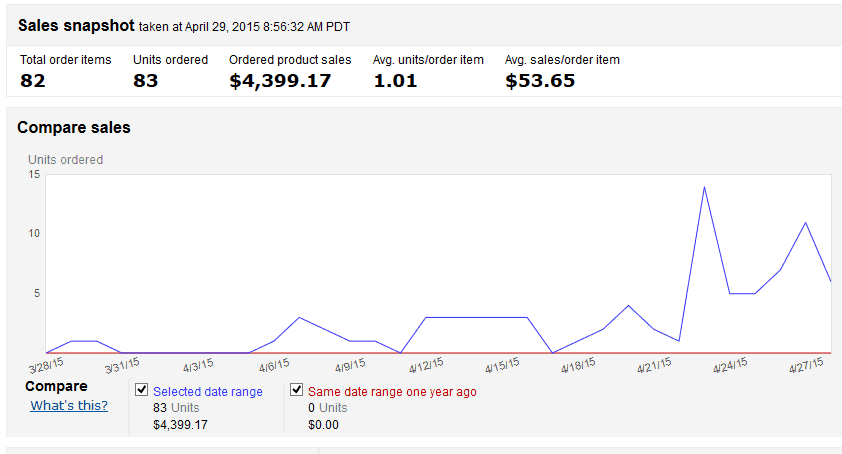 I actually interviewed Chris Guthrie, another successful seller, about his process which you can listen to here.
We've also written a very in-depth guide to selling on Amazon here, if you'd like to take a deep dive.
Here are a couple of key points to get you started: 
Do Something Unique
It is so hard to sell "me too" products on Amazon. These are simple widgets (easy to knock-off) that you simply slap your logo on and say "I sell that too" (along with 274,000 other people). 
It's just very difficult to get noticed and get traction when you have no distinguishable difference between your product and the competitors. 
Instead, you're better off finding some unique, desirable feature or improvement you can make to an existing product so you have a chance to stand out from the competition. 
From a buyer's point of view, seeing the same picture on six "different" brands is frustrating, as well. If your Amazon listing sticks out it is more likely to get clicks, which makes it more likely to be a winning product. As long as you take care of quality.
On easy way to get some ideas is to go to Amazon and start reading product reviews.
Often buyers will leave really good constructive feedback about where a product is lacking, which is a great opportunity for you to put those suggestions into action with your own private label version of the same kind of product. 
Tip: You can search reviews on Amazon for words like "Wish" (shown below) "Suggest" "Suggestion" "Improvement" and quickly find helpful reviews.
Have The Right Tools
You may have what you think is such a brilliant, slam dunk idea that is sure to land you on Shark Tank in the next 12-24 months to strike a lucrative deal with one of America's preeminent business people. 
The problem is that unless we have some reliable tools to evaluate our idea, we really have no clue how well it might sell on Amazon. Or elsewhere, for that matter. 
So you owe it to yourself to not get too emotionally attached to your idea until you've checked it out in a few places. 
FBA Calculator – This free tool is helpful for getting an estimate of how much your fees will be when you do sell on Amazon. Simply find a product that is very similar in size to yours, input a realistic retail price and then click "calculate" to see how much you'll actually net. 
Helium 10 – We didn't start using this until late 2017, but it's become our go-to product for researching product demand and competition on Amazon ever since. There are a ton of features, but pay attention to the Cerebro tool which shows what your competitors rank for, how often those terms are searched in Amazon, and approximately how hard it will be to get your new product on page 1. Invaluable information for any private label product business on Amazon.
Jungle Scout – This tool isn't perfect. But it's still a quick and easy way to get sales volume estimates of products on Amazon (and if you're ever curious there are lots of Amazon sales estimators out there). Why does that matter? If the #1 search result for your primary keyword is only making $2,000 per month, is it worth the time and money to launch a product going after that same market? 
Key takeaways
Pick a product that will sell – You need to conduct keyword and market research to see if your private label product will sell or not. WebRetailer provides a general checklist of factors that you need to consider when determining your product.
Sell low at first – To gain traction from the market, sell your product at the lowest possible amount. With a low barrier of entry, not only will more people purchase early, but they will also leave their reviews. Which you can then leverage for social proof and more sales in the future.
Want more? Click here to read our full guide to selling on Amazon.
3. How To Make Money On Amazon FBA With Retail Arbitrage
As mentioned earlier, retail arbitrage lets you determine inefficiencies in the market by marking up low-cost products on Amazon. You may also want to consider Online Arbitrage with Amazon.
Some products are more expensive when sold on Amazon due to factors like availability in your region, convenience in buying from Amazon, and others.
Unlike private label products, retail arbitrage products are products that already exist and are readily available at local retail stores. All you need to do is purchase and ship them to be sold on Amazon.
You can reap the benefit (and profits) once users buy them.  This is also known as becoming a reseller on Amazon.
Retail Arbitrage Example
Perhaps a simple way to illustrate this would be to share a real example. 
Skyline Chili is a Cincinnati-based restaurant that also sells their product in local grocery stores. Skyline is one of those places that if you visit Cincinnati, everyone will tell you that you have to try it. 
If you happen to like it, you're probably out of luck for buying it when you get back home to Boston, or wherever you actually live. So if you're going to buy online, you'll probably search Amazon first right? 
So in this example, 4 packs of Skyline sell for $24.99 on Amazon but here at our local grocery stores like Sam's Club, we can pick them up for about $11 – $12.
In the retail arbitrage game, I know that I can buy for $12 and sell for $25. That means I can make a few dollars of profit for myself after all the Amazon fees. 
Retail Arbitrage Advantages
One of the biggest advantages to retail arbitrage is that you can start REALLY small if you want to. You could find a really good deal on a toy or a personal care item at your local Target and buy just one of them, send it into Amazon FBA and sell it for a marked up price. 

[su_note]

If this sounds interesting and you have a ton of questions coming to mind, check out our full guide to retail arbitrage here.

[/su_note]

Another advantage is that you can start today! 

No need to wait on product samples, design logos, and all the other things that make launching a private label product so time consuming.

In this case, if you can go find amazing deals at your local stores on products that people already buy on Amazon, that's just about all you need. 
Disadvantages of Retail Arbitrage
There are also disadvantages with the retail or online arbitrage strategy. 
One of the big ones is that your competition changes so quickly. To go back to my Skyline example. Let's say if I sell my products for $24.99 I am making $3 in net profit per sale. 
What if one of my competing sellers finds a better deal, is willing to take less in order to have the buy box on Amazon, and decides they'll sell for $22.99?
Now I have to either match or beat that price in order to stay competitive, or just wait and hope they sell out. 
The same goes for when Amazon starts selling a product against you. The best retail arbitrage opportunities are when you're competing against other third party sellers.
Because it's a level playing field.
However, if Amazon decided that Skyline Chili sells so well that they want to start buying and selling it directly, they'll probably have a retail price similar to your local store. 
Imagine if you bought 100 units to sell and out of nowhere you're competing against Amazon who can offer a much lower price!
That's the risky nature of doing retail arbitrage.
Despite the disadvantages, retail arbitrage is still an excellent side hustle and a fantastic way to get you in the Amazon seller ecosystem. I know people personally who make what many would consider a full-time living from just doing online arbitrage.
Like anything else, the more you do it the better you get at finding deals and perhaps more importantly – avoiding the bad deals. 
Key Takeaways
Use a scanning app – Instead of manually doing your research, tools like Inventory Lab let you find out how much money you can make before you buy the product. Sure you'll look a little weird walking around a store and scanning barcodes, but I'd rather look weird than to find out I'm going to lose money trying to sell that product on Amazon. 
Gateway to private label products – Truth be told, you likely won't earn as much in retail arbitrage as you would selling your own products. At best, this approach is a great way to acquaint yourself with how to sell products on Amazon. Ultimately, you will want to earn more, which will encourage you to move away from this method to a more profitable one.
4. How To Make Money Dropshipping By Selling FBM On Amazon
If you choose to pass on Amazon's FBA program, you might could consider fulfilling your orders yourself. This is called Fulfilled By Merchant (FBM).
If you choose to sell and fulfill the orders yourself, you're going to get a much bigger portion of the profits.
Here are a breakdown of Amazon's current fees for FBA sellers.
You can see that not only does Amazon charge you to sell the item, they charge you to keep it in stock too. This can cut into your FBA profits in a big way.
So what can you do?
Pass on Amazon FBA and dropship your products from your home. This operation isn't as easy to scale, but can be a huge money saver if you're just getting started.
Prepare for a lot more work than Amazon FBA. But you can also expect a bigger chunk of the profits. 
This is a good option for those starting out or for someone who wants a closer tough on your product. You can maintain contact with your customers, do your own promotion, and leverage the power of Amazon to sell your product.
Key Takeaways
Avoid FBA Costs – Amazon FBA charges you a pretty hefty chunk for anything you sell on the platform. From storage to actual fees, they get a big commission of all your sales. You can avoid this by dropshipping from your home
Higher Work Load – Fulfilling the orders yourself through FBM will be a bit more challenging. You'll have to deal with shipping the product, contacting customers for reviews, and dealing with returns. But the potential payoff can be worth it.
5.  Merch by Amazon
Merch by Amazon (aka Amazon Merch) is the online retail store's answer to sites like Etsy and Zazzle. You upload your design on the platform and use its promotional tools to make sales and profit.
While its competition has a larger foothold in the market due to years of existence, Merch by Amazon holds the advantage of millions of Amazon users at its disposal.
The designs will be searchable from Amazon, which draws the attention of existing Amazon customers.
At the moment, Merch by Amazon is not open to the public. You can only sign up and request an invitation in the hopes of getting an account soon.
For a rundown on how to make this business work, I'd suggest checking out this guest post on Niche Pursuits about how Neil started making over $10,000 per month selling t-shirts on Amazon. 
Key takeaways
Research for your t-shirt niche -T-shirt research software like Merch Informer will help organize your data and provide metrics so you can identify which t-shirt designs to sell.
Use optimized colors for t-shirts (or other products) – According to the case study, the four most popular t-shirt colors sorted in the display are black, blue, gray, and navy blue. Make your design compatible with these colors to increase the chances of people purchasing your design.
Feature keywords on title and bullet points – Find the most relevant keywords to your design and include them in both sections of your product details page. Also, put yourself in the shoes of your customers to know keywords that you would type that will get you the results you want.
Getting the right designer – Find designers on Upwork to get the biggest bang for your buck. To attract good designers, be as detailed as possible in your project description. Also, promise them steady work over time and give 5-star reviews if you like their work.
6. Make Money Self Publishing books via Amazon Kindle
Freelance writers struggle with the problem of clients. They need clients who will supply them with paid work. Without clients, writing will be nothing more than just a hobby to them.
The Amazon Kindle Direct Publishing allows writers to profit from their self-published work without relying on clients for their income. You need to upload your work on Amazon and sell the book from there (and you can also promote it on your site using WordPress Amazon book plugins).
Now of course, you need to start marketing your book.  Most books won't sell unless you promote it and start getting reviews.
If you want to see the steps I recommend for launching a book on Amazon Kindle, read this guide I wrote: how I earned $100 a day by self-publishing a Kindle book on Amazon.
Key takeaways
Use your book as a lead generation tool – Create a page on your site that provides buyers of your book access to free resources relevant to the book's topic. Place the link to the page in the first few pages of your book. To download the resources, they need to enter their name and email first.
Prepare a follow-up book – True profitability as an Amazon Kindle publisher lies in your ability to publish more than one book. The idea is to build a library of books related to each other to increase the chances of your reader to purchase another title from you.
Develop smart pricing strategy – After getting your self-published book listed, introduce it in the market for free in its first few days to gain traction. You can proceed with marking up the price for less than a dollar for a week to drum up interest. Once you feel that the hype has peaked, increase the price again to its normal price.
7. Amazon Flex
Amazon Flex is a program where you can deliver packages for Amazon. This is how most of Amazon's Same Day Deliveries happen in cities.
You can make about $18-$25 per hour with Amazon Flex, which is pretty awesome.
There are opportunities to deliver for Amazon 7 days per week in many places and you choose your own schedule.
To get started, sign up for Amazon Flex. You will be using an app on your phone to set your shifts.
The app gets you to scan your packages, pick them up, reach your destination, and check your earnings.
Any car works if you're delivering for Prime Now but some jobs may require a 4-door sedan or larger. Amazon works with you on this and ensures that you're only delivering packages that your car can handle.
8. Work On Amazon Services
Amazon Services is Amazon's response to popular websites like Craigslist or TaskRabbit. Amazon Services is a place where shoppers can find handy people of all kinds.
You can put up your services as a carpenter, plumber, or even a furniture mover. There are tons of services available to choose from when you apply.
This is a great option for someone who has a skill but doesn't like having a boss. It's a great way to allow you to use your handy skills as a side gig.
You are allowed to choose your skill, pick your jobs, and work when you want so this is ideal if you need a flexible schedule. Amazon takes about 15-20% from any listing, so you don't get the full cut.
Keep that in mind when setting prices.
But you get your services in front of millions of people on a trusted marketplace. That's worth a lot.
You can apply for Amazon Services here. Once you're approved, you get access to the app where you can choose your jobs, set your schedule, and get paid.
This is a great option to make money with Amazon without needing a product idea or an FBA business.
Key Takeaways
Work as a side gig or full time – Amazon Services allows you to pick your own schedule, so you can do it when you want.
Do what you do best – This platform allows you to leverage your existing skills so that you can take your talent to those who need it
9. Work On Amazon Handmade
Amazon Handmade is similar to Amazon Services, but it's more like Etsy in how it works. To work on Amazon Handmade, you aren't allowed to use kits or factories.
Everything you sell must be made by you or one of your employees – by hand.
Handmade is similar to Etsy but has its own strengths and weaknesses. With Amazon Handmade you get access to an enormous audience of buyers.
There is no place on the internet where you can get more people viewing your product.
Amazon Handmade Vs Etsy
But the fees are a lot higher than what Etsy will charge you. Etsy gets 3.5% of each product sale and charges you $0.50 each time you list an item. Handmade charges you 15% plus $1 each time someone buys from you.
If you're selling an item for under $20, this represents a 20% cut on anything you sell. It's hefty, but this can be a second income stream if you handcraft things.
You can leverage this market and Etsy so you're diversified.
It's worth applying if you are crafty.
Key Takeaways
Etsy Alternative – Amazon handmade is a good choice if you want to get started selling crafts or diversify your income. Their fees are higher than Etsy, but you get access to a bigger marketplace.
Large Pool of Buyers – No website gets more buyers than Amazon. This is a great pick if you want to get your product in front of a lot of people.
10. Work From Home, As A Student, Or In Fulfillment
Amazon is one of the biggest companies in the world, so they are also one of the companies with the highest number of employees in the world. There are tons of opportunities to work for Amazon and help people get the things they want.
Amazon has plenty of work from home jobs. This could be anything from a web designer to customer support to sales staff for a subsidiary of theirs. This is a nice option if you have a computer and don't love going to the office (but really, who does?)
If you're a student, there are lots of opportunities for internships, easy part time jobs, and there are a few full time jobs available. 
Since Amazon is the biggest package shipper in the world, I don't have to tell you that there are tons of fulfillment center jobs.
These don't look fun on Undercover Boss, but a job is a job and you'll be making a difference for millions of customers.
You can look at Amazon's available job list if you're interested. They always have an opening for something.
Key Takeaways
Amazon has tons of opportunities – Amazon is one of the biggest companies in the world and they're expanding like crazy. There are always jobs available
Work how you want – Some opportunities pay better than others, but there's something here for everyone. You can work from home, get involved as a student, or get into one of Amazon's always-hiring warehouses
11.Get paid for tasks on Mechanical Turk
If you fancy yourself as a busy bee, then Mechanical Turk is right up your alley.
The platform is best used by small business owners and entrepreneurs looking for a quick fix for menial tasks. Mechanical Turk provides you access to people who will help you get the job done on the cheap.
However, if you are looking to make money via Mechanical Turk, its easy to sign up and get started working. 
You likely won't make a ton of money doing these simple tasks that often only pay 10 cents or so, but it could be an easy way to save up some money to start a business.  (I discussed saving up to start a business recently as a great way to go).
Michael Naab wrote a post at Side Hustle Nation on how he was able to make a cool $150-300 a week as an MT user.  So, the potential is there to earn some extra spending money for sure.
Key Takeaways
Work more to earn more – Higher paying jobs will only be available to users who have completed lots of jobs using the platform (as low as 100 jobs). Therefore, you need to put in the time and effort first before you reap the benefits of your hard work.
Work more as a supplement to your current job – As mentioned in the link above, Mechanical Turk will pay less than the minimum wage in most cases. If you want to turn this gig into a full-time job it takes a lot of work. Be prepared to burn the hours answering surveys and doing data entry jobs. However, if you are just looking for productive ways to spend your extra time, then Mechanical Turk may just be for you.
Wrapping it up
Amazon has proven to be a critical not only for buyers but also for online entrepreneurs and marketers.
It has changed the landscape of commerce and has provided a platform for people to get creative and make money using the platform. 
Fortunately, as an entrepreneur looking to replace a full-time job or a side hustler just wanting some extra money, you've got a number of different ways you can get in on the action and hopefully now you feel more confident in how to make money on Amazon. 
Have you tried any of ways to make money on Amazon listed above? What were the results and how do you think you could have done it better? Share with me your answers by commenting below!
Looking for other ways you can promote your products?  Learn about the differences between Kickstarter vs Amazon.
Want to learn step-by-step how I built my Niche Site Empire up to a full-time income?
Yes! I Love to Learn
Learn How I Built My Niche Site Empire to a Full-time Income
How to Pick the Right Keywords at the START, and avoid the losers
How to Scale and Outsource 90% of the Work, Allowing Your Empire to GROW Without You
How to Build a Site That Gets REAL TRAFFIC FROM GOOGLE (every. single. day.)
Subscribe to the Niche Pursuits Newsletter delivered with value 3X per week