GeneratePress vs Astra: What's the Better WordPress Theme?
When you buy something through one of the links on our site, we may earn an affiliate commission.
When looking for the best WordPress themes, two of the most popular options are GeneratePress and Astra. However, which is truly the better theme? To put the question to rest, here's a full breakdown of GeneratePress vs Astra to better understand which is the superior WordPress theme for the average user.
GeneratePress vs Astra: Ultimate Review
Both GeneratePress and Astra are incredibly powerful WordPress themes developed with speed and clean coding in mind.
Each has been used by websites, both large and small, from eCommerce websites to local business sites and niche and authority websites.
The great thing about both is that each is feature-rich with a diverse range of add-ons, plugins, integrations, and features made for many types of website owners to use.
Astra - What You Need To Know
Astra WordPress theme was launched in 2017 by Brainstorm Force, the company responsible for other popular plugins, including WP Portfolio, Ultimate Add-Ons, Convert Pro, Schema Pro, and others.
It quickly came to be known for its speed and lightness. At the time, when mobile-first was becoming the dominant trend in the digital world, people were impressed by Astra's performance.
Astra has some really cool features, including well-optimized code, self-hosting Google Fonts that help to decrease HTTP request count, lots of different page designs, robust typography and font choices, and a wide variety of blog layouts.
For more details on this theme, check out our Astra review here.
Over 230 ready-to-import starter templates
Loads in half a second out of the box
Works well with page-builders
Highly customizable
The theme is updated too often
Extremely limited free version
GeneratePress - What You Need To Know
GeneratePress WordPress theme was launched in 2014 as the brainchild of developer Tom Usborne. The theme was designed to be fast and functional, and easy to use for both beginner users and experienced WordPress developers.
When it first came out, GeneratePress took the WordPress world by storm and quickly became one of the more popular themes to use. It was heavily used by niche and authority website builders owing to the fact it was a free theme and easy to work with.
Some of the features that made GeneratePress popular include its lightweight and clean code, which helps with high page speed scores, compatibility with a full range of builders and other WordPress plugins, the new GeneratePress block-based builder, and more.
Over 80 professionally designed starter templates
Option to purchase a lifetime license
Block-based theme builder
Robust design features
The free version is very limited
Fewer starter templates than some themes
Generatepress vs Astra: Pricing
Both Astra and GeneratePress offer a free version for getting started that can be upgraded to professional if you need more features. For the most basic of websites, such as starter sites for niche and authority websites, the free version of both themes should suffice.
That said, to really get the most out of both themes, it's best to pay for the premium version for features like integrated builders and add-ons.
Astra
Astra offers two easy ways to pay for their pro version, either as an annual subscription or as a lifetime plan. There are three plans, the Astra Pro, Essential, and Growth plans.
Unlike many other themes, where the plans are based on the number of licenses you need, each Astra plan offers greater features and extras.
Astra Pro Annual Plan Options
Astra Pro Lifetime Plan Options
GeneratePress
GeneratePress offers two options for upgrading to their premium theme, providing a much simpler process rather than Astra, which makes you select from a few different bundles.
With GeneratePress, you can choose from either a yearly payment or a lifetime bundle for the premium theme. The pricing is such that it generally makes more sense to go ahead and pay for the lifetime bundle if you plan on using it for more than four years.
With the lifetime bundle, you get lifetime updates and support rather than needing to constantly pay yearly. With both packages, you can use the premium theme for up to 500 websites which can be a major benefit if you plan on building other sites in the future.
GeneratePress vs Astra: Free Features
As noted previously, both Astra and GeneratePress come with a free version that makes it easy to get started to see which theme is right for you.
Both of these free themes have basic features that are useful for creating very basic websites. For more advanced websites, you will need to update to the pro versions of each respective theme.
That said, it can help to understand the different free features that each theme provides to know better which theme you'd like to try out for your website.
Astra
Astra theme offers not only a number of basic free features for styling your theme but also the ability to install add-on plugins created by Brainstorm Force that greatly expand the functionality of the free theme.
Some of the out-of-the-box features you get with the free version of Astra that can help with various functions such as design and customization include:
Layout options
Font customization
Global styling
Spectra - WordPress Gutenberg Blocks
Custom fonts
Astra widgets
Bulk edit features
Over 180 starter templates
These are just a few of the free features you can get with Astra. There are also plenty of free third-party apps that can be used to expand functionality without needing to switch to pro.
GeneratePress
GeneratePress isn't quite as generous with the free features as Astra is. The plugin offers very minimal styling options, allowing you to change some of the basic settings like site identity, color options, typography, etc.
However, if you want more advanced styling and editing options, you will need to update to the premium version of the theme.
One thing to note is that you can use third-party plugins as a workaround. However, this does mean you are potentially going to sacrifice speed and add code bloat to your website.
Generatepress vs Astra: Premium Features
Both Astra and GeneratePress offer a premium version that you purchase a license for either as an annual license or as a lifetime license. With both themes, the premium versions greatly enhance the features in terms of function and design capabilities.
With Astra, you have multiple options for premium with different bundles providing different features. GeneratePress, on the other hand, only has a single premium plan.
You will need to check what features you need and then evaluate that with the different pro bundles to ensure you are getting what's necessary for your specific website.
Astra
Astra theme offers an incredible number of features on their various pro plans. For strictly website building, you can get almost all of the features you need on their middle-tier Essential Bundle. Most of the features on the upper tier include plugins that you can easily substitute with free alternatives.
Some of the features that you get with the Astra Pro and Astra Essential Bundles include:
Advance Header Builder
Advance Blog Layouts
Sticky Header
Global Color Palettes
Advance Footer Builder
Custom Layouts & Hooks
Advance Typography
Advance Colors Options
Mega Menu
WooCommerce Controls
Essential features that you get with the Astra Essential Bundle include:
180+ Premium Starter Templates
WP Portfolio Plugin
Choice of Ultimate Addons for Elementor or Beaver Builder
GeneratePress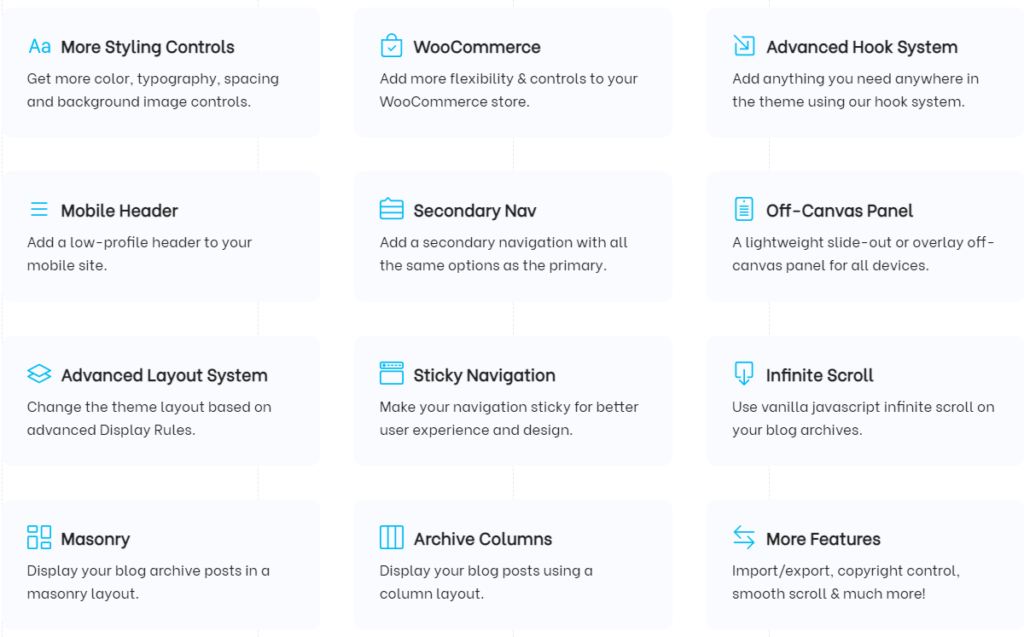 GeneratePress packages with most of its features into the premium version of the theme. For this reason, beyond the most basic of websites, most people who choose GeneratePress will need to purchase the premium version.
With the premium version of GeneratePress, you have access to more advanced design features as well as expanded functionality. Some of these features include:
Block-based theme builder
Advanced Hook System
Premium support
Premium site library
Advanced layout system
Advanced styling controls
WooCommerce styling
These are a few of the advanced features you get with GeneratePress premium. However, there are other features that can help you better design the exact website you want.
GeneratePress vs Astra: Ease of Use
For new and experienced users alike, having a theme that is easy to use is critical for an optimal user experience.
Even if you're an experienced WordPress site builder, the last thing you want is to waste time hunting for different features and trying to figure out how things work.
Both themes are designed to be easy to use, thankfully. There are some differences that you will need to get used to, but overall, both Astra and GeneratePress are quite easy to get started with.
Astra
Astra is the more complicated of the two themes in terms of the learning curve. The main reason for this is that there are so many styling options and features it can be quite difficult to get started as a new WordPress user.
That said, there are plenty of resources available to learn how to use the theme properly. The upside of being one of the most commonly used themes for WordPress means that, on top of the help documentation from Brainstorm Force, countless third-party tutorials and documentation exist to help users.
So, while the theme does have a slightly higher learning curve, it shouldn't serve as a major barrier for newer users to get started with the theme.
GeneratePress
GeneratePress is a bit more straightforward, generally speaking. While there are some things that can be improved upon in terms of the interface, there are significantly fewer features that you need to worry about, which means you can more easily access the core features you need to get started.
Another thing to note is that the layout of the various styling features for GeneratePress is clear and easy to understand. I've used plenty of themes where different features aren't very clearly labeled or hidden away.
GeneratePress does a great job instead of making everything very clear, so you know exactly where to look to make your desired changes.
GeneratePress vs Astra: User Interface
With both WordPress themes, the user interface is straightforward and simple to use. You can easily find what you need, and everything is clearly labeled.
In this respect, however, GeneratePress may have a slight advantage over Astra. With the latter of the plugins, all of the options are set up as a list whereas GeneratePress has options a bit more cleanly laid out.
Astra
Astra theme has a straightforward interface that is easy to access through the WordPress backend. The interface has everything very clearly labeled and makes it simple to make both minor and major changes to global style settings and other features.
Everything is centered on a single page, meaning you don't need to go through multiple screens to find settings. You also have to option of adding plugins and other add-ons from Brainstorm Force from the Astra Options menu page, so you don't need to add them manually.
Overall, the Astra interface is clean and well laid out so that even newer users can easily find the settings they need. It displays well and makes it easy to find the exact setting you're looking for without needing to hunt too hard.
GeneratePress
GeneratePress, in contrast to Astra, has everything more intuitively laid out in a more visually intuitive manner. Everything is very clearly labeled rather than just a long list of what options you have.
When you click each of the options, the editor also proves to be very cleanly labeled. This is in contrast to many of the other themes I've used, where different options are difficult to find and can be poorly labeled.
Everything is very clearly laid out so that you know what each button is and what it will change. Overall, everything is easy to find, and the GeneratePress interface is one of the better-designed themes you can work with.
Winner: GeneratePress (though both are close)
GeneratePress vs Astra: Speed and Performance
Another important area that can greatly impact everything from user experience to search engine optimization is the speed and performance of your theme.
Many themes on WordPress suffer from code bloat that can slow them down and lead to poor performance and longer load times (avoid this by checking out our list of the best SEO WordPress themes).
Both Astra and GeneratePress are marketed as themes designed to be quick and lightweight for optimal performance.
Astra
With Astra theme, the page speed report isn't perfect. Using the desktop test, the performance ended up on the lower end of the 90s. However, with mobile, the performance was flat-out poor.
Performance on mobile was very poor using the Astra template. Note that both of the templates for GeneratePress and Astra that I chose were eCommerce store templates with all necessary plugins, excluding any optimizations.
The main concern with Astra is the poor mobile performance, keeping into consideration that Google has switched to mobile-first indexing. While performance can be improved upon, it's best if the starting point is already in the green.
GeneratePress
GeneratePress, while not performing perfectly, does score a bit better than Astra. For the sake of disclosure, it should be noted that the template I've used for this test is actually an Elementor template. All of the GeneratePress templates are available only with the premium version, so I've opted instead for an Elementor template.
Mobile performance, while still not great, is also better than Astra. Mobile actually is much better at over thirty points better in terms of speed. This makes things much easier to improve with performance optimizations.
GeneratePress vs Astra: Starter Templates
Both Astra and GeneratePress offer starter templates that allow you to set up a website without coding skills.
You can easily set up the website using one of these starter templates for various purposes such as eCommerce, authority websites, brochure websites, local sites, portfolios, and more.
The primary difference between the two is that Astra includes their starter templates with the free plan, whereas GeneratePress requires you to purchase a premium license for access to the starter templates.
Astra
Astra theme offers tons of starter templates (over 180 to be exact) that make it easy and quick to set your website up exactly the way you want it. The starter templates offered range from eCommerce to restaurants and everything in between.
One of the things that are really great about Astra's starter templates is that they work with a range of builders. Specifically, you can select templates that work with Elementor, Beaver Builder, or WordPress Block Builder.
The templates are extremely easy to set up with just a few clicks. Almost all of the templates are available for free, but there are premium options as well.
GeneratePress
GeneratePress also offers a wide selection of premade templates from professional designers and developers. The primary difference is that you will need to purchase these in the premium version if you want to use them, as there are no free starter templates with GeneratePress.
One other thing to consider is that GeneratePress does not offer as many starter templates as Astra does. This means you have fewer choices and may be less likely to find a starter template that works for your needs.
There are alternatives, such as using Elementor or Beaver Builder and working with the starter templates these builders offer. However, many of these starter templates require you to purchase the pro versions of those plugins.
GeneratePress vs Astra: Compatibility With Page Builders
When selecting the right WordPress theme for your needs, it's essential you select one that works with the page or theme builder of your choice. For most people, that's going to mean Elementor or Beaver Builder.
However, there are many other options out there, including using one of the native block builders that each theme has or, in the case of Astra, is working on releasing.
Astra
Astra is a great choice if you are looking to work with page builders such as Elementor or Beaver Builder. In fact, Brainstorm Force has developed two excellent add-on plugins, Ultimate Add-Ons for Elementor and Ultimate Add-Ons for Beaver Builder, as a way to expand the functionality of the builders.
All of the starter templates for Astra work well with builders. Astra even makes it easy to set up the templates with your page builder of choice, providing a set-up wizard that allows you to select which builder you would like the template set up under.
GeneratePress
GeneratePress also comes out-of-the-box compatible with all of the common page builders like Elementor, Brizy Builder, Beaver Builder, and more. The theme works well with these builders but works particularly well with the GeneratePress Block Builder, the native GenereatePress theme builder.
You will need to purchase the pro version of GeneratePress to get the block builder. It comes with both the annual and lifetime plans of the theme. The block builder is straightforward to use and can help you design faster websites without all the code bloat builders like Elementor leave behind.
GeneratePress vs Astra: Design and Customization
Another thing that both builders do well is offering plenty of design and customization options. Each one makes it easy to make change colors, typography, headers, footers, site identity, logos, and everything else.
In this respect, however, Astra does offer quite a bit more out-of-the-box, especially if you are only using the free version. With GeneratePress, you will have to upgrade to the premium version of the theme to get most of the design and customization features.
Astra
Astra theme provides plenty of options when it comes to global styling and design customization. You can easily access all of these options from the WordPress theme customization screen.
With the free version, you are limited in what you can do without the need for third-party plugins or code. However, the pro version of Astra gives you complete control over how your theme is styled.
One thing to note is that some options will need to be accessed through the Astra Options panel. This goes for things like header and footer design and installation of certain add-ons that provide more design options for your WordPress theme.
GeneratePress
GeneratePress offers basic design and customization features on their basic version. For anything more advanced, you will need to upgrade to the premium version of the plugin.
Some of the design and customization features that come with the free version include site identity changes. These include logos, taglines, etc., as well as color and typography changes for headers, navigation, buttons, etc.
With the more advanced features like the starter themes and the block builder, you get even more control over the theme design and various styling and customization features.
GeneratePress vs Astra: Integrations and Add-Ons
One thing many website owners really want to know is what kinds of add-ons and integration are available for the theme.
The last thing you want is to get a website built up on a WordPress theme and then find out some of your needed functionality can't be completed because there is a lacking of integrations or add-ons, so let's have a look at this aspect of GeneratePress vs Astra.
Astra
Astra offers a number of add-ons and integrations that can make working with other plugins easier. As far as add-ons go, Astra is particularly known for their Ultimate Add-Ons plugins, which help to expand the functionality of popular page builders, including Beaver Builder and Elementor.
The company behind Astra is also in the process of working on an add-on for editing and working with Gutenberg blocks, which will help to create lighter-weight and better-optimized websites while minimizing the code bloat builders like Elementor often create.
Other integrations and add-ons that Astra provides include:
Learn Dash integration
LifterLMS integration
WP Portfolio plugin
Schema Pro plugin
It's important to note that many of these are included in the pro versions of Astra.
GeneratePress
GeneratePress is quite lacking when it comes to integration options and add-ons. One of the primary reasons for this is the developers behind the theme are hesitant to add code for third-party integrations.
While there are likely many reasons for this, it is most likely about keeping the code clean and the theme running smoothly. Either way, it does mean that there are fewer options for integrating some of the tools you need.
It also means that you will need to find alternative methods of adding in some of the third-party integrations you need if you opt to go with GeneratePress or the premium version for your theme of choice.
GeneratePress vs Atra: Ecommerce Functionality
Many website builders won't need eCommerce capabilities and functionality. However, if you do plan on ever adding in a storefront or selling digital products, then it's important you build upon a theme that more easily allows you to set up an eCommerce site.
Typically, when it comes to WordPress, this will mean setting up a WooCommerce website. Thankfully, both GeneratePress and Astra offer the ability to work with WooCommerce.
Astra
Astra theme has an entire solution for WooCommerce by way of features baked into the theme that make building an eCommerce website much easier (learn more in our comparison of Astra vs Kadence). Some of the features that come out of the box include:
eCommerce starter templates
Code free customizations
Compatible with many WooCommerce plugins
Dropdown shopping cart
Checkout options
Product catalogs
Sales bubble customization
One other benefit of Astra in relation to the creation of eCommerce is the optimization of mobile sales. This can ensure you more easily convert mobile traffic, which can account for as much as fifty percent or more of traffic for many websites.
GeneratePress
GeneratePress offers a few different solutions that can help you get the most out of your WooCommerce website. As with many of the extra modules and enhanced features of GeneratePress, this is only available with the premium version.
Some of the options that GeneratePress provides for WooCommerce include professional style templates made for WooCommerce, extra design, and customization options for things like shopping carts, etc.
Overall, Astra provides a better solution if you want to set up WooCommerce websites, as there are more features to work with.
GeneratePress vs Astra: SEO Friendliness
A final thing to think of in terms of functionality and features for our GeneratePress vs Astra review is just how well each theme performs when it comes to search engine optimization friendliness.
There is a lot that goes into this, but on the surface, this typically refers to how well the theme is coded and how lightweight and responsive it is.
Astra
The developers at Astra have gone out of their way to create an SEO-friendly theme. It follows best practices to ensure your rankings won't be affected by poor code or other issues.
Each of the starter templates created for Astra are well coded and structured in a way that search engine crawlers can easily move through the pages and properly index on-page elements.
There are also some helpful features with the pro version of Astra. This includes Schema Pro to help you enhance your SEO efforts. Overall, Astra is a solid choice if SEO is at the top of your mind when you design your website.
GeneratePress
GeneratePress doesn't have nearly as much information about SEO friendliness. That said, having worked with the theme and knowing quite a number of top website builders, it's a top choice.
The theme is incredibly well-coded, lightweight, and fast. This can help improve the user experience and your SEO, as people are more likely to use your website.
Because the theme is also well coded, you don't have to worry about pages not getting indexed correctly. Overall, GeneratePress is a solid theme in terms of SEO.
GeneratePress vs Astra: Support and Documentation
Astra
Astra offers multiple ways to get in touch with customer service and get questions answered. This includes live chat support, a community for discussion, frequently asked questions pages, support documentation, and email.
One other benefit of Astra is that it's one of the most used WordPress themes. This means that there is lots of documentation out there in terms of videos, articles, and other third-party support.
All of this means that it's incredibly easy to get answers to your questions. The few times that I've had issues with the theme, there has never been trouble getting help almost immediately.
GeneratePress
GeneratePress also offers a number of different ways for both free and premium users alike to get support. This includes a robust forum with plenty of articles and discussion areas where you can find answers to your questions. The forum is easily searchable to find what you need.
One final thing is that they offer a way for you to get in touch for technical issues that can't be resolved through help documentation and support forums. From previous experience, they are good about getting issues resolved in an expedient manner.
GeneratePress vs. Astra: Which One Comes Out On Top?
While both GeneratePress and Astra are solid themes, my vote is for Astra being the better of the two plugins for most people.
There are plenty of good things about both themes when looking at GeneratePress vs Astra, and both are well-coded and fast. However, Astra simply offers more features and more in the way of integrations and add-ons.
GeneratePress is still a solid theme. If you don't need a lot of integrations and want something clean and lightweight, then it could be a better theme. For new website owners thought, Astra, is typically the better choice.
Want to learn step-by-step how I built my Niche Site Empire up to a full-time income?
Yes! I Love to Learn
Learn How I Built My Niche Site Empire to a Full-time Income
How to Pick the Right Keywords at the START, and avoid the losers
How to Scale and Outsource 90% of the Work, Allowing Your Empire to GROW Without You
How to Build a Site That Gets REAL TRAFFIC FROM GOOGLE (every. single. day.)
Subscribe to the Niche Pursuits Newsletter delivered with value 3X per week