How to Become a Product Review Blogger and Make Money Online
When you buy something through one of the links on our site, we may earn an affiliate commission.
A product review blogger is someone who makes money online by simply creating content about products they know and love.
Starting a product review blog is a great way to start making money online on the side, and this side hustle can easily turn into a full-time income.
In this article, you'll learn:
How product review websites make money.
Profitable product review niches
Successful product review bloggers
How to start a product review blog
And much more. If earning money through product reviews piques your interest, let's dive in.
In a hurry?
You can learn everything you need to start and grow a blog reviewing products with The Affiliate Lab. It teaches you how to start your site, grow it with SEO, avoid penalties, and even how to eventually sell it for a big profit.
Get $200 Off The Affiliate Lab Here
How Do Blogs Make Money?
If you're scratching your head trying to understand how blogs make money, you're not alone.
There are a handful of ways to monetize a blog or a website and generate income through blogging. The main ways bloggers make money are:
Sponsored content
Display ads
Physical and/or digital product sales
Selling services like consulting, freelance services, etc
Subscription-based membership
There are other ways to make money with a blog or website, but this list contains the most popular and preferred methods for bloggers to make money online.
What is a Product Review Blogger?
A product review blogger is exactly what it sounds like. This is a type of blogger who specifically focuses on writing and creating product reviews.
A product reviewer can review many different kinds of products, like: 
Physical products like clothes, makeup, home goods, pet care accessories, etc.
Softwares and services like email marketing services, anti-virus software, website builders, and more.
Services like freelance services, consulting services, content writing services, Fiverr gigs, and more.
Digital products like ebooks, e-courses, memberships, etc.
A product review blogger can create a review on basically anything that can be bought or sold – both physical and digital.
How Do Product Review Bloggers Make Money?
The main way product review bloggers make money is through affiliate marketing.
Product reviewers write reviews that are well thought out and optimized about different products and services. Typically, the reviewer is also an affiliate for the product being reviewed.
Anytime someone purchases the product or service from the review, the blogger makes a commission.
Other ways to make money as a product review blogger include display advertising, brand sponsorships, and even sales of your own products or services.
Affiliate Marketing Beginner Guide
Some Of The Best Product Review Blogs
One of the best ways to get ideas for your own product review blog is to study successful bloggers.
Not only will you get great niche ideas, you'll also learn a lot by studying the competition. Be sure to take note of successful blogs in your niche and pay attention to:
Article topics and titles
Article structure and formatting
What kinds of products and programs they promote
Website structure and formatting
Here are a few examples of successful affiliate marketing blogs that make money with product reviews.
Just a Girl and Her Blog
Abby started Just a Girl and Her Blog in 2013. This blog is a lifestyle blog and product review site that focuses on home decor, organizing, budgeting, and more.
Abby has stopped sharing income reports but her blog is still as active as ever. Her latest income report shows affiliate income earnings of $27,507 for the month of December, 2016.
Just a Girl and Her Blog earned over $41k a month in her last income report.
Fit Healthy Momma
Tami Smith runs Fit Healthy Momma, a website that focuses on fitness and gym equipment reviews.
In an interview with Side Hustle Nation, Tami shares that the bulk of her website income comes from affiliate commissions made from product recommendations and reviews.
Fit Healthy Momma earns around $20,000 per month, mostly through affiliate income from product reviews. 
Own the Yard
Spencer Haws, aka the founder of Niche Pursuits, created Niche Site Project 4 (Own the Yard) in 2018 as an example of building and monetizing a niche website. Own the Yard is a product review blog focusing on the gardening and backyard niche.
September 18, 2018 was day 1 of the blog and it earned it's first $29 in January of 2019. Fast forward just a couple months to July: Own the Yard began bringing in over $1,000 per month… in less than a year!
After that first $1k month, Own the Yard has consistently earned between $1k and $9k a month. 
63 Niche Site Ideas and Successful Website Examples
How to Become a Product Review Blogger
Becoming a product review blogger is a great way to make extra money online. It's a sustainable side hustle that can grow to generate passive income over time. Here's how to get started.
Pick a Niche
The first thing you need to do before anything else is pick your niche. It's best to choose a niche for your product review site that you're passionate about, interested in, or have a lot of knowledge and experience about.
It's much easier to create content around a topic that you know, enjoy, and have experience with.
We've included a list of profitable product review blogger niches later in this article, but here's a couple to get your gears turning. 
Marketing software, product, and service reviews
Pet care product reviews
Parenting/baby care products
Kitchen appliances
How to Find a Profitable Niche for Your Website
Create Your Niche Blog
The next step is to create your niche website. This step might seem overwhelming, but with the right guidance, product review blogs are actually pretty simple.
For this step you'll need to choose a hosting platform, a content management system like WordPress, and a website theme.
Spencer from NichePursuits put together an ultimate guide to learn how to build a niche website here. 
The Affiliate Lab is also always there for you if you'd like a complete step-by-step video guide bringing you from zero to hero in the online marketing and affiliate space.
Sign Up for Affiliate Programs
Once your product review blogs put together, it's time to start signing up for affiliate programs.
If you don't know what specific programs you want to promote, try googling "'your niche' affiliate program".
For example: "software affiliate program", "email marketing affiliate program", or "pet affiliate program".
Some programs like the Amazon Associates program are just one application that will get you access to thousands of products and brands to promote.
Applying for affiliate programs typically includes providing personal information like your full name, address, bank and tax information.
You'll also usually be asked how you plan to promote the affiliate products, like through your product review blog, social media, and email list.
Review and approval times for affiliate programs varies. Some are instant, some takes a few days, and some can take a few weeks or longer.
However, you should make sure your website is complete before starting this part because affiliate managers will check out your links to make sure you're legit.
49 Best Affiliate Programs for Bloggers
Create Product Review Content
You can start creating product review content as soon as your blog is finished. If you're still waiting on affiliate program approval, creating content is a great idea. You can always add links later!
There are many types of product review content you can create from reviews, tutorials, case studies, and more.
How to Be a Successful Product Review Blogger
There are a few key skills every blogger must learn to become successful in the long run.
A successful blog needs traffic. The only way to get traffic is by creating high-quality and engaging content. Here are the most important elements of becoming a successful blogger.
Learn SEO
The secret to creating successful product review content lies in keyword research for SEO.
SEO stands for search engine optimization. When your content is search engine optimized, your articles will rank in Google. In a nutshell, well-ranking content on Google has the potential to send you hundreds to thousands of visitors per day for free. More traffic = more sales, and more sales = more money in your pocket.
Keyword research for SEO enables you to learn and understand what kind of reviews people are actually searching for. This will help you create content that truly helps the reader and will help them make their final purchasing decision.
It's also important to consider the user's intent with certain keywords.
Some searchers are just looking for information and others are looking to buy.
Buyer intent keywords are keywords that people search when they are ready to make their final buying decisions.
Researching and targeting these types of keywords will help you create content that helps customers make their final purchasing decision, and hopefully purchase through your links or with your discount code.
Buyer-intent keywords include:
Review
Best
Discount
Promo code
Vs
Compared
Alternative
Cheap
Affordable
Create High-Quality Content
High-quality content goes along with doing keyword research for SEO.
Most new bloggers start a blog and just start writing their opinions and whatever they want to write about.
This might seem like a good idea, but most of the time it's not.
If you want to create good product review content that actually ends in a sale, it needs to be valuable for the reader.
Keyword research will help you determine the top questions people are searching so you can create a useful article, but it doesn't stop there.
A good review should give your honest opinion and be as unbiased as possible, highlight the benefits, showcase the pros and cons, and be truly helpful for the reader.
If you're not sure what to include in a product review blog post, think about what you look for when learning about a product.
Examples include:
Pricing
Pros and cons
Features
Benefits
Alternatives
Practice makes perfect here. If you've never written an article in your life, your first several articles might be terrible. And that's okay! The only way to get better is through practice.
Learning how to write for the web takes a bit of time and practice, but it pays off in the long run.
Be Consistent
If you want your product review blog to pay you like a business, you need to treat it like a business.
Be consistent with your content creation and give yourself a schedule to stick to.
If you work full-time and only have a few hours a week to dedicate to your product review blog, be sure to stick to that every week!
A product review blog can easily become a full-time income with dedication to content creation, learning, and consistency.
Need some inspiration? Learn how Jon makes $65k per month by blogging here. 
Picking High-Ticket Affiliate Products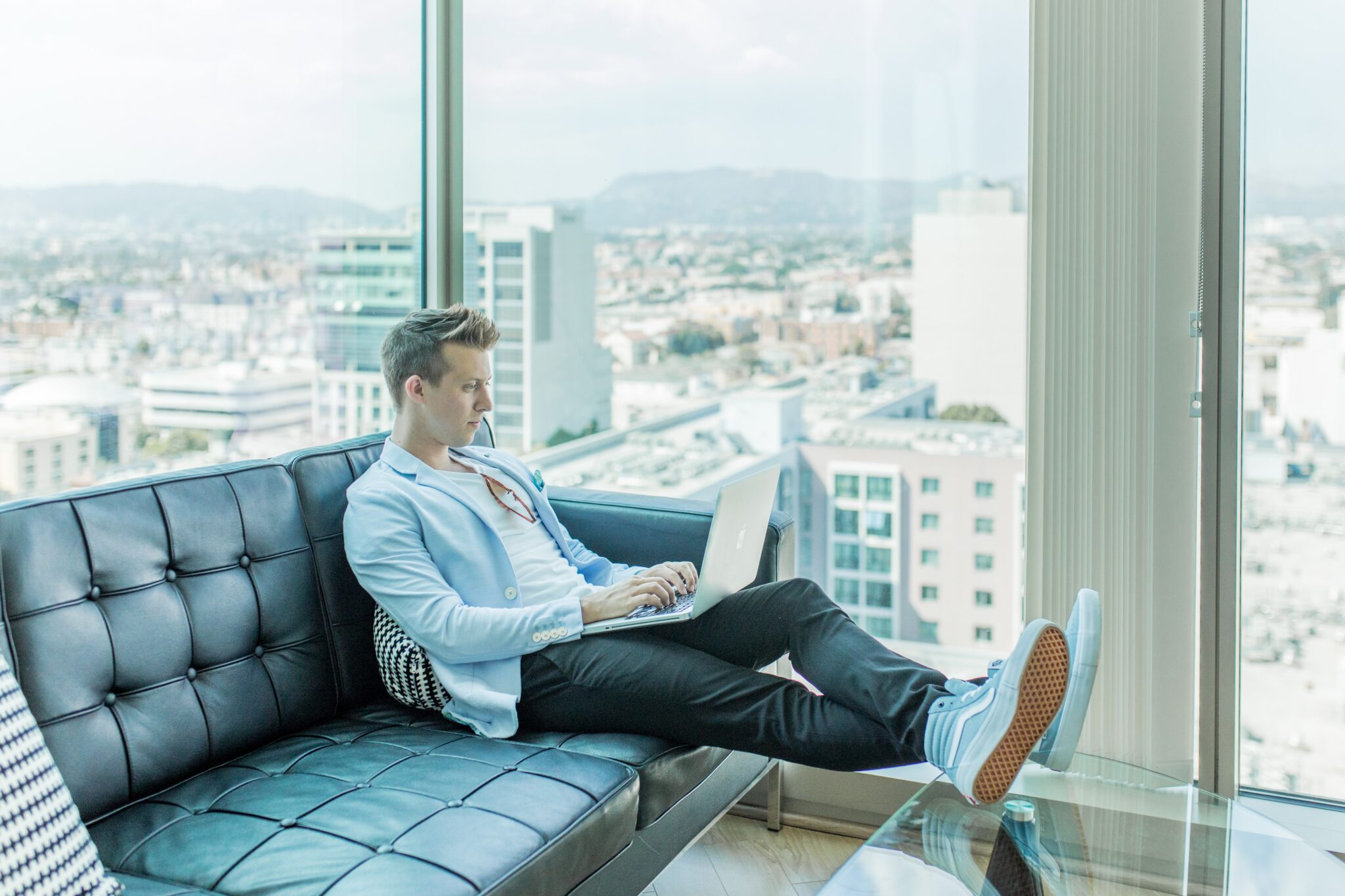 Although high-ticket affiliate products aren't essential to having success with a product review blog, they can certainly help you get there faster.
High-ticket means that the product has a high price or you get paid a high commission rate, or both.
Examples of high-ticket affiliate programs and products include:
Clickfunnels
FreshBooks
Online Courses
Investment consulting
Credit cards
Credit repair programs
The list goes on and on.
In general, digital products and services like softwares, website builders, and online courses have higher commission rates than physical products.
This is because digital product businesses don't have to deal with manufacturing, product fulfillment, shipping, customer returns, product defects, etc.
As a result, it's not uncommon to see a commission rate of 70%+ on digital product sales.
And some digital products like membership-based softwares also pay recurring monthly commissions, not just the initial sale.
25 Best High Ticket Affiliate Programs
Ask For Special Coupon Codes for Your Readers
Coupon and discount codes are a great way to increase the value of your product review content. Some people specifically seek out coupon codes when they're ready to buy a product so including them in your product reviews can help increase your conversion rates.
Once you get approved to your preferred affiliate programs, reach out to your affiliate manager and ask about any coupon codes or discounts.
Some programs have general discounts that anyone can include in their blog posts, and some programs will give you your own special code and discount.
In some cases, the affiliate manager will want to see you make a certain amount of sales before creating a dedicated code or coupon for you. However, it never hurts to ask.
Types of Content To Write on a Product Review Blog
There are many kinds of content you can create for a product review blog. It doesn't have to all be product reviews.
There are many ways to promote affiliate products through blog content. Here are some great ideas:
Product tutorials
"Best of" lists – like "5 best email marketing services"
Product reviews
Product comparisons
"Behind the scenes" look at a product or service
Case studies, for example: "How Sara Gained 1,000 Email Subscribers in 10 Days using ConvertKit"
Product alternatives
To take your product review blog content up a notch, you can even consider creating YouTube videos to embed in your articles.
YouTube videos make the article more helpful for the reader and also give you the ability to attract more traffic from the YouTube platform.
How to Write an Effective and Useful Product Review
Learning how to write effective product reviews takes both time and practice.
Here are the elements of every great product review.
Summary box
A section about the product or service
Who it's best for
Pros and cons
How it works/how to use
The problem and solution it solves
Success stories if applicable
Alternatives
In addition to these key elements, your review should be well-structured and formatted for easy reading and navigation.
To streamline your product review article creation, come up with a structure that you like and that works well and create an outline or product review template. This will save you a ton of time when creating product review articles in bulk.
If you're stuck on ideas, head over to Google and do some competitor research. See who is ranking in the top 1-5 spots on Google for the same types of products.
Make note of what they include in their product review and how they structure it. Then make yours better!
How to Get Traffic To a Product Review Blog
There are several ways to get traffic to a product review blog. But, in our opinion, organic traffic is the best and most sustainable method.
Organic traffic is traffic that comes from search engines like Google, Bing, Yahoo, etc. The best way to get that kind of traffic is to learn SEO and proper keyword research.
Other ways to get traffic to your blog include:
Creating video content for your blog on a platform like YouTube is a great way to add more value to your content and help with your overall SEO strategy (check out our guide to YouTube backlinks), but it isn't absolutely necessary.
While SEO is arguably the best way to get traffic to your website, it takes time to learn. And it takes even more time to start sending you traffic.
On average, it takes Google between 6-12 months to start ranking content on a new website.
So what do you do in the meantime?
You can create pins to post on Pinterest, make short vertical videos that you can use as YouTube Shorts (one of the YouTube shorts monetization methods), TikTok videos, and Instagram Reels, answer relevant questions on forums, and work on growing a Facebook page.
20 Free Traffic Sources for Websites
How to Get Products For Your Review Blog
One of the biggest questions about starting a product review blog or writing reviews in general is: how do you get products to review?
When you're just starting out, it's best to write reviews on products you already own or have had experience with. You can also borrow from friends!
But when it's time to branch out, you might start thinking about requesting products to review directly from the company or brand.
In some cases, companies will offer you a trial to review their product or service. Sometimes they may even reach out to you first, but for the most part you will need to be the one contacting them.
Some products like digital services and softwares offer a free trial period. In many cases, the free trial will be the premium version of the product. For these kind of product reviews, sign up for the trial period for your article or review and then cancel before you get charged.
If you would like to try to obtain free products to review on a trial basis, make a list of desired products and brands, find the appropriate emails, and start emailing.
Reaching out to brands for collaboration ideas is an art and a whole topic in itself. This is a popular tactic used by influencers to get brand partnerships and it can work for bloggers, too.
Profitable Product Review Blogger Niches
Profitable affiliate marketing niches for review blogs are plentiful.
If you have a particular hobby or interest that you regularly purchase and research products for, chances are you can turn that into a very profitable blog.
In the marketing world, you'll often hear that the most profitable markets fall into three categories: health, wealth, and relationships. Another category that should be included in that is hobbies – just think of how much money you spend on your own hobbies and interests.
And when you look at profitable niches you'll soon realize that each niche can comfortably fit within one or all of these categories.
Here are some profitable product review niche ideas:
Marketing softwares and services
Hobbies like photography, fishing, golf, travel, gaming, gardening, crafting, etc.
Health and fitness like gym memberships, workout equipment review, fitness courses, etc.
Home decor: you can further niche down to a particular type of decor, a specific style, only focus on electronics, etc.
Pets and pet care products
Books: are you a bookworm? You can have an entire website around book reviews.
Home security
DIY
Weddings
Survival and prepping
The list can go on and on, but this should give you a great place to start.
15 Profitable Niche Markets
Product Review Blogger Wrap Up
Becoming a product review blogger is an exciting way to make money online.
Product reviewers get paid to talk about their favorite products and services all day long and work with their favorite brands… what could be better than that?
The process to become a review blogger starts with picking a profitable niche, building a website, signing up for affiliate programs, and creating content.
As with all things, blogging and creating review websites takes time and effort and a dedication to learning and improving (but as we've dove into here, blogging is still relevant today as it's ever been). For inspiration, tips, tutorials, and more, browse the Niche Pursuits website archives for all things niche website related.
Want to learn step-by-step how I built my Niche Site Empire up to a full-time income?
Yes! I Love to Learn
Learn How I Built My Niche Site Empire to a Full-time Income
How to Pick the Right Keywords at the START, and avoid the losers
How to Scale and Outsource 90% of the Work, Allowing Your Empire to GROW Without You
How to Build a Site That Gets REAL TRAFFIC FROM GOOGLE (every. single. day.)
Subscribe to the Niche Pursuits Newsletter delivered with value 3X per week