ConvertKit Review: My Personal Experience With Pros, Cons, Features, Pricing & More
When you buy something through one of the links on our site, we may earn an affiliate commission.
"The money is in the list." At least, that is what all the top marketers say. And it's what we'll find out in this Convertkit review!
Looking back on my history as an entrepreneur, I have to admit that a significant portion of the revenue from my businesses can be tied back to my email list. And the longer I keep my list, the bigger it grows, and the more money I make.
As you read this review of Convertkit, please remember that I am a current customer.  I use this email marketing software daily right now, and I've also used other email tools over the years. Meaning I have a point of reference to compare. I'll share the pros and cons of the features, the pricing, how to effectively use it, some of my own email strategies, and more.
And in full disclosure, I've met the founder Nathan Barry a few times in person, and I think he's a great guy!  However, I don't plan on holding back any punches and I share a couple of areas I feel the tool can be improved.
Overall though, it's a GREAT email marketing tool for bloggers and small business owners.
Try ConvertKit for 14 Days Free Right Here
Get a 14 Day Free Trial of ConvertKit Here
---
Convert Kit Review
Ease of Use -

100

Stability -

95

Customer Service -

90

Price -

90
Summary
Overall, ConvertKit is a great email marketing tool. It's SUPER easy to use and has a great design. It also comes equipped with all the features a serious blogger or a digital product seller needs. Try ConvertKit for 14 Days Free Here.
Pros
Super easy to use.
Great design.
Unlimited lead magnets for one campaign.
Free migration.
A/B testing of email broadcast headlines.
Cons
Sequence Layout isn't ideal.
No A/B testing for headlines in automated series.
Limited ability to deal with cold subscribers.
What is ConvertKit All About?
ConvertKit is an autoresponder email tool that allows you to grow your email list and then either automatically email those new subscribers over time or to send a "blast" email whenever you want to get a message out.
If your blog or business is growing and you want to implement an email marketing strategy to send updates to your readers or customers, then you really need to have an email marketing tool in place.  Your list may only be a few hundred people now, but when you get to 10,000, 50,000, or 100,000 you really need to have the right tools in place to manage your business effectively.
I think ConvertKit does a great job of defining their target market.  They exist to help out bloggers and online "creators".  This could be course creators or other digital product creators.  So, if you own an affiliate website, are a blogger, have created an online course, or have other digital products, then ConvertKit could potentially be a great fit for your business.
ConvertKit Review: Pros
Of all the things that Convert Kit does well, the best is the ease of use.  I can honestly say that the number one reason I moved away from Infusionsoft, was due to how difficult Infusionsoft was to use.  ConvertKit has just a simple, clean design that is easy to navigate around and use.
Without any tutorial, I was able to dive in after just a few minutes and start creating my first auto-responder series and opt-in forms.  However, there's more to ConvertKit than just good looks and being easy to use.
Super easy to use. Rather than hundreds of menu items (like a previous tool I've used), you get 5 simple options.  If you don't like wasting your time trying to figure out how something works, this is a great tool.
Great design.  I know this is related to being easy to use, but the design also LOOKS good.  The color scheme and tone make it easy on the eyes, and doesn't distract from the work you have to do when writing your money making emails!
Unlimited offers for one campaign.  You can offer as many different downloads or freebie offers as you want and have them all funnel into one campaign.  And it's easy to make this happen.
Free migration.  If you have over 5,000 subscribers that you are bringing from a previous email provider, then their migrations team will do it for free.  This includes swapping out all your opt in forms on your website, moving drip email series, and anything else that needs to be moved from your previous email marketing software tool.
A/B testing of email broadcast headlines.  This was another big reason for me to move.  You couldn't do any headline testing in Infusionsoft (not sure if that's changed now).  Being able to test what headlines work can dramatically improve your open rates, which can directly translate to your bottom line.
Auto-insert first name with a fallback of no name (if they never filled out their first name).  Again, it's the little details like this that I like.
Finally, you are not forced to use a visual editor.  Some tools require you to do a drag and drop and actually draw lines between 1 email and the next…I hate that kind of stuff.  I'm not a graphic designer, I just want to write my emails in a very basic email editor and have them go out in the right order.  ConvertKit allows that simple format as shown below.
ConvertKit Review: Cons
No tool in the world in perfect, and neither is ConvertKit.  I see a few areas of improvement that could be made.  Overall, I don't think these are deal killers, but for others they might be a bigger deal, so I want to lay them out on the table.
Sequence Layout.  I wish the list of sequences were in a grid format, not a huge box format.  If laid out properly, I could easily find which sequence I want to edit without having to scroll a ton, but the way that it's laid out right now (and because I have several dozen sequences), I spend time hunting things down.  See screenshot:
No A/B testing for headlines in automated series.  I CAN A/B test headlines for broadcast emails; however, the same ability does not exist for my drip email marketing campaigns.  Why not?  I really wish I had a way to A/B headlines for the sequences, but many other email providers don't offer this either…
Limited ability to deal with cold subscribers.  It's important to "clean" your email list as much as possible.  ConvertKit does give an automated tag of "cold" subscribers for anyone that hasn't opened an email in the last 90 days.  But your ability to define who is considered a cold subscriber or a way to easily remove them from your list doesn't really exist.  You can do it all manually, I just want to be spoiled a bit more! :).
If you don't need all the bells and whistles and just want an effective, simple, attractive email marketing automation tool, I think ConvertKit is a great option.
(I find myself in this camp too)
You can click here to try ConvertKit free for 14 days
Run your email marketing campaigns with ConvertKit
ConvertKit Pro Tips and Tutorial
If you are reading this, you are likely already convinced that sending out drip campaigns to your email subscribers really is critical to your business.
I know that one question a lot of people have is "how often should I be emailing my subscribers?"  The answer is… probably more often than you do.
I was recently talking with an email marketing expert, and he told me that through vigorous testing, they found that their unsubscribe and unopen rates didn't drop unless they emailed more than 5 times a week.  In other words, he found no negative impact from emailing up to 5 times a week.  (And the positive impact is huge, because each email is often associated with a way to make more money).
I don't personally email 5 times a week, but a couple times a week is definitely not too much.
When someone first signs up to your list through an opt-in form, I usually like to email them immediately and welcome them to the list and deliver whatever they signed up for (a free download, information, or something else).
I might email each 24 hours after that for a couple of days, but then will go into a rhythm of every 3 days or so.  You can build out these email campaigns to last for many months if you want.
ConvertKit and other tools make it extremely hands off once you have it all set up.  You can be drip emailing your subscribers for several months without doing anything!
Creating a New Email Sequence
ConvertKit makes it really easy to create your first email sequence.
Then you are immediately take to the screen to create your first email.
I love that I can just immediately get started writing the email copy!  I don't have to mess with a visual editor (like Infusionsoft) that forces you to drag around boxes and draw arrows and add timers before you can start writing anything.  This is WAY easier.
Then you can adjust settings of an individual sequence if you want.  I don't usually, but the option is there.
Creating a New Opt-in Form
I personally use 3rd party tools like Opt-in Monster (check out our OptinMonster review or Thrive Leads (check out our Thrive Leads review) to create my lead magnets and capture forms for my websites.
Then I just connect my website and those forms using the ConvertKit API, and all those leads get automatically added to ConvertKit.  (I literally just hit copy and paste on an API text…takes 2 seconds to do this).
However, you do have the ability to create your own forms and landing pages right in ConvertKit.
Here's how:
First, you can select either a Lead Form or a Landing Page builder for your lead magnet.
Here's a Form example…(as I'm doing this, I'm learning there are more options in ConvertKit than I realized!):
I'll create an Inline form and show the result below.
After selecting the "Minimal" form in this example…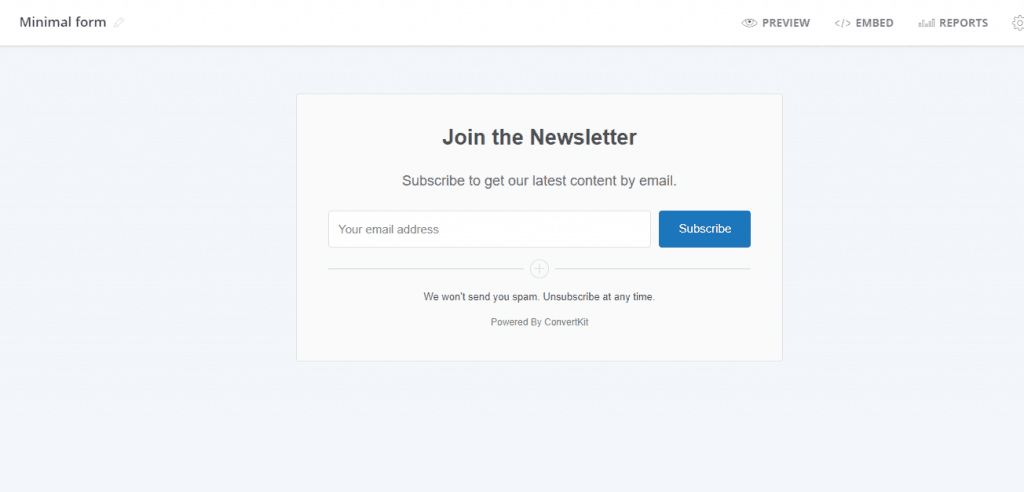 Now after editing the form. Super easy point and click editing.
(Please note I didn't make this form live, this is just an example).
You can then go and set marketing automation rules within the tool so that as soon as people get added, they can get certain tags and automated email follow ups.
Overall, to create landing pages or a form is an easy process. REALLY easy in fact, and doesn't take a tech genius to figure out.  You could definitely get away with not using any other 3rd party tools like I do, ConvertKit is probably good enough for form creation.
If you want to get started with one of the easiest email marketing platforms alive (and the one I use), you can click here to get a 14 day free trial of ConvertKit
Make email easier and more profitable than ever with ConvertKit
ConvertKit Pricing and Integrations
The pricing on ConvertKit is pretty clear until you get to over 7,500 users. A the time of this writing, here's the pricing:
Up to 1k subscribers is $29/month (or you can also use their free plan)
Up to 3,000 subscribers is $39/month
Up to 5,000 subscribers is $79/month
And over 7,500 subscribers is calculated.
I calculated a few other tiers so you can see.
Up to 10,000 subscribers is $119/month
Up to 20,000 subscribers is $179/month
Up to 35,000 subscribers is $259/month
Up to 50,000 subscribers is $379/month
Up to 100,000 subscribers is $679/month
(Unfortunately for me, I'm over 100,000 subscribers…so I pay more than that…but it's worth it).
You can check the current pricing and calculated what the costs would be with a larger list right here.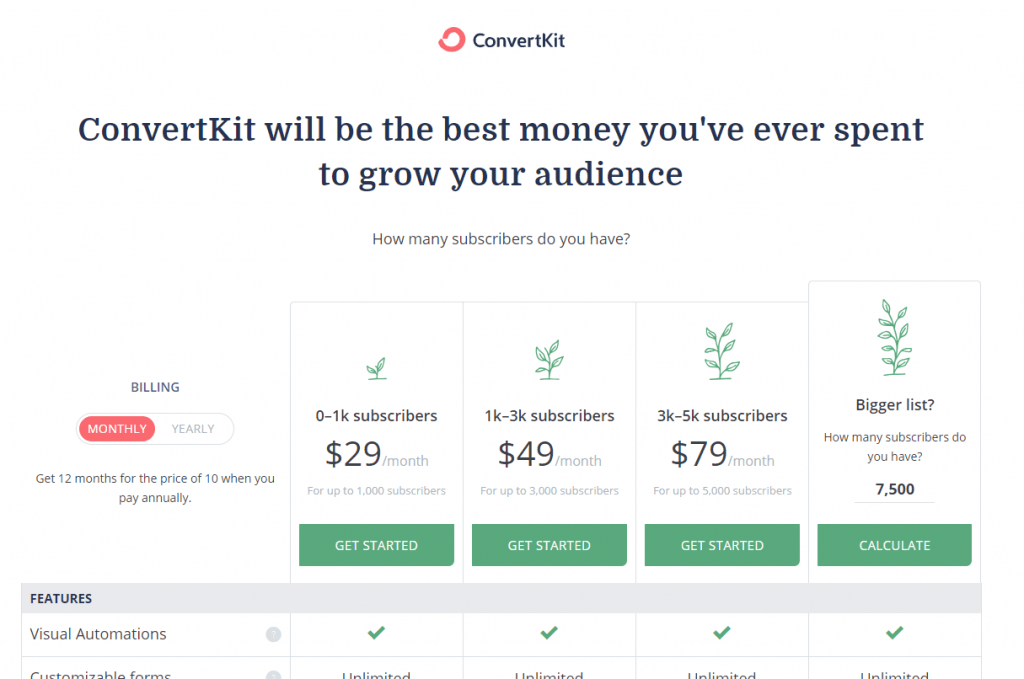 Integrations
ConvertKit is established enough that they automatically integrate with lots of tools helpful for marketing automation. This basically means that you can use the ConvertKit API and plug it into a 3rd party tool and the leads will get pulled in "magically" to your account and you can start drip campaigns without your involvement.
For example, I currently integrate ConvertKit with Clickfunnels, Opt-in Monster, Thrive Leads, and possibly one or two others that are coming to mind right now.
Here's a few other popular ConvertKit integrations that people use:
Zapier
Gleam.io
Wix
Squarespace
Webinar Ninja
Thinkific
Whishlist Member
SamCart
Easy Digital Downloads
and many others.
You can get a full list of integrations available directly from ConvertKit right here.
And because they integrate with Zapier, that means there are lots of other combinations that you can use even if there isn't a directly integration.
ConvertKit Review: FAQ
I can't possible consider all the questions that you might ask before deciding to buy Convert Kit; however, here's a few questions that I might anticipate.
How good is the customer support?
The Convertkit support is really good.  They offer a live chat option that I've used.  If they are not available via live chat, you can email them and they usually get back in a pretty timely manner.  I haven't had any big issues with the support.
Will they help me migrate from my old provider?
Yes, they will move all of your subscribers for you, but they will also create all the sign up forms you need and place on your website (as needed) to make sure your transition over is really smooth.  They will also move any campaigns that you had on your old email service provider so that you don't manually have to recreate them.
How does the price compare to other email tools?
The pricing is pretty comparable. There are hundreds of options out there for an email marketing service, so some may be cheaper, but there are definitely much more expensive options.
Check out our comparison article on ConvertKit vs Constant Contact.
How many lead magnets can I create and deliver through ConvertKit?
You can create unlimited number of lead magnets or downloads that ConvertKit will deliver seamlessly to your customers.  The way they have everything set up makes it really easy to have dozens (or more) of freebies that lead to the exact same list if you want.  This makes it really convenient to do special content upgrades, etc.
Does ConvertKit have options for single or double opt-in?
Yes, when you create your opt-in forms you have the option to require that the subscriber get a verification email first before they are added to your list.  Single opt-in is likely to lead to more overall subscribers, but double opt-in is likely to lead to more verified subscribers.
Is ConvertKit worth the cost?
I've been using email automation tools since about 2006, and I'm a happy customer of ConvertKit.  I think the cost of an email marketing tool is a necessary expense for an online business, and ConvertKit is a great option at a fair price.
ConvertKit's History
ConvertKit was started by my friend Nathan Barry. He decided that he wanted to build a SaaS product that would help him get $5,000 in monthly recurring revenue (MRR) in six months. He saw a need in the email marketing space since other competitors were just way too complex or not powerful enough.
No one was simple, beautiful, and strong.
Six months came and went. He didn't hit his goal of $5,000 MRR. But he did hit $2,000 MRR.
He kept working.
And the revenue started to decline.
Nathan wasn't giving ConvertKit his full attention, and he started running into some resistance. The product was cool, but no one wanted to migrate their users from other email marketing platforms. What they had was working, and they were more or less content with it.
So Nathan started offering free migrations. His revenue started climbing again.
And after 22 months, Nathan hit his goal of $5,000 MRR. And with that money, he decided to go all in. He hired a full-time developer, started expanding into direct sales, and opened his affiliate program shortly after.
His whole business was built on one concept: no upsells, just simplicity. All of his ConvertKit plans are scaled based on subscribers. Someone paying $29/month gets the same advanced features as the person paying $290 per month (or more if you're like me).
And with his increased effort, ConvertKit took off. Now he has his financials public at convertkit.baremetrics.com so you can see how they're doing. At time of writing, ConvertKit is bringing him about $2.8M in MRR.
It wasn't easy. It took him years.
But building a business was worth it.
You can build your business with ConvertKit
Convertkit Review Verdict
ConvertKit is a great email marketing automation tool with all the features that a serious blogger and business owner would need to help automate their business.
With awesome Convertkit landing pages and email templates, an unlimited amount of campaigns, and lead forms that you can create, and an easy-to-use interface, you can spend more time growing your business than worrying about how to make your email service provider "work".
The best part is that you can start a 14-day free trial (with no credit card required) to check out what ConvertKit looks like on the inside.
Go ahead and try ConvertKit out for 14 days free right here.
Get a 14 Day Free Trial of ConvertKit Here
Want to learn step-by-step how I built my Niche Site Empire up to a full-time income?
Yes! I Love to Learn
Learn How I Built My Niche Site Empire to a Full-time Income
How to Pick the Right Keywords at the START, and avoid the losers
How to Scale and Outsource 90% of the Work, Allowing Your Empire to GROW Without You
How to Build a Site That Gets REAL TRAFFIC FROM GOOGLE (every. single. day.)
Subscribe to the Niche Pursuits Newsletter delivered with value 3X per week