11 Quora Alternatives to Ask and Answer Questons on Any Topic
When you buy something through one of the links on our site, we may earn an affiliate commission.
Do you have an online business and want to find Quora alternatives to market yourself online?
Are you looking for a Q&A site similar to Quora?
Maybe you just love helping people out by answering life's big questions and getting other perspectives?
Fortunately, there are several websites other than Quora to get your burning questions answered.
Read on to discover 11 Quora alternatives you can use in life and business.
What is Quora and Why Use Quora Alternatives?
Quora is a website to get answers to almost any question. It was launched in 2010 by former Facebook engineers Adam D'Angelo and Charlie Cheever.
According to SimilarWeb, Quora receives over 618 million visitors per month and has 300 million monthly active users. The platform focuses on high quality content over the size of its user base.
There is no limit to the number of answers a question can get. Users can upvote answers, comment on them, and share them to their own profile.
The most popular categories on the platform include:
Entertainment
Travel
Business
Marketing
Learning
Technology
Quora has become an excellent marketing channel for online business and entrepreneurs. This is because of the value you can provide to users by answering questions and linking directly to your website.
However, there might be a few reasons you want to use a Quora alternative which I outline below:
Addictive: Quora can be quite addictive. Like most modern social media sites, Quora has built in some features that keep you on the platform longer than you might have intended.
Niche Unavailable: You might look for a Quora alternative if you can't find your niche on the platform. If your niche is in the tech or programming industry, you might find one of the options below a better choice.
Over-saturation: On the other hand, Quora can also be oversaturated. If your niche is competitive, you might find it harder to build up your reputation on the platform.
11 Quora Alternatives You Could Be Using as a Marketing Channel
Here's the list of the best alternative to Quora for everything from helping students with their studies to solving a programmer's next line of code.
1. Answers.com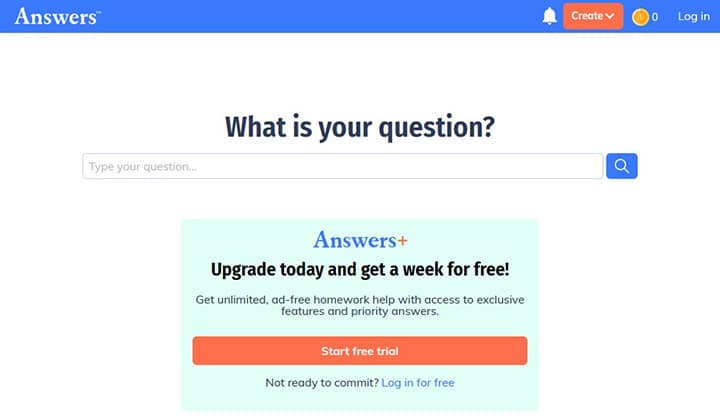 Answers.com, formally known as WikiAnswers, is a question-and-answer community site directed toward helping students and their studies.
As of 2021, the platform has over 3.5 million users worldwide and tens of millions of user-generated questions and answers.
You can create a free account with limited features or pay a subscription for unlimited questions and answers as well as an ad-free experience.
It's hard to say how effective the site would be as a marketing channel for your business. However, there is a Business and Finance category with active users, which could help you become an authority in your niche with a good strategy.
Visit Answer.com
---
2. StackExchange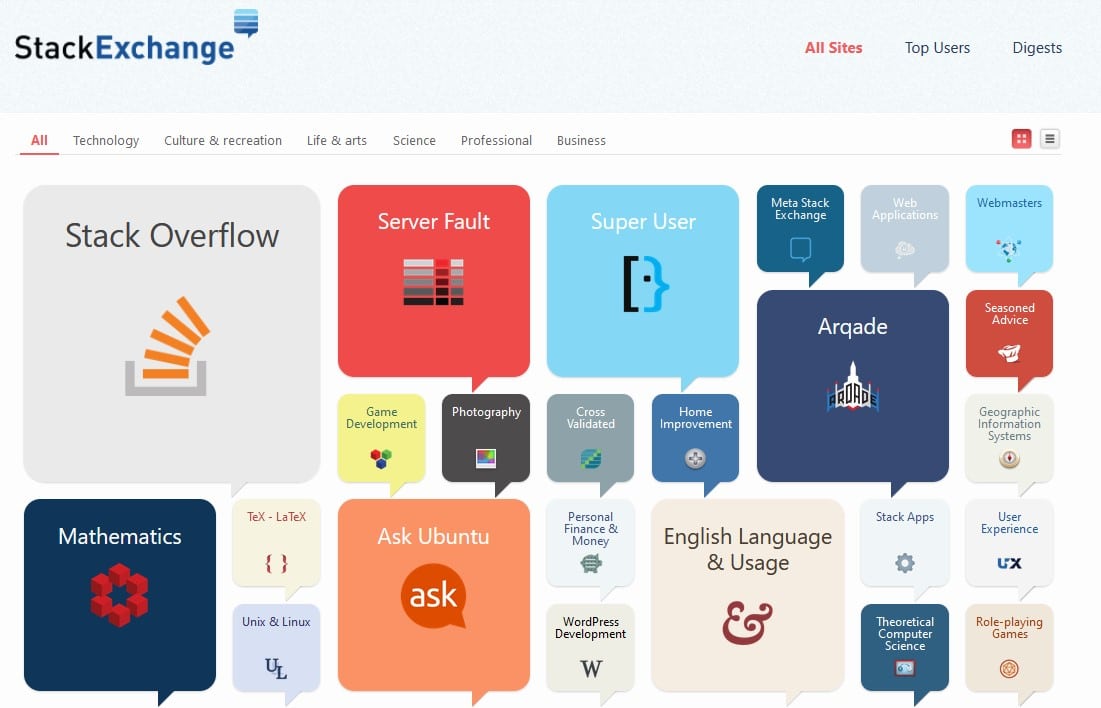 StackExchange is a network of Q&A sites in a wide number of topics which include:
Photography
Sports
Coffee
Programming (Stack Overflow)
The entire network of sites received an average of 431.8 million monthly visits in 2021, with 3.2 million questions asked by its users.
It is possibly the closest Quora alternative in terms of features and the number of users.
Many of the sites offered by StackExchange also have job boards where companies can list positions they are hiring for and users can find work.
StackExchange sites have an achievements system that rewards reputation and awards badges for users' actions to encourage use of the sites.
In June 2021, the company was acquired by Prosus for $1.8 billion.
Visit StackExchange
---
3. Stack Overflow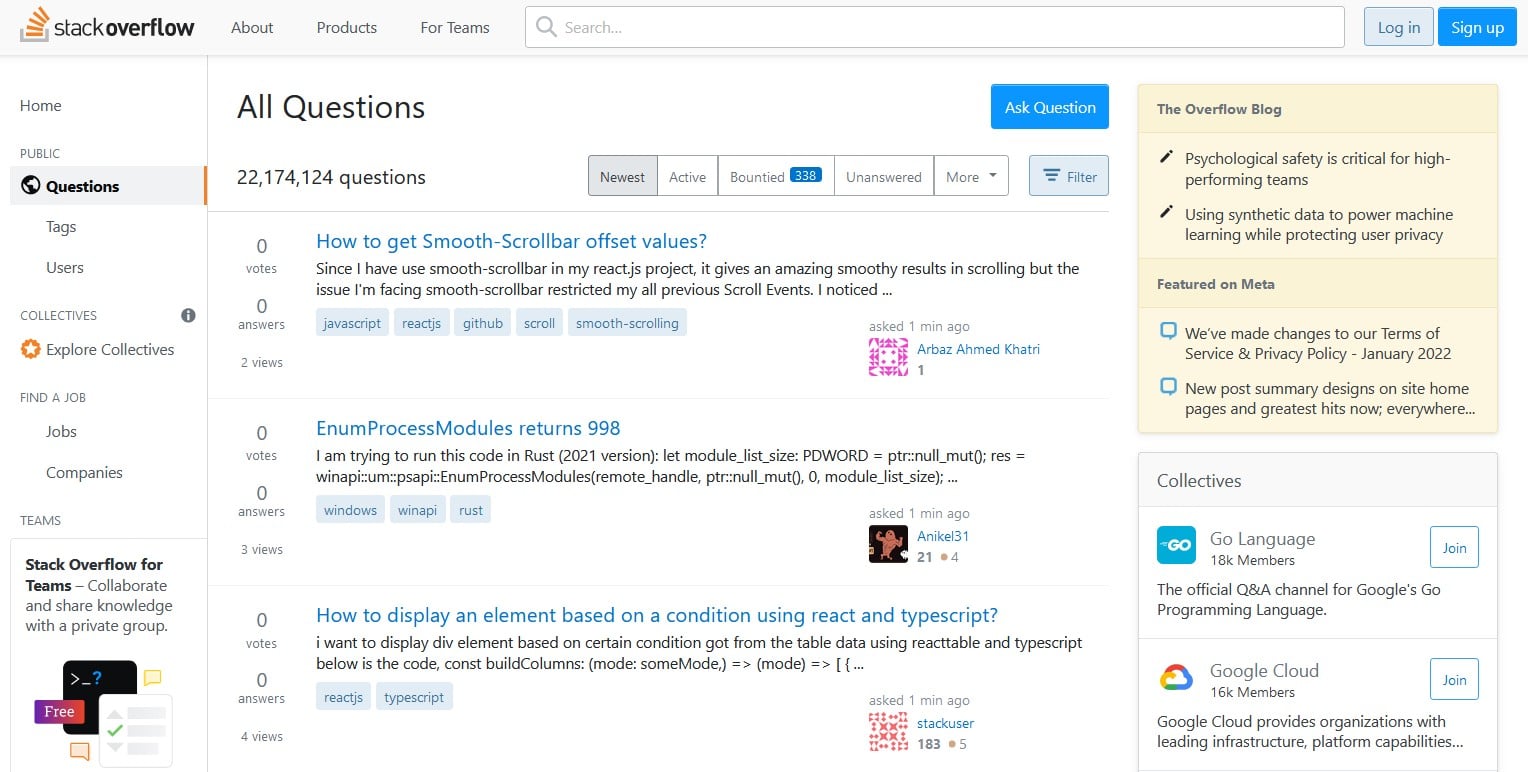 Stack Overflow is the biggest StackExchange Q&A site with 17 million users and 54 million unique monthly visitors.
This topic of questions and answers are for professional and enthusiast programmers. If you are in the programming space or have an interest in this field, then this would be the place to get your specific questions answered.
If you are a programmer, you could use the platform as a marketing channel to drive free traffic to a website or simply build credibility and reputation.
Visit Stack Overflow
---
4. Ask Ubuntu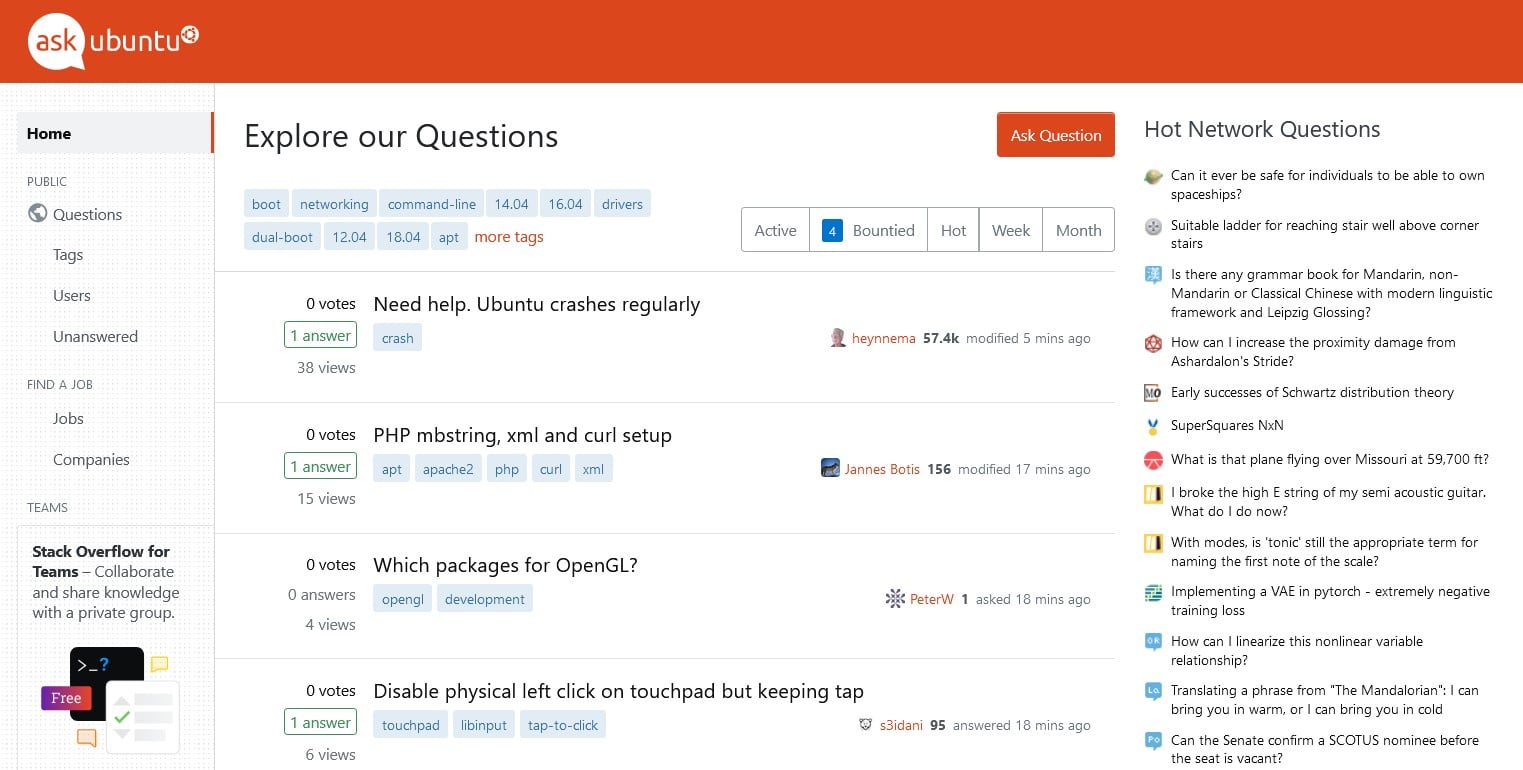 Ask Ubuntu is another StackExchange site targeted towards Ubuntu users and developers. The site has 1.3 million users and 385,000 questions have been asked on the platform.
With Ask Ubuntu, and all other StackExchange sites, you can sign up or post answers as a guest. If you want to ask a question, you'll need an account.
Questions are posted with tags to help you filter them, and you can also search for topics on each platform. This is helpful if you're looking for a specific question you want to find the answer to.
Visit Ask Ubuntu
---
5. Super User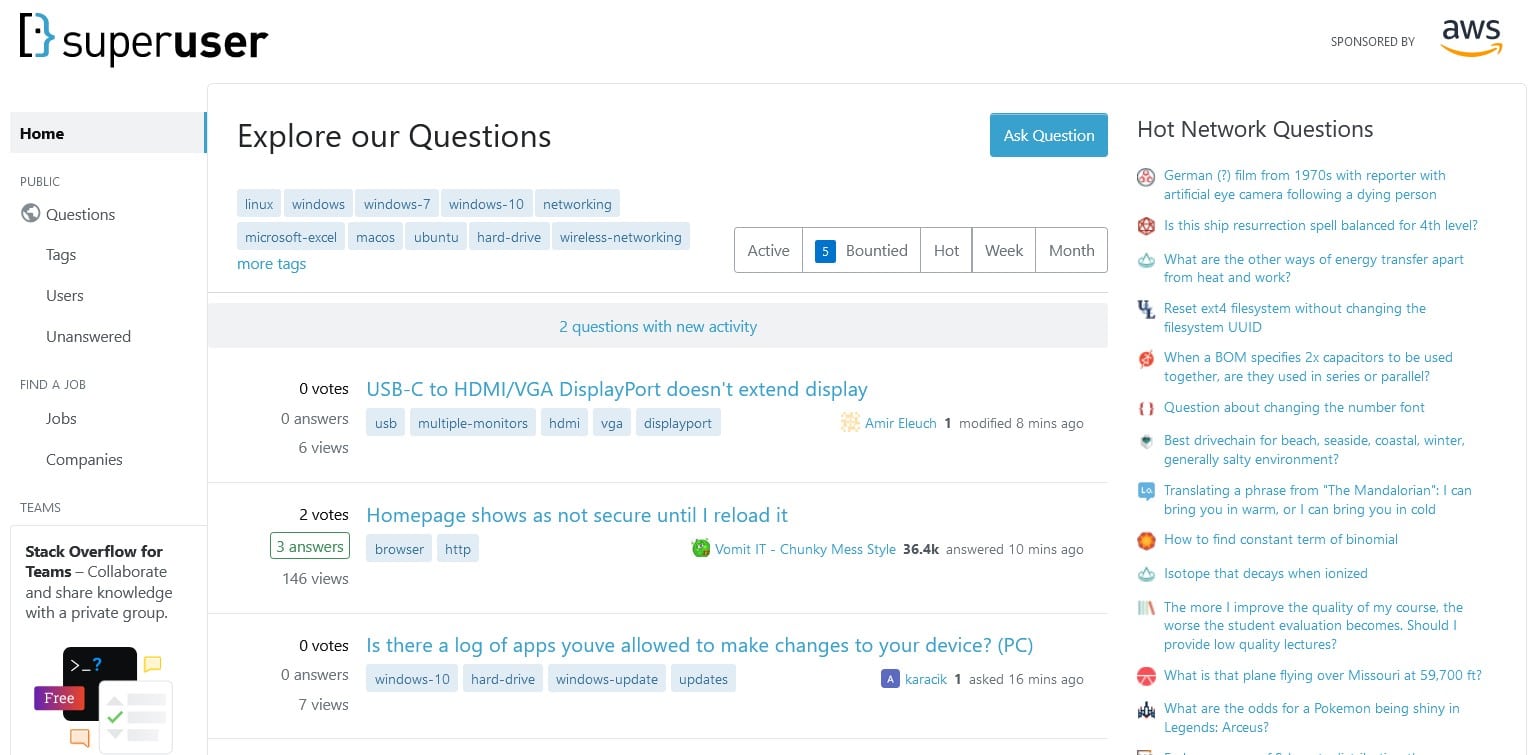 Super User is a Q&A site for computer enthusiasts and power users under the StackExchange umbrella. This topic has 1.3 million users and 473,000 questions have been posted.
If you need help with anything computer-related from Windows issues to MacBook problems to how to print a PDF, Super User is the place to get these types of questions answered.
Just like other StackExchange sites, you can create a profile and add a link to your website. This could be a great way to build an established community of people who trust your expertise and direct them to your profile link where you can offer your services.
Visit Super User
---
6. Ask Me Helpdesk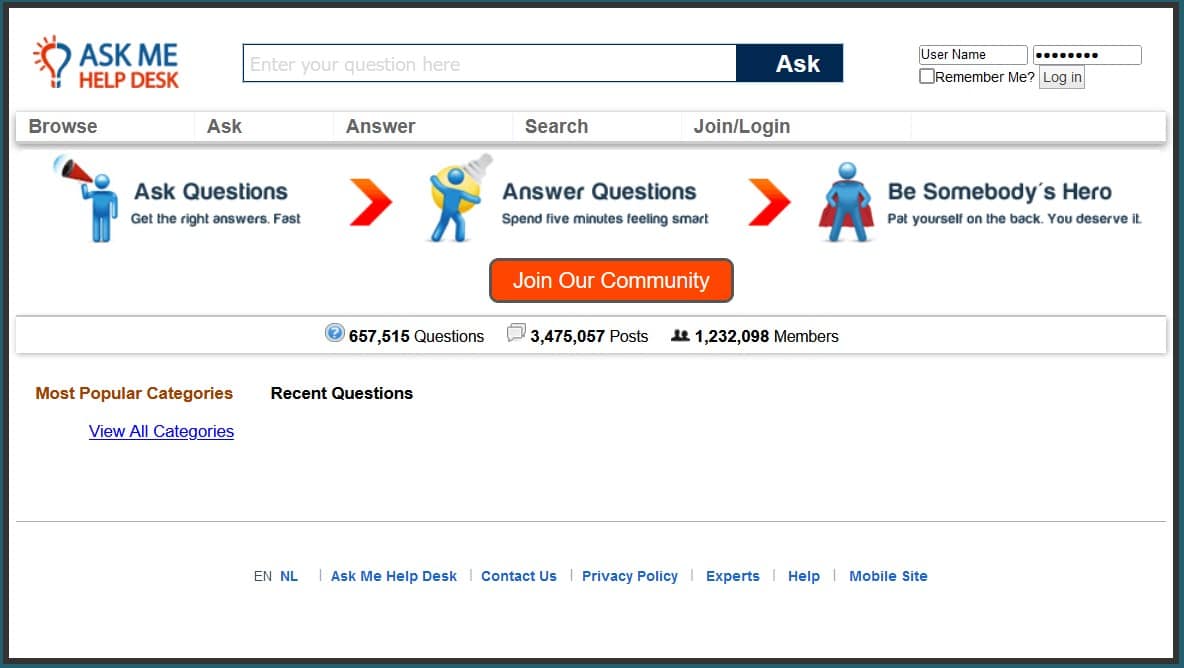 Ask Me Helpdesk has over 1.3 million members and over 3.4 million answers to 600,000+ questions. The site has been around since 2003 and received positive reviews by CNET in 2009.
Even though it was once a popular question and answer site and gained many members, it isn't as active as some other sites on this list.
One thing I do like is the number of categories there are. This allows you to niche down into one area to ask and answer questions which could help you build credibility.
Visit Ask Me HelpDesk
---
7. The Answer Bank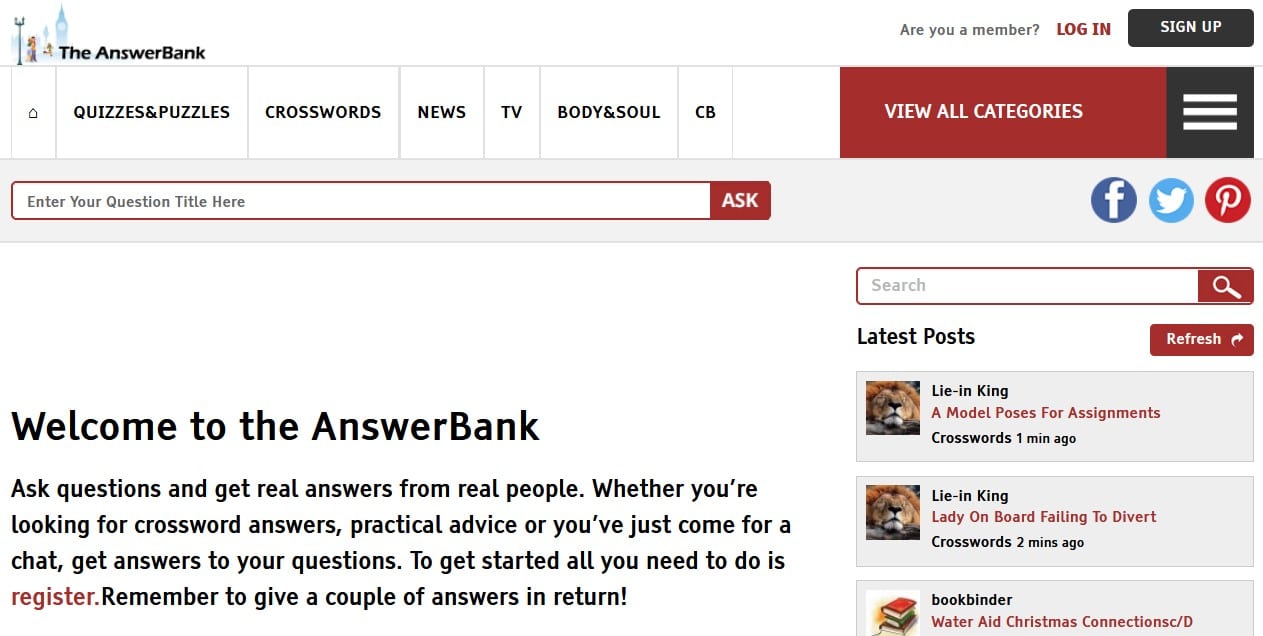 The Answer Bank is a question and answer platform based in the UK. There's a large selection of categories to browse and ask questions in.
There are also sections where you can get involved in helping people with quizzes, puzzles, and crosswords. It's an active site with questions and answers posted daily.
One interesting feature is the ChatterBox categories which you can use like a chatroom and have conversations with members.
Visit The Answer Bank
---
8. BlurtIt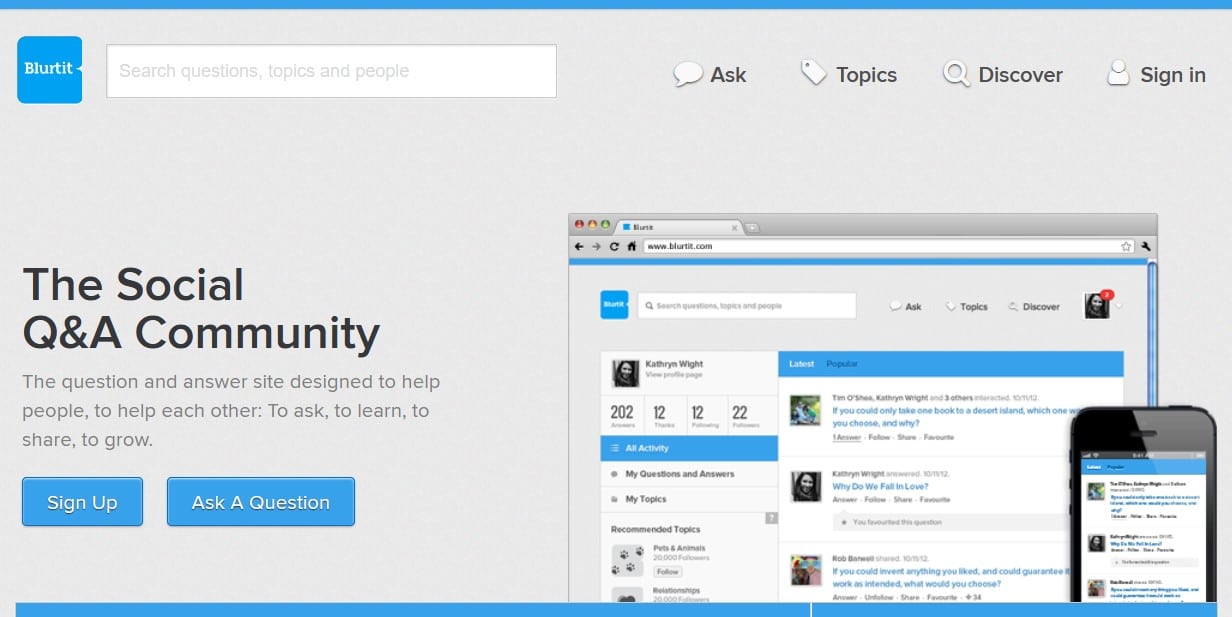 BlurtIt is a British Q&A site that describes itself as more of an online community.
The site was started in 2006 and, back in 2010, gained an average of 12.5 million monthly visitors.
Q&A's are broken down into topics like technology, science, health, education, relationships, and travel. It also offers the ability to search for questions.
You can't input a website link from the profile page, but you can link out in your answers.
Visit BlurtIt
---
9. Answerbag
AnswerBag has a fun and quirky-looking Q&A site that features a forum-like design. Other than being owned by Wired Ivy, there is very little information about the stats of this website.
It was once the second largest social Q&A site next to Yahoo! Answers.
The site is focused on asking questions as opposed to answering questions already on the site.
You can answer questions, but you can't search for topics. Instead, you have to browse through categories to find the questions you want to answer, making it difficult to scale offering value.
To ask or answer a question, you sign up for an account and create your profile. You can then get involved with helping people and voting on other members' answers.
Visit AnswerBag
---
10. Fluther
Fluther is one of Quora alternatives that learns what you know and finds the right questions for you to answer. The site was founded in 2007 and acquired by Twitter in 2010.
The site is still active, but it is uncertain how many active users there are. However, according to SimilarWeb, the site receives 194.3K visits per month.
Its design closely matches a typical forum layout with the ability to follow questions and upvote them, add topics you're interested in, and follow and message other users.
Visit Fluther
---
11. ASKfm
ASKfm is a Latvian social platform to create a profile and send other members questions. It was formed in June 2010 and has over 215 million users.
Users can ask people anonymously, ask friends directly, and create a poll to get different opinions.
It's a fast-paced and fun Q&A site using gamification to keep users engaged by earning reputation points. You can link to your website from your profile, but it doesn't seem to be a place where people are seeking answers to life's tough questions but more funny questions or more personal ones.
Visit Askfm
Frequently Asked Questions
Is there anything better than Quora?
Quora is considered the leading Q&A website, purely because of the traffic and sheer number of topics you can ask and answer questions about.
Which is better: Quora or Reddit?
You can't really answer this question objectively. It depends on personal preference and what your goals are when choosing a platform to use. Also, Quora is a Q&A site whereas Reddit is more like a large selection of modernized forums.
Is Quora better than Yahoo Answers?
As of May 4th 2021, Yahoo Answers shut down. The Yahoo Answer website states they closed the site because of a "decline in popularity over the years" which could suggest that Quora become the more popular option.
Quora Alternatives: Which Will You Use? 
So there you have it. Quora alternatives do exist and now you have a list of potential marketing channels to build your audience and boost website traffic.
Looking for more sources to drive traffic to your site? Check out this article on 20 free targeted traffic sources for websites.
Want to learn step-by-step how I built my Niche Site Empire up to a full-time income?
Yes! I Love to Learn
Learn How I Built My Niche Site Empire to a Full-time Income
How to Pick the Right Keywords at the START, and avoid the losers
How to Scale and Outsource 90% of the Work, Allowing Your Empire to GROW Without You
How to Build a Site That Gets REAL TRAFFIC FROM GOOGLE (every. single. day.)
Subscribe to the Niche Pursuits Newsletter delivered with value 3X per week