Yoast SEO Review: Taking WordPress On-Page SEO to the Next Level
When you buy something through one of the links on our site, we may earn an affiliate commission.
Welcome to our Yoast SEO review. There's no doubt Yoast SEO is simply one of the best SEO plugins for WordPress.
If you need some assistance with your website's search engine optimization, you will need an SEO tool to assist you with the on-page optimization process so that you can take your desired spot on search engine result pages.
Since it was introduced into the SEO community, the Yoast SEO plugin has gradually carved a niche for itself as the go-to plugin for website on-page SEO optimization, especially, if you are a fan of the WordPress Content Management System (CMS).
It is considered the favorite SEO tool for many website owners, ranging from the small store owners around the corner to some of the most visited and popular sites on the Internet.
The Yoast SEO plugin is designed to make search engine optimization easier and more productive.
In my Yoast SEO Review, I will give you a comprehensive breakdown of the features, strength, installation guide, and other wonderful tips that will assist you in bringing out the best in this plugin and easily skyrocket your website's search engine ranking.
Get The Yoast SEO Premium Today
Get The Yoast SEO Premium Today
---
Yoast SEO Review
Ease of Use -

97

Stability -

98

Customer Service -

95

Price -

94
Summary
With over 9 million installs, Yoast SEO is the best website on-page optimization plugin I've ever used. Yoast will help you to get more visitors from Google and other search engines, attract more visitors from social media, and boost your readers' engagement. Try the Yoast SEO Plugin Now!
Pros
It allows you to export all your focus keywords for top-notch analysis.
You can use the internal link suggestions if getting the right content to link to is a challenge.
It offers multiple keywords, great for tracking secondary keyword.
Free version available.
The Premium plan is ad-free, a big plus if you want to restrict some annoying ads from displaying on your website.
Cons
The generated sitemaps are incomplete.
SEO content can't be performed in multiple languages.
Some URLs don't work perfectly well.
Yoast SEO: The Features
Most plugins have their unique features that are designed to support the plugin and ensure that it lives up to its billings. Here are some of the features that make Yoast SEO stand out among the plugins used for SEO:
1. Content and SEO analysis: The Yoast SEO plugin comes fully equipped with some invaluable tools that will assist you to write SEO-friendly content for your website (and don't miss our list of top content analysis tools here).
2. Bulk editor: When you want to make changes to your website content as a part of your effort to improve its SEO, you have an efficient tool in the bulk editor. It allows you to edit your website content, even on a large scale, without unnecessary challenges.
3. Redirect manager: This feature is available for the Yoast SEO Premium plan subscribers only. It maintains the overall health of your website by redirecting unnecessary errors that may harm your site for Google Search Console, changed URLs, and deleted pages. That way, your site will be as healthy as possible.
4. Insight tools: This is another feature enjoyed by Yoast SEO Premium subscribers as well. With the tool, you can have an idea of the focus of your ext to enable you to keep your article and keyphrases on the same page.
5. Import and Export: This is a fantastic tool that offers you the luxury of importing and exporting your SEO settings in the plugin. The plugin is self-explanatory, and you will find it pretty easy to use it.
6. Page Analysis: The page analysis tool will come in handy if you want to carry out a comprehensive analysis of your content. It will check seemingly minute things such as meta description, post length, and whether a post contains the targeted keyword or not.
7. Social integration: You can unleash the power of social media to make your content go viral with the Social integration tool. This tool is designed with Open Graph implementation that allows you to link social media with SEO for better performance.
8. XML sitemaps: You can't overemphasize the importance of XML sitemaps to SEO. It makes it easier for you to create sitemaps and submit it to search engines to enable the search engines to spider your website content.
Yoast has one of the most advanced XML sitemap, a natural XML sitemap creator that will create an XML sitemap for your website. It will also inform some search engines such as Bing and Google of the existence of the sitemap.
9. Meta and link elements: Sometimes, you may want to allow Google to show some pages while others are hidden, for some personal reasons. Yoast SEO gives you the power to make such a choice effortlessly.
10. Internal linking: To rank high on search engine result pages, you need great content for your website. The content must be relevant, of high quality, and informative. After creating such content, it may be quite challenging to structure the content appropriately for the desired result.
With the internal linking tool within Yoast SEO, you can show the important and related posts to Google. This creates an internal link for your website, one of the basic requirements for Google ranking.
I've limited myself to these ten features of this excellent SEO tool. There are other features that you will discover while using Yoast SEO. These features will make your SEO journey easier and faster.
They will assist you to attract more visitors to your website from social media, increase organic traffic from Bing and Google, as well as boost your readers' engagement.
Over the years, some five million people have downloaded Yoast SEO to boost their chances of making their website content SEO-friendly.
If you are among these people or want to increase the number of Yoast SEO users, it is crucial that you understand how to install the plugin after you have successfully downloaded it.
I will give you a step-by-step and simple-to-follow installation guide next.
How to Install the Yoast SEO Plugin on Your Blog
It will only take you a couple of minutes to install the Yoast SEO plugin if you follow the installation guide religiously. You will install the plugin in no time if you follow the guide below.
Log in to your WordPress dashboard.
Click "Plugins" to have access to the list of available plugins.
Click "Add New."
An "Install Now" link will appear, click it.
5. After clicking "Install Now," a pop-up box will appear.
Click "OK" to signify your intention to install the plugin.
This will trigger the downloading process.
Once the downloading is successful, click "Activate Plugin" to activate the downloaded plugin.
After clicking "Activate Plugin," you are through with the installation process. Next is the setup that allows you to customize the Yoast SEO plugin to meet your specific needs.
Yoast SEO Settings and Configurations
Yoast SEO offers tons of settings that you can customize to simplify your website SEO efforts.
Although handling the settings can be a bit overwhelming if you are a first-timer, however, if you follow the easy guide below, you'll get it done in a couple of minutes.
That will allow you to have a website that is perfectly optimized for better ranking on search engines. Let's start with the General Settings
1. General Settings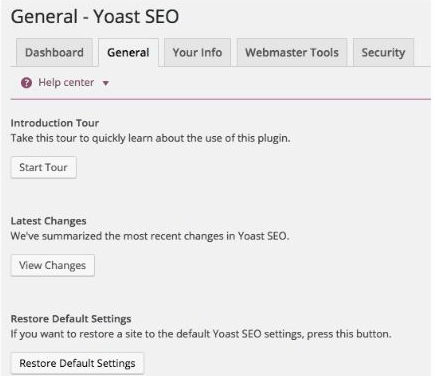 The General Settings allows you to intimate yourself with the uses of the plugin via the "Start Tour" button. If you want to see the most recent changes made to the plugin, click "View Changes" button to have access to the changes.
Of course, you can restore your website to Yoast SEO's default setting through the "Restore Default Settings" button. The Restore option is also available to correct some changes you really don't want again.
Don't forget to click "Save Changes" when you are through with whatever you want to do here.
To gain access to the settings, log in to your dashboard and access the plugin from there.
Click "Yoast"
Click "SEO"
Click "Dashboard," and you can go ahead and make the necessary setup for your plugin.
2. Your Info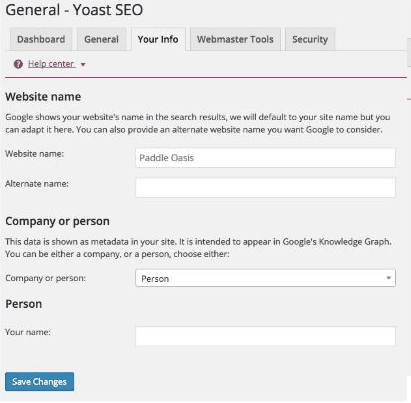 The "Your Info" tab allows you to make changes to your website's name and some other necessary changes. For instance, if you want to have an alternative name that can have a positive impact on your search engine ranking, you can do that here.
Also, the Your Info tab offers you the opportunity to add a person or a company to your website if that will boost your chances of ranking high as well.
Don't forget to click "Save Changes" when you're through with the settings in order to effect the changes you made.
3. Security
You are obviously aware of the importance of ensuring the absolute security of your website. Yoast SEO plugin assists you to boost your website's security through the Security setting.
This is even more important if your website practices the multiple-author policy. You must ensure that only authorized authors to have access to make changes to your content and the blog in general.
From the Security tab, enable "Advanced part of the Yoast SEO metabox" to take advantage of the security options. When you activate the setting, you restrict the ability to set canonical URLs, redirects, and nonindex settings to authorized personnel only.
4. Social
Social media is gradually carving a niche for itself as one of the most powerful tools that will play a significant role in SEO.
In order to take advantage of this opportunity, Yoast has fully integrated with the major social media platforms so that you can easily share your content on these social media platforms.
Facebook Settings
As you can see from the image above, the Facebook tab is where the meta data for your Facebook Open Graph can be configured conveniently. Thus, you can easily configure your posts to make it ideal for Facebook via the WordPress editor.
If you want to monitor your page traffic from your Facebook page (if you have), you simply need to include your Facebook admin, and you're good to go.
Twitter Settings
Next is the Twitter tab. Use this tab to specify how you want the Twitter card to show whenever you share any of your posts.
If you settle for the "Summary with large image" option, your conversion will be much better than if you restrict yourself to the title alone.
Pinterest Settings
Customizing this plugin for Pinterest is pretty simple. This is because Pinterest's Open Graph meta data is similar to the one used by Facebook. Just enable Facebook meta information, and the Pinterest version will work.
When you are through with this, confirm your website with Pinterest, and you are good to go.
Google+ Settings
Google+ is another important social media platform that has the potential to have a huge impact on your website SEO. This is especially true if you have the business page of this platform.
Link the Google+ business page to your profile. In the About page, simply add your website's URL to enjoy the support of this social media platform.
5. Advanced Settings
If you want to take your SEO efforts a bit higher, use the Advanced feature of the plugin to boost it. In spite of the name, this section is pretty easy to tweak, and if you get the tweaking right, your website will benefit immensely from its impact.
From this setting, you can change your Permalinks, Breadcrumbs, and RSS.
Permalinks structure
If you desire to make your URL SEO-friendly, it is essential that you adjust your permalinks. By default, Yoast enables a setting that will use your permalinks structure. Change these permalinks for the best result.
To make the necessary changes, navigate to Settings and then click "Permalinks." Choose the "Post name" setting so that you can use the existing structure but a new one. Study the image above and see the permalinks settings there. Use the settings to improve your URL's SEO friendliness.
Breadcrumbs
Breadcrumbs refer to the path that a website visitor will take before reaching his or her destination on your web page, such as Home>Tutorials>How to Install Plugin.
Breadcrumbs will improve your search results appearance and give the search engine detailed and better information about your website's structure.
RSS Feed
If you have tons of posts on your website, it is an excellent idea if they are linked internally. This is another smart move to improve your SEO efforts.
The RSS feed settings allow you to link all the posts on your website together. This is advantageous in the event that your content is plagiarized. The RSS setting will notify both the search engines and your readers that you are the original owner of the plagiarized content.
That's an effective immunity to Google's hammer on plagiarized content. You won't be penalized for what you actually labored for to put together for your audience.
Yoast SEO Pricing | How Much does it Cost?
Yoast SEO is available in two different plans: Yoast Premium and a free version. These two plans have their basic features to enable a website owner to choose the right plan for their search engine optimization project.
The Yoast SEO Free Plan: As the name suggests, the Free plan won't cost you a penny but offers limited features than the Yoast SEO Premium plan.
Thus, while you enjoy the basic features with the free plugin, you won't have access to some important features in the Yoast SEO premium version that will make your SEO planning faster and easier.
The Yoast SEO Premium Plan: The Yoast SEO Premium plan offers all the features that you need to make your website SEO work. Some of the unique features that are incorporated into Yoast SEO Premium but absent in the Free plan are:
You can optimize keyphrases, keywords, synonyms, and others.
You can do Facebook, Google, and Twitter previews.
The readability of each of your content will be analyzed. This makes it easy to perform Flesch Reading Ease Score for the content.
You can also have absolute control over your website's breadcrumbs by setting a primary category for each of your posts. For each page, you can determine the taxonomy as well.
Perform internal linking with the assistance of the plugin as it gives you suggestions for related links you can connect together. In the Free plugin, you have to do this manually.
A year of full access to support from the support team, staffed by experts in the field.
Retain your visitors by redirecting your old URLs to new URLs. This prevents 404 Not Found error and keeps your visitors to make repeated visits to your website.
There are tons of other benefits that make Yoast SEO Premium worth it over the free plugin. That will have a huge positive impact on your website.
Frequently Asked Questions [FAQ]
Both during and after installing the Yoast WordPress SEO plugin on your website, some questions may pop up that requires urgent answers. Some questions that may bother your mind are:
1. What is Yoast's refund policy?
If, for any reason, you are not satisfied with the Yoast WordPress SEO plugin and want a refund, present your complaints within 30 days of making the purchase. Rest assured that Yoast will make a full repayment without delay.
2. Does the plugin expire?
No. You can use the plugin as long as you want. When you make a purchase, a renewable subscription is included to make room for upgrading the plugin.
3. Do I need multiple subscriptions for multiple sites?
As an online entrepreneur, you may have a domain or two to promote your different products or services on 1 WordPress install. Regardless of the number of domains you have on a single website, you only need a single subscription for the main site to take care of the multiple domains.
On the other hand, if you install multiple WordPress sites and two or more domains, it is mandatory that you have multiple subscriptions for the multiple domains or websites, although you will get a discount for the multiple subscriptions.
4. Can I upgrade my subscription to use on multiple sites?
At the moment, subscriptions can't be upgraded. As mentioned above, you can purchase multiple subscriptions at discounted rates to take the core of your multiple sites.
5. Does Yoast have an affiliate program?
Yoast used to have an affiliate program, but that was discontinued due to the poor response to the affiliate program. In the meantime, Yoast welcomes suggestions from users on how to revive the affiliate program to be mutually beneficial for both the company and the users.
6. How do I update my Yoast plugin?
If you are using an older version of the plugin, you can update the plugin to the latest version in your dashboard to benefit from the new features added to the new version and have a bug-free new plugin.
Follow the process below and get the update done in no time through the Plugins Overview:
Log in to your WordPress dashboard.
Click "Plugins." This will display a menu on the left-hand side.
The number beside the "Plugins" option, 4 in the image above, shows the number of possible updates that are available for the plugin.
Before clicking "Update now," go through the plugin list and see if you can find the notification for the plugin update. When you find it, click "Update now" to initialize the process.
You should always back up your website whenever you want to make an update to your website. That will prevent losing your data and website content if anything goes wrong during the update.
Conclusion
With stiff competition in the online market, it is imperative that your website is well-placed on search engines in order to increase your site visit and product or service patronage. With the assistance of the Yoast SEO plugin – especially the Yoast Premium version, you are equipped with whatever you need to optimize your site to improve its ranking.
From the General settings to the Social Media settings, you can tweak your website in order to achieve the desired goal of seeing your website ranking high on search engines.
Don't forget the importance of regularly updating your Yoast SEO plugin when necessary. That's a way to enjoy new features and eliminate bugs that may impact the plugin's performance negatively.
Get Yoast SEO Premium Today
Therefore, if you have a WordPress site, I'll urge you to give the Yoast SEO plugin a shot today and see the impacts it can create on your Website SEO efforts.
Want to learn step-by-step how I built my Niche Site Empire up to a full-time income?
Yes! I Love to Learn
Learn How I Built My Niche Site Empire to a Full-time Income
How to Pick the Right Keywords at the START, and avoid the losers
How to Scale and Outsource 90% of the Work, Allowing Your Empire to GROW Without You
How to Build a Site That Gets REAL TRAFFIC FROM GOOGLE (every. single. day.)
Subscribe to the Niche Pursuits Newsletter delivered with value 3X per week