You're about as apt to get struck by a meteor as you are by work-free, passive income. If it were that easy, you'd probably be watching Seinfeld reruns instead of reading Niche Pursuits. I don't blame you. But let me ask you an easy question: do you want to increase your website's passive income without doing any extra work?
Yeah, duh, of course you do.  And what if we're talking about increases in the ballpark of 50% or more?
Now I've got you salivating.
You can't increase your site's earnings with no work. But you can increase your site's earnings with minimal work. Like, creating an account and clicking "Install" kind of work. In this Ezoic review, I'm going to show you how to generate residual, increasing income just by creating an account and then installing Ezoic in all the right places.
Ezoic brought up Spencer's earnings from $5.01 Earnings Per 1k Visitors (EPMV)  to $16.63, a 232% increase. Spencer didn't have to optimize, A/B test, or do anything after installing the ads. You can start using Ezoic for your website by clicking below. If nothing else, you'll get a lot of benefit just by following along in the review. 
Update after NSP4 reveal: Spencer's ads got up to $17.40 EPMV during the month of June. That represents a 247% increase. Read the full NSP4 reveal here.
Let me go ahead and disclaimer this by saying that Ezoic allows sites with 10,000 monthly views and up to apply. They limit applicants because their technology works best when you're getting consistent high traffic. If you're getting those traffic levels and want to up your ad income, you can try Ezoic for free here.
Ezoic Review
Ease of Use -

100

Features -

100

Time To Optimize Site -

90

Price -

100
Summary
Ezoic works to maximize your earnings, speed up your site, and increase the amount of time each visitor is on your site. They are always split testing to improve your site and optimizing for maximum revenue. Best of all, it doesn't cost a single dollar. Click here to try Ezoic free.
Pros
Boost earnings with automated ad tester
Easy to set up, begin, and manage
You have full control and final say over everything
Improve your entire site with tons of extra features like PWA, AMP, site speed, and more
Unlimited free version
Cons
Must have 10k monthly visitors before applying
Can take some time to get you at full optimization
Ezoic: The AI Ad Tester
Ezoic works by taking all of the ad locations on your site (that you set up through Ezoic) and running continual split tests. Without requiring any work from you, Ezoic tests ad size, ad location, and other ad placement variables across your site.  In addition to testing ad layout, and design, they carry some other tools to maximize your revenue.
For one, Ezoic works to speed up the ad delivery on your site. They are partnered with Cloudflare to ensure that your website is served on a server local to each individual visitor. It doesn't matter where your viewers come from, your ads will load faster.  
You also get a free Accelerated Mobile Page (AMP) conversion. This is like taking an already-fast mobile page and cranking it up a notch. Site owners have needed to get a plugin for AMP in the past and it hasn't always worked out great. Spencer's AMP pages for Niche Site Project 4 weren't getting indexed by Google, so he removed the plugin. Ezoic does it for free.
Ezoic also packs what they call "Layout Tester". This layout tester works by figuring out what version of your site someone is seeing (desktop, tablet, or mobile) and serving that visitor the best ad variation for them. Ezoic works to balance user experience with ad revenue. 
Last, Ezoic works to boost your revenue by creating additional bidding for your ads. This doesn't affect your site or your visitors, but ensures that you are getting the maximum benefit from each click. For example, you might have a bidder giving you $0.50 per ad click. Ezoic will place your ad on a marketplace and run up the price. Then you might get $0.60 per ad click.
All of this goes on with minimal feedback from you, but that doesn't mean that you have no control. Ezoic gives you complete control of where your ads go, how many you have on a page, and gives you options for whether you want all the extra stuff like AMP.
All final decisions are left up to you and Ezoic only controls what you want it to.
So let's take a deeper dive into the AI ad tester.
Ezoic Review: Ad Management System Made Easy?
First Glance
When you first go to Ezoic's site, they give off the impression that it's a high tech, well-run company. It looks nice.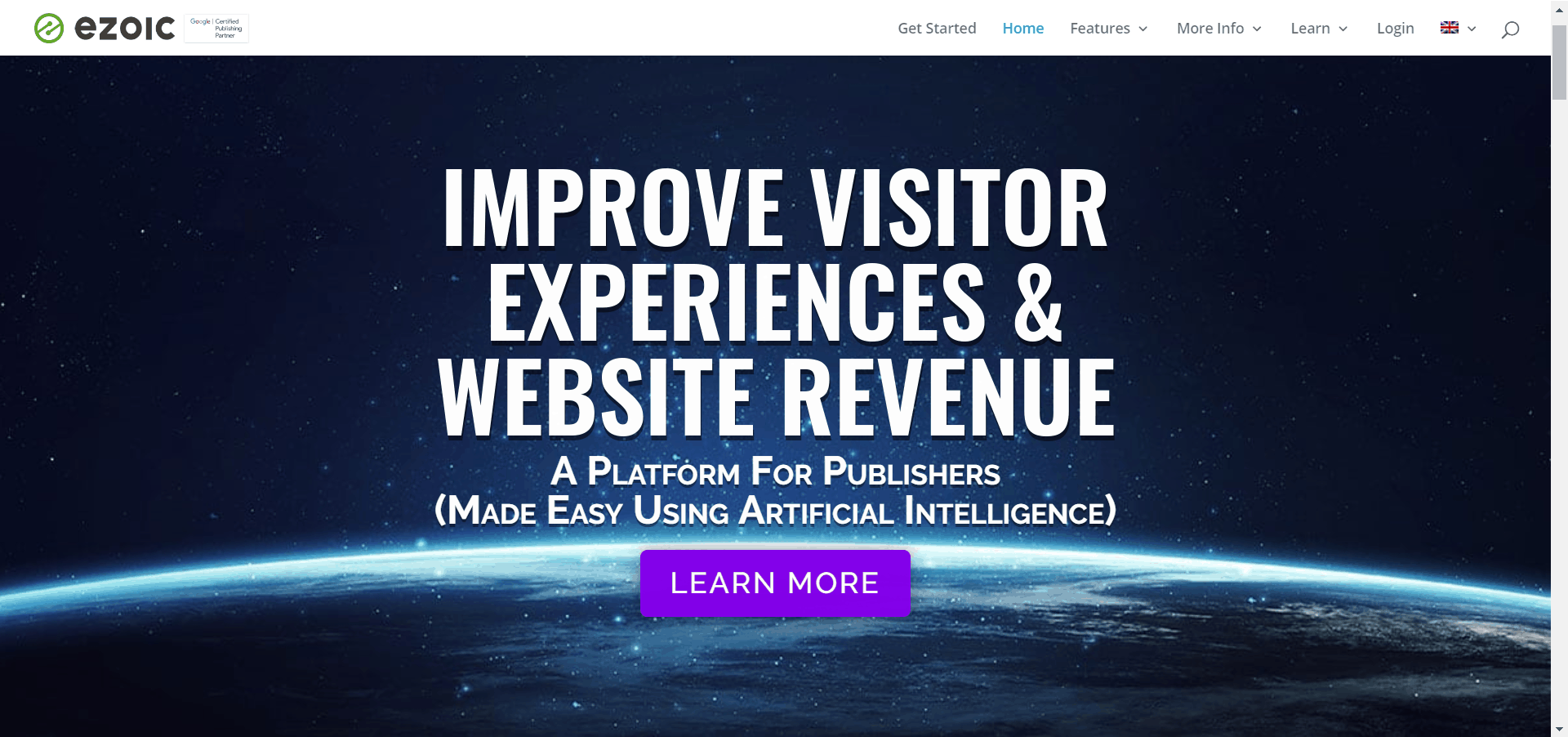 As you go down the page, Ezoic gives you a bit more information on what they do and who they are good for. We'll break each of these options down below as we take a look under the hood. Here's a taste of what's to come. 
It sounds great… but what's the catch?
If there is a "catch", it's that Ezoic has some standards for the partners they accept. They don't take in everyone who applies for their ad program, but their standards are a lot lower than alternatives like MediaVine (25k per month) or AdThrive (100k per month). To apply for Ezoic, you have to satisfy the following requirements:
Traffic
Your site must have 10k visits per month.
Compliance With Google
Your site has to be in compliance with Google's policies. This includes but isn't limited to:
No invalid clicks or impressions
Not offering copyright material
Reliable traffic source
Shouldn't redirect users to undesirable pages
Not using automatically generated content
No "shallow content"
No undesirable content (adult/dangerous/derogatory)
Content
In addition to the requirements listed above, your site has to be "original, constructive, and enticing". In other words, make sure that you've done your keyword research and written valuable content.
Approved by Adsense
Your site has to be approved by Google Adsense to apply to Ezoic.
Informational Content Site
Your site has to be informational and content-based. At the time of writing, Ezoic doesn't work with ecommerce sites or corporate sites.
How To Increase Display Ad Earnings: A Look Under The Hood
So now that we've gotten an overview of the first impressions and requirements of Ezoic, let's get down to the meat of the review today. Can Ezoic increase your display ad revenue? If so, by how much?
Ezoic claims that the average website will experience about a 50% increase in ad revenue. They don't just pull that number out of thin air; Ezoic has quite a bit of users who can testify to their success with the ad management network. Their website has a ton of case studies, some of them pretty eye-catching.
Those are some pretty bold claims, but they have the data to back it up. Ezoic published one study looking at the Year over Year (YoY) improvements in 50 sites that signed up with them in 2018. These websites had an average increase of 123% in their EPMV. This means that for every 1000 visitors, the sites ended up over doubling their income.
Ezoic also boasts claims about increasing organic keywords and overall site traffic. But I factored these results out as they could be manipulated by site owners. If site owners on Ezoic publish more content backed by solid keyword research, then their traffic and keywords increase anyways.  
But site owner's can't do much about their EPMV. This is controlled entirely by Ezoic.
Spencer's Niche Site Project 4
As mentioned in the intro, Spencer's Niche Site Project 4 (NSP4) runs Ezoic ads. Let's take a peek at how he's performed so far.
One disclaimer I'll toss in here is that Spencer was already approved for Ezoic on another website of his. So the Niche Site Project started using Ezoic a bit earlier than the recommended 10,000 monthly visitors. His time with Ezoic started in February when NSP4 was getting right over 2000 sessions per month. 
At the time, Ezoic was earning him about $6.50 EPMV. For every 1000 visitors, Spencer earned $6.50.
And then the power of Ezoic's split-testing AI began to kick in. It took a little longer to become a big success since there were relatively few visitors to NSP4, but check out this EPMV growth month over month.
This means that for every 1000 visitors, Spencer was making $5.01, then $5.70, then $11.57, then $15.88. That is a massive 217% increase in EPMV. At one point, Spencer's ads were making $16.63 EPMV. I expect that this drop to $15.88 is probably temporary and that the earnings per visitor will continue to increase.
This is pretty typical when you first start out on the Ezoic platform (from what I hear).  You shouldn't expect your income to be sky high in the first month or two.  Your display ad revenue may just seem "so-so" when you first switch to Ezoic.  
However, the power comes in the platform as it learns over time using it's artificial intelligence.  The longer you allow Ezoic to run, the higher it should be able to optimize your earnings for you.
Spencer's NSP4 hasn't just seen an increase in relative earnings per visitor, but in absolute earnings as well.
I am writing this article on June 14th, so note that the June earnings are "lower" than May earnings. This is because less days have passed in June (only 14) compared to May (all 31). If you calculate it out, June is on track to earn an additional $193.14. This would put June at a forecasted total of $362.14. This would represent a 59% increase in earnings over May!
Some of this is due to NSP4's higher traffic, but a large portion is due to the higher EPMV that Ezoic has captured for June.
Look at that beautiful trend line. You can tell that NSP4 began getting more traffic in April since the earnings spiked. If you look at the previous picture with the EPMV graph, the earnings per each visitor rose as well.
But this is just one example. How have other sites fared with Ezoic?
How Other Sites Increase Display Ad Earnings
SimplyPsychology
SimplyPsychology.org started with Ezoic after spending time running Google Adsense ads on their site. Ezoic increased their earnings by 400% and visitors started staying on the site for 84% longer.
AskDaveTaylor
AskDaveTaylor.com began using Ezoic to optimize their current ad layouts. Ezoic increased their earnings by 89% and boosted page views by 49% in one year.
perfect-english-grammar
Perfect-English-Grammar.com started using Ezoic because they wanted to monetize their site better. After 2 years with Ezoic, average time on site for users is up 43% and bounce rate dropped by 30%.
Other Case Studies
You can view other case studies here. I searched for a long time, but I wasn't able to find anyone who said that they performed worse with Ezoic. It makes a certain sort of sense: all that Ezoic does is automate the ad testing process. They do some stuff to make your site faster and more appealing to users, but the big draw here is that your ads improve. 
Worst case scenario with Ezoic is that you already have the perfect ad layout (that's unlikely) and won't earn anything extra. If you decide that you don't like Ezoic, you can turn it off.
Turning Ezoic off is pretty easy. Go to Settings –> Turn Ezoic On & Off –> Off.
So there's no harm in trying out Ezoic. We discuss later how Ezoic makes money, so read on. For now, suffice to know that Ezoic is free forever. You can try it on your site here.
Ezoic App Store: Increase Adsense Revenue Indirectly
Besides Ezoic's power as an ad management system, they work to increase your earnings in other ways as well. Ezoic provides all users with their own version of an App Store. 
Here's what it looks like. I zoomed out so you could get a better picture of how many ads Ezoic is packing.
There are a lot of apps here and a few more below the fold. There are a few apps that I want to discuss, not all of which are on visible in the photo.
Cloudflare
Ezoic can pair your site with Cloudflare content delivery network (CDN) to improve your site speed world wide. CDNs work by way of having multiple servers around the world. Wherever a user is located, he or she can access your site faster.
Ad Tester
This is the app that enables everything we discussed earlier. Ezoic tests ad size, number, and layout on your site to maximize your earnings.
Mediation
Mediation works by pairing your other existing ad networks with Ezoic. The people who are purchasing ads on those networks (Advertisers) will now have to compete with Ezoic's own advertisers. This ends up raising your earnings per click without your users ever knowing the difference.
Mediation is helpful if you're running multiple ad networks (Adsense and Media.net, for instance).
Privacy Policy
Ezoic can create your own privacy policy for your website. Sites with ads need a special privacy policy, so this is a nice help.
Max Ads Per Page
By default, Ezoic tests how many ads work on pages of different lengths. So you may have 4 or 5 ads on very long content, but only 1 or 2 on shorter content. Don't worry, your eyes aren't betraying you and Ezoic isn't violating any terms or conditions of Google. Since Ezoic is a Google Certified Partner, they can put more than 3 ads on your pages without penalty.
That right there can boost your earnings. But if you aren't interested in having a high number of ads on your page, you can restrict how many ads that Ezoic will put up. You have full control and can choose any number from 0 to 5 as your max.
Social Icons
Ezoic comes with the option to install AddThis on your website. You can have floating social icons, follow buttons, and more. This isn't a bad addition, but the AddThis plugin is already free for your site. If you aren't using a social share plugins, AddThis is pretty powerful.
PWA
Now this is a big deal. PWA stands for Progressive Web App. This means that Ezoic can turn your website into an app on users' phones. 
Having a PWA version of your site means that users can access your site from their home screen. They can view versions of your site while offline and receive mobile notifications. The version of your site that visitors get from mobile is faster and more responsive.
That right there is called a win, folks.
Best of all is that the PWA upgrade is free inside of Ezoic. Nothing to complain about there.
FREE DA40+ Backlink with DA50+ order!
High-quality Guest Post and Backlink Services!
You Approve the Domains
1k – 100k+ Publisher's Traffic
NO PBN or LINK-FARM. All our guest-post plans guarantee 5,000+ organic publisher's traffic except for DA20 and DA30.
Relevant Sites, in-content Links
1,000+ Words Quality Content
Get Your Free Backlink
Recommended Pages
Ezoic includes an app to help you boost user engagement on your site. The Recommended Pages app uses AI to show each user some content that he or she might be interested in reading next. There are other plugins for this, but none that I know of use AI to track user behavior and tailor specific posts.
It's a great addition to the Ezoic suite since it helps boost users' time on your website and lower your bounce rate while increasing your authority and user trust. These metrics (including the impossible-to-measure user trust) work together to boost your earnings over time.
Consent Management
This app ensures that you are GDPR compliant.
Site Speed
The Site Speed app works by finding the version of your site that is fastest and performs the best. Ezoic never compromises on website speed and works to ensure that your site is always loading fast, even with ads present. Site Speed finds the version of ads on your site that load the fastest and bring in the greatest amount of revenue.
Ezoic Reporting
It's pretty easy to see by this point that Ezoic is a bit more than just an ad management system. They are a full service website improver. They are an ad tester, but they also improve your Adsense revenue by making your whole site better.
Ezoic improves time on page, lowers bounce rate, boosts your site's speed, and increases your overall earnings… right?
How can we be sure?
Ezoic doesn't just say all these things. They provide the tools so that you can watch your metrics and see whether it's true or not.
The reports dashboard has a lot of information, but it's clean and pretty user friendly. Again, I've zoomed out so you can see everything in one picture.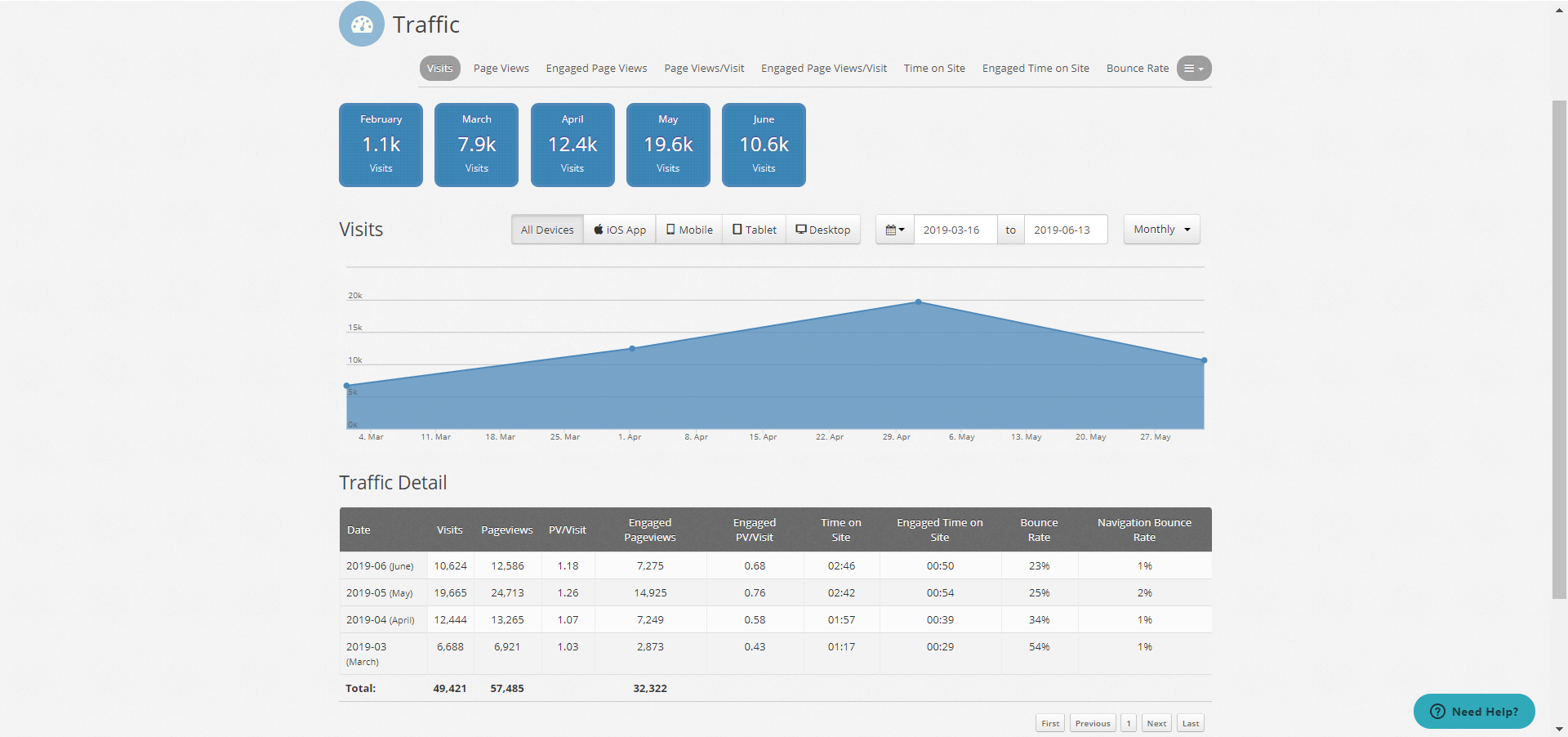 This is the traffic for Spencer's NSP4. June is down again, but we're only 14 days in and it looks like it's going to surpass May 😉
There's a lot you can do on this screen. You can see traffic details for individual months, visits, page views, how many pages your visitors are looking at, and more.
Ezoic has a whole section where you can break down the type of metric you're looking at.
Clicking on any of these tabs gives you a detailed analysis of each metric. You can view the change over time and you'll get a graph. For Spencer's NSP4, the page views/visit and time on site has done nothing but trend up since Ezoic was installed. Not sure if that's due to Spencer's efforts or Ezoic, but there it is. Correlation isn't causation, but it doesn't hurt.
Now let's talk about my favorite part of Ezoic.
Ezoic Monitoring
Before we get into Ezoic's pros and cons or pricing, we're going to take a look at one last page that Ezoic offers. The Monitoring page.
I've blanked out NSP4's url 😉 sorry.
Update since NSP4 reveal: The URL is owntheyard.com 😀
There are four different options when we get into the Monitoring screen: Objectionable Content, Platform Updates, Google Updates, and Error Pages.
Let's take a look at each.
Objectionable Content
Ezoic's Objectionable Content page gives you a list of the urls for your website that may have content unfit for ads. This could be adult content, some types of gambling stuff, or even swear words. Ezoic blocks these pages from showing ads.
This is an incredible feature and one that could save your hide with Google. Ezoic blocks all ads from objectionable content because if they didn't, Google could suspend your Adsense account in a heartbeat.
This page is like driftwood out in the ocean of Google's ToS. You are much less likely to lose Adsense access due to what Ezoic does here.
Platform Updates
This page shows updates to Ezoic. It's pretty much there to let you know about new apps. Lots of the new apps are helpful (Sitespeed was just added 10 days before I wrote this review), so it's a nice page to have.
Google Updates
Here you can find major Google changes. This page could be crazy helpful, but at time of writing, it isn't showing any updates since 2017. If you're interested in Google updates, I suggest checking Moz's Google Algorithm Change.
Error Pages
This report shows pages that are returning an error message. It could be due to a bug, changed link, or whatever. It also shows you the pages that were linking to your broken-link page. Spencer doesn't have any of these, so I'm not sure if they show internal links to the error page or external links. I would think they would show internal links.
Ezoic Pros And Cons
The Good
Ezoic has a lot going for it. The company behind Ezoic seems like they're doing a lot right and working hard to provide a no-brainer product. Here are some of my favorite benefits of using Ezoic.
Automated Ad Tester
Ezoic will test the size, layout, and shape of ads on your site. This is a continual process and ensures that you are getting the most revenue out of each visitor to your site.
Easy To Set Up And Use
You can get Ezoic working on your site by adding scripts or changing your nameservers. Either one works, but both are pretty easy to do.
Once Ezoic is up and running, you can manage it with just a few clicks or by installing a couple of apps. You can designate where you want your ads to go, how many you want, and excluded pages. Or you can leave everything in Ezoic's hands.
You Have Full Control
Once thing I love about Ezoic is that they never force you into a decision. You are given full control over how much (or how little) influence Ezoic has on your site. You can opt in or out of their speed services, Cloudflare, PWAs, and Accelerated Mobile Pages (AMPs). You can even make all of the final decisions about ads if you like. Choose where they go, how big they are, and the shape.
Or you could do like Spencer does and leave all of this in Ezoic's hands.
More Than Just Ad Testing
This is one reason why I think Ezoic is awesome. They are more than just the best ad management software. They help improve every aspect about your site. Ezoic's team knows that when visitors are more engaged, visit more pages, and see the site load faster, they click on more ads. Ezoic is committed to improving every aspect of your site.
Free Option
Ezoic doesn't cost anything to use unless you choose to pay. Their free plan is unlimited and has all same the features of the paid plan. 
We discuss how Ezoic makes money in just a moment.
The Not So Good
Now that we've discussed everything that makes Ezoic awesome, let's take a look at the less than awesome things.
Traffic Requirements
Ezoic requires that you have 10k monthly visitors before applying to their program. This becomes a pro once you're in the program: the traffic requirements draw higher quality (and higher paying) advertisers.
Needs Time To Work Best
Ezoic may give some slight boosts to EPMV right away, but they can take a little while to find the optimal setup for your site. This isn't too scary for you if your site is bringing in a significant income since you're probably used to investments having payouts months or years down the road.
But Ezoic isn't a get rich quick scheme for your site. It can take weeks or months for it to get to optimum revenue on your traffic.
Ezoic Price: What Does Ezoic Cost?
Ezoic has two payment options at time of writing: Free and Professional.
Ezoic Free Plan
Ezoic's free plan doesn't cost you anything. They don't scrape from your ad revenue, slow down your site, or always try and upsell you. It's none of that. 
The free plan is truly free. 
So How Does Ezoic Make Money?
If you're on Ezoic's free plan, their primary form of income is through ads itself. They place a small ad at the bottom of pages where you have ads enabled. It looks like this:
Ezoic funds itself by keeping the revenue from a single ad at the bottom of your page.
Ezoic Professional
Ezoic also has an option for a paid plan. They charge a flat fee that scales based on how much you are making in advertising each month.
For every $1000 you make in ad revenue each month, Ezoic charges you $50. This represents a 5% cut off the top of your ads, which is much less than the average site earns after switching to Ezoic.
And again, this paid plan is optional. You never have to pay Ezoic a dollar if you don't want to. It is just for the purpose of eliminating the single ad at the bottom of your pages where ads are enabled. To clarify, Ezoic will never place any ad on a page where you have ads disabled. This keeps ads off of your home page, contact or about pages, and other locations you don't want them.
I'll go ahead and let you in on a little secret that at time of writing, Spencer is using the free plan for NSP4. It works just fine.
You can use the free plan too. Click here to try it out on your site. 
maximize your ad revenue for free with ezoic
Is Ezoic The Best Ad Management Software For Me? Ezoic Alternatives
Whether or not Ezoic is the best for you will depend on who you are and how much traffic you're getting. Let's break down a few categories.
Baby Website: 0-10k Monthly Viewers
The answer is pretty clear for this group: Ezoic isn't the best tool for you. You are unable to apply until you're hitting at least 10k monthly visitors.
For this crowd, we recommend sticking to affiliate marketing. You can get earnings from just 1 monthly visitor if you turn him or her into a buyer. If you have a steady stream of traffic, you can try applying to Google Adsense as well.
Youngster Website: 10k-25k Monthly Viewers
If you're a website younger, Ezoic is a pretty good option for you. You're still too low for companies like AdThrive or MediaVine, but you can apply to Ezoic if you have at least 10k visitors per month.
You can also try Media.net. If you get approved, you can integrate them into Ezoic by use of the Mediation app. Mediation causes Ezoic advertisers and Media.net advertisers to bid against one another. You end up with higher payouts per click and your users never know the difference.
College Grad Website: 25k-100k Monthly Viewers
If your website is rocking a steady 25k to 100k monthly viewers, you're at the range where you can apply to MediaVine as well.
We recommend trying out Ezoic first. The two offer similar services, but Ezoic offers more of a full range website improvement service. They boost your revenue, site speed, and visitor time on page. After spending a few months with Ezoic, you can consider switching to MediaVine for a couple of months. Test out your EPMV and go with the service that keeps your earnings per visitor higher.
Spencer was debating switching to MediaVine as soon as he hit 25k visitors. But he's done so well with Ezoic on NSP4 that he's staying with them for the foreseeable future.
Wizard Website: 100k+ Monthly Viewers
You are a true website wizard. Hitting the 100k per month mark isn't easy and it opens you up to some very interested advertisers. You have more options with Ezoic, Mediavine, or Adthrive (and others).
In general, Spencer has found that Adthrive earns roughly the same as Ezoic or Mediavine, so it may or not be worth the switch.
Is Ezoic Right For You?
Whether Ezoic is right for you will depend on where you're at in the website process. I tried to find everything that was wrong with it, but Ezoic is a pretty solid pick. I recommend it without hesitation if you're in the 10k-25k monthly visitor range. If you're above 25k, then you certainly have more options, but honestly, the other options may not be worth the effort of switching.
For the majority of readers, I'd say that you should give Ezoic a try. You can join Ezoic for free and you will never have to pay them a dollar if you don't want to.
Click here to see if Ezoic can boost your earnings by 50% or more
Ezoic Review
Ease of Use -

100

Features -

100

Time To Optimize Site -

90

Price -

100
Summary
Ezoic works to maximize your earnings, speed up your site, and increase the amount of time each visitor is on your site. They are always split testing to improve your site and optimizing for maximum revenue. Best of all, it doesn't cost a single dollar. Click here to try Ezoic free.
Pros
Boost earnings with automated ad tester
Easy to set up, begin, and manage
You have full control and final say over everything
Improve your entire site with tons of extra features like PWA, AMP, site speed, and more
Unlimited free version
Cons
Must have 10k monthly visitors before applying
Can take some time to get you at full optimization
Your Next Ad Management Software
Thanks for reading my review on Ezoic! I hope it's been helpful for you. If it has, please let me know in the comments. If it hasn't, will you take a moment to tell me why not? Your feedback helps improve everything we post on Niche Pursuits.
I tried hard to find everything that's wrong with Ezoic. As for its biggest downfalls, the best I can say is that it can take some time (weeks or months) to get your site to its most optimized form. Though I guess the biggest con if you're under 10k monthly traffic is that you can't use it. 
If you want to boost your website ad earnings by 50% or more, then I say give Ezoic a shot. Worst case scenario is that you don't like it and disable it, so there isn't anything to lose (but there is up to 232% to gain).
Click here to try Ezoic for free.
boost your website's earnings by 232% with Ezoic
---