KWFinder Review and Tutorial: Can It Hang With Other Tools?
When you buy something through one of the links on our site, we may earn an affiliate commission.
Niche sites are built on the backs of keyword research tools. Long gone are the days where you can post whatever you're thinking about on your blog and rank for it.
Money just isn't that easy any more. The strategies have evolved.
In a world of changing strategies, lots of companies have offered "the big solution". Buy my product, use my tool, check out my software.
We've heard it all before.
But in a world of too many competitors, there are some tools that stand out above the crowd. We at Niche Pursuits have reviewed some of the best ways to do keyword research before. But now we're going to take a close look at one of the newest (and, dare we say, one of the best) products on the market.
Here's our no fluff KWFinder review.
If you want to get straight into the action, follow along with us in our review by trying out KWFinder for free. Take it for a spin, see what you think.
Try KWFinder For Free
---
KWFinder First Glance
When you go on the KWFinder site, you may notice it looks a little different than other keyword research tools. It looks clean, neat. It "pops".
Now let's take a look under the hood.
KWFinder had a pretty recent update to it. In the past, you could only use the tool to find keywords. Now you can use it to find your competitors' keywords. This is super useful if you want to know what your competitors are ranking for. Once you know, you can gear more of your articles to take their keywords through keyword targeting. 
You can then establish your own topical authority and niche dominance.
Let's take a look at the keyword tool first.
Finding Keywords
Keyword Tool
KWFinder's keyword tool can be used to find keyword "content hub" ideas, narrow down a long tail keyword, or to help you find the informational type posts that your visitors are looking for.
When you enter a keyword into KWFinder, you'll see this:
To be honest, it looks a lot better than other keyword research tools (in my opinion).
It breaks data down into info that you can get with a glance. Keywords are color coded into difficulty, you have a small SERP overview, detailed traffic pattern for the past few years, and several other features that we're going to break down in a minute.
To give you a comparison of other keyword tools, here's what SEMRush looks like:
And even the mighty Ahrefs:
*puking emoji*
Besides looking good, KWFinder has a lot of intuitive controls.
Let's say you're looking for keyword suggestions. You just don't know where to start, what to search for next!
No problem.
Type in a keyword and KWFinder will give you up to 700 keyword suggestions that are of loose relation to your seed keyword. When I typed in "protein", they recommended things like "best protein powder", "optimum nutrition", "soy protein", and "best protein for men".
Any of these can be used to build great long tail keywords. 
Long Tail Keywords
Let's start our search for elusive long tails with the easiest one from the results mentioned above. "Best protein powder". Once you have your seed keyword you want to find some long tails for, switch your search from "Related Keywords" to "Autocomplete". I boxed it in red in the photo below.
Look at all those long tails!
But there are some results I don't want. Let's say I'm working on an Amazon affiliate site, I don't care for long tail keywords about Walmart, GNC, or Target.
So let's filter them out.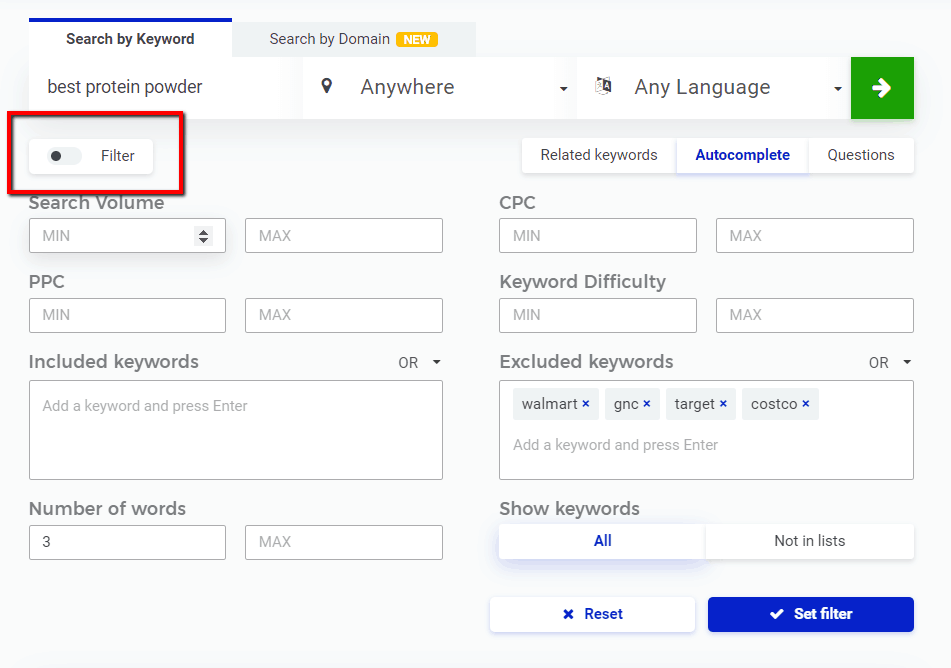 I filtered the keywords and to make sure that all my results were long tail phrases, added a filter that all my results have at least 3 words.
That's not necessary, but it can help filter out some of the bigger search volume, less useful results.
Once my filters are in place, I'm left with 44 long tail keywords. They aren't all great: I still have some like "best protein powder at Walgreens".
But some are gold.
"Best protein powder for women". "Best protein powder breastfeeding". "Best protein powder after surgery".
So KWFinder can be used to find content hubs, long tail keywords, and what else?
Informational Keyword Research
So you've got some hubs, you've got some long tails, now you want to look for some sweet info articles that your audience wants.
These types of articles help build links, build your brand, and can be used to share link juice to your monetized articles. (Monetized articles are often your long tail keyword articles).
First, let's go back to your seed keyword: protein.
Instead of "Related Keywords" or "Autocomplete", click on "Questions.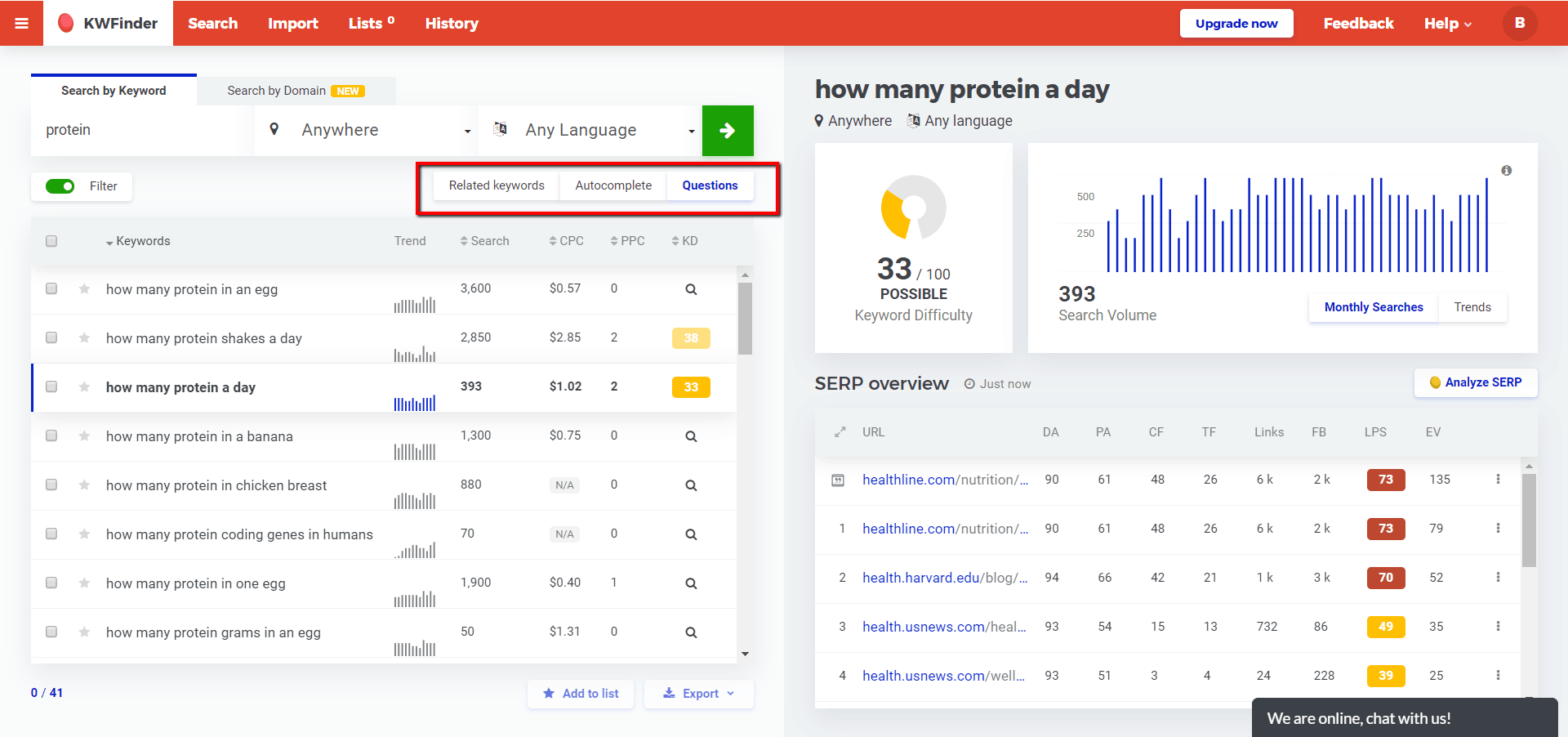 I've already filtered some results out, hence the lower than normal number of results.
You may notice that some of the keywords here don't have difficulty scores next to them. You can click the little search icon to the right of the results to update the SERP and collect a difficulty score.
KWFinder limits how many times you can do this update per day, as opposed to per month for Ahrefs. The limits are high and you never have to spend SERP lookups on results you don't want though. We discuss limits later on down the page.
There are some gems worth of informational based keywords here. "How many protein bars a day" is a good one. "How many protein shakes is too many" is another good option.
If you have to ask how many is too many, you're probably already at your limit.
You can also use the "Questions" tab to find more long tail keywords with a monetary intent. If I put in "best protein powder" and set KWFinder on question mode, I get back tons of valuable results like "What is the best protein powder to gain muscle" and "What's the best protein powder for beginners".
So you can use this tool to get you some ideas, find long tail keywords, and give you plenty of ammo for monetary and informational posts.
Now let's take a look at how you can steal your competitor's keywords and become the big boy in the niche.
Steal Competitor Keywords
To get a look at what your competitors are ranking for, you're going to want to swap from "Search By Keyword" to "Search By Domain" above the search bar.
Find a competitor of yours, type in the domain, and voila.
Keywords everywhere. For an example, we're going to take a look at TheWireCutter.com.
I had to upgrade my account since my trial account ran out of SERPs to display. We'll talk about that later.
I plugged in the root domain for TheWireCutter and there are a lot of things to talk about on the screen. KWFinder gives you the ability to choose keywords for locations, gives you competitor sites, and then shows you what keywords the site is ranking for.
Unsurprising that "wirecutter" is number one.
There's a long list (I pulled 2000 with my upgraded account). There are a couple of things I want to point out.
First, KWFinder allows you to choose between organic and paid keywords. WireCutter doesn't have any paid keywords that it targets since it's an affiliate site, but this is helpful if your deal is Amazon FBA or eCommerce.
Second, KWFinder shows you the position that the site is showing up in. 
That position feature is helpful. If you click on the results you want, (I found one that was "best humidifier), then KWFinder shows the SERP off to the right.
Check this out.
Once you find what your competitor is ranking for, you can see how many inbound links that each result is getting in that SERP. That, as well as the domain authority of the sites, should give you a rough estimate of what you'll need to rank. You can guestimate how much domain authority and/or inbound links you need to compete.
And if you take that keyword you want, put it back in KWFinder, and set it to autocomplete…
Look at all those long tails.
These are the kinds of search results that big sites like TheWireCutter don't target. They know that they can rank for the keyword "best humidifier". Why make an article about "best humidifier and air purifier for baby"? The traffic is too low. So who can target and rank for these types of keywords?
You.
This is an excellent way to find long tail keywords. Figure out what your competitors are ranking for, steal a "big" keyword, and turn on the Autocomplete feature. You'll be swimming in more long tails than you can handle.
One more variation of this before we move on.
You can also target specific URLs using the Search By Domain feature.
I searched their best humidifier article. Now, you see that most of the keywords that their article is ranking for are "short tail". They have high traffic and high competition. It's not always wise to target these keywords, but they have their use.
For any short tail keywords, I recommend tossing them into your article as secondary keywords. If you're writing about "best humidifier and air purifier for baby", then it's easy to talk about "which humidifier is best" and if it's an "easy clean humidifier".
You may not rank for these terms (or you might), but these secondary keywords help search engines like Google understand what your article is about.
KWFinder is super helpful for targeting not just your main long tail keyword, but secondary keywords as well. The more long tails you got, the more traffic you get. Long tail keywords still matter.
So How Accurate Is KWFinder?
What's the point of an awesome, well-designed, user-friendly app if the darned thing doesn't pull the right results? What if it's not being truthful with you?
KWFinder Vs Google Keyword Planner
Accuracy is more important than ever now that Google Keyword Planner is pretty much a lemon. In the olden days of the "Wild West", you might do some basic keyword research with Keyword Planner and rank a site. Now, traffic is an estimation and search terms have been bundled together.
Translation?
You can't find long tail keywords and can't know how much traffic they're getting if you do.
The competition metric isn't helpful since it is for people who are buying ad space on Google.
Let's take a look at traffic first.
Keyword Traffic Accuracy
KWFinder pulls their data straight from Google. And this is the same data that goes into Keyword Planner, but it's not bundled up into monthly search estimates or parent categories. In short, this information is actually useful.
"But wait!" You cry, "Google Keyword Planner shows higher traffic estimates than KWFinder."
Yes, it does. Good eye.
In recent updates, Google has been moving more and more towards just providing for their ad buyers with Keyword Planner. This means that they often combine keywords into one big "parent topic".
So under "best protein powder", Google may include the search volume for "best protein powder for women", "best protein powder to gain muscle", and "best protein powder for weight loss".
This leads to numbers that are technically true but too inflated for our use. When all is said and done, KWFinder has accurate keyword data.
Keyword Difficulty
So that brings us back to KWFinder and how accurate it is. Different tools all use different metrics, Just to give you an illustration of the different values that keyword research tools can give you, here's are some values given by common keyword tools.
|   | KWFinder | Ahrefs | SEMRush | Long Tail Pro |
| --- | --- | --- | --- | --- |
| best protein powder | 39 | 26 | 77.78 | 49 |
| best protein powder for women | 32 | 10 | 71.51 | 47 |
| best protein powder to gain muscle | 42 | 20 | 75.92 | 46 |
| best protein powder for weight loss | 43 | 16 | 75.92 | 46 |
You don't need to be a math wiz to see that there's a bit of a difference between some of the tools. KWFinder and Long Tail Pro tend to trend together. We've got a Long Tail Pro review out already if you want to look at some KWFinder competitors. Spencer tends to use Long Tail Pro when he's doing keyword research, so it's a solid choice too.
I didn't put any rhyme or reason into the keywords above. It's not filtered and I don't have a bone to pick with any health sites. So what's up with the number differences?
In short, it depends on how the metrics are calculated. 
KWFinder tends to be right in the sweet spot and I like its keyword difficulty number more than Ahrefs or SEMRush. Ahrefs depend just on links to a domain and I think this can lead to an off-base number for some keywords. As more and more authoritative sites show up in the SERPs, there are more factors in play than just inbound links.
Lower difficulty and longer tail keywords are probably fine.
I may be wrong, but I don't like to put all my eggs in one basket. Depending on nothing but referring links makes me a little nervous.
KWFinder relies on several sources to get their keyword difficulty scores. They take a look at domain authority, page authority, a couple of Moz metrics, and inbound links to the page. They stir these metrics, add a bit of love, and pop out a keyword difficulty score.
But here's the thing.
Right now, humans are the greatest pattern recognition machines on planet earth. There are over 200 ranking factors that Google uses to determine who shows up at the top of the search results. Keyword research algorithms just can't track all of those as well as your brain can.
So don't put too much stock in the keyword difficulty scores. I personally look at the domain ratings for sites in the SERPs (for my long tail keywords, I like to see at least 2 sites under 30 DR, but under 20 is better) and the number of inbound links to each site.
Using just those two metrics, you can calculate a rough estimate of how many inbound links your page needs to rank and if you stand a chance against the current sites on page one. A lot of times, you can establish a strong topical authority in your niche and outrank sites with bigger, badder domain authority.
Use the keyword difficulty scores of any tool as more of a rough metric. That said, KWFinder and Long Tail Pro have my favorite scores overall for low and high traffic keywords.
Spying On SERPs
One of KWFinder's strengths is that it functions as an all in one type tool. You can find keywords, decide what to target, and then get a rough estimate of how much work you'll need to rank on page one. You can find detailed metrics on Search Engine Results Pages (SERPs) from the KWFinder tool.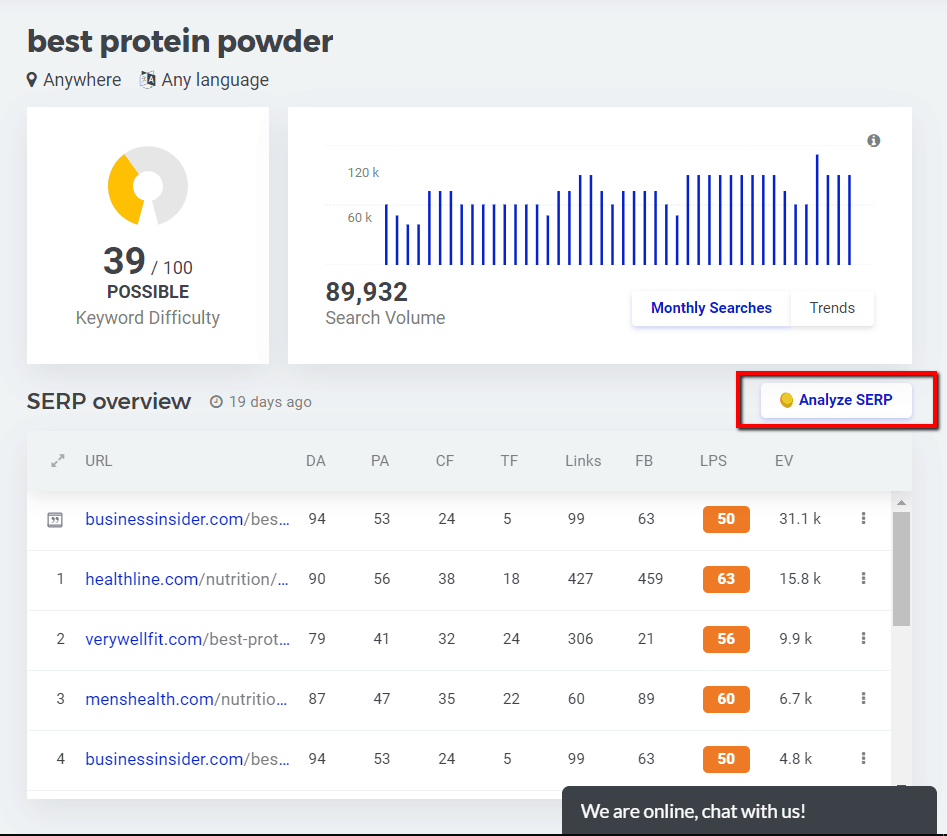 Click on that and you're brought to a detailed SERP analysis.
This is basically a more detailed version of the SERP preview while using the keyword research tool. The most useful feature here is that when you click on the 3 dots beside the keyword difficulty score, you can analyze links or get an in-depth analysis of the site.
These are helpful features if you're looking to steal backlinks from your competitors, see their top content, or get a better feel for their site authority.
KWFinder Pros and Cons
The Good
KWFinder has a lot that it gets right. As a general rule, it's tough enough to go head to head with competitors while often costing less. It is a good all-around research tool and you won't need other tools to work along side it.
Let's take a look at some of these perks more in depth.
You Can Find Long Tail Keywords of All Types
Finding long tail keywords is easy with KWFinder. You can use the Related Keywords feature to give you ideas for seed keywords and then toss those into Autocomplete for your long tails.
If you are still missing out on long tails, put some seed keywords into the Questions field.
The Questions field also works well if you're trying to get informational topics to build links or capture featured snippets for your site. While these info posts may bring in less revenue per post, they help you to establish yourself as an authority and collect juicy backlinks.
You Can Have Great Filtering Options
This is one thing I love about KWFinder. It's filtering is intuitive and easy to use.
It looks nice on the eyes and allows you to tell KWFinder what kind of keywords you're looking for. Maybe you want long long tails or want to filter out certain words from your keyword (you will almost never need "Walmart" in a keyword).
You Can Do In Depth SERP Analysis
SERP analysis on KWfinder shows up automatically when you search for keywords. But you can take a more in depth look as well.
KWFinder also allows you to track SERPs. If you have a specific keyword you're targeting, KWFinder can let you know when you move up or down in the rankings
You Can Do Competitor Analysis (and Take Their Links)
Competitor analysis with KWFinder involves clicking a site in the keyword tool and choosing to "Find Backlinks". 
This takes you to the LinkMiner tool where you're shown all of a competitor's backlinks. You can check a competitor's specific page (helpful if you're targeting the same keyword as that page) or their entire URL.
You Can Get Top Notch Support Staff
I contacted the support a couple of times for this review. I never had to wait more than 2 minutes to get a response using the chat feature. The support crew seems nice and helpful.
You Can Pay Less Than With Other (Less Complete) Tools
KWFinder could be called a budget keyword research tool, but that's not really fair.
On average, KWFinder costs less than other options like SEMRush or Ahrefs (see Ahrefs alternatives). It is more expensive than Long Tail Pro, but KWFinder has a more rounded out product line. You can find long tail keywords, analyze SERPs, take peaks at your competitor's websites, and steal backlinks.
On balance, you can pay less for KWFinder and get more stuff.
Especially since you can try KWFinder for free.
Try kwfinder for free
The Not So Good
KWFinder has a lot going for it, but there are some things that could use some improvement.
Low Limits
This won't be an issue for many users, but if you're part of a big agency or have a whole herd of authority sites, you may end up wishing for more limit space.
This is true for the free version as well (but… we can't say that it doesn't make sense to limit your free users). After less than an hour of use, I was out of searches.
I ran out of SERP lookups before I ran out of Keyword lookups… which kind of defeats the whole purpose.
On the lowest package, you can get 100 keyword searches every 24 hours. That should be enough for solopreneurs, but you may find it limiting if you have several sites or an agency.
There's another low limit I want to mention here as well. When you input a keyword, KWFinder gives you a limited number of results per keyword.
From left to right, this is their least expensive to most expensive plan.
200? 700? Those are playground numbers. For some comparison, here's what SEMRush spits back at me for the keyword "best protein powder".

And Ahrefs…
😐
So KWFinder loses a few points on how many keywords it can return.
That said, the functional difference between 700 related keywords and 11,000 is low for anyone who doesn't produce content on a massive scale.
Seriously, if your site isn't already in the quadruple digits for pages and posts, you won't get a ton of benefit from an extra 10,000 suggested keywords.
So the absolute limit for KWFinder is low, but the functional limit is fine. You won't notice much of a difference unless you pump out huge levels of content.
KWFinder Price
KWFinder has a free trial and then offers 3 different price packages. The parent company of KWFinder is called Mangools, so the prices are listed as Mangools Basic, Premium, and Agency.
Mangools Basic
$29.90 per month if paid on an annual basis. $49 per month if paid monthly.
This plan includes 100 keyword searches per 24 hours and you'll get up to 200 keyword suggestions per search. You can look at 25 competitor keywords per 24 hours, 100 SERPs, check 20 sites, and get 2000 backlinks. Your limits reset every 24 hours, so this is a good pick for solopreneurs or owners of small sites.
Mangools Premium
$39.90 per month if paid on an annual basis. $69 per month if paid monthly.
This plan includes 500 keyword searches per 24 hours and you'll get up to 700 keyword suggestions per search. You can look at an unlimited number of competitor keywords,  500 SERPs, check 70 sites, and get 7000 backlinks. Your limits reset every 24 hours.
This plan also allows you to have up to 3 simultaneous logins. It's a good pick for you if you have freelancers or VAs working under you doing your keyword research or building links.
Mangools Agency
$79.90 per month if paid on an annual basis. $129 per month if paid monthly.
This plan includes 1200 keyword searches per 24 hours and you'll get up to 700 keyword suggestions per search. You can look at an unlimited number of competitor keywords,  1200 SERPs, check 150 sites, and get 12,000 backlinks. Your limits reset every 24 hours.
This plan also allows you to have up to 5 simultaneous logins. It's a good pick for you if you need a lot of research done on a regular basis or have several people working under you. 
Who Is KWFinder Best For?
It all depends on who you are…
Beginner Bloggers Or Niche Site Builders
KWFinder is a great pick for beginners since it packs so many features into one package. You can do your keyword research, analyze SERPs, look at your competitors, and do link building. 
It helps that this service is an all-in-one. You won't have to look elsewhere to see what your competitors are ranking for or to do serious SEO work.
The low limits won't affect beginners or people with small sites since you won't be using the tool much. All in all, KWFinder is great for this audience.
People With Established Businesses
KWFinder can be an excellent tool if you have an established business as well. As long as you aren't pumping out hundreds of pieces of content per month in one niche, you shouldn't run into a problem with the limits.
KWFinder's higher end plans make room for even the most battle hardened marketers. You have high limits for keywords, SERPs, site lookups, and backlink rows that refresh daily. I can not emphasize how nice that is; some tools give you a monthly allowance that you can blow in a few hours.
The daily refresh is nice and makes this a good fit for established site or business owners.
Marketing Agencies
I said "marketing agencies" as a bit of a catchall. KWFinder and the Mangools suite works fine for agencies whether they are in the content niche, SEO niche, linkbuilding niche, whatever. This is where Mangools begins to hit their limit though. For small agencies of 5 people or under, you shouldn't have any problems.
Larger agencies or businesses may want to take a look at other options or use multiple tools simultaneously.
Link Building Monsters
At its highest level, Mangools allows you to use their LinkMiner tool to pull 15,000 backlink rows per 24 hour period. This is more than enough for anyone except the Link Building Monster.
Do you live and breathe linkbuilding? Was "skyscraper" the first word out of your mouth as a child?
If so, you may begin to struggle a bit with Mangools, LinkMiner, and KWFinder. Go back home to Ahrefs and leave us all in peace.
Content Production Machines
If you are producing hundreds of articles per month all based on different keywords, then KWFinder may not be the best tool for you. Up to 1200 keyword searches with 700 results is more than enough for almost anyone except the Content Production Machine.
If you have a whole team that does nothing but keyword research and content production, then KWFinder may not be enough for you.
What About Me?
If you aren't a Link Building Monster or a Content Production Machine, KWFinder may be a great fit for what you're trying to accomplish. Even on the most basic plan, you can get 3000 different keyword searches per month, each search pulling 200 different keywords.
You can check a total of 60,000 backlinks and analyze 600 different sites.
For the vast majority of people, KWFinder is a great fit that can give you the tools you need without breaking the bank.
Try KWFinder For Free
Your Next Move
Thanks for reading our KWFinder review! I hope it's been helpful for you. If it has, please let me know in the comments. If it hasn't, will you take a moment to tell me why not? Your feedback helps improve everything we post on Niche Pursuits.
KWFinder is a great fit for anyone who isn't a Link Building Monster or a Content Production Machine.
It can get you more than enough keywords, help you dethrone your competitors, and turn you into a seriously high ranking niche site.
Some people may ask if they can afford a keyword research tool. 
I want to know if you can afford not to use one.
Sure, it may cost you a few bucks each month. But the right tool will help you to rank faster, work less, and make more money. It's all about how much time you can save. Trying KWfinder won't cost you anything but will save you a lot of wasted time.
Try KWfinder for free
Want to learn step-by-step how I built my Niche Site Empire up to a full-time income?
Yes! I Love to Learn
Learn How I Built My Niche Site Empire to a Full-time Income
How to Pick the Right Keywords at the START, and avoid the losers
How to Scale and Outsource 90% of the Work, Allowing Your Empire to GROW Without You
Avoid having your Adsense Account BANNED (Like I did, but got it back)