A few months ago, I decided to conduct an experiment.  I wanted to know how much the rankings for a single post could improve if I simply added a couple of internal links to that post and did nothing else.
No external link building.
No content updates.
Nothing.
I wanted to just add a few internal links and then track the rankings in Google see what happened over time.
So, I did exactly that!
However, instead of just tracking 1 post, I decided to conduct the experiment on 47 posts from OwnTheYard.com (my Niche Site Project 4 site).  So, I have essentially 47 "mini" experiments all tracking the ranking improvements in Google after adding a few internal links.
In total, I built 108 internal links and then tracked what happened.
I have to admit that the results are pretty impressive!  Out of the 47 pages, 36 of them increased in ranking, 7 stayed the same, and 4 decrease in Google position.  However, it gets better than that as I'll share below, some of my pages had very significant increases in rank.
I also ended up with 8 articles ranking #1 in Google.
For the experiment, I used Link Whisper to add all of the internal links links in order to speed up the process and to get smart internal link suggestions without any work on my end.
Ready to start building your own internal links much faster and easier?  Try Link Whisper right here.
If you are interested in watching the case study on video, please check out the Youtube video below.  I actually mention a few keywords in that video that don't appear in this post.
A Few Details About the Case Study
Before I share the full results below, I wanted to share a few more details about this case study.
First, all of the pages that received links were orphaned pages.  That means that before this experiment, they had 0 internal links pointing to them.
I found the orphaned pages by simply going to my Link Whisper reports, then sorting by the "Inbound Internal Links" column.  This will show all posts that have 0 internal links pointing to them.
Then you just click "add" and Link Whisper will find relevant internal links for you, then you can decide to automatically add those links (using Link Whisper) or not.
So, for this experiement, I only used the suggestions provided by Link Whisper.  I did edit the anchor text (using Link Whisper) as needed to make the anchor text more ideal in some cases.
I did not do any external link building during this case study.  Not to these pages and not to the entire site.
I started adding internal links on January 8th.  I had not done any external link building at least since a few months before January.  (Meaning, I have not done any external link building on this site for over 6 months).
Now, the site has obviously received external links, but these were natural links that would have come without my involvement.
Another point to note about the case study before I share the full results below is that age of the articles certainly plays a role.  There is no way that I can say that adding internal links was the only factor that helped these pages increase in rankings.
The other factor was time.  An article often starts to rank better simply the older it gets.  Google is better able to index and rank content that has been around for a while.
Since no one has created the ability to freeze time yet, time was definitely the other factor that played a role in this experiment.
However, to the best of my ability, the only thing that happened with these articles was that new internal links were added and some time past. 
The Internal Link Building Case Study Results
I tracked all the results as they happened in a Google Spreadsheet.  There is a ton of data on the spreadsheet, but it provides everything for you to know exactly what I did.
I documented how many internal links were added to each article, the beginning ranking in Google, the Google rankings over time, the final position in Google (as of March 25th, 2020), and then the total increase or decrease in Google rank.
I know the spreadsheet isn't pretty, but if you click the image, you can view the actual spreadsheet if you want to see all the details.  Or click here to go to the Google Spreadsheet.
I know it's hard to tell how incredible the results are by just glancing at the spreadsheet, so I created some charts to make a few things easier to visualize.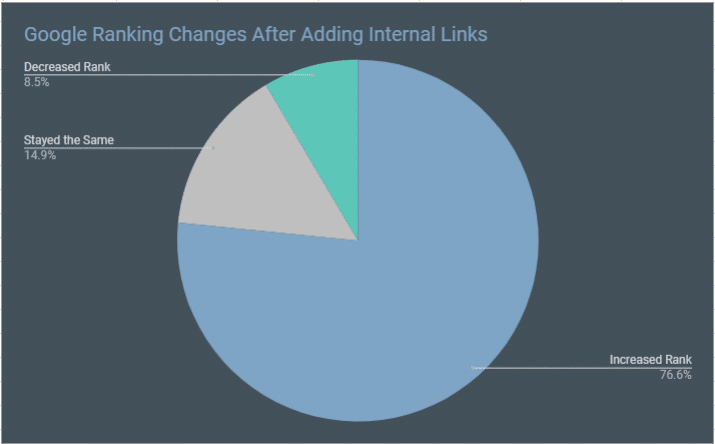 Overall, after adding 108 internal links to 47 articles on OwnTheYard.com, 76.6% of the posts improved in Google rank, 14.9% stayed the same, and only 8.5% decreased.
That's pretty impressive!
So, how many links were added to each post?  Well, as you can see from the chart above, most of the time it was only 1 or 2 internal links.  On the high end, I added 8 or 9.
Remember, I was only looking for relevant internal links.  I was not out seeking to build internal links from high authority pages or anything like that.  I simply Link Whisper simply found a relevant internal link and added it.
In total, 108 internal links where added for this experiement.
On average, I added 2.3 internal links to each post.
As you can see from the chart above, the rankings changes overall were quite impressive.  Other than a couple of posts that declined in ranking, the vast majority climbed up in the Google serps, and some of them by quite a bit.
Most impressive was one article that was ranking greater than 100 in Google in January, but is now ranking #1 in Google for it's target keyword after adding 5 internal links!
Another article went from #32 in Google to #1 in Google. Another article went from 21 to 1.  Another article went from 11 to position 1 in Google.
Overall, I ended up with 19 page one rankings in Google and several other major "movers" after conducting this internal linking experiment.
What About Traffic and Earnings?
I did not track the traffic and earnings increase of each individual post over the life of the experiment.  However, it's pretty easy for me to share a sampling of the traffic increases thanks to Google Analytics.
Due to the volume of posts (47) it would a bit cumbersome to share the traffic increase for each post or as a whole.  However, I will simply share a few of the traffic details below. 
That's a sampling of 3 articles, where you can see the traffic increased.  In general, the traffic has definitely been increasing to these articles that improved rank, but I admit I did not look at each of them individually.
Whether or not the traffic increased starts to add several other factors, including seasonality.  The most important thing for this experiment is to look at how much the rankings improved in Google.  The traffic will generally follow.
In general, the traffic to my site has been increasing tremendously over the last few months.  
Going from 1,200 pageviews a day to almost 6,000 pageviews a day is definitely something I can live with!  Remember, the above chart is for my entire site, not only the posts that I conducted the experiment on.
I simply wanted to show that the overall traffic to my site is generally increasing, so the internal links have done nothing but help.
I will be sharing a full earnings report once the month of March is over.  But it's safe to say that earnings has increased significantly since January on the site as well.
Wrapping Up
Overall, I hope you enjoyed this case study!  It took me 3 months to complete as I tracked the rankings over time.  
However, the intial work involved with building the internal links actually went pretty quick.  As mentioned, I was able to use the tool I created, Link Whisper, in order to quickly find and then add relevant internal links.
If I didn't have Link Whisper, the process of finding and adding 108 internal links would have taken many hours.
Even if you don't have Link Whisper, you can still hopefully see the value of adding internal links to your site and can see similar links.
However, if you are interested in speeding up the process and getting better internal link reporting for your site, I would encourage you to check out Link Whisper right here.
Looking for a comments section?  Feel free to post comments on the YouTube video here or join my private FB group and add to the discussion.
---