The 17 Best Chrome Extensions for Amazon Sellers Are…
When you buy something through one of the links on our site, we may earn an affiliate commission.
Are you looking for the best Chrome extensions for Amazon sellers to find profitable niches, spy on the competitors, get up-to-date information on pricing info, and ultimately: make more profit? You'll find something in this list.
There are a lot of software and tools out there aimed at Amazon sellers, so how do you know which is useful and which to avoid?
In this article, you'll find a list of the top Chrome extensions for Amazon sellers. Whether you want to do competitor research or just research a new niche, there's a tool to do it here. Let's dive in.
The Best Chrome Extensions for Amazon Sellers
These Amazon seller Google Chrome extensions each offer something a little different. There's a ton of value here, from researching products and spying on competitors to sifting through data to productivity. Some are free forever, and some have a free trial too, so you'll find something for every budget.
1. Jungle Scout
Coming in at #1 on the top of our list is the Jungle Scout Chrome extension. This tool comes in 2 forms: a browser extension and a web app you can use from any browser. This is the best Chrome extension overall for almost any Amazon business.
Jungle Scout helps make product research easier by providing important insights like product demand, sales history, Best Sellers Rank, competitive data, profit projections, and more.
With this extension, you can decide if a product is worth it based on many data points like sales history, monthly revenue, and more.
Price: 7-day free trial, then plans start at $49 per month.
Read our full Jungle Scout review here or sign up at our link below for 30% off.
2. Helium 10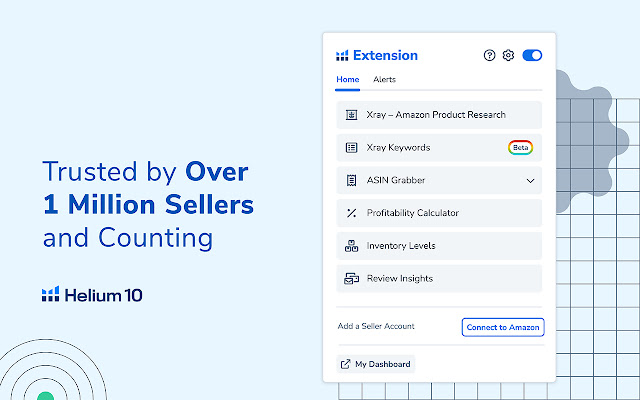 Helium10 is a robust software that includes a suite of tools for both Amazon and Walmart sellers. This software lets you find product ideas, evaluate the competition, and track their success via keyword rankings.
This product has a helpful Chrome extension for Amazon sellers, too. The extension allows you to discover new niches with search-volume data, identify new keyword opportunities, get an overview of your competition, calculate profit margins, and much more!
You can read our full Helium10 review here.
Price: Limited free version available, then plans start at $39 per month.
Use coupon code: NICHEPURSUITS10 to get 10% off all plans
Use coupon code: NICHEPURSUITS6M20 to get 20% off the first 6 months.
3. AMZScout Pro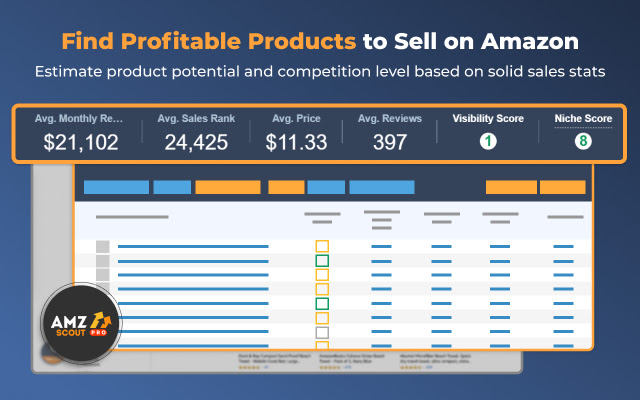 The AMZScout Pro Google Chrome extension helps Amazon sellers find profitable products by checking sales data like average monthly revenue, sales rank, price, reviews, and more.
This extension also provides product scoring to determine if a product is a good idea for private labeling, dropshipping, arbitrage, or wholesaling.
This extension has a free trial, after which you can select a monthly, yearly, or lifetime premium subscription plan.
Price: 7-day free trial, then monthly plans starting at $49.99.
See how AMZScout Pro compares to Jungle Scout here.
4. Keepa
Keepa is a great Chrome extension for Amazon sellers who want to do price tracking on the Amazon platform. This tool tracks the price and sale history of almost every single product on Amazon.
Keepa has a free version that tracks prices, but if you want to view sales history or track products or access any other premium data, you'll need to pay a monthly subscription.
Price: Free
5. SellerApp FBA Calculator
The FBA Calculator from SellerApp is a free calculator extension that can help sellers determine expenses before picking a product. This calculator can help sellers understand shipping charges, seller fees, and FBA fees so you can understand exactly how much you'll make per sale.
The SellerApp Chrome extension considers the costs based on your specific Amazon seller plan, which will help you get granular cost results for products you're researching.
Price: Free
6. Unicorn Smasher
Unicorn Smasher is a free Chrome extension for Amazon sellers that provides real-time sales estimates and revenue data. This is a great all-in-one tool that can help you with product analysis.
With an easy-to-use interface, You can view competitor analysis and pricing, sales rankings, reviews, and estimated sales capacity.
Price: Free
7. DS Amazon Quick View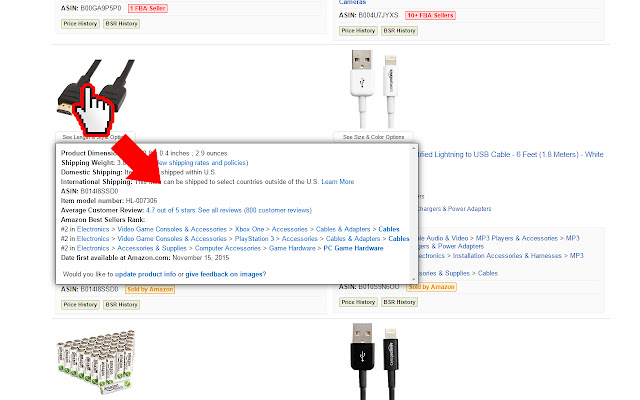 The DS Amazon Quick View Chrome extension enables you to find details about Amazon products by hovering over them with your mouse in the browser. It also shows Amazon ranking and seller information to the search results and best seller pages. This is a helpful tool for product research.
It's a basic extension that quite literally provides you with a "quick view" of product information.
This free and paid extension gives you access to different features like price history, integration with Keepa graphs, extra filtering and sorting, and more.
Price: Free, with paid version option of a $25 one-time fee.
8. The Camelizer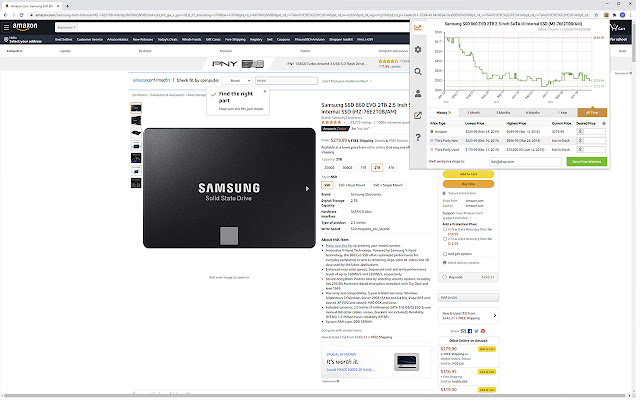 The Camelizer is a Google Chrome extension that shows you pricing history and allows you to track price graphs, similar to Keepa. You can set up price watches for certain products and get notifications when certain product prices drop.
This is a great tool to automatically keep watch on your competitors and get a notification when they drop their prices.
Price: Free
9. Amazon KW Index and Rank Tracker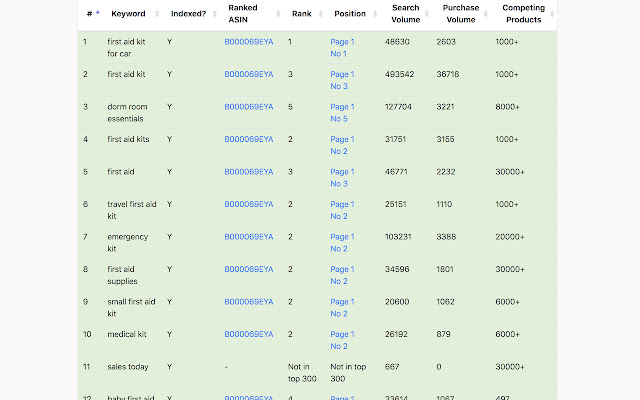 The Amazon KW Index and Rank Tracker extension by AMZDataStudio claims to be "the most accurate Amazon seller tool for keyword research".
This tool enables Amazon sellers to perform bulk searches to check the indexing and ranking position of merchant keywords and backend keywords.
You can also check the current ranking position of any keyword for any ASIN, check the indexing of any keyword for ASIN, and get the exact broad and monthly search volume for any keyword on Amazon. Check out this free Google Chrome extension if keyword research is your primary need.
Price: Free
10. Scope by Seller Labs
The Scope Chrome extension has many useful features for Amazon sellers. It can be used for competitor analysis, product research, keyword discovery, organizing data, and more.
With this extension, you can view things like monthly sales and revenue estimates, sales rank, historical data, and FBA fees, and you can even export keywords.
Scope is part of a full SellerLabs subscription, but you can use it on a 7-day free trial to see if you like what it offers.
Price: 7-day free trial, then monthly SellerLabs plans start at $49.
11. Viral Launch by Market Intelligence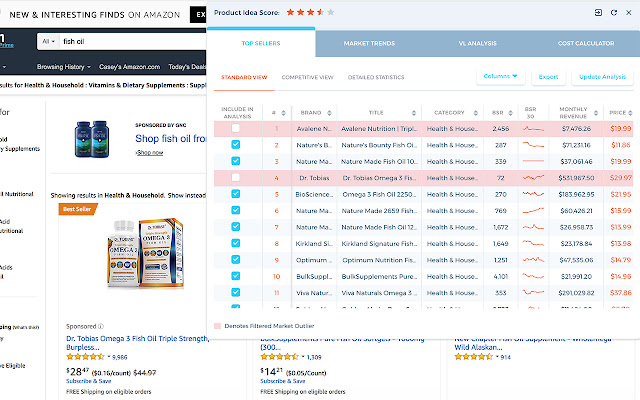 The Viral Launch by Market Intelligence Chrome extension helps sellers find profitable products with in-depth Amazon analytics for product research, sales data, and more.
This tool provides AI-powered insights and billions of Amazon's data points. You can access historical trends, monthly sales, monthly revenue, keyword search volume, and more, all while browsing on Amazon. You can also use the built-in calculator to determine costs and profits. This is a great tool for any Amazon business.
Price: 14-day free trial, then choose between 3 monthly plans that start at $69.
12. Amazon Scout Extension
Egrow provides an all-in-one software for Amazon sellers with a wealth of information directly on their website, and they also have a Chrome extension called Amazon Scout.
The Amazon Scout extension helps sellers aggregate relevant data for products and conduct keyword research right on the Amazon website.
This extension can help you find a lucrative niche, validate product demand, find top-performing keywords for your listings, and more.
Price: Free with the option to purchase a paid plan from Egrow for more data and information.
13. Huge Amazon Search Suggestion Expander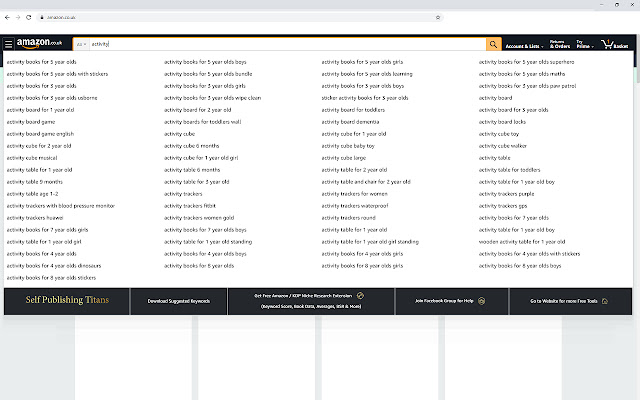 The Huge Amazon Search Suggestion Expander extension is a fantastic tool for those with an FBA or KDP business.
While using the Amazon search bar for keyword research is great, this tool expands on that and provides hundreds of additional keyword suggestions to help you uncover hidden and profitable niches or uncover new keywords to add to your listing.
Price: Free
14. Data Scraper
Data Scraper by Data Miner isn't specific to Amazon sellers, but it can help Amazon sellers gather and sift through a lot of data. This extension extracts data from HTML web pages and imports it into Excel spreadsheets and Google Sheets.
One example of using this tool as an Amazon seller would be to use the Data Scraper to pull the Q&A from product pages and analyze them to ensure your listing answers questions before they're asked. This will give you a leg up on the competitors and can increase the overall perceived value of your products.
Price: Free with 500 data scraping credits per month. Then if you want more, you can purchase a paid plan from Data Miner.
15. MozBar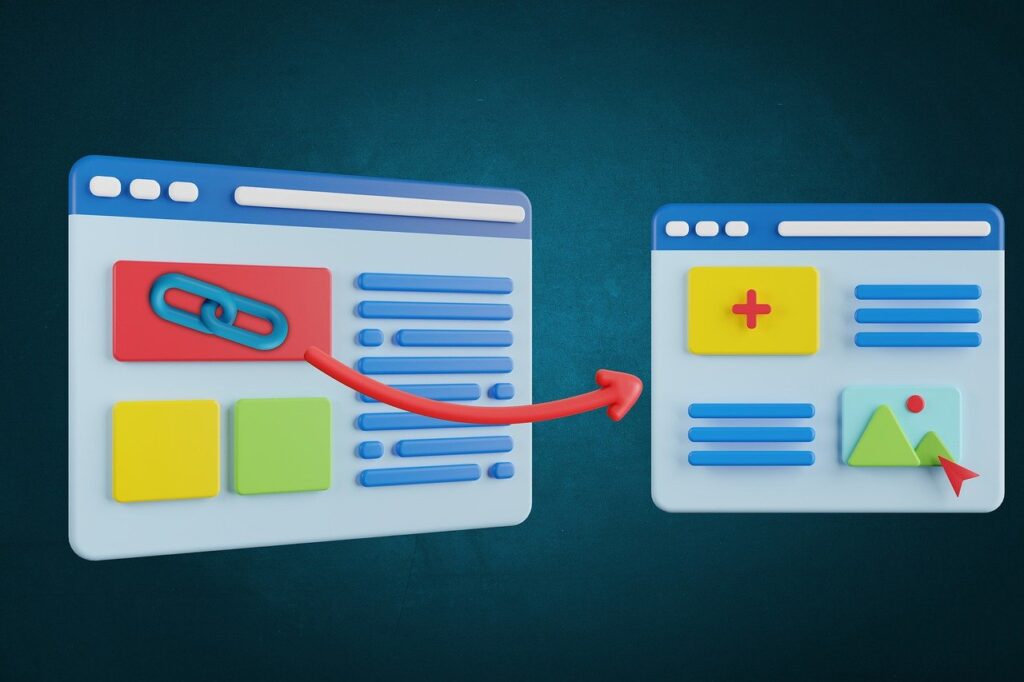 MozBar, developed by Moz, is an underrated Chrome extension for Amazon sellers. This extension provides a toolbar for sellers with insights on external links pointing to an Amazon product.
Although this extension doesn't provide sales or pricing data on products, it can be very helpful to find out how many links a product has to help determine how they're getting sales.
Price: Free with an option for paid Moz subscription.
16. Sonar (Perpetua)
Sonar is a free Amazon keyword research tool by Perpetua.
The tool has a continuously updated database of Amazon's product/keyword' combinations, plus the keyword tool. It has great free features, including search volume, reverse ASIN lookup, and more.
Since Amazon doesn't actually provide keyword search volume data, Sonar developed a prediction algorithm to provide as accurate results as possible.
Price: Free
17. Extensity
Extensity is a free Chrome extension that isn't specifically for Amazon sellers. Still, it can really help increase your productivity and organization, especially if you plan on using multiple Amazon Chrome extensions to help you work!
Extensity helps you organize all your Chrome extensions for easier access and usability. You can quickly enable or disable all Chrome extensions so you can focus on using just one at a time. This can be especially helpful if you have competing extensions and need to reduce the information overload.
Price: Free
Wrapping Up
There are a lot of Chrome extensions out there for Amazon sellers, and it can be hard to figure out which will work best for you. However, the winner is a clear pick from our point of view: Jungle Scout.
When you sign up for Jungle Scout, you get the Chrome extension and access to the web app. They used to be sold separately, but not anymore!
You get instant access to their supplier database, product database, keyword scout, listing builder, rank tracker, email campaigns, and so much more.
Sign up at the button below and try out their 7-day free trial. As a bonus, they offer 30% off for Niche Pursuits readers. What are you waiting for?
Want to learn step-by-step how I built my Niche Site Empire up to a full-time income?
Yes! I Love to Learn
Learn How I Built My Niche Site Empire to a Full-time Income
How to Pick the Right Keywords at the START, and avoid the losers
How to Scale and Outsource 90% of the Work, Allowing Your Empire to GROW Without You
How to Build a Site That Gets REAL TRAFFIC FROM GOOGLE (every. single. day.)
Subscribe to the Niche Pursuits Newsletter delivered with value 3X per week