Need an Amazon Sales Estimator? Here are Your 7 Best Options
When you buy something through one of the links on our site, we may earn an affiliate commission.
Finding the best Amazon sales estimator is like finding the Rosetta Stone. Once you have it in your possession, you'll be able to unlock all sorts of mysteries about the Amazon marketplace — including which products will make you the most money.
Amazon's FBA program is a runaway hit. Every month, thousands of new sellers jump onto the platform and list their products in hopes of reaching just a sliver of Amazon's 300+ million shoppers.
A number that only seems to grow by the day.
Amazon's platform is so powerful that according to a study by Jungle Scout, over 75% of sellers claim they were profitable in 2022. This happened despite supply chain issues and other Covid-related areas.
Suffice it to say there have been more than one successful Amazon business. Yours could be the next.
Still, selling on Amazon isn't bulletproof. To maximize your potential, you'll need a sales estimator to help you make the best decisions for your company.
The Best Amazon Sales Estimator
At its core, an Amazon sales estimator will help you see the historical sales volume of certain products.
The best Amazon sales estimators will help you find growth opportunities, track products over time, and make this process extremely convenient.
Here are some of our top choices.
Jungle Scout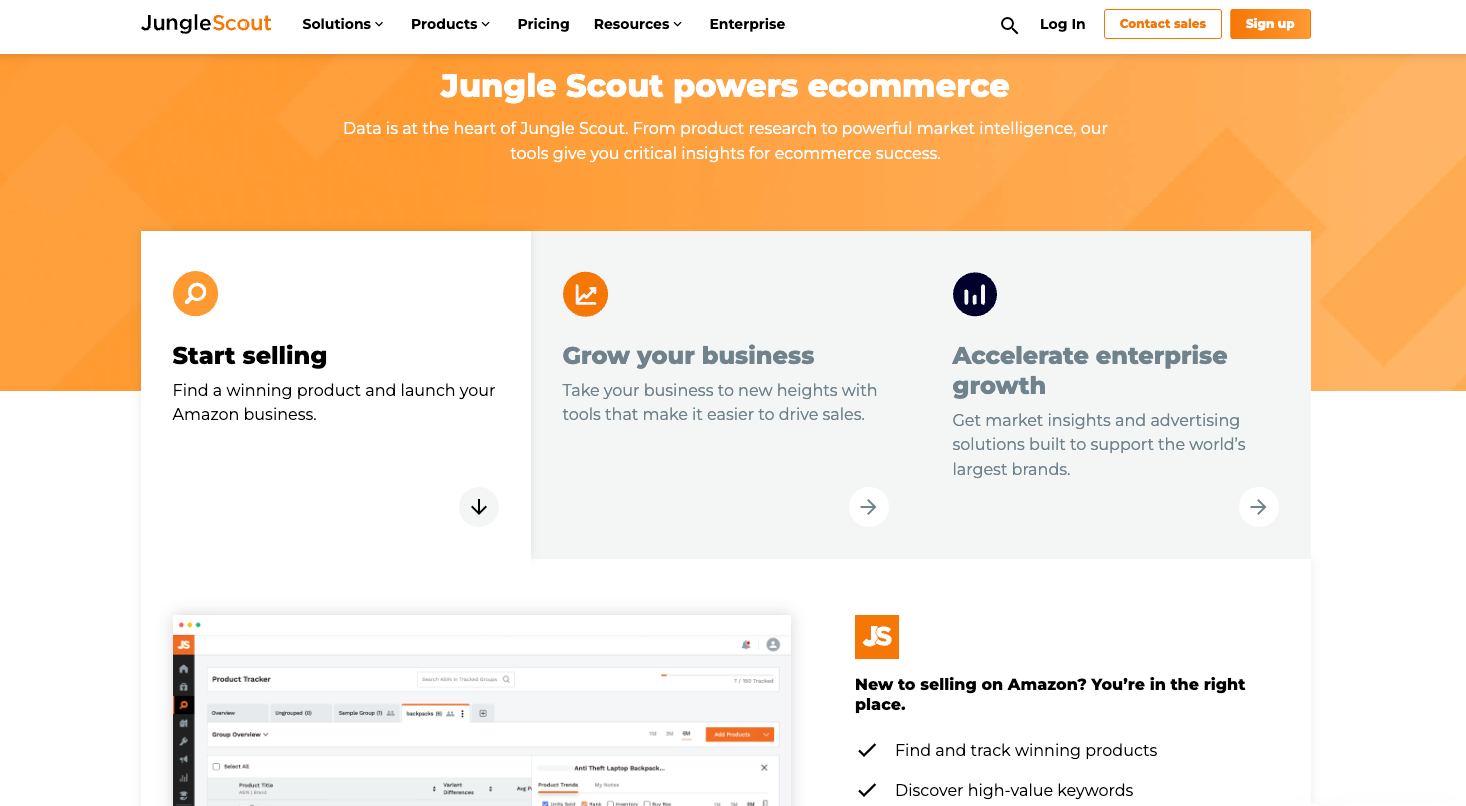 Jungle Scout has been around longer than just about any other Amazon sales estimator on the market today.
As such, it's positioned itself as the go-to SaaS program for most Amazon sellers. Since most of them built their business with it, they trust it to help propel them into the future.
To use their free sales estimator, all you have to do is type in the rank number, and then list the category and country you're searching in. It'll spit out estimates for up to ten products a day for a free account.
Sign up for their service (at $588 for the year or $399 if you follow our link below to claim the special discount for Niche Pursuits readers), and you'll unlock even more firepower. It'll track up to 150 products without breaking a sweat and give you 1,000 estimates every month.
Jungle Scout also offers a browser extension that can make searching for sales history a breeze. It also comes with additional seller features such as rank tracking, inventory manager, and review request software that can help you grow your business even more.
---
Helium10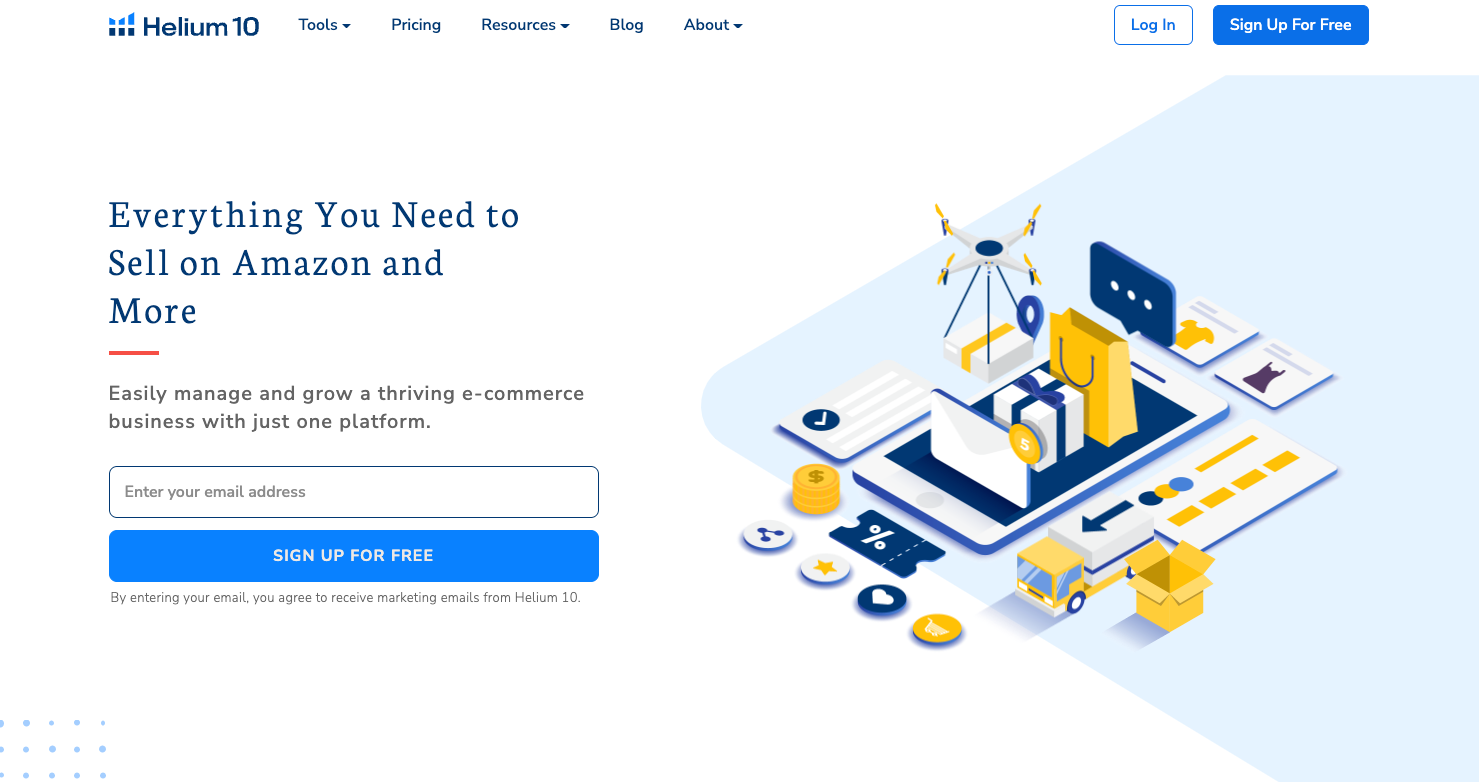 Helium10 is another tool that's been around for a very long time.
The market for Helium10 is slightly different than other seller SaaS programs. In addition to free tools such as a sales estimator, review insights, and a supplier locator, Helium10 also offers high-powered tools such as a refund manager and a PPC optimizer.
As such, Helium10 is trying to position itself as the go-to SaaS suite for experienced Amazon sellers.
Their price reflects this. A starter plan ($29/mo) will give you some features, but most users will opt for the $84 per month Platinum plan or the $209 per month Diamond plan. Both of the higher-priced plans come with more tools, but the average seller may see it as overkill.
The other main drawback is that to use Helium10's rank tracker, you have to download their chrome extension. Other free sales estimators allow you to track that information with the browser without signing up.
---
AMZShark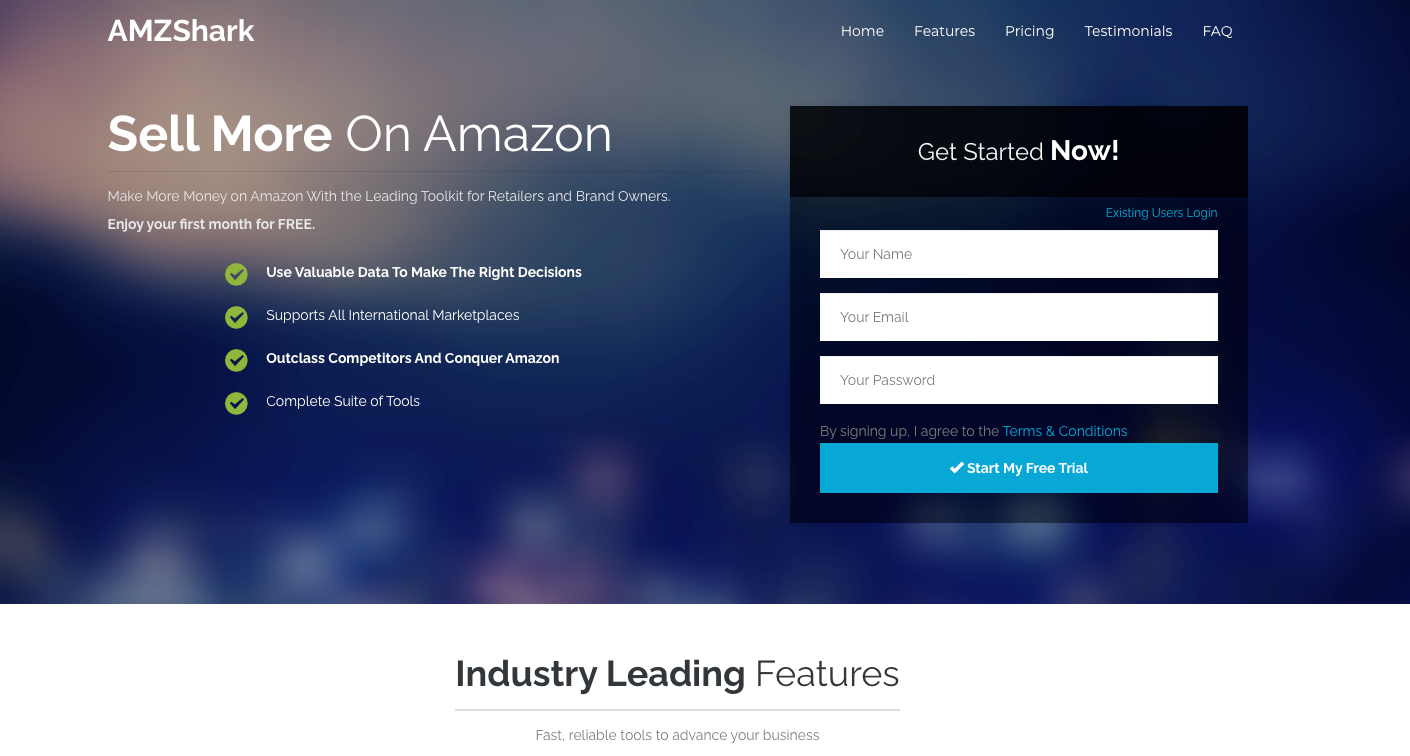 At $99 a month (free for the first month), AMZShark is on the higher end of seller software sets, but the feature list is pretty impressive.
You will get keyword tracking, competition research, automated alerts, and a premium support channel to help with whatever you need.
Amazon sales tracking is also included. Every country that Amazon sells in is included, and AMZShark uses estimated sales rank and inventory levels to calculate sales volume.
The limit for product tracking is also substantially higher. With AMZShark, you can track up to 1,000 products at any time. Historical data goes back 90 days, and you can even monitor the daily price for those products as well.
---
Viral Launch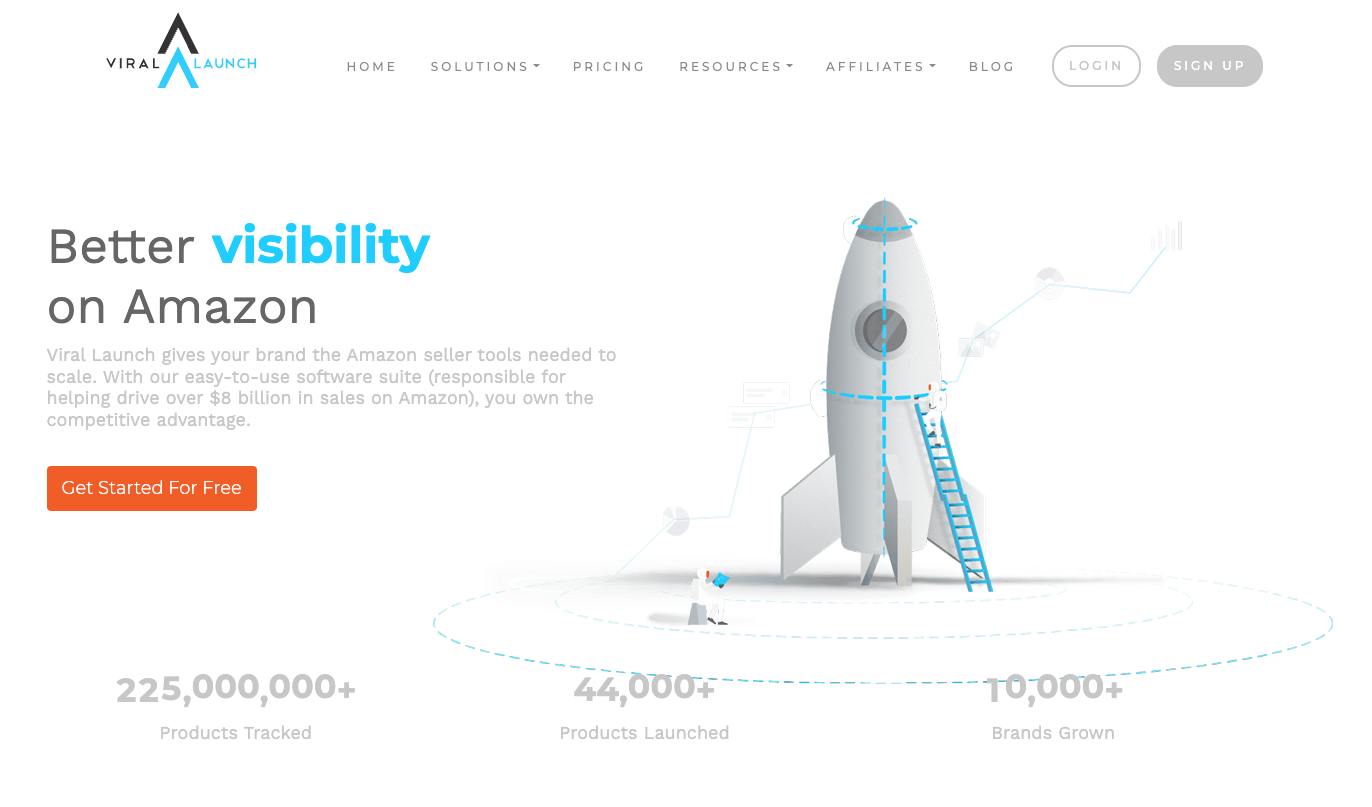 One of the best things you can do to ensure your product's success is to have a great launch. Wait too long or set up your listing improperly; it could take several months to regain traction.
As the name suggests, Viral Launch focuses on this all-important time period in your product's life. They have a strong selling platform that offers competitor tracking, keyword research, product research, and PPC assistance.
Viral Launch also has important Amazon sales data, such as monthly revenue and price trends for millions of products on Amazon's platform. They'll also help you find new products that you can sell in addition to your own.
Sales data is available on all three plans, but most other tools are available on the $99 or $199 per month plans. The basic $69 per-month professional plan only offers a few sales-related metrics, but it should be enough to get you started.
---
Unicorn Smasher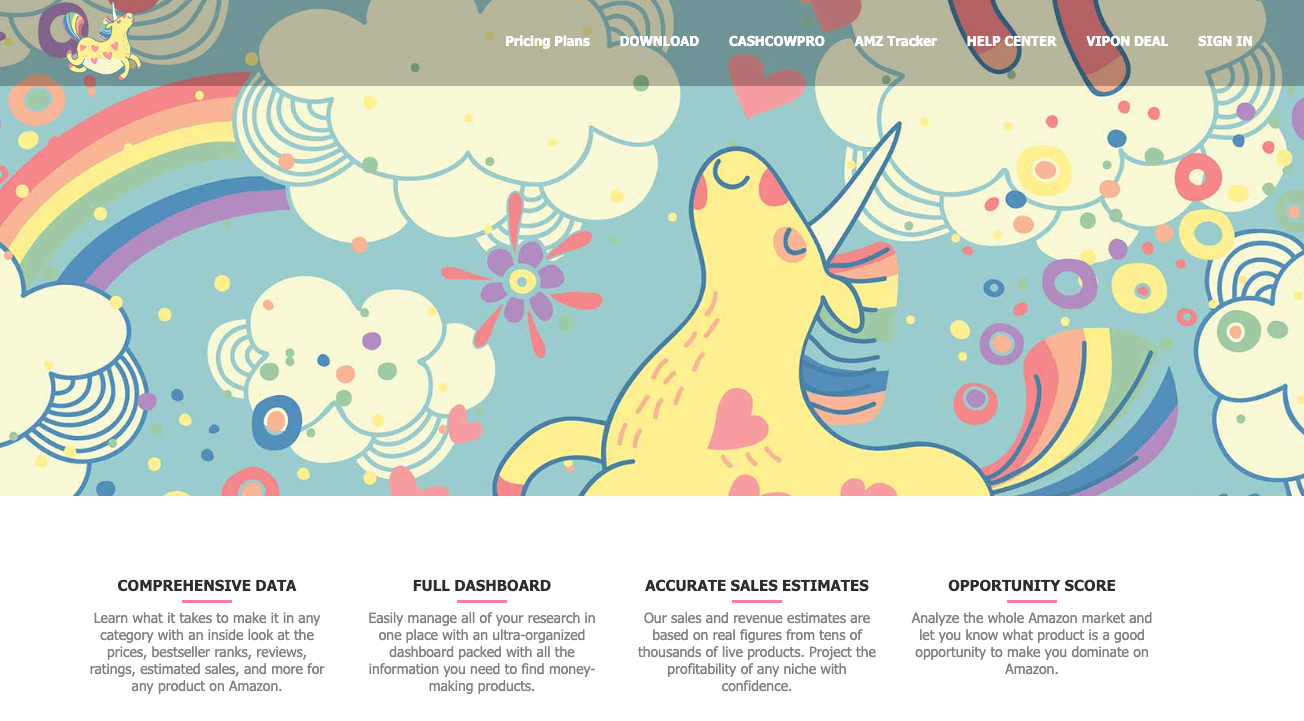 I'm not entirely sure where the name "Unicorn Smasher" came from, but the team behind the silly name is incredibly serious. The team that developed Unicorn Smasher is the same team behind AMZ Tracker — a brand that experienced sellers are sure to recognize.
Unicorn Smasher is a very easy-to-use seller software that captures different tools inside its dashboard. Bestseller ranks, reviews, ratings, revenue estimates, and a patented "opportunity score" will all help you know whether a product will take off.
Best of all, their pricing is very user-friendly. For a one-time payment of just $50, you can have all of these features for life. $99 and $159 plans will grant you lifetime access with added user seats.
---
AMZ Scout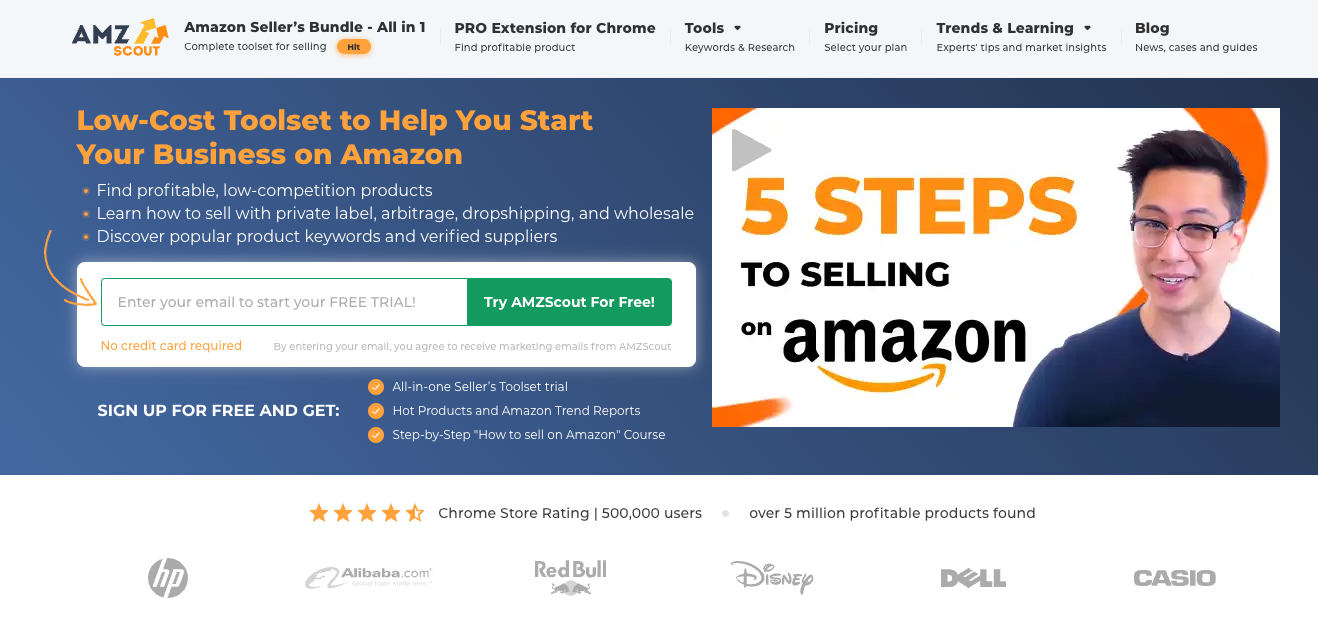 There's a little bit of everything going on at AMZ Scout.
In addition to an Amazon sales estimator, you also get product ideas, keyword research tools, a fee calculator, and estimations on inventory levels.
Interestingly enough, AMZ Scout also provides authorization for dropshippers and arbitrage sellers. That's a specific feature not seen in many other SaaS platforms on this list.
Another feature that sets them apart is their devotion to education. Even if you never buy anything from AMZ Scout, several courses (free and paid) teach you how to sell, don't miss our complete AMZScout review to learn all about it.
The price is also right. Subscriptions range from $23 to $41 a month.
---
Sellerapp Amazon Sales Estimator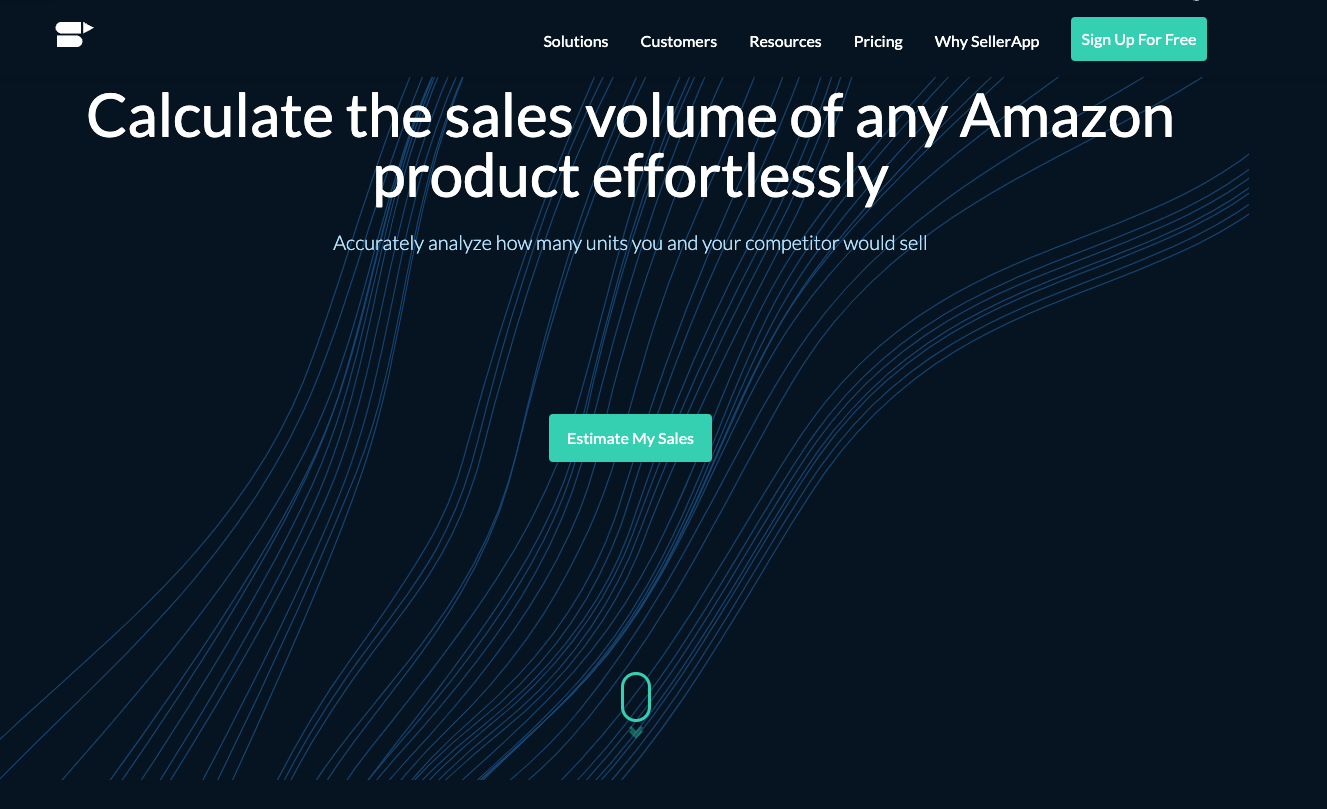 If you're looking for an Amazon sales estimator — and nothing more — Sellerapp is for you.
Sellerapp is extremely easy to use. Start by selecting your category, calculate the estimated sellers rank, and it'll tell you within seconds how many sales that product receives every day. Multiply that by the sales price, and you have your estimated revenue.
Beyond that and a few other tools, SellerApp has some paid plans, including product tracking and keyword and product research. There's also advertising support if you need help with PPC campaigns.
A free plan will allow you to track 2 products and search for ten keywords and products a day. Other plans with more features are $39 and $50 per month.
---
How Does a Sales Estimator Work?
Every sales estimator is — surprise, surprise — an estimate. They work by using the sales rank of a particular product and approximating the daily sales volume by considering the product's category.
Certain categories sell at a much higher rate than others. For example, a sales rank of #1000 in daily household items probably sells more than a sales rank of #1000 in tractors. Some products are just bought more often.
If you're considering entering a new category, you need an Amazon sales estimator. You'll be able to quickly tell how competitive a category is and how long it'll be before you can expect a profit. It's irreplaceable when it comes to plotting your next big idea.
Want to learn step-by-step how I built my Niche Site Empire up to a full-time income?
Yes! I Love to Learn
Learn How I Built My Niche Site Empire to a Full-time Income
How to Pick the Right Keywords at the START, and avoid the losers
How to Scale and Outsource 90% of the Work, Allowing Your Empire to GROW Without You
How to Build a Site That Gets REAL TRAFFIC FROM GOOGLE (every. single. day.)
Subscribe to the Niche Pursuits Newsletter delivered with value 3X per week