What to Sell on Amazon: 11 Great Ways to Find Profitable Amazon Product Ideas
When you buy something through one of the links on our site, we may earn an affiliate commission.
In this post, I'll go in-depth on what to sell on Amazon.
Plus I'll share ways to find product ideas, what the best products to sell are, what the worst are, and much, much more!
So without further adieu let's dive in.
Software Tool to Find What to Sell on Amazon
A strong recommendation to keep in mind when you sell online. I use Jungle Scout to help me find the lowest hanging fruit among Amazon FBA. These are the products that get a lot of searches but don't have a lot of sellers.
Unknowingly going into a "hard" product market niche can force you to spin your wheels for years before gaining any traction. Meanwhile, picking one of these low hanging fruit niches can cut down your costs and time investments while also boosting your overall income.
Get 30% Off Finding Products with Jungle Scout Here
Quick Tips For Finding The Best Products To Sell On Amazon
There are more than 12 million products on Amazon to attract and meet the needs of all kinds of customers. So it's not exactly easy to choose what the best products to sell are.
It will depend on what your interests are and where you feel you have an advantage.
But regardless of your preferences you'll always want to consider some criteria when looking for the best things to sell on Amazon.
So heres a quick rundown of some tips to consider when finding the best products to sell on Amazon. (That we'll cover deeper in this article.):
Solve a need in the marketplace. Don't create a "me too" product.
Don't blend in to the competition and don't enter a market with a ton of powerful competition.
Choose a product that with a selling price between $10 and $100.
Choose a product with a decent number of sales per day. You can use Jungle Scout's free traffic estimator to see how many sales you would make at a certain best seller rank.
Avoid name brand competitors. If you know the names of any of your would-be competition, it's best to avoid that niche.
Look for competitors on page 1 with less than 50 reviews.
Look for products that are physically small to save yourself some transportation and storage costs.
Find products that you can buy cheap on Aliexpress and sell for a lot more on Amazon. (Look for a product that you can sell for at least 3x your purchase price.)
Go after "low hanging fruit" that have high search volumes but low competition
Can you find competitors that don't mention their target keyword often? That's a great sign! You might be able to quite easily steal many of your competition's potential buyers.
Start with simple products. You probably won't need a patent or anything, so go back to the drawing board if you can't explain the product to your grandmother.
Developing Your Amazon Best Seller
Ideally what you'll want to do is to start selling products you can private label.
This is where you make a slight modification to an existing product and slap a new label on it. This change can be as subtle as a new color or adding an extra handle.
FYI – Costcos' brand Kirkland is a great example private labelling.
My favorite way to go about private labelling is to combine it with Amazon FBA (Fulfillment by Amazon).
We've covered Amazon FBA in-depth on Niche Pursuits including a case study of reaching over $4000 in sales in the first 30-days. So I'll just give a very brief overview here.
Basically you find a manufacturer in China on Aliexpress who are already making a product that interests you. You start a dialogue with a few and ask if they can make a slight modification that you think would be valuable to customers. You then work out a deal with the best one, have products shipped to an Amazon fulfillment center and set up your product listing. Amazon workers will store, package, and ship your products. Plus they'll help with customer service and get the products to your customers fast with Amazon prime.
Now of course theres more nuance to this process such as setting up your Amazon business, Amazon brand registry, sales tax, and other costs but you get the idea.
Amazon FBA is a great way to start selling products on Amazon and eCommerce in general so consider this as we go through the list.
11 Best Ways to Find Amazon Product Ideas to Sell
While there isn't a perfect formula for evaluating ideas (it's both an art and a science) here are the traits you should look for:
1. Scratch Your Own Itch
This isn't a cliché we invented, but it works!
If you've got a problem or an inconvenience in your life, odds are that it's something other people struggle with, too.
Can you create a product to make that problem go away? If so, then you're likely to have a group of people who also want to buy it.
This could be the start of developing a very profitable product!
This is how many individuals begin their successful Amazon FBA businesses. They were familiar with a product they may use every day, but didn't particularly like. They realized making the changes they wanted probably would be fairly simple, so they reached out to manufacturers on Alibaba and started working on getting a sample made.
Fast forward a few months and that amazon seller has a new product live and selling to an Amazon customer.
2. Don't Take on a Million Competitors
There are times when competition is a good thing.
It usually means that demand exists and there is money to be made. However, some product categories on Amazon are just so oversaturated with competitors, it's very difficult for a new seller to compete.
While it may feel like every kind of item on Amazon has a million sellers already, that's not the case.
There are still opportunities to launch products that have demand, but don't already have tens of thousands of competitors.
Helium10 is a fantastic tool for finding these opportunities.
Using their Cerebro tool, you can paste in the ASIN number of any product on Amazon and find out what keywords it ranks for.
Here's an example of when I put in the ASIN "B00MLBPDQ2" which is a top selling makeup removing wipe:
Notice that in addition to the search volume, they give you a number of competing products and similar products around that keyword.
This is an estimate based on the number you've probably noticed before on Amazon after you searched for a particular product.
For instance, when I search baseball helmet, there are over 20,000 results: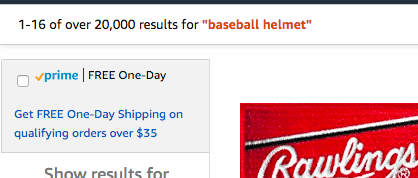 But when I search one of the auto-complete suggestions for baseball helmet, which is "baseball helmet holder for dugout" there are only 29 results.
Certainly there is more analysis to be done before launching my own brand of baseball helmet holders, but hopefully you see the point.
That it's much easier to come in and compete against 29 other sellers instead of 20,000.
The obvious counter-argument to this is that if only 29 people are selling a product, is anybody actually buying them?
Sometimes no. But sometimes a little research will show you that a small number of Amazon vendors are actually doing very well.
This is why product category research is so important. The quality of your research into Amazon niches is often the difference between finding a profitable product and a loser (and so you'll want to ensure you use the best product research tools for Amazon sellers).
This is also where tools like Jungle Scout and the best seller rank come in handy (which we'll talk about in a minute).
But if you're trying to decide between 2 different items to sell on Amazon and one has 50,000 competitors and the other has only 500, I'd lean toward the one with only 500, even if demand was slightly lower.
3. Choose a Product Sold Between $10-100
This is not a hard set rule.  However, if you are just getting started, the ideal selling price range of products to consider selling is under $100. Many sellers do well with higher priced products, and if you have the higher capital that is required (typically), then by all means go for it.
Choosing a really expensive product sounds like a great idea, because in theory, you can make more money.
However, you must remember to get into the mind of your consumers.
Once you creep up above $100, you're out of the "impulse buy" category. Now you're talking about things like laptops, TVs, furniture, etc. where you're probably going to talk to your spouse, read more reviews, look for videos on YouTube, etc.
However, if you're buying something that costs about $25, you're probably not going to spend the same amount of time doing that extra research.
The cheaper the product is, the less likely customers will look for more information about it.
Customers are more willing to impulse buy products at a lower price point, especially if it addresses their needs.
When choosing a product, look for something that costs $10-50 to sell and focus on selling it in volume.
Amazon vendors who focus on these types of products are far more likely to be profitable than those who don't.
Also, since you will be buying the products from China, you need to consider the cost of each part required to assemble your product, especially if it's an intricate piece. Delivering items to be sold for more than $50 to your doorstep could get expensive.
If you're still new to Amazon FBA, then it is best to settle with simple and cheaper items to private label for now.
Once you're a professional seller who understands the ins and outs of selling on Amazon you'll be in a better place to tackle something more complicated in the Amazon marketplace.
4. Choose a Product with a Good Bestseller Rank
The performance of your product on Amazon depends on the market demand.
An old business professor of mine would always go through this hypothetical investor pitch where he assured you that his company made the best quality product and there was nothing else like it anywhere.
The bad news was that they made buggy whips.
As Americans started driving automobiles, even the best buggy whip makers were out of luck because nobody needed to buy them anymore.
So when choosing a new product to sell on Amazon, you want to make sure you're not about to invest in a 21st century buggy whip.
A metric that you can refer to in choosing a product to sell on Amazon is its bestsellers rank (BSR).
If similar products are ranking on top of the list (a best seller rank of 1 is the best selling product in the category), it means that there's demand for them.
Choosing products identical to the ones found in the list allows you to position your business on par with these bestsellers. As a result, you can attract the target market of bestselling products and get them to buy from you instead.
Finding an Amazon best seller that has room for new products is a great sign of a very profitable potential niche!
You want to see that several of the top listings have a BSR around 3,000 or better.
I heard a great tip on the AMPM podcast which said you should look for the top 3 results with BSR under 3,000.
This means not only is there demand for the product, but there also isn't just one product selling well. At least 3 different products are hot sellers, which is an indicator that an Amazon shopper is receptive to different brands.
Also, the BSR I am referring to here is the main category. In the image above, the main category (Pet Supplies) hosts the product (under Cats > Little & Housebreaking > Little category).
While the subcategory BSR of the product is impressive, its performance on the main category is what matters more.
Since it will be competing against other pet supplies products, a high BSR means that it is an in-demand product.
Want a shortcut?  I recommend using Jungle Scout to automatically pull the Amazon bestseller ranks AND highlight the estimated monthly revenue for each product.
5. No Dominant Brand(s) in the Market
Brand recognition is really important, especially in certain industries.
You may not remember what brand of toilet paper you bought last, but the odds are you thought about brand when you bought your last car.
Brand dominance can be a big factor on Amazon as well.
If you use Jungle Scout to evaluate sales numbers on grass seed, it shows that Scotts Turf Builder sells $100,000 per month and the no-name brands sell $2,000 – that's an indicator that consumers are brand loyal in this category.
In some cases, it's just tough to break in against the really big brands that own a category.
For example, if you go search "running shoes" on Amazon you'll see a lot of first page results from these guys:
Ever heard of those brands?
You probably aren't thinking of launching something as involved as a running shoe company, but hopefully, you get the idea.
If the top results are dominated by household names, then you should probably keep looking.
Unless you can come up something some really creative advantage it's unlikely someone will pass up the brands they know to try out your lesser-known product.
But please understand that even then, as an Amazon vendor you will be fighting an uphill battle no matter how good your product is.
6. Competitors With Low Review Counts
Reviews are huge on Amazon.
It's not the only ranking factor for products, but there's a reason that many of the top results on page 1 have tons of reviews, that are mostly positive.
Amazon's goal is to sell products, so they like to put products that convert the best near the top of their search rankings.
Since thousands of glowing reviews tend to convert browsers into buyers, there's a direct correlation between lots of positive reviews and high search rankings on Amazon. 
Beware if every product on page 1 of the results for your main keyword has over 50 reviews.
That's not to say it's impossible, but getting 50 reviews takes a while. And that means you're going up against some pretty entrenched sellers who have history selling on Amazon.
You don't just open an Amazon seller account and end up on page one the next day in a competitive niche.
So if you're looking for an easier win, seek out keywords with multiple products on page 1 with less than 50 reviews.
If there are some with less than 10 reviews or even NO reviews – even better!
This simply means that if you follow a nice launch formula and start picking up a few reviews in the early days of your product going live, you'll have a better shot at getting to page 1 in the short term.
7. Size Matters
Many Amazon FBA courses (like Marketplace Superheroes) recommend that you sell a product that would fit inside of shoebox .
The reason for this is because your shipping fees and fulfillment costs for that item are going to be much lower compared to selling something awkward and heavy like a ping pong table. Selling fees and shipping costs are always important to keep in line.
I don't agree that your product has to be small and light to be successful though.
There are plenty of heavy, oversized items that do very well on Amazon.
However, you should know the dimensions and weight and which tier you'll fall into before you decide to buy a product.
Here's a look at how Amazon categorizes based on size: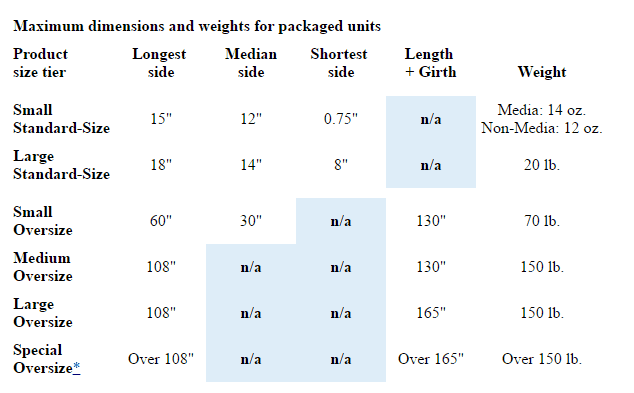 For more information about product size tiers, be sure to go through Amazon Seller Central.
The best way to get an idea of what your FBA costs will be is to use Amazon's calculator and put in an item that is very similar to yours in terms of size and weight.
If the margins are there for an oversized item, go for it! It's usually a little risky. This is because you'll spend more on inventory, but the payoff can also be much larger if it works.
It's ideal to find something small and light. But you need to make sure it fits all these other criteria in terms of competition, demand, and margin.
The problem with small and light is that it's the same thing every other aspiring FBA seller is being told to look for.
That means you're more likely to find products that are completely saturated where a race to the bottom is common.
So expanding the size of your "shoebox" is a smart idea. Just make sure you understand how it affects your shipping and fulfillment costs before you make that big purchase order.
8. High Margins Are King
Once you have a product that passes all the requirements above, you can now find suppliers who will provide you the product that you will private label at low costs compared to what you can sell it for (margin).
China will be most people's go to when it comes to affordable suppliers. A quick check on Alibaba for the product you want to sell will reveal to you a slew of results to choose from.
Open the pages of products you're interested in purchasing and compare their prices with the ones on sale at Amazon. Ideally, you want to find a product that costs at least 75% less than the retail selling price on Amazon.
For example, if you see the average retail price on Amazon is $10, you want to pay no more than $2.50 for that item.
Margin matters for a lot of reasons.
First and foremost, it's what determines if you're making or losing money. You don't want to do all this work just to break even do you?
You also need a healthy profit margin to cover hidden fees that come with selling on Amazon. Fees you're probably not accounting for when you're working on finding what to sell.
For example, Amazon charges both short term and long term storage fees for keeping items at their warehouse.
These numbers are always changing, but it's a variable cost that you will have a hard time estimating at this early stage in the process.
You're also going to get returns from customers. In some cases you can resell those items as used, but there are still costs involved there and many times it equals a loss.
Don't forget:
Amazon warehouse storage fees
Shipping fees
Amazon's cut from selling fees
Figure in other fees/taxes
Concentrate on improving that margin!
So if you're margins are really tight in the "perfect world" scenario. Where you sell every item for full price and never get a return, you're gonna run into some problems when the unexpected happens.
So when evaluating what you should sell, don't lie to yourself. Consider the numbers regardless of whether you really want to launch a particular item.
If you're buying a standard sized item for $10, retailing it for $19.99 on Amazon just isn't going to work. That retail price probably needs to be more like $35 – $40. That way you'll leave yourself plenty of margin after all the fees and hidden costs.
Keep a close eye on those numbers in your Amazon account and at vendor central. Those margins are where an Amazon store makes its profit…or ends up in  the red.
Is it profitable to sell on Amazon? Absolutely – as long as you watch those margins!
9. Find a Highly Searched Amazon Keyword
Similar to SEO, you need to find the best keyword for your product to maximize your earnings potential. Finding a relevant keyword with a high search volume on Amazon is your top priority.
Unless they know the exact name of what you're selling on Amazon, users can only see your product if they type in a related keyword.
By targeting the most searched keywords in the platform, you can increase your visibility to your target market in the hopes of getting them to buy your product.
There are a couple of tools that can unearth the monthly Amazon search volume for related keywords.
Keyword Tool – This tool helps you find keyword suggestions that you should consider to use for optimizing your product page.
Jungle Scout – This Amazon product research tool offers a comprehensive keyword feature that shows the different products which appear on search results.  Each product also reveals the BSR, estimated sales, estimated revenues, and more.
Merchant Words – This tool contains over 60 million keywords that Amazon users enter on the search bar to shop. It also shows the search volume for each keyword to help you decide which ones to optimize for.
Helium 10 – Helium 10 has become our favorite keyword research tool for Amazon, with a bunch of powerful metrics to help you decide whether you should sell a particular product.
Aside from these tools, Long Tail Pro also allows you to find the average Amazon reviews for each keyword.
As mentioned, you should choose a product with the least reviews as possible. This way you you can show up on the first page of search results as quickly as possible.
By finding the least number of reviews for related keywords. You can add it to the other data available from the tools mentioned above to determine which ones you should focus on.
Understanding the keyword research numbers can actually be more important than knowing the bestseller rank and sales numbers on Amazon.
Why?
Because Helium10 say 10,000 people search for a particular keyword but the top selling item is only selling a 100 units per month.
That's probably an indication that the items for sale on Amazon aren't good quality. They may also have poor photos, or some other factor that results in people leaving Amazon to buy that item elsewhere.
10. Competitor Pages Not Optimized
Aside from customer reviews, there are other factors to consider when figuring out how some pages rank on the first page of Amazon search for a keyword.
In short, the page should provide all the information necessary for users to make an informed decision about the product. Amazon has a page that details the best practices of developing your product pages to make them informative to users.
Frequently, the ones appearing on the first page of Amazon search have optimized product pages. However, there are pages whose elements still need improvement.
Below are the most common mistakes that prevent product pages from performing well:
Few or low-quality product images
Non-descriptive product title
Limited description
Unhelpful bullet points
If you can find pages that commit these mistakes, it's a great opportunity for you to optimize your listing using a simple tool like Sellesta for a boost in all areas. That way, you can take advantage of your competitors' weaknesses to outrank them and generate more sales.
The lack of images or the lack of quality images is probably the most important one to look for.
Images can make or break a product. They can make the difference between creating a product that becomes an Amazon best seller and having your products gather dust in Amazon's warehouse.
Eye-popping images create a good impression. Terrible fuzzy images will do the opposite.
People buying online may have never actually seen the item they are about to purchase in a store – so the photos, description, and reviews are just about all they have to go off of.
If they aren't sure of what they are getting from the photos, they are likely going to buy something else.
So if you see lots of listings on page 1 that have one picture, or a few poor pictures – that means you've got an opportunity to stand out from the crowd and out sell them.
11. Keep It Simple
The final piece of advice when figuring out what to sell on Amazon is to stick to the simple stuff.
If you've got this idea for a drone that can pair to your Gmail account and automatically go pick up your pizza when you order it…
Just stop right now.
That's way too complicated.
I'm assuming that if you're still reading, you're probably thinking of Amazon FBA as side hustle opportunity and you don't have a full-time research & development team on staff.
You need to stick to ideas that you can translate to (most likely) an overseas supplier. Someone who speaks English as a second language.
You need to be able to translate what you want to a sample maker. Again someone who is actually going to bring your idea to life.
If you can't explain your product to one of your buddies without confusing them, good luck getting that message across to a factory in China.
So as you filter through your ideas, think about the innovations and modifications you can make to existing products. Make sure they're relatively easy to explain using marked up photos or a short video demonstration.
Here are some examples of what I mean.
Simple: Make a family-sized umbrella that's 1 foot wider than the current largest umbrella
Complicated: Make an umbrella with built-in helicopter rotor that allows you to fly like Inspector Gadget.
Simple: Make fabric curtains with a custom print that I designed
Complicated: Make curtains for a house boat that can also inflate in case of emergency.
Simple: Make a new laptop bag that has a better pocket to carry business cards.
Complicated: Make a new laptop bag that has speakers and a back-up battery built into it so you can blast tunes from your laptop for hours
Yes, you want to be innovative.
But, the more complicated a product is, the more things that can go wrong during production, and the more time and money you'll spend finding someone who can actually make it.
In the end, some of the best product ideas are simple solutions to common problems – not some wild new invention.
Top Selling Categories On Amazon
You can access all of Amazon's top categories for free on Amazon's best seller list.
Note: Trending products can be worth a look but the best are those evergreen products that are more likely be around and popular for years to come.
Here are Amazon's best selling categories:
Toys & Games
Toys R Us going out of business was pretty telling. Consumers prefer to buy toys and games online.
You can check Amazon's best seller lists to see what's popular right now to get ideas of profitable products to sell. And also look at product descriptions to see if any interest you.
Plus you can take note of Amazon ads or sponsored products you come across to see which products your potential competitors are profiting enough to advertise about.
Toys are super hot during the Christmas season, but hobbyists and birthdays mean you will see sales year round.
If you can get a foot into this product category, you could build a raving fan base of people who love your product.
However you may want to keep in mind that the general Toys & Games niche is typically dominated by name brand businesses.
To do well here you'll definitely want to niche down on a relatively simple toy idea.
Electronics
Consumer electronics is a category where Amazon is often dominating with their own products.
This would make it very tough and costly to break into.
You can see that a lot of the top sellers are items that Amazon owns and manufactures:
There may be untapped opportunities though, perhaps with accessories though so it's not fully out of the question.
Camera & Photo
Here is a product category that surprisingly might have some space for you. The Camera & Photo category has a wide range of items: home cameras, disposable camera, even cameras inside of pens.
There are miniature microscopes and even light up selfie rings (I have no idea what these do, but someone is buying them by the truck loads).
This can be a challenging niche if you take it head on. This category has name brands (avoid those) but isn't dominated by household names.
So there are many back doors for a clever entrepreneur.
You likely won't be looking to make a new type of camera. But you could have a new take on an old technology (vintage is trendy and nostalgia is one hell of a drug).
Or you could sell camera caps, carrying bags, portable lighting, portable green screens, stands, and light boxes.
Those are just a few examples of gear that could provide you with a good opportunity to make money on Amazon.
Video Games
This niche market is mostly made up of gift cards, consoles, and actual video games.
So unless you can somehow profit from a gift card or make a video game there isn't much you can do with this niche, to be honest.
Not for a typical Amazon side hustler, anyway.
Books
Now here's a category literally anyone can get into sometimes for free.
After all selling a book isn't the same process as selling a showerhead or an inflatable pool, but the money is there.
Amazon and the Kindle almost single handedly wiped out most physical bookstores. And Amazon has made it crazy easy to self publish a book on their platform.
There are thousands of authors out there publishing their work on Kindle and making anywhere from several thousands of dollars a month to small fortunes.
This Kindle self-publishing study looks at the viability of publishing as a way to make money from Amazon without the risk or level of involvement that Amazon FBA or other businesses require.
This product category is still filled with opportunity and is waiting to be seized by the right entrepreneur.
Clothing, Shoes, & Jewelry
Clothing, shoes, & jewelry is another niche market where there's a lot of possibility for savvy entrepreneurs. Be warned though: this niche is pretty crowded. It's a lot easier to make a shirt than it is to come up with a unique idea for a new product.
That means you will be running into Amazon sellers at all levels.
Those who are pure beginners. As well as the professional seller who really knows how to pick the right product, cut down on their shipping cost, and make a professional selling plan to get the most out of their business.
If you get into this niche, you'll need to be smart about coming up with new designs. You want to build something attractive. Something that is different than other items on the marketplace but won't break the bank to manufacture.
Coming up with the right original designs for your products will be critical to succeeding as an Amazon seller. Your product listings will need to pop. And your product descriptions will need to be on point.
We have a whole post about how to start a T-shirt business on Amazon if you want to learn more.
A quick note on Amazon's best selling categories
Just because these categories are the "best sellers" on Amazon does not mean that your product has to be in one of these categories.
In fact, having a product in one of these categories could be a terrible idea! These are the best sellers, so you're guaranteed to have a ton of competition.
Amazon has a whopping 41 different categories at the time of writing. Almost every one of these is ripe for a creative entrepreneur.
However some product ideas are simply going to have more competition than others.
But how can you know which one is best for you?
Best Things To Sell on Amazon
By choosing the right product, you can make a nice profit of up to $60,000 per month (or more). And in a previous post, we already discussed how to make money on Amazon.
On the other hand, selecting the wrong product to sell won't let you earn enough money. It won't matter if you picked a high-quality product from a cheap supplier and optimized its listing on Amazon.
What is important is whether or not people will buy it from you. (Consider looking at Amazon statistics when you brainstorm.)
Worst Things to Sell on Amazon
I think it's important to cover, because it's a common trap that new FBA sellers fall into.
That is, selling a "me too" (no, not that kind) product that offers no real value or difference from the hundreds of competitors on Amazon.
An example, when I searched "dog brush" on Amazon I found over 4,000 results, and here were a few at the top:
The first red flag about this is that one of the top results is a guy selling items for $3.94 with Prime shipping!
If you've ever sold FBA, you know that after Amazon fees this guy is definitely losing money.
That's how cut-throat the pricing is for dog brushes.
Good for customers, but not for any Amazon seller trying to make any profit.
Besides that, you have to ask yourself the question – do I have some innovation to the dog brush? Something that would allow me to charge a premium price (so I can make a profit)? Such that I can outrank these entrenched competitors who are losing money or making very small margins?
There are many sellers on Amazon losing money with every sale. Avoid that group by doing the math on all fees and expenses!
Unless you've got a real passion for dog brushes and some relatively deep pockets move on. You'll likely have to sell hundreds or thousands of units at a loss to move up in the rankings.
For your own products, you definitely don't want to just jump over to Aliexpress and buy a standard dog brush, slap your logo on it and try to sell it.
That's a recipe for losing money from Seller Central. Even if you are passionate about dog brushes, one look at the competition here should tell you that this product idea should be dead on arrival.
Case Studies
Now that we've discussed the things about what to sell on Amazon, it's time to see these practices in action.
While you want to be creative, learning from others can help A LOT.
Success doesn't happen by accident.
These case studies show the importance of good keyword & market research, great product descriptions, and a professional selling plan.
The right product for an Amazon FBA seller is going to consistently have a combination of all these.
Manny Coats – $75,762.35 in First Month
Manny shares his impressive run selling private label products on Amazon in just a month. He details in this post and podcast the process of researching and selling products. Manny mentions the work that was put in launching the products (12 to 16 hours of work from Monday to Sunday).
Not to mention, he also ran into some problems such as losing stickers to close the boxes and Amazon losing one of his shipments.
Nonetheless, the results more than compensate for the work he's put into this successful project.
Key takeaway: Manny chose a product in anticipation of the holiday season to maximize sales. He was selling a product under the toys category. And the stock got sold out before Christmas, which is an encouraging sign.

By choosing a product to sell based on trends and season, Manny was able to make the most out of his Amazon FBA campaign.
Manny also happens to have created a tool called, Helium 10 that makes finding profitable products to sell on Amazon much easier.  Check out our Helium 10 review.
Scott Voelker – $35,000+/month
One person that has encouraged lots of people to pursue selling private label products on Amazon is Scott Voelker of The Amazing Seller.  There is a Niche Pursuits podcast interview with Scott Voelker that went in-depth discussing his story and strategies.
Before venturing into the world of Amazon FBA, Scott owned a very profitable photography studio. He wanted to build a business that didn't take much of his time, so he turned to Amazon for help.
On the first month of selling products on Amazon, he earned $4,000, which wasn't bad. However, after nine months of refining his processes, he made a solid five-figure income monthly and never looked back.
Key takeaway: Scott admits that there's no shortcut to finding that product that would sell like hotcakes on Amazon. However, he emphasizes the importance of depth when it comes to choosing your business.

What Scott means is that you have to pick a product on Amazon you can still sell from the start. Especially as you attempt to rank higher in Amazon search.
By approaching your product research in a strategic manner, you can unlock your true earnings potential in Amazon FBA.
David Bryant – $1 million/year
Another person that has done well selling physical products is David Bryant.
Unlike other so-called private label product seller gurus, David is far ahead of the pack regarding importing products from China to be sold on Amazon. He discusses this in his Niche Pursuits podcast about the .
Aside from the usual route of searching Alibaba for the supplier, he recommends getting a sourcing agent.
This is a person responsible for finding you the best products to be sold for you.
Key takeaway: Unlike others, David believes that researching can help unearth the best product that you should sell. But he is also an advocate of going with your gut when making decisions.

Also, he suggests that people should start selling items that they are passionate about. Since they are fully informed about the product, it will be much easier for them to sell the product to their audience.
Another tip he shares is choosing a product that has lots of potential for add-ons.
For example, if you are selling mountain climbing shoes, you can branch out to selling items in the niche that are related like harnesses, ropes, and others.
Wrapping it up
Finding the right type of product to sell is critical to your success selling on Amazon.
It helps if you're passionate about the product. Because this can help you stay focused as you put in the necessary work.
And yes, you'll need to put in the work to prove that the product will sell in the market. Becoming a successful Amazon seller doesn't happen by accident.
The tips above should help guide you in choosing which product to go with.
The research process is exhaustive and time-consuming. But it is a necessary step to make sure that you are doing everything correctly.
At the same time, your research should provide you all the information you need to know to make it easier for you to succeed.
I also suggest that you read up on the case studies featured above. They'll help you understand the level of commitment you should have to make the same amount of money, if not more!
And be sure to find out our answer to the question – do you need a business license to sell on Amazon?
If after all this, you're curious what can I sell on Amazon without approval – check out our list of 23 open and ungated categories.
Want to learn step-by-step how I built my Niche Site Empire up to a full-time income?
Yes! I Love to Learn
Learn How I Built My Niche Site Empire to a Full-time Income
How to Pick the Right Keywords at the START, and avoid the losers
How to Scale and Outsource 90% of the Work, Allowing Your Empire to GROW Without You
How to Build a Site That Gets REAL TRAFFIC FROM GOOGLE (every. single. day.)
Subscribe to the Niche Pursuits Newsletter delivered with value 3X per week