How To Make Money On Amazon Without Selling: 12 Creative Ways
When you buy something through one of the links on our site, we may earn an affiliate commission.
Making money on Amazon seems like a no-brainer. After all, it's the world's largest online marketplace, and millions of people use it daily to buy everything from groceries to electronics.
What many people don't realize is that selling on Amazon can be a risky business. You'll face several challenges that make it difficult to turn a profit, including high investment costs and fierce competition.
As it turns out, there are several ways to make money on Amazon without selling products. That's right - no inventory investment, ads, or shipping required. So, if you're looking to make extra cash on Amazon without all the hassle, here are a few ways to do it.
1. Amazon Influencers Program (Make Video Reviews for Amazon Products)
The Amazon Video Review Program is a commission-based program that allows content creators to make videos reviewing products they've already purchased on Amazon. It's similar to being a product review blogger but on video and with the opportunity to use the Amazon platform. Approved influencers receive a unique URL on their own Amazon page. This allows them to showcase the products they endorse to their followers.
These videos appear on Amazon when people are looking to purchase said products. The content creator gets a chance to earn a commission if the person buys the product after watching the video review.
ChadEveryday is a popular YouTube content creator who made just shy of $300 in his first month participating in the Amazon Video Review Program.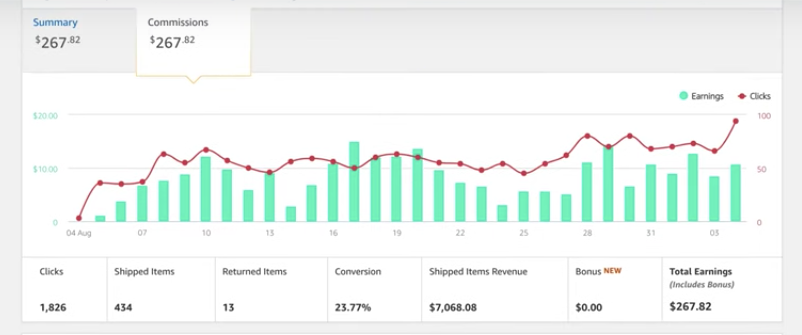 He only posted six reviews, so it's possible to make good money with the Amazon Influencer Program if you do the work.
He even stated that this method was more effective than posting Amazon links in his Youtube videos. If you're a content creator with decent video skills, this could be a great way to make money on Amazon without selling.
Here are some tips to make the most money with this method:
Find products that are selling well on Amazon that you think you could create helpful reviews for in an interesting way.
Make sure the products you choose are available for the Amazon Video Review Program. You can check this by going to the product detail page and scrolling down to the "product details" section. If it says "video reviews eligible" next to "product information," then you're good to go.
Create high-quality videos that provide value to the viewer. This means honestly reviewing the product and explaining why you like or don't like it.
Use Google Trends to validate your product choices. You want to choose products that people are searching for and that have a high "interest over time" score. This will help you get more views on your videos, leading to more sales and commissions.
Optimize your video titles and descriptions for SEO. This will help your videos show up in search results.
Target expensive products. The more expensive the product, the higher the commission. So, if you're going to put in the time to make a video review, you might as well go for products that will give you a decent return on your investment.
---
2. Writing Amazon Product Descriptions
Anyone who has ever shopped on Amazon knows that a product description is one of the most critical pieces of information. This tells you everything you need to know about a product before buying it.
As a result, there is a real need for people who can write effective product descriptions. Also, not all sellers are gifted with the ability to write compelling copy. Or they simply don't have the time!
If you have a knack for writing and are looking for a no-risk opportunity, this could be the perfect way for you to make money on Amazon. Helping businesses to craft effective product descriptions is a valuable service and one that can be highly rewarding!
There are a few things that will help your product description rank higher on Amazon:
Keyword Selection
First, you must include your target keywords in your product description. Amazon's search engine pays attention to the keywords you include in your listing, so use them wisely.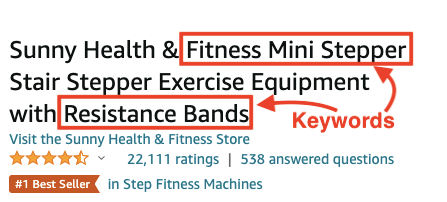 Portray the Benefits (Or the Problem)
Second, you need to focus on selling the benefits of your product, not its features. When you focus on the benefits that your product can offer, you'll be able to capture the attention of potential buyers.
If you can write an effective product description that focuses on the benefits of your product, your client will see an increase in short-term sales and a higher SERP ranking (and you can demand more for your services)!
---
3. Customer Support For Amazon
Looking for an opportunity to work from home? Amazon's customer support team may be a good fit for you!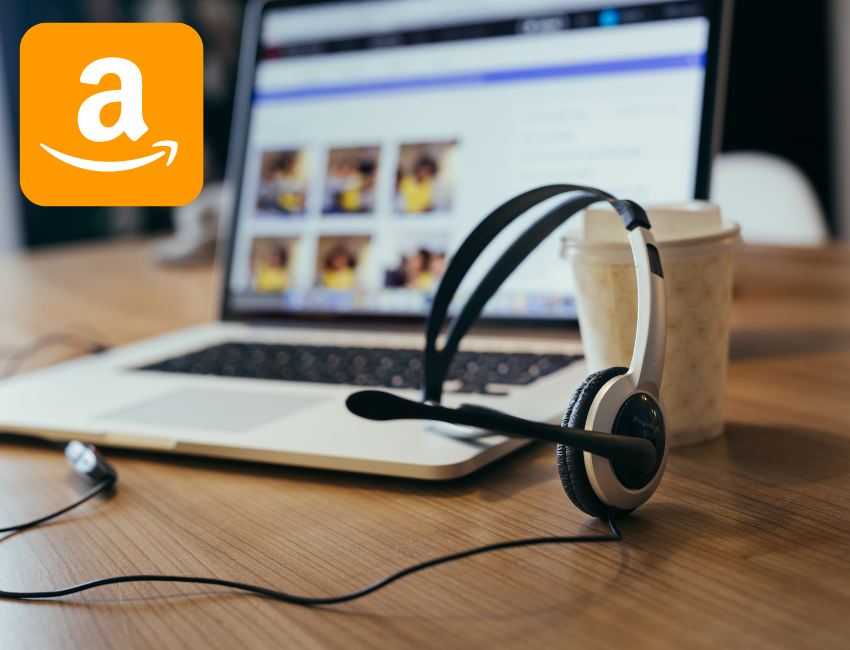 In this role, you'll be responsible for assisting customers with their questions and concerns. You'll need to be patient and helpful and have strong communication skills.
Working from home includes flexible hours, no commute, and the ability to work around your family's schedule.
Plus, you can wear whatever you want to work - no need for business casual clothes! Amazon is a great company to work for, and its customer support team is highly rated.
So if you're looking for an opportunity to work from home, Amazon's customer support team is worth checking out!
This role could be great for people such as stay-at-home moms or military spouses. Military spouses have to relocate frequently, making it challenging to maintain a steady job. These roles can be done entirely from home, giving these "nomadic" families the necessary flexibility.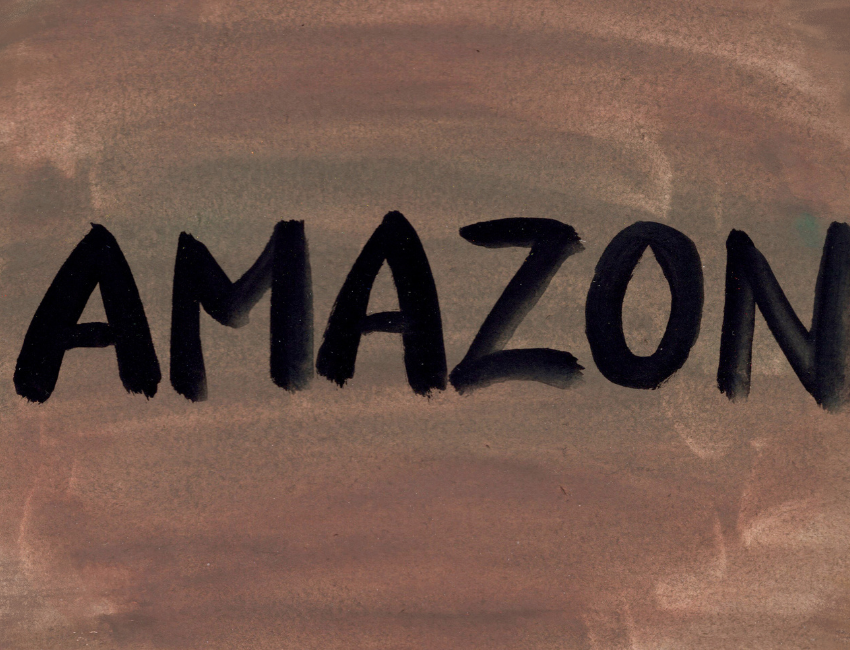 Also, if you're a new mother who wants to stay home with her child but still bring in an income, this could be the perfect job for you! Amazon's customer support team understands new parents and their needs.
They offer a flexible schedule so you can work around your baby's nap times. Plus, you can take advantage of their fantastic benefits package - which includes lots of paid leave!
In addition, the pay is competitive (Glassdoor reports an average of $27/hour) and the benefits are very generous. For example, Amazon offers health insurance and a 401(k) plan (check out some of the best part time jobs with health insurance here). The perks make this a lucrative way to make money on Amazon without selling.
---
4. Graphic Design Services
A picture is worth a thousand words, but when it comes to e-commerce, it might be worth even more.
Numerous studies have shown that products with professional photos are more likely to sell than those without, and that's where graphic design services come in.
By enlisting a skilled designer's help, Amazon sellers can ensure photos are high-quality and eye-catching, two essential elements in any successful listing.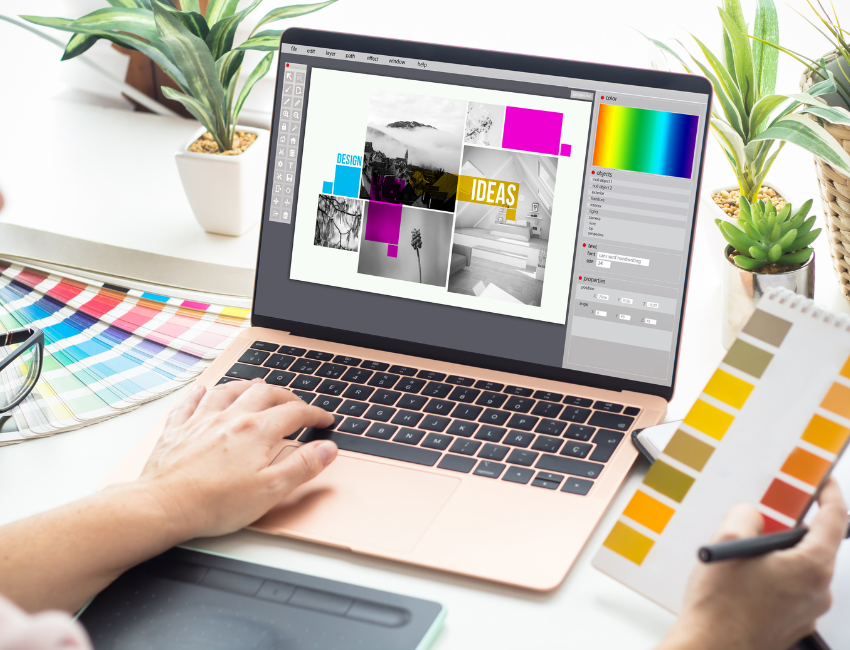 And while good photography is essential for any online seller, it's especially vital on Amazon where customers are inundated with choices and often make purchasing decisions based on visuals alone.
And when it comes to online shopping, people are primarily visual shoppers. They want to see what they're buying before they make a purchase.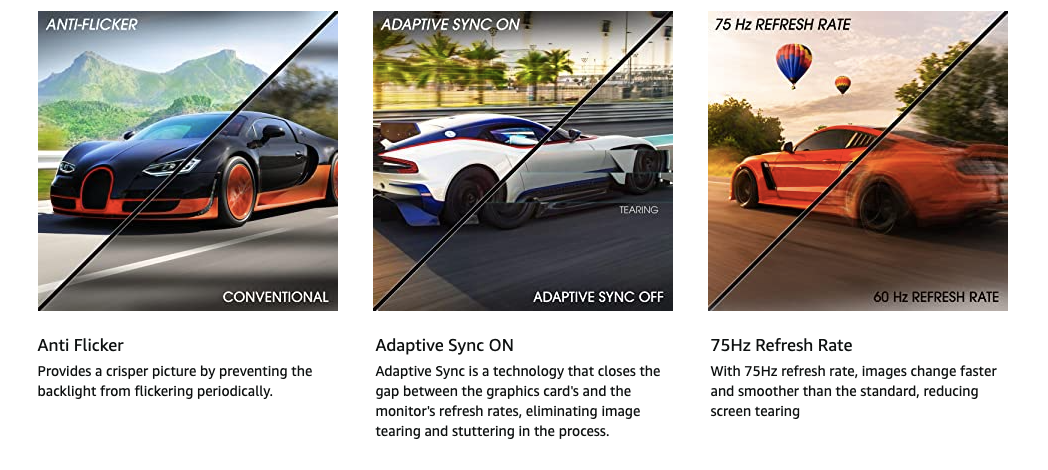 This is where graphic design services can come in handy. A professional designer can help create beautiful photos highlighting products in the best way possible. As you can see above, this graphic designer cleverly highlights the benefits of a high-caliber computer monitor.
Think about it this way: when you're scrolling through Amazon, which listings are you more likely to click on? The ones with poor-quality, blurry photos or the ones with bright, clear, and well-designed photos? The answer is pretty obvious.
If you want to make money on Amazon as a graphic designer, there are a few things you need to have in order:
First, you'll need to create a portfolio of your work to show potential clients.
Second, you'll need to be familiar with the Amazon guidelines for product images.
And finally, you'll need to have a good understanding of marketing and how to make your designs stand out.
---
5. Become a Virtual Assistant For an Amazon Seller
As an Amazon seller, you know that there are a million and one things to keep track of daily.
From listing new products and updating old ones to monitoring inventory and dealing with customer service issues, it's easy to feel like you're constantly playing catch-up. That's where a virtual assistant can be a lifesaver.
A virtual assistant is someone who provides remote administrative support to Amazon sellers and it's a great way to make money on Amazon without selling.
In other words, they take care of the behind-the-scenes tasks that keep the seller's business running smoothly - it's a vital role and one that can be done entirely from home. Here are a few ways virtual assistants can help out.
Product Research
One key aspect of business that virtual assistants handle is product research.
They comb through Amazon and other online marketplaces to find products that are selling well and would be a good fit for the business. This can be time-consuming, but it's vital for any Amazon seller who wants to stay ahead of the competition.
Jungle Scout is one of the leading tools to identify opportunities through product research, and they offer a course that teaches you how to use their software like a pro to make money on Amazon. If you're looking to assist Amazon sellers, then learning to find profitable products could be the difference-maker in landing the job! Learn more in our full Jungle Scout review.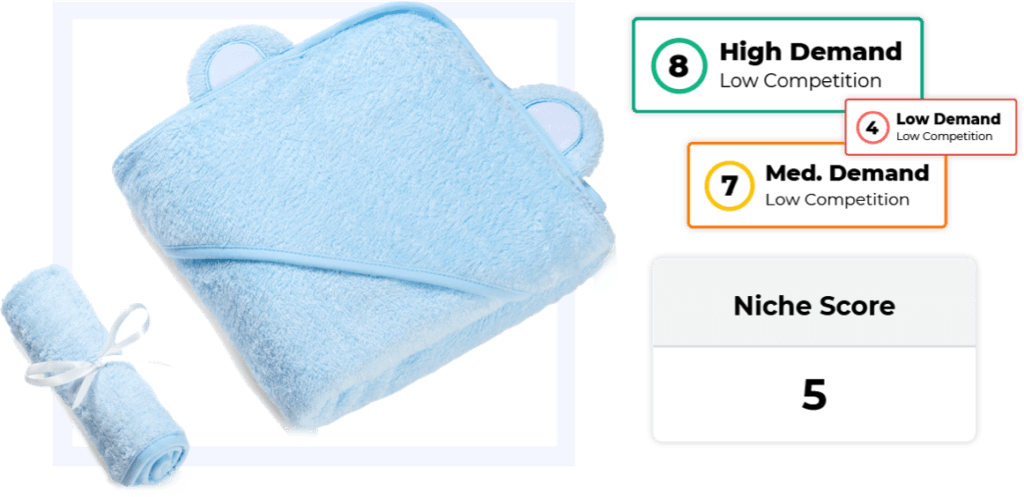 And if you're on the fence, check out another popular and powerful tool we confidently recommend, Helium 10.
Customer Service
Another essential task virtual assistants handle is customer service.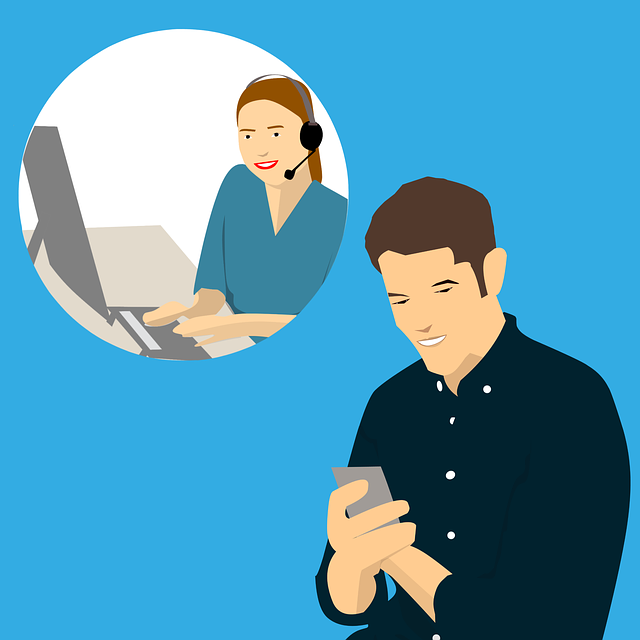 They field customer questions and concerns, often dealing with issues that are time-sensitive or require a high level of customer service. This can be a challenging job, but it's also an important one.
Amazon tracks customer service metrics like a hawk, and if seller ratings start to slip, it can have a big impact on their business. That means there is a huge need for proficient customer service skills to help keep seller accounts healthy!
If you're interested in becoming a virtual assistant, you should keep a few things in mind:
First, you'll need to be extremely organized and have the ability to juggle multiple tasks at once.
Second, you'll need to have excellent written and verbal communication skills.
And finally, you should be familiar with the Amazon seller platform and how it works.
If you're organized, detail-oriented, and good at multitasking, becoming a virtual assistant could be the perfect way to make money on Amazon without selling.
To get started, start investing in education through YouTube videos and online courses. Once you have the skills, reach out to Amazon sellers and offer your services.
---
6. Amazon Flex
Looking for a way to earn some extra cash? Why not sign up for Amazon Flex? Amazon Flex is a program that allows people to deliver packages on behalf of Amazon with their own vehicle. It's a great way to earn extra money and is available in many cities worldwide.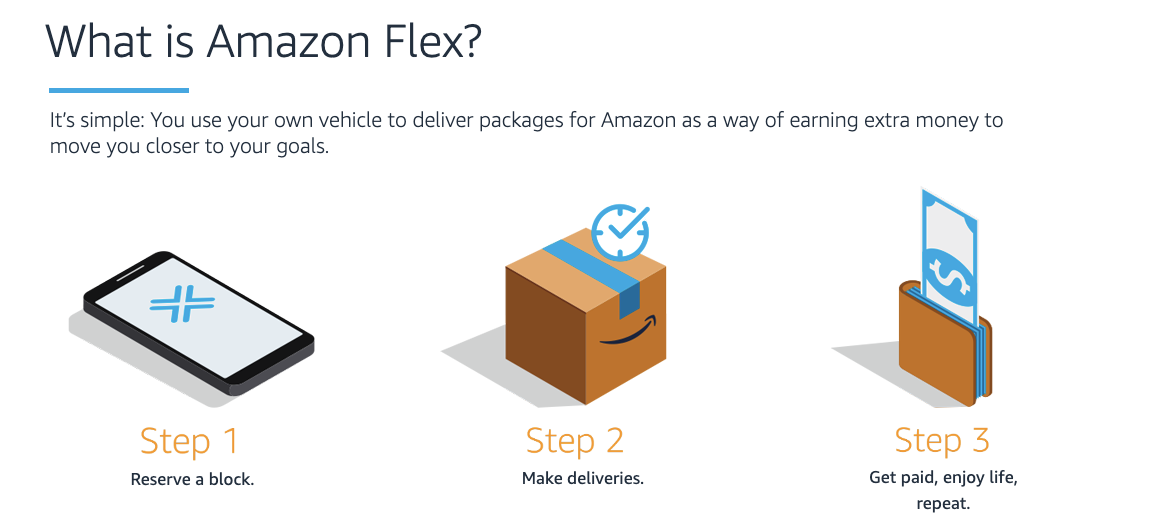 So how does it work? Once you sign up for Amazon Flex, you can choose your delivery hours.
You can work as little or as much as you want and schedule your deliveries around your other commitments.
Amazon pays drivers an hourly rate between $18 and $25. Shifts typically last five hours. To get started, download their app and complete a short questionnaire. Amazon will provide you with all the necessary equipment, and you'll be able to track your earnings through the app.
There are many benefits of working with Amazon Flex. For one, you'll be able to set your schedule. You'll also be free to work as much or as little as you want.
And best of all, you can choose to deliver in the most convenient areas. Whether you're looking for a way to earn money or simply interested in becoming a more active member of your community, Amazon Flex delivery service is a great opportunity.
See if Amazon Flex is available in your city.
---
7. Provide Amazon Account Reinstatement Services
Amazon is a huge marketplace with millions of buyers and sellers. However, Amazon has very strict rules that sellers must follow, and suspension is a common consequence of violating these rules.
When a seller's account is suspended, they lose access to their inventory and their earnings. This can be devastating, especially for small businesses that make money on Amazon.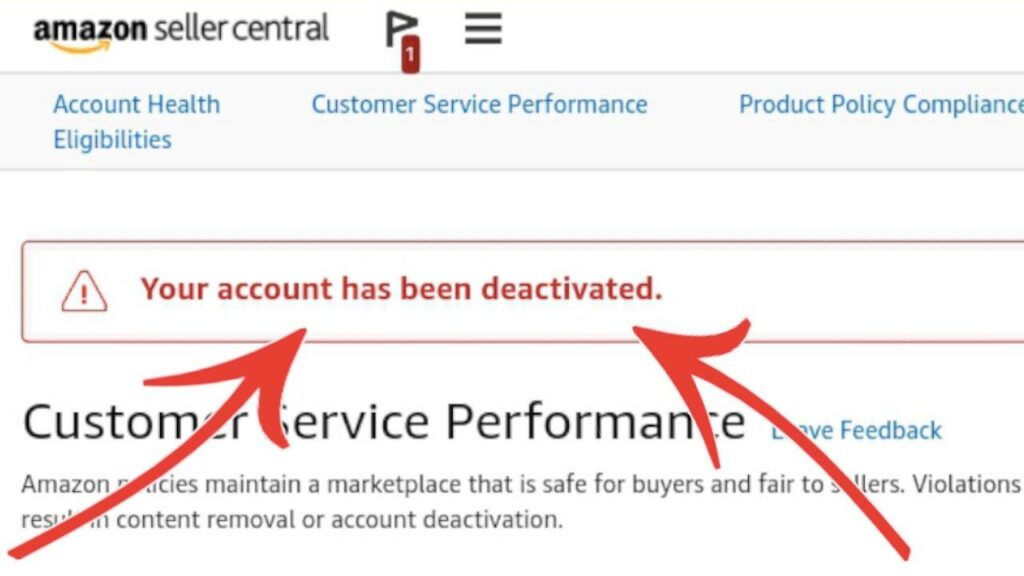 Thousands of seller accounts are suspended each year for several reasons including, but not limited to:
Selling counterfeit products
Selling banned or restricted products
Making too many returns
Creating fake reviews (don't miss our list of great Amazon fake review checkers for both shoppers and sellers)
Violating Amazon's listing rules
Fortunately, some services can help sellers to get their accounts reinstated. These services involve contacting Amazon and persuading them to lift the suspension.
This can be a difficult and time-consuming process, but it is often worth it for sellers to have their accounts reinstated. That's why these services charge a premium – and that's where the opportunity is for you.
If you're interested in becoming an Amazon account reinstatement service provider, you should research the process and learn as much as you can about how to appeal suspensions successfully.
You must know Amazon's policies and have strong communication skills to provide this service.
Many online courses can teach you the necessary skills. Once you have mastered this skill, you can start offering account reinstatement services to others and make money on Amazon without selling.
While there is no guarantee that every account you try to reinstate will be successful, the rewards can be great. For each successfully reinstated account, you can earn a hefty fee - making this a very lucrative opportunity for those with the right skill set.
If you're looking for a way to make money online, providing Amazon Account Reinstatement Services is a great option.
---
8. Ghostwriting eBooks
If you're a writer, there's a good chance you've considered writing an eBook at some point. But what if we told you there's a way to write an eBook and get paid without worrying about marketing or selling it?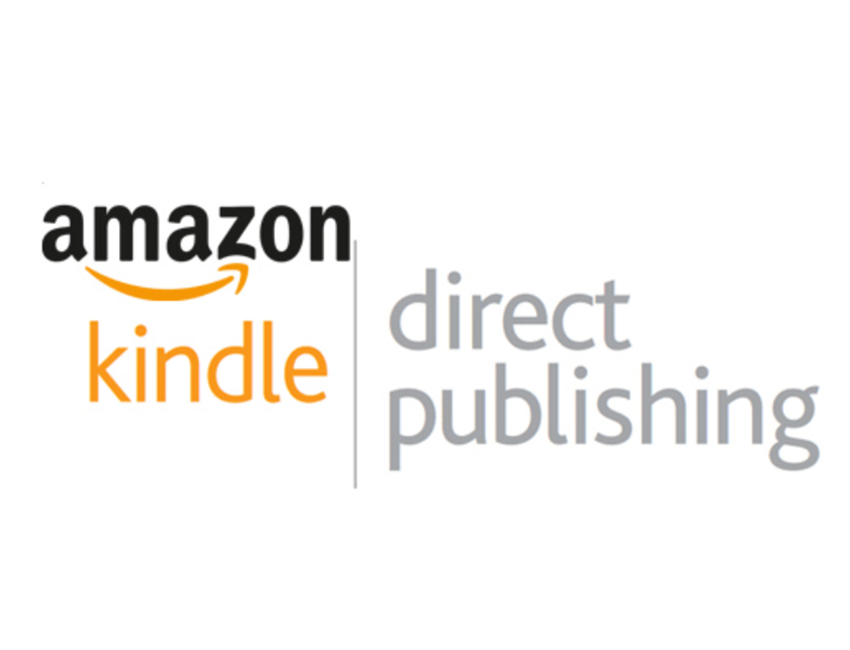 That's right, we're talking about ghostwriting eBooks on Amazon. And no, we're not talking about some shady black market deal. Amazon's Kindle Direct Publishing (KDP) program allows authors to upload their books and set their prices.
If you don't want to self-publish your own book on Amazon Kindle Direct Publishing, ghostwriting could be the solution.
So, how does ghostwriting an eBook on Amazon work? Essentially, you create the book and give the customer all the rights to it once it's finished. The customer can then publish it under their name or keep it private. And the best part is that you get paid upfront for your work!
How to Find Customers Who Need eBook Ghostwriters
The best place to start is to look towards freelancing marketplaces like Upwork or Fiverr. On Upwork, clients post jobs, and freelancers can bid on them.
You can search for eBook ghostwriting gigs and send proposals to clients. Once you agree on a price and deadline, you can start working on the book. You simply hand it over to the client and receive your payment when it's finished. It's that easy!
You can also search for potential customers on social media platforms like Facebook and LinkedIn. Facebook groups are goldmines for finding clients who need eBook ghostwriters. Simply join a few relevant groups and start interacting with the members.
Once you find a potential customer, simply reach out and introduce yourself. Be sure to include a link to your writing portfolio or blog so the customer can see your work. Customers will likely be interested if they see value in your portfolio.
If you don't have a writing portfolio to show yet, consider starting a blog where you can showcase your talents.
---
9. Amazon Trade-In

The Amazon Trade-In Program is a way for you to trade in your used items for Amazon gift cards. You can trade in devices, movies, video games, and more.
Just go to the Amazon Trade-In website, search for the item you want to trade in and submit it for review. Once Amazon accepts your item, you'll receive a shipping label to send it in. After Amazon receives your item and approves your trade-in, they will credit your Amazon account instantly.
What Can I Trade In?
The types of items that can be traded in through the program are pretty diverse. For example, you can trade in video games, electronics, toys, and even certain cell phones. If it's sold on Amazon, there's a good chance you can trade it in.
How Do I Submit Items For Trade-In?
Go to the Amazon Trade-In website and search for the item you want to trade in. If it's eligible for Trade-In, you'll see an option to Trade In on the product page. Click on that link and follow the instructions to submit your item for review.
How Do I Ship My Trade-In?
Amazon provides a shipping label once your item is accepted for Trade-In. Just print out the label and attach it to your package. Then, drop it off at any UPS location.
How Do I Get Paid?
You'll receive an Amazon gift card within 7-10 days after Amazon receives your trade-in item.
---
10. Amazon Mechanical Turk
Amazon Mechanical Turk, or MTurk, is a marketplace for work that requires human intelligence.
MTurk crowdsourcing marketplace provides a platform for Workers to find HITs (Human Intelligence Tasks) and complete them in exchange for payment. It's one of the easiest ways to get started when it comes to making money on Amazon without selling products.
You can think of it as a digital assembly line, where workers are the workers on the line and the requester is the company that creates the product.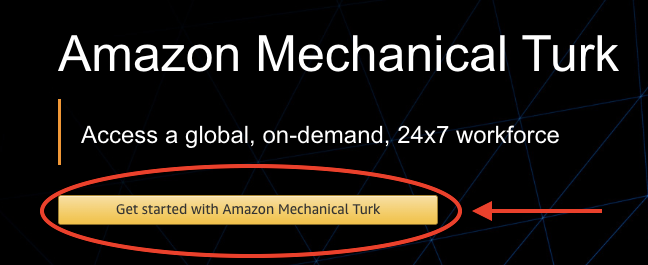 You'll need an Amazon account to create a Worker account on MTurk. Once you have an Amazon account, you can sign up for MTurk as a worker by going to the MTurk website and clicking on the "Request a Worker account" sign-up link. After you create your worker account, you can start searching for HITs to complete.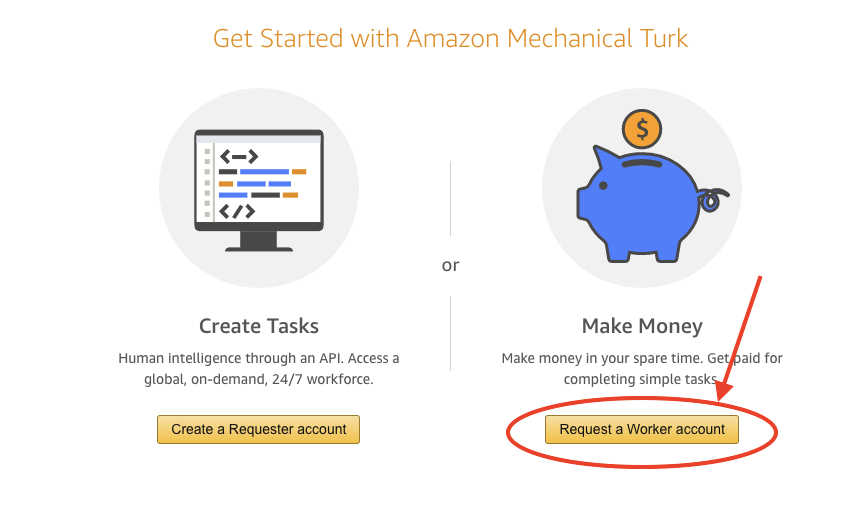 HIT stands for Human Intelligence Task. A HIT is a task that requires human cognitive abilities to complete, such as identifying objects in a photo or transcribing audio files. When you find a HIT that you want to work on, you simply click on the "Accept" button and then complete the task according to the instructions provided by the Requester.
Breaking Down HITs
There are two types of HITs on MTurk:
1) Standard HITs - These are the most common HITs on MTurk. They are usually very quick and easy to complete and pay around $0.10 - $0.20 per HIT.
2) Qualification HITs - These are HITs that Requesters use to find qualified workers to complete their HITs. For example, a Requester may need transcribers who can transcribe audio files in English with high accuracy. To find Workers that meet their qualifications, they will create a Qualification HIT. Qualification HITs usually take a bit longer to complete than Standard HITs, but they pay more - often around $1.00 or more.
To find Qualification HITs, search for "Qual" on the MTurk website or click on the "Qualifications" tab on your worker dashboard.
Once you've completed a HIT, the Requester will review your work and approve it if it meets their standards. Once the requester approves your work, you will be paid for the HIT according to the price they set. MTurk will then deposit the money you've earned into your bank account.
Given the low payout per HIT, it would take a long time to make a significant amount of money on MTurk. That said, there isn't a high degree of skill required, so the barrier to entry is low, making it a good option if you don't want to invest a lot of time or money into learning new skills.
That said, it could be an honest way to earn extra pocket money online if you enjoy taking surveys or transcribing audio files.
---
11. Merch By Amazon
Merch by Amazon is a service that allows you to make money selling custom-printed merchandise with your designs without having to worry about inventory or shipping (check out our full Merch by Amazon review).
Amazon Merch print on demand service is a great way to make money on Amazon without selling and can generate income income for designers and artists.
Here's how Amazon Merch works:
Simply upload your design, select the products you want to sell (from t shirts to coffee mugs), and set your price.
When someone buys one of your products, Amazon will print and ship it for you. And the best part is that you don't have to worry about inventory or fulfillment - Amazon takes care of everything to do with selling products.
You'll earn a royalty on each sale and don't have to work beyond creating the design.
If you're looking for a passive income stream or want to sell your art without dealing with the hassle of fulfilled orders, Merch by Amazon is worth considering.
So why should you join Merch by Amazon? There are several benefits, but the most important is that it's a great way to diversify your income stream and make money on Amazon without selling.
Instead of relying solely on product sales, you can earn royalties from selling your designs.
Because there are no upfront costs or minimum order requirements, Amazon Merch is relatively risk-free.
You can also take advantage of Amazon's massive customer base and world-class fulfillment network.
If you're looking for a way to tap into the lucrative world of e-commerce and generate significant income without all the risk, using Merch by Amazon to sell products is a great option.
---
12. Lead People To Sign Up For Audible Free Trial
Do you love listening to audiobooks? Audible is a great way to get your audiobook fix, and you can even make money on Amazon without selling by referring people to sign up for the Audible free trial via their affiliate program (and don't miss our list of other ways to make money on Audible).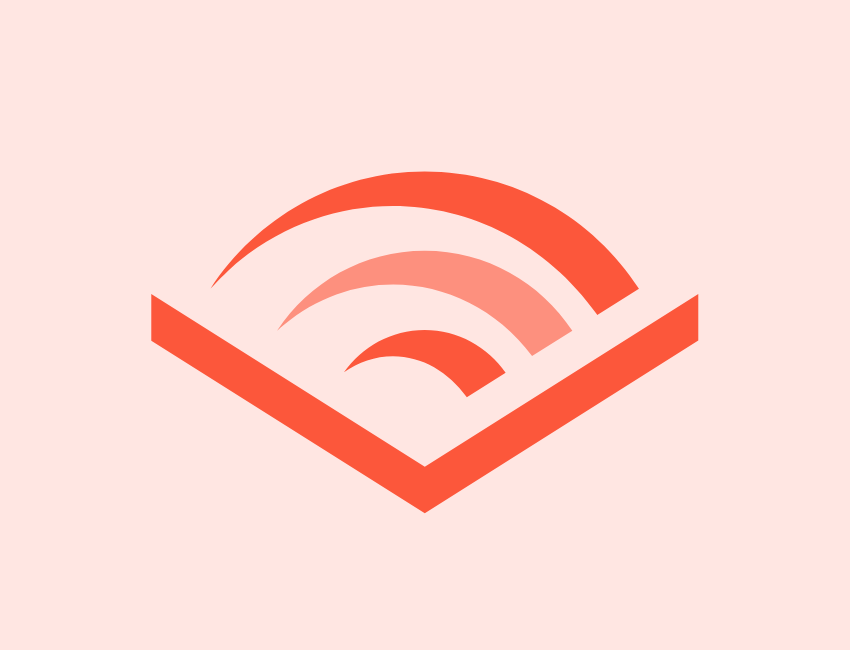 Audible is an Amazon company that offers a free 30-day trial where new members can choose free audiobooks.
After the free trial, members pay $14.95 per month, but they can cancel anytime.
As a member of the Audible affiliate program, you can earn a commission for every person you refer to sign up for the free trial.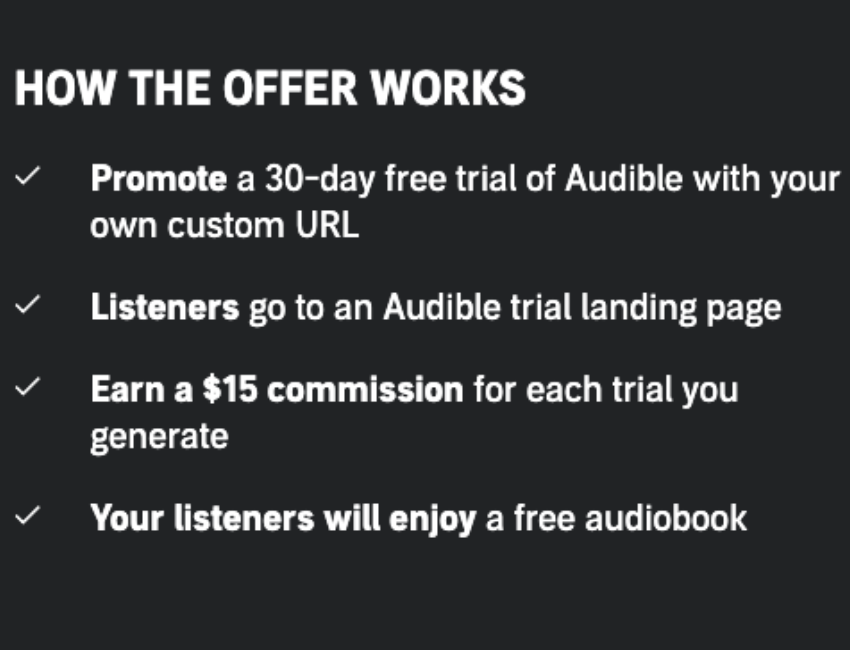 For each person who signs up for the free trial through your link and completes the trial, you'll earn a $15 commission through this Amazon affiliate program.
With over 180,000 audiobooks and more to choose from, Audible has something for everyone. And their free 30-day trial memberships let you offer it to them for free.
It's a great way to make extra money and share your love of audiobooks with everyone else.
Final Thoughts
So there you have it! You can make money on Amazon without selling physical products! Just remember, don't be afraid to think outside the box. With a little effort, you can start earning some extra cash without ever having to leave the comfort of your home.
Thanks for reading, and happy earnings! Check out some other Amazon business opportunities for more suggestions.
Want to learn step-by-step how I built my Niche Site Empire up to a full-time income?
Yes! I Love to Learn
Learn How I Built My Niche Site Empire to a Full-time Income
How to Pick the Right Keywords at the START, and avoid the losers
How to Scale and Outsource 90% of the Work, Allowing Your Empire to GROW Without You
How to Build a Site That Gets REAL TRAFFIC FROM GOOGLE (every. single. day.)
Subscribe to the Niche Pursuits Newsletter delivered with value 3X per week