Reselling on Amazon: How To Become A Reseller & Succeed In Retail Arbitrage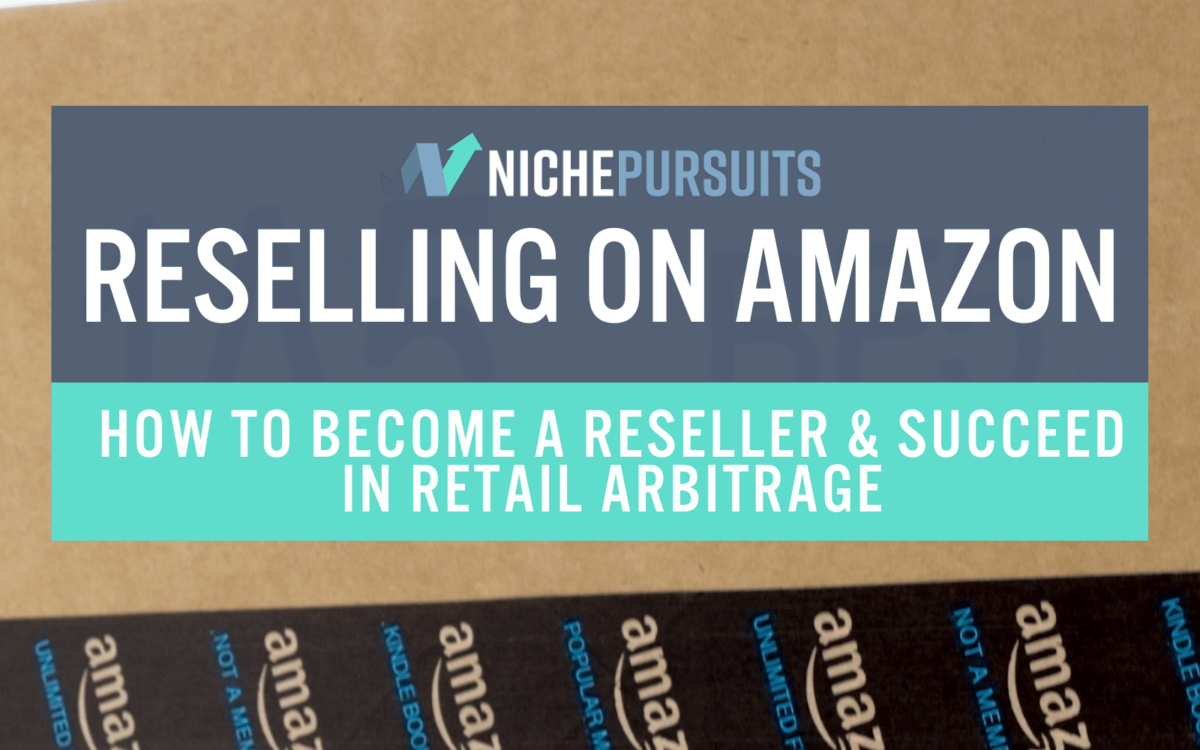 When you buy something through one of the links on our site, we may earn an affiliate commission.
It's safe to say Amazon has changed the world.
Never has there been an easier way to shop and have your purchases delivered to your door within 24 hours. 
It's pretty amazing when you think about it! 
Amazon has created countless opportunities for entrepreneurs and has seen the rise of more than a few Amazon millionaires on the way. So today we're going to be talking about how you too can profit by reselling on Amazon. 
How to Start Reselling on Amazon
In this article, I'm going to be talking you through exactly how you can make money reselling on Amazon through retail arbitrage. 
One of the things that tend to put people off selling on Amazon is that they think they will have to invest a huge amount of money upfront for inventory (in reality, there are lots of ideas for how to make money on Amazon without selling). 
While most Amazon businesses will require some upfront investment, the costs with retail arbitrage are much lower. 
This is because there are no MOQs (minimum order quantities) like there are with wholesalers and factories. Because you are buying discounted products from retail stores you can easily buy just 5 or 10 of each product to test the waters and see if it sells.
This makes retail arbitrage a great way for anyone to earn extra cash in their free time, and it can even be scaled up to a full-time business. The sky's the limit when it comes to selling on Amazon!
Retail Arbitrage
What is retail arbitrage?
To put it simply, retail arbitrage is a buy low, sell high concept. Here's how it works:
You find a product for sale at a discounted price online or in a retail store
Buy as many as you can, and list them for sale at a higher price on Amazon
The difference between the price you paid and the price you sell it for is your profit (minus Amazon's fees)
The reason this works so well is that retail stores often have sales at the end of each season when they need to clear space for new stock. Because Amazon allows you to sell country-wide, and even globally, there is sure to be someone willing to pay a higher price for your products. 
How To Become A Reseller
First things first, you will need to create an Amazon Seller account.
If you're wondering why you need to sign up as a seller before you actually have any products to sell, the answer is pretty simple. It gives you access to the Amazon seller app. But more about that later.
Anyone can sign up for a Seller account. There are two plans available: Individual or Professional.
The Individual account is for anyone selling less than 40 products per month. There are no monthly fees, you just pay $0.99 per item sold (plus fees).
The Professional account is for anyone selling more than 40 items per month, plus selling fees. It costs $39.99/month. This plan will give you additional selling tools and allows you to advertise your products.
Either one is fine for retail arbitrage, so you can always sign up for the individual plan and change plans later if you need to.
The Amazon Seller App
The Amazon seller app is free with your Amazon seller account and is essential for reselling on Amazon.
It gives you pretty much everything you need to run your Amazon business while you are on the go.
Key features include:
Respond quickly to messages from buyers
Manage sponsored product campaigns
View selling fee estimates (to help you decide how to price your products)
Inventory and pricing alerts
Product research
Sales analytics
Photo editing
Best of all, you can use the app while you are out scouting for products in retail stores. When you scan a product with the app, it will show you the sales ranks of various similar listings, and you can enter in the cost price to see whether or not it will be profitable to sell.
The app will also tell you whether or not you are actually allowed to resell the product in question.
To download the app, simply head to the app store and search for the 'Amazon Seller' app. Once it has downloaded all you need to do is sign in with your Amazon seller account and you can start using it.
Find the Right Products
Finding the right products is key to reselling on Amazon. After all, you don't want to be stuck with tons of stock you can't shift.
If you want a profitable Amazon business you will need to buy products with decent profit margins that you can sell quickly.
The key principles are:
Easy enough, right? But how do you actually find the products?
Amazon Keyword Research Tools
Jungle Scout is your best friend when it comes to finding profitable products to sell on Amazon.
Knowing exactly what people are searching for will help you target profitable items from the get-go. You'll know what to look for when you are hunting for items to resell.
The Jungle Scout Chrome extension will allow you to validate your product ideas as you browse through the Amazon listings.
It grades products with an opportunity score (the higher the better!), to help you easily find products that are high in demand with low competition. It also means that you know what to look for before you even enter a store, saving you hours of time scanning products.
FIND OUT MORE ABOUT JUNGLE SCOUT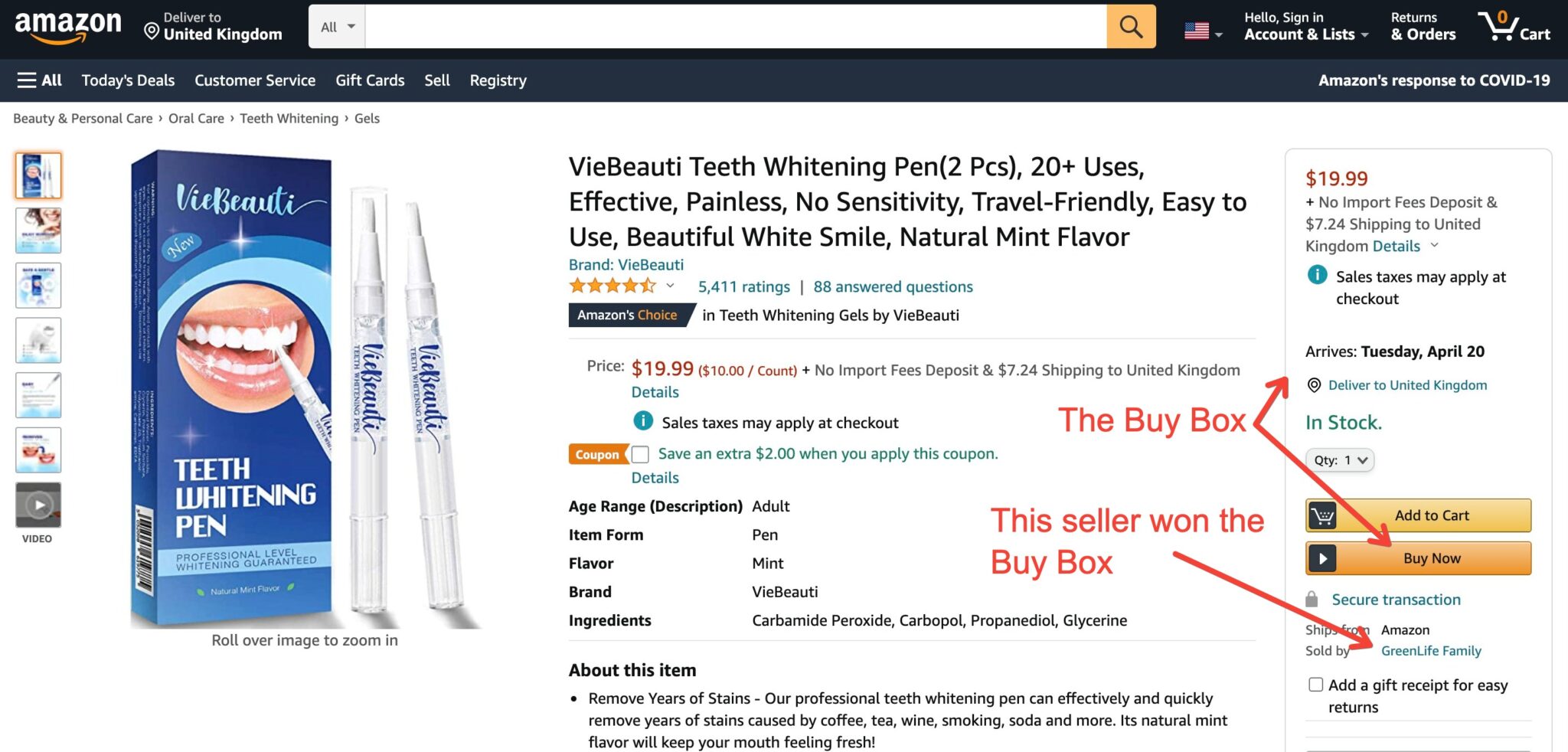 Selling a low competition product will also give you more of a chance to win the Amazon 'Buy Box'.
Ultimately, Amazon wants its customers to receive the best value and the best customer service. If you have a good seller rating and a good value product, you could be eligible to win the buy box. 
Best Product Categories
There are a few product categories that are great to start with.
These are all low risk, high demand, and easy to source, making them a great choice for beginners.
Toys and Games
Books
Household Items
Health and Beauty
These are all products you should be able to find in the discount section of your local stores. 
Where to Buy Products
One of the easiest ways to find products to resell on Amazon when you're just getting started is by going into retail stores. You can go into any retail store with your Amazon seller app and start scanning products from the clearance section.
Some great places to source products from include:
Walmart
Walgreens
Target
TJ Maxx
Costco
J.C. Penney
Home Depot
You can start your search in pretty much any store local to you that has clearance sales. Make sure that both the product and its packaging are in good condition, as this might affect your customer reviews and feedback.
Online Arbitrage
Online arbitrage is basically the same as retail arbitrage, except you are sourcing your products online. This is a great option if you're short on time or prefer not to leave the house. 
There are loads of benefits to online arbitrage, including:
Online stores are open 24/7, giving you more flexibility
You can order as much of each product as you want, and it will be delivered to you
It's easier to scale your business
More efficient than visiting retail stores
There are more places to shop
You can shop from the comfort of your home
This is probably the best option if you don't have much time on your hands. The only difference is you may find bigger discounts in a retail store if they need to clear out products quickly to make way for new stock.
Want to learn more about Online Arbitrage?  Try this Complete Online Arbitrage Mastery Course.
Profitable Products
When you are searching for a profitable product, there are a few things you can look out for that can mean high profits for you.
Branded products – People prefer to buy from brands they know and trust.
Seasonal goods – Christmas items, for example, have massive discounts in January and February. If you can hang on to them until next Christmas you could make some serious profits.
Small and lightweight products – Eligible for Amazon FBA's 'small and light' fulfillment program which reduces fulfillment costs.
If you're in this for the long game then seasonal products are a definite winner.
You can use Jungle Scout to see which products are most in-demand at which time of year. This will allow you to get ahead of the game and have your products ready and listed for sale at the time they will be in the highest demand.
When you are sourcing products, remember to check your Amazon seller app to see the sales rank. A lower sales rank means higher popularity of the product in its category, which means a quicker sale.
Here's a more in-depth article on what to sell on Amazon.
What is a Good Profit Margin?
According to Jungle Scout, 68% (more than two-thirds) of sellers on Amazon see profit margins of more than 10%, but this can be much higher with retail arbitrage due to the very low buying price.
Here's a breakdown of profit margins from Amazon sellers:
Rather than looking purely at ROI, it's a good idea to aim for a minimum profit of $5 per sale when you're starting out.
As you get used to sourcing products you will start to see trends of which types of products are bringing you the highest profits. You can then focus more on these products and buy more when you see them available at a low price.
List Your Products
Now that you have found products to sell, you can list them for sale on Amazon. 
Jungle Scout's Listing builder will help you create a listing that converts by ensuring you use all the right keywords. The software includes a real-time listing optimization score which grades your listing as you are writing it. 
Once your listing is perfect you can sync your JungleScout account with Amazon and publish it directly to seller central.
TRY JUNGLE SCOUT NOW
Scaling Your Business
As your business grows you will want to start to outsource part of the fulfillment process to give yourself more free time. This is where Amazon FBA comes in.
If you haven't heard of it before, FBA stands for 'Fulfilled By Amazon'. Here's how it works:
When you list your product for sale check the 'Fulfilled by Amazon' box
Send your products to an Amazon warehouse
When a product sells, Amazon picks, packs, and ships the product for you
You will need to pay FBA storage fees and a flat fee per item for fulfillment.
One of the best things about using Amazon FBA is that there are no subscription fees and no minimum requirements – you simply pay for what you need.
Other Benefits of FBA:
It takes a lot of the stress out of running a product business
Amazon will handle any customer service issues
Your products will become eligible for free 1 and 2-day shipping for Prime customers
You will have access to Amazon's huge marketplace
Due to Amazon's huge global distribution network and discounted shipping, fulfillment can be cheaper using FBA than fulfilling the order yourself, even with fees
Amazon will handle and returns and refunds
You don't need to worry about where you will store your inventory
Once you start scaling your business using Amazon FBA you may want to consider creating your own private label product lines to sell. The opportunity here is huge, and you can start seeing results quickly too.
Want to see a great Amazon FBA example?
See how Spencer grew his brand new Amazon FBA store from $0 – $4,399 in sales in just 30 days!
HOW TO START AMAZON FBA
How Much Can You Make?
According to JungleScout, new Amazon sellers are earning an average of $42,000 in annual profits. Nice, right?
Obviously, that may not be the case for everyone, because you get out what you put in. Some people will make much more, and some much less. 
If you put in the effort and use the right tools to help you along the way, selling on Amazon can change your life.
Reselling Products
The great thing about reselling on Amazon is that it's open to absolutely anyone. You don't need much start-up cash to get going, and you can start to reap the rewards pretty quickly. 
Retail arbitrage is a great option for anyone who has been thinking about selling on Amazon. It lets you get to know how Amazon and Amazon FBA works, with very little risk involved.
Once you feel comfortable with retail arbitrage, you can start to scale your own business and create your own product lines.
If you want to know more about how to create your own product line to sell on Amazon, check out our guide on how to sell Alibaba products on Amazon.  Or if you are looking for additional ideas on how to make money on Amazon, we have an in-depth guide.
Want to learn step-by-step how I built my Niche Site Empire up to a full-time income?
Yes! I Love to Learn
Learn How I Built My Niche Site Empire to a Full-time Income
How to Pick the Right Keywords at the START, and avoid the losers
How to Scale and Outsource 90% of the Work, Allowing Your Empire to GROW Without You
How to Build a Site That Gets REAL TRAFFIC FROM GOOGLE (every. single. day.)
Subscribe to the Niche Pursuits Newsletter delivered with value 3X per week