AMZScout vs Jungle Scout: Which is the Better Tool for Amazon Sellers?
When you buy something through one of the links on our site, we may earn an affiliate commission.
Are you an Amazon seller looking to increase your profits? Looking for a reliable platform to help make smart decisions on what products to source and when? Both Jungle Scout and AMZ Scout offer Amazon keyword research and product research tools. So, if you're ready to take on the challenge of selling successfully on Amazon, this comparison of AMZScout vs Jungle Scout is just what you need.
We'll cover everything from pricing plans & features, user experience, customer support, and more so that by the end of this post, both newbies and existing sellers can confidently choose the right tool to help grow their Amazon business!
TL;DR
If you're just starting out with your Amazon business and looking for an affordable and easy-to-use product research tool, then AMZScout is probably your best bet.
But if you're an existing seller looking to scale and need something that can automate processes on Amazon quickly and effectively, then Jungle Scout is the time-saving choice for you!
Pros and Cons
Let's look at the pros and cons of Jungle Scout and AMZScout.
AMZ Scout
Affordable pricing
Streamlined user experience
Comprehensive bundle of features
Quickly search products with the Chrome extension
Detailed product database for niche research
Accessible academy and training materials
Convenient payment options with PayPal
Product Tracker only shows information from the point the item is added
Fewer tools than competitors
Value might not justify the price point for experienced sellers
Jungle Scout
Daily sales metric updates to help you track performance
Great customer service and plenty of learning resources
Tiered pricing to suit your budget
Lots of seller insights to enable sellers maximize profit potential
Robust features beyond product research
Opportunity Finder makes it easier than ever to discover profitable products
Smooth and intuitive interface for easy usage
The user interface can be overwhelming, making it hard to find what you need
The price structure doesn't offer great value for casual users, with higher tier plans being too costly in comparison
You have to input your payment details before trying out the software, which might be a barrier for some buyers
The full feature package may have features you don't need or want as a beginner
About AMZ Scout
AMZScout is a suite of tools available via a web app or browser extension, including Product Discovery and Keyword Research tools.
These help Amazon sellers optimize their search engine rankings, discover new product opportunities, and analyze market trends.
AMZScout's features are designed to give any Amazon seller the competitive edge they need in today's crowded online marketplace.
Be sure to read our AMZScout review for more in-depth analysis.
Key Features
In this section, we will discuss the features and functions of AMZScout. By the end of it, you will have a better understanding of which option is more suitable for your business.
AMZScout Product Database
The AMZScout Product Database is a product research tool that makes it easy to find Amazon products matching exact criteria.
This vast product database offers Amazon sellers dozens of filters and provides estimated sales, revenue, price, FBA fees, and other data for over 600 million items.
AMZScout PRO Extension
The AMZScout Pro Chrome Extension provides users with an easy-to-use tool for analyzing products and niches on the Amazon Marketplace. With the AMZScout PRO Extension, you can quickly find new keyword ideas.
The PRO Extension includes information such as a niche score, niche history, product score, sales rank, and listing quality score, which allows users to quickly assess the viability of a market.
Amazon Dropshipping, Arbitrage, and Wholesale Tool
The Amazon Dropshipping, Arbitrage, and Wholesale Tool helps resellers quickly find profitable products and product ideas.
It offers features like price comparison, a built-in calculator, and more to help users make informed decisions and maximize their sales potential. With this tool, sellers can easily identify winning products in their market.
Amazon Keyword Search
Amazon Keyword Search is one of the AMZScout keyword research tools and helps users find keywords used by Amazon customers, displaying search volume and historical trends.
Clicking a term takes you to the AMZ Scout Product Database for more information.
Reverse ASIN Lookup
The Reverse Asin Lookup tool helps sellers find keywords used by Amazon customers, display search volume and trends, and quickly reverse-search a product using its ASIN to discover relevant keywords.
Keyword Tracker Extension
The Keyword Tracker Extension enables keyword tracking with charts and visualizations to show ranking position changes over time, enabling effective PPC campaigns targeting the best-performing keywords.
About Jungle Scout
Jungle Scout is one of the leading product search tools for Amazon sellers, providing comprehensive data-driven tools to detect trends and research new market opportunities.
It empowers entrepreneurs to make more informed decisions so they can accurately track their progress and optimize their performance.
Check out our full Jungle Scout review for more info.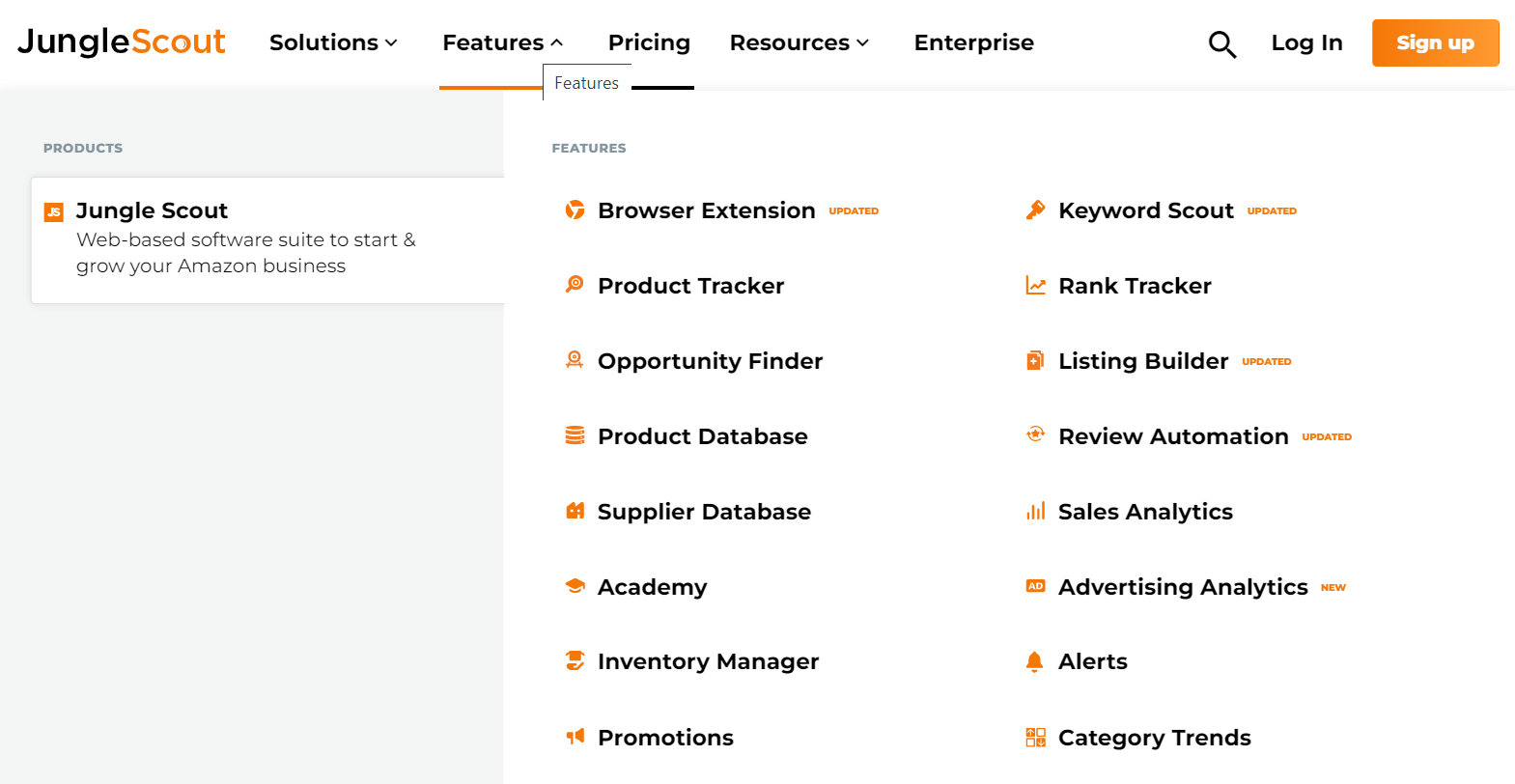 Key Features
Jungle Scout is a tool that helps you discover, launch, and sell products on Amazon. It's mainly designed for conducting Amazon product research, but you can also use it to get an idea of which products are popular on Walmart.com.
Opportunity Finder
Uncover promising opportunities with keyword research and get competitive insights for higher ROI. Analyze data on sales performance and emerging trends to identify high-demand and low-competition markets.
Browser Extension
Quickly assess product ideas for Amazon with this powerful extension, allowing you to forecast product sales, request reviews, and more in one click.
Niche Hunter
Jungle Scout Niche Hunter is designed to help Amazon FBA sellers identify profitable niche and keyword ideas.
The tool utilizes data from the Amazon marketplace to provide users with information regarding popular products in each individual niche, allowing them to get an idea of which niches are most likely to be profitable before committing significant time or resources.
Product Tracker
Jungle Scout's Product Tracker is a powerful tool that gives sellers an edge in researching products on Amazon. It provides valuable data such as Best Seller Rank, Price, Units Sold, Inventory in Stock, and reviews, allowing for a more informed decision-making process.
Product Database
Jungle Scout's Product Database allows users can find the right product for their business, calculate potential profits, access international marketplaces, and rank items based on rating and pricing.
Keyword Scout
Jungle Scout Keyword Scout is a keyword research tool that allows users to gain insight into any keyword's search engine ranking potential.
With data-driven features such as keyword difficulty and relevancy score, users can quickly identify the most profitable keywords for their business or market.
Listing Builder
Build successful Amazon listings quickly with Listing Builder's auto-save feature, keyword bank, and optimization scoring tools.
Rank Tracker
Track keyword performance to gain a competitive edge and compare rankings over time with Rank Tracker. Monitor your own listings and competitors in one graph.
Supplier Database
The Supplier Database allows Amazon sellers to quickly find verified suppliers worldwide. Assess their shipments and clients, or uncover which manufacturers your competitors are using.
Inventory Manager
The Inventory Manager tool will inform you about the required stock quantity for your FBA business and the ideal time for placing orders.
Comparison of AMZScout vs Jungle Scout
This section will look at the similarities and differences between AMZScout and Jungle Scout.
Similarities
Both Jungle Scout and AMZScout have lots of similar features, like:
Easy-to-follow video tutorials and guides for getting started in the Jungle Scout Academy and AMZScout's free Amazon Masterclasses, which are full of videos created by successful Amazon sellers
Handy Chrome extensions
Product discovery tools to help you make informed product research decisions
Keyword discovery tools designed to help you find the best phrases for your products
Tracking of product listings so you can keep an eye on what's selling
Export of listing data in PDF and CSV formats for easy analysis
Differences
Although AMZScout and Jungle Scout have many comparable features, the two tools have some notable distinctions.
AMZScout offers a free plan for exploring its tools, as well as three great free tools, while Jungle Scout doesn't provide any free options or free tools.
Jungle Scout offers an inventory management tool, something that AMZScout lacks.
You can track your sales growth with the Sales Analytics Dashboard from Jungle Scout, while AMZScout doesn't have this feature.
The pricing plans of Jungle Scout are simpler than those of AMZScout.
Jungle Scout offers both Chrome extension and Firefox extensions, while AMZScout only offers the Chrome extension.
Accuracy
Amazon tools can be used as a baseline to research new products, but it is important to remember that no data is 100% accurate because Amazon doesn't publish exact sales numbers. "Sales estimates" are just that.
To get the most accurate data, test the product idea and use your own judgment and gut instinct when making decisions. When launching a new product, order in small batches to test the item before investing too much money.
Amazon tools can help you make informed decisions, but they should not be the only factor when deciding what to put on the market.
AMZ Scout
The writer of the article on AMZScout's website about accuracy used their own sales data as an Amazon seller to collect metrics in determining the accuracy of sales analytics for each tool.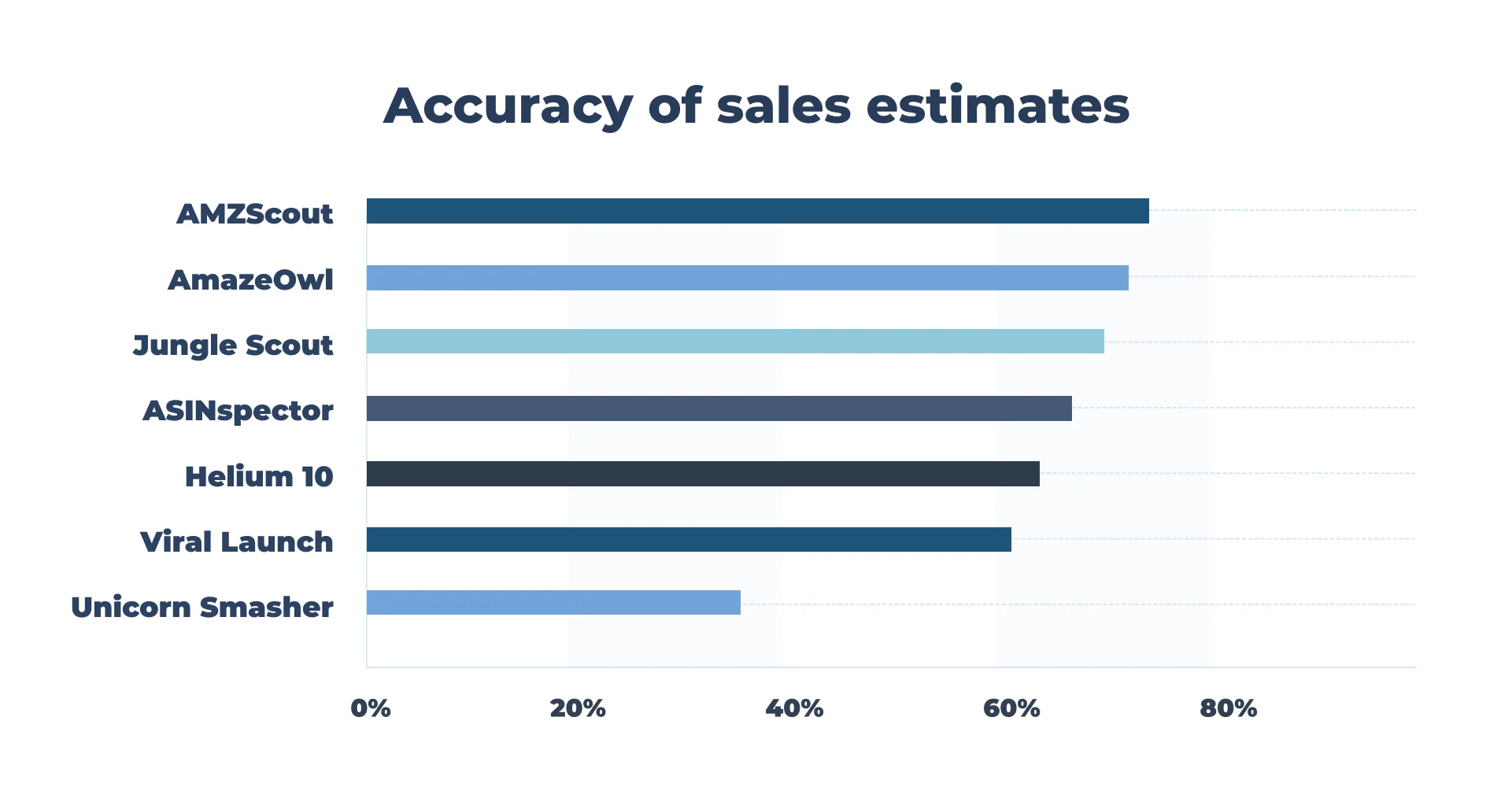 Jungle Scout
An article on the Jungle Scout website shows these stats but doesn't tell us how those numbers were reached.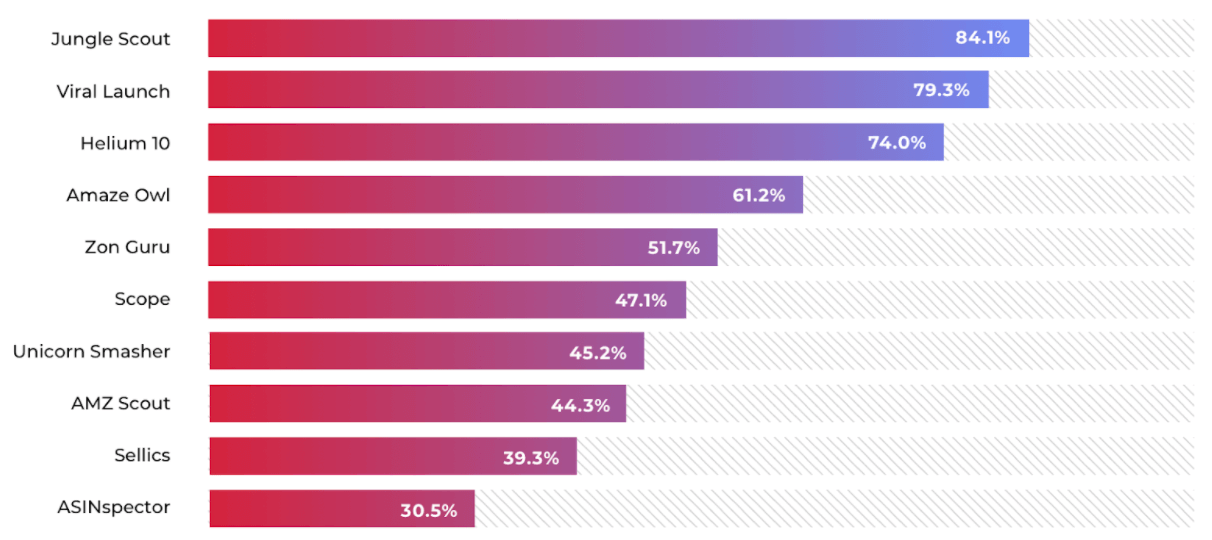 Ease of Use
AMZScout and Jungle Scout have intuitive interfaces and resources to help you understand them. However, AMZScout is simpler and easier to use because it focuses solely on the product research process.
Although there is a 7-day trial, Jungle Scout requires a credit card, which can be a hassle for potential customers who want to try it out first without adding payment details.
Browser Extension
The browser extensions for these software options make it easier for users to make informed decisions when researching products.
AMZ Scout Browser Extension
AMZ Scout Pro Extension is one of the best features of the software. The icon sits in the bottom left of the screen, showing a niche score as you browse the Amazon website.
Just click on the icon, and it will provide detailed, color-coded sales data for all products on the page; there's even a button to take you to the Alibaba supplier info!
The window is not horizontally scrollable, so you might have to uncheck some columns to fit everything you want to see on the page or to enlarge the text. You can filter the information shown on the report and save it to CSV.
The handy visibility score tells you how many AMZ Scout users have found this niche so you can gauge how much competition you're likely to have with a particular product as an Amazon seller.
Jungle Scout browser extension
The unobtrusive Jungle Scout Chrome extension sits on the right scroll bar. Clicking on the icon will display sales data for the products on the screen in a resizeable window.
As well as being able to download the data to CSV, you can also easily save a screenshot at just the touch of a button.
You can select which columns to display with the checkboxes, and the window is horizontally scrollable, unlike AMZ Scout's extension.
As with AMZScout, you can't reorder the columns to put the information you want side by side.
Customer Support
Both AMZscout and Jungle Scout have extensive libraries of resources to help new users in the form of Jungle Scout Academy and AMZScout's free Amazon Masterclasses.
Other than that, the helpdesks are contactable via online forms. Jungle Scout also has a chatbot if you enjoy talking to those.
Pricing
If you're already a successful Amazon seller, Jungle Scout offers good value for its price, with the additional tools included.
However, if you're strictly looking for a product research tool for your private label business, subscribing to AMZ Scout will save you some cash.
AMZ Scout
Like Jungle Scout, AMZ Scout offers monthly and annual subscription plans.
The pricing for the annual plans gives quite a discount from the monthly plan.
AMZScout also offers a lifetime plan, which would be worth it if you're confident you'll use it for longer than four years.
Jungle Scout
Jungle Scout is the more expensive of the two software options. Here's the Monthly Pricing information.
Basic plan $49/month
Suite plan $69/month
Professional plan $129/month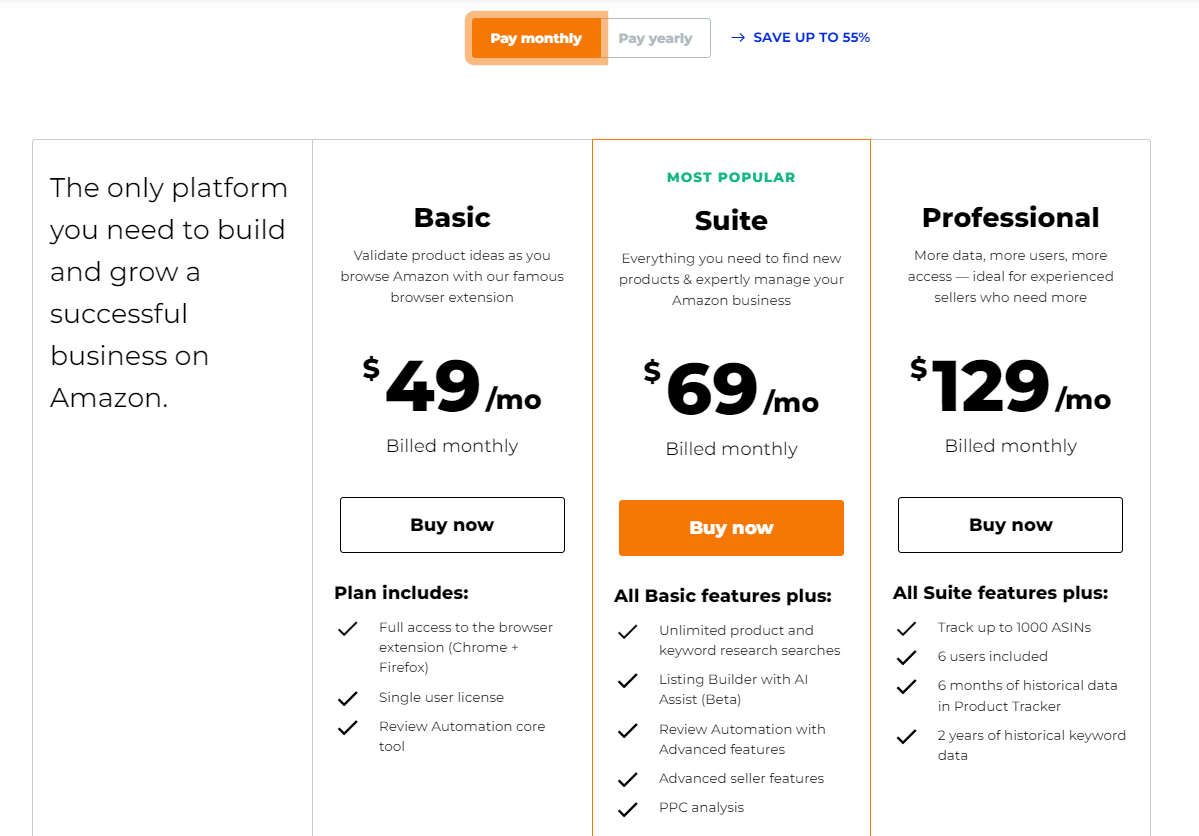 Annual plans give a saving of up to 55%.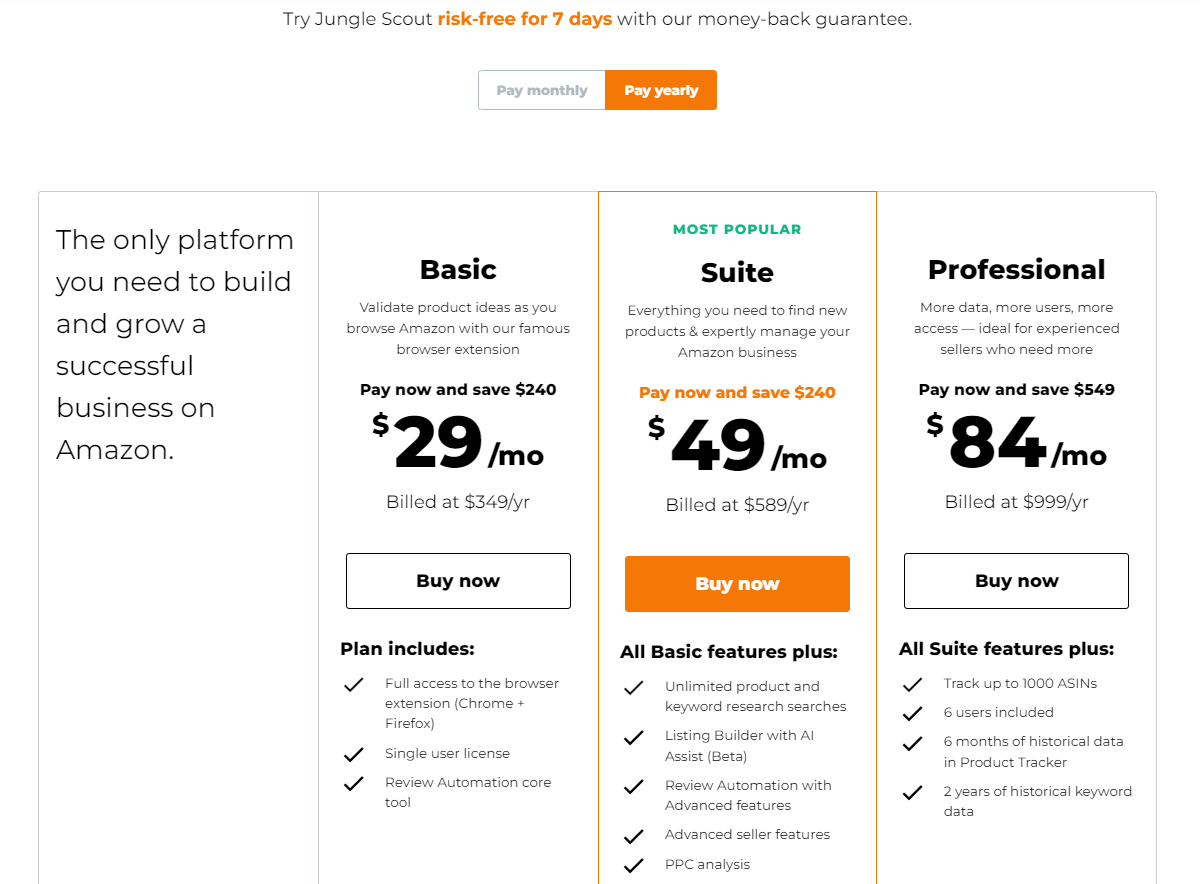 AMZScout vs Jungle Scout: Conclusion
So, after this comprehensive comparison between AMZScout vs Jungle Scout, it's safe to say that both product research tools have their advantages and disadvantages.
While AMZScout allows Amazon sellers to access great features at a cost-effective price point, Jungle Scout provides more detailed insights into the Amazon marketplace for existing sellers with all the tools in their suite of products.
Both are reliable and well-known Amazon product finder tools that can help you make informed decisions in order to maximize your profits. Ultimately, the choice between AMZscout and Jungle Scout is up to you and depends on your needs and budget.
If you're new to Amazon selling and want an affordable and easy-to-use tool, AMZScout is a good option to start an Amazon FBA business with little money. However, if you're an experienced seller who needs a tool to quickly and effectively automate processes and help you grow your business, JungleScout is the best choice for saving time.
Want to learn step-by-step how I built my Niche Site Empire up to a full-time income?
Yes! I Love to Learn
Learn How I Built My Niche Site Empire to a Full-time Income
How to Pick the Right Keywords at the START, and avoid the losers
How to Scale and Outsource 90% of the Work, Allowing Your Empire to GROW Without You
How to Build a Site That Gets REAL TRAFFIC FROM GOOGLE (every. single. day.)
Subscribe to the Niche Pursuits Newsletter delivered with value 3X per week