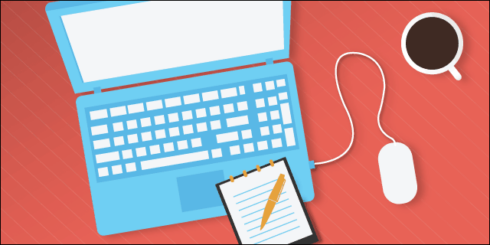 As you continue to crush the competition with your SEO knowledge and online marketing skills, your business will grow. It's just a fact.
But at some point, your business will get so big that it becomes humanly impossible to do everything yourself. This is where outsourcing comes in. This is when you need to find a content writing service.
The Best Content Writing Services & Companies
Now that you know how content writers can help your business succeed, let's look at the best companies out there. We'll discuss the pros and cons and the cost of each company.
Content Pit
I use Content Pit on my Niche Site Project 4. Their owner and founder Youssef used to be a writer for me on Niche Pursuits 🙂
Their turnaround times are reasonable, their quality is high, and their prices are great. They are my favorite content production company at the moment.
I'm still using them on NSP4.
Pros
Fast turnaround time
High quality
Unlimited edits
Great prices
Cons
Not all of their writers are amazing, but they are very good. Unlimited editing allows for some risk management here
Price
Content Pit has a great pricing structure. This is even more true if you are buying content in bulk. I like how they don't force you to buy a subscription; you just buy the number of words you want.
And the discounts become big quick.
None of their packages cost more than $0.05 per word. The least expensive package costs $0.031 per word. For the quality I've seen out of this group, it's just a huge value.
How To Get Started
You can click here to get started with Content Pit. They've given my readers a huge 30% extra words 🙂
Get amazing content for cheap with Content Pit
Content Refined
Content Refined is not just a content writing service provider. They're more like a blog content management company because they look at the big picture.
Instead of just writing about what you tell them to write about, they can do everything from planning the content, doing the keyword research, writing the content, and even social media promotion.
Pros
Can act as a blog manager by doing the content planning and inputting the content directly to your blogging platform

Will promote on social media
Cons
Some customers have reported that the content delivered was low-quality writing that lacked inspiration
Price
Content Refined offers three main packages: the 4-Post Package, the 8-Post Package, and the 12-Post Package. All of these packages offer project management, keyword research and title creation, SEO optimization, and publishing to your blog.
Where they differ is in the number of words they will deliver. The 4-Post Package gives you 4,000 words of content at $429. For $769 a month, the 8-Post Package gets you 8,000 words. And the 12-Post Package includes 12,000 words at $1117.50 per month.
How To Get Started
You can click here to get started with Content Refined. 
Click here to get your content managed with Content Refined
Constant Content
Constant Content allows you to submit requests for the content you need, whether it's a custom essay, a blog post, or any other type of writing. Then Constant Content writers will either receive your project as an assignment or pitch themselves to you. And you can get an account representative who will help you along the way.
You can also browse their pre-written content and buy articles, although this may not be the best option if you're running a niche business or website.
Pros
You can buy pre-written content

You can get stock images with the content
Cons
It takes a while for you to get the finished project from the time you submit your request
Price
When it comes to pricing with Constant Content, it varies. I know that's such a vague answer, but here's why: writers can set their own prices and change them whenever. So you could get a 1,000-word article for $20, $40, or $100, depending on the writer.
How To Get Started
If you're interested in Constant Content, you first need to create an account. After this you can get a more precise quote based on your needs.
This seems like an annoying and unnecessary step, especially because their prices are not listed publicly on their site. What they should do, as other websites do, is offer a quote without requiring an account. First impressions are everything, and getting a quote could be a great start to a relationship or it could be a bit of a hassle.
Zerys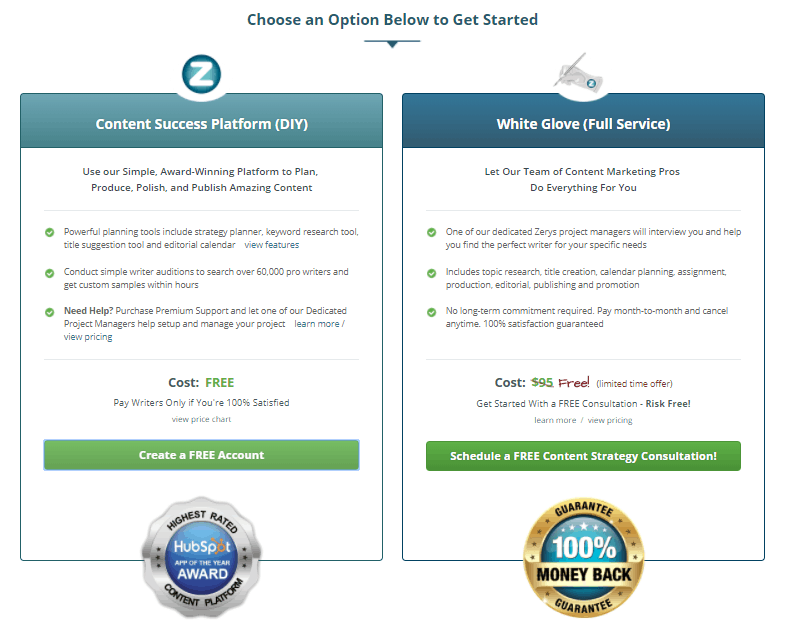 Zerys offers decent content from professional writers, but they also can give you access to some nice content marketing software. You're in charge of choosing the writers, the budget, and approving and distributing the content.
With your project, you get free tools that help you strategize and plan your content. Then the pro editors at Zerys look over what their writers have done.
Now, I should mention, some clients have reported having terrible experiences with Zerys. This includes slow delivery of projects or even no delivery at all. This is bad. A content creation company needs to be able to meet a deadline.
But, giving them the benefit of the doubt, this may be a fluke or an outlier. They do have an A+ rating with the Better Business Bureau, so at least some clients are happy with the results.  
Pros
Free tools, like content strategy and planning

Editorial calendar and reminders
Cons
Some clients say it can take a while to find the right writer

Reports of slow or no delivery of projects
Price
You basically have two main options when you go to Zerys' website: Content Success Platform (DIY) and White Glove (Full Service). With the Content Success Platform, you do everything except for the writing. You manage, edit, and publish the work. And you only pay if you're 100% happy with the end result, which would end up being $0.01 to $0.50 per word.
With the White Glove option, Zerys does everything for you. They help you find the right professional content writer, they manage the research, title creation, planning, editing, publishing, and promoting. For this, you end up paying $95 per month.
How To Get Started
Right on their homepage, they have their two main options (Content Success Platform and White Glove). Below each, there's a button that allows you to create an account.
You'll need to select whether you're a business or a marketing agency, along with some other basic info that any content company requires, like email address, phone number, name, etc.
CopyPress
CopyPress started in 2009, touting themselves as a community of content writers, designers, and developers who "have created micro-businesses centered around their passion."
Basically, there are three categories of services: content, infographics, and visibility (native ads, publisher connections, and social media promotion). You as the client can choose one of these categories and also outline exactly what you need for you business. Then CopyPress puts together a customized quote based on your work request.
Pros
Certified CopyPress editor proof every blog post, landing page content, infographic, etc. before submitting it to you

CopyPress writers choose only work they're interested in, which means you'll end up getting better quality content
Cons
You're responsible for publishing and formatting the content to your blog
Price
It depends on whether you need written content, infographics, or visibility.
For written content, you could pay as little as $5 for 100 words (or more if it requires more research). For an infographic, you may end up paying anywhere from a few hundred dollars to a few thousand dollars. CopyPress says they charge what most agencies charge, about $2,000. Obviously, this will vary depending on the infographic (size, complexity, the source, etc). As for visibility, it can vary so much that they request you contact them for a quote.
How To Get Started
To get started with CopyPress, you simply choose the type of service you need from the Products drop-down menu and then hit the "Get Started Now" button next to the specific service you need under the desired type.
You're then taken to a signup page where you enter your contact info as well as your budget estimated monthly content budget from a drop-down box.
Media Shower
Media Shower specializes in writing about cryptocurrency, blockchain, and Initial Coin Offering (ICO) topics. They focus on delivering content based on the fundamental principles of SEO, meaning they focus on writing top-notch, engaging content and link building. They've been around for about 20 years, so they're seasoned veterans who can deal with changes in the industry.
In their own words, they offer  "useful, entertaining and mind-blowing content to help build long-lasting traffic, SEO ranking, and sales."
Pros
You can build your own team of all-star writers (instead of hoping they give your assignment to the best writers)

Media Shower posts the content directly to your blog
Cons
Pricing isn't listed publicly
Price
Yeah, they don't list their prices — or even estimates — anywhere online (that we could find). They ask you to submit a form in order to get a quote.
This is annoying as you would like to know if their services are even in your ballpark, but it may mean that they will give your project more attention. And that means you may get higher-quality content.
How To Get Started
First, you would choose the type of cryptocurrency-related content you need: ICO marketing, cryptocurrency marketing, or blockchain marketing. You can then sign up for a free trial where you get one article at no cost.
That's a nice benefit, especially because they don't list their prices or estimates publicly. This way you can get an idea of the content quality before you pay a cent.
GET MORE QUALIFIED TRAFFIC TO YOUR WEBSITE — FAST
The Traffic Course is designed to be a quick-study course with tactics you can implement today.
Here's the curriculum:
1. How to Make Google Love You—Or At Least Stop Ignoring Your Texts
2. The Hidden Traffic Opportunities Right Under Your Nose
3. The "Unsung" Search Engines You Might Be Overlooking
4. How to Create New Content That's a Hit–Without Wasting Time
Check Out the Full Course
TextBroker
If you have a large web content project, TextBroker says they are the place to come. They have thousands of freelance writers and charge as little as $0.013 per word, as long as the writer(s) meets your qualifications. And you have two options: Self-Service or Managed-Service.
With Self-Service, no one at TextBroker edits or manages these writers. That's up to you. This means you're in charge of quality control, communication with the writer, and then editing and proofreading their submission. This may not be appealing to you, but it does mean you have complete control over each project.
With the Managed-Service option, they outsource the whole project, meaning they find the writers, manage those writers, and edit the work. This is the pricier option, but you seem to get what you pay for.
Although they are one of the more pricey content mills across the board, you (hopefully) will get decent content for it.
Pros
Good customer support that can help resolve issues between you and a writer

One-stop-shop offerings
Cons
They don't have project managers or editors
Price
If you want TextBroker to handle your entire project start to finish (Managed-Service), you can pay $2,500 on the low end. But if you choose Self-Service, where you choose the quality level, budget, and writer, you can pay as little ast $0.013 per word.
How To Get Started
Under the "I Need Content" heading, choose between the two types (Self-Service or Managed-Service). With Self-Service, you sign up for free and can get started. But with the Managed-Service option, you submit your info for a custom quote based on your project.
Writer Access
A respected author and content marketing guru named Byron White started Writer Access, which is good news for you. Every part of the company formed through his lens.
They are all about growing things organically instead of just dumping money into projects. So they focus on engaging web copy, SEO scores, and working with the best writers. They score all the writers they work with on a scale from 2 to 6 stars and pay them $0.02 to $2 per word respectively.
Pros
Perks for those with bigger budgets

High-quality content
Cons
May not work for smaller businesses with smaller budgets
Price
There are plenty of pricing options available. You can choose your package or plan, ranging from $0.02 to $0.20 per word, $35 per hour for an experienced content strategist, or monthly plans from $39 to $99 per month.
How To Get Started
Like many of these other content creation companies, you must create an account to get started with Writer Access. They do offer a 30-day risk-free trial account. If you have any questions, they have a chatbot in the bottom-right corner of every page.
iWriter
iWriter offers to write articles, blog posts, press releases, eBooks, and even Amazon Reviews. Basically, any kind of writing you need for your business, they can deliver. But is the content quality any good?
Thanks to the large pool of writers working at iWriter, they are one of the fastest content writing services out there, even if it's a huge project. However, the flipside of that: the more writers to manage, the more difficult quality control is. This means the actual content may end up being below average or have inconsistent quality from one web content writer to the next or from article to article.
Pros
Delivers content very fast

A very affordable price per article
Cons
In the past, there have been reports of plagiarism or spinning
Price
The best writers on iWriter are going to be cheaper than the best writers with other content creation companies. For the Elite Plus plan, which you'd assume gives you the best writers, you can get a 2,000-word article for $145.
How To Get Started
To get started with iWriter, it's pretty simple — just click the "Order Content" menu option. You have to create an account first, which, as we mentioned before, is a bit of a hassle. But because they're known as one of the fastest deliveries in the business, signing up for an account may not sound too bad to you.
How Content Writing Services Can Help Your Business
If you work with a good content writing service company, you can actually improve your SEO standings. I know, you already understand the ins and outs of SEO content and reader engagement and you're doing just fine.
But here are a few ways hiring a content writing service can drastically help your business grow.
Content Writing Services Are Experts
These companies are specialists in the area of creating captivating content that ranks really high with search engines. This is what they do, day in and day out.
In fact, it's the only thing they do. They eat, sleep, breathe, and die writing content. Each freelance writer should be an expert either on the given topic or on internet research.
And you get this unique content on a non-stop basis. They have a huge roster of writers — including professionals, side hustlers, and students — whom they can cycle through, so there's no chance of burnout.
Of course, you can create your own good, original content for your business, but it takes time — time that you may not have. Instead, if you hire a good content creation company, their writers will take the time needed to research, outline, write and source their work so you don't have to.
It Could Grow Your Readership
Because your content will be well-researched, engaging, and keyword driven, people may start flocking to your site.
Professional writers know, first, what search engines like to see, so they'll tailor the content to perform well with Google and Bing. Second, they know what it takes to hook a reader and then reel them in. And an excellent writer will be so good that readers will share and cite the content on your blog.
All of this leads to more traffic, which means more money for you, whether your income is from ad revenue, affiliate marketing, or some sort of product or service.
Other People Can Bring A Fresh Perspective To Your Business
You might be too close to your business. It's true. But somebody has to be — somebody has to be dedicated its success. That's you.
So when you hire an SEO content writer, they approach your business with a completely objective angle. Outsourcing your writing can allow people besides yourself to write about either your business or topics in your industry with a fresh perspective. Heck, maybe you have a product that has a benefit you didn't realize was there.
You may just learn something when you hire a content writing service.
These Writers Are Not Your Employees
The writers who work for content creation companies are not your employees. They work for the writing company.
This means you don't have to manage them or handle quality control. You don't need to pay them benefits or anything like that. And if one content writing company doesn't work for you, you can easily move onto the next one without any trouble.
You Can Save Money
When you hire a writing company, you're just paying for the writing service. You pay per article and/or per word, not hourly.
So you know how much you'll be spending on each blog post, landing page, or email blast. This means you can set your budget and easily stay within it.
The Best Content Writing Service Company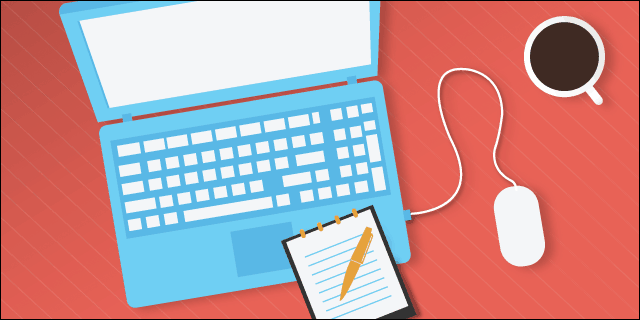 The Winner
Because you probably have a niche-focused business, website, or side hustle, the best option for you may be Content Pit. They seem to be the best of these companies at delivering content that's specific to a business, industry, or target audience.
Yes, some clients have said the content they deliver is simply average or slightly above average, but you can pay an additional fee for them to proofread and edit the article for you. Plus, if you pay for them to edit it and then you review it yourself, you'll end up with some good content.
Honorable Mentions
There are a few other companies on this list that are worth mentioning for the purpose of this guide: Constant Content, TextBroker, and iWriter.
TextBroker gets an honorable mention because it really offers the best quality content for the cost range. Because it's relatively cheap (affordable), you'd think the content would also be cheap (bad quality). But it actually provides decent bang-for-your-buck content, as they say.
And we shouldn't forget about iWriter. Although the quality isn't the best around, they are super fast. If you have a big, important project that you need to be high quality, I wouldn't suggest iWriter. But if you're in a pinch and need some articles fast, iWriter is a great option. And again, if you're reviewing the content, you can ensure it's good before you publish it.
The Content Writing Service For You
Whatever content your business needs and whatever size it is, your solution should be on this page. It would be difficult to believe you couldn't find the right content writing service out of these options.
But you know what — prove us wrong! Have you worked with another content company that you think beats out all of these options? Let us know in the comments.
Click here to get started with Content Pit
Churn our some amazing content on the cheap with Content Pit
Niche Pursuits readers get an extra 30% words!
---