Press Release Examples: PR Tactics to Gain Maximum Exposure for Your Brand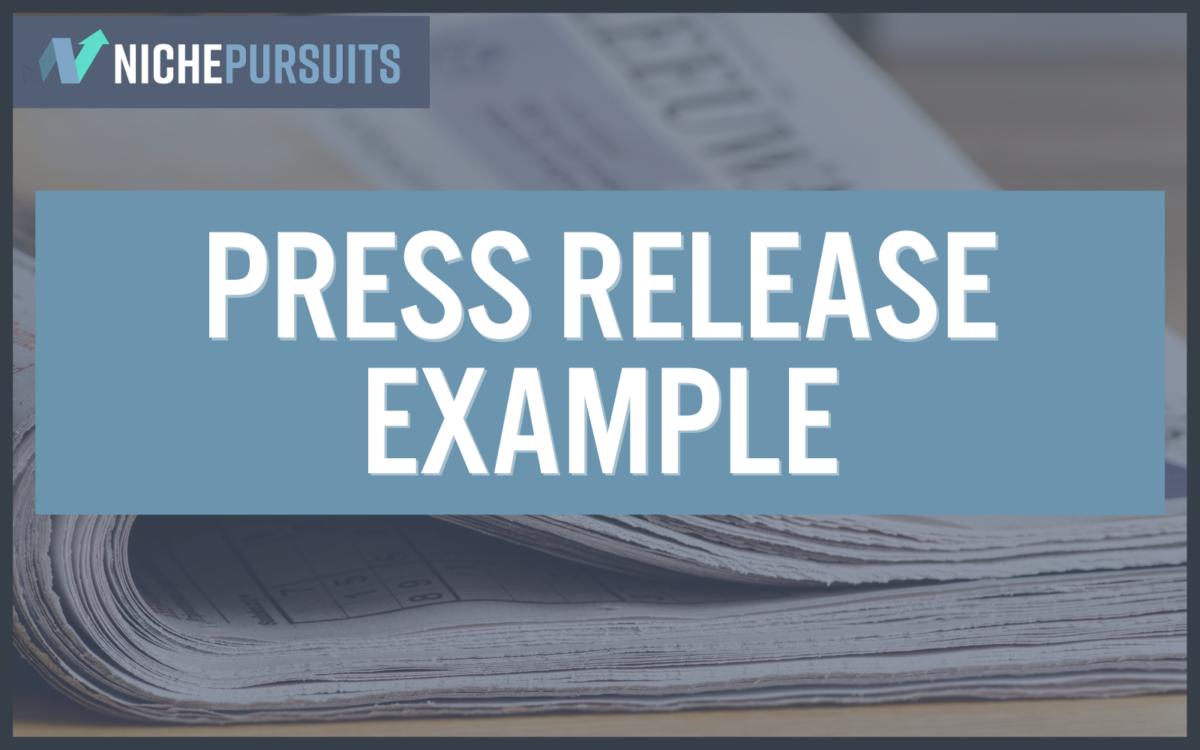 When you buy something through one of the links on our site, we may earn an affiliate commission.
Have you ever wondered how brands gain media attention? Do you want to utilize additional channels to promote the launch of your upcoming product? Are you looking to gain media coverage for your brand?
An effective press release example will help show you how to make it happen. 
Keep reading to discover how press release distribution works along with engaging press release examples for brand exposure.
Press Release Examples for Maximum Media Coverage
Used by public relations professionals, press releases give brands the opportunity to gain media exposure for major milestones. They can cover a variety of topics from product launches to important company events. 
A press release is a specifically formatted document that announces something newsworthy in a way that is informative but concise. 
Let's review an effective press release example to learn from for your own brand. 
This sample press release example from Nike shows how to professionally announce the hiring of a new employee.
The title is straight to the point, the paragraphs are informative but concise, and the boilerplate accurately explains the Nike brand.
The tone is professional and straightforward in reflection of the Nike brand, but you should adopt a tone that best reflects your brand when writing your own press releases (or when outsourcing to a press release writing service). 
Event Press Release Examples
Our first press release example for an event covers a Billy Joel concert at PNC Park. 
This sample event press release example expertly formats and includes: 
Title and subtitle
Location and date
Why the event is important
Detailed but succinct information about the event
Quote from a key person
Ticket information
Additional details about the performer
Boilerplate about the venue
After reading this press release about Billy Joel's return to PNC Park, the reader knows how to purchase tickets for the concert, when and where the concert will be, and why it's a significant event for both the artist and the venue. 
Using the inverted pyramid style of writing, the most important information is listed first. Within the first sentence, readers are informed of Billy Joel's exciting return to PNC Park.
Event Press Release Example 2
Our second press release example covers the post-event success of a fundraiser.   
While initially, it might seem counterintuitive to write a press release about an event that already happened, this example from the ALS Association shows why it's sometimes necessary.
The ALS Ice Bucket Challenge was a very successful fundraiser, and keeping the audience informed of its success increases exposure for the organization and keeps their audience engaged. 
Writing about the success of an event boosts brand exposure, engages your audience, and creates excitement for your company's next event. 
Writing a press release about the success of the ALS Ice Bucket Challenge is also a great example of why two boilerplates are sometimes necessary. 
The ALS Association hired RT1 International to conduct research about the impact of the Ice Bucket Challenge. Including a boilerplate for both the ALS Association and RT1 International was necessary because both organizations were key contributors to the press release. 
Sometimes writing more than one boilerplate is necessary. 
Tips for Writing a Press Release for an Event
When writing your press release about an upcoming event, think of it as a digital invite for your audience. 
Types of events can include:
Grand opening of a store
Fundraising event for a non-profit organization
Opening of a pop-up store
Upcoming concert, speaker, comedian, festival, or other live performance
Sharing the success of an event after it's happened
To make sure your audience is properly informed about your upcoming event, you'll want to include event details like:
Location
Date and time
How to buy tickets or RSVP to the event
Price range for admission
Press reviews for the show, if available
Information about press conferences if applicable
The most effective event press releases include detailed information about the event that the reader needs to know.
In addition to motivating your audience to attend your event, your press release should also effectively provide them with the details they need in order to attend.
Product Launch Press Release Examples
Our first product launch press release example details the release of a new video game.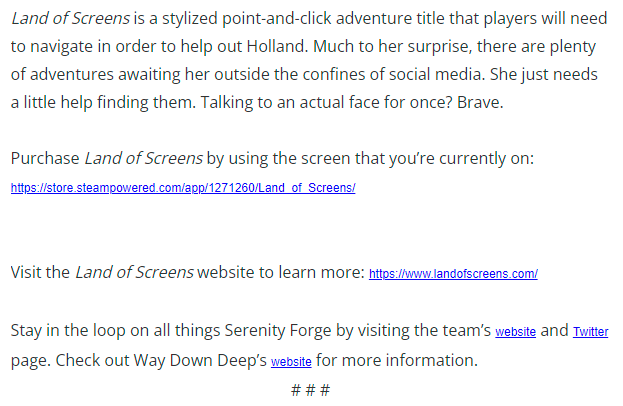 This product launch press release is a great example of how to link additional information to further educate and excite the reader about the product.
The writer provided links to watch the video game's trailer, purchase the product, and connect on social media. This example also properly includes:
Engaging title and subtitle
Location and date
Important details about the product
Boilerplates for both the video game development studio and video game publisher
"###" to end the press release
Second Product Launch Press Release Example
Our second product launch press release example tells the story of how LeBron James and Ruffles joined together to create a new chip flavor. 
In addition to effectively telling the story behind the launch of their new product, this media release also provides readers with thorough information on when and where they can find these new chip flavors.
The quotes from both LeBron James and employees of Ruffles engage the reader and add value to the story.
Tips for Writing a Press Release for a Product Launch
In addition to writing in a style that is informative, concise, and engaging, a great press release for a product launch should also include a newsworthy angle. 
When promoting the launch of a new product, consider these tips before crafting a press release: 
Understand what journalists, reporters, and media outlets might want before crafting your pitch
Determine how your product adds value for your audience
Make sure your title, subtitle, and opening paragraph are highly engaging
Target journalists who cover a topic that is relevant to your product
Following these tips will help ensure that your press release provides value for journalists, will be engaging for your audience, and build credibility for your brand when distributing future press releases. 
What is the Purpose of a Press Release?
The primary purpose of a press release is to promote something important that happened or is going to happen. The information should be accurate but brief.
For brands, secondary purposes of a media release can include: 
Promoting an upcoming company event
Telling your audience about an award your company received
Boosting brand awareness
Forming relationships with key members of the media
Informing the community of an important new hire, acquisition, or merger
Gaining media exposure for your brand on various online publications
Inspiring reporters to write a separate piece about your brand
Updating your audience on the upcoming launch of a new product
Press releases can promote the new hire of an executive, marketing manager, or another prominent role in your company. Employees are an easily recognizable aspect of every company.
Writing a great press release about a new hire is an opportunity to increase brand exposure. The information is exciting and interesting not just for your brand, but for the person you're hiring as well.
Your new employee will also be motivated to share this information with their personal and professional networks. 
Being transparent about new hires is another way to engage with your community and boost brand recognition. 
Building Relationships with the Media
Creating relationships with members of the media can feel like a slow process. Recognizing the fruitful purpose of it can help you remember why you're making the effort.
Establishing yourself as a reliable source for newsworthy information means that journalists can trust you. They'll know they can contact you in the future for information, quotes, and ideas.
Being a useful resource for stories remains one of the top five reasons the press release still matters. 
Before emailing every journalist you can find, consider a few industry best practices first:
Do research the beat, or topics, the reporter covers
Do follow proper formatting guidelines
Don't send a press release that is irrelevant to the topics they cover
Don't overload journalists with press releases or follow-up emails
In addition to creating relationships with key media members and increasing brand exposure, a press release can also boost the visibility of an important upcoming event or product launch.
Utilizing this public relations tool in addition to building a social media following can help you reach a wider audience than through one channel alone. 
Before social media, a press release used to be the primary method for providing the public with important company updates. 
As someone who is deeply involved with a brand, it can be easy to think that everything your brand has to say is newsworthy. But if you write press releases for everything that happens, you might start to lose credibility with your audience.
While it might be tempting to share every brand milestone, you'll want to maintain credibility with your audience by only informing them of big milestones and truly important events. 
Perhaps you find yourself on the other side of this predicament: struggling with what you should write about.
If you're not sure what to write your press release about or what to blog about, consider the ways your brand inspires, educates, and shocks people.
When writing a press release, it's important to consider the following questions:
Is what we have to say newsworthy? 
Will this information be interesting to readers?
How does this information benefit the audience? 
As a reader, what questions would I have about what this brand is sharing? 
Considering these key questions when crafting your press release will help make sure what you have to say will benefit the reader and provide important information. 
How Does Press Release Distribution Work? 
Press release distribution works in two main ways:
By sending your press release out individually to newspapers, magazines, publications, and more
By posting your press release to distribution websites
If either of these options feels intimidating, you can begin by submitting your writing to blogs that accept guest posts. This is another method of boosting brand awareness and establishing your brand as a thought leader in your niche. 
Perhaps you're not ready to dedicate the time to locate the contact information for a long list of journalists and reporters. You do have the option of hiring a company to do this for you.
Press Release Distribution Services
Press release distribution websites, commonly referred to as newswire services, enable journalists to search the database by topic.
Newswire services cost money, and the cost varies based on each website. Companies have the option of posting to these newswire services themselves or hiring a company to post on their behalf.
While writing press releases is a cost-effective strategy, it's not guaranteed to work every time.
Publications, journalists, and reporters will not always be interested in publishing your press releases.
Remember that just because your press release wasn't published right now doesn't mean a journalist isn't saving it for later. When a reporter is trying to brainstorm ideas for a story, they might come across your press release and revive the article. 
How to Write an Engaging Boilerplate
A boilerplate sits at the bottom of a press release. It concisely describes your company, including its values and products or services. 
Think of a boilerplate as an elevator pitch for your brand. You only have one small paragraph to describe your business and engage your reader. 
Now that we've reviewed a press release example from another company, let's discuss how to write an engaging boilerplate.
Pull inspiration from the "About Us" section of your website or your company's social media profiles. If you don't have either of these sources to pull from, an about us generator is one place to start. 
While boilerplates are short and simple, they still need to inform and excite your reader. Here is some key information to include in your company's boilerplate:
Describe your brand values
Elaborate on what your company does
Detail the solutions your brand offers
List any awards your company has received
Link to your website where readers can find more information
Boilerplates can come in a variety of styles to best reflect your brand. Reviewing a few press release boilerplate examples can help you find the right one for your company. 
Effective Press Release Template for Public Relations Professionals
An effective press release for public relations professionals is written in a concise and informative format. Following a professional press release template will help your target news outlet better envision what your article would look like as a news story. 
Press releases should be written in the inverted pyramid style of writing. 
The inverted pyramid writing style puts the most important information at the beginning of the press release. Additional details are listed afterward in order of importance.
This ensures that people who only read the press release headline, sub-header, and first paragraph still take away the most important information from the article. 
Let's review a press release example to better understand the proper formatting.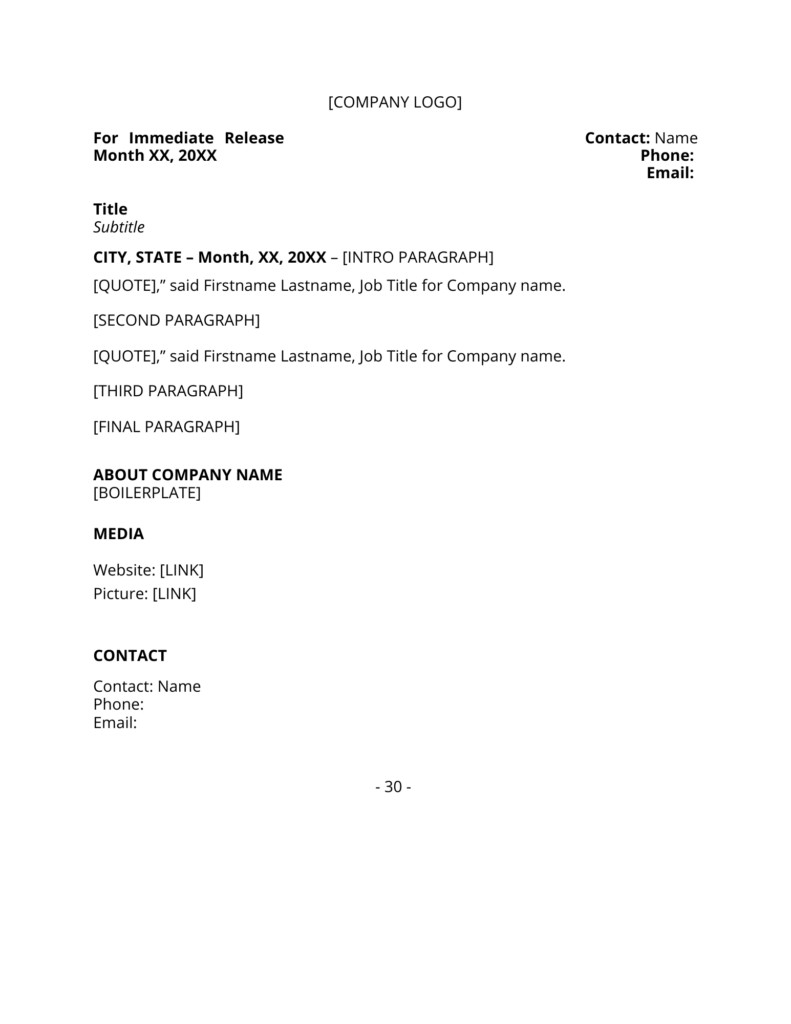 This press release example shows how to use professional formatting. Your press release should include:
Company logo
Title and subtitle
Publishing date
Highly engaging lede
Body with quotes
Boilerplate
Links and images if applicable
Contact information
A signal that the press release has ended
The header of the press release should include the company logo, contact information of the person who can answer questions from the press, the date of submission, and when the press release can be published.
The majority of press releases are written "for immediate release." However, some press releases are for release at a later date to coincide with an upcoming event. 
The PR release begins with a bold title and an italicized subtitle. Both the title and subtitle should be succinct, engaging, and memorable.
You want the reader to be motivated to stay for the rest of your press release based on your title and subtitle alone. 
Before going straight into your first paragraph, you must include the city and abbreviated state where the company is located along with the date of publication.
After you're done writing the body of your press release, list the boilerplate, any media information like links or images, and the contact information again. 
While this is an old-school way of formatting, including "30" or "###" at the bottom of the press release is still a respectful signal to the journalist that the press release has ended.  
In addition to following proper format requirements, press releases must adhere to the Associated Press Stylebook of writing. Following the AP Style guide will also increase your credibility with the journalists who are reading your press release. 
Finals Thoughts on Press Releases
Whether you're distributing the press release yourself or hiring a service to handle distribution for you, a press release is another method companies can use to increase brand awareness.
With diligent practice, rigid guidelines, and helpful examples, you can craft an engaging press release without needing to be a public relations professional.
Once you've written your press release, make sure to proofread it for any spelling or grammar errors before you distribute it. A great tool we highly recommend for this is Grammarly.
Get Grammarly Now
After learning more about press release distribution and reviewing a press release example or two, we hope the mystery behind this useful tool has been lifted. 
We can't wait to read an article about your company one day!
Want to learn step-by-step how I built my Niche Site Empire up to a full-time income?
Yes! I Love to Learn
Learn How I Built My Niche Site Empire to a Full-time Income
How to Pick the Right Keywords at the START, and avoid the losers
How to Scale and Outsource 90% of the Work, Allowing Your Empire to GROW Without You
How to Build a Site That Gets REAL TRAFFIC FROM GOOGLE (every. single. day.)
Subscribe to the Niche Pursuits Newsletter delivered with value 3X per week