9 Steps to a Great Blog Content Strategy That Boosts Traffic & Sales
When you buy something through one of the links on our site, we may earn an affiliate commission.
Are you following a well-thought-out blog content strategy?
No?
Sure, you could spend your time writing whatever comes to mind, which can work, sometimes.
But when you plan the content for your blog in advance, you increase your chances of success.
It provides you with:
More traffic
A buyer's journey
Less writer's block
Higher conversions
And much more
If you're ready to take your blog to the next level, then keep reading.
9 Steps for Creating a Killer Blog Content Strategy
Follow these 9 steps to get more clarity with your content marketing efforts, drive more traffic, and achieve higher conversions with your blog.
1. Know your why
Do you know the best way to get motivated?
There's even a clue in the word motivation.
Motiv-ation.
mo·tive = a reason for doing something, especially one that is hidden or not obvious.
Without a solid reason for doing something, you'll struggle to take action and achieve the outcome you want.
And your blog is no different.
Defining the why for your blog and content marketing strategy is essential for long-term growth and consistency.
And your blog and content strategy can have a separate purpose from each other.
Think of the purpose of your blog to be for your own personal reasons and the purpose of your content strategy to be centered on your audience.
You can also have multiple content strategies depending on the topics you want to cover, with a separate purpose for each of them.
For example, the purpose of your blog could be to build an asset and retire early, which might also inspire the niche you choose.
Then, each of your content strategies' purpose is to fulfill a need for your audience.
They could be:
To help people manage their finances and think differently about money
Teach people how to start an online business intending to sell it one day
And investment tips to build wealth in a reliable and practical way
Each of these has a different purpose, which supports the bigger picture of your blog.
If you haven't yet started your blog, then going through this process will clear up the question, why start a blog?
And if you already have a blog, this practice will help you identify why you started your blog in the first place.
2. Define your blog strategy goals
Before you develop your blog content strategy, it's important to know where you're going so you know when you get there.
You can do this by defining the goal of your content marketing strategy, as this will help you measure growth and things you can tweak along the way.
The most common goals for your content can be to:
Drive traffic
Improve rankings
Optimize user experience
Grow social media channels
Capture leads
Increase time on site
Generate sales or commissions
You can have multiple goals, but it's a good idea to focus on one or two main goals and smaller goals to help you achieve the bigger ones.
These are also known as micro and macro goals.
For example, your macro goal in the beginning of your blogging journey could be to generate $100 in 30 days.
And your micro goals that could help you achieve this could be to reach 5,000 pageviews per month and publish your first 100 articles.
If you're paying a content team, then you will reach these goals much faster.
But if you are writing them yourself, then the key is to develop consistency when publishing content.
If you stick to 3 articles per week, you'll reach 100 articles in around 7 months.
But if you publish 1 article per day, you'll have published over 200 articles in 7 months.
3. Know your blog avatar
If you've done any research on digital marketing, you will have heard of the customer avatar.
This is a persona you design that fits your ideal customer or blog reader.
Here are 5 reasons you need one:
Defines your audience's pain points
Know what to say – get your copy and messaging right
Prevents you talking to everyone (which really means no one)
Positions you as an expert
Know what your customer wants
When you create your blog avatar, you'll gather insights about who you serve so that you can serve them better.
So, how do you create one?
Before you can define your blog avatar, you must have already chosen a niche and know what your blog is offering.
Then you want to ask yourself the following questions:
What books are they reading?
Which social media accounts do they follow?
Who do they watch on YouTube?
What are their favorite TV shows or movies?
What are their hobbies?
What are their biggest frustrations?
What are their top goals and desires?
What do they value most?
What keeps them up at night?
What outcomes are they seeking?
Answer each question in as much detail as possible. If you already have an audience, you can get a lot of clarity by asking them for feedback.
To complete this process and make your avatar seem more real, you want to actually create a fictional character.
Define the following characteristics:
Name, age, sex, location, marital status, children, education, job title, and annual income.
If your audience is 50/50 male and female, then you could create two avatars. The main things to remember is to keep one avatar in mind when you are creating website content.
This will make a huge impact on your audience and your ability to connect with them.
4. Optimize your product or service pages (if you have them)
Your blog content strategy will mostly consist of articles that point to your product or service pages.
And if you want your content marketing strategy to convert more sales, then you need to optimize these pages for conversions.
How do you optimize these pages?
Here, I'll show you.
Follow this 7-step template to create high-converting sales pages without being salesy.
Step 1 – Create a clear offer
Notice what I did with the sentence above?
"Follow this 7-step template to create high-converting sales pages without being salesy"
This headline is a clear statement that explains exactly what you're going to get.
And that's what you want to do with your offer.
Explain your product or service in a few words that focus on the outcome they'll get.
Make it short and clear, and as a bonus, make it time-bound.
Step 2 – Use this simple copywriting formula
When describing the features and benefits of your product or service, use BAB.
BAB stands for Before, After, Bridge.
First, you explain the before state of your potential customer. This is where they currently are before making a purchase.
Second, you describe the after state of how things will be different when they buy from you.
Last, you explain how your product or service helps them get there with the bridge.
Here's an example of a new coffee brand by Dave Asprey:
Before: Regular coffee depletes your body of minerals and electrolytes, making you feel tired.
After: With each sip, Danger Coffee's patent-pending formula remineralizes your body with more than 50 trace minerals, nutrients, and electrolytes, leaving you feeling energized, engaged, and powerful.
Bridge: This lab-tested, mold-free formula steadily energizes you while delivering the vital nutrients your body craves.
Use this formula on your product pages to improve your conversions.
Step 3 – Use strong headlines
Throughout your copy, you want to use headlines that grab the readers' attention, highlight the benefits, and keep people reading the page.
Here are a few guidelines to keep in mind:
Keep them short and sweet
Use power words to add value
Use curiosity to keep people reading
Create urgency to motivate people to take action
Step 4 – Break things up with bold bullet points
See how I used bullet points in the last step?
You want to use them on your sales pages to explain the benefits and features of your product.
Keep in mind that most people don't read a page of text, they skim it, so breaking the page up with bullets gets them to pause and take in the important bits.
Step 5 – Use social proof
There might be no better way to instill trust in your audience than showing that other people love your products or services.
You can do this by adding the logos of companies you've worked with, reviews left on other sites, comments on social media, or testimonials you've been sent through email.
Step 6 – Clear up any objections
Clear up any doubts your prospects might have that's preventing them from deciding.
Objections can be added throughout the copy, but also at the bottom of the page as frequently asked questions.
Common objections might include whether they really need it, time related (how much they'll have to invest), cost related (is it worth it), and trust (is there a refund policy).
Step 7 – Display a clear call to action
Make sure you add a call to action as a button that is clear and easily identified as making a purchase.
Instead of the generic "Buy Now", try for something more enticing like "Yes! I Want This" or "Grab This Offer Now".
Pro tip – As a conversion bonus, make the color of your button different from the rest of your website, something that is complementary, but that stands out from the rest of the site.
5. Map out your content marketing funnel
Using attraction marketing and a content marketing funnel on your blog gets your readers to take action.
Whether that's buying one of your own products or purchasing affiliate products you recommend, funnels motivate the reader to buy.
It works by highlighting the pain points they are currently struggling with and educates them about the solutions.
Here's what a content marketing funnel looks like:
Top of Funnel or TOFU
This part of the funnel raises their awareness of the problems they face and points them towards quality content that teaches them solutions.
People at this stage aren't ready to buy because they don't fully understand the problem. They might not even know a problem exists.
The kinds of questions people ask at this stage are:
"Why…" (e.g. why does my dog molt so much?)
"What…" (e.g. what causes a dog to molt?)
These types of questions are going to help the reader understand the problem and feel compelled to find a solution, which is where the MOFU comes in.
Middle of Funnel or MOFU
MOFU is the stage where you educate your audience with solutions to the problem.
This can be as a blog post, eBooks, email courses, or webinars.
Sticking with articles you can write for your blog, here are the types of content you'll want to focus on:
"How to…" (how to minimize dog shedding and keep your house clean)
"Complete guide…" (e.g. Dog Shedding 101: A Complete Guide)
Content like this will help people see you as an expert and someone they can trust to help them find solutions.
Bottom of Funnel or BOFU
BOFU is the stage where people are ready to make a buying decision. They know what the problem is and they may have been working on eliminating it from their life.
They know that buying a product or service will help them get the outcome they want, either faster or with more ease.
The type of content you need to create for your blog is to help them decide to buy, which could look like:
"Best…" (e.g. best vacuums for dog fur or best dog brushes to prevent shedding)
"Product comparisons" (e.g. Bissell vs Hoover: Which is the best for collecting dog fur?)
"Case studies" (e.g. How our dog grooming course helped Sarah keep her house spotless and ease her allergy symptoms)
"Product and service updates" (e.g. Introducing Groomers Paradise: A Course and Community for Proud Dog Groomers)
Including content like this in your funnel will get your audience to take action and make a buying decision with your products, courses, or products you promote as an affiliate.
6. Do keyword research (for each funnel level)
Keywords are essential to develop an SEO strategy.
And now that you have some ideas for content that fit into your funnel, it's time to find the keywords that match up to them.
You want to find keywords for each level of the funnel, including:
TOFU – Helps raise the awareness of potential problems
MOFU – Educates the reader to build interest in products and solutions to problems
BOFU – Helps or motivates the reader to make a buying decision
Here are 5 ways to find tons of keywords to develop a good content strategy.
Google – Free, quick, and simple
Using Google is among the easiest ways to find keywords for your articles.
The downfall is that it doesn't give you much insight into how many people are searching for the terms you find or how difficult they are to rank.
That being said, it provides simplicity and uncovers other blogs in your niche that are ranking topics you might want to rank for.
You can also use Google to find keywords by typing in some letters and seeing what the Google suggestion engine gives you.
KWFinder – Advanced tool that provides keyword difficulty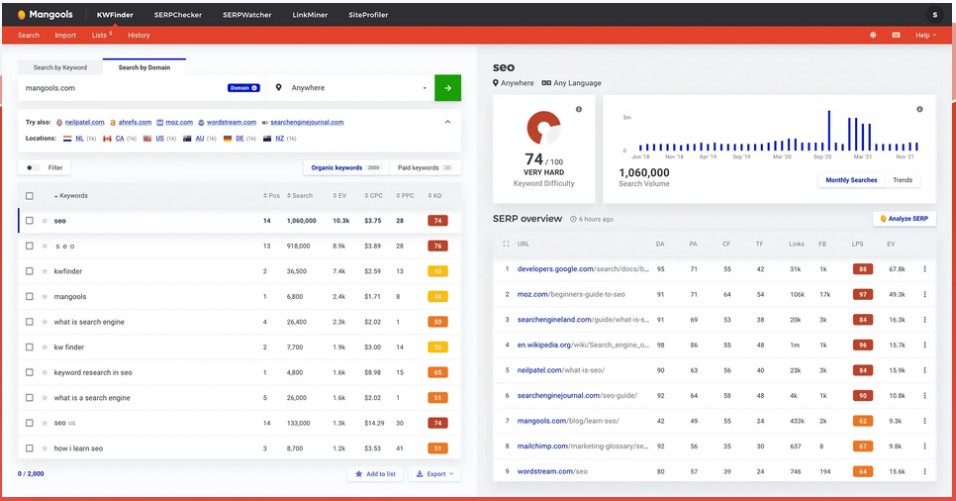 KWFinder by Mangools is a full-blown keyword research tool that offers the most features when gathering your keywords.
It will display hundreds of keywords from the searches you perform, along with the search volume and a difficulty score.
The difficulty score, ranging between 0-100, helps you determine how likely you are to rank the keyword, taking into consideration your article is well optimized.
With KWFinder, you can also sneak on the keywords of another website. So if you want to know what a competitor is ranking for, you can search for their domain name and the tool will show you their keywords.
This can give you a huge advantage for finding keywords that your competitors aren't optimizing for and a good way to find new content.
Try KWFinder
Keyword.io – Faster and more suggestions than Google
Keyword.io is another free tool that will give you a list of keyword suggestions to narrow down your keyword list.
Like Google, it doesn't provide you with search volume, but it gives you more suggestions a lot faster, so it can save you some time.
Try Keyword.io
Keywords Everywhere – Get keyword volume for a very low cost
This tool is a Chrome or Firefox browser extension that provides you with search volume to keyword you search for when using Google and other websites, like YouTube.
Keywords Everywhere isn't free, but it is very cheap at $10 for 100,000 credits, which equates to 100,000 keywords.
It also provides you with suggestions and related searches in the sidebar when using Google to do your keyword research.
Try Keywords Everywhere
7. Develop a content strategy plan
Now you want to gather all the keywords you find and categorize them into where they fit into your funnel.
You also need to determine the intent behind the keyword before writing your article.
You can discover what the keyword intent is by searching for it on Google and looking at the results.
Most keywords will seem obvious. For instance, "how to bake a cake" is a clear sign that someone wants to bake a cake, whereas "cake decorating" is a little harder to guess.
This is important because if you write the article, optimize it well with the keyword, but it doesn't match the intention, it's unlikely the article will ever rank on the first page.
To keep your keywords organized, create a spreadsheet and define which part of the funnel each keyword is, along with the keyword intent, if it isn't clear.
8. Plan internal links strategically
This step can be done right from the very beginning of your strategy or by using a tool like LinkWhisper after you publish your articles.
Doing this beforehand may offer more accuracy, but it can be time-consuming.
LinkWhisper speeds up this process by intelligently suggesting how to link your articles together.
If you want to do it manually though, here is what you would do:
The key is to link articles together that makes each article more valuable than they would be without a link.
An example would be to link to an article relating to another that expands on the original topic, which would be too much to go into within the same article.
Here's what that might look like when talking about coffee grinding:
TOFU – "7 reasons why you should stop using a bladed grinder"
Could link to:
MOFU – "burr grinders vs blade grinders"
Could link to:
BOFU – "best burr grinder for espresso" or "baratza virtuoso plus review"
See how each of these articles complements each other, but only in a specific order.
You could link to BOFU article from TOFU, but people reading an article why they should stop using a blade grinder don't fully understand the problem, so they wouldn't be ready to purchase a burr grinder yet.
It would be better to link the TOFU article to the MOFU article to further educate the reader about the pros of buying a burr grinder.
If you build your content strategy like this and place internal links in this manner, you'll build a high-converting blog.
Try LinkWhisper
9. Write and publish content
The last step in your blog content strategy is to write and publish each article.
To get started yourself, follow these steps to write great content.
Define your blog post title
Create your outline
Write an engaging intro
Fill in your outline
Summarize with a conclusion
You can do this in a text editor to keep things separate from your blog or write directly into the WordPress editor if you prefer.
Make sure you include your main keyword in the article a few times, but don't stuff the keyword. Use it naturally.
Once you have written content yourself, you'll understand the anatomy of a blog post and what it takes to keep people reading longer and convert them into leads and sales.
Blog Content Strategy – Conclusion
There you have it. A blog content strategy to get more traffic and higher conversions.
Planning your content like this will take some time, but pay off in the long run.
And if you already have a blog, you can update your existing content with these strategies in mind.
Good luck!
Want to learn step-by-step how I built my Niche Site Empire up to a full-time income?
Yes! I Love to Learn
Learn How I Built My Niche Site Empire to a Full-time Income
How to Pick the Right Keywords at the START, and avoid the losers
How to Scale and Outsource 90% of the Work, Allowing Your Empire to GROW Without You
How to Build a Site That Gets REAL TRAFFIC FROM GOOGLE (every. single. day.)
Subscribe to the Niche Pursuits Newsletter delivered with value 3X per week