How to Outsource and Scale a Writing Team in 5 Simple Steps 
When you buy something through one of the links on our site, we may earn an affiliate commission.
The following is a guest post written by Vin D'Eletto, founder of Word Agents.
As an SEO expert and business owner, I've built my career around the idea that scalable, high-quality content is not only absolutely necessary but should be accessible to all business owners as we move into this next chapter of the information age.
Too many of my SEO peers make the mistake of equating scalable content with simply ramping up production while disregarding quality. Here's the hard truth – when marketers and business owners focus solely on quantity, they tend to fall prey to a number of ROI-killing pitfalls such as off-brand messaging, poor lead sourcing, and over-worked in-house teams.
Those owners that do focus on finding the perfect balance of quantity and quality?
Well, they quickly realize that producing value-driven content at scale is a massive challenge. Not because they lack expertise or financial resources, but because they don't have the time.
Take it from me, the ability to consistently produce exceptional content at scale is a labor and time-intensive process. If your life looks anything like mine, you likely have many things on your plate – family, business, social life, etc. And yet, there is a solution that you can implement today that will help you save time and consistently produce amazing content:
Outsourcing your content creation.
Start outsourcing your content with $10 using Word Agents. Get $110 Off Word Agents when you use the coupon code "110NICHEPURSUITS" (if used on Bronze Package, that's ONLY $10 for your first 1000 words)
THIS WEEK ONLY: Redeem your $110-off coupon by June 13th, 2021 and receive an ADDITIONAL $110-off coupon.
Outsource Your Content
Today, I'll discuss the many benefits of outsourcing, as well as how to structure and build an elite team of content writers.
Why Outsource Your Content Creation?
While research shows that 7 out of 10 marketers are actively investing in content marketing, there are very few organizations fully committing to outsourcing their content. They should be! An outsourced content team is an investment that puts your organization in a position to capitalize on a number of significant benefits – financial and otherwise.
Let's check out a number of these benefits.
1. Publish Content More Consistently
According to The State of Content Marketing Survey by Zazzle Media, only 40% of businesses have mastered the art of consistency in content production. A few blog posts here and there just won't cut it. The reality is a significant amount of content needs to be produced over the long-term for any individual piece of content to really matter.
However, as I mentioned earlier, quantity isn't everything.
Successful content marketing requires consistency in both your production schedule and the quality of what you produce. Outsourcing will not only position your organization to consistently produce more high-value content in less time (i.e., driving engagement in the process), but this consistency could result in revenue increases as high as 23%.
2. Inject Some Creativity Into Your Organization
A scalable content creation workflow demands a constant stream of fresh ideas and viewpoints.
And yet, it's surprisingly easy for any organization to become too inward-looking and churn out content that's too branded, corporate, or bland. Bringing in an external team of content creators with diverse backgrounds will not only provide your content efforts with direction and consistency but will also help you avoid falling into a creativity black hole.
Professional content writers with years of experience understand what it takes to develop dynamic content across a diverse range of industry verticals. And, as an added bonus, most will be up-to-date on digital marketing news, trends, and best practices, eliminating the need to provide additional training and saving you both time and money.
3. More Room to Experiment with Content Types
If I say "content marketing," most readers are likely to think of blogging. Considering the sheer volume of new posts published each month (70 million by some estimates), this makes sense.
However, there's more to a solid content marketing campaign than just blog posts. With a properly outsourced team of content writers, you'll have more room to experiment with various content types and formats, including social media posts, infographics, e-books, video, case studies, and landing pages.
My suggestion is that readers strongly consider incorporating video into their content efforts.
Not only is it mobile-friendly and highly engaging, but video provides marketers with extremely impressive conversion rates (as high as 80% according to Hubspot). And while you may not have an in-house expert on standby, experience has taught me that it is relatively easy to outsource this type of creative work to a more than capable freelance creator.
4. Save Time, Time, and More Time
Content creation isn't just about drafting a piece of content and publishing it. There's also topic planning, research, editing, revisions, optimization, and a whole range of associated activities. When done right, value-driven content creation requires a significant investment of time and resources.
As the Content Marketing Institute reports, it's rare to find internal teams of more than five full-time employees dedicated solely to content marketing. Given this reality, the sheer number of content marketing-related tasks and workflows that need to be managed can very easily overwhelm even the most experienced business owners.
Working with an organization that offers exceptional content writing services provides you with the opportunity to save time while focusing on what matters most – running your business.
Step #1: Prepare Content Creation Workflows
Prior to outsourcing your content creation and assembling your team, it's absolutely crucial to have a practical content creation framework in place that your members can follow. A strong creation framework will provide your team with a firm foundation from which to reach its full potential.
Before building your content creation team and outsourcing your content, you will need to execute the following steps:
Begin by defining your content creation goals. Research and identify your target audience, and compile data about them. Some data points that you should consider include age, language, location, browsing habits, spending power, and interests. This data will later empower you to determine which content types will prove most effective.
Every content team needs an internal style guide that covers grammar and editorial style rules, formatting, tone of voice, and other special instructions that apply to all your content. I recommend using an AP style guide for building these internal policies.
Good content alone doesn't necessarily mean more customers. However, having the RIGHT type of good content does. Once you have a style guide, you will need to develop a list of content types based on your target audience research (i.e., blog posts, how-to guides, link baits, videos, landing pages, etc.).
With the right content types in hand, it's time to create a writing template or SEO content brief for each content type. This will help you writers both develop consistency and know what to expect as they increase their respective workloads over time.
Finally, develop a content creation workflow with clearly defined, sequential processes that your team will execute. An optimal workflow should be easy to follow so you can provide your writers with exact steps for completing a project while preventing decision deadlocks.
Step #2: Define and Develop Roles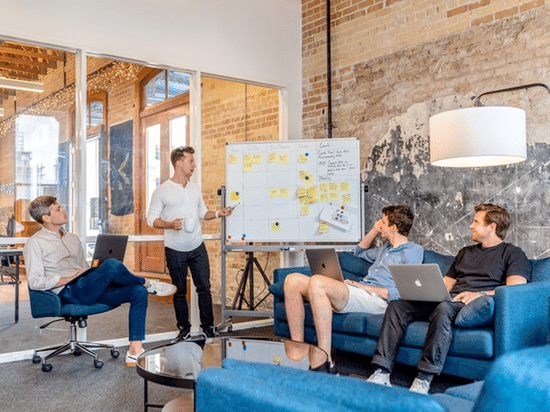 Before you can begin creating killer content, you will need to define the team member roles that will form the foundation of your marketing efforts. Clearly defined roles help ensure that your team of creatives intimately understands their responsibilities and that each individual is aware of your expectations.
I suggest that you divide the roles within your writing team into two categories: Main Roles and Scale Roles.
Main Roles
Content operations manager – The content ops manager is the front-to-end leader of your content marketing efforts. Besides developing your organization's content marketing playbook, this role is also in charge of behind-the-scenes activities such as assigning work, receiving deliverables, and managing project workflows.
Content creator – The content creator role is responsible for developing content (i.e., from writing articles to producing videos) according to internal documentation and content workflows. Other tasks may include industry-related topic research and new topic recommendations.
Proofreader – The main responsibility of the proofreader is to ensure that content outputs meet a rigorous standard of grammatical excellence. This individual will review materials for any issues related to grammar, spelling, punctuation, syntax, and tone of voice. Additionally, this individual will also verify the accuracy of all data and facts.
Editor – Acting as a second pair of eyes for all content outputs, the editor role takes charge of final copy and line editing responsibilities. Attention to detail is a must, as this individual will be in charge of overseeing the last steps of the production workflow before a piece of content is published.
Scale Roles
Team leader – The team leader manages a small group of writers. He is tasked with performance assessments and communication responsibilities with respect to company goals, policies, and project deadlines. With regards to hierarchy, team leaders sit in between the content ops manager and content writers.
Human resources – This role is responsible for arranging interviews, coordinating hiring efforts, and onboarding and training recruits. HR will also be tasked with maintaining organizational ties with reputable writer sources for the purposes of future talent sourcing.
Step #3: Focus on Training Documentation
To enable your team to complete their tasks quickly, avoid redundancy, and leave little room for errors, you will need to design a clear and comprehensive training regimen that is accompanied by actionable documentation.
Well-designed training documentation will work wonders to promote efficiency and consistency as your team will have access to everything they need (i.e., tools, processes, troubleshooting, etc.) with respect to the content creation process. Below are process documents that you should create for your content team:
Topic and theme research
On and off-page optimization
Project management best practices
Audience personas
Communication protocols
Your training documentation should be straightforward and concise. Make it easy for your writers to scan and understand your training documentation by breaking down dense workflows or processes into numbered sub-sections.
Lastly, be sure that your training program is accessible to all team members, whether they're veterans or new recruits. Easy and open access will help eliminate judgment calls for your writers, prevent decision fatigue on the part of team leaders, and keep performance consistently exceptional across the board.
Step #4: Source Experienced and High-Quality Writers
It's time to source and hire the writers that will form the core of your formidable writing team.
Prior to posting your job listing online, you should have a good idea of the qualities you are looking for with respect to an ideal writer. Keep an eye out for candidates with the following traits:
Proficiency in grammar and spelling – If a candidate lacks proficiency in grammar, spelling, and other writing mechanics, what's the point? When sourcing quality writers, this is not a competency that you want to compromise on.
Passion and drive – While it sounds cliché, it's important to hire candidates that are highly motivated to create. Avoid candidates who are new to the profession or simply looking to make a buck.
Content marketing-savvy – Candidates with ample experience in content creation and marketing are desirable as they deliver immediate value and require minimal additional training.
Deadline-conscious – Delays in production have the potential to impact your bottom line. As such, look for writers who can work consistently within a strict delivery timetable.
SEO experience – In 2021, writers need to understand the basics of SEO. Period. Look for a candidate familiar with the nuances of creating and researching SEO-optimized content, implementing "white hat techniques," and proper keyword usage.
Now that you know what to look for with respect to your writers, there's the issue of where you should source them.
With no shortage of freelancing platforms to choose from, sourcing writers has never been more straightforward. And yet, I would advise you against following the herd to Upwork, Fiverr, and similar websites. Sadly, more often than not, the quality of applicants on these platforms is not up to scratch.
Instead, turn to your network and look for referrals from your peers, or leverage social media websites like Facebook Groups and LinkedIn to engage in a targeted and thorough candidate search. If you're looking for a specific type of content creator, I suggest outsourcing with a reputable agency known for quality writers and excellent customer service.
Step #5: Contract and Onboard Your Writers
Finishing with hiring, be sure to post your job listing with specific guidelines that only detail-oriented applicants can pass. For instance, make candidates use specific keywords or subject lines in their cover letter. That way, you'll be certain that they have read your job posting. After all, you don't want to hire writers who can't follow basic instructions.
Besides having exceptional writing skills and ample experience, look for applicants with personality characteristics such as:
Always willing to learn
Inquisitive
Good storyteller
Open to constructive criticism
Attention to detail
Confident
Eliminate candidates that lack enthusiasm or confidence by pushing them to commit fully to the application experience. An excellent way to do this is to assign them a paid test article with strict rules and tight deadlines. Ensure that you communicate your expectations and deadlines properly.
Additionally, I highly suggest implementing a 90-day probation period in order to fully understand the strengths and weaknesses of new hires before determining if they're a good fit for your organization. This way, you can weed out new employees who are only trying to make a good first impression for the first few weeks. Look for team members that you can rely on long-term.
Also, I'm a big advocate of regular team audits in order to encourage optimal performance. At WordAgents, we regularly conduct performance reviews and audit our teams with the goal of replacing the bottom 10% to 20% of our stable of writers with more qualified prospects.
Give Word Agents a try for $10. Get $110 Off Word Agents when you use the coupon code "110NICHEPURSUITS" (if used on Bronze Package, that's ONLY $10 for your first 1000 words)
THIS WEEK ONLY: Redeem your $110-off coupon by June 13th, 2021 and receive an ADDITIONAL $110-off coupon.
Outsource Your Content
Scalable Content Begins with a Strong Team
While creating high-quality content at scale is both labor-intensive and time-consuming, the burden doesn't have to fall entirely in-house. Outsourcing content creation through a team of high-quality writers is one of the best ways to not only scale your content marketing efforts, but to free yourself from the logistical pains of process management.
If you've been on the fence about outsourcing and building a content creation team, I hope this guide convinces you to take that next big step towards the consistent development of engaging and value-driven content. You have everything you need to get started, and there is no better time than now. Best of luck!
About Vin D'Elleto
Hey, I'm Vin. Founder and CEO of WordAgents.com. I create content that ranks really well on search engines for our clients. I'm also deeply involved with the SEO community; maintaining a portfolio of successful, profitable affiliate websites. You can find me playing guitar, drinking scotch, and hanging out with my German Shorthaired Pointer when I'm not working!
Want to learn step-by-step how I built my Niche Site Empire up to a full-time income?
Yes! I Love to Learn
Learn How I Built My Niche Site Empire to a Full-time Income
How to Pick the Right Keywords at the START, and avoid the losers
How to Scale and Outsource 90% of the Work, Allowing Your Empire to GROW Without You
How to Build a Site That Gets REAL TRAFFIC FROM GOOGLE (every. single. day.)
Subscribe to the Niche Pursuits Newsletter delivered with value 3X per week