7 Of The Best Social Media and Guest Posting Services to Help Grow Your Brand
When you buy something through one of the links on our site, we may earn an affiliate commission.
An online marketing campaign aims to generate highly targeted website traffic, which small and medium businesses can achieve via posting services.
Traffic is an empty metric when taken by itself. You can have thousands of monthly site visitors but have zero sales or revenue.
You can't just attract lots of website traffic without qualifying first if they are interested in what your site offers.
This is why you must identify marketing tactics to use in your campaign. They will help you attract the right audience to your website, people who are more likely to become your customers or clients.
This post discusses two of the best techniques—guest posting and social media posting services—to ensure that your target audience will get to see your website. It also lists the best guest posting services and social media pages to help get your campaign off the ground.
Why Hire Guest Posting and Social Media Posting Services?
You can find social media marketing and guest posting services in the same digital marketing spectrum.
Both complement each other—promoting your guest posts on different online channels helps get more people to view them. On the other hand, you serve your social media followers with content relevant to their needs and wants.
To further elaborate on the benefits of both, below are their main reasons:
Increase Brand Exposure
If your business is relatively new, you want all the exposure you can get using different means (including free online advertising). Guest posting gives you this attention via its author byline, a section in the guest post that has your author bio. Here, you can talk about who you are and what your business is all about.
Most websites also allow guest bloggers to link to their websites and social media accounts in this section.
If people enjoyed your guest post, they can click on the links to view your website or follow you on social media, thus educating people more about your business.
Regarding social media marketing, you can run paid ads to get the ball rolling, especially if you don't have many followers yet. By promoting your products and services on social media like YouTube, Facebook, and others, you also create buzz for your business.
Attract Ideal Target Market
It's not enough to just attract tons of website traffic. What's matters more is the quality of traffic you're getting.
Concerning guest posts, you don't just want to ego bait just any website to accept your pitch. Instead, if your site is about bodybuilding, you want to reach out and write your blog post on fitness sites with lots of traffic.
Targeting websites covering a similar or relevant topic to yours means there's an overlap in your audience. That also means there's a good chance the site will approve your pitch because the post's topic offers value to its audience.
Once the site publishes your guest post for their readers to see, people who are also your target audience will see your guest posts published on these high-traffic sites. If they enjoyed the blog posts you wrote on the site, they'd most likely click on the links in your byline to check out your website and social media.
Improve Website Traffic
The links in your guest post's bylines should help drive some referral traffic to your website. However, the real power of guest posting manifests from its search engine optimization (SEO) benefit.
Search engines like Google use backlinks (alongside content quality) as ranking signals to determine which pages should be on top of which search query.
The more links you build from these sites through your guest posts, the higher your site can rank for your target keyword.
Once you rank on queries with lots of monthly searches, you can generate website traffic even without actively promoting it.
While social media posts work as SEO ranking signals, they won't push your website to the top of search engine results pages (SERPs). Nonetheless, its ability to generate tons of referral traffic to your site can't be overstated.
A few years ago, I got others to share my Pinterest pin to 15.4k boards using various tactics for more Pinterest traffic.
Also, the variety of social media sites to choose from for promoting websites should appeal to most small business owners. Finding the right platform that suits your target audience should help you garner more website traffic and greater visibility.
Create Strong Social Media Presence
Your volume of social media followers speaks of your business's presence in this channel because building lots of followers isn't easy and takes time to accomplish.
First, you must optimize your profile by adding a cover photo and writing a good social media bio. These will help tell your audience what they can expect from your profile and business.
Next, you must publish or schedule posts designed to engage your audience, which will be the bulk of your social media marketing efforts.
Aside from sharing your content, you must ask them questions, share articles published on other sites (this is where your guest posts come in), and hold surveys or polls.
Again, this is easier said than done because you must consistently publish posts aligned with your brand voice to remain top of mind.
You also have to be a step ahead of your competitors by monitoring their progress and taking cues from tactics that worked for them and that you can emulate in your campaigns.
As you can see, a strong social media presence requires longevity to succeed. Doing all these tactics year in and year out allows you to build your reputation and respect that will compel people to become your followers.
Encourage More Engagement with Relevant Followers
At this point, you have lots of followers across your social media channels. From here, you can deepen your relationship further using different tactics and campaigns.
You can launch contests and giveaways to reward winners with prizes that are on-brand with your business.
Using the right tools and processes, you can expedite your follower growth, create user-generated content (UGC) that you can use as social media or website content, and turn them into email subscribers, to name just a few benefits.
If you're selling products and services, you can launch a referral or affiliate program they can join. Once members, your followers can promote your business on their channels and get rewards for the successful transactions initiated from the links they shared.
Giving your followers an opportunity to benefit from their fandom of your brand allows you to keep them as loyal followers—if not customers—for life.
Guest Posting Services for Boosting Your SEO
Going back to guest posting, it's important to know and understand the steps involved in a campaign:
Identify who your ideal prospects are based on their website's traffic and authority.
Reach out to them through their best email (found with tools like Hunter IO) with a well-written pitch.
Write articles that meet their editorial guidelines.
This goes on top of the constant follow-up emails you must send your prospects to ensure that they received your message and that they'll publish the approved post soon.
Not knowing the correct way of implementing the steps above could result in zero replies and a lack of approved pitches.
You can learn these things and do the guest posting campaign yourself. But it may be more convenient to hand over the responsibilities to someone who can do everything for you, especially if you have other important matters to attend to in your business.
That said, below is a short list of guest posting services that will execute the entire campaign for you as you enjoy greater online visibility and traffic over time:
Authority Builders Co.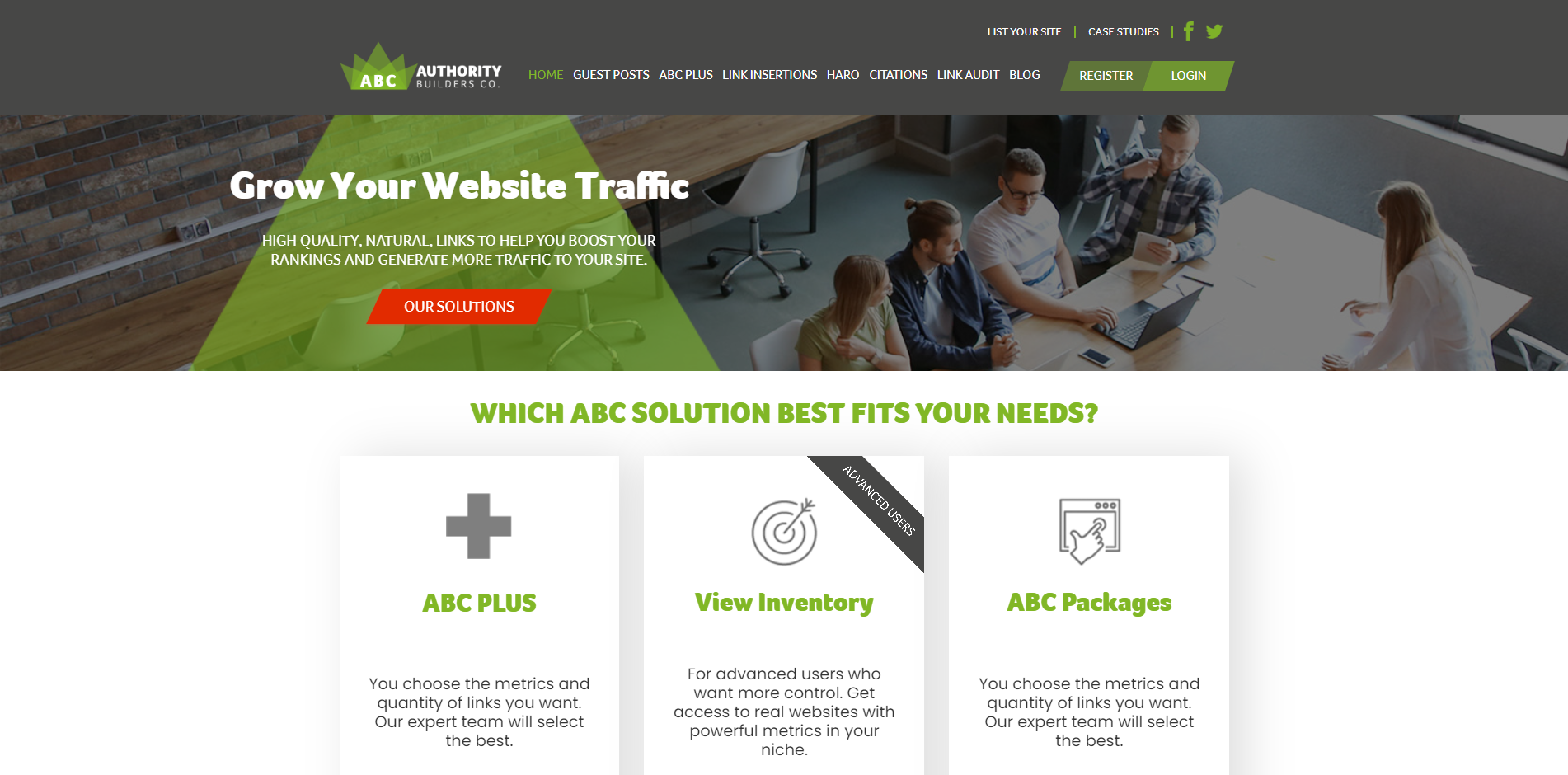 Authority Builders Co. is a link-building service provider for all your guest posting, link insertion, and HARO backlink needs.
Concerning guest posting, the site offers two packages:
ABC Packages - Identify the site metrics from where you want to get a backlink. Its expert team will handpick the best site that fits your qualifications.
Browse Inventory - Similar to Adsy, you can sign up for an account to access its exclusive list of authoritative and high-traffic sites. They readily accept guest posts with backlinks to your sites.
The price of your order depends on what you want to achieve from it.
Let's say you want to build authority from your guest post. The lowest you can pay for a site with a Domain Rating (DR, an Ahrefs metric similar to DA) of 20 and a 500-word article is $160.
You can also build trust instead, which uses organic site traffic as the factor instead of DR. You can buy a 500-word guest post on a site with at least 1k monthly traffic for $160 as well.
---
Adsy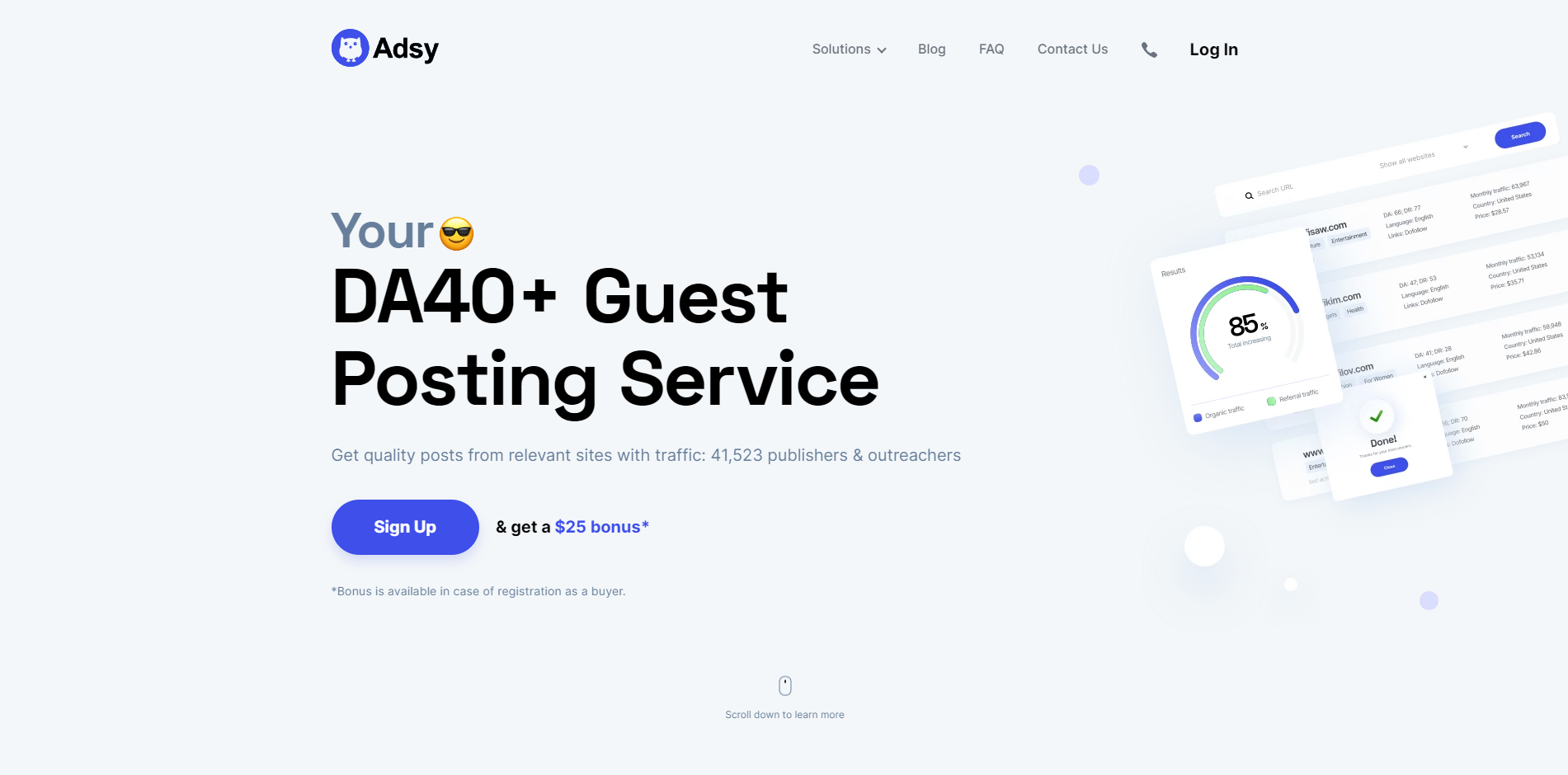 Adsy caters to two audiences: those who want to buy guest posts and those offering their website as a place where its clients can place their guest posts.
At the moment, you belong to the first audience. But if your site accrues authority soon, you may consider getting link placements from Adsy clients at reasonable prices.
The beauty of Adsy is that it has a private collection of sites where you can easily secure backlinks to your site. This way, you don't need to send cold blogger outreach emails to websites only for them to reject your pitch.
Upon signing up as a buyer, you can choose sites where you want to publish your guest post. The price of each site depends on its Domain Authority (DA). It is a Moz metric that measures a website's authority based on its link profile.
The higher the DA (on a scale of 0-100), the more expensive a guest post on that site will be.
---
Digital Olympus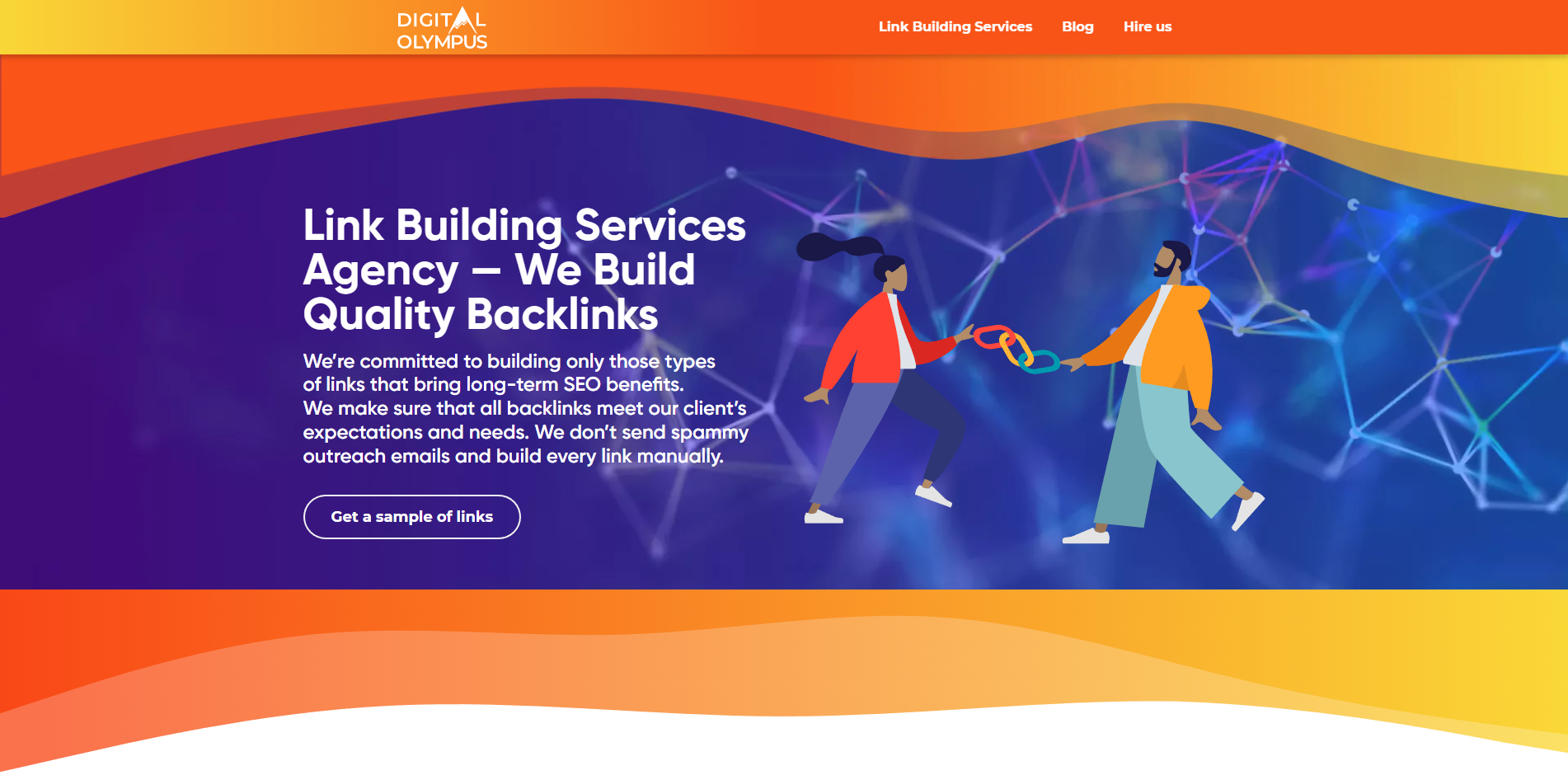 As a service offering "relationship-based link building," Digital Olympus builds links for clients via blogger outreach.
It doesn't have a list of sites like Adsy and Authority Builders Co. Instead, its team reaches out to authoritative websites and regularly pitches guest post ideas on their sites.
The advantage of Digital Olympus's process is clients receive a list of sites tailor-made to their specifications.
The sites don't belong to a pre-existing list. Digital Olympus manually reaches out to these sites and gets their approval to place a link for the client.
The company also sends a link building report to keep things transparent with the client. It keeps track of the guest posts published on different sites like a hawk. This way, it ensures that your guest post will be published on your desired site.
---
Outreach Mama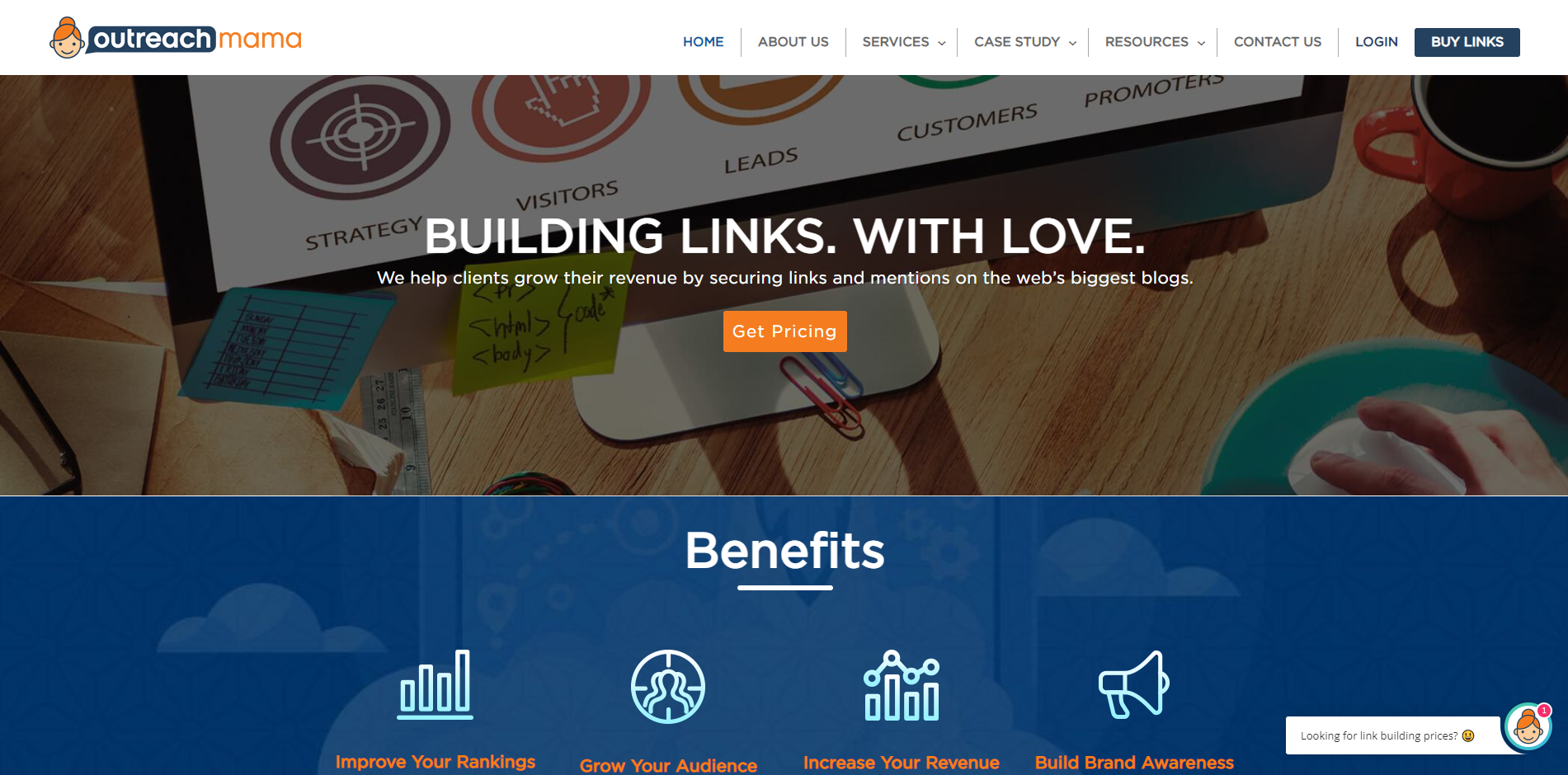 Outreach Mama provides brands and agencies a full suite of link-building services. At their center are blogger outreach and guest posting.
Outreach Mama helps you identify the best page on your site to build links on. Next, it will prospect for the best link partners to pitch guest post ideas. Once approved, it will take care of writing the content for publishing.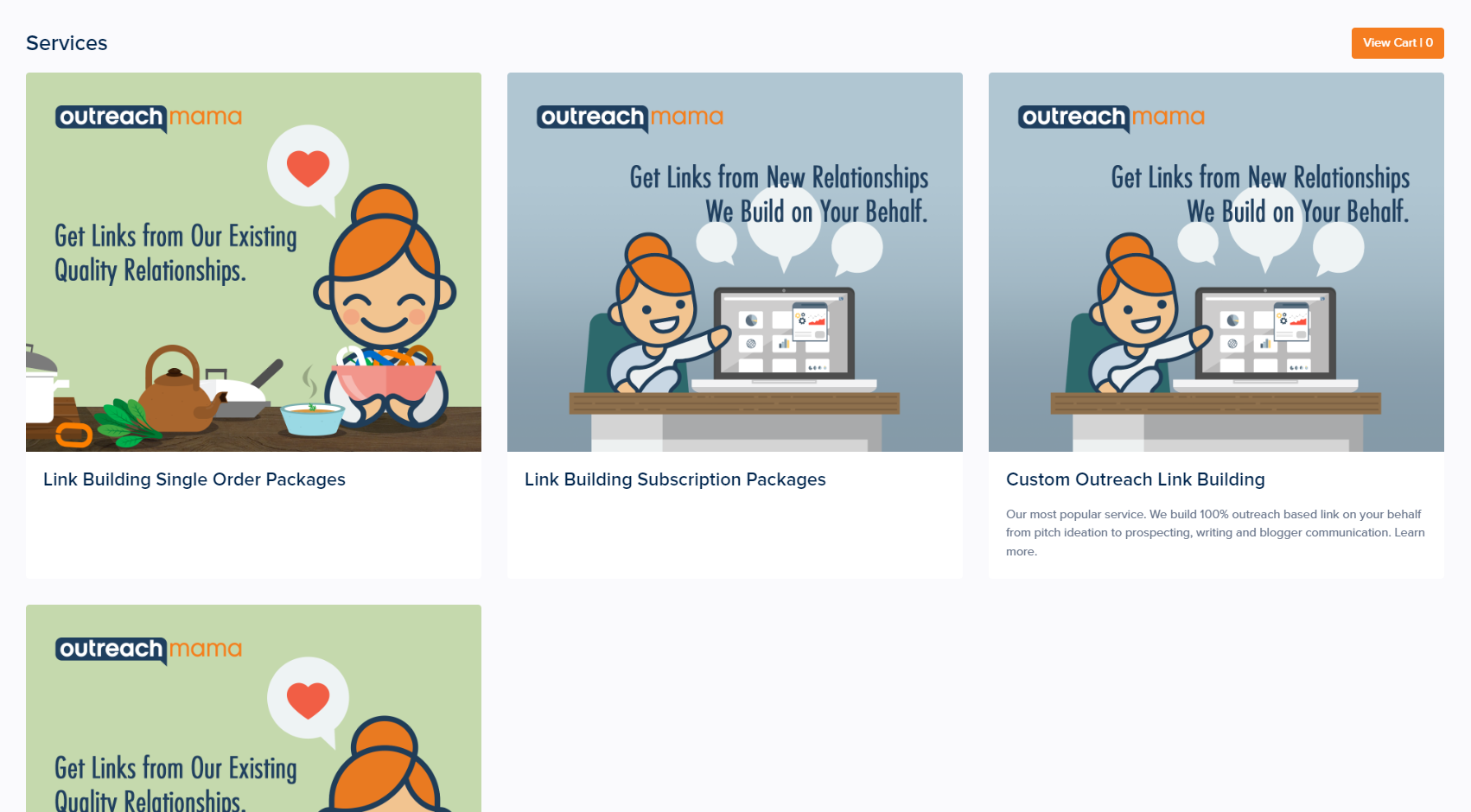 The site offers various packages and subscriptions that cater to your link-building appetite. Custom Outreach Link Building is its most popular offer. For at least $850/month, you can get 3-5+ backlinks through blogger outreach.
If you want more links from niche-relevant sites with DR20-60+, its Link Building Subscription Package is for you. For at least $1,750/month, you can get five (5) links monthly following these metrics.
You can turn the package above into a single order that costs $1,950 or more for the same volume of links and site metrics.
---
Best Posting Services for Maintaining Social Media Platforms
As mentioned, keeping up with your social media profiles requires patience and persistence. You'll have to keep chugging along with your social media content marketing to generate more followers and increase engagement rates (although using a social media content generator will certainly help).
Thankfully, there are free social media management tools at your disposal. All you need to do is dedicate time and effort to perform these tasks consistently with help from this software.
Also, a social media platform like Hootsuite provides features where you can monitor your social activity and analyze its results. If Hootsuite isn't for you, there are other Hootsuite alternatives offering similar features with different UI or pricing plans that suit your needs.
But problems arise if you don't have time to do all this. Just like guest posting, you can depend on services that will keep your social profiles fresh with new engaging posts published daily.
Below are social media management services that will do the bulk of the work for you:
Ignite Marketing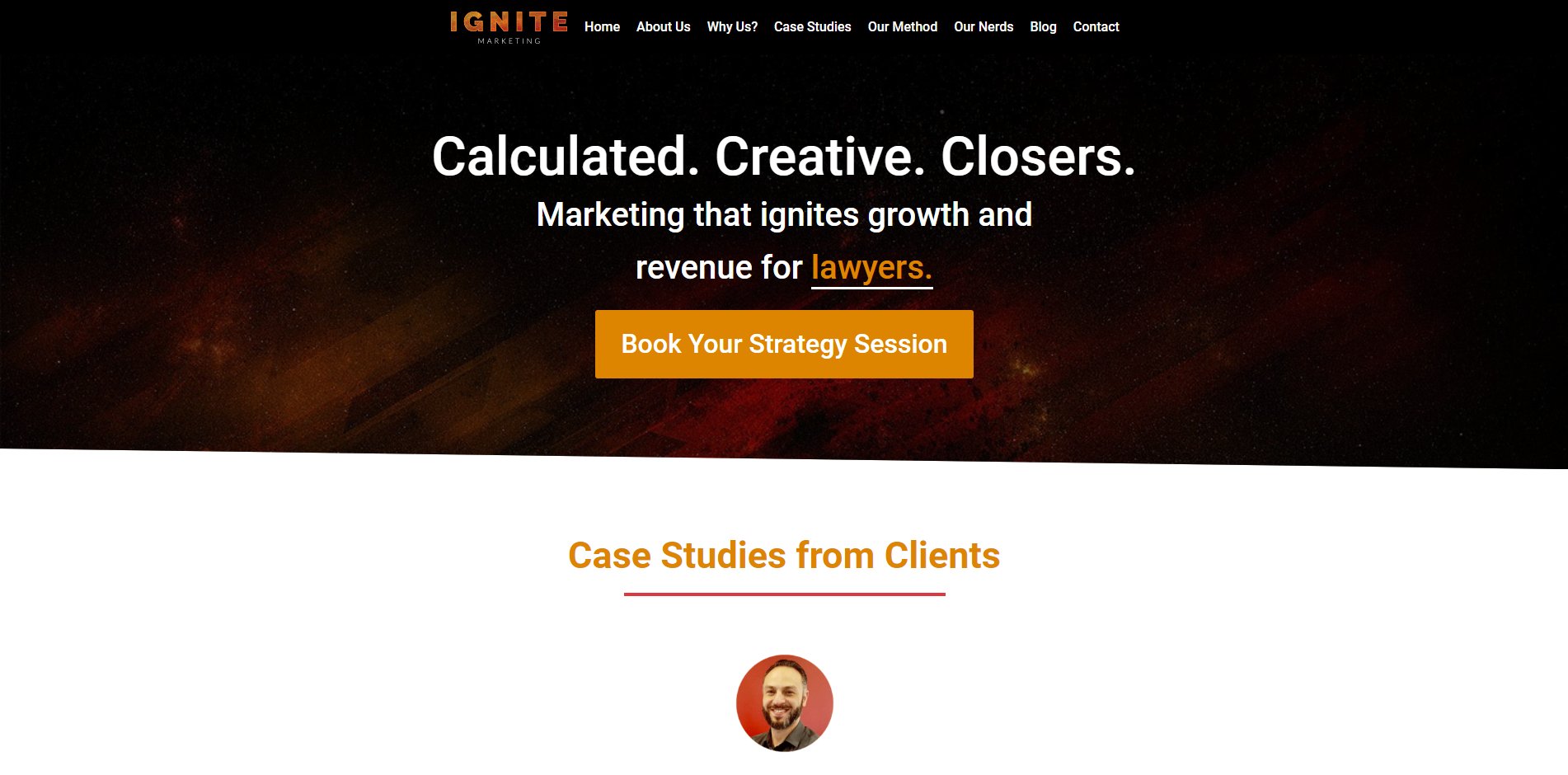 As a digital marketing agency, Ignite Marketing offers social media posting services as part of the package. It does so following a seven-step plan designed to meet your goals at a rapid pace:
Discover - Perform a critical audit and analysis of your current social media performance. It also considers your competitors and industry to identify strengths and weaknesses.
Strategize - Brainstorm strategies that help overcome your social media's low follower count and engagement metrics.
Create - Write social media posts aligned with the developed strategy.
Train - Share with your team how to engage with prospects generated from its social media campaign.
Execute - Set the strategy into motion.
Test - Refer to the gathered data from the analytics tool to understand the campaign's results.
Optimize - Use the data to make the necessary improvements to the strategy.
Its simple yet effective methodology should help your business maximize social media to generate more followers than you can imagine.
---
Lyfe Marketing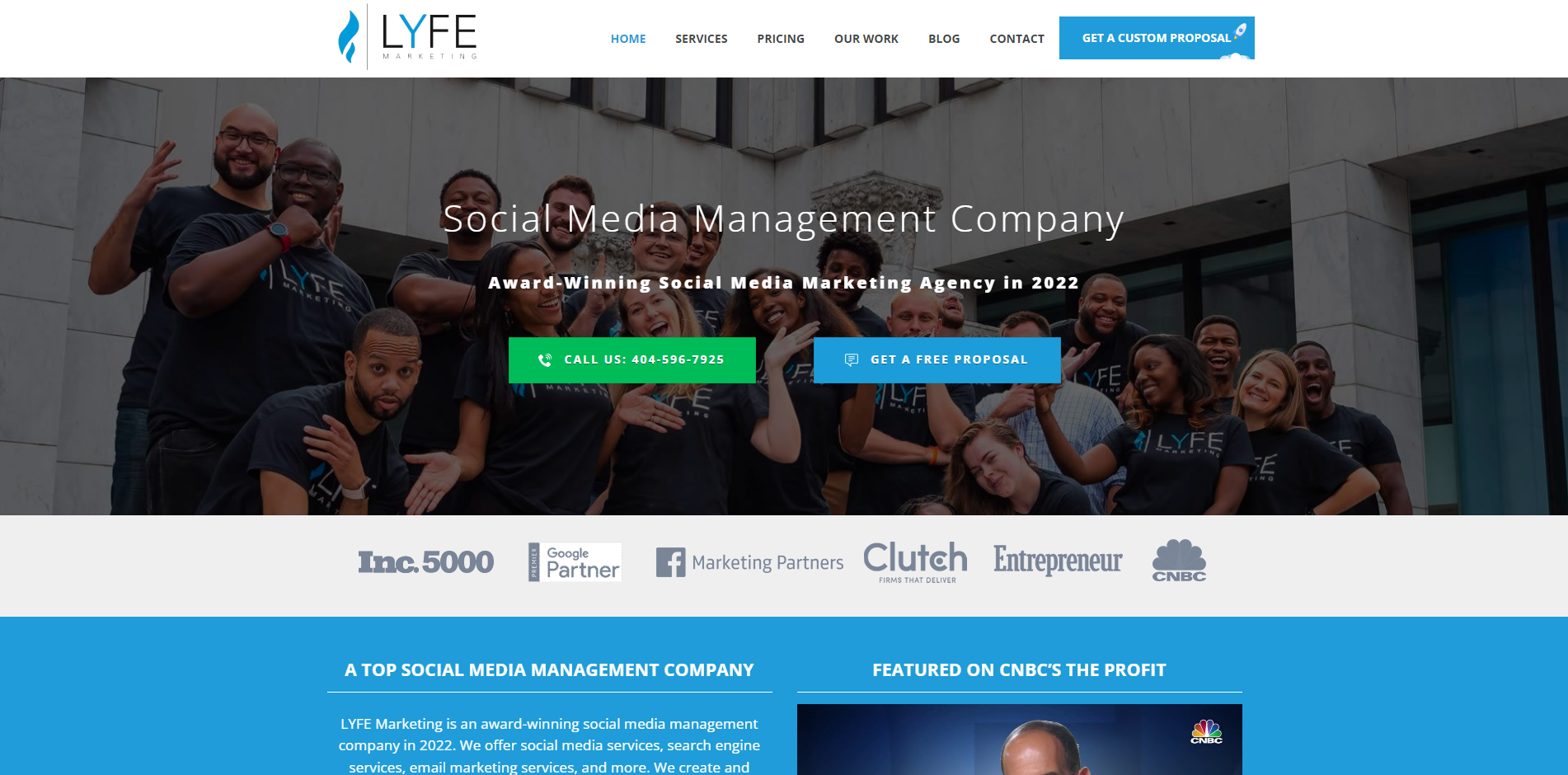 Lyfe Marketing is a dedicated social media marketing company that can help improve your online presence and business growth. It achieves both via its management and advertising services.
Its social media marketing service creates 12 monthly posts for your Facebook and Instagram accounts. Its team will also perform Ad Boost management and respond to 10 max messages daily via its Community Management.
Plans start at $750/month. Higher plans ($1,350/month and above) allow you to post vertical videos and have more scheduled posts in your social media calendar.
If you want to generate traffic and sales from social media faster, Lyfe Marketing's advertising services is for you.
Starting at $650/month, you get custom graphics and images for your ad campaign with bid management and optimization. The campaign will also have a $500-$1,000/month ad spend.
---
SocialBee Concierge Services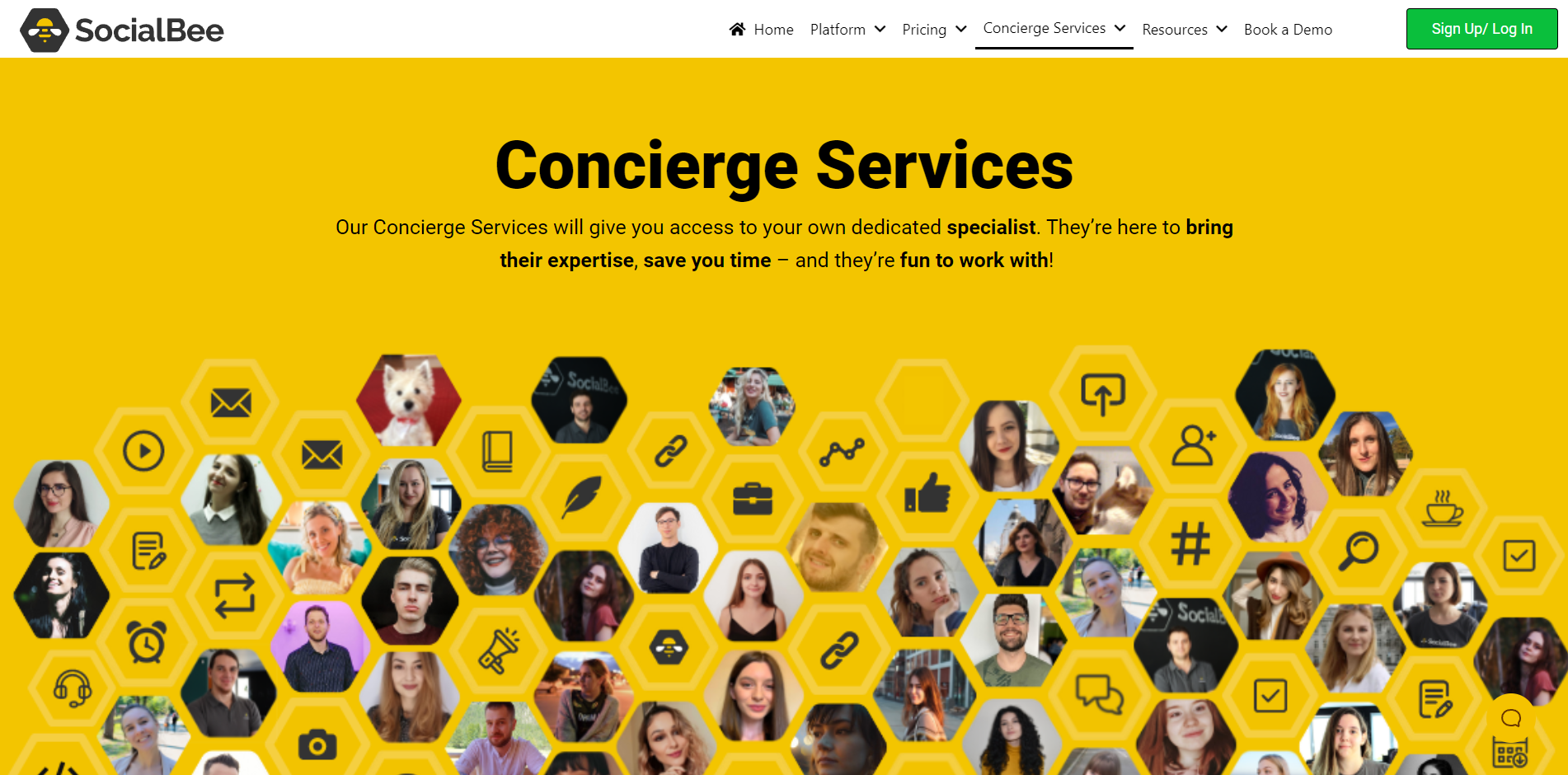 SocialBee is a social media management tool where you can schedule posts to be published on your profiles and analyze their results (learn more in our full SocialBee review).
But if you don't have the time to do this yourself, the site offers Concierge Services to make the job more manageable.
You can hire a social media specialist from their site. This person will take care of publishing posts on your social media profiles.
But before doing this, the specialist will gather information about your business and research to provide you with a client brief on which you'll sign off.
Price starts at $129/month for three weekly posts and includes hashtags, static visuals, and GIFs. Higher plans give you more weekly posts and enforce a tone and voice on all posts that captures your brand.
Other concierge services available on the site include content marketing (article writing and copywriting) and growth marketing (Instagram community management and LinkedIn lead generation).
---
Final Thoughts on Posting Services
Learning how to delegate tasks to other people is a skill you must pick up sooner rather than later.
As much as you want to be hands-on with every aspect of your business, you simply can't be due to other matters affecting your website's performance.
Enlist the help of social media and guest posting services. This lets you focus on growing your online business without spreading yourself too thin. The benefits of hiring any of the listed services above are too great to ignore.
Want to learn step-by-step how I built my Niche Site Empire up to a full-time income?
Yes! I Love to Learn
Learn How I Built My Niche Site Empire to a Full-time Income
How to Pick the Right Keywords at the START, and avoid the losers
How to Scale and Outsource 90% of the Work, Allowing Your Empire to GROW Without You
How to Build a Site That Gets REAL TRAFFIC FROM GOOGLE (every. single. day.)
Subscribe to the Niche Pursuits Newsletter delivered with value 3X per week