WriterAccess Review: Is It the Right Choice For Your Needs?
For business owners, content strategists, and marketers searching for writers, this WriterAccess review is what you need.
WriterAccess is a writer platform that connects customers with writers and other professional freelancers. It's one of the top online writing sites.
You'll be able to get your projects completed, and select freelancers with the expertise and skill set you're looking for at the experience level and price you want.
In this WriterAccess review, you will discover:
What this freelance platform offers
Key features
Pricing
Pros and cons, and more.
Let's get started.
Get a 14-Day Free Trial of WriterAccess
---
WriterAccess Review
Ease of Use -

90

Stability -

90

Customer Service -

95

Price -

85
Summary
Overall, WriterAccess is a good choice for getting freelance workers hired for your project. You can get access to talented workers and valuable tools and software to help make your project a success.  
Pros
Vetted talent
Hire freelancer writers, designers, and other specialty freelance workers
Skill level-rated system to help you pick the right freelancers
Built-in tools and resources
Cons
Expensive
You might have to test several freelancers before you find the right one
WriterAccess Review: Overview
WriterAccess started in 2000 and since then, they've grown to over 40,000 customers. They have delivered over 2.5 million projects, worked with 20,000+ freelancers, and helped tens of thousands of content strategists get their writing jobs completed by expert writers.
For customers, WriterAccess is the place where they can hire freelance writers to produce high quality content, and can place orders with other freelancers like designers, animators, content marketers, editors, and more.
Customers can hire the freelancers they need, plus get access to other tools to make their job easier. Those tools include direct-integration publishing and access to 250+ million images from the image library.
WriterAccess provides a total solution for customers.
WriterAccess brings together customers and freelancers to work on freelance projects.
For freelancers, it's a place to find and work freelance jobs to make money. Freelancers can:
Develop and build their portfolios
Get experience working with clients
Make money for their work, and
Get access to free tools and benefits like the content strategy certification or portfolio gallery promotion.
Here's more on the key features of WriterAccess.
WriterAccess Review: Key Features
Customers will be able to use WriterAccess to connect with freelancers for their freelance writing job or other projects. They can also use tools and resources included with their membership, like:
Publishing integrations
SEO software
Image libraries
Workflow and organizational tools
Publishing Integrations
With publishing integrations to places like HubSpot and Hootsuite, once your project is complete, you can push it instantly right to the platform of your choice.
Here are some of the publishers available:
Facebook
Twitter
LinkedIn
Hootsuite
HubSpot
WordPress
SEO Software
Get the best performance for your content with SEO software and tools built right into your membership. These software tools are available:
MarketMuse
GrepWords
BuzzSumo
SpyFu
Image Libraries
Access 250+ million images from the available image libraries so you can add images to your content. Use tools like Storyblocks, Getty Images, Canva, and Shutterstock.
Workflow and Organizational Tools
Lastly, WriterAccess has workflow and organizational tools you can use to:
Get matched with the right writers for your project
Better communicate the project to freelancers
Better identify your buyer persona, and more.
You can also make use of these helpful tools:
AI style search
Buyer personal builder
Customer journey builder
Creative brief builder and wizard
Language grader
How Does WriterAccess Work?
First, you'll register to join WriterAccess.
For customers, you can start the 14-day trial for the pricing plan you're interested in. Then, start using WriterAccess and tools to find freelancers for your projects.
Once you're in, you can start using the platform, placing orders for the work you need.
WriterAccess uses a star rating system to help you choose the skill level and budget of freelancers that you'll work with.
How does the star rating system work?
Freelancers are given a star rating to determine their skill level. That rating is based on criteria like:
Client reviews
Performance
Account activity, and other factors.
The rating system ranges from 2 stars to 6 stars. The higher the star rating, the more expensive the work will be from that freelancer.
Read more about the WriterAccess star rating system.
For a freelance writer who signs up, the application process is fast and easy.
It takes around 5 minutes, according to WriterAccess. You'll apply according to what your talent is:
Writer
Designer
Editor
Translator
Content strategist
Then, add your resume and fill out the rest of the form to submit to WriterAccess. Once approved, you can start working with customers on freelance projects.
WriterAccess Pricing
This is what the WriterAccess pricing looks like.
There are four pricing plans available depending on your needs:
Starter
Growth
Pro
Enterprise
There's also a managed service option which has three pricing levels.
A free 14-day trial is available on all plans to test-drive the platform.
Starter Plan
The Basic plan covers one user, and the main benefit is the 5-day approval time, which means you have 5 days to approve the work you get from freelancers.
There's also full access to WriterAccess Academy where you get 200+ recordings on-demand to learn more about content marketing.
You will be able to access the Writer Marketplace.
You'll also get access to the Designer and Speciality Marketplace to hire creatives like:
Designers
Animators
Photographers
Editors
Translators
Content marketers, and more.
The Starter plan includes tools like:
Conference calls
Slack alerts
Voice messaging
This is a good plan to choose if:
The 5-day approval window is plenty of time for you,
You need a maximum of 4 user seats, and
You don't need any additional tools or resources that the higher-tier plans promise, such as Keyword Manager & SEO Reports.
Growth Plan
The Growth plan includes everything in Starter, plus you get an upgraded approval window time and up to 5 user seats. You get a total of 7 days to approve freelancer work.
The additional tools included in this plan are:
Social media integrations, such as Facebook, Linkedin and Twitter
Google Docs integration
Canva integration
Keyword Manager & SEO Reports
Bulk orders creation.
Pro Plan
Pro is the next step up, giving you 7 user seats and a 10-day approval window. You get everything in Growth plus:
White label portal options
The Pro plan is good for larger teams. If you need up to 7 users to have access to your WriterAccess plan, Pro is the way to go. This is also good if you want to use the additional tools offered.
For larger teams that need:
Up to 7 users on their account
BuzzSumo, Semrush, Spyfu, and Zapier integrations
All the tools, plus white labeling,
...then Pro is the choice to go with.
Enterprise Plan
Enterprise is the most expensive package, for enterprise-level organizations. It includes all the bells and whistles, including a custom number of users and a 14-day approval window. You get everything in Pro, plus:
BYO Talent
API Access
Integrations with Hubspot, Marketo, and Eloqua.
Managed Service Options
In addition to the above plans, there's also a managed service option with 3 price plans.
How do the Pricing Plans Work?
The membership plan you pick will get you a WriterAccess account with the benefits listed above. Then, when it's time to hire freelancers, you'll buy content separately.
Hire between $.02/word to $2.00/word for writers
Choose designers at $25/project up to $200+/project
Frequently Asked Questions
1. Is There a Free Trial?
Yes, a 14-day free trial is available on any of the membership plans offered by WriterAccess.
2. Do you get to Choose the Writer to Work With?
Yes, you can pick the writer that you will work with. Each freelancer is assigned a star level that aligns with their price.
For example, a 2-star writer will cost less than a 4-star writer.
Based on your needs and budget, you can pick the perfect freelancer for your project.
3. What are Casting Calls?
Customers can post casting calls to find freelancers they're looking for with a specific skill set and knowledge for their job.
When you put out a casting call, you can either use your own price or request a price from the freelancer. This recruiting tool will help you get the right freelance worker for your project, based on your needs.
WriterAccess Review: Pros and Cons
Check out the benefits and drawbacks of using WriterAccess.
Pros
Vetted talent
Hire freelancer writers, designers, and other specialty freelance workers
Skill level-rated system to help you pick the right freelancers
Built-in tools and resources
First, you'll like that you will only work with a pool of vetted freelance workers, reviewed by the platform in advance.
You can hire freelancers with various skillsets based on the projects you have. It's not just limited to writers, as you might think by the name.
When hiring freelancers, a star rating system is used. It's easy to understand and makes the hiring process more streamlined.
If you want a seasoned freelancer, you can choose a higher star rating that comes along with a bigger price tag.
If you're on a conservative budget, you'll have beginner-level freelancers available to you, which will cost less.
Lastly, the built-in tools and resources are a major benefit of WriterAccess. They're more than just a marketplace for hiring freelancers. They give you valuable tools to help you with your project from the organization and planning to SEO, communication, images, and more.
Cons
Expensive
You might have to test several freelancers before you find the right one
The drawbacks pale in comparison to the benefits, but they should be considered.
First, WriterAccess is expensive, especially compared to some of the competition.
Major players in this space like Upwork or Freelancer don't charge an upfront membership fee to customers as WriterAccess does. This is an added cost you'll need to consider in addition to the cost of hiring talent for your project.
Next, you might have to hire more than one freelancer until you find someone that's the right fit for the job. Even with a star rating system and reviewing portfolios, you could still get the hiring part wrong and that's frustrating.
It's something that can't be avoided, so just know that it can happen to prepare yourself in advance.
Employee Reviews
Employees and former employees leaving WriterAccess reviews report that the company provides a great opportunity to work from home, and offers flexible hours. Pay rates are better than some other platforms. They also praise the ability to choose from a variety of topics for articles. WriterAccess seems to be a good company and an opportunity to hone your skills. On Indeed.com they have an overall rating of 3.9 from 16 reviews.
WriterAccess Alternatives
There are other platforms like WriterAccess online that offer similar services. You can compare this WriterAccess review to these alternative sites.
Fiverr
Fiverr is a gig marketplace where freelancers can post gigs (or projects) that customers can buy on the spot to start project work.
Examples of gigs include:
Freelance writing
Logo creation
Social media posting, and more.
Customers can join Fiverr for free and shop the gig marketplace at prices starting at $5.
Once a gig is booked, the freelancer will deliver within the time specified and the client will get a chance to approve the work or ask for revisions, if available. There's also a review system in place where you can rate the work of your freelancer.
Visit Fiverr to get started
Upwork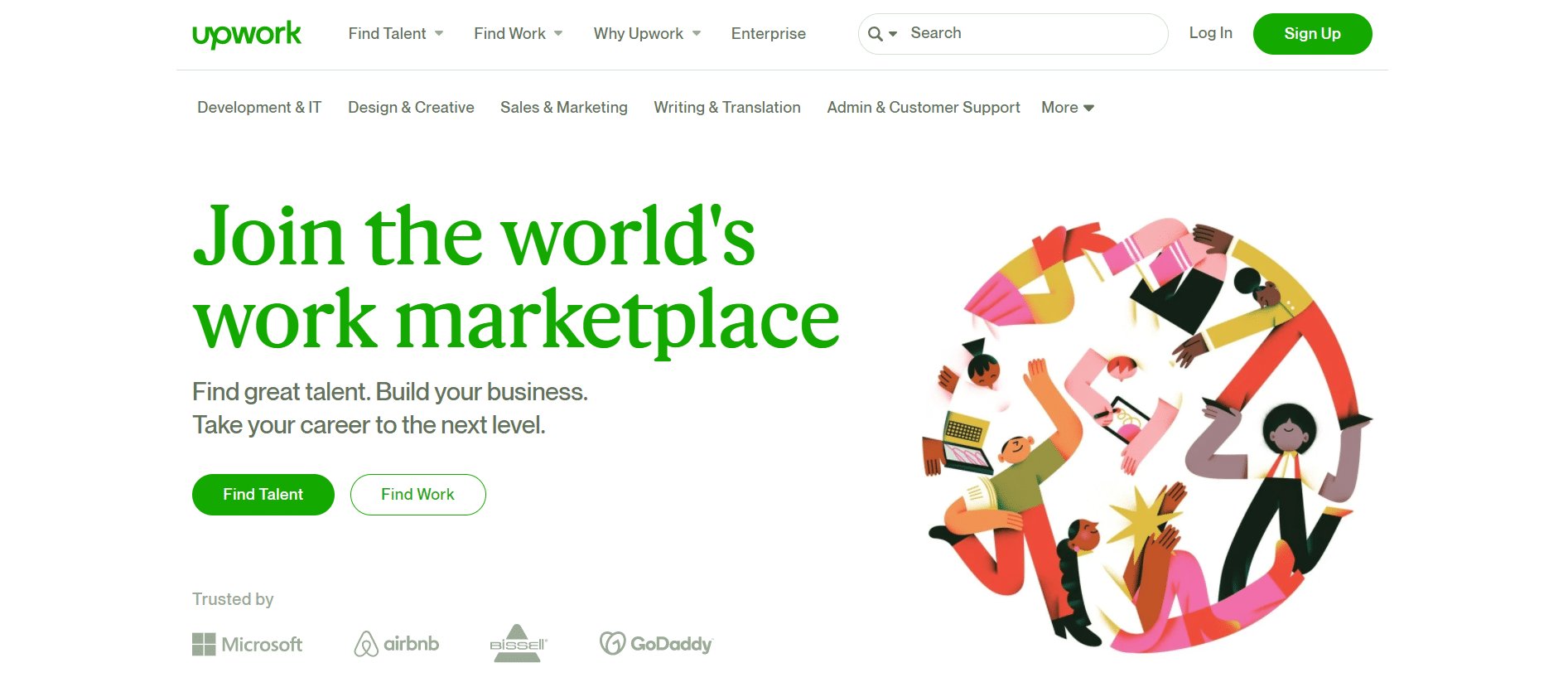 Upwork is a freelancer marketplace where customers can post their projects and hire freelancers that bid to work with them.
For example, you could post a writing project for 3 blog posts about gardening. You'll receive bids from various freelancers who will respond to your project with a cover letter and their bids.
You can review the submissions and pick your desired candidate to work on your project.
You and the freelancer will be able to communicate through Upwork's messaging feature throughout the project timeline.
Like Fiverr, there's also a rating system in place where you can rate the work of the freelancer and they can rate you as a client. You can find out more in our Fiverr vs. Upwork review.
Visit Upwork to get started
Skyword
Skyword gives you access to software, talent, and services to get the best results for your project. You'll be able to work with writers, photographers, videographers, and graphic designers.
Create your content strategy
Hire freelance workers
Scale the content production for your company
Track assignments, manage workflows, issue payments, and more
Visit Skyword to learn more
WriterAccess Review: Overall summary
For hiring talented freelancers in writing, creative, and specialty markets, WriterAccess definitely delivers on a daily basis.
You'll have access to a talent pool to work on your projects plus tools and software to help run your business more seamlessly. It's not a cheap solution but customers think it's worth it.
Read this WriterAccess review from a customer:
WriterAccess is–hands down–the best content writing marketplace online. I run a marketing agency and operate media sites in various niches; we need to produce around 15k to 50k words of high-quality content every month.
The multiple pricing plans also make the platform within reach for all budgets. Whether you're a solopreneur or managing a huge team, WriterAccess can help with your project needs.
Start Your 14-Day Free Trial of WriterAccess
Want to learn step-by-step how I built my Niche Site Empire up to a full-time income?
Yes! I Love to Learn
Learn How I Built My Niche Site Empire to a Full-time Income
How to Pick the Right Keywords at the START, and avoid the losers
How to Scale and Outsource 90% of the Work, Allowing Your Empire to GROW Without You
How to Build a Site That Gets REAL TRAFFIC FROM GOOGLE (every. single. day.)
Subscribe to the Niche Pursuits Newsletter delivered with value 3X per week