16 SEO Content Writing Services That'll Help Drive Traffic and Improve Your Rankings
When you buy something through one of the links on our site, we may earn an affiliate commission.
You might be looking for SEO content writing services for a number of reasons. Whether you're short on time to create your own content, don't fancy yourself a writer, or have no idea what SEO stands for (search engine optimization)—hiring out is a stress-free solution to ramp up your content and help your website rank better.
So, if you need an SEO content writer to help you formulate an SEO strategy and create quality content, here are some of the top content marketing agencies to consider.
---
The Best SEO Content Writing Services to Use This Year
Search engine optimization is more or less at the heart of any digital marketing strategy (check out other ways for how to make money with digital marketing). SEO content is written in a way that appeals to your target audience while also including keywords for search engines to pick up on.
1. Brand Builders
Brand Builders is more than just an SEO content writing service. Their web content creation is centered around compelling content to boost lead generation and organic traffic. Rather than just write SEO content for you, they are looking to help you build your brand. Hence, Brand Builders.
To that end, BB offers a range of services including pre-made or custom affiliate websites, backlinks, and content writing which we have a full review about here.
Their content creation is all 100% DFY (done for you), including keyword research, on page optimization with SEO tags, meta description, and images and is uploaded directly to your website.
Good to Know
Unlimited revisions
All content gets run through Frase to make sure it has the best chance of ranking on search engine results pages (see Frase vs Surfer SEO).
You can provide your own keywords to target or Brand Builders will send you some suggestions within 24 hours of placing your order.
Pricing
Prices are for one-off orders.
2k words: $160
25k words: $2000
500k words: $35,000
---
2. Word Agents
When it comes to SEO optimized articles, Word Agents is one of the best content agencies out there. No surprise given that they have over 10 years of experience in content marketing.
Good to know
Keyword research is not part of the deal. You will have to perform your own research and content brief.
Orders up to 20k words have a 7-day turn around time and include two rounds of editing.
Word Agents can optimize just about any bit of copy from existing content, to new blog articles, landing pages, product descriptions and more.
Pricing
You have the option to purchase a one-off SEO content package from Word Agents or opt for a monthly subscription that you can cancel anytime after three months.
Bronze package: 1,000 words for $120 (no subscription option available)
Silver package: 20k words for $1,560 or $1,329/month
Gold package: 60k words for $4,320 or $3,669/month
Platinum package: 100k words for $6,800 or $5,779/month
---
3. Content Refined
This content writing agency is well known for hiring professional writers that specialize in SEO content writing. Bloggers and affiliate marketers especially can benefit from the expertise at Content Refined. The company offers compelling content directly published to your site to improve your search ranking.
You can also use Content Refined to help you determine what existing content you have that needs to be improved, and then let them handle that for you. It's worth noting that content upgrades can often mean results faster than producing new content in terms of increasing organic traffic and brand awareness.
We've written a full Content Refined review, so make sure you check it out if you're interested in their services.
Good To Know
You get a dedicated account manager to assist you with any questions or concerns regarding the content creation process or finished product.
Content Refined's content writing service is DFY including keyword research and on-page optimization.
For orders of 24k words or more, your project manager and writers will help you consider different content marketing strategies so you can build a six month content plan.
Pricing
Under their monthly subscription service, your options are as follows:
4 post package: 1,000 words each for $429/month
8 post package: 1,000 words each for $769/month
12 post package: 1,000 words each for $1117.50/month
---
4. ContentPit
This content marketing agency focuses on creating SEO content for bloggers and affiliate marketers. They've zeroed in on what they're good at and are so confident that they can provide high-quality content that they even offer a full 30-day refund guarantee.
What really sets Content Pit apart is their unique approach to SEO. They create content specifically to meet your needs as well as that of your users. In their words, "this is the new SEO."
Good to Know
They offer unlimited revisions (obviously subject to the fine print but still a sweet promise).
Basic service includes written content only; images, posting, and keyword research are accepted on a case-by-case basis and will cost extra.
48-hour response guarantee means you won't be left hanging.
Pricing
Content Pit charge per word and has built-in discounts when you order more words.
Smallest package: 1,000 words for $49, up to 2 articles written in 3-4 business days
Most popular package: 10,000 words for $439, up to 20 articles written in 7-10 business days
Largest package: 100,000 words for $3899, up to 200 articles, content written in three batches of 30k, and one batch of 10k
---
5. Content Cucumber
With Content Cucumber you get a dedicated SEO content writer and editor so you can be sure that the content you receive is consistent across the board. Writers are hand-picked to best suit your brand voice and trained to match your tone across content in order to encourage consistency across your website.
In addition, all of their plans include free revisions. Plus, if there is anything wrong with your content you can take advantage of the company's 14-day money back guarantee which means trying them out for your brand is risk-free.
Pricing
You have the option to opt for an "on-demand" plan, which includes basic SEO blog writing services, or the "hands off" plan, which also includes blog topic generation, a personalized SEO strategy, a content calendar and monthly progress reports.
On-Demand plan: starts at 4k words for $539/month + one time $199 on boarding fee
Hands-off plan: 8k words a month for $2159/month + one time $399 on boarding fee
---
6. The Blogsmith
Founded by blogger and entrepreneur Maddy Osman, the Blogsmith is one of the best B2B, SaaS, digital marketing content agencies for anyone in the technology niche.
The team at Blogsmith is more than capable and is known for delivering well-ranking SEO articles that help with lead generation and brand awareness.
Their content creation service included topic development, keyword research, supportive imagery, and two rounds of edits.
Pricing
The best thing about Blogsmith is that they are affordable even for smaller brands.
Blog articles: $0.75/word
You can save some money through retainer pricing and pay less per word by getting in touch with the Blogsmith team and forming a long-term working relationship.
Content strategy consultation: $200/hr
---
7. Growth Machine
As their name suggests, Growth Machine is all about helping you grow your business. What's the best way to do that? By making sure you show up high on search engine results pages. And how do you make that happen? With a great content marketing strategy and some *chef's kiss* SEO articles.
Services offered by this content marketing agency include link building, SEO audits, and of course, managed content.
Trusted by big brands like Adobe and Intuit, Growth Machine is a well-oiled machine when it comes to growing your brand and boosting organic traffic.
Pricing
Their website doesn't explicitly list the pricing of their services as each case is unique in terms of what Growth Machine can offer your brand. For that reason, you'll need to get in touch with them to discuss your business needs and goals.
---
8. Compose.ly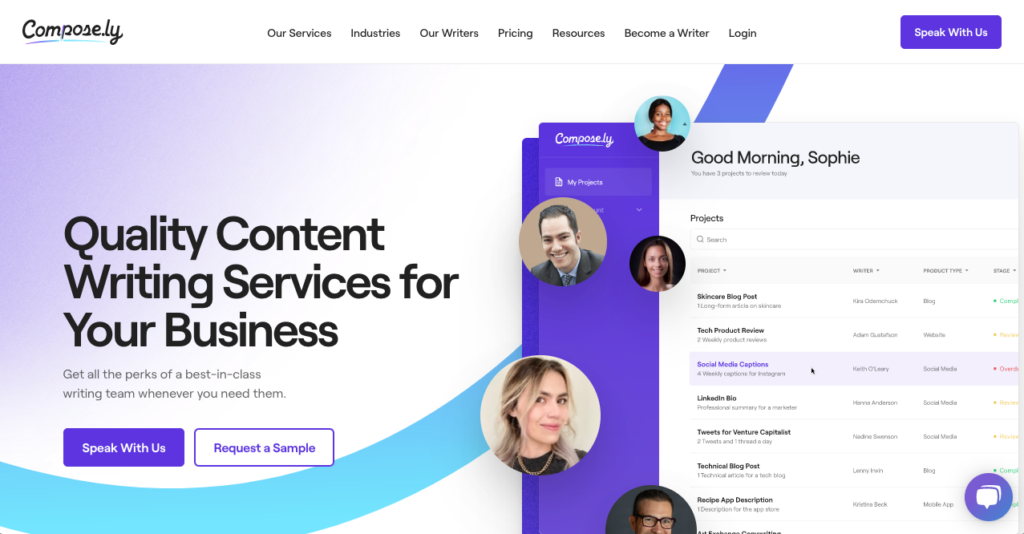 From SEO optimized blog articles to technical content and white papers, Compose.ly is the content marketplace if you're looking for high-quality content at an affordable price.
All of their writers follow SEO best practices, including avoiding the dreaded keyword stuffing. Plus, they use the latest industry tools to make sure all of their content is well optimized for search rankings.
As their team of writers is so diverse, you can expect writers with industry-specific experience to deliver original and authentic content for your brand.
One of the neat things about Compose.ly is that if you do fancy yourself a writer and you just aren't any good at the SEO stuff, you can get them to take care of just that part for you and then write your own content. Compose.ly offers keyword research and SEO content brief services that will provide guidelines for any writer to follow.
Pricing
Compose.ly offers either a self-serve plan or a managed content service. The self-serve marketplace is obviously cheaper but means you will be working directly with one of their professional writers and will be responsible for editing and uploading the work yourself.
Comparatively, the managed content service means you get a dedicated client success manager, as well as a team of professional writers and editors that will deliver your content in a timely manner month-to-month.
Self-service marketplace: starts at $75 for 500 words
Manged content service: starts at $999/month
---
9. Scribly
A big name in content marketing circles, Scribly has a well-deserved reputation. They keep up to date with the ever-changing digital marketing world and ensure that their content marketing strategy stays ahead of the curve.
Scribly packages include keyword-research, topic creation, a dedicated account manager, and a monthly content calendar. Plus, you get unlimited revisions on all your content to make sure you are 100% happy with anything going up on your site.
Best of all, the team at Scribly is all about hitting the ground running. They can help you create anything from blog content to landing pages to ebooks and you can expect a 48-hour turnaround time on content up to 2,000 words.
Pricing
Micro package: $599/month for 2k words (2-3 articles)
Mega package: $1,450/month for 6,500 words (5-7 articles)
Turbo package: $4,300/month for 20k words (~20 articles)
---
10. Grow & Convert
If you're looking for an extensive DFY content marketing solution, look no further than Grow & Convert. Leaders in content marketing, this agency will handle everything for you to encourage quality organic traffic and boost your conversion rates.
They pride themselves on providing a completely exhaustive digital marketing service with the aim of increasing your domain authority and getting new content to rank faster on Google.
Their standard package includes customer research to really get to know your target audience, promotion of content, link building, and progress reports. The fact that they not only create the content but also push it out for you and promote it across social media is one of the primary differences between Grow & Convert and other SEO content writing services.
Pricing
$10k/month plus an additional $5,500/month for the optional link building service.
Might seem like a steep investment but the ROI is worth it.
---
11. Crowd Content
Whether you're looking for SEO-friendly articles, product descriptions, category pages, landing pages or something else, Crowd Content has you covered.
Their team of over 5,000 writers uses a host of tools including Ahrefs, SEMrush and Moz to ensure that any content they create for you is perfectly optimized to perform.
Keep in mind that Crowd Content does have a slightly different process than any other old content writing agency. They understand that your brand and voice are important to you so they give you the opportunity to hand pick the team that you feel is the best fit for your brand. When you sign up for an account, you get access to their marketplace of writers where you can choose who you want to make up your team.
Pricing
Just like their process is little bit different, Crowd Content also has a flexible pricing structure. For their self-serve packages, you can choose the quality of the content you're looking for (with lower quality obviously cheaper but subject to some editing and tidying up on your part once it's been delivered).
Self-serve packages: start at $0.03/word and go up to $0.13/word
Managed content services: request a custom quote on their website
---
12. Draft
Formerly known as ContentFly, Draft has been in the content writing game for a while now, so they know what they're doing.
If you're looking for white-label, SEO, informative content to publish on your page, Draft offers high-quality article writing services from vetted, experienced writers.
They provide a ghostwritten service which means you own all the copyrights to content created for you and can even try their service completely risk-free up to 4,000 words. If, for any reason, you're unhappy with the first 4k words that Draft writers give you, you can request a full refund.
Articles of 1,000 words take about five business days, with longer pieces taking a little more time. Once you've received your first piece of content, you can send it back with any necessary revisions and Draft will handle up to two rounds of editing for you.
Any more than that and they'll still make sure they get the content up to scratch for you, but they'll also involve a content specialist to help you develop your content brief to make sure it fully captures what it is you're looking for.
Pricing
Between $0.10 and $0.08/word depending on volume purchased.
---
13. The Urban Writers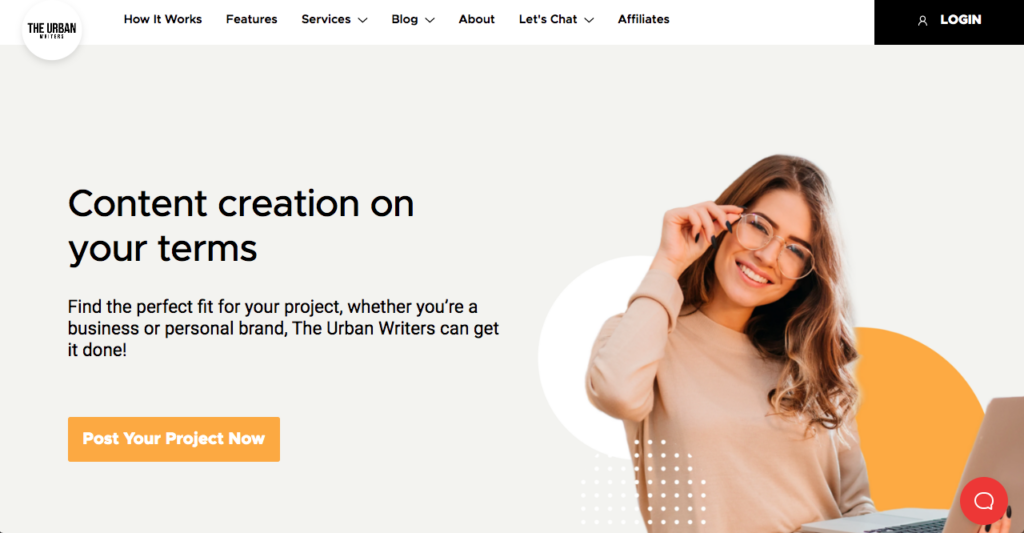 The goal of SEO content is to help your business or brand rank on Google and in turn build both your audience and credibility. With this in mind, the Urban Writers are ready to tackle all of your content needs.
Their SEO article writing services include keyword optimization, in-depth page linking, and secondary research to create a balanced post.
The main area where content created by the Urban Writers will differ from standard packages at other agencies really comes from the page linking service that's included in their price. Internal and external linking is a crucial part of SEO and building your domain authority.
Pricing
1 article: $6.05 per 100 words
10 articles: $5.97 per 100 words
30 articles: $5.85 per 100 words
---
14. Content Lab
Industry-specific content can sometimes be more difficult to hire for. When you work in a niche where your audience is expecting a degree of knowledge that the average writer may not have, a content agency is sometimes your best bet in terms of ensuring your content is credible.
For those in the technology niche, Content Lab is a team of experienced software professionals on hand to create content designed to attract, engage, and educate your readers.
Pricing
Get in touch for a custom quote.
---
15. Animalz
Boasting big names like Zendesk, Amazon, and even Google on their client list, turning to Animalz puts you in good company.
Content marketing isn't just about having a few good articles to post every now and then. Animalz services like SEO consulting include content audit and site structure, keyword strategy, and editorial planning in line with the hub-and-spoke model.
They're also on hand to help with brand awareness, lead generation, product marketing and promotion, and distribution of content.
Pricing
Get in touch for a custom quote.
---
16. Skyword
More than just an SEO content writing service, Skyword is the place to go if you need help developing a full on content strategy. They can help find target keywords, create content guidelines, develop a distribution strategy and perform content audits to ensure that the copy on your website is working as hard as it can for your business.
Their content creation service is guaranteed to emulate your brand voice, be plagiarism free, and score flying colors in any SEO test.
Pricing
Get in touch for a custom quote.
---
Alternatives to Using SEO Content Writing Services
Granted, content marketing agencies can be pricey, especially given that you often have to bulk order. Or maybe you just aren't happy with any of the options on the market.
Whatever your reason, there are some alternatives to going with a managed content writing service.
Hire a Freelance Writer
One option is to hire a freelance SEO content writer. These individuals specialize in a variety of topics which means you might find a writer better suited to your specific niche than you might at your typical content agency.
If you're looking to hire a freelance writer to do your SEO content, there are a ton of freelance marketplaces you can hit up, the most popular being UpWork or Fiverr.
Tips for Hiring a FREELance SEO Writer
Ask for a sample or portfolio link to make sure they can provide adequate quality.
Be very specific in your content brief and encourage the writer to be open with communication.
Agree beforehand what services the writer is to provide (i.e. are you just looking for them to write the content or do you want someone who can handle keyword research and also upload the articles for you?).
Double-check that their work is plagiarism-free using a tool like OriginalityAI (which also works as an AI detection tool), Copyscape or Quetext. These tools will help ensure that you own the copyright to all content (check out our full Copyscape review).
---
Use an AI Generator to Create Content
Another alternative to hiring an SEO article writing service is using an artificial intelligence generator. AI generators are especially well-suited to anyone on a tight budget. Jasper AI is a very popular tool for this. Shortly and CopyAI as well.
However, keep in mind that AI content writers are more about speeding up the content creation process. The software has improved ten fold in the last few years, but I find the quality of the content to be best when paired with a human writer or editor. This ensures things like readability aren't compromised. We get into it in more detail in our best of AI content generators list.
For example, Rocket Content is an AI content creation service that pairs state-of-the-art software with human editors for quality content. Plus, Rocket Content is still a DFY solution that includes keyword research, uploading, and will even include your affiliate links!
Things to Consider When Choosing the Best SEO Content Writing Services
There are some obvious factors like price and quality, that you will undoubtedly need to concern yourself with in order to determine which is the best of all the SEO content writing services out there for you.
Most content writing agencies will highlight that they hire native-English speakers, but the truth is that doesn't always equate with high quality content. Yes, you will want impeccable English and SEO articles that are free of grammar and spelling errors, but good content also needs to be engaging and well-researched.
I recommend always asking for writing samples before hiring a new SEO content writer, whether they are part of a content agency or freelancing.
When it comes to pricing, you'll have to find the content writer that works best for your budget, but be mindful of what their service includes. Depending on how involved in the content creation process you want to be, you might find that spending the extra money is worthwhile for your time. Alternatively, if you aren't an SEO expert yourself, the premium price tag for a strong SEO content writer is likely to mean a good ROI for your website.
In addition to basic content writing, you should also consider whether or not the service you opt for includes any of the following:
Keyword research (if not included you will have to include your own keywords to use in the content brief you provide to the writer)
Long-term content strategy
On-page optimization including uploading, images, and formatting
Promise to be free of plagiarism and copyright issues
Keyword research isn't included in a lot of the cheaper content writing services. If you need to do your own, find out more about how to do keyword research here.
In Conclusion
Ultimately, quality SEO content writing services can be a major timesaver for the average Internet entrepreneur. Not only that, but the promise of expert search engine optimization can sometimes be reason enough to make it worth your while to invest in an SEO writer.
Improving your search engine results ranking through a planned content strategy can increase your organic search traffic. Plus, your website visitors are more likely to stay and keep coming back if you're providing engaging and informative content.
Want to learn step-by-step how I built my Niche Site Empire up to a full-time income?
Yes! I Love to Learn
Learn How I Built My Niche Site Empire to a Full-time Income
How to Pick the Right Keywords at the START, and avoid the losers
How to Scale and Outsource 90% of the Work, Allowing Your Empire to GROW Without You
How to Build a Site That Gets REAL TRAFFIC FROM GOOGLE (every. single. day.)
Subscribe to the Niche Pursuits Newsletter delivered with value 3X per week