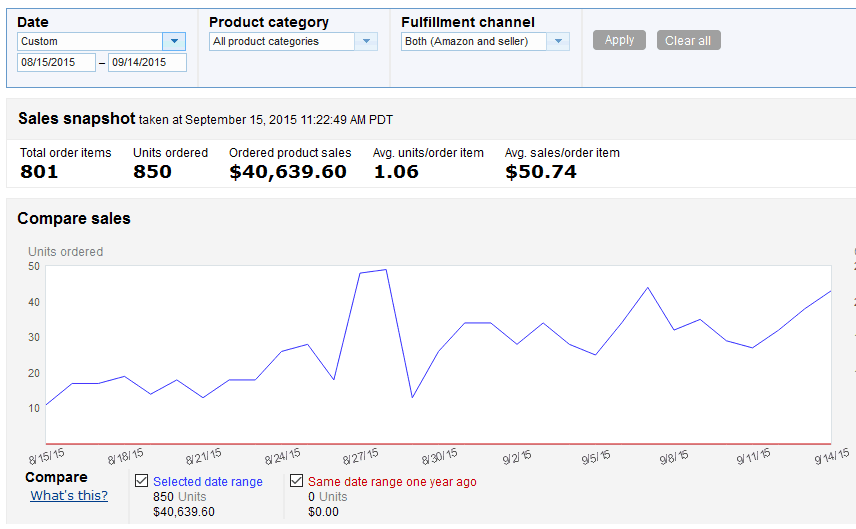 Sharing income from my business actually kind of eats me up inside.  Part of me hates doing it, because I have a lot of family and friends that read my blog and talking about income openly with people you know personally is always a taboo subject.
On the other hand, I know how much reading income reports on other blogs inspire me to grow my business.  For this reason, I know all of you reading (that I don't know as personally) can gain some motivation from these types of blog posts.
So, if you have met me in "real life"…please stop reading this blog post! 🙂
Sharing income always works as a way to really get people's attention.  For example, I could write the most elegant post about my Amazon FBA strategies; however, its not until I say something like, "and these strategies net me $10,000 a month"…that people's ears really perk up.
So, as I share this income report today, one of it's main purposes is to concretely demonstrate that Amazon FBA is the real deal.  Its a VERY real business, and I am seeing very real income from it.
I'm not saying that everyone should jump on the FBA band wagon; I'm simply saying that it's not some sort of scam.  Businesses are making very real money on Amazon, and there are plenty of worse businesses that you could start!
With that caveat…let's look into some recent numbers.
Amazon FBA Revenue and Profit Numbers
Let's jump right into it, shall we?  My revenue number from my physical products on Amazon are below, then we can discuss what's been going on with the business.
Here's a recent screenshot showing the earnings over the past 30 days: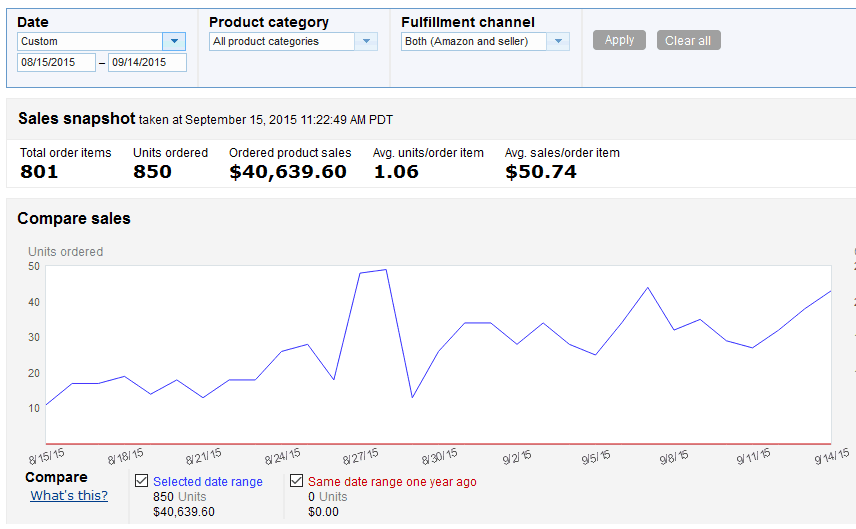 I am as floored as you might be when seeing this revenue screenshot, but it's true.  My Amazon FBA business sold $40,639.60 worth of product in 30 days!
What about profits?
Having revenues of over $40,000 does not mean I put that much into my bank account.  When you factor in manufacturing costs, shipping costs, returns, amazon fees, and more…the actual net profit is much less.
Without getting overly detailed or exact, the net profit is right around 35 to 40%.  This means the net profit from my Amazon FBA business in the past 30 days was around $14,223 to 16,225.  Again, this isn't exact…but it's going to be fairly close to that. (I haven't had a chance to do full accounting, so that's why these numbers are rough).
Calculating the net profit is actually quite difficult to do on an ongoing basis due to returns, promotions, and constantly reinvesting in new inventory.  Oh, and I also change the pricing on my products throughout the month to test different price points.
Profit Margins
Despite the difficulty of getting an exact profit number each month, I have sat down and calculated the profit margins on each of my products (so I know how how much money I make on each sale).
I now have 5 products up and selling on Amazon.  Below is the rough profit margin I earn on each product.
I've been selling products on Amazon since 2014.
Want to know the research tool I've been using since I've started (and still use today)? Get my latest tips and how to guide for using this tool.
See the Full Jungle Scout Review
Product 1: 46%
Product 2: 23%
Product 3: 38%
Product 4: 43%
Product 5: 29%
Overall, I'm really happy with revenue and profits generated with this business!  Can you believe that I've only been doing this for 6 months?
I listed my very first product for sale in March 2015, and now just six months later I'm pulling in $40k per month.  This is by far the fastest growing business I've ever started (although still not the biggest).
Growth Potential
I'm already very impressed with how quickly this business has grown; however, the potential for growth is still significant.
I can do 2 things to grow this business even more:
Increase the sales of my existing products
Manufacture and sell new products
In terms of selling more of my own product, I really haven't done any Amazon PPC yet.  I've only done paid marketing for one of my products so far because it wasn't selling well initially.  The other 4 products I have not spent any money on PPC ads.
If I did more advertising, I could easily generate more sales.  However, the primary reason I haven't been doing paid advertising is because I'm struggling to keep my product in stock as is.  Paid ads would just increase my expenses…until I can order a large enough batch of inventory to make it worth it.
That day is coming soon…(see below).
Holiday season
The holiday buying season is coming, and I fully expect this will significantly increase my sales volume of my existing products for November and December.  I ordered huge batches of inventory for all my products over a month ago.  They are either being shipped now, or are still in the process of being manufactured.
To give you an idea, for most of my products I had an initial order of about 500 units.  I sold out of these 500 units after 45 to 60 days approximately.  I've now ordered close to 2,000 units of each product in preparation for the Holiday season.
So, I would have to nearly quadruple my sales to run out of stock during the holiday season.  I don't think that will happen; however, double is probably not out of the question ($40k x 2 = ????).
November and December should be really good months. 🙂
New Products
I've received samples of 4 or 5 products over the past couple of weeks from China.  I'm ready to expand my line of products even further.  I mean, why not?
So far, I have 5 products and every single one of them is now selling well and turning a profit.  Initially, I thought I had a couple of dud products…but I was able to turn them around.
The 2 new products I'm adding both have the potential to be my top selling products.  Or, they could also totally flop.
I will be working on finalizing a couple of things (branding, additional samples) with my manufacturer over the next week or two.  Once I receive some finalized samples with my branding and small changes, I will give the green light to manufacture a batch for both products.
I should be able to get these listed on Amazon just in time for the big buying season (December).
Then towards the end of the year if my existing products are still selling well, I'll look to add a few more products early in 2016.
Inventory Problems
It's hard to call it a "problem" when people are buying your products so quickly.  However, I've been unable to keep a stock of inventory of my products.
In all cases, I have simply underestimated demand.  I will say that it's not really my "fault", because you really don't know until you actually start selling a product.  This is still a brand new business, and I'll have better data going forward.
For example, when I ran my initial batch for 4 of my products (out of 5), I ordered 500 units EACH.
I had no way of knowing if this was too much or too little.  At first, they might only sell 1 unit a day…so it seems like I can wait 500 days!
However, after a couple of weeks, the sales started escalating quickly for most of the products.  They started selling 10 to 15 units a day.  Suddenly, I was faced with knowing that in about 2 to 3 weeks I was going to be out of inventory.
It's a really good problem to have, but there was NO way to predict how well these would sell.
So, I immediately ordered nearly 2000 units each for the products.  However, it takes easily 30 to 45 days to manufacture, 2 to 3 weeks to ship the products to the US, then another week getting the product shipped and unpacked by Amazon.
So, even though I reordered new inventory as soon as I saw things started selling…it takes 2 to 2.5 months from order date to actually getting the new stuck up and selling on Amazon.  Unfortunately, knowing that you are going to run out of stock in 3 weeks, means you are going to be out of stock for at least a month and a half.
As a result, I'm basically out of stock at the moment for my products.  I'll have one of my products in stock later this week (its about one day away via UPS from Amazon as I write this).  My other 4 products will be in stock in 2 to 4 weeks.
Because of this, my earnings for October will not be as much as the screenshot above…but November and December should be huge!
Lessons Learned with Amazon FBA
Obviously, I've learned a little bit about inventory issues.  They aren't fun!
Inventory – Order Small at First
However, I actually think I would give the advice that you should do what I've done with your initial orders.  I would order as small a batch as your manufacturer will let you get away with on your FIRST order.
By ordering small, you can make a much smaller investment and limit your downside.  This allows you to test a market and see if your product will really sell.
Amazon is HUGE
Another lesson, I'm continuing to learn is just how massive the Amazon marketplace is.  I'm constantly shocked at how many people want to buy my products!  The thing is, I'm still not even one of the best selling products in my category.  The potential of the marketplace just on Amazon is SO big…it's a bit mind blowing.
Keywords Make a Difference
I've also learned the importance of keywords in Amazon listings, but that really deserves an entire post on it's own.  Basically, I made some keyword changes for the titles and descriptions of my "dud" products, and they quickly turned around and started selling well.  (As an FYI, I'm actually doing a webinar on keyword research for Amazon FBA next week for people that have purchased Long Tail University).
Our Separate Website is Helping Increase Value of Business
I should also make a quick note that we are actively building a separate affiliate website in the same niche as our Amazon products.  The purpose of this website is 2 fold:
Generate traffic outside of Amazon (primarily from Google)
Sell more of our own products and to sell affiliate products.
We are taking a very long tail keyword approach (as outlined in my last post), and we are seeing encouraging results already.  The natural search engine traffic from Google is on a nice growth curve, and we've made about $135 in affiliate commissions from our site in September so far.  We also sold 4 units of our own products, which equates to a little more than $200 in additional revenue.  The potential for this site is tremendous.  We will be changing to a more professional WordPress theme and putting a lot of effort into it this year.
Plans Going Forward
Here's a brief list of my plans going forward:
Get inventory re-stocked and ready for big holiday season
Add 2 new products before the end of 2015
Optimize/tweak listings for additional long tail keywords that I can potentially rank for
Possibly add a couple of additional products in early 2016 (based on how well my existing products are selling).
Start using Amazon PPC if I can schedule my inventory better.
Continue building a website based on my product category.  The website is already seeing strong results.  I see TONS of potential for selling my own product, and also making some serious affiliate commissions in the market.
Start creating truly unique products/inventions in 2016 with the funds I'm building up through private labeling products currently.  I already have a list of ideas.
Your Thoughts
As always, I would love to hear your thoughts or questions on the subject.  Obviously, there is SO much more depth I could write about in regards to strategy and other details that are helping this business.
However, I wanted to simply share the success I'm seeing and some of the lessons learned so far.  I'd love to hear what's working for you or any other comments that you might have.  Thanks!
Want to see one of my favorite tools for building an Amazon Business?  See my Jungle Scout review here.
---