The Amazon Automation Scam 101: Everything You Need to Know to Avoid Trouble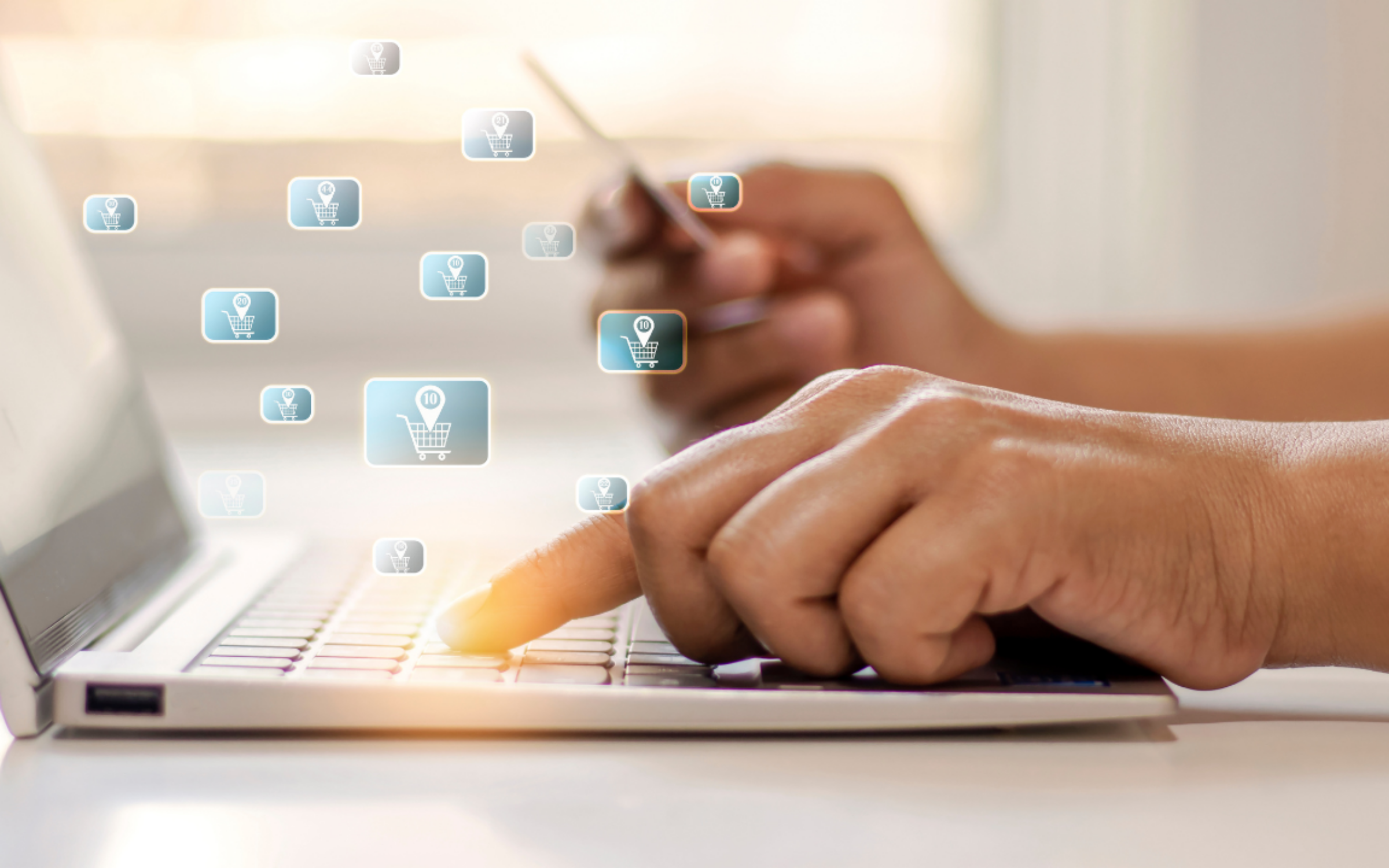 When you buy something through one of the links on our site, we may earn an affiliate commission.
There's been a lot of talk about an Amazon automation scam that's hooking investors (or victims) in with promises of passive income and six-figure profits—all without ever having to handle a product.
These online agencies claim they can do everything for you for a percentage of your profits (and you'll need to make a significant upfront investment, too). But in reality, what does that actually mean?
Is it worth it? Or is it just a scam?
What is Amazon Automation?
The term 'Amazon store automation' is subjective. It can be used when referring to the use of one or more methods to automate tasks associated with your own Amazon business.
It can also mean engaging a specialist agency to build and operate your entire Amazon store, giving you a completely hands-off business.
1 – Amazon Store Automation Agency
In this case, an agency is employed to initialize and create a turnkey Amazon e-commerce store for you. As the owner, you will pay for all the costs associated with setting up your store.
Once your store is up and running, you will then pay a percentage of your turnover or profit from the store to the Amazon automation agency.
This can prove to be a very expensive way of creating a store that, once trading, is never fully yours. Essentially, it relies upon a 3rd party's (the automation agency) terms of trade.
It can also leave you vulnerable to large losses if the store does not perform as expected.
You're also likely to be led in your expectations as to the profitability of the store by the Amazon automation service. However, at the end of the day, this is not guaranteed. If the promised profits fail to materialize, that can be a lot of money out of your pocket.
2 – Setting up automation for your own Amazon store
Setting up automation for your own Amazon business is a more hands-on approach taken by owners of existing or newly formed Amazon stores. These automation techniques can reduce the physical intervention required to operate and manage an Amazon storefront.
This, by its nature, is a much more individually targeted approach. It can prove useful for those with successful Amazon stores who wish to streamline their operations and scale their business.
What is the Amazon Automation Scam?
So, what's the Amazon Automation business scam everyone's talking about?
Many people have lost significant amounts of money by investing in a 'done-for-you' Amazon automation store. After their initial investment, they find that their Amazon store is not as profitable as promised. As a result, they end up losing money.
This is usually because the agency operating the Amazon store will need to be paid each month, whether or not the store makes any profit.
And if your Amazon account gets shut down due to shady practices?
Not their problem either.
To put it bluntly: The agency running the store is the only party guaranteed to make money from this arrangement.
This video sums it up nicely:
This doesn't mean that all Amazon Automation store services are scammers. However, it's important to understand that success is not guaranteed.
Investing in an Amazon automation store is a business decision where you are heavily reliant on the performance of a 3rd party. You are relying on them being able to produce a viable Amazon store that turns a profit. In many cases, it simply doesn't work.
Just search 'Amazon automation scam' on Twitter to see for yourself.

The profit must be significant enough to repay the initial setup costs while also fulfilling the obligation to pay the required monetary percentages to the automation agency while it trades.
And, of course, your account needs to remain in good standing with Amazon too.
That's not easy. Though undoubtedly, there are examples of this that have and continue to work as intended—with both parties making a profit.
The Dangers When You Use Amazon Automation Services
Coming across online opportunities that promise to make you rich quickly and easily is nothing new.
Sometimes, for a small percentage of people, these opportunities can work. Sadly though, for many people, the advertised opportunity doesn't pan out as expected.
If you're researching Amazon Automation store services, you will find that there will be people that tell you it worked for them and that it can work for you too.
Going into any opportunity like this with your eyes wide open is highly recommended. So, let's look at the dangers of using services offering Amazon Automation.
1 – It's your money on the line.
Different Amazon Automation stores businesses will offer their own terms for signing up with them and partnering to use their services. However, most will require you to pay a large up-front sum to invest in their platform and use their services.
On top of that, you then usually have to pay out a large amount to buy the stock that they are going to sell for you.
Of course, setting up any business will usually mean an initial financial investment. However, it's worth considering just how high these upfront costs are and whether that is a risk you are willing to take.
2 – The agency makes money whether or not you make a profit
Although each agency has its own terms, you can guarantee that they are going to have their own profits protected.
While they usually take a percentage of any sales that you make, their contract is also likely to have terms that mean you have fees to pay even if you aren't turning a profit.
Of course, they'll tell you that you will soon be making money, so that isn't something that you should be concerned with. However, you will definitely want to know what your outgoings will be. You will need to consider what effect this could have on your business long term.
3 – Dropshipping on Amazon is risky, and you could unintentionally break their terms of service.
You probably already know that Amazon has some pretty lengthy terms and conditions for sellers to ensure the emphasis on customer satisfaction.
One thing that the terms and conditions touch upon is drop shipping and how sellers should approach this.
Purchasing products from another online retailer and having that retailer ship directly to customers, if the shipment does not identify you as the seller of record or if anyone other than you (including the other online retailer) appears on packing slips, invoices, or external packaging, it is strictly prohibited without exception.
This doesn't always happen if you opt to sell via an Amazon Automation Agency. Because of this, you may unintentionally break Amazon's terms of service, resulting in your store being shut down.
4 – Your store could get suspended
One of the dangers of someone else running your business for you is that you won't always know exactly what's going on.
There are several routes that Amazon could take if they discover that you have breached their terms and conditions.
First, they could send you a warning and demand you take down the products. Second, they could automatically remove the products you have listed. Finally, they could suspend your store.
Of course, no one wants their store suspended as this means products can't be sold. Not only that, but having your store unsuspended and your rights to sell reinstated can be a lengthy process. That's definitely something that you'll want to avoid.
5 – It's harder to win the buy box with FBM
Being listed in the Buy Box on Amazon is a great way to generate extra sales. This is because it gives your products more visibility.
As this is such a solid way to generate more sales, competition for appearing in these boxes is high. Amazon doesn't always reveal exactly what it takes to get listed and how they decide who appears where.
However, we do know that orders that the Merchant (or drop shipper) fulfills have a much harder job getting listed than orders that Amazon fulfills.
6 – Profit margins will be much lower than with FBA
Any business is going to want to have the maximum profit margin possible. This allows you to make a wage and have money to invest back into your business.
There are some fantastic ways to sell on Amazon and make money and there are even great ways to make money on Amazon without selling. However, if you're using a Fulfilled by Merchant service via an Amazon Automation Agency, you may find that with their fees and costs, your profit margins are much lower than if you were to sign up to Amazon and use their Fulfilled by Amazon service instead.
7 – You should never hire someone to run your business unless you know how to do it yourself.
There is no harm in hiring extra help to get your business off the ground, even with the day-to-day running.
However, starting your own business is a big investment. Because of this, you should really know the ins and outs of it before hiring someone to take over the running of the whole thing.
The problem with this type of business model, and using a 'Done For You' service in this way, means that you don't really have a solid understanding of your business and how your Amazon store works.
This is probably fine while things are going well. However, if things don't go as planned and you need to step up to the plate, you will struggle to take over. That is definitely not a position you want yourself or your business to be in.
How to Spot an Amazon Automation Scam
Even just a quick look on Google at Amazon Automation Services brings up plenty of results. Different companies and platforms make different promises—all claiming they are different from the others.
While many of them probably don't technically fall under the definition of a scam, you definitely want to make sure you do your own research before you sign up for anything like this.
Many of these automation services don't do much more than you could do yourself. And, when you're doing the work, you get to take home a much larger chunk of the profits.
As with most things, if it seems too good to be true, it probably is.
At the end of the day, companies probably don't want to make you rich unless there is something in it for them. That is definitely something to keep in mind when you're researching opportunities online and considering how to sell products via a platform such as Amazon.
Here are some things to look into if you are looking at using an Amazon automation agency:
How long have they been doing it?
One thing you should look at when researching Amazon Automation Services is how long they have been operating and what experience they have.
In the grand scheme of things automating Amazon sales in this way is a new concept. But that doesn't mean you won't find companies with experience under their belt.
Don't trust the testimonials.
If you've been looking into how to make an Amazon storefront for your business, it won't come as a surprise to you that not all testimonials give an accurate account of a company's products or services.
Realistically, what Amazon Automation business scam company would write a negative testimonial about their own service? So be aware that testimonials are likely to be intrinsically biased.
Although some parts may be factual, they may not provide a true and comprehensive assessment of a product or service. After all, it's very easy to write up a fake review (and that's why you may want to check out our list of Amazon fake review checkers for both shoppers and sellers).
It's worth checking Reddit and Twitter to hear about the Amazon Automation business scam from real users. It's not always rosy.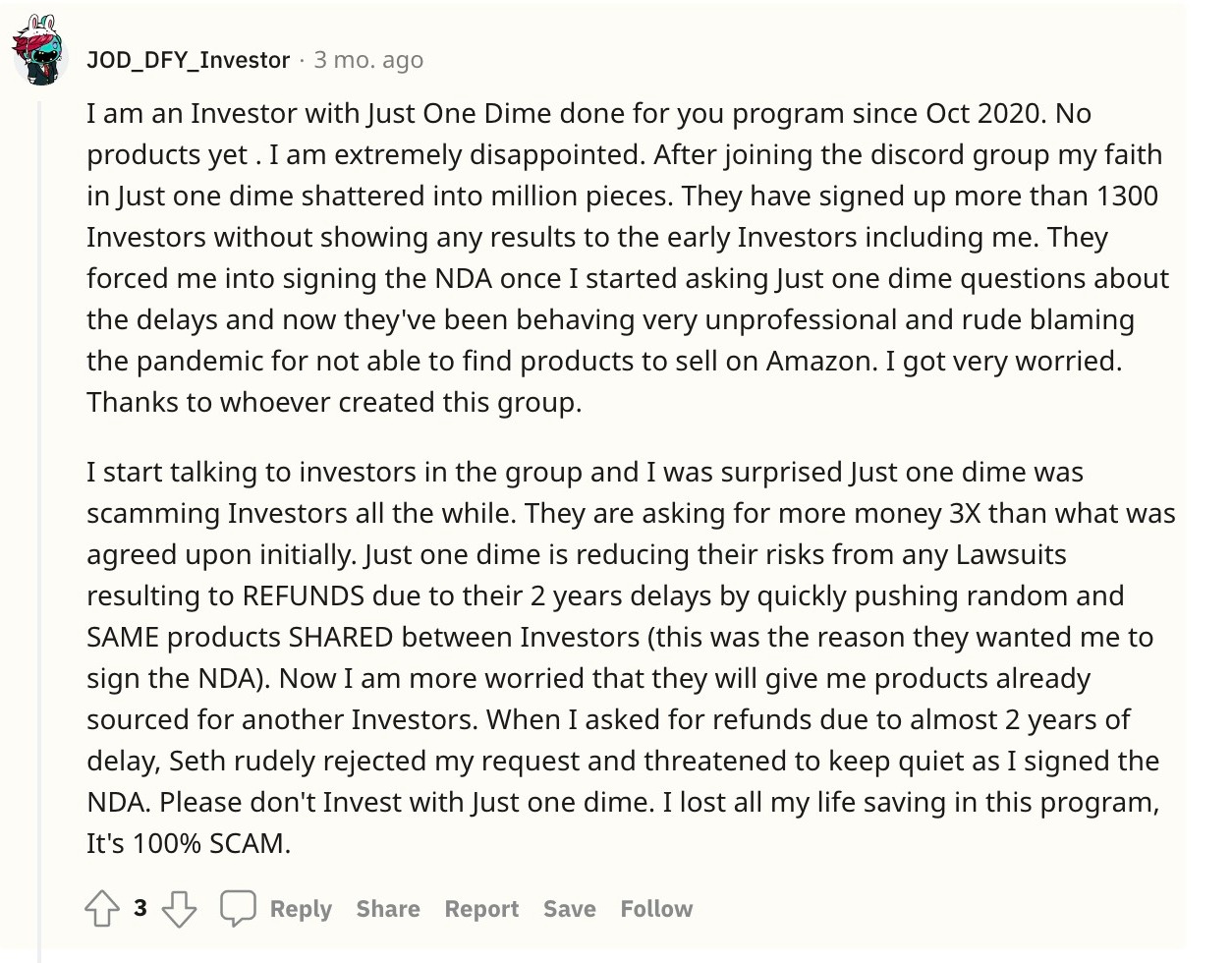 Source: Reddit
Check Facebook reviews
Facebook reviews tend to lean towards a more accurate account of a company's product or service.
Collaborative or sponsored reviews do exist and may skew viewpoints toward positive appraisals. However, they are open to challenge by the semi-public nature of Facebook and the ability of its users to call out a scam or a false review.
This tends to mean the platform is home to some genuine experiences and opinions of a company's performance in the real world.
They want you to sign an NDA
Some companies can have legitimate reasons for requiring customers and clients to sign Non-Disclosure Agreements. These legitimate reasons may include a requirement not to divulge a company's intellectual property. This is designed to safeguard the time taken for a business to research and develop a service that they offer.
Amazon Automation Agencies may ask you to sign an NDA, which you can not discuss with anyone your agreement with them. This may not necessarily be a red flag, but it's certainly something to be aware of and research before committing to working with them.
The reason I bring this up is that some Amazon automation scam companies in the past have used their NDA to frighten any unsatisfied customers into staying quiet. Because of this, many people are too scared to speak publicly about how they have been scammed.
Are Amazon Automation Courses a Scam too?
There are different Amazon Automation courses available. Some are geared toward learning and understanding the methods employed and required when growing and scaling an FBA (Fulfilled By Amazon) business.
This knowledge and the techniques used are very useful for your ongoing business development within the structure offered by Amazon.
Other courses are geared towards choosing an agency to construct and operate your Amazon business. These courses are geared towards heading you—albeit in an informed way—towards a fully outsourced agency Amazon business.
This comes with all the associated risks and intensive profit requirements for it to stay viable and trading.
These courses will not likely be a good investment for your time or money.
What You Should Be Doing Instead
If you want to get into eCommerce, starting your own FBA business is a great idea.
Although it does take some initial work and investment to get started, all of the profits will be yours. As an Amazon FBA seller, you can scale your e Commerce business without having to store inventory or manage the shipping and fulfillment of your products.
Utilizing Amazon's FBA services makes sense for both Amazon and the storefront owner. It also makes the products being sold eligible for Amazon Prime.
By selling through FBA, there are clear advantages in product placement and the ability to rely upon Amazon's own systems to ensure accurate fulfillment of orders, which makes inventory management and handling much simpler. This naturally results in lower customer returns and higher feedback ratings for the product and the storefront selling them. It's a win-win.
What are the best ways to automate your Own Amazon Business?
One of the best things about an e Commerce business is that you can be much more flexible with the hours that you work compared to opening a brick-and-mortar store.
Having a hands-on approach in the early stages is a must. However, that doesn't mean you can't make use of automated services and virtual assistant services to help make your life as an online business owner as easy as possible.
1 – Use Amazon FBA
Fulfilled by Amazon allows you to sell via the Amazon store using Amazon fulfillment centers. Instead of shipping products yourself, Amazon takes charge of the picking, packing, and shipping of your orders.
There are some additional fees involved in running an Amazon FBA business, but you won't need to hire a warehouse space of your own to store and manage inventory costs. Amazon FBA also helps take the hassle out of inventory management, making it easier to stay on top of stock levels and restock efficiently.
If you're selling via FBA, Amazon is also more likely to put you at the front of product lists and improve your visibility. Because of this, these additional costs soon become a worthwhile investment.
Once your products are listed, they take care of pretty much everything else for you with regard to order fulfillment. This gives you more time to invest in other areas of your business.
2 – Hire a VA
Hiring a virtual assistant to help you run your Amazon business is a great way to free up more time.
An Amazon virtual assistant can help you with a variety of tasks that demand planning, including:
Product research
Product sourcing
Customer service
Inventory management
Responding to Amazon review requests
Optimizing your listings
Keyword research
Graphic design
Social Media
Track sales
Manage Amazon PPC campaigns
The great thing about using a VA is that you get to work with someone on an hourly basis as a contractor. For a new Amazon seller, this can often work out better than employing someone full-time and worrying about everything else that comes with this.
Virtual assistants generally offer flexible working hours and different payment packages. Alongside this, you have the option for them to take care of any aspects of admin or customer support that you want to hire them for. This gives you a chance to have a big chunk of your business taken care of while having a watchful eye on your business.
3 – Use software to automate repetitive tasks
Many of the repetitive tasks involved with running an Amazon business can be automated using the right software.
Some of the best paid and free tools for Amazon business owners include:
JungleScout. As well as helping you find profitable products to sell, JungleScout has a great tool for review automation. This ensures your products get as much feedback as possible from users who have had a good experience. Read our full JungleScout review for more on this awesome Amazon automation software tool.
Accounting software. You can use free tools like A2X accounting software to integrate your Amazon store with your Quickbooks or Xero account.
FeedbackWhiz. Another useful tool for automating feedback, monitoring listings, and analyzing profit and accounting data.
Can You Get Rich by Selling on Amazon?
Selling on Amazon is not a get-rich-quick scheme. However, there are plenty of Amazon millionaires out there, and there are even more people who have used Amazon to start their own businesses and escape the rat race.
Starting your own Amazon business requires dedication and hard work, but the earning potential is nearly unlimited.
If you're an entrepreneur looking to get into an e Commerce business, starting an Amazon FBA business is one of the best ways to get started. Selling on the Amazon marketplace gives you access to hundreds of millions of worldwide users who already know and trust Amazon. This makes it the perfect place to launch a new product.
With more and more people opting to use online platforms like Amazon to sell their products, there is definitely something to be said for making money this way. The truth is that if you sell the right products in the right way, then you could very well get rich.
However, one thing for sure is that if you do want to give yourself the best chance of making as much money as possible with Amazon, signing away a percentage of your sales to an Amazon automation scam agency before you have even started is probably not the best way to go about things.
Want to learn step-by-step how I built my Niche Site Empire up to a full-time income?
Yes! I Love to Learn
Learn How I Built My Niche Site Empire to a Full-time Income
How to Pick the Right Keywords at the START, and avoid the losers
How to Scale and Outsource 90% of the Work, Allowing Your Empire to GROW Without You
How to Build a Site That Gets REAL TRAFFIC FROM GOOGLE (every. single. day.)
Subscribe to the Niche Pursuits Newsletter delivered with value 3X per week