A few months ago, I was looking at a trend for Niche Pursuits, and I was not happy.  The organic search traffic was trending down the last few months of 2017 and it had me a little worried.
As a result, I decided to do some research to figure out what was going on.  How could I reverse the negative trend?  How could I get more traffic from Google?
I could certainly pump out more great content and start ranking for this new content.  But it pained me to see content I had written years ago not ranking as well in Google.
So, I decided it was time to go back and freshen up some of my old content and re-publish it.  After doing some research, I discovered that other bloggers and websites have seem some pretty significant results from updating old content.
So, in early January, I went on a mission to start updating some of my content on NichePursuits.com that wasn't performing as well as it once was. 
The results astounded me.  Not just by how much some of my traffic increased, but also how quickly it increased.  I didn't have to wait weeks or months, it was almost immediate!
Want to see the steps I took to get an almost immediate boost in organic traffic from Google?  
The Results
In total, I updated 7 articles in the month of January 2018.  In order to show the results I quickly achieved, I'm sharing a screenshot from the 30 days prior to updating the content and the 30 days after updating the content.
These screenshots show organic traffic from Google ONLY.  
Article Updated: How to Effectively Use and Add Amazon Affiliate Links to Your WordPress Website
Date Updated: January 5th
Start Word Count: 1042
End Word Count: 2275
Organic traffic increase: 120.81%
Article Updated: How to Self Publish a Book on Amazon: 23 Steps to Launching a Kindle Book That Makes Over $100 a Day
Date Updated: January 10th
Start Word Count: 7452
End Word Count: 7678
Organic traffic increase: 712.20%
Article Updated: How I Went From 0 to $4,399 in Sales with an Amazon FBA Business in Just 30 Days
Date Updated: January 15th
Start Word Count: 2734
End Word Count: 5199
Organic traffic increase: 156.07%
Article Updated: How to Make Money on Amazon – Step by Step Guide to the Best 6 Ways
Date Updated: January 16th
Start Word Count: 2355
End Word Count: 4276
Organic traffic increase: 33.76%
Article Updated: 53 Ways to Make Money From Your Website
Date Updated: January 23rd
Start Word Count: 1522
End Word Count: 3458
Organic traffic increase: 87.82%
Article Updated: 22 Examples of Successful Niche Websites
Date Updated: January 26th
Start Word Count: 1432
End Word Count: 7938
Organic traffic increase: 225.86%
Article Updated: How to Apply to Google Adsense and Actually Get Approved
Date Updated: February 1st
Start Word Count: 1158
End Word Count: 2245
Organic traffic increase: 74.09% (decrease)
As you can see, every single post that I tried this process on increased in Google traffic.  Some went up just a little, but others increased an enormous amount.  The self publishing article increased by over 712%!
The best part is that you can see that the increase in traffic from Google was almost instantaneous for some of these articles.  The day after publishing the updated content, the traffic increased.
Ready to see what my process was for updating my website content?  Read on…
How to Update Your Website Content
My process for updating old content is somewhat involved.  However, as you can see, the results are well worth the effort.
Identify the Content to Update
First, I had to identify which blog posts to update.  I used 3 methods to figure out which of my hundreds of blog posts I should go back and start updating.  Google Analytics was very helpful in making some of these decisions.
Find the articles getting the most traffic in Google already.  This may sound counter intuitive, but if you have an article already performing well in Google, then you know Google "likes" it.  If you can expand the content and add additional keywords to target in the content, you can likely rank higher for your main and secondary keywords.
Find articles ranking low on the first page of Google or the second page of Google.  A small update to your content to make it a bit more in-depth may be all that is needed to increase your ranking from 10 to 5 (or higher), or from somewhere on the second page to the first page.
Find well written content that isn't targeting keywords as well as it should be.  I hate to admit that this has happened to me a few times.  I simply start writing something and the content doesn't always turn out keyword focused…even though it's great content!  A good example of this was my Amazon Affiliate links article before I updated it.  It was still a great tutorial on using Amazon affiliate links; however, the keyword targeting needed to be improved.  After my updates, I more than doubled the traffic from Google to that article (as you can see above), by focusing on specific keywords a bit better.
Document Your Starting Position
It's difficult to measure the impact of your changes if you don't document how your content is performing before you start.
I created a simple Google spreadsheet to document things like starting rank in Google, organic pageviews for the previous 30 days, current word-count, and more.
In fact, here is exactly what I had on my spreadsheet (so you can create your own if you want):
Article URL
Target Keyword
Keyword Search Volume
Start Organic Pageviews
Starting Rank
Start Muse (more on Market Muse later)
Avg Muse
Target Muse
End Muse
Date Updated
Start Word Count
Finish Word Count
# of Internal Links Added
These were my column headers, and then I filled out the data for each article in a different row.
How to Improve Your Blog Content
Now that you have your starting position documented, it's time to actually improve your content.  
Over the last few months, I've started using a tool called Market Muse that gives your content a quality score and shows you how to improve it.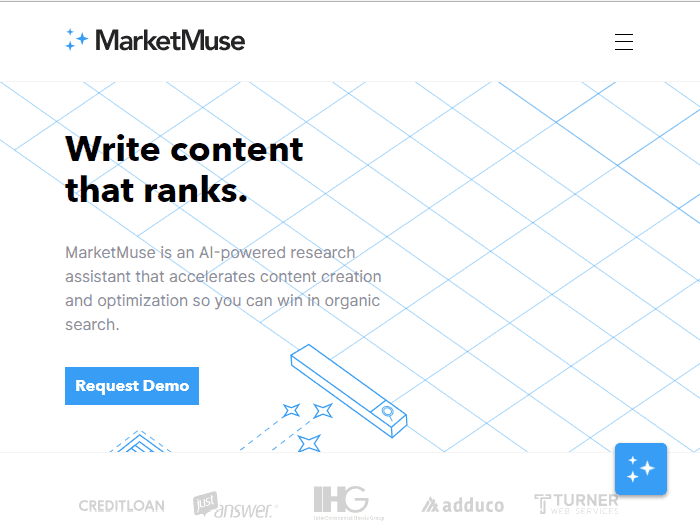 The process is pretty straight forward when using Market Muse.  You input the URL of your existing content and your target keyword phrase, and then Market Muse pulls in the content and gives you a content score based on their artificial intelligence back-end.
However, what's really great is that Market Muse takes it a step further and shows you how your content compares to the top 20 results in Google, and it gives you additional keywords you should be including in your content to improves it's value.
For example, I just ran my "How to Build a Niche Website" article through Market Muse.  (I already rank #1 in Google for "niche websites"). 
Here is what Market Muse shows me:
It shows word count, content score, and performance score.  I won't go into a full tutorial, but it's showing that my content is already much better than the competition (why I rank at the top of Google).
However, if I was looking to improve my content, it shows me what topics I should probably add.
As you can see, there are several keywords that I am not mentioning that I probably should.  This would help me improve my content score and likely improve how I rank in Google for related queries.
If you don't have a tool like Market Muse, that's okay!  You can still try to find LSI (Latent Semantic Indexing) on your own using intuition or a couple of free tools.
Find Your Own Related Keywords
You can use the Google Keyword Planner for free to help generate some additional keyword ideas.
However, you can also Google "related searches" to determine what you should likely be mentioning in your content.  These are found at the bottom of the first page of Google.  For example, here are the related search queries for "niche website":
You can also use tools like UberSuggest and AnswerThePublic for free to get additional keyword suggestions.
I would be remiss if I didn't mention Long Tail Pro.  Honestly, Long Tail Pro is how I still do my keyword research and found it very helpful in the content update process to make sure I was targeting keywords that are low competition.
Word Count
Just because your content is longer doesn't mean that it's guaranteed to rank higher.  However, there is a strong correlation between content length and ranking in Google.
Several studies have been done that show that longer articles tend to rank higher in the search engines.  The first page tends to average nearly 1900 words according to Backlinko.
Want to See My Advanced Keyword Research Strategies that Even a Beginner Can Learn?
Read my comprehensive guide on stealing keywords for competitors. I use this tool to cherry pick the keywords that I know I can rank for quickly...even if my site is newer.
Read the Strategies Here
I personally try to shoot for WAY longer articles than that.  However, the type of content I write for Niche Pursuits tends to be in a very competitive market.  For my affiliate sites, I still like to shoot for content that is 2,000 words or more, and often over 3,000 words.
You can use a free tool, like WordCounter.net to check the word count of any URL.  So, if you want to manually check your competition for free, that's one option.
However, don't just add fluff!  The idea is to TRULY make your content better by adding more depth to the subject.  Think of ways that you can include examples or come at the topic from an angle that perhaps you hadn't included the first time.
Improve Time on Page
In addition to making sure you are targeting the right keywords and improving the depth and word count of your content, you should also think of ways to keep your visitors around.
Many people believe that the longer visitors spend on your page, the higher you will rank in Google.  This is closely tied with bounce rate, which may be a better indicator of ranking.  The less people have to go back to Google after visiting your site, the higher Google will value your site.
So, here's a few quick tips to consider when you are updating your content which can improve the amount of time visitors spend reading your content.
Add images.  As you can see in this article you are reading, I've added several screenshots and images that make the content more interesting.  This makes people stick around.
Add videos.  Even if you don't have an original video, you can insert a YouTube video on a related subject.  Speaking of which, I'll add a related video now below just so you can see an example.
Add podcasts.  I'll give a hat tip to Deacon Hayes of the WellKeptWallet.com for this tip.  At a recent conference he shared that embedding his podcast episodes on related content (don't embed something unrelated) has really improved time on site and his rankings in Google.  This reminds me that I need to start doing that…
Here's a video that covers a few more tips about improving the time on site of your visitors:
Add Internal Links
After I've gone through and improved the content based on the strategy I just listed above, my next step is add internal links.
I go through my site and find content related to the updated article and link TO the related article.  Google values internal links and these links do improve rankings.
For the articles that I updated on Niche Pursuits, I added about 10 new links to the updated content.  These were all internal links, so I didn't have to go and do a bunch of outreach or anything like that to get the links.
I think this is something that people don't do enough.  You should be linking to your own content from other pages on your own site more often if you are like the average website owner.
Change the Publish Date to Today
The final step is to change the publish date to today.  Rather than just hit "Update" in WordPress, go in and actually change the publish date to today so Google knows it's fresh content.
Here's how to change the publish date in WordPress:
Once that is complete, I then simply monitor the traffic and rankings over the coming days and weeks!
5 Reasons Why Updating Content Works
As you can imagine, I've been very pleased with the results I've seen as I've updated my content.  Now, I just need to buckle down since I have many dozens of articles that need to be updated.
Overall, I can think of 5 reasons why this process works so well.
Adding depth to content SHOULD be what ranks better in the first place.  If you are giving people what they really want (better content) Google is smart enough to rank that content higher.
Improving time on site and reducing bounce rate.  These are strong signals to Google that you are doing something right.
Better keyword targeting.  If you didn't probably target keywords your first time around, an update can really improve what Google is ranking your content for.
More links.  By adding additional internal links, this is boosts the authority of that particular page.  Yes, even if those links are coming from the same site.
Fresh Publish Date.  Google tends to give a boost to newer content.  So, by updating the publish date when you've actually updated your content can help improve your rankings.
If I haven't convinced you by now that you should do a content audit and update your old articles, maybe this article will help.
Time to Implement on Your Own
If you are ready to implement this process on your own blog, you can follow the quick steps that I've shared below.
Find the right content to update
Document your starting position
Improve the quality and length of your content
Update the publish date to today
Add more internal links
Overall, I hope you see some of the same success that I've seen recently.
If you have any questions or additional thoughts to share, please leave a comment below.
---