Make Money in Spare Time With These 26 EASY Ways!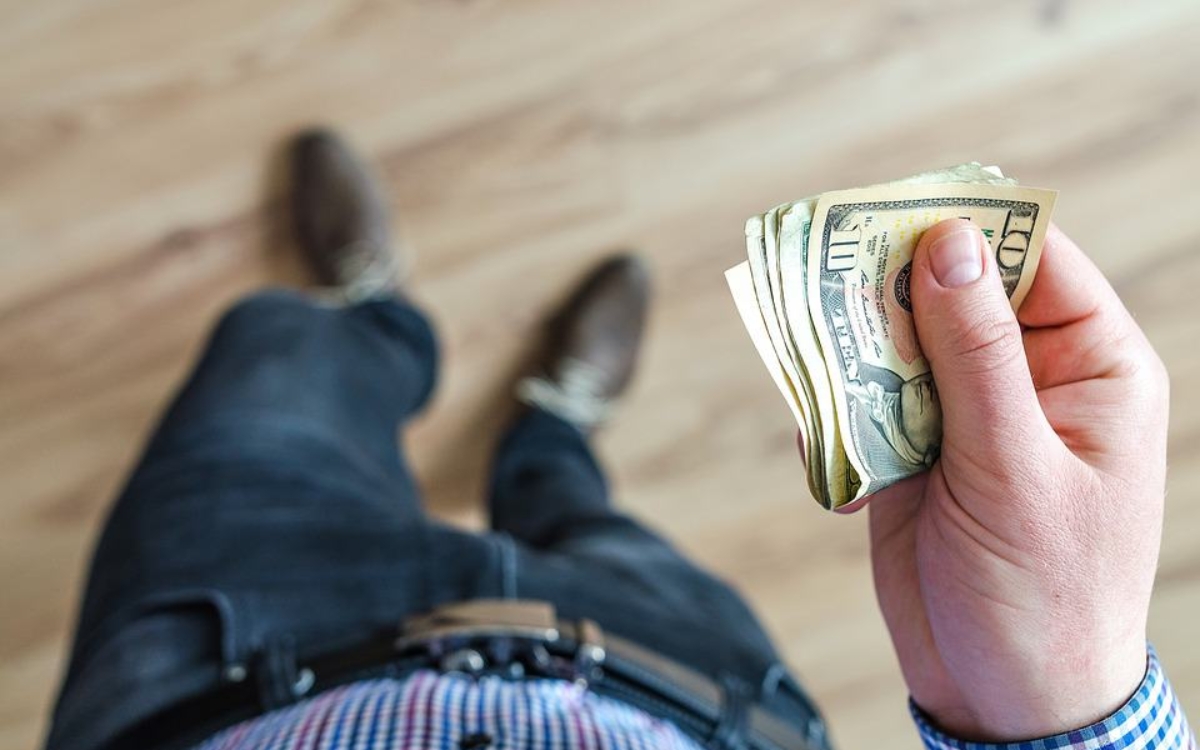 When you buy something through one of the links on our site, we may earn an affiliate commission.
If you're wondering how to make money in your spare time, then you've found the perfect corner of the internet!
Whether you're a college student, a stay-at-home mom, or a nine-to-fiver, the chances are good that two things are true:
You don't have a lot of spare time
You're looking for ways to make extra money online or offline with whatever free time you have
The good news is that you don't need a lot of spare time if you want to earn some extra cash. You can keep your full-time job. Just a little bit of time here and there will suffice.
In some cases, you might even be able to earn an income while you sleep! Or maybe you can make enough to pad your savings account.
Either way, check out this list of 26 creative ways to make extra money online (and offline) between your day job, full-time college, or taking care of your family.
In a hurry?
Then you'll want to check out Swagbucks. It lets you earn cash back and gift cards for simple things you probably already do in your spare time like shop online, surf the web, or even play video games.
Sign up for SwagBucks quick and easy
How to Make Money in Your Spare Time (Quickly!)
If you're busy from morning until night, you may believe that this list of ways to make money in your spare time won't work for you.
But, there are countless ways even the busiest person on Earth can make quick money in their limited spare time.
Whether you're a busy college student or someone who already has a second job, I have good news for you: there is always a way to make extra money that fits your lifestyle.
In fact, some of these ways to make money in your spare time literally only take two minutes each day.
If you can devote 10 or 15 minutes per day (maybe during your lunch hour or right before bed), you can make money in your spare time.
Keep reading to find the perfect option for you!
Complete Online Surveys
You've seen the ads: Spend a few minutes taking surveys each day, and before you know it, you'll have made a full-time income.
Let's be realistic: It doesn't work that way.
You're not going to make bank doing surveys. But they can go on your list of ways to make extra money online in your spare time.
How does it work?
Sign up to online survey sites. Then...
The company sends you links to surveys. And many times, you'll need to answer a few questions first to see if you're qualified to take the actual survey.
Try SwagBucks Surveys Here
This is because they might be looking for a specific demographic (i.e., men between 30 and 50 who work in the insurance industry).
Depending on the company, you'll get paid right away or on a specific date each month. In general, survey sites usually payout between $0.50 and $5 per survey.
Some surveys pay via gift cards to places like Amazon or other online retailers. And others will send you products that you'll be able to keep.
Occasionally, you might qualify to take one that pays out $25 or more, but this is uncommon.
Some survey sites to check out are:
Toluna

Springboard Panel

MyPoints

Ipsos
If you spend a few minutes each day seeing what surveys are available and you qualify to take one or two per week, it might cover the cost of your Netflix subscription.
Or maybe you'll be able to make nearly $250 in one month like this survey junkie did.
You're not going to get rich taking online surveys, but you can add a few dollars to your monthly income with minimal time invested simply by signing up for Survey Junkie.
Sign up for Survey Junkie for Free Today
Swagbucks
Swagbucks is an app that allows you to earn extra cash and gift cards as you do things like watch videos, take short surveys, and surf the Web.
You earn Swagbucks, which can be turned in for gift cards to places like Amazon, Target, and eBay. You can also choose to cash out via PayPal.
Try SwagBucks Here
Swagbucks is not something that will make you rich by watching a few five-minute videos each day, but over time, the rewards can add up and help you achieve your personal finance goals.
If you're going to be looking at websites anyway, you might as well make easy money online at the same time by signing up for this free service.
Mechanical Turk
If you're looking for ways to make extra money online in just a few minutes per day, Mechanical Turk (MTurk for short) is worth checking out.
The idea is that companies can hire people to complete tasks, called Human Intelligence Tasks (or HITs), that a computer can't do as effectively as a human.
The odd jobs you might do on MTurk are simple; they're just not done as well by a computer.
For example, you might tag particular objects in an image or choose the best image to represent a product. Since they're simple, they don't pay much per task.
You'll be looking at around 10 cents per image description.
However, if you can spend 30 minutes per day doing these tasks, you could potentially make $100 extra cash over a month or so.
Credit Card Rewards
Do you shop with credit cards? Do you have a good credit score?
If you do, you're probably familiar with credit card rewards.
Many online retailers (and brick-and-mortar stores) offer a sign-up bonus for new cardholders. For example, they may offer 15% off your purchase for signing up for a card.
Amazon sometimes offers $40 or more toward your purchase if you get approved for an Amazon credit card.
Likewise, some hotel brands might offer you three nights of accommodation if you spend $1,000 in the first 90 days after receiving your card.
Using credit cards responsibly is the key to making this work for you. If you make a purchase and then cannot pay the minimum payment or, worse, miss a payment, the interest and late fees will quickly eat up any rewards you've earned!
However, if you're generally responsible with credit cards, this can be an excellent way to earn extra cash without spending much spare time.
Play Video Games
You're not going to make anywhere close to a full-time living by playing video games (unless you become a professional gamer).
But if you love playing video games after a long day at work, you might as well earn a little extra cash doing it, right?
Here are a few sites that will pay you to play:
Get Paid To Read Emails
Yes, you really can get paid to read emails. Companies called Get Paid To (GPT) sites will pay people to open emails and click the links within them.
Here's how it works:
These companies get a commission for each new visitor they send to their advertising partners.
So, when you click the links within the company's emails, they get a kickback. And that's how they can afford to pay you.
Just be aware that there are companies who act as GPT sites but are, in actuality, trying to scam you.
So to help you avoid the scams, here are a few legit GPT sites that will pay you to read emails:
Earn Rewards From Your Groceries
There's a new way to do couponing: earn cashback after buying groceries.
There are completely free apps to use that will reward you for grocery shopping!
How does this work?
These apps partner with brands and stores, offer special deals and incentivize people to shop for those brands and at those stores.
One of the best apps for grocery rewards is Fetch Rewards.
You simply upload a picture of your receipt, and the app reads the items you've bought and gives you a certain number of points based on your receipt.
Then you can exchange those points for gift cards or cash them out.
The entire process only takes 10 seconds!
Side note: you can also create a nice lil business if you want to get paid to deliver groceries for people in your area.
Make Extra Money With 1-2 Hours of Spare Time 
Do you only have an extra couple of hours each week where you can sit down and complete a task?
No problem!
There are many ways to make extra money in just an hour or two of dedicated time. Check out this list of ideas.
Join a Focus Group
A focus group is when a company or organization asks people to come together to discuss a product, a piece of music, a television show, a political campaign, etc (check out the best paid focus groups here).
Sometimes, companies ask people with something in common to join the group. For example, they might pick random individuals who have all listened to a timeshare presentation in the past 30 days.
A focus group typically meets for a couple of hours, and the compensation for a meeting might be cash or a gift card. You might make $50 to $100 or more per hour.
Here are some sites where you'll have the chance to be chosen for a focus group:
Write Social Media Posts
Are you a social media master?
If you know your way around Facebook (or even Facebook marketplace), Twitter, Instagram, Pinterest, YouTube, Reddit, and other popular social media and social blogging sites, you may be surprised to learn that companies are willing to pay you for your expertise.
You'll need to know which types of people use different social media sites. You'll also have to understand who your client's target audience is.
Then it's just a matter of using a site like Buffer to schedule posts on the appropriate online platforms throughout the week or month.
Spend an hour or two going through and responding to comments on behalf of your customer, and you will have built yourself a social media marketing business.
How can you find clients?
Think about the businesses you buy from regularly and look them up on social media. If they're not up-keeping their sites or don't understand the nuances of hashtags or how to diversify content, email them with a proposal.
Once you have clients, you can offer incentives for referrals.
For example, give your client a month's worth of social media posts for free if they refer someone who signs up for a six-month contract. For these types of gigs, word-of-mouth advertising can be your best friend.
Be a Mystery Shopper
Mystery shopping, sometimes called secret shopping, is when a hired individual goes into a store, restaurant, or another place of business to pose as a customer.
The mystery shopper makes a purchase, taking note of the customer service received, the quality of the item or service, and other factors.
They might need to do something specific, like check the cleanliness of the bathroom or make a return. Once the job is done, they get paid.
If you like shopping, this might sound like a dream job. It doesn't pay a lot; expect to earn about $10 or $15 per shop.
However, you will be reimbursed for your meal if it's a restaurant or the merchandise you were asked to purchase if it's a retail store. You might even get a free hotel stay!
Volition.com is a good place to start if you want to become a mystery shopper. They have lists of reputable companies to sign up with.
If you look at other companies, be sure to avoid those that send cold emails or that charge for a list of shopping tasks. Both of these are signs of a scam.
Take Stock Photos
Do you enjoy taking photographs? Even more importantly, are you good at it?
If your idea of a nice weekend afternoon is to spend a few hours snapping photos of landscapes, people, pets, or anything else, you might be able to turn it into an opportunity for making money online.
Websites like Getty Images or Shutterstock list photos from freelance photographers on their sites.
When individuals, marketing agencies, or small businesses want to use the photos on their websites or their brochures, they pay a fee. As the photographer, you get part of that fee.
A photo that you take in January might be purchased for use in February, twice in April, twice in August, and four times in December. So over the course of the year, that one photo might be used nine times.
Of course, you could sell the photo dozens (or even hundreds) of times or not at all. Putting up more photos will raise your odds of making extra cash.
You can check out this guide about selling pictures online where we discuss the companies worth submitting to, along with how much they pay and how likely you are to have your work accepted.
Create and Sell Some Crafts
If you like to spend time on the weekends sewing, woodworking, painting, soap making, or creating just about anything, consider making a business out of it.
You could craft all year and sell your wares at holiday bazaars. Or you could list them on a site like Etsy or even Facebook marketplace to make sales all year long.
Think about choosing a niche. What can you specialize in that isn't already overrun on the market? What problem could you solve?
Consider these possibilities:
Christmas ornaments, wreaths, or decorations
Wreaths for any time of the year (think flowers for spring and colorful foliage for fall)
Quilts (to be used as blankets, tablecloths, place mats, etc.)
Crocheted items, such as scarves or dishcloths (check out our post on crochet business name ideas)
Knitted items like hats, socks, or sweaters
Embroidered pillows or napkins
Handmade dolls
Framed, drawn pictures of people, places, or things
Decorated baskets or bins for home organization
Wooden items like napkin holders, trays, or wall plaques (buy these already made and paint them to decorate, if you like)
Flower arrangements using real or silk flowers
Courtney Orillian, the founder of Confetti Momma, noticed the desire in others to have party supplies that rivaled those found on sites like Pinterest.
So she and her husband created an Etsy store to provide handmade party supplies to people who don't have the time, energy, or talent to make them themselves.
Is there a need that you can meet with whatever crafts you enjoy doing?
Think about how you could devote a couple of hours each week toward fleshing it out into a small business as one of the ways to make extra money online.
Knock Out Some Tasks on Fiverr
Sign up for an account on Fiverr.com and look through the listings to see what types of tasks clients are looking for.
Fiverr started as a freelancing website where clients could hire freelancers to complete a job for $5, hence the name "Fiverr." Now, you can make much more than $5 completing a job on Fiverr, but let's assume you start with charging $5 for a job.
Many of the tasks listed could be done in 15 minutes or less, which would allow you to earn a cool $20 in the span of an hour.
What types of jobs are featured on Fiverr? You can be creative, but some of the popular categories include:
Digital marketing
Graphics and design
Freelance writing
Video and animation
Virtual assistant
You could give online lessons or do an astrology reading. You can even give tips on succeeding at your favorite video game. If someone will pay $5, you're golden!
Here are a few ideas that you could use to make five dollars at a time:
Come up with five ideas for blog posts. Don't actually write the blog posts for $5; just give the client a list of titles or topic ideas.
Write three to five social media posts. If you enjoy posting on Facebook, Twitter, or Instagram, you could probably knock this out in five minutes.
Write a haiku, limerick, or some other verse for a greeting card. You could offer verses that would be good for a birthday card, a love letter, or a funny "thinking of you" card.
Take a photo of you holding a sign next to a local landmark. This is particularly good if you live near a tourist attraction.
Make a list of restaurants or attractions in your local area for people who are visiting your city or town. You could write up a comprehensive piece and just sell the same piece over and over again.
How to Make Money in Several Hours of Spare Time
If you have enough time to consider getting a part-time job, you might instead look for ways to make extra money without having to answer to someone else.
Here are some ways to make extra money while freelancing or otherwise being your own boss.
Mow Lawns or Do Handy Work
Selling your labor on the weekends or after work is a great way to make extra money in your spare time.
If you have lawn equipment or a toolbox, consider offering up these services.
Depending on where you live, you might be able to charge $20 to $30 per hour, or even more!
What can you do? Check out some of these ideas:
Mow, trim, and blow lawns. Make sure you square up the edges and don't leave clippings in the driveway because those extra touches can boost your reputation.
Repair fences.
Weed gardens.
Pressure wash driveways or houses.
Tighten doorknobs, replace loose flush handles on toilets, or change lightbulbs that require a ladder to reach them.
Hang pictures on walls.
Replace central air conditioning vents.
Vacuum out dryer exhaust fans.
Install shelving or put in a closet organizer that has been purchased in advance.
Paint rooms.
Think of all of the things you have done in your own home that might be cumbersome or downright impossible for someone who has no tools or no experience.
Market yourself on Facebook or Craigslist, or simply spread the word among your contacts.
If you have a wide range of skills, you can probably rack up a nice little side business relatively quickly.
Dave Ramsey told a story on his YouTube show about a Florida man who built up a $2 million net worth by mowing lawns. Even if you're not able to rack up enough business to turn your side gig into a full-time job (check out out list of the best gig jobs), you can still make a pretty good income.
Clean Homes
Cleaning houses is another good way to earn money in your spare time.
Busy people will pay someone else to come in and spend time scrubbing bathrooms, mopping floors, washing walls, and knocking down cobwebs.
If you don't mind cleaning your own home and would like to get paid to clean others, try to spread the word via your contacts.
You can charge by the hour or by the size (and, let's be honest, the cleanliness) of the home.
There are pros and cons to both business models:
Consider that if you charge by the hour, you could be penalizing yourself for being a fast worker. If you're not a fast worker, your client might suspect that you are padding your time.
But charging by the project, maybe selling yourself short…or you might end up doing better than you thought you would.
Don't worry too much about the first few jobs; use them to gauge how long it takes you to complete a home. Then you'll be able to charge more effectively next time.
Depending on your location and the economic level of your area, you can probably charge between $25 – $100 per hour. If the home is particularly large, it's possible to make over $1000 in one day.
Drive for Uber or Lyft
Uber and Lyft have taken over the ride-sharing industry.
If you have a late-model car, you can cash in on these opportunities for making money. Basically, you sign up and make yourself available whenever you want to try to pick up people needing rides.
Some estimates say that drivers make about $15 per hour if they're reasonably busy.
You can make extra income by choosing to work on the weekends or during special events in your area. If you are willing to drive to the nearest airport, that's another good way to keep yourself busy during your "on" times.
One good tip for minimizing competition is to park a block or two away from special events, preferably close to bars and restaurants where people might head after the event is over.
Remember that it's not just the base fare that will make you money with Uber and Lyft. You can earn tips, too.
Some ways to increase your odds of getting a tip include:
Keeping phone chargers in the car
Offering your clients bottled water/snacks
Opening the back doors or trunk for them
Sell Produce at the Farmer's Market
If you have a green thumb, putting in extra rows of zucchini, tomatoes, or corn could help you earn additional money.
Purchase a spot at your local farmer's market and sell your produce. You'll be earning extra cash while helping others in your community eat fresh, local food.
While you're at the market, you can provide advice on growing whatever you're selling. This will position you as someone approachable in the area, and you might be able to bring in more business via word-of-mouth.
You'll already be at the market anyway, so it won't take up any extra time, and you might be able to upsell your goods!
You don't have to limit yourself to just produce at the market. You might fit right in if you make soap (check out these soap business name ideas), dip candles, bake bread, raise bees for honey, or design jewelry.
Just find out what types of vendors there are ahead of time and whether you need a license in your area to sell food.
Become a Virtual Assistant
If you're looking for a work-at-home job, becoming a virtual assistant should be on your list of ways to earn money in your spare time.
You could do VA work just a few hours per week or turn it into a full-time job. A virtual assistant does what any other assistant does, but they do it online.
You might be the assistant to someone in California, Ohio, Bangkok, London, or anywhere else!
Some of the tasks that virtual assistants take on include:
Email management
Arranging travel
Graphic design
Ghostwriting
Editing
Bookkeeping
Data entry
Social media management
When you first start out, you will likely need to hustle and go out of your way to promote yourself.
As time goes on, however, you can build up a steady client base.
At that point, you could decide to take your gig full time. It's up to you!
Virtual assistants can set their own hourly fees, so you'll need to experiment to see what works for you and for your clients.
Starting off, be prepared to make $10 or $15 per hour. After you begin to learn the ropes and offer more services to your clients, you can charge $50 to $100 per hour or even more.
Become a Pet Sitter
Do you have pets of your own, or do you love animals?
If so, then pet sitting or even dog walking might be the perfect part-time job for you.
You can watch the animals at your own home or arrange to go to your clients' homes to feed, water, walk, and clean up after their furry family members while the rest of the household is traveling.
Signing up with a site like Rover.com will allow potential dog walking and pet sitting clients to find you. To boost your chances of getting a job, add photos and if you've sat for pets before, ask their owners to leave a testimonial.
Pet-sitters can charge per night for overnight accommodation or per visit if you're stopping by your clients' homes.
Particularly if you have your own pets and you host four-legged visitors at your home, caring for other people's animals won't add much time or effort to your day, since you'll be feeding, watering, petting, and walking your own pets anyway!
Either way, it can be pretty good money.
How To Make Extra Income While You Sleep
One of the best ways to earn extra money is to do it while you sleep.
This is called passive income, but the term is a bit of a misnomer.
While you can get to the point of pulling in a good income while you are out jogging, on a plane to Rome, or enjoying drinks with an old friend, you do have to put in a good bit of legwork first.
Check out these ways to earn extra money by investing some time now that could result in a steady stream of income later.
Write an Ebook
One of the ways to earn extra money that trickles in while you're off doing something else is to write an ebook.
Even better, write a number of ebooks!
The more you have published, the more passive income you can potentially earn.
The way it works is that you will upload your finished book to online platforms like Kindle Publishing or Apple iPublishing.
You'll get a percentage of each sale (70 percent for Apple and 35 to 70 percent for Kindle, depending on the list price).
In theory, you could write a book (or several books) and collect royalties on it each month. And in reality, you'll probably need to spend some time marketing your ebook, at least until you have a lot of good reviews.
Some marketing techniques are passive (like Facebook ads), while others require more work (like keeping up a blog). Check out these tips on ways to make extra money writing ebooks.
Rent Out a Room in Your Home
Whether you own or rent your home, if you have an extra bedroom, you could monetize it.
While it's not passive income in the traditional sense, you are paying for the space anyway, so you might as well make money on it by renting it out.
There are a couple of ways you can do this:
Rent the room on a monthly basis and include kitchen privileges. This creates little extra work for you: you do your thing, your tenant does their thing, and you collect the rent each month.
List your room on a site like Airbnb. If you're just renting out the room, you will have visitors while you are home in most cases.
Most hosts provide coffee and, in some cases, breakfast items. You'll need to provide towels, clean linens, and other niceties. You'll also have a steady stream of different people staying in your home (if you're lucky).
If you travel frequently or have another place that you call home, you could rent out the entire house for weekends or a week.
This will add to your workload, as you'll need to arrange for cleaning after each guest leaves, but it will also add to your income.
Renters will need to ask their landlords for permission to sublet part of the home, and if you own your home, you might need to check with your local zoning board to find out if it's permissible to list it with a site like Airbnb.
Invest in Real Estate
If you have a nest egg set aside, you could use it to make a little extra money by investing in real estate.
It's also possible to use a loan to invest in the real estate market, but it's riskier and harder to make a lot of money.
Depending on how much money you have available, you might choose to focus on residential or commercial real estate investing.
With residential investing, you can make money in a few different ways.
One is by purchasing a property at a low price and either rehabbing the home or waiting for the market to go up, then flipping it.
Another is by becoming a landlord and renting out the property. You could do this with a single-family home, a multi-family home, or a larger complex, such as one with condominiums or apartments.
Commercial properties are another source of income. You might purchase a building and rent out space to business owners. Or you might buy, for example, a restaurant or a hotel and collect payments from the business profits.
There are many ways to make extra money by investing in the real estate market, but it's not something you should do without the advice of a professional.
Create a YouTube Channel
There are people who film their daily lives and get paid to do it.
How? They upload their material to YouTube and they get paid based on the number of views the video receives.
As traffic grows, advertisers are willing to pay more for their ads and the potential for income continues to grow.
It's largely a matter of luck when it comes to who makes money on their YouTube channel and who doesn't.
The content matters, but all sorts of channels can be lucrative.
For example, some popular channels focus on video games, makeup tutorials, housecleaning, DIY projects, product reviews and dog training.
There are some tips that can help you make the most of your channel as you look for ways to earn extra income with YouTube:
Upload videos frequently. The more material you have up, the more views you're likely to get. As people watch one video and they like it, they are likely to check out your other videos.
Be professional. While quantity is important, quality is just as vital, if not more so. Learn how to use video editing software; don't just slap up whatever you record with your iPhone. People will lose interest and look for something more polished.
Develop your brand. Make a logo and have a theme. Even if you are uploading vlogs of your everyday life, have some type of a focus (see blog vs vlog) . Consider starting a blog and social media accounts that go along with your channel.
Now, you might be thinking, "this does not sound like passive income!"
Right, having a YouTube channel is work. However, you'll be making royalties off of your older videos as you upload new ones, so the income you're making is actually passive.
If you have a successful channel, you could end up bringing in a nice income, so it might be worth the investment.
Plus, you can implement affiliate marketing. Partner with a company you're passionate about, drop your affiliate link in the description of each video, and earn money!
Check out this blog on affiliate marketing for beginners.
Create an Online Course
Another way to earn money by using videos is to create an online course.
Think about what you're good at and what you can teach others. Make a video or audio course that lays out your topic step-by-step.
Once the work is done, you can upload it on a site like Udemy. People will go to the site looking for courses to take and some might sign up for yours.
While you sleep, play with your children, walk your dog, wash your dishes, or work at your day job, you could be raking in extra money as users take your class.
How much can you make?
Rob Cubbon says that he makes $5,000 in passive income per month with his online courses. Watch his slideshow about how he creates, markets, and makes money from his courses. You'll even see tips on how creating free courses can end up helping you make extra money.
Buy a Laundromat
One of the ways to passively earn extra money that many people don't think about is to buy a laundromat.
Now, you're going to need some capital to put down to buy the business in the first place.
But once you get it up and running, you can make a pretty penny without being there.
There are some hefty expenses that go along with buying a laundromat, so it's important that you know what you're getting into.
In addition to repairs for expensive machinery, you're going to have high electric and water bills. You'll also want to hire attendants and maybe people to do the dry cleaning or to run a wash-and-fold service.
We actually made a complete guide for how to start a laundromat that you may want to check out.
Start a Vending Machine Business
When you go to get your tires replaced and you get hungry or thirsty, there's usually a handy vending machine in the waiting area.
You might also see vending machines in hotels, apartment complexes, schools, and even in your office building.
What you might not realize is that these machines are not owned and stocked by the owners of the companies. Instead, a vendor sets up the machine, maintains it, and keeps it full of good things to eat and drink.
If you started a vending machine business, you'd be making an income while you're off doing other things.
You'd just need to fill the machine every week (or whatever frequency is needed) and rake in the profits.
Don't think you'd be limited to Fritos, Oreos, and Coca-Cola products, either. There are vending machines for just about everything.
Some of the more unique vending machines carry the morning-after pill, medical marijuana, raw milk, mashed potatoes, hair extensions, and shoes.
It might seem intimidating to become a business owner. But you can learn how to start a vending machine business by reading this guide on the topic.
What's The Best Way For YOU To Make Money in Your Spare Time?
All of these options for making money in your spare time are for everyone.
It's best to choose a side hustle that you would enjoy. That way, spending that spare time will genuinely add value to your life (other than monetary value!)
What are some ways to earn extra money that have worked for you?
Share your money-making idea in the comments below. We'd love to hear from you!
Want to learn step-by-step how I built my Niche Site Empire up to a full-time income?
Yes! I Love to Learn
Learn How I Built My Niche Site Empire to a Full-time Income
How to Pick the Right Keywords at the START, and avoid the losers
How to Scale and Outsource 90% of the Work, Allowing Your Empire to GROW Without You
How to Build a Site That Gets REAL TRAFFIC FROM GOOGLE (every. single. day.)
Subscribe to the Niche Pursuits Newsletter delivered with value 3X per week