The HOTH Review: How This SEO Agency Stacks Up
When you buy something through one of the links on our site, we may earn an affiliate commission.
It has a cutesy-sounding name, but the logo makes it immediately clear: The HOTH is not playing around!
If you're like me and have found yourself wondering what the heck a HOTH is (surely they're not referring to the ice planet in The Empire Strikes Back, right?), then I'm happy to share what the acronym actually stands for: "Hittem Over The Head."
It's not the most subtle brand name, but it DOES paint a clear picture of a marketing service that gets results!
So, what is the HOTH, and why did I go to all the trouble to write this HOTH review?
In a nutshell, the HOTH is an SEO agency with expertise in a range of content marketing services, though they originated as a link building company. The HOTH is really targeting two fairly different audiences at once:
SEO agencies who want to resell the HOTH's SEO services to their own clients.
Businesses who directly purchase the HOTH's SEO services for themselves.
If you've followed Niche Pursuits for a while, you may recognize the HOTH as one of the link building services we used in Niche Site Project 4. It's also a featured link building service on Niche Pursuit's "Business Tools" page, so you know this is going to be good!
Ready to find out more about the HOTH? Let's hit it…
Click here to give the HOTH a try!
---
The Hoth Review
Ease of Use -

90

Product Quality -

92

Customer Service -

95

Price -

85
Summary
The HOTH is in a very crowded industry, but has proven itself to be one of the good ones in SEO. In fact, the HOTH white labels its services for other SEO agencies, a big sign of its expertise in this space. At Niche Pursuits, we had a good experience when we purchased the HOTH's guest post service for Niche Site Project 4. Thanks to more than a dozen quality SEO and content marketing products, the HOTH has plenty of custom options that it can tailor to your specific SEO needs. Try the HOTH today!
Pros
It's earned a great reputation for quality SEO and content marketing services
It has SEO services for everything you can imagine, from link building to guest posting to on-page optimization
Its customer service is responsive and helpful
It includes a nice selection of free SEO tools
It offers customized strategic campaigns for every product
From what we've seen, the HOTH actually gets legit results
Cons
The HOTH's products are NOT cheap
High quality content costs extra, which is a bummer
Customer service may be less responsive than it used to be
They like to use the word "HOTH" a LOT…
What Does the HOTH Do?
First of all, you should know that this company treats the word "HOTH" as a noun (ie, their brand) and also a verb.
I'll try to refrain from telling you to "start HOTHing," but if you decide to work with the HOTH, you're bound to hear this expression at some point. Oh well… HOTH happens, I guess!
Now, why should you think about going with The HOTH for your marketing projects?
Well, the HOTH is an SEO and content marketing company that does pretty much everything under that umbrella.
I'll get into each of the main service packages in a bit, but here's a notable point: The HOTH bills itself as a white label SEO company. This means you can freelance or own your own agency and pass along SEO work from your clients to the HOTH – they'll complete it at a wholesale price, allowing you to mark it up and "resell" it to your own SEO or content marketing clients for mad profits!
I'm not sure how many of us are looking to grow our own SEO agencies, but it's definitely worth knowing that this is an option – and I think it speaks to the HOTH's authority in the SEO space that its agency and tools are good enough to support countless other marketing agencies, don't you?
Another key point about the HOTH is it actually tries to take on a lot of the tedious, but necessary SEO work, like claiming business citations in directories or conducting outreach for link building. This leaves you to focus on the strategy for your SEO and marketing.
Now, like I mentioned before, the HOTH offers a TON of different options for improving your SEO and boosting your website's organic traffic. At a high level, the services fall into these broad categories:
Managed SEO
Link building
Content creation
Paid traffic
Reputation management
Then, under these categories, the HOTH offers a huge selection of products (or more technically, productized services). I've picked out some of the most important ones to delve into later in the HOTH review.
But first, let's talk about what it's like to work with this company.
Getting Started with the HOTH
From the home page, you can sign up for free and get access to your own customer portal, which lists the available products.
From this portal, you can place an order, check out products, see your existing orders, reach out to an SEO expert, or learn more with The HOTH's blog or knowledge base.
The customer service at The HOTH is quite good, though there have been reports of response times slipping in the past few years. The company has been growing a lot, which can be a double-edged sword regarding the personalized attention each customer gets.
If you're considering trying one of the HOTH's offerings, you can learn more about each HOTH product with a tour or just place your order. This is a sampling of the products you'll see.
Click here to give The Hoth a try!
Our Experience Working With the HOTH
Now, a Niche Pursuits review of the HOTH wouldn't be complete without us talking about our own experience.
As you might remember, Spencer created Niche Site Project 4, a website called OwnTheYard.com.
One way Spencer chose to grow this site was through the HOTH's guest posting services. He got about 10 links through the HOTH, which conducted the outreach and placement for him.
The delivery of these dofollow links was a bit slow, but all of the links Spencer ordered were legit from quality outreach work and real guest posts.
If you're accustomed to getting "results" from other SEO companies quickly, this might require some mental adjusting – but Spencer was happy with the results from the HOTH once they did come in.
Check out the results Spencer got from the guest post package he ordered on The Hoth:
All 5 keywords targeted had ranking increases…and some of them were quite significant!
Our team hasn't used ALL of the HOTH's services, so there could be a difference between guest posting and some other options.
Try out The Hoth guest posting service.
A Deep Dive Into the HOTH's Services
Hoth Foundations
Previously known as "The HOTH Link Building," this service offers the building blocks to any SEO effort. You might even say it's "foundational."
HOTH Foundations is built to provide your business with in-content, contextual links that build authority for your website.
It's a pretty simple process:
Tell The HOTH which URLs and anchor text you want links for.
The HOTH's team will create original content and build links for your website.
You'll get a detailed report showing the quality links you received.
The HOTH has an ace in the hole that some link building agencies do not – namely, the team creates its own high-authority properties on other popular blogging platforms, and provides links to your content straight from them.
Another facet of HOTH Foundations is the creation of original content, either from the Standard Content Team or Premium English Team. Obviously, better content is better, but for the purposes of link building, it's not as important as the content quality on your own blog.
HOTH Foundations is also available in bulk.
HOTH Local
If you own a business with a physical location, then local SEO is a must.
But, if you'll pardon my French… it kinda sucks!
Unlike content creation or even outreach, local SEO isn't particularly challenging or engaging – it's just a tedious process of claiming NAP citations and trying to secure links from top directories.
There are lots of possible citations out there, but they aren't created equal. Fortunately, the HOTH is there to perform a full local SEO audit. This includes an analysis of the competition in your area, creating a list of the most important citations, and then hand-registering each one for you while ensuring there aren't any errors.
The HOTH takes it further with rich media: whiteboard style videos and branded photos. It also offers social citations with authoritative social platforms.
If you have a physical address and need to rank for a specific location, the HOTH is a fantastic resource. In fact, this is one of the areas where they have the most experience.
HOTH Guest Post (HOTH GP)
The HOTH's guest post service is a cool one!
The HOTH has cultivated relationships with real blogs and sites in different niches, so unlike other link-building services that rely on their own private blog networks (which are a no-no!), the HOTH scores you truly "white hat" guest posts and links.
Now, this doesn't guarantee you'll get a lot of organic traffic from the posts, but it DOES help you get links from sites with a high domain authority that could really move the needle on your site's authority as well.
If you have to pick one, I'd say the link juice is probably more valuable in the long run than the organic traffic – but the HOTH lets you pick which one you prefer.
The process of working with HOTH Guest Post goes like this:
Provide the URL and anchor text you want.
The HOTH will do manual outreach and get you a guest post on a high quality site with a link back to your site.
You'll get a white label report for your posts and links.
Unlike many of the other services offered by the HOTH, guest posting is a little more complex with its pricing. It has you choose between either Domain Authority or Publisher Traffic, and depending on your preference, it then asks you to choose the DA strength (10+ DA to 50+ DA) or publisher traffic totals (from 1,000 to 25,000 per month).
It also asks for a word count per post and how many posts you want, from 1 to 100.
This is the service Spencer used for Niche Site Project 4 – and it did take some time before he saw the deliverables, but they were good results in the end, which is what counts.
The last thing you want is to accidentally run afoul of Google's rules and suffer the wrath of a capricious Google algorithm.
HOTH Blogger and HOTH Blogger Pro
The HOTH's content creation service is called HOTH Blogger, and it's in direct competition with solid offerings like Content Refined and other content writing services.
This is a smart way to outsource the content creation for your blog, eliminating the need to come up with ideas, hire freelancer writers, or go through the editing process on your own.
HOTH Blogger is one option, but there's also HOTH Blogger Pro, which kicks the quality up a notch by finding writers who are experienced in your specific niche. This was a concern I mentioned in my review of Content Refined – as helpful as it is to outsource content creation, you really do need writers with experience.
I feel that the effectiveness of content is actually pretty binary – either it's useful and authoritative enough to rank, or it falls short and provides very little value. Without the RIGHT level of research and attention to detail, a content piece just won't provide that long-term value, so it's nice that Blogger Pro actually matches you and your niche to published writers in your space.
In terms of using the HOTH's Blogger service, it's a simple process:
Sign up for either Blogger or Blogger Pro and tell the HOTH what overall topics you're looking for.
The HOTH will do some research and pitch some ideas for your approval. Once approved, the HOTH will use vetted writers to do the work.
The articles will be delivered to a content approval portal for you to request changes or approve – or if you prefer not to be involved in approval, finished posts can be posted directly to your blog.
Another key point in favor of HOTH's Blogger product: they'll give you as many revision requests as needed to make you happy.
Currently, both Blogger and Blogger Pro are only for a single domain, but you can expand this to multiple domains with a bulk buyer option.
HOTH OnPage
One of the things we've focused on lately at Niche Pursuits is updating and optimizing some of the older content on the site. As valuable as brand-new content is, there's often some low-hanging fruit with existing posts that can improve the ranking of different keywords in the SERPs quickly and bump up your overall traffic in weeks or even days.
Well, that's basically what HOTH OnPage is doing for you. If your website has a bunch of pages (including blog posts) that aren't fully optimized or properly targeting the right keywords, then you can get the HOTH to jump in with research, optimization, and a full report of results.
The simple process works like this:
Submit the URLs you want optimized with HOTH OnPage.
The HOTH team will conduct keyword research to find the right keywords for your pages.
You'll get new title tags, meta descriptions, h1s, and image alt tags from the team – and if you're on WordPress, they'll even edit all of this for you!
Optimization isn't a particularly complicated activity, but it can be tedious if you have a lot of unoptimized content – and you may find it interesting to see what a professional SEO agency would come up with for some of your older content anyway.
If  you're interested in OnPage optimization, it boils down to a flat $30 fee per page.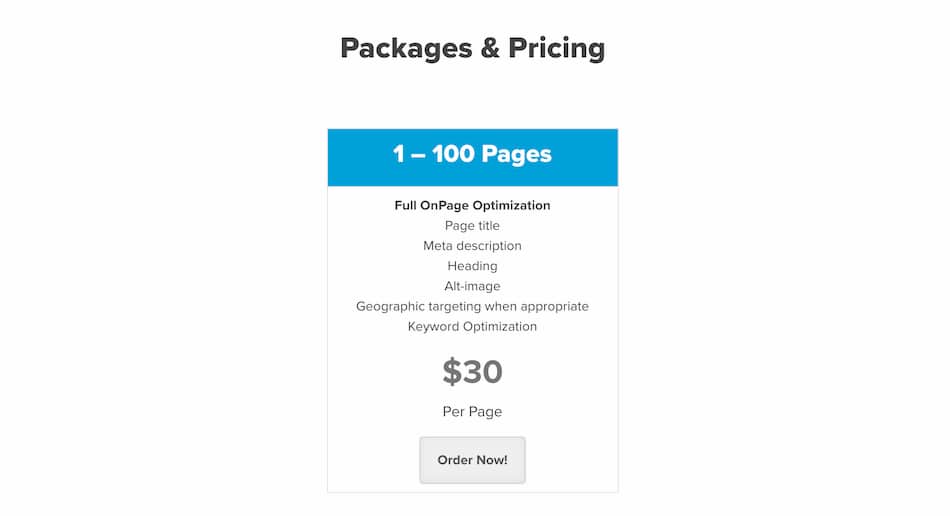 HOTH X
I've saved the "best" HOTH product for last!
HOTH X is the HOTH's comprehensive service offering, a fully managed SEO service that combines strategy, link building, and content in one epic product.
Specifically, you can expect:
Keyword research
Competitive gap analysis
High quality and diverse link building
High quality blog content
Interestingly, unlike other services in the SEO space, HOTH X doesn't really change WHAT you get at the different pricing tiers – it just changes HOW MUCH you get.
I really like this, because it means that the HOTH is sticking to its guns about providing ALL the activities that are needed for a successful SEO strategy, and isn't leaving anything out for those of us with smaller budgets.
I also need to point out that none of your money is put toward management – 100% of your spend is applied to the campaign. You also get a fully custom campaign that focuses on providing the biggest bang for your buck first.
HOTH X is the HOTH's best selling, flagship product. Rather than outsourcing your SEO piecemeal (like white label SEO), HOTH X may be the comprehensive solution you need to get some real movement on your site.
The Final Word on HOTH Products
I didn't cover every single HOTH product that's available, because many of them aren't as relevant for the majority of Niche Pursuits readers.
However, if you're interested in learning more about video, PPC, press, or any of the other HOTH products, you can see the full breakdown here on the HOTH's product page.
There's one more key point about all of these products: as far as I could find, the HOTH doesn't have contracts or obligations on any of their offerings.
First, this is just good business sense – I used to work for a marketing agency, and I can't tell you how many times we lost out on business because the owner required every new client to commit to a six-month contract minimum!
It was madness.
Honestly, though, I think it's just a real sign of confidence that the HOTH is willing to earn your business every single month by offering real results to keep you HOTHing. (Crap, I said I wouldn't verb that noun.)
Just keep in mind, the HOTH team DOES suggest that you try it for at least 3 months to give their efforts some time to pay off. As anyone with SEO experience could tell you, that's pretty fair!
Ready to try the HOTH for yourself? Click Here.
Click here to learn more about the HOTH!
The HOTH SEO Tools
One perk of the HOTH is that it comes with a bunch of totally free SEO tools. Technically, you don't have to hire the HOTH at all to access these free tools, though you do have to sign up with your email.
I've described a few of these tools below.
The HOTH Keyword Research Tool
Are you tired of Google's Keyword Planner? Not looking to spend big on SEMRush or Ahrefs? Tired of hearing me name drop Long Tail Pro?
Well, you can actually use the HOTH's keyword research tool if you want to… It's completely free!
I took it for a spin to see what it would come up with for my focus keyword in this article: "the hoth review."
It wasn't bad! Obviously, this doesn't replace a more in-depth tool for keyword research, but it's pretty easy to jump in and get some decent ideas with just a click.
The HOTH Search Competition Tool
Similar to the keyword research tool, the search competition does a decent job of providing you with a quick snapshot of competitors – but it's nothing you wouldn't find elsewhere and in more detail.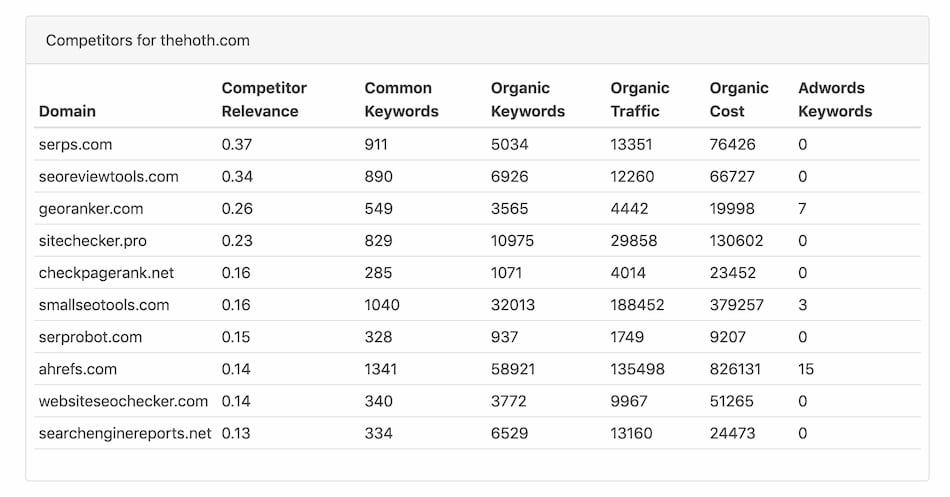 I will say, there's a pretty generous offering of free SEO tools here. The HOTH's list goes on for quite a while, but here are a few of the highlights:
Backlink Checker
Rankings Checker
Blog Topic Generator
Word Count
Domain Age Checker
Content Readability
Kinda cool, but at the same time, these tools are mostly just okay. Having gone through several of them, I'm definitely not blown away – but to be 100% fair, they're FREE, so none of us should be setting our expectations super high.
The question is, should you really be using the HOTH's "backlink checker" or "search competition" tool instead of comparable features from Moz, Ahrefs, or even Ubersuggest?
I mean, you could… But most of these tools barely scratch the surface.
I should also mention that some of these "tools" are actually audits where you have to give up your email, which means you'll likely be getting some follow-up emails from the fine folks at the HOTH.
This isn't to say that a few of these tools wouldn't be helpful. Feel free to look through them – just don't be surprised if most of them aren't added to your regular rotation.
The HOTH Alternatives
If you're not sure about the HOTH and want to see what it compares to, there are obviously many other services that offer strategy, link building, content creation, and so on.
SEO Strategy
The HOTH offers strategy and keyword research services, but if that's not your cup of tea, there are fantastic tools and services that can help you with them. For keyword research, we swear by Long Tail Pro and SEMRush. If you want help with keyword research, Content Refined has an affordable standalone service to help you find 30 keywords you can base your content around.
Link Building
For link building, we recommend NinjaOutreach, a tool that does a lot of the work for you in finding influencers. This is great for outreach and potential guest posting. If you want to give it a try, here's a 14 day unlimited free trial to NinjaOutreach.
Content Creation
Aside from doing the writing yourself, you can get content created in a few ways: with an in-house employee, with a freelance writer, or with a content creation service. Blogger and Blogger Pro represent the HOTH's content writing arm, but there are other options.
I mentioned Content Refined earlier, which is a solid choice. We also highly recommend Content Pit, a writing service that Spencer used with great success in Niche Site Project 4. Click here for more on where to outsource your content creation.
The HOTH Pricing
I included the pricing for each of the HOTH's services earlier, so in this section, I just want to talk about how the pricing generally compares to what else is out there.
For an apples-to-apples comparison with Content Refined, I adjusted a potential content order with the HOTH to four 1000 word blog posts at the regular Blogger quality level. Keep in mind, the HOTH doesn't do contracts, so you don't get the slight discount on orders that you would with a service like Content Refined.
These are just two services, but you can see that for 4000 words per month of higher quality writing, HOTH Blogger Pro is more expensive than Content Refined by a pretty wide margin. Across the board, the HOTH's pricing is going to be higher than many comparable SEO services – it's just a matter of asking yourself if the extra money is worth the quality you can expect from the HOTH.
The HOTH Review Wrap-up
Yes, the HOTH is a legit SEO agency. They know what they're doing, and they do deliver on what they promise.
But should you hire them?
This is always the hardest question to answer. Like with anything you do for your website or online business, outreach and link building usually work best coming from YOU – you're the expert, you represent your website, and you can build genuine relationships through personal outreach. Plus, there are now ways to streamline this process, such as with an email outreach tool like MailShake.
On the other hand, it can be TOUGH to get any traction in link building when your site is still new. It's a chicken-and-egg problem where you're not ranking yet, so why would anyone bother linking to you… but you have no links, so how can you rank?
Guest posting and link building with the HOTH can give your site the spark it needs to blow up (in a good way).
I would also argue that content quality is still more important than link building. I know that might sound a little heretical to link builders, but the reality is, you really have to have content WORTH linking to on your site.
If you're inclined to hire out something, I think guest posting and outreach should get outsourced before content creation, as long as you've built up at least fifteen to twenty quality posts on your site.
But in the end, it's really up to you what to do based on your unique strengths and your business needs. There are literally thousands of companies that provide SEO and content marketing services – but if you're looking for one you can trust, I can confidently recommend the HOTH.
Click here to give the HOTH a try!
Have you used the HOTH for your business?
Want to learn step-by-step how I built my Niche Site Empire up to a full-time income?
Yes! I Love to Learn
Learn How I Built My Niche Site Empire to a Full-time Income
How to Pick the Right Keywords at the START, and avoid the losers
How to Scale and Outsource 90% of the Work, Allowing Your Empire to GROW Without You
How to Build a Site That Gets REAL TRAFFIC FROM GOOGLE (every. single. day.)
Subscribe to the Niche Pursuits Newsletter delivered with value 3X per week