MailShake Review: A Hot Tool for Cold Email Outreach
When you buy something through one of the links on our site, we may earn an affiliate commission.
Do you know what I'd rather do besides sending cold emails into the black void of the internet?
Oh, I don't know… Almost anything?
It's still better than cold calling – shudder – but hitting "send" on email after email to a bunch of strangers can feel like a colossal waste of time. And if you don't approach it the right way, it is!
On the other hand, cold email outreach and link building are a HUGE part of growing traffic to your website. That's why I set out to find tools that could make the process easier and more effective.
In this MailShake review, we're doing a deep dive into the best cold emailing tool you've (probably) never heard of.
If you want the bottom line now, I do recommend MailShake as an email outreach solution – but it will only make sense for you in certain cases. Read on to see if it's a good fit for you!
Click here to try MailShake!
---
Ease of Use -

95

Stability -

92

Customer Service -

88

Price -

90
Summary
MailShake is worth the investment if you spend a lot of time on email outreach. It's particularly useful for users whose campaigns are time intensive with a lot of manual tracking and follow-up or for those who are looking to send hundreds of emails regularly. Try MailShake today!
Pros
Clean and simple interface that's easy to navigate
Very reasonable pricing for the functionality
Robust personalization, automation, tracking, and scheduling features
Tested pre-written templates for several different campaign goals
Real-time analysis tool helps you avoid spam filters and get your emails seen by targets
Saves an incredible amount of time on a task that can be tedious
Cons
Only native CRM integration is with Salesforce – otherwise, you have to use CSV files for inputting email addresses
Results are highly dependent on the quality of email addresses you can get
The optional MailShake campaign review could be more helpful
May be overkill for some users
MailShake Review: Overview
MailShake is a software tool that integrates with your email account to send out cold emails for link building, lead generation, and public relations campaigns (and with the knowledge of the best times to send cold emails, you'll be good to go). The minds behind MailShake have billed it as "a simple solution for cold emails."
But what problem are they solving, exactly?
Well, see if this process sounds familiar: You paste in a target's email address, write or paste in a customized message, hit send, and then do it all again.
And again.
And again.
When you're finally done sending to a hundred or more email addresses, you hope that someone replies – but it's hard to tell who's reading your emails, what percentage of the emails are bouncing, and how to measure the campaign's success.
On top of that, you have to manually track who responded, and who didn't so you can follow up with each person on your list. You might have to do this step several times for each campaign. It's a tedious process, to say the least.
But in spite of the grind, email outreach is still one of the most effective ways to promote your business and increase sales. That's why having a tool that can streamline this crucial task is good!
As you know, email automation and customer relationship management (CRM) tools like Mailchimp and HubSpot (and these great Hubspot alternatives) are great for communicating with prospects or customers who have opted in through inbound marketing, but cold outreach is a different story. How do you get similar automation features when emailing people you've never talked to before?
Enter MailShake!
Where Did MailShake Come From?
In 2017, a group of entrepreneurs decided to shut down their influencer marketing software suite called ContentMarketer.io – which included the tools Marketer, Notifier, and Connector – to focus on just the email outreach component, Connector.
As part of this transition, founders Sujan Patel and Colin Matthews rebranded Connector as MailShake. They wanted to focus on making it the best email outreach tool, adding a host of features over time.
Today, the software is more robust than ever, but it's maintained the same clean interface to make email outreach as simple as possible.
Ready to dive in and see what MailShake can do?
How to Launch a MailShake Campaign
The purpose of an email outreach campaign is to encourage the people on your target list to take a certain action that will help your business grow.
These actions might include:
Buying your product
Promoting your content
Linking to your website
Scheduling a sales call
Booking you as a speaker
To understand how MailShake works as an outreach tool, let's review a MailShake campaign example together.
MailShake Review: Case Study
Here's the scenario: You're the owner of a fast-growing niche website (I hope this part is true!), and you've just published a brand-new pillar post that you want to promote.
You know that if you can get some visibility for the post, it will definitely rank on Google and continue to attract new backlinks passively over time.
Let's see how MailShake can help you reach out to a list of journalists, bloggers, and influencers in your space.
Step 1: Create a New Campaign
To get started, log in to MailShake and click the plus button to start a new campaign.
First, you'll enter a name for this campaign. Since this is just a demo, we'll call the campaign "MailShake Demo."
Step 2: Upload Your Email List
Now that you've created your campaign, it's time to upload the list of email addresses you want to target. Go to "Recipients" to get started.
MailShake currently supports CSV files for inputting your list of recipients. If you make your list in Google Sheets or Excel, you'll have to export it as a CSV and upload it to MailShake.
Fortunately, you won't have to manually enter emails with a large list. This is a massive time saver! Otherwise, there's a spot for you to type in the email addresses you want to target.
Step 3: Write or Select a Template for Email
Once you've finalized a list, you're going to create the initial email. Under "Insert," you'll be able to choose merge tags that allow you to send and personalize emails by recipient name, website, company name, and other data points you've compiled.
Note that this is going to be a plain-text email, not the fancy HTML email you'd create in other email marketing tools like MailChimp.
This is a good thing – your response rate should be much higher with just a simple text email, because it looks like a personal message you typed out yourself. In fact, MailShake doesn't recommend images in your outreach emails for that reason.
One great feature of MailShake is its templates, which are pre-written and let you personalize emails based on different types of campaign goals. For our example campaign, a "content promotion" template is probably the best choice.
When you're just getting started, it might help for you to use one or more of the included templates, because these have been tested thousands of times by MailShake's creators. From there, MailShake has A/B testing for Pro and higher plans so you can make changes and try to optimize your response rate.
Step 4: Create Follow-up Emails
Once you've written the first email, you'll notice below that there are some additional choices. You can actually schedule "drip" emails and automated emails that will go out based on whether the recipient responds or not. You can also have emails scheduled to trigger based on a link in the email that your recipient clicks.
Among a huge list of features, automation is easily one of the most important in MailShake. Think of all the time you can save by having follow-up emails scheduled to go out to maximize your response rate!
This frees you up to communicate directly with the people who have responded. Keep in mind, you may actually get a higher response rate from your follow-up than your initial email. MailShake allows you to send a follow-up directly in the reply chain, so you don't even have to tell them that you emailed them before.
Once you've finished with your follow-up emails, you can preview the emails exactly how they'll look to each recipient and make any last quick edits.
Step 5: Send Campaign
Are you happy with the emails you've written? Is everything ready to go out? This is the exciting part where you hit "send."
Phew!
One important point is that you can block out specific days and hours where the campaign is active, or set spacing rules to ensure that you never send out too many emails at once.
The scheduling feature is valuable because you can pinpoint the best days and times when your recipients are likely to be checking their email, and so you don't get flagged as a spammer by bombarding too many inboxes at the same time.
Step 6: Analyze Results
MailShake's founder and CEO, Sujan Patel, says that the response rate is the most important metric in a cold email campaign.
His target is between 18% and 29% for a given campaign, which he says is doable using MailShake, though this obviously depends a lot on how good your initial list was.
After you've sent a campaign, you'll be able to tell how it performed on a number of key performance indicators (KPIs). MailShake's reporting functions are solid, giving you plenty of graphs and charts to see a summary of campaign results at a glance. Some of the metrics you'll see are open rate, click rate, response rate, and with the Pro version, conversion rate.
And that's it! Hopefully, this "content promotion" campaign gets some solid responses and vaults your niche site's content to the top of Google!
The Most Common Problems in Email Campaigns
Now that we've seen what a campaign looks like in the software, let's talk about how MailShake handles the two biggest hurdles you have to deal with in a cold outreach campaign: deliverability and lack of response.
Deliverability
One major issue with email campaigns is deliverability. Your domain can be blacklisted if too many of your sent emails are bouncing.
Bounces can happen if your list is stale, outdated, or poorly sourced. In addition, Gmail and G-Suite have a quota on how many emails you can send per day – if you send more than roughly 500 or 1000 at a time, you can be blocked from your account.
Fortunately, MailShake makes it easy to set up campaigns from different G-Suite accounts if you need more. It also integrates with tools for scrubbing and cleaning lists, and offers an a la carte list-cleaning extra for $10. For the higher Pro or Omni plans, MailShake includes free list-cleaning credits.
You should also be aware of having your emails delivered but treated as spam. Email providers are good at filtering out emails that seem like spam to provide a better user experience for their customers. That means your email can't raise too many red flags or it'll be relegated to the "Promotions" tab in Gmail, or possibly diverted to the "spam" or "junk" folder.
Lack of Response
The technical challenges of deliverability are the first hurdle, but once you get your email into the inbox of your target, you still need them to click it, read the email, and respond.
There are a lot of factors that go into this, but subject line is definitely the biggest one. After subject line, the length of the email, content, personalization, call to action, links, and images will affect your response rate.
That's why one of my favorite features in MailShake isn't even focused on outreach – it's a real-time analysis tool.
MailShake Review: Real-Time Analysis Tool
Like Yoast SEO in WordPress, MailShake's real-time analysis feature will check how you're crafting an email and offer you suggestions to make it better – in real time!
The ultimate goal is to create emails that won't be viewed as spam by email providers, while still being read and responded to by real live humans.
The real-time analysis tool will look at the number of links, the length of your email, and even specific words and phrases you use. Then, it will offer suggestions to help you craft better emails.
You can also get one-to-one campaign reviews from someone on the MailShake team, although it takes up to 72 hours to get a customized video review. This isn't a back-and-forth conversation, which makes this somewhat of a mixed bag, but the real-time analysis tool should help reinforce best practices for email outreach as you write.
MailShake's Lead Catcher
The Lead Catcher is MailShake's way of putting all of the responses you get into one convenient place.
By default, Lead Catcher treats anyone who replies to your emails as a lead who you can follow up with personally. At the same time, it will cancel any of the follow-up emails you created in your email automation sequence or drip campaign for those leads. You can customize the conditions for how a recipient qualifies as a lead: replies, open rate, clicks on a specific link, clicks on any link, or a combination of these.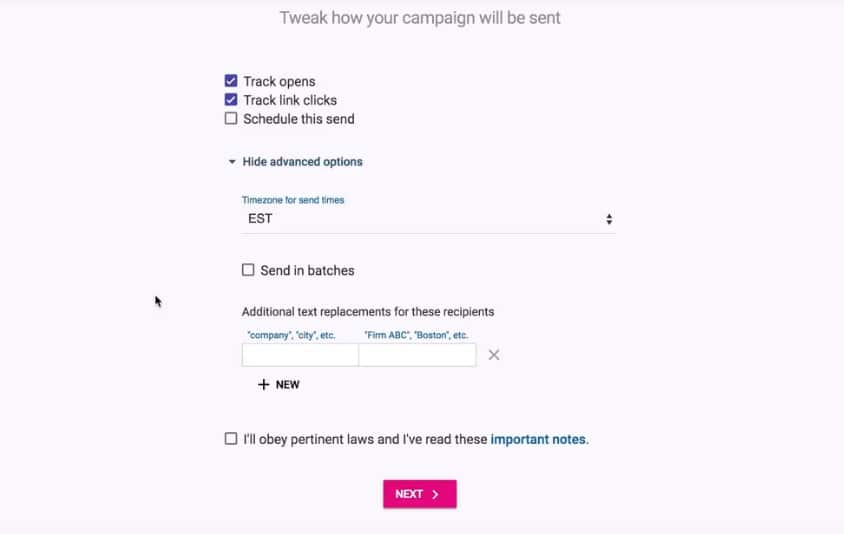 Another nice benefit of Lead Catcher is that it allows you to assign leads to users, if you're using MailShake on a team. These aren't groundbreaking features – you'd find them in any CRM worth its salt – but it's welcome functionality for a fairly inexpensive outreach tool like MailShake.
A MailShake Success Story IRL
As we've discussed, there are several different types of use cases for MailShake, but I figure a lot of us on Niche Pursuits are pretty focused on link building. That's why I loved this success story from MailShake's blog.
In his inspirational post, the author Michael Brennan described how he created a valuable infographic, used Ahrefs site explorer to find the top results for the competitive search term "AdWords optimization," and used this as the basis for a three week outreach campaign in MailShake. In just that short time, he received more than 40 replies from a list of 200 prospects – and most importantly, he got 13 links, which helped his post on AdWords optimization hit the number two spot on Google!
This example goes to show that link building, outreach, and other white hat SEO tactics aren't rocket science. They usually require a bit of hustle, but tools like MailShake can make the work go faster and get you to the results you want much sooner.
MailShake Price and Integrations
If you pay annually, MailShake is currently $29 per month for the basic plan, $44 per month for Pro, and $75 per month for Omni. That number is per user, so if you have a team, you'll have to consider how many users you need for your MailShake account. However, a huge plus in MailShake's pricing structure is that you're not paying more based on the number of subscribers, unlike many competing offerings.
Your choice of plan may depend on how important integrations are for your workflow. One advantage with MailShake is that it plays nice with a lot of other apps. The tool allows for third-party integration through Zapier, and it comes with a powerful API that you can tap into.
With a Pro account, you also get native integration with the popular CRM Salesforce, as well as Slack. In terms of mail accounts, MailShake originally worked with Gmail/G-Suite only, but it's now capable of working with Outlook/Office 365 and other email providers. Just be aware that your best MailShake experience will likely be with a Gmail account, because it was built from the ground up to work with Gmail.
MailShake Coupons
Even though MailShake offers competitive monthly or annual plans, it's still worth looking to see if there are any MailShake coupons. Yes, MailShake does accept both coupon codes and promotional codes.
However, even if you ignore the fact that Google likes to show you "milkshake coupons" whenever you search for "MailShake coupons," it's still pretty difficult to find discounts or sales on this particular email outreach solution.
A quick search does reveal that LeadFuze has partnered with MailShake to offer 25% off for new MailShake customers – so if you're interested in using LeadFuze to build your lists and MailShake for email outreach, that might be worth a look!
The Pro Plan in MailShake
Throughout this post, I've mostly talked about features that you'll get with the basic plan. But the Pro plan also includes a few fantastic additions, including A/B testing and conversion tracking via JavaScript that give you even more insights on how your campaigns are performing.
By segmenting your list, you can see how different versions of an email are doing and view the results side-by-side.
The Omni Plan in MailShake
The Omni plan in MailShake is clearly designed for sales teams that want to use the software for lead generation (you'll want to check out our ConvertBox review). It includes features like "custom tasks," so you can include phone outreach and other touch points of the sales funnel in your automation.
I don't think most solopreneurs and small business owners will need the Omni version of MailShake, but I wanted to include it just so you know it's an option.
MailShake Alternatives
There are several MailShake competitors that offer their own cold email outreach solutions, as well as similar software options like MailChimp (and especially the best Mailchimp alternatives) that are close in functionality. Here are just a few of the top MailShake alternatives you might come across and how they compare to MailShake.
GMass vs. MailShake
GMass is probably the most direct alternative to MailShake, working with Gmail to do basically the same things, including mass emails, personalization, and so on. However, GMass doesn't have a separate user interface like MailShake does, which might be good or bad depending on the workflow you prefer. GMass is quite a bit cheaper than MailShake, but is also stripped down in terms of features.
Here's one thing to consider: Do you have a platform preference? If you want to break out of the Gmail and Google Chrome ecosystem for your outreach, GMass isn't for you. MailShake works with more integrations and platforms.
MailShake vs. MailChimp
I know – their names are similar. But that doesn't mean MailShake and MailChimp do the same thing! MailChimp is an email marketing solution for building lists and creating automations. It's a remarkably full-featured product for its price point, but it's not an ideal solution if your main goal is email outreach.
Think about it this way: MailChimp is primarily an inbound tool, helping you communicate with people who have opted in. Conversely, MailShake is designed as an outbound tool to help you reach out to cold prospects or other influencers. There's room for both in your marketing stack, but don't get the two confused!
Reply.io vs. MailShake
Reply.io is a heavyweight in the cold email outreach space, and its pricing reflects that. The cheapest plan for an individual is currently $55 per month, and it only lets you use three email addresses and send to 1000 recipients per month.
On the other hand, Reply includes some of the more useful features in this base plan that MailShake reserves for its Pro or Omni users, such as A/B testing. Overall, Reply is clearly geared toward larger businesses and teams, so it's probably not worth the extra investment unless you'll use it primarily as a business development and lead generation tool.
MailShake vs. Woodpecker
Woodpecker is the best choice if you're sending to a large number of recipients. It's designed for SaaS, B2B, marketing agencies, and other large teams. One interesting thing about Woodpecker is it displays of the stats in your Gmail account, so you don't need to look at the Woodpecker dashboard for some of that data.
Woodpecker's base "start-up" plan pricing is a bit higher than MailShake's.
MailShake vs. lemlist
MailShake and lemlist are similar in a lot of ways. For example, the base plan for lemlist is the same price as MailShake's, which positions lemlist as a direct competitor to MailShake.
Lemlist has a few interesting features that MailShake lacks. The big one is the ability to personalize images with custom text per recipient. Lemlist also integrates natively with additional CRMs like HubSpot.
MailShake vs. Ninja Outreach
You've probably seen Ninja Outreach mentioned many times before. It's a recommended tool here on Niche Pursuits that actually does include a built-in search function for generating that all-important list of emails based on keyword.
As an SEO Chrome extension, Ninja Outreach makes it easy to find influencers and save their information right from the web browser. It also works with a ton of CRMs so you can export your leads.
This fully-featured tool is great, but its entry-level plan is also nearly double the price of the base plan for MailShake for just one user.
The right outreach tool for you will ultimately come down to the features you need!
MailShake Support and Resources
Mailshake support is excellent. The team is responsive and easy to work with, usually replying within a day by email.
I would also point out that MailShake offers a lot of resources that can teach you how to be a better email marketer, including:
The MailShake Blog
The Cold Email Masterclass
The Cold Email Academy
The Email Outreach Playbook
These are video and written materials that teach you everything you ever needed to know about email.
I went through some of these resources, and they're all well done, though they do seem a bit scattershot.
You might have to poke around on their website and YouTube channel for a little while to find answers to any specific questions. I honestly found it easier to just type "MailShake + [my issue]" in Google to locate what I needed.
Drawbacks to MailShake
As good as MailShake is at email outreach, it's important to realize that MailShake isn't really a CRM or lead generation tool.
In other words, MailShake only helps you after you've already done the legwork to compile a quality list. Unlike all-in-one tools like Ninja Outreach, MailShake is NOT designed to handle every step of the outreach process. You have to find your own list of email addresses for use in MailShake. If you have a list in Salesforce, the integration is fantastic – but this is definitely something to be aware of.
It's outside the scope of this MailShake review to explore how to get emails for the prospects and influencers you want to target. Just know that there are a ton of great ways to do this: inbound marketing through opt-in forms on your website, email lookup services, public LinkedIn or Twitter profiles, e-newsletter sign-ups, guess and check, competitor link analysis, and more.
Conclusion
So, is MailShake worth it for your business? It depends on how much of a focus you're placing on email outreach and what kind of resources you already have to devote to email.
I will say, one of the most time-consuming aspects of an outreach campaign is finding the emails to target. You need to make sure that if you use MailShake, you have enough quality email addresses to justify the time-saving features of this tool.
MailShake probably makes the most sense for more established websites, or for those who can use MailShake for outreach across multiple sites and users.
But if you need an email outreach tool – including great features like real-time analysis, automation, and A/B testing – then MailShake offers an incredible value for an affordable monthly price. It's pretty much the gold standard for email outreach tools.
Undoubtedly, MailShake will save you a ton of valuable time on the tedious, but essential tasks of cold emails to help your business grow. And if MailShake gives you the nudge you need to follow through on wide scale email outreach efforts, it's worth every penny.
Click here to try MailShake!
Want to learn step-by-step how I built my Niche Site Empire up to a full-time income?
Yes! I Love to Learn
Learn How I Built My Niche Site Empire to a Full-time Income
How to Pick the Right Keywords at the START, and avoid the losers
How to Scale and Outsource 90% of the Work, Allowing Your Empire to GROW Without You
How to Build a Site That Gets REAL TRAFFIC FROM GOOGLE (every. single. day.)
Subscribe to the Niche Pursuits Newsletter delivered with value 3X per week