7 Of The Best Link Building Companies & Which One You Should Choose
When you buy something through one of the links on our site, we may earn an affiliate commission.
With the competition getting stronger in organic search, finding the best link building companies has become more important than ever.
They can help your site rank over your competitors on search engine results pages (SERPs) and stay on top for a prolonged period.
However, finding legitimate link building services is of utmost importance.
The last thing you want is to buy links from a company that promises high search engine rankings, only for the search engine's algorithm to penalize your site months later. This is due to the toxic and spammy links they built on your website.
Thankfully, you won't have to worry about that problem here.
In this post, we look at seven of the best link building services, their respective backgrounds, the types of links they offer, and their pricing packages.
This way, you'll know which of the link providers below suits your needs.
Our Choice of the Best Link Building Companies
We have done extensive research and come up with these seven companies that are worth considering for your link building efforts.
Authority Builders Co.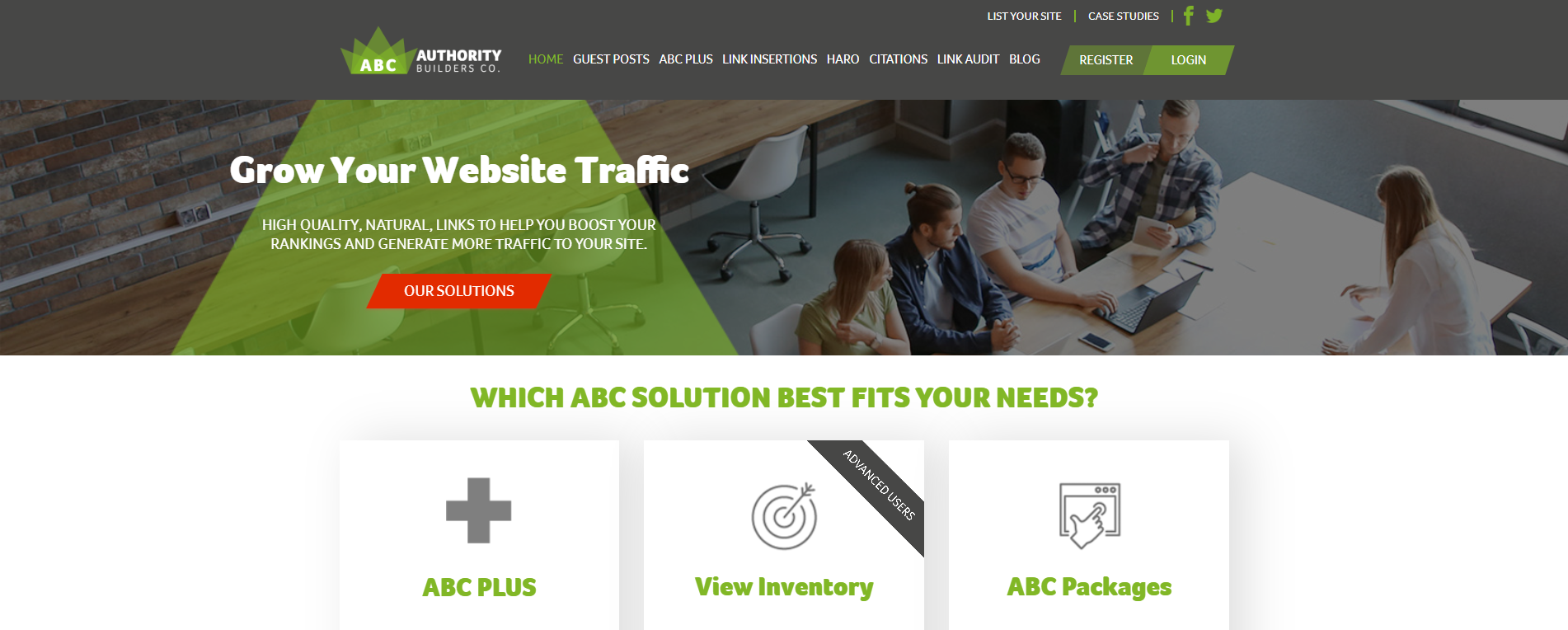 Authority Builders Co. (ABC) is a UK-based link building agency established by Matt Diggity with his partner Peter King.
Matt is a well-known digital marketer and the founder of several online marketing-focused companies. Aside from ABC, he runs The Search Initiative, Diggity Marketing, and LeadSpring LLC.
Other services his companies offer include lead generation, SEO, and affiliate marketing.
Authority Builders provides the following link building services:
Guest posts - There are two ways to order guest posts at Authority Builders. You let their experts take care of the entire process from end to end. Or you take full control by selecting where to publish the posts and which anchor texts to use.
Link insertions - Authority Builders Co. guarantees that all links are acquired through manual outreach and that the links stay live for at least one year.
Local citations - You get your company listed in online business directories in the country where you operate. This link building strategy will help boost rankings for your local business.
Link audit - ABC provides a comprehensive report that identifies which links are helping and which are hurting your ranking. You also get a disavow file (to let Google know which links to disregard) and a video that explains what not to do in the future.
HARO - Authority Builders Co.'s content experts will work on your behalf and leverage HARO using the best tactics available. They aim to get journalists from top sites to quote your expertise and link to your site or social profiles.
Custom link building campaign strategy: This is a custom-built plan that SEO experts create and deliver depending on your requirements and budget. It includes competitor analysis, anchor text roadmap, link velocity analysis, and comprehensive reporting.
How to Order
If you're enlisting Authority Builders' link building services for the first time, you must choose the package you want and click either the Buy Now or Choose button until you get to the Order Details page.
There, enter your name, contact details, and the website you're trying to rank. If you want to rank for a specific keyword, you can also enter that.
After paying, you'll be given your login details to your Authority Builders dashboard to track your orders' progress in real-time.
---
Digital Olympus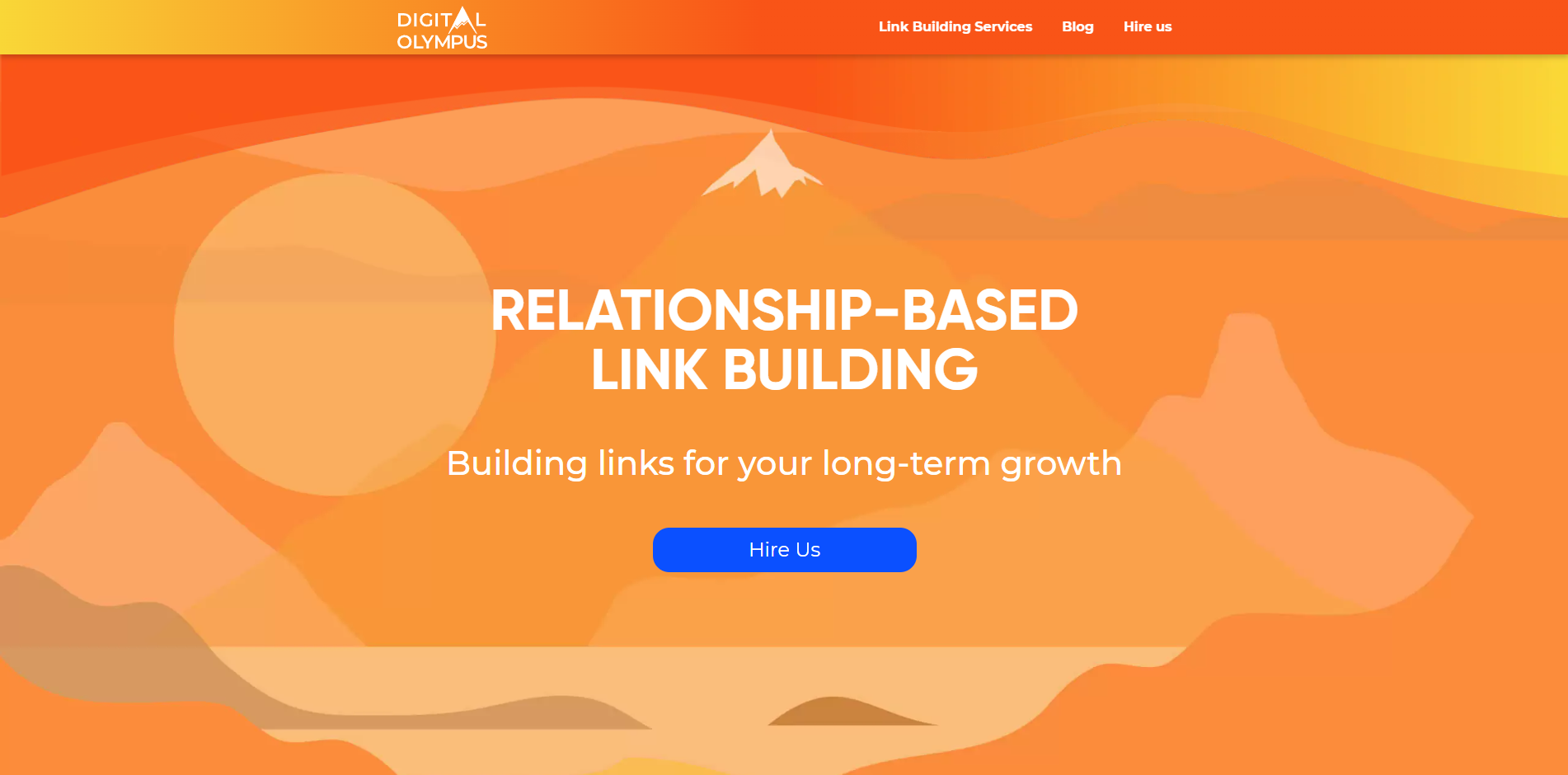 Digital Olympus (DO) is white-hat link building agency committed to building clients a backlink profile they can be proud of.
The company's link building service follows a five-step process:
Link prospecting - Link building experts prepare a list of relevant sites with decent metrics. Sites are based on the client's niche, and the list only includes reputable sites with corporate blogs.
Client approval of chosen sites - Digital Olympus doesn't build links on sites the client doesn't approve, so this part of the process is critical.
Building links on approved sites - The link building experts at Digital Olympus make sure that links are placed naturally into blog posts, so they don't hamper the reading experience. They also stay away from unindexed and badly designed websites.
Monthly reports submission - Before you get billed, Digital Olympus sends a links report for your final approval. The report details all the backlinks they have obtained on your behalf. They only send an invoice once you approve.
Link status tracking - Digital Olympus keeps track of all your backlinks to ensure they stay live and dofollow. In case a link disappears or becomes nofollow, its link builders will attempt to get it back or restore its follow status. If these are not possible, they will provide a replacement link.
Digital Olympus was founded in 2016 by Alexandra Tachalova, a veteran digital marketer whose work includes solidifying the Semrush brand in European markets and speaking at major search industry events.
How to Order
DO charges per link. Also, the price of each link depends on the target URL's domain authority. The higher the domain rating, the pricier the link.
To get started with their link building service, click "Hire us" on the top right corner of the Digital Olympus page.
Next, you'll be taken to a Contact page where you will be asked to enter your name, website URL, email address, and a short description of the links you're looking for. Once done, Digital Olympus will contact you to further discuss your link building needs.
---
Linkplicity

Also headquartered in the UK, Linkplicity is a link building agency focusing primarily on guest posting. Links are dofollow and built on real websites with actual visitors.
Launched in 2021 by SEO expert Joshua George, who also runs the UK-based SEO agency ClickSlice, Linkplicity offers three link building packages. These all include content creation. The standard blog post is 750 words long, but if you want longer pieces, every additional 250 words will cost $10.
Silver - This link building package gives you five links within 30 days—three from sites with a domain rating (DR) of at least 30 and two from sites with a DR of at least 45. Silver is currently priced at $920.
Gold - This link building tier costs $2,040 and gives you 10 links within 30 days—five from DR30+ sites, three from DR45+ sites, and two from DR60+ sites.
Platinum - Platinum gets you 20 high-quality backlinks within 30 days—10 from DR30+ sites, six from DR45+ sites, and four from DR60+ sites. Platinum costs $4,000.
Linkplicity's link building process is divided into three primary stages:
Outreach - Provide the website's URL and your target anchor text to get the ball rolling. Linkplicity will check its ever-growing portfolio of site partners for possible placement opportunities.
Content - Linkplicity's content team will craft the best possible content, one that serves both your and the site owner's purposes. Your target anchor text will be naturally incorporated within the text.
Reports - You get a report that details all the guest posts that have been published on your behalf, including URLs, domain ranking, and organic traffic statistics.
How to Order
Getting started with Linkplicity's guest blogging service is pretty straightforward.
Select your link building package (Silver, Gold, or Platinum), enter your details, and pay the corresponding fee. The Linkplicity team will then contact you to further discuss your order.
---
LinksThatRank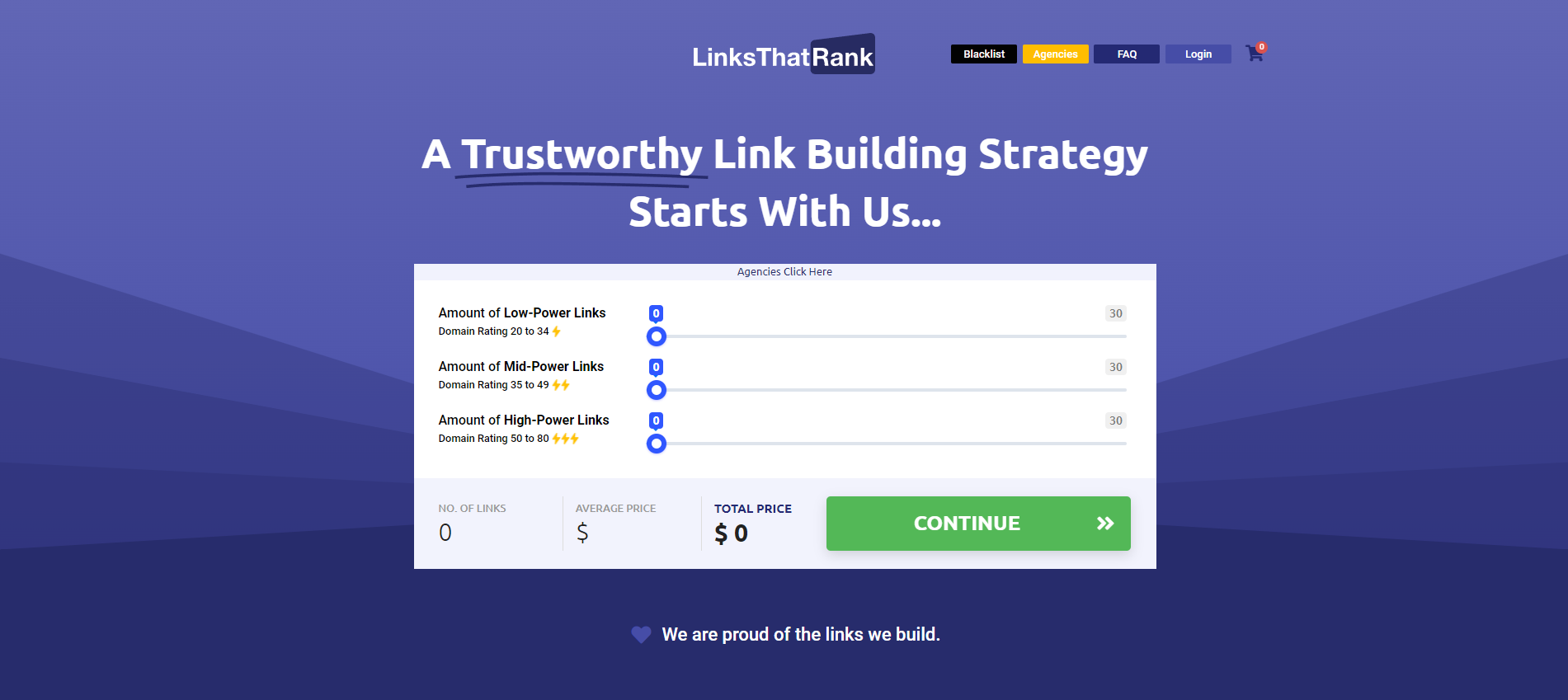 LinksThatRank is one of the best link building companies founded by renowned SEO expert and keynote speaker Matthew Woodward.
This UK-based link building company offers link building services that adhere to a strict quality control policy that checks for:
Website domain rating that's above 80.
Relevance of the website to the customer's niche.
The site has at least 500 organic visitors per month.
No "write for us" pages or similar web pages that openly invite guest posting.
Links pass an internal 23-point quality control review.
1,000+ words of professionally written content with strategically placed internal and external links.
The target website has not been blacklisted.
What makes LinksThatRank different from other link building services here is its free Backlist Blacklist.
The Backlist Blacklist is a collection of sites from known:
Private blog networks (PBNs) that sell links.
Guest post farms.
Those who openly solicit guest blogs through a "write for us" page.
To use the free service, enter the name of the sites you plan to obtain links from and hit "Check My Links Now." It will next show you whether the sites you've entered have been blacklisted. If they're on the list, you can also find out why.
How to Order
Go to its website and click on a green button that says "Get Your Links Now" or "Click Here to Order Your Links Now."
You'll then specify the number of low-power, mid-power, and high-power links you want. One for each type of link will cost you a total of $751 or an average of $250.33 each.
Once your payment goes through, LinksThatRank will do a manual review of your order. If there are no problems, it will start negotiating relevant link placements with you.
Once you agree with them, it will create and publish the content. Finally, the company will send you a final report containing your links and anchor texts.
LinksThatRank provides customers with a dashboard to view orders in real-time.
---
Page One Power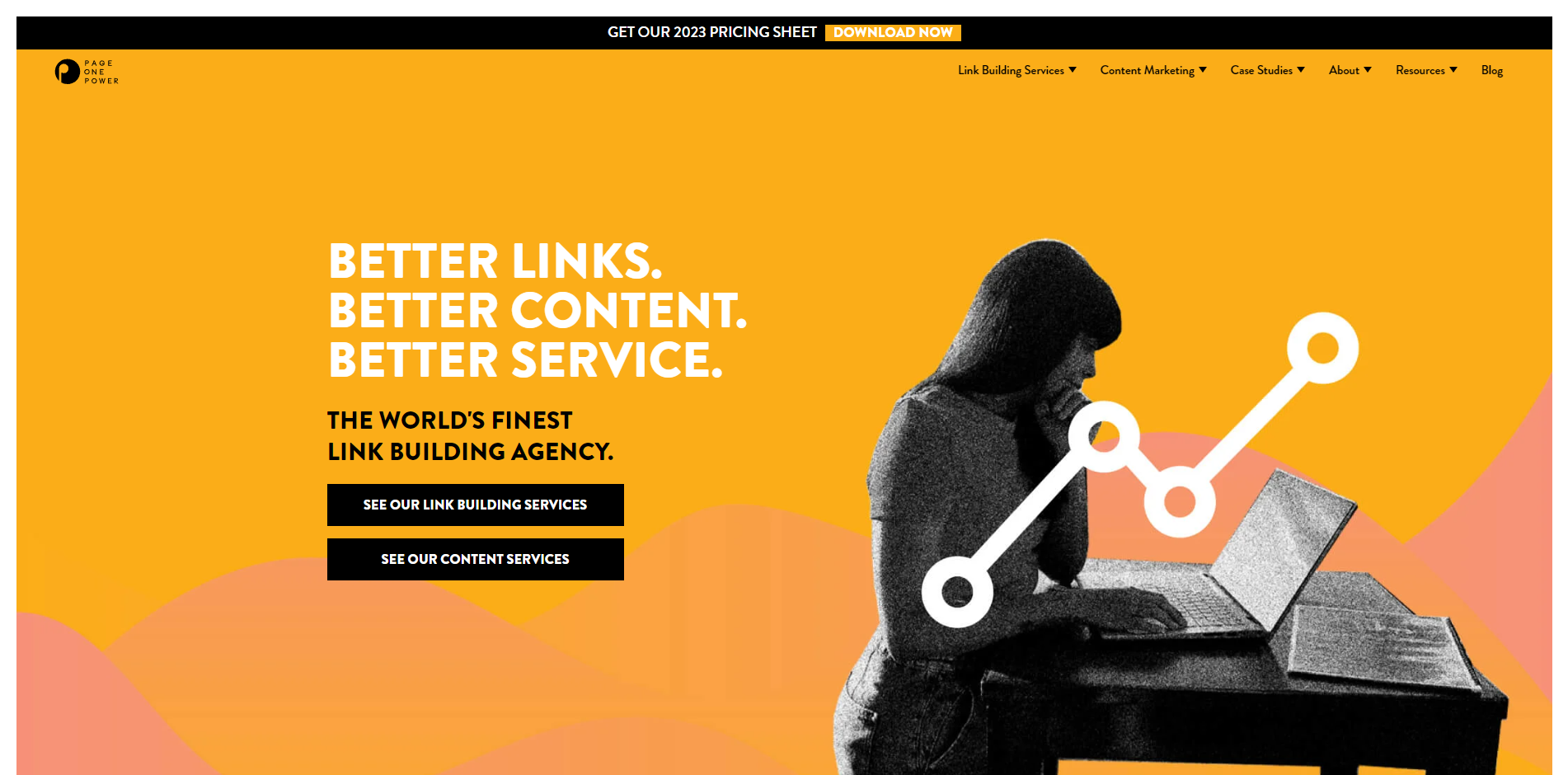 Page One Power is a content creation and custom link building agency headquartered in Boise, Idaho.
Co-founded by SEO thought leader Zachary Ball in 2010, it has since served 1,000+ partners and created 6,100+ onsite assets. Each year, Page One Power earns approximately 15,000 links for customers.
The company offers other SEO services, But for its link building services, Page One Power employs various techniques such as:
Guest post link building - This technique enables you to engage a target website's audience through a professionally crafted article published on their site. You get a backlink to assets on your website.
Unlinked mention link building - If sites are mentioning your brand online but aren't linking to any of your pages, Page One Power will reach out to them on your behalf. They will then request target sites to link to your website or other relevant assets.
Resource link building - Page One Power will check to see if your website has linkable assets they can pitch to resource pages. Otherwise, they'll help you create educational, informative pieces that they will then promote to obtain backlinks to your website.
Broken link building - This link building tactic searches the web for relevant sites with broken links that point to 404 pages. From there, Page One Power will manually reach out to the website owner and request to replace the broken link with a working link that points to your website.
White label link building - SEO and link building agencies wanting to integrate Page One Power's link building services into their client campaigns can do so via this package. Your clients get strategically placed links that will benefit both them and you for the long term.
Editorial update outreach - Page One Power will reach out to relevant publisher sites to offer contextual backlinks that will provide more value to their content. This seamlessly earns your site high-quality links from reputable sources.
How to Order
To get started with Page One Power's link placement services, you first have to download their pricing sheet, which has four pricing tiers:
Benchmark - Starting at $4,000/month, best for companies just beginning to invest in search.
Expansion - Starting at $7,500/month, best for established websites.
Boost - Starting at $12,000/month, best for sites in a highly competitive market.
Enterprise - Starting at $50,000/month, best for big websites with aggressive growth goals.
Once you've determined which service fits within your budget, you can proceed to book a call with them to discuss your goals further.
---
Searcharoo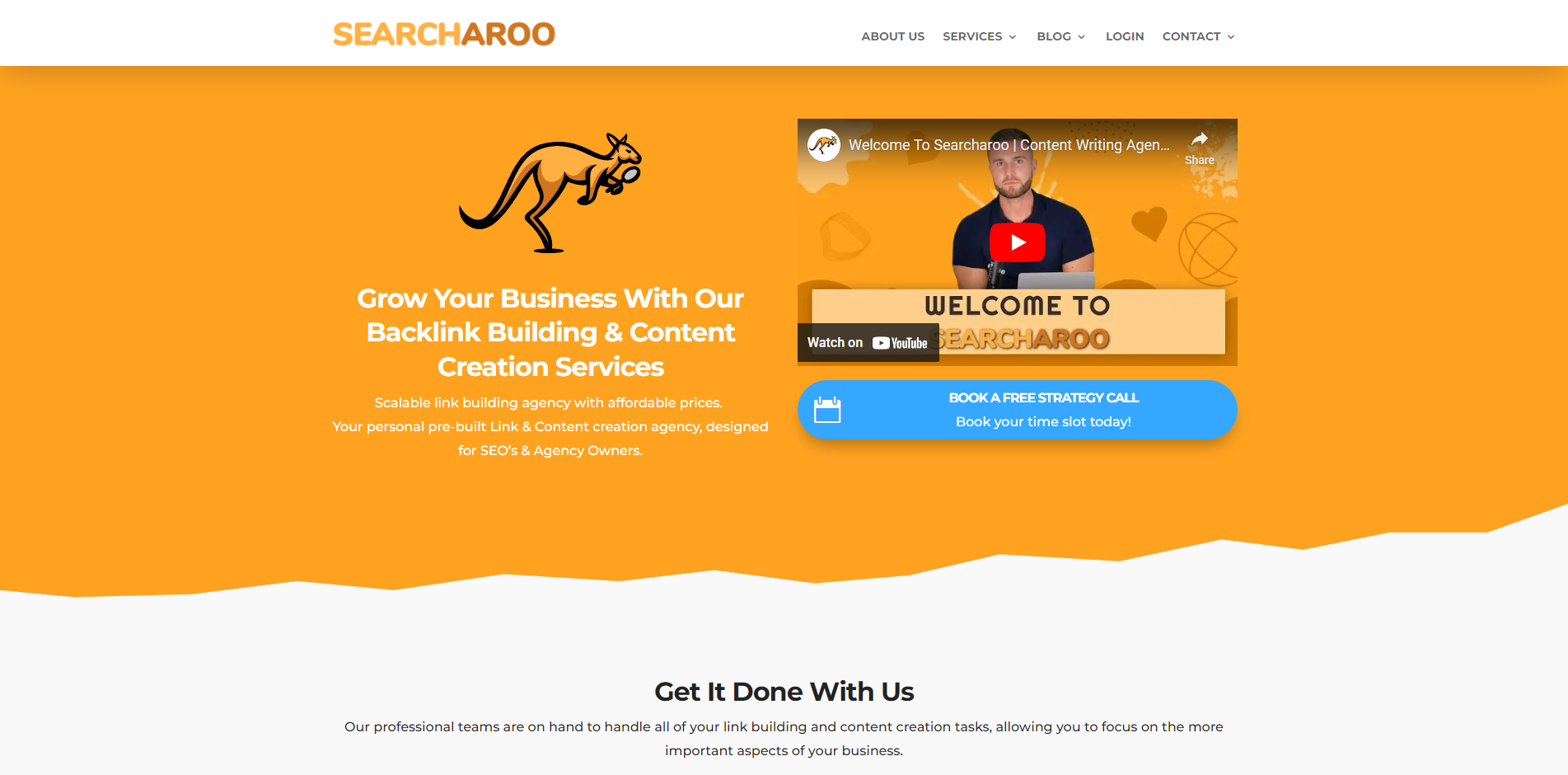 Searcharoo is a digital marketing agency that primarily offers link building and content creation services.
Marketing veterans Karl Hudson and Thomas Phillips launched the company in 2018. James Dooley, a veteran digital marketing specialist who was a Searcharoo client for years, became a key company member in 2021.
Searcharoo is based in the UK, like several of the link building companies we've covered so far. It offers the following services:
Topically relevant outreach links (individual link purchase) - These are primarily contextual edits on an aged article in an established website relevant to your niche. The fees Searcharoo charges for each link will depend on the site's domain rating. A DR30+ placement will cost $117. As the DR increases, so does the link placement fee.
Link building packages - These are topically relevant outreach links sold as a package of eight, 10, or more links on sites of varying DRs. Packages cost anywhere between $1,000 and $4,500.
Guest posts - This service includes an article written by their US or UK writing team. Links are dofollow. A DR30+ placement costs $160, while a DR60+ link will cost $320. If you need more than just one link, guest posting packages start at $1,000 per package.
Tier 2 links - Second-tier links are backlinks you build to pages that link to your site. Searcharoo's tier 2 links cost $20 each.
Link insertions - These links are inserted in existing articles on real websites. However, unlike topically relevant outreach links, this service doesn't guarantee topical relevancy. Each link will cost between $120 and $165.
PR editorial release - The links you get with this service type are nofollow. But on average, Searcharoo press releases gain 50 links from top sites, including Yahoo, GlobeNewswire, MarketWatch, and many more. Each order costs $975.
How to Order
To start building backlinks with Searcharoo, click the Order Now button corresponding to your chosen service or package. Enter your details, and once payment clears, Searcharoo will get back to you to discuss your needs.
Searcharoo provides login details to your very own dashboard. This way, you can view the progress of your orders in real-time.
---
SEOBuilder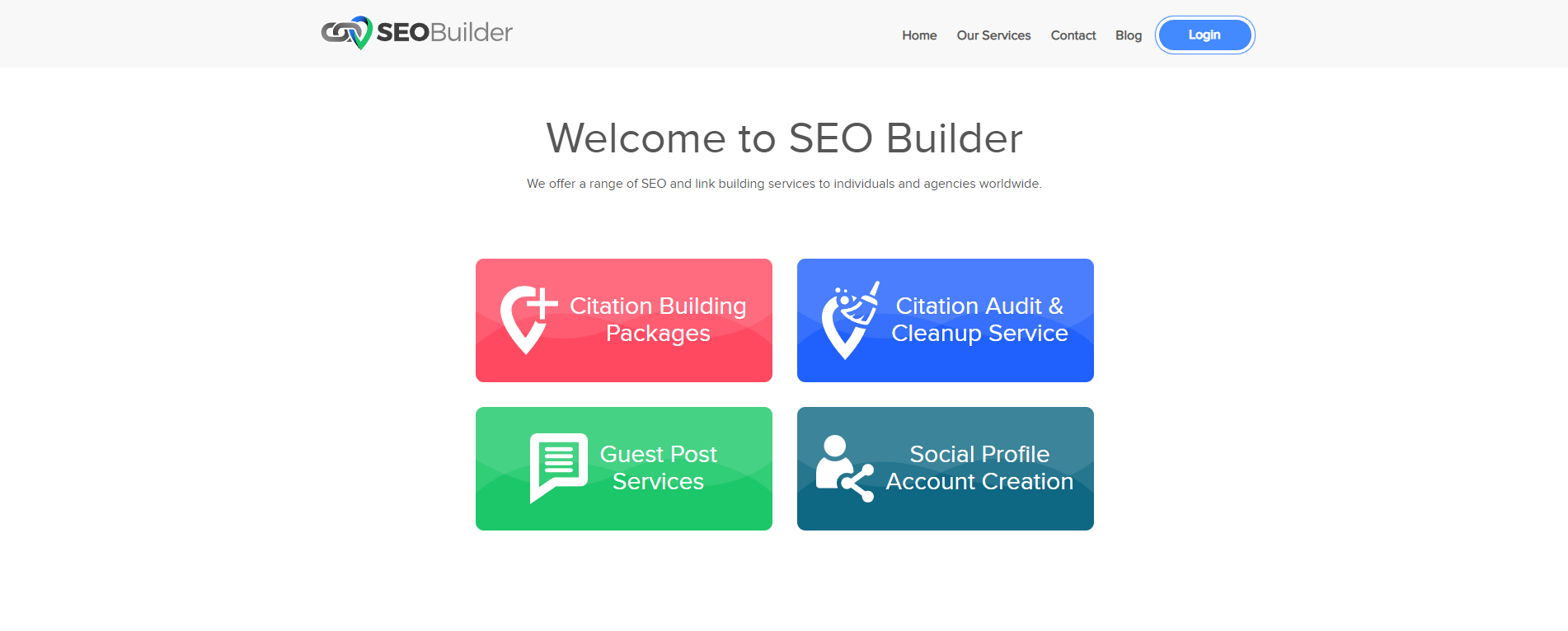 Founded by SEO professional Robert Kirk in 2018, SEOBuilder is a link building agency also headquartered in the UK.
It offers link placement and related services, including:
Citation building - This service gets your business name, address, and phone number (NAP), signaling to search engines and customers that your site is legitimate. Available citation packages are Small (35 citations, $60), Medium (75 citations, $110), and Large (135 citations, 175). You can also get their monthly citation service at $45/month for 25 citations.
Guest posting - SEOBuilder allows clients to view link placements before writing their content. This service follows a four-step process: (1) the customer orders links based on specific metrics, (2) SEOBuilder sends over a list of websites for the client's review, (3) upon approval, the content is written and published, and (4) the customer receives a report containing the post URLs. SEOBuilder's guest post packages start at $120 per post.
Citation audit and cleanup - In a citation audit, your company's details are checked against data aggregators and citation websites to ensure they're correct and updated. If there are any errors, a citation cleanup follows. During cleanup, SEOBuilder will manually reach out to the concerned sites to resolve any errors. A citation audit costs $25, but if you need both an audit and a cleanup, you pay $200.
Social profile account creation - This service involves creating social profiles on your behalf on sites like WordPress, Pinterest, Quora, Reddit, Pocket, Disqus, and many more. Sites that require phone verification—such as Facebook, Instagram, Twitter, and LinkedIn—are not included. For 25 profiles, you spend $30, 50 profiles for $50, and $100 profiles for $80.
How to Order
To strengthen your backlink profile with SEOBuilder, click the Order Now button corresponding to your order, provide your details, and complete the purchase. Once payment has cleared, SEOBuilder will contact you to discuss your needs further.
SEOBuilder provides account logins that allow customers to view links and monitor the real-time progress of their orders.
---
Factors to Consider When Choosing the Best Link Building Companies
Different link building services offer different link building strategies that may or may not work for your specific needs. Especially if you're a small business on a tight budget, you can't afford to throw money away working with link building companies that provide subpar results—or worse, undermine your previous efforts.
Google dislikes link building, so take extra care not to associate your company with shady link building practices. Consider the following factors when choosing an agency to partner with:
Types of Links Offered
An agency that can only offer backlinks via one or two specific link building tactics—such as guest blogging and/or link insertion, for example—may not be the right fit for large companies with hyper-aggressive goals. However, they may be just right for sites that are beginning to explore agency link placements as a way to strengthen their backlink profile.
Also, different businesses have different requirements. For example, local businesses will need citations to boost their local search rankings.
Methodology and Strategy
Some link building agencies provide logins that allow customers to view and choose the links they want for their site. This is the ideal setup if you already know the types of links you're looking for. On the other hand, other agencies provide an account or project manager to guide you in choosing the best links for your site.
Track Record
Fly-by-nights abound in the link building arena, so make sure to only work with link building companies with a track record of proven results. Consider:
How long they've been in the business.
If the people behind the company are trustworthy.
What customers are saying about them.
If the case studies published on their websites are legit.
Pricing
Links, in general, are expensive because they're not necessarily easy to obtain. Take a close look at each package they're offering, and determine if the price they're asking makes sense. It's also a good idea to compare prices before deciding on a partner.
Customer Support and Security
How is customer support? Are they open 24/7? Which channels are available for contacting them? You want a link building agency you can count on to communicate results and non-results at agreed-upon schedules.
Last but not least, the best link building companies guarantee that should they fail to secure a link, keep it live, or maintain its dofollow status, they will either provide a replacement or refund your money.
Grow Your Organic Rankings from the BEST Link Building COMPANIES Above
Link building is time-consuming and requires a lot of effort. Worse, if you don't know how to go about it, your site can get penalized. We all know that it's no joke recovering from a site penalty.
To get you the backlinks you need, consider employing the help of link building professionals who have been in the business for years. Start your search with the seven best link building companies above.
Want to learn step-by-step how I built my Niche Site Empire up to a full-time income?
Yes! I Love to Learn
Learn How I Built My Niche Site Empire to a Full-time Income
How to Pick the Right Keywords at the START, and avoid the losers
How to Scale and Outsource 90% of the Work, Allowing Your Empire to GROW Without You
How to Build a Site That Gets REAL TRAFFIC FROM GOOGLE (every. single. day.)
Subscribe to the Niche Pursuits Newsletter delivered with value 3X per week