How To Start Dropshipping On Amazon: Your Guide To Making Money
When you buy something through one of the links on our site, we may earn an affiliate commission.
If you're new to dropshipping, you may be wondering how to start dropshipping on Amazon. There is a lot of confusion about whether dropshipping is permitted and complies with the terms of service.
While dropshipping is permitted, it's essential to understand a few key points to keep your Amazon seller account from being suspended. 
What Is Dropshipping?
Dropshipping is a business model whereby the dropshipper lists products for sale. When orders come in for those products, the dropshipper sends the money to the supplier or manufacturer of the product. Products are then mailed directly from the manufacturer to the customer.
Dropshipping cuts out the need for a person to carry inventory and thus the associated costs. For suppliers and manufacturers, it's an easy way to get extra sales. The process looks like this:
Customer visits eCommerce website and places order

Dropshipper pays the
for the order and provides shipping details
Dropshipping
ships to the customer
Dropshipper handles any returns or exchanges
Is Dropshipping

On

Allowed?
Dropshipping is allowed on Amazon, however, with a few clear exceptions. Before going into the Amazon dropshipping policy, it's helpful to look at things from Amazon and their customer's perspectives.
Amazon is an eCommerce platform that allows you to sell products to the customers they've spent money acquiring. Remember that the people buying items are ultimately Amazon's customers and not yours.
It is in Amazon's best interest to have sellers on their platform deliver items on time as quickly as possible. It's also best that products are unique. 
Following Amazon's Terms and Conditions is crucial. Your store can and likely will be suspended if you ever fall out of favor, leaving you minus that source of income.
Identify Yourself As The Seller
You are required to identify yourself as the seller for all products that you have listed in your store. This means you can't list the dropshipper as the seller.
Amazon doesn't want people posting products from eBay, Walmart, or similar platforms and then trying to sell them as their own. You should be the only seller listed on any packaging slips, invoices, shipping labels, etc. 
You must talk to all of the dropshipping suppliers you are working with and ask them not to add anything to the packaging or invoice that would identify someone other than you as the seller.
Responsible For Accepting And Processing Returns
Just as you have to identify yourself as the seller, you must identify yourself as responsible for returns, exchanges, and all other complications that may arise.
Again, though you are selling products fulfilled by another company, Amazon wants you to maintain responsibility for everything sold from your store. To help with this, you should have a clear return policy.
Ensure that customers know what window of time they have for returns and exchanges. Also, always ensure that you are firm and consistent with these dates and deadlines to avoid later issues.
Stay In Compliance With 's Terms Of Service
Amazon has extensive terms of service that you must abide by to keep your store operating. You must familiarize yourself with the aspects of these terms of service applicable to the dropshipping business model.
Something to consider is that Amazon may be inconsistent with enforcing these terms of service due to the company's size. Much of their compliance is automated flagging followed up by a human.
While you may get away with terms of service violations a few times, there is no guarantee this will continue. So, it's best to comply from the start.
Learning how to start dropshipping on Amazon isn't a complicated process (especially if you follow along with one of the best dropshipping courses). However, there are a few steps that you need to make sure you get right if you want to succeed long term. 
Figure Out What Products You Want To Sell
There are two ways that you can go when first learning how to start dropshipping on Amazon, either selling in a niche or becoming a general seller. I highly encourage you to select a niche.
Plenty of people make money as general sellers on Amazon. Most general sellers making good money are early adopters with high seller ratings. However, every year competition becomes more fierce.
If you already have a dropshipping store on a platform like WooCommerce or Shopify, stick to the niche you selected there. For those of you just getting started, try and pick a niche that meets a few different criteria:
Lots of products

Products aren't fragile or electronic

Most products are lightweight

Smaller products that are cheaper to ship
These general rules will make it easier to get up and running. However, these are by no means definite rules. Some dropshippers make decent money in niches like furniture, which don't meet a few of the items on that list.
Find Reliable Dropshipping Merchants
The number one way to put yourself ahead of your competition is to find reliable and consistent suppliers.
You rely on another business to fulfill all of your orders and keep their stock up to date. Suppliers that fail to do this can leave you with many angry customers asking for returns. 
You will find both good and bad suppliers across the globe, so you must do your due diligence even with businesses in your home country. Always make sure you open a line of communication with any supplier to understand how responsive they are. 
Order Samples
The best way to find a reliable supplier, regardless of what country they are located in, is to order a test product. This lets you sample the quality of the merchandise and gives you an idea of the experience your customers will have.
The key here is that you will need to spend some money upfront. Yes, you could ask for free or discounted samples, but you won't be getting the same experience as your customers. 
Instead, place an order and check for things such as:
Turnaround time for shipping the order

Packaging and inserts (you want unbranded packaging)

Actual versus expected shipping times

quality and accuracy of photos
Set Up Your
Once you have products to sell, you want to set up your Amazon store. Go to the main Amazon website and scroll down to the bottom, then click the "Sell on Amazon" button: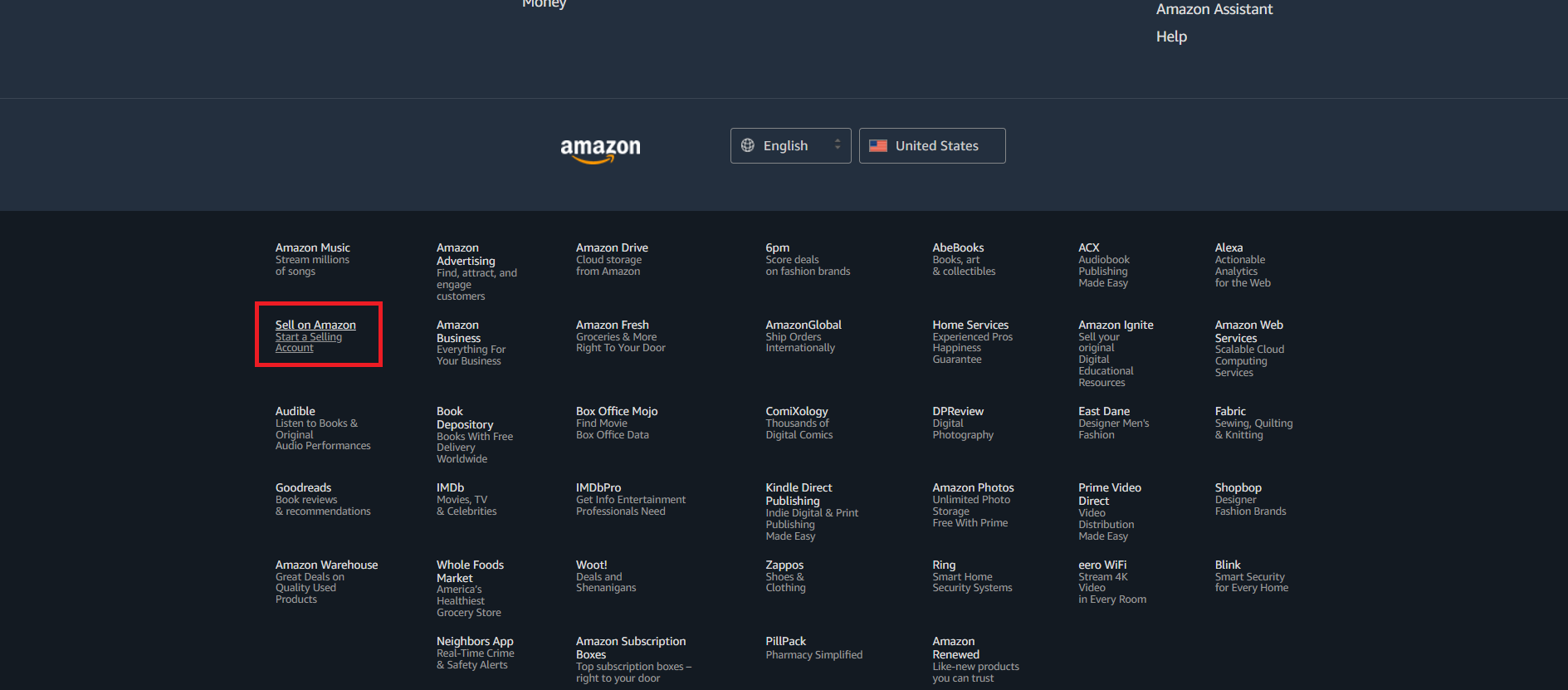 You will be taken to the main Amazon seller central page. Click on the large "Sign Up" button to get started creating your Amazon account:
You will be taken to a general sign-up form asking for your email and for you to create a password. Once this is completed, your next step will be to fill out all of the information about your store.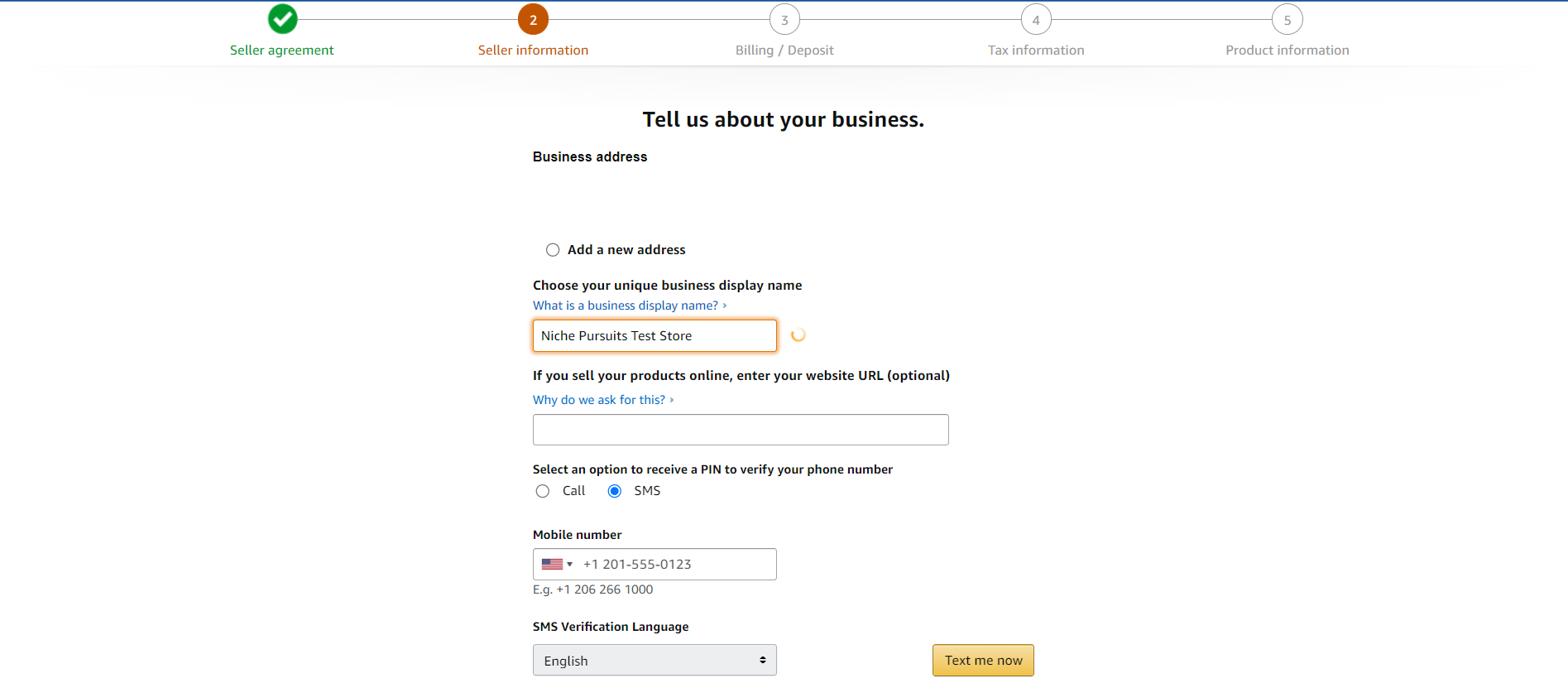 Once you've finished this step, you will be required to enter your billing information. You will be charged as soon as your Amazon account is created, so make sure you are ready to list products and get going.
After you've confirmed your payment information, you will be required to enter your tax information and details about the products you will be selling on your Amazon account.
List Your Products
Once your store has been approved, don't waste time getting your products listed and available to sell. Remember that you are paying a monthly fee to have a store on Amazon. Time is money once your store is confirmed.
Go through and fill in all of the necessary information about each of the products you plan to list. Make sure to fill out the product descriptions and other information diligently. 
Focus on tight sales copy when filling out your product description. You will want to focus on the benefits of each item and how it will solve potential customers' problems verse just listing the features.
Promote Your Store
Once you have your initial products listed, waste no time promoting your store. Because Amazon is a search engine similar to Google or Youtube, you will want to focus on optimizing your Amazon listing for search through Amazon SEO.
You may also consider paying for Amazon ads to have your products featured. Only do this if you feel comfortable managing ad campaigns and can stay on top of the accounting.
Manage Your Products And Customer Orders
After you have orders coming in, you need to go through the product management process regularly. It can also be helpful to set a time each day for processing customer orders. Ensure you are upfront about the turnaround time for processing and order fulfillment.
Don't forget to stay on top of updating your inventory. You don't want to oversell items and have to issue refunds. Consider using software to help with this.
Finally, make sure you add new products and stay on top of trends. Ideally, you want to swap out low-selling items and continually add new products until you have a foundation of products that sell well. 
Build Your Own Website
If you haven't already, take the time to build your own eCommerce website. Never forget that with Amazon, the people purchasing your products are Amazon's customers and not yours.
Should you ever be kicked off of the platform, you will ultimately lose that income. Having your own store ensures that you have a primary source of income and your own customers. Consider Shopify dropshipping or Woocommerce for setting up your online store.
Aside from giving you more control over your store, having your own website allows you more branding opportunities. Creating a solid and distinct brand will allow you to charge more money for your products and give you more opportunities to reach customers.
: Tips For Success
Getting your Amazon dropshipping store started is only the first step towards a sustainable business. Following the below tips will help to ensure you remain profitable long-term. 
Get Reviews From Customers
Good reviews are essential for getting your products ranking higher and selling more. Amazon uses reviews to filter out good products and sellers from those lacking in quality or consistency.
Contrary to what many believe, it is not against the terms of service to ask for reviews on Amazon. However, there are some guidelines that you need to be aware of. 
Steps you can take to ask for reviews on Amazon include:
Sending follow-up emails asking for feedback

Including inserts

Using social media to ask for reviews from previous customers
Some of the things that are against the terms of service when asking for reviews include:
Reviewing your own products

Incentivizing reviews via free products or other methods

Asking for a specific kind of review 
Focus On Branding
In the long run, your dropshipping business will be much more profitable if you take the time to build a brand rather than just selling on Amazon. Your customers will trust you more, and you can charge more money for the same products.
Building a brand takes time and requires you to provide a consistent experience. It's also important to focus on tried and true eCommerce niches. This usually means creating content surrounding your products to provide value beyond dropshipping. 
Remember, branding is more than just your colors and logo. It's everything customers experience when using your store and your products.
Niche Down
In the early days of dropshipping on Amazon, it was possible to be a general seller and make a lot of money. With sourcing products becoming easier and the number of people dropshipping on the platform greater, this has changed considerably.
While you can still make money as a general seller, you are likely better off over the long term if you can operate in a niche. This will allow you to more easily gain a reputation as a quality seller of specific types of products.
Working within a single niche will also make setting up a store outside Amazon easier. You will also find it's easier to create branding around a niche rather than a general store.
Pros Of Dropshipping

On
Now that you know how to start dropshipping on Amazon, here are some of the most common reasons why you want to dropship on the platform.
Large Pool Of Customers
Amazon is one of the largest eCommerce platforms globally in terms of users. According to Statista, over 200 million people subscribe to Amazon Prime. The total number of Amazon users is estimated to be around 300 million.
Easy To Get Set Up
Compared to setting up your own eCommerce store using Shopify or WooCommerce, dropshipping on Amazon is quite simple.
You don't need to know web design or understand anything else to use Amazon's back end. This leaves you more time to focus on sourcing products, creating good product descriptions, and getting better photos.
Minimal Upfront Costs
You don't need to pay for any tools (though you can) to get started on Amazon. The only thing you need to pay is the cost of an Amazon seller's account, which is a flat monthly rate plus selling fees.
While you can certainly pay for automation software and similar tools to make dropshipping on Amazon easier, these aren't required. 
Low Risk Compared To Keeping
Having a lot of inventory on hand can be risky. Trends change regularly, leaving you with unsold products that you may need to unload at a loss.
Dropshipping on a platform like Amazon completely removes this risk and eliminates much of the overhead from traditional eCommerce businesses.
Cons Of Dropshipping

On
Despite all of the above benefits, including many unstated here, dropshipping on Amazon doesn't come without some downsides. The following are some of the most significant drawbacks to the platform.
Not Your Customers
Never forget that people using the Amazon platform to buy products from you are Amazon's customers and not yours.
You can't build a sustainable business from someone else's customers. If you get kicked off the platform for whatever reason, your dropshipping business is finished.
The solution is to have your eCommerce store and use platforms like Amazon and eBay as a side income.
Minimal Control Over The Supply Chain
With dropshipping in general, you have very little control over the products, how they are made, shipping, etc.
This means much of the experience your customers will have is outside of your hands. While you control the customer service side of the business, there is a lot that can go wrong outside your control.
Responsible For Anything That Goes Wrong
As an extension of the previous point, you are responsible for everything that goes wrong, even if you have no control over it. This is doubly true on Amazon, where you can be kicked off for issues that are outside of your control.
The only way to mitigate these potential problems is to work with reliable dropshippers who consistently deliver on time.
Software To Make Dropshipping

On

Easier
Thankfully, you aren't on your own when first learning how to start dropshipping on Amazon. Plenty of software can make starting and managing your Amazon dropshipping store much more manageable, including the following.
Jungle Scout
Jungle Scout is an all-in-one solution for selling on Amazon. While it isn't developed exclusively for dropshippers, it has plenty of helpful features to help you with dropshipping on the platform.
One of the main benefits of using Jungle Scout is the sales analytics solution. This can give you actionable insights into your store to help you improve your offerings and do more of what works.
Other features of the Jungle Scout software include, but is not limited to:
Opportunity finder

trends

Keyword scout

Rank tracking
You can choose from three different pricing packages depending on what you need and how large your store is. There is also a seven-day free trial to test drive the software.
Helium 10

Helium 10 is similar to Jungle Scout in being a robust software solution for selling on Amazon. Everything from product research to competitive research is possible using the Helium 10 (see Jungle Scout vs Helium 10) software.
With Helium 10, you can more easily find and capitalize on the current trends happening on Amazon. You can also track how well your products are ranking in the Amazon product rankings and receive actionable advice for improving your product rankings.
It should be noted that Helium 10 is more expensive than many similar solutions. This is primarily due to the extensive capabilities of the tool. This is meant to be a complete solution for selling on Amazon and is priced accordingly.
Get an Exclusive Discount on Helium 10 Here
Oberlo
Oberlo is a Shopify plugin that allows you to source products from AliExpress easily. The plugin lets you find the exact products you want and import information about the product into your store.
Other benefits include quickly editing information about products and order management. The app also makes it easy to set pricing and automatically updates inventory.
You cannot use Oberlo to dropship on Amazon. However, it can make managing your Shopify store easier. This will allow you to utilize better other apps that integrate your Shopify store with Amazon.
Sellery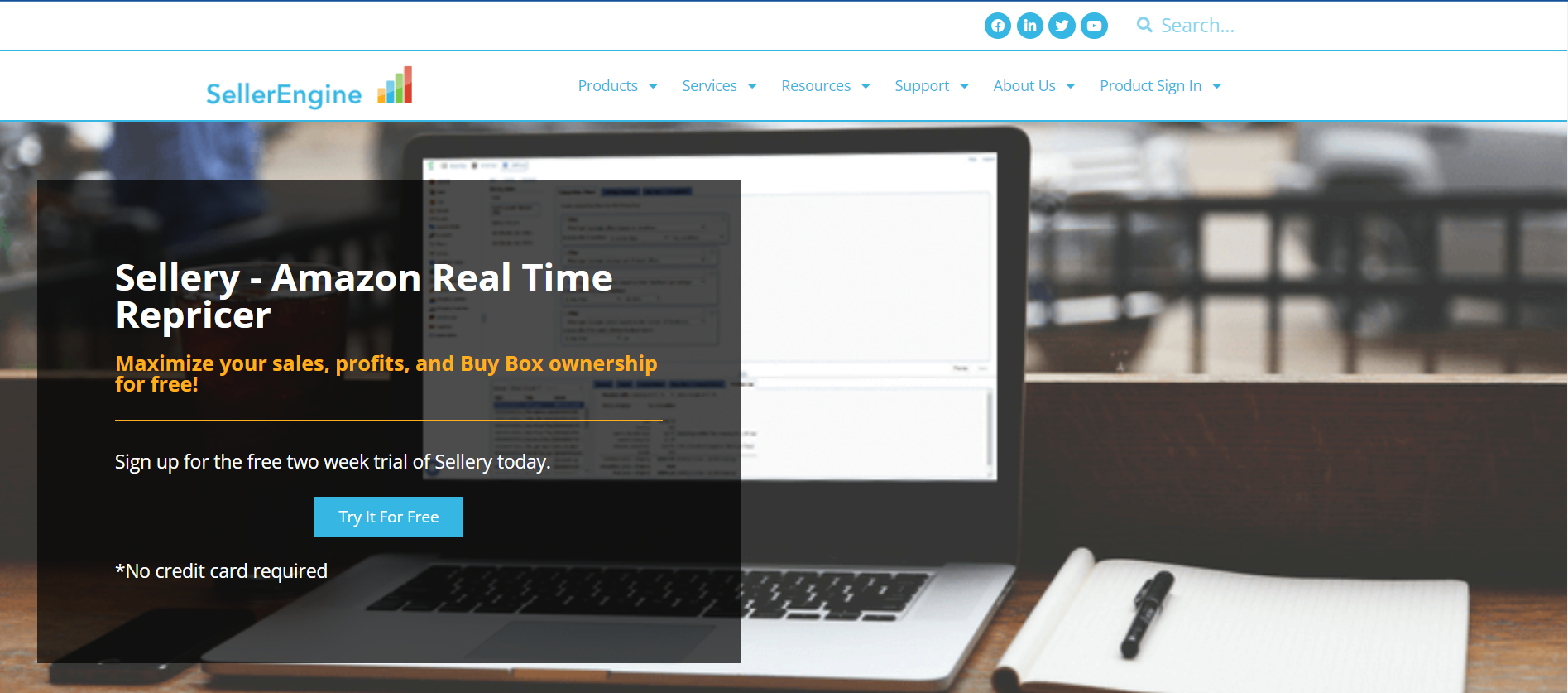 Sellery is a premium repricing tool that automatically adjusts the pricing of your products based on competitors and the overall market.
This can be a phenomenal tool to help you remain competitive while avoiding selling products at a loss. Sellery allows you to set specific pricing rules to ensure you never lose money on a sale.
One other helpful feature is the ability to set upper and lower pricing ranges. This can be helpful when selling new products to gather data on the optimal pricing point. The software comes with a two-week free trial, so you can get a feel if it's right for your needs.
Spocket
Spocket is a premium dropshipping tool primarily focused on dropship suppliers from the United States and the European Union. This can be a good option for sourcing higher-quality local products or reverse dropshippers selling abroad. 
You can integrate sprocket to most major eCommerce platforms, including Shopify, WooCommerce, BigCommerce, Squarespace, Wix, and more.
As with Oberlo (and some of the other best Oberlo alternatives), Sprocket won't let you manage dropshipping on Amazon. However, it will make managing your store more straightforward, allowing you to be better organized between your suppliers, your store, and Amazon.
As An Alternative To Dropshipping
Fulfillment by Amazon, or Amazon FBA, is a service where you can send products to Amazon for managing, packaging, and shipping. Amazon will also be responsible for handling returns and customer service for these orders.
This can be a great alternative to dropshipping on Amazon. You retain many of the benefits of dropshipping in that you don't have to carry inventory. The advantage is that your products will ship faster, and you have more control over the supply chain.
One method of utilizing FBA is determining which dropshipping products are selling best and purchasing them wholesale (check out our Ecomhunt review for a helpful tool). You can then use Amazon FBA for a better customer experience. 
Is Dropshipping

On

Right For You?
Though I recommend having your main eCommerce store on a solution like Shopify or WooCommerce, Amazon can be an excellent option for additional income.
It's not for everyone, though. Make sure that the competition on the platform isn't too extreme for the products you are selling. Also, remember that people on Amazon have been trained to expect fast shipping and high-quality customer service.
If you can't offer these due to your dropshipping arrangement, it may not be worth learning how to start dropshipping on Amazon.
Want to learn step-by-step how I built my Niche Site Empire up to a full-time income?
Yes! I Love to Learn
Learn How I Built My Niche Site Empire to a Full-time Income
How to Pick the Right Keywords at the START, and avoid the losers
How to Scale and Outsource 90% of the Work, Allowing Your Empire to GROW Without You
How to Build a Site That Gets REAL TRAFFIC FROM GOOGLE (every. single. day.)
Subscribe to the Niche Pursuits Newsletter delivered with value 3X per week