How To Start Dropshipping On Shopify The Right Way
When you buy something through one of the links on our site, we may earn an affiliate commission.
The first step for many entrepreneurs towards mastering dropshipping is learning how to start dropshipping on Shopify. It's vital to get things right in the beginning to lessen the odds of failure. We'll look at the best way to set up your Shopify store and some tips to get your first sale.
What Is ?
Merriam Webster provides the following definition for dropshipping:
to ship (goods) from a manufacturer or wholesaler directly to a customer instead of to the retailer who took the order.
Dropshipping cuts out the need for a person to carry inventory and thus minimizes the associated costs. For suppliers and manufacturers, it's an easy way to get extra sales. The process looks like this:
Customer visits

website

and places order.
pays the for the order and provides shipping details.
Supplier ships product to the customer.
Dropshipper handles any returns or exchanges.
What Is The ?
Shopify is an all-in-one eCommerce platform that lets people set up and host their website to sell dropship products.
The company has become one of the largest eCommerce platforms, with an estimated 30% of eCommerce sites in America using the platform.
One of the main draws is the lower learning curve for getting started. Compared to eCommerce solutions like WooCommerce, less technically-savvy users can get up and running with less friction. You still need a basic understanding of design, user experience, sales copywriting, and conversion optimization.
One of the main appeals for dropshippers is the many integrations such as Oberlo that make it easy to manage products and orders (but don't miss out on our Zendrop review). 
How Much Does Shopify Cost?
Shopify is a premium eCommerce platform meaning there is no free option. You can, however, try the platform free for 14 days to help you decide if it's right for you. 
Try Shopify Free for 14 Days
Once you've decided to use Shopify, there are three different plans that you can choose. Most new users will be fine starting with the basic Shopify plan which gives you unlimited products among other features.
It should be noted that many of the integrations, such as Oberlo, will cost extra. These integrations make it easier to conduct a dropshipping business, so they should be factored into the cost of using Shopify.
What Skills Do I Need To Use Shopify?
While the barrier to entry for Shopify in terms of skills is lower than platforms like WordPress, you still need a few essential skills to get started. Thankfully, each of these is easy to learn and entirely possible improve on as you go.
Extremely Basic Understanding Of Web Design and UX
One of the primary benefits of Shopify for users with little in the way of web design experience is the many templates and easy-to-use builder.
However, builders are not an end-all-be-all solution for having the perfect website. If you want a functional website, you still need to have at least a foundational understanding of web design and user experience (UX).
Site builders make it easier to layout your website without understanding HTML, CSS, and sometimes Javascript. However, you will need a basic understanding of layout, using colors properly, sizing images and text, and so on.
Thankfully, there are tons of resources out there to help with this. It's highly recommended that you take the time to develop a proper store. The way to go is to just get started. If you have issues, take a break to read up and understand the theory behind that aspect of design and UX.
Understanding Of Copywriting
Don't be one of the many website owners that get caught up in having a great-looking website with nothing to say. Optimized copy is what's going to sell your products. 
Great sales-focused copywriting involves a lot of research into who you are selling to, what their problems are, and how what you are selling will solve those problems. During your research into copywriting, you will often hear:
Sell solutions/benefits, not features.
An example of this in action would be selling a television. While you could talk about the pixel number and refresh rate, most people will not understand what that means. 
Instead, you would talk about how the television won't lag for video game players. Or, for movie enthusiasts, there will be a more precise picture with better color so you can see more details.
As with web design, there are many resources to get you started. One excellent resource I've come across is the Cult of Copy Facebook Group. If you do join, make sure and download the many helpful resources.
Knowledge of Email Marketing
Customer retention is often cheaper and easier than customer acquisition when it comes to sales. According to SEMrush, the probability of selling to an existing customer is quite high at 60 to 70 percent. 
Selling to someone who has already purchased from you and trusts you is easier than getting a new customer. The question then becomes, how do you accomplish this?
The best way to retain customers for eCommerce stores is through email marketing. Whenever someone purchases from you, their email address will be added to your mailing list. You can then use this to market to them later through promotions, holiday sales, etc.
Email marketing combines copywriting, graphic design, and conversion rate optimization. When done correctly, it will create a well that you can continue to draw from for repeat sales.
Once you have a base level with the skills needed to get going, it's time you learn how to start dropshipping on Shopify. Let's go step by step through the process:
Figure Out What You Want To Operate In
Before you even start setting up your Shopify store, you must figure out what you will sell. This usually means picking a niche to focus on. It's recommended that you go this route instead of a general store.
Finding a niche to dropship allows you to focus your marketing strategy and advertising efforts on a specific crowd. This makes branding, creating site copy, and selecting products easier. 
There are countless ways to figure out a niche to operate in. However, whatever niche you choose should have long-term profit potential with many products and high demand.
Find Reliable Suppliers To Source Products From
Once you've hit on a niche, you will need to find suppliers for products. The first thing that many new dropshippers do is head straight to platforms like AliExpress, Banggood, and Alibaba.
A better option is finding high-quality manufacturers in the country you plan to send products to. This won't always be possible, but the closer you can get, the better. This will ensure that the product quality is better and shipping times are reduced.
These benefits will lead to higher customer satisfaction with your products and potentially more returning customers. Some of the best platforms for finding these types of suppliers include:
US Direct

Modalyst

Spocket

Thomas Net

Maker's Row
Sign Up For Shopify
Once you've hit on the right niche and have a list of suppliers to work with, you will need to set up your Shopify store. The first step is to sign up for the free trial. Go to Shopify and click on the "Start Free Trial" button in the top right corner:
A basic sign-up form will appear that you need to feel out to get started. You will need to enter your email, set a password, and create the initial domain name for your store. Don't worry too much about the domain, as you will want to use a custom domain that you will set up later.
Next, you will need to fill out a few simple questions about your Shopify dropshipping store and information about what you are selling. This is also where you will set up payment information.
Next, you will need to get started with the actual setup of your store.
Set Up Your
The first thing you want to do is go through the checklist provided on the front page of your Shopify dashboard.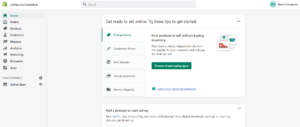 I recommend starting with adding your domain. If you haven't already purchased one, you can check out this helpful guide for choosing the right domain. If you feel adventurous and want a competitive advantage, try purchasing an expired domain for your store.
Go to the Add Domain section and follow the instructions on the subsequent page.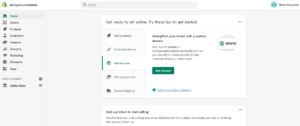 Next, set up Shopify payment options as this will be simple to get up and running. Click on the "Set Up Payments" button and follow the instructions.
Finally, before getting started on setting up your front-end store, go ahead and set up your shipping. Ensure that you've added all of the countries you plan on shipping to so you don't have surprises.
After all of these basics are set up, go ahead and customize your theme with your Shopify dropshipping store branding. Make sure you use a professional logo, color palette, and images. Try and avoid overused stock photos where possible. 
If you must use stock photos, I encourage you to pay for a service such as Adobe Stock, as there are more options that are less utilized than sites like Pixabay.
Create All Necessary Pages
The next step is to ensure that you have all of the appropriate pages set up. For an eCommerce store, this will usually include:
Homepage

Store Page

Contact Page

About Page

Terms of Service

Privacy Policy

Cookie Policy
You may also consider setting up a blog or resource section of some kind to offer extra value to your visitors. This will also help with your SEO efforts as having high-quality and focused content that helps users will present more opportunities to rank on search engines. 
To set up the pages, click on the "Online Store" button on the left sidebar. This will give you access to all the areas of your store.
Next, click on the pages section to see all of the current pages you have listed.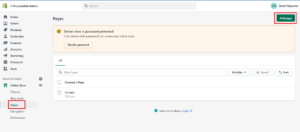 This is where you will add your Contact and About pages. Don't worry about your dropshipping store page, as this will be automatically generated when you add products. 
For the various policies, you need to set those up in the Settings section of your store. Click on the Settings button in the left sidebar, then scroll down to the last option on the menu that says Policies.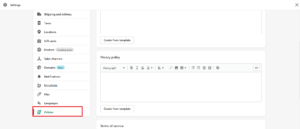 You have two options for policies: add your own or use one of the templates offered from Shopify.
I highly encourage you to either consult with an attorney and have a privacy policy and terms of service drafted for you or use a service such as Termageddon or Iubenda.
Add Products And Write A Unique
You now want to add all the products you found when doing your initial research. If you still need to find products, I recommend you use one of the available apps on Shopify. These may cost you extra money but will simplify your life down the road.
I'll go into which apps are the best later in this article. To get to the dropshipping apps section, go to the main apps page and refine your search for dropshipping apps.
Set Up A Paid Plan
You only get a 14-day free trial when you initially sign up, so you want to go ahead and pick your paid plan. For new stores, you can likely get away with the basic plan. It's recommended that you move to a higher plan only once your dropshipping store brings consistent income and you are ready to hire more people.
All of the plans come with the essential features you need, including unlimited product uploads, abandoned cart recovery, gift cards, and more.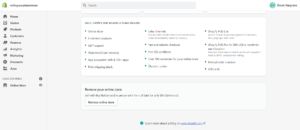 Market Your Store
Marketing is essential to get traffic coming into your site. Generally speaking, marketing channels that cost money, such as paid advertising and influencer marketing, will bring in the fastest results. The downside is these stop becoming effective as soon as you stop paying.
Marketing sources such as content marketing and social media will be cheaper but generally take longer to get started. For new dropshipping store owners, this could take as long as 18 months to get the hang of things.
Paid Ads – Facebook, Google, Instagram, Etc
Paid advertising generally refers to pay per click or pay per metric models. Usually, this will be through a platform such as Google Ads, Facebook Ads, or a similar option.
The benefit to this is that you are getting your Shopify dropshipping store in front of millions of potential customers. However, traffic stops when you stop paying. It's recommended that you work with an ad professional if you don't have previous experience and want quicker results. 
Organic Traffic – SEO
Organic traffic refers to non-paid advertising from search engines and social media platforms. Usually, people utilize techniques such as search engine optimization to make their websites more accessible to these search engines. 
The benefit to organic traffic is that it's more sustainable long term. However, it will usually take longer to see results when first starting.
Content Marketing
Content marketing is the process of creating content relevant to your target audience and using it to bring in traffic. This traffic will usually be from organic sources such as Google search or Facebook.
If you have the money to hire writers or dedicate the time to writing your articles, content marketing can be a great traffic source. Smart eCommerce owners will use content marketing to offer extra value around their products and improve their branding.
Email Marketing
Email marketing utilizes regular targeted emails to a subscriber list to buy more products. You will need a firm grasp of sales and email copywriting to use email marketing correctly. As with content marketing, your emails should provide value to subscribers and not just focus on sales. 
Influencer Marketing
Influencer marketing can be great for certain types of eCommerce stores. This method involves working with people who have large followings on social media and having them advertise your products. 
People try to get influencers to market for them by offering products at a discount. This, however, usually won't have great results. Plan to send free samples or pay money for more popular influencers with lots of followers.
Consider Other Platforms To List Products On
Don't stop at Shopify. While creating a Shopify store will give you more branding opportunities, make sure you add products to platforms like Amazon and eBay. 
This will get your products in front of millions more people and can lead to multiple income streams making your dropshipping store more profitable in the long term. 
What Are The Pros Of Using Shopify For ?
You understand how to start dropshipping on Shopify, but what are the specific benefits over other options like WooCommerce, Wix, Squarespace, or Volusion?
Very Little Experience Needed
The main upside to using Shopify over the other popular option, WooCommerce, is the lower barrier to entry. With WooCommerce, you will need to set up and host everything independently.
This may be a massive barrier to entry for less tech-savvy individuals, requiring weeks to months of learning. Shopify allows users to get set up and going with much less effort, which is where the premium price comes into play.
Low Cost To Run
Despite being a premium solution, the lower barrier to entry means you will likely be spending less on developers, site designers, graphic designers, etc.
This will allow you to conserve your monthly budget and focus on areas that will bring you direct results such as content marketing and PPC advertising. 
Integrates With Other Platforms
Shopify has many great applications that allow you to integrate your dropshipping store with other platforms such as eBay and Amazon. You can also connect with sources such as AliExpress to import products for sale.
What Are The Cons Of Using Shopify For ?
Despite the many upsides to Shopify, you should consider some limiting factors before getting started.
Less In The Way Of Customization Options
The single major drawback to using Shopify is that you have less in the way of customization options. Another downside is that the customization options you have will require a bit more savvy to utilize. 
While it may be easy for the average person to get set up with a basic dropshipping store and get going, you may have difficulties beyond that. 
No Free Option
You also can't get away with using Shopify for free. While you get a 14-day free trial to set up your dropshipping store and get started, you will eventually have to pay. The price isn't prohibitively high, but you will need to spend money upfront to use the platform.
Tips For
While the above advice will get you started, you need to go the extra mile if you want to be successful dropshipping on Shopify. Here are some tips to help you move past the competition.
Conduct Thorough Market Research Before Selecting A
The wise man learns from others' mistakes. One mistake I made the first few times I tried dropshipping and affiliate marketing was not doing niche research. This would usually lead to me setting up a dropshipping store in an oversaturated niche or one lacking long-term profitability.
Once I began doing market research, things completely turned around. The best place to start is general market research. You want to look at the overall trend of the niche you are looking at. Next, conduct a competitive analysis to see if there is room in the marketplace. 
Suppose you notice too many large eCommerce stores and no medium or smaller ones. This is probably a poor niche with no potential for entry. On the other hand, if you notice no big companies and only small stores, it's perhaps a sign that the upside to the niche is limited. Ideally, you want a mix of larger, medium-sized, and a few large stores in a niche.
Work With A
Communication with suppliers is essential, and a dropshipping supplier that is difficult to message and slow to respond may leave you high and dry when it comes to prompt order fulfillment.
Always vet dropshipping suppliers by placing a sample order if possible. If ordering samples isn't an option, open a line of communication before ordering. Make sure you are clear on all of their policies including their shipping times and turnaround time on getting orders out. 
If the supplier is slow to respond or unclear about anything, move on to the next one. Even if they have the perfect products, it isn't worth dealing with unhappy customers when the merchant doesn't deliver. 
Focus On Creating A Strong Brand
In the early days of dropshipping, you could find products from sites like AliExpress and Banggood, load them onto Amazon, and make quite a bit of money. Like anything easy, too many people caught on and competition became unsustainable.
How do you cut through the noise of thousands of general sellers? You create a strong brand that people resonate with. This is how some of the largest companies in the world started, from Walmart to Amazon.
Create a brand around your niche and use content marketing, videos, and social media to give people additional value. This will set you ahead of the people trying to make a quick and easy buck through dropshipping (who will likely fail).
Have A Clear And Firm Return Policy
This is extremely important and something you want to take the time to get right the first time.
Your return policy should specify under what situations you will take returns, how long after shipping you will accept returns, and who pays for return shipping.
Having an unclear returns policy will get you in trouble down the line when customers start asking to send back products. You may be left holding the bag for return shipping costs. It's also possible for customers to seek chargebacks or to request refunds through PayPal, and you will have no basis for rebuttal. 
Offer Excellent Customer Support
One final tip is to double down on your customer service and support. This is one area you have control over, and it can give you an advantage over big box stores with millions of customers.
Make it as easy as possible for customers to get in touch with you. Preferably you should offer multiple ways to get in contact including:
Facebook Messenger

Email

Online Chat

Help section (FAQ, support articles, etc.)
When people send you messages, you should make it a policy to get in touch within 24 hours. Higher quality customer service lessens the chance of returns and increases the odds of landing good reviews from your customers. 
Bonus Tip: Make sure you follow up with customers to ask for reviews and data mine for ways to improve your store and offerings. 
What

Apps

Integrate With Shopify
One of the main benefits to Shopify, aside from the ease of use, is the many integrations. This makes it easier to manage products for dropshipping, among other benefits.
Oberlo
Oberlo is one of the most popular integrations for dropshippers on Shopify. It allows users to connect their Shopify accounts with AliExpress to manage the entire process. Using Oberlo, you can find specific products and load them into your store. The application will also manage each inventory source and simplify the process of ordering.
Printful
Printful is the perfect solution if you plan to dropship items that are custom printed such as mugs and T-shirts. You also have more control over branding as you can use your unique designs.
The application operates similarly to Oberlo, letting you post products and manage inventory and orders efficiently.
Modalyst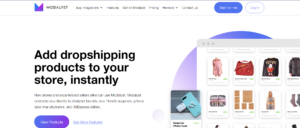 Modalyst is a premium application that makes it easier to find US and European-based dropshippers. As with the other Shopify integrations, you can more easily add these products to your store and manage inventory and ordering. 
The application lets you load unlimited numbers of products into your store from the listed suppliers.
Spocket
Like Modalyst, Spocket is a premium application that makes it easier to source products from European and US manufacturers and wholesalers (learn more in our full Spocket review). 
The application integrates easily with Shopify, allowing you to add products and manage orders and inventory with ease. The Shopify app can also integrate with WooCommerce, Wix, and other popular platforms.
Spreadr App
The Spreadr App allows you to import items from Amazon to dropship on your online store. This is a premium application, but it comes with a 7-day free trial to test functionality. Spreadr isn't quite as complicated as many other apps with less functionality.
AliExpress
This is another Shopify app that serves a similar purpose to Oberlo. One of the upsides to this app is that it allows you to apply custom branding. The Shopify app integrates with AliExpress to display them on your online store more easily. Other features include pricing automation and inventory updates.
Common Questions About On Shopify
Dropshipping on Shopify can be an intimidating prospect. To help even further, here are answers to some of the most commonly asked questions about how to start dropshipping on Shopify.
How Hard Is It To Start On Shopify?
Dropshipping on Shopify isn't hard at all. It does, however, require that you be consistent and have patience. Starting a steady dropshipping business requires time to build up regular traffic. Using paid advertising and influencer marketing can help, but it requires consistency and patience. 
How Much Can You Make As A ?
Dropshippers can make millions of dollars each year. However, the average dropshipper will likely make mid- to high-five figures. In some niches, it's possible to make six figures, and at the very top, some dropshippers make over a million dollars.
How Do I Find Products To Market On Shopify?
You can find products to market on Shopify either through marketplaces such as AliExpress or through wholesalers and manufacturers. While many new dropshippers use AliExpress and similar platforms, sourcing products directly from the manufacturer can lead to more long-term success.
Do You Need Money To Start A ?
It is possible to start dropshipping with no money. However, to see actual results in a reasonable timeframe, you will need some startup money. To start dropshipping the right way, you need capital for an eCommerce site and, preferably, an advertising budget. It's also helpful to have professional photos and other content.
Is On Shopify Right For You?
Shopify can be an excellent platform to get started on if you're serious about dropshipping. Unlike Amazon or eBay, you can completely customize the customer's experience. This also means you have the opportunity to brand your products and increase profit potential.
For experienced designers looking for a more customizable solution, WooCommerce may be a better option for dropshipping. But, for those less skilled, Shopify can be a solid choice owing to the ease of use. Other benefits of using the platform include simplified dropshipping product management, robust integrations, and easy payment processing.
Want to learn step-by-step how I built my Niche Site Empire up to a full-time income?
Yes! I Love to Learn
Learn How I Built My Niche Site Empire to a Full-time Income
How to Pick the Right Keywords at the START, and avoid the losers
How to Scale and Outsource 90% of the Work, Allowing Your Empire to GROW Without You
How to Build a Site That Gets REAL TRAFFIC FROM GOOGLE (every. single. day.)
Subscribe to the Niche Pursuits Newsletter delivered with value 3X per week